October, 2, 2012
10/02/12
7:00
PM ET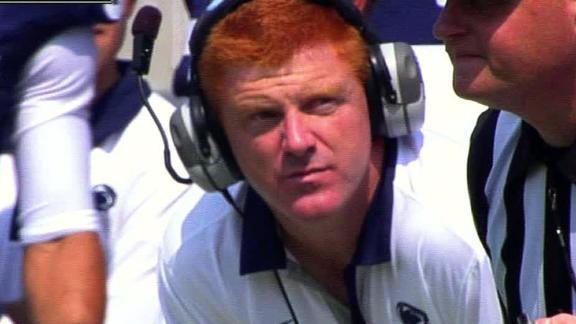 Former Penn State football assistant coach
Mike McQueary has filed a whistle-blower lawsuit against the university
, seeking millions of dollars in damages for what he believes is defamation and misrepresentation.
McQueary, who saw former Penn State assistant Jerry Sandusky in the shower with a young boy in 2001 and reported it to former head coach Joe Paterno, claims that statements made by former Penn State president Graham Spanier after the scandal broke in November harmed his reputation. The lawsuit states Spanier told athletic staff after the scandal broke that he supported athletic director Tim Curley and vice president Gary Schultz, who had been charged with perjury and failing to report child abuse.
From the Associated Press:
"Spanier's statements have irreparably harmed (McQueary's) reputation for honesty and integrity, and have irreparably harmed (his) ability to earn a living, especially in his chosen profession of coaching football," the lawsuit said.

Messages left for Spanier and his lawyer on Tuesday were not immediately returned.

The lawsuit said McQueary learned his contract was not being renewed, meaning he was no longer a university employee, from a news conference held in July by the university's new president, Rodney Erickson. He said his salary last year was $140,000 and his future earnings as a coach would amount to at least $4 million.
McQueary's lawsuit hardly comes as a surprise, as his career options in football seemingly have been limited or completely eliminated by the scandal. The former Penn State quarterback and wide receivers coach testified in Sandusky's child sex abuse trial in June.
August, 14, 2012
8/14/12
2:45
PM ET
By
ESPN.com staff
| ESPN.com
On Thursday, the attorneys for Gary Schultz and Tim Curley will tell Judge Todd Hoover that the former Penn State officials are being prosecuted not for deliberate falsehoods but for innocent opinions and beliefs.
Read
more from ESPN.com's Lester Munson
.
July, 12, 2012
7/12/12
12:45
PM ET
PHILADELPHIA -- Judge Louis Freeh on Thursday handed down a
stinging report on Penn State's actions
surrounding the Jerry Sandusky child sex abuse case, and it's time to look at some of the key points he addressed.
Speaking before a packed room of media members and his own team that conducted an eight-month investigation, Freeh targeted four men at the top of Penn State's leadership chain -- former president Graham Spanier, former vice president Gary Schultz, athletic director Tim Curley, who is currently on leave, and former football coach Joe Paterno -- as well as the school's board of trustees, which hired Freeh to conduct the probe but committed a "failure of governance" in creating an environment of non-accountability.
The most damning elements of the report concerned the knowledge Penn State officials had about allegations regarding Sandusky in both 1998 and 2001, and their failure to report it to outside authorities.
Here are some of the quotes and notes that stood out to me after attending the news conference:
Freeh clearly explained that the failure at Penn State went from top-level administrators to the janitors who cleaned and maintained the locker room at the Lasch football building, where Sandusky committed many of his rapes. "They [the janitors] witnessed what I think in the report is probably the most horrific rape that's described. And what do they do? They panic. The janitor who observed this said it's the worst thing he ever saw. This is a Korean War veteran who said, 'I've never seen anything like that. It makes me sick.' He spoke to the other janitors. They were alarmed and shocked by it. But what did they do? They said, 'We can't report this because we'll get fired.' They knew who Sandusky was. … They were afraid to take on the football program. They said the university would circle around it. It was like going against the president of the United States. If that's the culture on the bottom, God help the culture at the top."
Freeh was somewhat diplomatic but remained on the attack when asked about both Paterno and the board of trustees. He stated several times that he wanted to speak to Paterno and believed Paterno had a case to make to the investigators. He called Paterno "a person with a terrific legacy." Freeh went on to say that Paterno "made perhaps the worst mistake of his life, but we're not singling him out." He also acknowledged Paterno could have stopped Sandusky's crimes because of the power he held. Asked whether trustees who held their positions during the period of Sandusky's crimes and remain in them today should resign, Freeh declined to comment, saying the question should be directed to the board. But speaking generally about the trustees, he said, "The board failed in its oversight of the senior officers of the universities. They did not create an atmosphere where the president and the senior officers felt they were accountable to the board." The board's failure continued all the way until Sandusky was charged, Freeh said.
Although Paterno undoubtedly will be the focus of the media coverage today and in the coming days, Freeh made it clear that others were just as culpable, if not more so. Spanier's actions, including his refusal to provide trustees with information, according to Freeh, were both shocking and embarrassing. Freeh discussed Schultz's 1998 confidential notes after being told of a complaint against Sandusky, "To ask the question, 'Does this open a Pandora's box? Other children?' is a very strong inference that they were focused not just on what the report was, but the implications." Spanier and Schultz both use the word "humane" in their emails discussing how to deal with Sandusky.
One of the big debates will be about the differences between what Freeh's group found regarding Paterno and what the Pennsylvania attorney general's office included in its grand jury presentation. Paterno's supporters will point to the fact that Paterno never spoke with the Freeh team, and the state didn't charge him after hearing his testimony about the 2001 incident involving Sandusky that assistant coach Mike McQueary relayed to him. "The attorney general has a different standard with respect to deciding whether to charge or whether not to charge," Freeh said. "We don't have a reasonable-doubt standard. Our conclusion … was a reasonable conclusion based on the facts and circumstances."
Arguably the biggest bombshell in the Freeh report concerns the 1998 allegations against Sandusky and what Penn State's leadership knew. This took place while Sandusky was still employed at the school. Freeh didn't find evidence of allegations in the 1970s or 1980s. Many of Sandusky's crimes took place between 1998 and 2002. "What's striking about 1998 is nobody even spoke to Sandusky, none of those four, including the coach, who was a few steps away," Freeh said.
Freeh briefly addressed the NCAA and Big Ten, saying that his group has been in contact with both organizations throughout the investigation but didn't provide them with any of the findings before Thursday's release. "What they find is going to be based on their criteria and their conclusions," he said.
The scene outside the news conference featured several attorneys of Sandusky's victims speaking to reporters, as well as several people who support Paterno and believe the real blame remains with Penn State's trustees.
Brian Masella, who played for Paterno at Penn State from 1971 to 1975, believes Paterno didn't purposefully withhold information about Sandusky.
"As a player, if we did anything wrong, he came down very, very hard on us," Masella said. "Obviously, this is a little bit different of a situation. [Freeh] made it sound like Joe was in charge of everything. He wasn't. He did not make a lot of the decisions on campus, like everybody thinks."
Larry Leise, who represents the group
Penn Staters for Responsible Stewardship
, places the blame with the trustees and said the only mistake Paterno might have made was following policy of how to report allegations.
"Maybe he should not have," Leise said. "As a football fan, a lot of times Joe Paterno was a little too strict on his playbook. You could always predict what he was going to do. He was very rigid. What he did was perfectly legal, what he thought in his heart was right. He just wanted to do what the law was and what the policies were. For that, I blame Penn State, I don't blame Joe Paterno.
"He's basically the good soldier following orders."
I'm off to the trustees' news conference in Scranton, Pa. Check back later for more.
July, 12, 2012
7/12/12
9:37
AM ET
PHILADELPHIA -- The
Freeh report
on Penn State's response (or lack thereof) to the Jerry Sandusky child sex abuse scandal is now available.
Here's the link to the
full report
. Needless to say, it's incredibly damning of Penn State's leadership and particularly four men: former university president Graham Spanier, former vice president Gary Schultz, athletic director Tim Curley, who is on leave, and former football coach Joe Paterno.
The most revealing element is that all four men were aware of a 1998 criminal investigation of Sandusky relating to a suspected sexual assault of a young boy in the showers of Penn State's football locker room.
Louis Freeh, the former FBI director commissioned by Penn State's trustees to conduct the investigation of the school, will address the media here at 10 a.m. ET. Here's a
news release
detailing some of what he'll say.
Here's a
statement from Penn State's leadership and the school's trustees
on the Freeh report. President Rodney Erickson and several trustees will hold a 3:30 p.m. ET news conference in Scranton, Pa.
Much more to come.
June, 13, 2012
6/13/12
9:45
AM ET
Throughout the sordid Jerry Sandusky scandal, we've been waiting for a smoking gun that would indicate that Penn State higher-ups knew about the sexual abuse allegations against the former assistant coach but declined to act.
New documents obtained
by the Pennsylvania Attorney General's Office might just contain that smoking gun.
The documents, mentioned as part of a motion in the perjury case against former administrator Gary Schultz and ex-athletic director Tim Curley, state that Schultz maintained a secret file on Sandusky. Schultz oversaw the school's police force.
The AG's office said the file was only recently disclosed by Penn State despite a longstanding subpoena order and that it had obtained "emails between Schultz, Curley and others that contradict their testimony before the Grand Jury."
"Schultz told so many lies during his Grand Jury testimony that is unfair for the Commonwealth to allege and prove so many lies," the motion reads at one point.
NBC News has reported that former president Graham Spanier was involved in an email exchange about the Sandusky allegations and that he and Schultz decided it would be "humane" to Sandusky to keep the accusations away from social services or other authorities.
Schultz and Curley will still have their day in court, and Spanier hasn't been charged with any crimes. But if prosecutors can prove that Penn State senior administrators were aware of the allegations and decided to bury them, that could spell really bad news for the university. The NCAA and Big Ten have said they are investigating the school and could levy penalties for the handling of the Sandusky sex-abuse situation. This latest document might be the smoking gun that would force their hand.
June, 12, 2012
6/12/12
5:00
PM ET
What'cha want?
Jim from Birmingham, Ala., writes:
If (1) Alabama destroys Michigan in their game in Dallas; (2) Alabama loses to LSU, as it did last year; (3) LSU wins the SEC Western Division and Conference; (4) Alabama finishes the season with only one loss (to LSU), but finishes 4th in the polls; and (5) Michigan loses to another B1G team, but wins the B1G Conference and finishes 5th place in the polls; should Michigan, by virtue of its "conference championship," be selected over Alabama for a four team playoff BCS spot? If your answer is "yes," please explain your logic. My solution is simple for determining a playoff system. Settle it on the field by having each conference and the independents select a team, and then having the selected teams compete in a playoff. The winner would get to determine whether to (a) select the top four teams, (b) restrict the playoffs to conference champs or (3) a combination system similar to the one suggested by J. Delany. What do you think about settling it on the field and why?
Adam Rittenberg:
My answer is no, but I'd be highly surprised if a two-loss Michigan team that got "destroyed" in the opener would finish fifth in the final rankings, whatever they may be. Again, you avoid a lot of this by having a selection committee with certain guidelines, as the Big Ten has proposed. Even if Michigan somehow finished No. 5 and Alabama finished No. 4, the committee could look at the two teams and determine Alabama is more worthy of a spot in the playoff because of its dominant head-to-head victory. I don't think the committee needs strict requirements on selecting conference champions over non-champions, but it can enter the room valuing league titles won on the field and making the right decisions, like Oregon over Stanford last year.
I don't really understand your solution. Are you talking about a 16-team playoff that would eventually become a four-team playoff? That's not happening, my friend. These leagues can reach an amicable solution, in my view. And it should be built around having a selection committee that values the qualities that are absent or obscured in the BCS rankings formula (schedule strength, margin of victory, etc.).
---
Drew from Milwaukee writes:
I just read your boy
Ted Miller's playoff article
over on the Pac 12 blog - really good stuff. He brought up some good points about the need for standardization across conferences in scheduling and championship formats. Given how unlikely any of that is to ever happen, I think it reveals a fatal flaw of this whole move towards crowning a national champion that began in 1997 - college football is not a national sport. This next statement won't win me many friends, but in a system with 120 teams governed by dozens of regional fiefdoms, devising a system to declare one team ruler of them all is a fool's errand. The further we go down this rabbit hole the less I care about a bogus system for choosing a #1 and the more I care about Big Ten titles and Rose Bowl victories. Am I missing something here or should I just accept my fate and bust out the tin foil hat?
Adam Rittenberg:
Ted brought up some great points, and you hit on a key one: the fact that leagues have different models toward scheduling and championships. The Pac-12 has the roughest road with nine league games plus a league championship game. The Big 12 also has nine league games but no championship game. The Big Ten was going to nine league games but opted to remain at eight after the Pac-12 partnership. So you're right. Different leagues function in different ways. As Ted touched on as well as
Blair Kerkhoff in this excellent story
, the next step could be standardizing the regular season. But that creates some potential obstacles for certain leagues.
Also, more than half the FBS teams are essentially eliminated from national championship contention before they play a game each fall. Given all these issues, there's no perfect solution to determine a national champion. So should we still have one? It's fair to wonder whether college football was better off before the BCS. That said, there's a strong demand among most college football fans for a national champion. We tend to want definitive results in our sports, and while college football struggles to produce this because of what we're discussing, the desire remains strong. Also, the Rose Bowl championship isn't what it used to be for a lot of Big Ten fans, especially those who have grown up with the sport in the BCS era. We've seen atypical Rose Bowl matchups and the Big Ten's best teams not heading to Pasadena each year.
Bottom line: I think we're too far down this road to turn back. I like the playoff, but I also respect what you're saying.
---
Eric from Denver writes:
Hey Adam, would you rather face Iowa at the beginning of the season - when their offense is still a work in progress - or at the end of the season - when you've had the benefit of seeing some videotape on Greg Davis' new scheme?
Adam Rittenberg:
I'd rather face Iowa at the beginning of the season, Eric. While senior quarterback
James Vandenberg
seems to be picking up the scheme well and clicking with Davis, Iowa has significant question marks at both wide receiver and running back. There will be some mistakes early on, and it likely will take a few games for Iowa to identify its playmakers both in the pass game and the run game. Iowa's track record shows that despite its misfortune at running back, it will find a capable ball-carrier or two. I think the Hawkeyes will have a better rush game in Week 8 than Week 2. I also think Vandenberg will have more reliable targets in Week 8 than Week 2, whether it's
Keenan Davis
,
C.J. Fiedorowicz
or someone else. While it's always helpful for opposing coaches to watch tape from the current season, it's not as if Davis is a rookie coordinator with a unique scheme. Opposing coaches will have a fairly good idea of what to expect from him in September.
---
Max from Omaha writes:
Quick question: with all the talk about the greatest individual seasons ever, and the list of 2,000 yard rushing seasons getting posted, why doesn't Mike Rozier get more attention for his 1983 campaign? 7.81 yards per carry is still an NCAA record (and is absolutely ridiculous), and is 2 ypc more than Marcus Allen's mark of 5.81 in 1981, which was just named the 2nd greatest individual season effort of all time. Is the fact that he had talent around him hurting the legacy of the season? I believe Marcus had 3 future NFL lineman paving the way for him in '81. Mike also had 7 more TD's (with 29). I'm obviously biased as a Husker fan, but with his YPC avg, I think you could pretty easily argue that he had the second or third greatest rushing season in college football history...Let me know!Thanks!
Adam Rittenberg:
Good question, Max, and to help with the answer, I consulted my esteemed colleague Ivan Maisel, who has covered college football a lot longer than yours truly. Ivan included Rozier's 1983 season at No. 10 on his list of best seasons from the past 50 years. He didn't rank Rozier higher because Nebraska had so many weapons on offense that year, and Rozier's individual greatness was a bit overshadowed because the unit performed so well. Nebraska had a standout quarterback in Turner Gill and a star pass-catcher in Irving Fryar. Mark Schellen and Jeff Smith were nice complementary weapons. It certainly doesn't take away from the ridiculous numbers Rozier put up, but most of the players who made the final list were one-man shows in that particular season. While USC had some great linemen in 1981, it
lacked standout offensive weapons aside from Allen
. Aside from Barry Sanders in 1988, there's not a whole lot separating the truly elite seasons by running backs in the past 50 years. Rozier's 1983 campaign and Allen's 1981 season are both right up there.
---
Aris from Seattle writes:
In your opinion, Adam, will anything come in terms of NCAA sanctions against Penn State for the Jerry Sandusky situation, since it went all the way up to the president and AD? Is there any way PSU avoids sanctions, due to what seems to be a cover-up?
Adam Rittenberg:
It's definitely possible, Aris, especially as we learn more about what Graham Spanier, Gary Schultz and others might have known about the allegations against Jerry Sandusky. While this situation is new territory for the NCAA and the Big Ten, which has launched its own investigation, a major cover-up by prominent university officials could merit severe penalties. I see this as an all-or-nothing situation for the NCAA. Either it hits Penn State with the most serious charge of lack of institutional control, or it doesn't impose any penalties. There's no gray area. And if some of the recent reports are true, it wouldn't be a stretch for the NCAA to conclude that the institution lost control.
---
Max from Grosse Point Farms, Mich., writes:
Good synopsis on the Big Tens position as it relates to the selection process for a football playoff. A selection committee seems like a "no brainer." You mention the Oregon/Stanford BCS situation. How about the MSU/UM debacle from last year? MSU handily beats UM during the season, but is them penalized for a close loss in the championship game. Do you think a selection committee would have done the same based upon both teams bodies of work for the entire season?
Adam Rittenberg:
Max, I think a committee would have picked Michigan State over Michigan for a four-team playoff if both teams had been in contention with just one loss apiece. But this would have required a "good loss" by Michigan State, like maybe a 3-point loss to Wisconsin. The fact is neither Michigan nor Michigan State would have been in contention for a four-team playoff last year. Both teams lost to average teams: Notre Dame (Michigan State) and Iowa (Michigan). If a committee is selecting teams for all the big bowls and not just the four-team playoff, it likely would pick MSU ahead of Michigan. But if that decision is made by the bowl committees, they can pick whatever team they want as long as it's eligible.
---
Jason from Kansas City, Mo., writes:
Adam,In response to your response of my e-mail. Let's make a deal. I'll stop speaking for the entire Nebraska fan base as long as you do the same. Sound good?
Adam Rittenberg:
Deal.
May, 21, 2012
5/21/12
12:30
PM ET
The trial of former Penn State assistant Jerry Sandusky on child sex abuse charges
will begin as scheduled on June 5
.
Judge John Cleland on Monday denied a request from Sandusky's attorney for a delay in the trial. Attorney Joe Amendola on May 9 asked that the start of jury selection be pushed back because he needed more time to find and interview witnesses, and because pending criminal charges against two former Penn State administrators (Tim Curley and Gary Schultz) made them unavailable as witnesses. Attorneys for both Curley and Schultz have informed Amendola that their clients will invoke the Fifth Amendment rights and refuse to testify during the Sandusky trial if subpoenaed.
Sandusky faces 52 counts of alleged abuse of 10 boys during a 15-year span. Jury selection begins June 5, and jurors will be selected from the State College area.
December, 11, 2011
12/11/11
12:00
PM ET
Penn State assistant Mike McQueary told a grand jury and police that he saw former Nittany Lions assistant Jerry Sandusky sexually assaulting a young boy in the showers of the team's football facility in 2002.
But
he reportedly told a family friend a different account of the incident
shortly after it happened.
The (Harrisburg) Patriot-News
reports that McQueary told Dr. Jonathan Dranov, a family friend and a colleague of his father's, that he heard "sex sounds" and a running shower before a young boy peered around the corner of a shower stall. An adult's arm then reached around the boy's waist and pulled him out of view. Sandusky walked out of the shower moments later.
A source with knowledge of Dranov's testimony before the grand jury relayed his account to the Patriot-News. Dranov testified that he spoke to McQueary shortly after McQueary witnessed the alleged incident, and advised McQueary that because he hadn't personally witnessed an assault, he should report the incident to his superiors at Penn State but not the police.
The version differs with those from
McQueary's statement to police
and the
summary of his testimony in the grand jury presentment
. In both of those accounts, McQueary said he witnessed Sandusky sodomizing a boy of about 10 years old in the shower.
This is a significant development, as McQueary's testimony played a key role in the perjury charges against former Penn State athletic director Tim Curley and ex-vice president Gary Schultz. It also raised questions about what McQueary told former Penn State head coach Joe Paterno, who claims he was never told about a rape or molestation when McQueary came to him the day after the alleged incident.
Curley and Schultz have testified they were told about "horseplay" that McQueary said made him feel uncomfortable. McQueary says he told them graphic details about a sexual assault.
As previously reported, McQueary told a friend in an email that he stopped the alleged rape and discussed it with police, something a source familiar with the state's investigation confirmed to ESPN's Tom Rinaldi.
McQueary testified that after witnessing the alleged assault, he left the building, called his father and the next day told Paterno what he saw.
Paterno's response to the situation came under intense scrutiny after Sandusky was charged last month, and eventually led to the Paterno's firing by the school's board of trustees.
While Sandusky has many more problems to worry about, the cases against Curley and Schultz could come down to the credibility of McQueary's testimony. McQueary and Paterno both don't face criminal charges, but their responses to what they saw or what they were told have been major parts of this story.
November, 7, 2011
11/07/11
5:30
PM ET
Colleague Dana O'Neil brings a unique perspective to the Penn State scandal as both an exceptional sports journalist and an alum of the school.
O'Neil today writes about how prideful Penn Staters are hurt and embarrassed by the Jerry Sandusky scandal and the university's apparent lack of action in reporting alleged sex crimes involving minors.
People simply want to know, "How?" How could five grown men -- Penn State president Graham Spanier, athletic director Tim Curley, vice president for finance and business Gary Schultz, football coach Joe Paterno and graduate assistant Mike McQueary -- fail to turn this over to authorities?

If the Duke lacrosse case has taught us anything, we don't know what we don't know.

Knee-jerk reaction is easy and Twitter right now is afire with it.

But determining true guilt and assessing real blame, even involving the most heinous of crimes, is difficult business and one that I am surely not qualified to handle.

Then again, neither is a football coach, an athletic director or a university president.

There are people charged with the tricky jobs of investigating crimes, procuring indictments and determining guilt or innocence.

They have expertise, intelligence and most important, impartiality.

Why weren't those people ever contacted?
Click here to read O'Neil's story
.
November, 7, 2011
11/07/11
4:00
PM ET

Pennsylvania Attorney General Linda Kelly and State police Commissioner Frank Noonan held a news conference Monday to
address the Jerry Sandusky sex abuse scandal
and the fallout at Penn State.
Kelly made it clear that Penn State head coach Joe Paterno isn't a target in the ongoing investigation and won't face any legal repercussions for his handling of the situation.
"He's been cooperative with the investigators," she said.
Noonan did add, however, "Somebody has to question about what I would consider the moral requirements for a human being that knows of sexual things that are taking place with a child. I think you have the moral responsibility, anyone. Not whether you're a football coach or a university president or the guy sweeping the building. I think you have a moral responsibility to call us."
Kelly said Penn State officials never made any attempt to identify the child that the former graduate assistant saw in the showers with Sandusky in 2002.
"In this case, it is alleged that top administration officials at Penn State University, Curley and Schultz, after receiving a report of the sexual assault of a young boy in a Lasch Hall shower by Sandusky from both a graduate assistant and the coach of the Penn State football team not only failed to report the incident, as required by law, but never made any attempt to identify that child," Kelly said in a statement released Monday afternoon.
Paterno notified athletic director Tim Curley --fulfilling his legal responsibility -- but not law-enforcement authorities. Curley, charged with felony perjury and failing to report an alleged sex charge involving children, was arraigned Monday and released after posting bail.
While Paterno appears to be out of the woods legally, other key Penn State officials are facing action or could face action in the future. Asked Monday whether university president Graham Spanier is a target, Kelly said, "This is an ongoing investigation."
Kelly also was asked about previous issues involving Sandusky, including a 1998 investigation into allegations of abuse that was handled by Penn State university police. Another question brought up allegations that Sandusky brought a child to a Penn State preseason practice in 2007. Kelly said the 2007 incident could require further investigation, especially since Paterno and assistant coach Mike McQueary -- reportedly the graduate assistant who reported the previous Sandusky incident -- both had knowledge of the alleged 2002 abuse incident.
The bottom line here is that while Paterno likely won't face legal issues, his limited response will continue to be questioned. The big question becomes whether Spanier, who
issued a strong statement
supporting Curley and Gary Schultz, the school's senior vice president for business and finance, will be implicated.
Much more to come ...
November, 7, 2011
11/07/11
12:30
AM ET
Penn State announced late Sunday that athletic director
Tim Curley and senior vice president for finance and business Gary Schultz both are stepping down
amid allegations they committed perjury and failed to report alleged sex abuse by former football coach Jerry Sandusky.
The school's Board of Trustees, which held an emergency meeting Sunday night, received requests from both Curley and Schultz to step down. Curley will take administrative leave, while Schultz will retire from his post. Both men are scheduled to turn themselves in Monday, so the announcement isn't a surprise.
Senior associate athletic director
Mark Sherburne
will serve as Penn State's interim athletic director effective immediately. Sherburne has served as Penn State's senior associate athletic director for administration. A former Penn State football and baseball player, Sherburne served as assistant athletic director for student-athlete services for most of the past decade.
"The board, along with the entire Penn State family, is shocked and saddened by the allegations involving former assistant coach Jerry Sandusky," Board of Trustees chairman Steve Garban said. "Under no circumstances does the university tolerate behavior that would put children at risk, and we are deeply troubled."
Spanier said in a statement that the school will take several steps to "increase the safety and security within our facilities and make everyone aware of the protocols."
These include an independent review by external council of the school's policies related to the protection of children. The review will be made public. Also, administrators will review protocols for reporting possible incidents to police and enhance educational programming.
Again, Curley and Schultz stepping aside had to be expected given the seriousness of the case.
The big question forward is what other key figures will be affected by the fallout of a very disturbing case for a proud university.
Penn State spokesman Bill Mahon said head coach Joe Paterno's and president Graham Spanier's jobs were not discussed at the meeting.