December, 12, 2013
12/12/13
11:00
AM ET
LINCOLN, Neb. -- The last time we saw
Jeremiah Sirles
before Wednesday, the Nebraska senior emptied his heart in support of coach Bo Pelini, embroiled in controversy after the Huskers' Nov. 29 loss to Iowa to end the regular season.
[+] Enlarge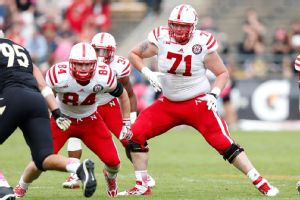 Joe Robbins/Getty ImagesJeremiah Sirles and his teammates are glad Nebraska's focus is back on football.
Sirles, a four-year starter at offensive tackle, and several teammates spoke passionately about Pelini and his staff, yet it appeared to many observers that the sixth-year coach may not survive the weekend at Nebraska.
Well, he did.
And the program lunged forward. The Huskers received a break from the game to rest and prepare for final exams. Pelini and his staff gained momentum on the recruiting trail. The TaxSlayer.com Gator Bowl, in a move unexpected before the final hours on Sunday, paired Nebraska with Georgia for a New Year's Day rematch of the Capital One Bowl from last season.
As the team readies to get back to practice this weekend, the air around Memorial Stadium appears free of the toxicity from two weeks ago.
Count Sirles among those relieved that Nebraska football has moved past a November dominated by questions about the job security of its coach.
"It's hard to have all these unanswered questions around this place because it always seems like there [are] these unanswered questions," Sirles said Wednesday, as a group of Huskers met with the media for the first time since the regular-season finale. "Being able to have answers to all that and being able to have a stable base for going into the bowl game and even going to next year, I think, is huge."
About 19 hours after Iowa cemented its 38-17 win in Lincoln, Nebraska athletic director Shawn Eichorst issued a statement of support for Pelini.
Sirles said he was "proud" of the administration for its decision.
"Every word that I said was 100 percent from the heart and 100 percent true," Sirles said. 'I hope that people around the stadium could really tell that we really love and we care for our coaches, and that they love and care for us."
Fellow senior lineman
Brent Qvale
said he understood the sentiment from some Nebraska fans that an 8-4 regular season fell short of expectations.
Still, the coaches don't deserve blame, he said.
"It's just a culture around Nebraska that championships are expected," Qvale said. "And it should be. You play this game to win championships."
Senior receiver
Quincy Enunwa
said he stayed away from listening to the media speculation and criticism of November.
"We know what's going on inside the program," Enunwa said. "We know that we have our coaches back. We believe that we're a good team; there have just been a lot of setbacks for us this year."
That said, the Huskers are excited about the opportunity to finish strong.
Several Nebraska players interviewed on Wednesday said they were excited to face Georgia again.
"It might be frustration if we just blew them out last year," Enunwa said, "but we lost."
Said defensive back
Josh Mitchell
: "I didn't really have much of a reaction. It's just another game to me. We just need to get another win."
The Bulldogs beat Nebraska 45-31 to end last season in Orlando. Georgia scored the final 22 points behind a prolific performance from quarterback
Aaron Murray
, who's out for the Gator Bowl with a knee injury.
"We felt like we had a good chance of beating these guys last year," Sirles said. "We kind of let it slip through our fingers a little bit. It's almost a good chance to get back and get a little redemption."
Sirles and Enunwa were among a long list of Huskers slowed by injuries this fall. They said they'll be healthy for the Gator Bowl.
The Huskers, in fact, should field a team in Jacksonville, Fla., that's healthier than at any point since early October. Of the key contributors who went down, only guard
Spencer Long
is ruled out.
"I'm ready to play a game where most of our offense is healthy," Enunwa said.
Quarterback
Taylor Martinez
, who played in just one game after the Huskers' Sept. 14 loss to UCLA, continues to rehabilitate a foot injury. His availability for the Gator Bowl looks unlikely.
Sirles said many Huskers have "lived in the treatment room" since the regular season concluded. With most of the coaches away, the players participated in a few conditioning drills last week.
The tempo increased this week. The full group was at work, without pads, inside the Hawks Championship Center, on Wednesday afternoon.
Pelini and Georgia coach Mark Richt are set to meet in Jacksonville on Thursday afternoon to officially accept the Gator Bowl invitations.
Then it's back to work.
"We're going to come back healthy," Sirles said. "We're anxious to get back on the practice field and start banging again."
July, 18, 2013
7/18/13
11:40
AM ET
Most of you knew this was coming, but it's now official: The Big Ten will share a tie-in with both the Gator and Music City bowls for games taking place following the 2014-19 seasons.
The Big Ten will share its tie-in to both games with the ACC, as both conferences want additional flexibility in creating bowl matchups. The Big Ten currently has an agreement with the Gator Bowl in Jacksonville, Fla., while the ACC has an agreement with the Music City Bowl in Nashville.
Here's how it will work: The Big Ten will have three teams in the Gator and three teams in the Music City Bowl during the six-year agreement. The ACC has the exact same agreement with both bowls.
The Big Ten/ACC opponent for both games has yet to be announced, but the SEC is expected to occupy spots in both games on an annual basis.
The Big Ten returns to the Music City Bowl, where it had a tie-in from 2002-05. Minnesota made three appearances in the game during the four-year span. Don't expect to see a similar situation this time around as these agreements are all about flexibility and variety.
Like the Big Ten's other future bowl agreements, the Gator and Music City bowls won't have a selection number like in past years. Instead, they'll be part of
the Big Ten's tiered system
, most likely as middle-tier bowls with the Kraft Fight Hunger Bowl in the San Francisco area and the Pinstripe Bowl at Yankee Stadium in New York.
The Big Ten's post-2014 bowl lineup is taking shape, although several official announcements still must be made.
Here's the projected lineup from what we've heard:
Rose
Orange (Big Ten team will appear at least three times between 2014-26)
Capital One
Outback
Holiday
Gator/Music City
Kraft Fight Hunger
Pinstripe
Heart of Dallas/Armed Forces (Big Ten likely will share tie-in)
New Detroit Bowl (affiliated with Detroit Lions)
Some Big Ten fans don't like all the California bowls because of their distance from the league's footprint. Do you feel better about having Nashville, a relatively short trip, on the docket?
October, 13, 2009
10/13/09
2:00
PM ET

Posted by ESPN.com's Adam Rittenberg
More good questions over the weekend. Keep 'em coming.
Jeremy from Tecumseh, Mich., writes:
Adam, Certianly Jim Tressel is going to be in a difficult situation in the next coming weeks with Jim Cordle coming back from injury and his sophomore tackles playing good. Does he run the risk of messing up whatever chemistry the line is developing by inserting cordle back in the starting lineup or should he let his young tackles start and work cordle in the game at different situations?
Adam Rittenberg: That's a great question, Jeremy, and one I'm sure the Ohio State coaches are debating right now. Tackles Mike Adams and J.B. Shugarts are the future of the Ohio State offensive line, but Jim Cordle's experience shouldn't go to waste. The advantage with Cordle is he can play pretty much any position on the line, so you could move him around a bit. No one is mistaking Ohio State's offense for Texas' right now, so the coaches shouldn't be afraid to make a move. I would keep Adams and Shugarts as the starting tackles and work in Cordle when necessary at either tackle or right guard. If Andrew Miller misses more time with the flu, Ohio State will need a third tackle.
---
Zach from Des Moines, Iowa, writes:
Adam, are you under contract with ESPN as far as your power rankings go? I have to assume you are because after a year and a half of blogging, not once have you disagreed with the AP poll when ranking Big Ten teams. I just find it funny that your Big Ten rankings are perfectly correlated to the AP poll. Do you really believe that week after week or are you obligated to not break "form"? Be truthful.
Adam Rittenberg: Uh, Zach, you obviously missed the power rankings from Week 2, when I ranked Michigan ahead of Ohio State. So I'm not obligated to anything, and I don't vote in the AP Poll. I've actually ripped the AP voters more than any of my fellow bloggers this season. Given your address, I'm guessing you're upset that Iowa isn't ranked ahead of Ohio State in this week's rankings. When I look at Ohio State and Iowa, I see two very good defenses, two very good special teams groups and two questionable offenses. The difference is Ohio State's defense has been stingier when it comes to points allowed, and Iowa's offense has made more major mistakes than the Buckeyes. The majority of impartial observers would agree that at this point, Ohio State gets an edge against Iowa. But things certainly can change before Nov. 14.
---
Chris from Hastings, Minn., writes:
Adam, should Minnesota consider a switch at QB and start the freshman Marqueis Gray or do you think the coaching staff is doing the right thing by bringing Gray in sporadically.
Adam Rittenberg: I don't think MarQueis Gray is fully ready to run the offense, and I'm not certain that the pro-style system Minnesota switched to for the season best suits Gray's talents. He seems like more of a spread offense QB. That said, Minnesota should continue to find ways to work Gray into games. He can really be a weapon for a unit that has endured some ups and downs this season. The Gophers' top priority right now is the run game, which definitely looks like the right approach. But quarterback Adam Weber has been a bit shaky this season, so using Gray as a change-up isn't a bad idea at all.
---
October, 12, 2009
10/12/09
10:55
PM ET

Posted by ESPN.com's Adam Rittenberg
Thanks to several of you for pointing out that the new Gator Bowl agreement will pair the Big Ten with an opponent from the SEC, not the ACC, as I
reported earlier
.
When negotiations heated up during the summer, it looked like a Big Ten-ACC matchup in the Jacksonville game, but the Gator Bowl last week announced
an agreement with the SEC and the Big Ten
.
My mistake on that one. I blame Big Ten tunnel vision.
This will give the Big Ten three Jan. 1 bowl matchups against the SEC leading up to the Rose Bowl. Though the league's reputation will be determined by its results in BCS games, the Big Ten can earn some bragging rights against the SEC with wins in the Florida bowls.
The Big Ten will make its official bowl announcement Tuesday.