July, 10, 2013
7/10/13
12:00
PM ET
Big Ten media days begin two weeks from today. We are not scare-mongering. This is really happening.
June, 21, 2013
6/21/13
2:30
PM ET
It's not often that the Big Ten's two Indiana schools beat out some of college football's marquee programs for recruits. Heck, in our future power rankings for the league earlier today, we mentioned the difficulty of recruiting there as one reason we ranked Purdue No. 11 (a spot ahead of Indiana).
But each program has scored a nice recruiting coup in the past 24 hours, both of which are notable for the teams they were battling.
The Boilermakers received a commitment on Friday from offensive tackle
Denzel Ward
, who's quite literally a big recruit. The Chicago native measures in at 6-foot-8 and 305 pounds and is rated as a
three-star prospect by ESPN.com
. Ward's list of final four schools included Florida, Oklahoma and Ohio State, and he was committed to Michigan earlier this year.
Coaches aren't allowed to comment on prospects until they sign, of course, but it didn't take a whole lot of mind reading to figure out whom Purdue assistant Gerad Parker was thinking about when he tweeted this today: "Purdue football got a big one today! Let's keep the train movin!"
Ward is Purdue's third commitment this month and sixth overall in the class of 2014.
Indiana was also celebrating this morning, as Florida offensive tackle
Delroy Baker
committed to the Hoosiers. The 6-foot-6, 259-pounder picked IU over Florida and also had scholarship offers from Florida State, Miami and Missouri
"I chose Indiana because after the first hour of being there, I felt like this is where I belong," Baker told 247Sports.com. "It's just my gut feeling, and thankfully, everything else fell into place."
Indiana entered the month of June with no commitments for 2014 but has now picked up five in the past 19 days.
So what's more remarkable? That Purdue and Indiana each beat out top-tier programs for an offensive tackle, or that they both did it on the same day?
May, 21, 2013
5/21/13
10:00
AM ET
Gerad Parker and his fellow Purdue assistants need no tutorial on what the state of Texas means to the Boilers' program.
They get a reminder every time they turn on the television every Sunday during the NFL season. Former Purdue coach Joe Tiller built his program largely on recruiting the Lone Star State, and the centerpiece of Tiller's efforts plays quarterback for the New Orleans Saints.
"We knew from what Coach Tiller was able to do here at Purdue," Parker, Purdue's recruiting coordinator and tight ends coach, recently told ESPN.com. "The players that came out of [Texas], the first one obviously being You Know Who in Mr. [Drew] Brees. Those guys did a good job in Texas."
[+] Enlarge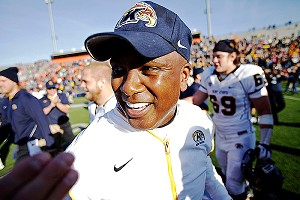 AP Photo/J.D. PooleyNew Purdue coach Darrell Hazell and his staff will be making recruiting talent out of Texas a priority.
Purdue's 2000 team that won the Big Ten and reached the Rose Bowl included 12 Texans on the roster, including Brees, first-team All-Big Ten linebacker Akin Ayodele, linebacker Landon Johnson and safety Ralph Turner. The Boilers currently have five Texans on the roster, including starting defensive end
Ryan Russell
.
Those numbers could increase under the new staff. Although head coach Darrell Hazell and several of his assistants have ties to the East Coast and, of course, to Ohio, Texas will be a priority for Purdue's recruiting in the coming years. Parker had two assistants each spend a week recruiting in Texas during the post-spring evaluation period.
Purdue's lone commitment so far for the 2014 -- wide receiver Trae Hart -- hails from Texas. The Boilers are
pursuing other Texas prospects
like quarterback David Blough, a Carrolton native recently selected for the Elite 11 finals. Blough learned he had made the finals when
Brees tweeted about it
.
"Texas is another state that has great football, great tradition, those kids grow up playing, they're well-coached" Parker said. "So we wanted to get back and put our feet in the ground and obviously get some kids from that area."
Purdue's previous coaching staff didn't hide its preference for Florida recruits, and there are 19 Floridians on the current roster and five in the incoming recruiting class. Although the team's recruiting map will spread out a little more under Hazell and his assistants, they aren't going to neglect the Sunshine State.
Three of Hazell's assistants -- offensive line coach Jim Bridge, defensive line coach Rubin Carter and secondary coach Jon Heacock -- all have recruited Florida for years and will continue to do so.
"We've got Florida still covered, there's no question about it," Parker said. "With the players we have currently, who are all pretty good players, we want to keep that tradition alive, and the only way you do that is continue to sign kids from that area."
May, 13, 2013
5/13/13
2:30
PM ET
There has been plenty of recent news on the recruiting trail around the Big Ten, and we're a bit
overdue for a scorecard
, so here's the latest rundown. Teams are sorted based on most verbal commitments for the 2014 class.
MICHIGAN
Total commits:
9
ESPN 150 commits:
8
The latest:
Michigan's recruiting once again is off to an extremely fast start, as the Wolverines not only are piling up commits but quality players. Defensive end Lawrence Marshall on Saturday
became the eighth ESPN 150 prospect
to pick Michigan. No other FBS team has more than five ESPN 150 players pledged for the 2014 class. Barring a surprise turn, Michigan will sign a top-5 class in February. The Wolverines currently rank No. 3 in the RecruitingNation rankings.
PENN STATE
Total commits:
9
ESPN 150 commits:
1
The latest:
Penn State has filled out most of its 2014 class before mid May, and the Lions are adding quality prospects like ESPN 150 athlete De'Andre Thompkins, wide receiver Chris Godwin and linebacker Troy Reeder. The Lions picked up two more commits late last week in defensive back Marcus Allen and linebacker Jared Wangler. Bill O'Brien and his staff have to be selective because of scholarship restrictions, but they've also been aggressive in piling up early commits. Penn State is No. 13 in the latest class rankings.
NORTHWESTERN
Total commits:
8
ESPN 150 commits:
0
The latest:
Northwestern is quietly putting together the best class in coach Pat Fitzgerald's tenure. The Wildcats are 19th in RecruitingNation's class rankings after an excellent week that ended with them landing talented running back Auston Anderson on Thursday. Anderson's pledge came on the heels of four-star athlete Dariean Watkins choosing Northwestern. Although Northwestern hasn't landed an ESPN 150 prospect, it boasts several commits (QB Clayton Thorson, Watkins) who are close.
OHIO STATE
Total commits:
8
ESPN 150 commits:
1
The latest:
Urban Meyer's assistants are all over the recruiting trail -- and
letting us
know
about it on Twitter
-- and after a six-week drought without a commitment, the
Buckeyes added one Sunday
in wide receiver Lonnie Johnson. The Gary, Ind., native had offers from Indiana, Purdue and Nebraska, among others, but gives Ohio State a four-star prospect at a position of need. Ohio State checks in at No. 14 in the latest class rankings.
MICHIGAN STATE
Total commits:
6
ESPN 150 commits:
0
The latest:
The Spartans' total hasn't changed since they picked up linemen Brian Allen and Enoch Smith Jr. during spring game weekend, but they're
closing in on prospects like tight end
Matt Sokol and
defensive end
Rashawn Pierce. The downside is that Michigan State lost Marshall to rival Michigan
after many believed Marshall would go green
. Michigan State also had been pursuing Watkins, who verballed to Northwestern.
WISCONSIN
Total commits:
4
ESPN 150 commits:
1
The latest:
Gary Andersen's staff has added just one 2014 commit (defensive tackle Craig Evans) since taking over in late December. Although Evans pledged in March, the Badgers staff has been active on the recruiting trail and
extending plenty of scholarship offers
. Wisconsin made a
late addition to its 2013 class last week
by picking up junior-college cornerback Tekeim Reynard.
ILLINOIS
Total commits:
4
ESPN 150 commits:
0
The latest:
The Illini added to their quarterback depth earlier this month by
picking up a commitment
from Ohio prep signal caller Chayce Crouch. Crouch led his team to the state championship game last season and had received scholarship offers from several MAC programs, as well as some interest from other Big Ten schools. Illinois also has injected some more spice into its in-state rivalry with Northwestern by picking up defensive end recruit Tito Odenigbo, the younger brother of Wildcats defensive end Ifeadi Odenigbo.
IOWA
Total commits
: 3
ESPN 150 commits:
1
The latest:
The Hawkeyes haven't added to their total since getting a pledge from offensive lineman Lucas LeGrand in early April. But with three in-state prospects -- headlined by guard Ross Pierschbacher, the nation's No. 47 player and highest-ranked Big Ten commit, according to RecruitingNation -- Iowa still is off to a decent start. Iowa is
extending its recruiting reach to Georgia
and recently offered defenders Henry Famurewa and Bradley Chubb.
MINNESOTA
Total commits:
3
ESPN 150 commits:
0
The latest:
The Gophers added two verbals during spring game weekend in athlete Dimonic McKinzy (early All-Name team nominee) and defensive tackle Steven Richardson. In-state running back Jeff Jones, a three-star prospect, headlines the class so far. Like the previous coaching staff, Jerry Kill and his assistants are targeting Texas for recruits like linebacker Everett Williams and defensive end Noah Westerfield.
NEBRASKA
Total commits:
2
ESPN 150 commits:
0
The latest:
The Huskers wait for their second 2014 commitment ended last week as Texas defensive back Jason Hall pledged for Big Red. At 6-foot-2 and 192 pounds, Hall brings
excellent size to Nebraska's defensive backfield
. Although Nebraska should continue to add to its total in the coming weeks and months, recruiting coordinator Ross Els told ESPN.com last week that the Huskers
likely won't see a surge until prospects start coming to campus on official visits
this fall.
PURDUE
Total commits:
1
ESPN 150 commits:
0
The latest:
Purdue is going back to its recruiting roots under new coach Darrell Hazell, as its first verbal for 2014 comes from the fertile state of Texas. The Boilers recently added wide receiver Trae Hart to the mix. I'll have more on this later in the week, but Boilers recruiting coordinator Gerad Parker said the program is ramping up its efforts in the Lone Star State, mindful of the success former Purdue boss Joe Tiller had there.
INDIANA
Total commits:
0
ESPN 150 commits:
0
The latest:
After signing an excellent recruiting class in February, Indiana's efforts for 2014 are off to a slow start. Indiana and Colorado are the only programs from a big-five conference (ACC, Big 12, Big Ten, SEC and Pac-12) without a verbal commit for next year. Things should pick up when camps kick off next month in Bloomington.
Future Big Ten members Rutgers and Maryland also are recruiting for the Big Ten, so here's a quick look at how they're doing ...
RUTGERS
Total commits:
9
ESPN 150 commits:
0
The latest:
The Scarlet Knights recruited well under Greg Schiano, had six players selected in April's NFL draft and continue to bring in quality players under Kyle Flood. After a productive March and April, Rutgers began May by adding a pledge from defensive tackle Pete Mokwuah. Running back Joshua Hicks and defensive end Justin Nelson headline Rutgers' 2014 so far. Rutgers also went into current Big Ten territory for quarterback Tyler Wiegers from Detroit Country Day School.
MARYLAND
Total commits:
3

ESPN 150 commits:
0

The latest:
The Terrapins added two pieces to their 2014 class in recent weeks in running back Johnathan Thomas from Massachusetts and athlete William Ulmer from Washington D.C. Maryland has plenty of local and regional players on its radar for 2014, as the areas surrounding College Park consistently produce a ton of FBS talent. The Terps picked up most of their 2013 recruits before the start of the season, but they might have to be more patient after a 4-8 record in 2012.
May, 9, 2013
5/09/13
2:40
PM ET
Most muttering about the Big Ten's new division alignment came from fans of teams in the seemingly loaded East division.
Their teams suddenly have a tougher path to their top goals, whether it's the Big Ten championship game, the College Football Playoff, a top bowl game or merely any postseason spot. The main complaints from the West -- mostly from Cornhusker country -- pointed to the potential lack of exposure their teams would receive by not playing as often in mega venues like Michigan Stadium, Ohio Stadium and Beaver Stadium, not to mention in the new Big Ten markets of New Jersey/New York City (Rutgers) and Maryland/Washington, D.C./Northern Virginia (University of Maryland).
The theory is less exposure could damage recruiting, not only in the Big Ten's fertile new territories but in the existing ones like Ohio and Pennsylvania.
But four recruiting coordinators from future Big Ten West division programs contacted by ESPN.com this week don't sound concerned about division placement hurting their recruiting reach.
"I really don't think coming into the West division will affect us from a standpoint of kids trying to see what we're about," said Ross Els, Nebraska's recruiting coordinator and linebackers coach. "The biggest thing for us is to obviously get the TV exposure out on the East Coast, whether we're playing the guys in the East or not. With the Big Ten Network market picking up in Jersey and Maryland, it's going to help us, even though we are on the West side."
[+] Enlarge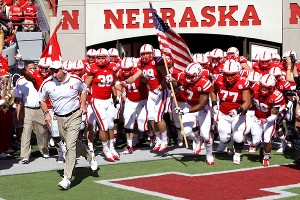 AP Photo/Nati HarnikAlthough West division teams like Nebraska will get less live exposure on the East Coast, the visibility they'll get from the Big Ten Network makes up for it.
The power of TV can't be minimized, Els said, noting that recruits in Texas, a former Nebraska recruiting hotbed, have less awareness of the Husker program because Husker games aren't televised as often as they were when Big Red played in the Big 12.
"But we are seeing the positive in the Midwest and now hopefully on the East Coast because we're on TV and that's what the kids are watching," Els said. "I'm interested to see what the response will be when we start playing Rutgers and Maryland or at least them watching us on TV more often. I think we'll even take another step as far as familiarity, but that's unproven right now."
Although West division teams will be getting less live exposure on the East Coast and in states such as Ohio and Pennsylvania, the Big Ten's television exposure more than makes up for it, several coaches said. Every Big Ten home football game is nationally televised on Big Ten Network, ESPN or ABC, and most non-league road games are picked up by a national outlet.
Although players' family members still want to see them play live, they won't miss games if they can't make the trips.
"The Big Ten is a national brand, and with the Big Ten Network, you still can sell a lot of games being on TV, crossover games closer to home and have an opportunity to play new teams like Rutgers and Maryland," Wisconsin recruiting coordinator and running backs coach Thomas Hammock said. "With TV and having access to games online ... there's probably less value placed on closer to home and more of the exposure of how much you can watch them play."
All of the West division teams assign coaches to recruit New Jersey andn Maryland. Purdue head coach Darrell Hazell, a New Jersey native, and running backs coach Jafar Williams, a Philadelphia native who played wide receiver at Maryland, handle the area for the Boilers.
Hammock, who hails from Jersey City, N.J., will continue to recruit his home state, where he plucked ESPN 150 running back prospect Corey Clement (Glassboro, N.J.) for the 2013 class. New Badgers assistant Chris Beatty, who grew up in Virginia and coached high school ball there, will target the areas around the University of Maryland.
Although the new markets already are priority areas for programs like Purdue, the effort there likely will ramp up in the coming seasons.
"It's certainly an area we want to pay attention to because of Coach Hazell's roots and Jafar's," Purdue recruiting coordinator and tight ends coach Gerad Parker said. "[The new additions] certainly perked our eyes because now we have a tie-in with the conference."
Matt MacPherson, Northwestern's recruiting coordinator and running backs coach, lists Ohio, Pennsylvania and Texas as the three most important areas for the program's recruiting efforts outside of Illinois. The Wildcats have played at Penn State in two of the last three seasons, but the new alignment means they'll likely visit State College and Columbus just once every four years.
Still, MacPherson doesn't anticipate changing the team's recruiting plan because of the division alignment.
"When you're talking to a kid about the reasons for coming to Northwestern, you're talking not only a four-year decision but a 40-year decision, the rest-of-your-life-type decision," he said. "A lot of the kids we recruit and the families we recruit to can see beyond making that decision based on whether you're going to play in a certain football stadium one or two times in your entire career.
"I don't see it affecting us a whole lot as far as where we spend our time and resources, at least not until there's some evidence to say otherwise."
Although many Wisconsin fans didn't like the Leaders/Legends alignment because they moved away from regional rivals Minnesota and Iowa, former
Badgers coach Bret Bielema often pointed to the recruiting/exposure advantages
of playing Ohio State and Penn State every year. Hammock, meanwhile, had "no reaction" to Wisconsin being in the West, noting that the Badgers must play the schedule in front of them.
Some even see recruiting advantages to being in the West division.
"Being able to recruit the Midwest and push up to Chicago, being on that side of the line doesn't hurt us," Parker said.
Only time will tell how West division placement impacts teams' recruiting on the East Coast and in the eastern half of the league. But the coaches don't sound worried.
"Sure, we won't be playing in the state of Ohio every year or every other year, but when people talk about the teams in the East, they normally talk about the teams in the West also," Els said. "So hopefully our exposure will still be pretty good in Big Ten country, regardless of which side we're on."