April, 1, 2014
Apr 1
5:00
PM ET
Coming at ya from Happy Valley. Dropping in on James Franklin and the Nittany Lions on Wednesday.
To the inbox ...
Ken from Kansas City, Mo., writes:
Hey Adam! I loved the "dictator for the day" thread. I just have one suggestion ... since everyone was worried about some teams getting five home games and other teams getting four in a nine-game schedule, and with two bye weeks now due to extending games beyond Thanksgiving, how about every team has one of their conference games played internationally each year, following a bye week? This would: increase international exposure for the B1G, be a cool perk when it came to recruiting -- "your son will get to visit four or five foreign countries during their years at our university" -- and leave everyone with an even 4-4-1 split on conference game locations and make for some cool travel options for the fans.
Adam Rittenberg:
Ken, a couple things here. The double-bye thankfully won't be an annual occurrence in college football. It takes place only when Aug. 30 or Aug. 31 falls on a Saturday, as was the case last year and again this fall. Also, Big Ten schools don't want to part with home games, especially for an international site that, while appealing to some, prevents many others from attending. It also disrupts the players' schedule. I like the way you're thinking because exposure is the name of the game, and occasional international events like Penn State's opener this fall make sense. But not every year.
---
Brian from Baltimore writes:
So far PSU and James Franklin are "walking the walk"' as far as dominating recruiting. How surprising is this? After this torrid pace of commitments slows down, how do you see Penn State faring overall for 2015 recruits?
Rittenberg:
Brian, while the sheer number of early commits is noteworthy, Franklin's recruiting success certainly is not. He has been regarded as a nationally elite recruiter since his time as a Maryland assistant, and the enthusiasm he brings to Penn State -- and a region where he and several of his assistants already have familiarity -- translates on the trail. Franklin did really well with early commitments in Vanderbilt's 2013 class, as 16 players pledged before the season. If Penn State hangs onto all these recruits and continues to add solid pieces, Franklin will bring in a nationally elite class next February.
---
Brian from West Michigan writes:
If the Northwestern unionizing efforts succeed, are they aware of the unintended consequences that are coming from their actions? For instance, now that they are considered "employees," their scholarship value (upwards of 50K/year depending on the school) is considered compensation and eligible to be taxed. You hear stories of kids being able to use athletics to get them a degree that otherwise they couldn't have afforded. How does a college kid who is now "making" $50K/year scrape up the cash to pay Uncle Sam?
Rittenberg:
Brian, the tax question looms large in the debate, and there are different opinions on what the players would be required to pay.
Kevin Trahan addresses it well here
, quoting several tax experts who say the players will have to pay taxes on their scholarships. College Athletes Players Association president Ramogi Huma, meanwhile, cites a provision in the tax code that states scholarships for "degree candidates" are not taxable. It doesn't sound like tax status will factor into the NLRB's final ruling on whether players are employees, but it's certainly a significant factor for the players as they pursue this route.
---
Jim from Virginia writes:
A lot is made of "skill" positions (top three backfield, etc). Yet, when looking at the offensive and defensive lines, Nebraska seems to be able to make a case for turning a four-loss year last year -- when the offensive line got experience through injuries and the defensive line matured -- into maybe Bo Pelini's best campaign.
Rittenberg:
Jim, I agree that Nebraska's ceiling this season largely depends on line play.
Randy Gregory
provides a major edge-rushing threat for the defensive line, and if Nebraska can stay healthy and generate more from the inside tackles, it should be pretty stout up front. There are more questions along the offensive line, which loses key players such as
Spencer Long
,
Cole Pensick
and
Jeremiah Sirles
. Alex Lewis is a key addition because he brings experience from Colorado. Lewis and
Jake Cotton
should anchor the left side of the Husker line. Nebraska must build depth and chemistry with the group the rest of the spring and through fall camp. It likely needs younger players such as
Givens Price
to blossom.
---
Keith from Kunming, China, writes:
Hey Adam,You didn't like the Premier League model for B1G and MAC, but I do. You said it's not realistic to move between leagues, but it is if the B1G and the MAC have a contractual relationship, and the MAC is essentially absorbed into the B1G as a sort of junior league. B1G doesn't "own" MAC programs but it effectively subsidizes them. Michigan will continue to fill its stadium when relegated (oh! the joy in East Lansing!), which will be financially great for the MAC opponents. My only change to the model proposed is that relegation should happen every years, as in England. Why wouldn't this work?
Rittenberg:
Keith, first off, thanks for reading from so far away. Although the Big Ten and the MAC have a strong relationship when it comes to scheduling, officiating and other areas, your proposal requires the Big Ten to shoulder a major financial and structural burden, while embarrassing its members in the process. I'm not saying it wouldn't be fun for fans, but does the Big Ten want to be so closely tied with the MAC, which has schools with profiles that differ markedly from those in the Big Ten? Scheduling would be a huge headache because you wouldn't know where certain teams would be. Money would be a problem on several levels, from television audience to stadium size.
March, 18, 2014
Mar 18
11:00
AM ET
LINCOLN, Neb. -- For the first 2½ years of his career at Nebraska,
Givens Price
heard voices.
Voices at practice. Voices in the meeting room. Voices when he entered the playing rotation at guard in the second half of last season as injuries nearly decimated the offensive line.
Five senior offensive linemen in 2013 -- gone from Nebraska after starting a combined 127 games in their careers -- spoke to Price even when he stood alone on the sideline.
"We are the voices now," Price said on Monday.
[+] Enlarge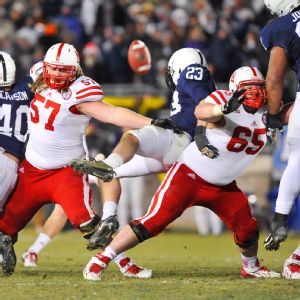 Randy Litzinger/Icon SMIZach Sterup (57) and Ryne Reeves (65) are among those competing for spots on the Huskers O-line.
The Huskers are rebuilding the line this spring. Through six practices, improvement is steady, according to the linemen and the quarterback they protect, sophomore
Tommy Armstrong Jr.
"They're going to get better," Armstrong said. "We're expecting that. At the same time, you've got to understand that sometimes mistakes are going to happen. They're all out there to win a spot. They're all out there to improve and push each other. They come out there and they're ready to work."
Despite the departures, Nebraska returns experience, primarily in left guard
Jake Cotton
, a senior who started 11 games last season. Others show notable promise, and the line, as a group, appears just as physically impressive as the 2013 cast.
Perhaps more impressive, in fact.
"We've got to get the mental side down," Cotton said, "if we want the size to matter."
Six practices into this spring, Cotton at left guard and junior
Zach Sterup
at right tackle appear most entrenched. Price has taken the majority of snaps at right guard, though senior
Mike Moudy
, out with a shoulder injury this spring, figures to compete for the job in August.
At center, senior
Mark Pelini
and junior
Ryne Reeves
are splitting time. And at left tackle, Colorado transfer Alex Lewis, a junior who has emerged as a top spring storyline, and redshirt freshman
David Knevel
, continue to compete.
"I think our whole room is full of competitors," Cotton said "Some of the guys have come so far in [two weeks]. I wouldn't have guessed it would go this fast."
Many of the new candidates to start received an unexpected jump start last season.
With seniors
Spencer Long
,
Jeremiah Sirles
,
Brent Qvale
,
Andrew Rodriguez
and
Cole Pensick
set to anchor the line, all appeared settled.
But after Long, an offensive captain and All-Big Ten pick in 2012, went down with a knee injury in early October, the injuries mounted. Moudy started three games in place of Long at right guard before the shoulder injury hit.
Cotton missed two games with a knee injury. Sirles and Pensick also missed practice time, forcing position shifts among the experienced linemen and youngsters like Reeves, Sterup, Pelini and Price into action.
Production suffered. Nebraska averaged 42.4 points and 291.6 rushing yards in the five games before Long's injury; after, it was 25.4 and 168.2.
Still, Armstrong credits the veteran linemen, especially Cotton, with easing the quarterback's transition into the lineup.
"They all sat me down and said, 'Hey, this is your time,'" Armstrong said. "'We saw how you practiced. Just go out there and have fun. We're going to have your back 100 percent of the way.' Jake Cotton said, 'You're the guy we want right now, and you're the guy we need.'
"He told me we were going to win games, and that's what we did."
Armstrong finished 7-1 as a starter last season, including a win over Georgia in the Gator Bowl.
Now it's his turn to help nurture the young linemen.
The play of Lewis at left tackle grabbed Armstrong's attention this spring. At 6-foot-6 and 290 pounds, Lewis, who started 12 games at Colorado in 2012, has meshed well with Cotton to help protect the QB's blind side.
Lewis and Cotton, to put in nicely, make their presence known on the practice field.
"That's double trouble right there," Armstrong said. "They work hard. They're outgoing. They're rowdy. They just keep going."
Cotton said the group is quickly developing a chemistry.
"You go the extra step to make sure guys are on the same page," he said. "It's a lot of fun. There's just something about having open spots, with nothing guaranteed, that's fun, because the competition is heated. Guys are gunning for spots."
It will, no doubt, intensify in August as Moudy returns. Also set to join the mix are
Nick Gates
,
D.J. Foster
and
Tanner Farmer
, the most heralded group of linemen signees in coach Bo Pelini's seven years at Nebraska. Another rookie,
Mick Stoltenberg
, could fit on the offensive or defensive line.
Regardless of the personnel, they'll work without the guidance of veterans like Long and Sirles.
"Nothing stops," Price said. "We've got to pick up from where they left off. The dream they had is still the dream we have -- that's to make it to the Big Ten championship and win the Big Ten championship. It starts in spring football."
October, 18, 2013
10/18/13
2:00
PM ET
LINCOLN, Neb. -- Only twice in its illustrious history has Nebraska averaged 200 yards rushing and 200 yards passing in the same season.
Only once – last season – has it reached 250 rushing and 200 passing.
Through six games this fall, the Huskers sit at 285 rushing and 205 passing. Granted, three of the Big Ten's top four rushing defenses – Michigan State, Iowa and Michigan – await Nebraska in November, and the other top unit against the run, Ohio State, might well be there for the Huskers in Indianapolis on Dec. 7 if things go as planned in Lincoln.
Regardless, credit the Nebraska offensive line, whose members talked in August of ranking as a vintage Huskers group. That's a mouthful at a school that won six Outland Trophies and 13 NCAA rushing titles in the 1980s and 1990s alone.
[+] Enlarge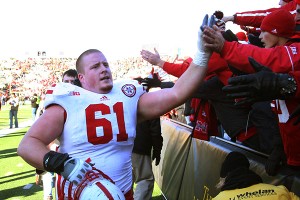 Reese Strickland/US PresswireSpencer Long will miss the rest of the season with a knee injury, forcing a shift on the Nebraska offensive line.
These guys have held their own, though, allowing a FBS-low three sacks in the season's first half.
Now they meet their biggest challenge, the test the Nebraska linemen hoped they would never face: the loss of
Spencer Long
. How they respond will define the way they are remembered.
"From here on out, we're playing for Spencer," said junior
Mike Moudy
, Long's likely replacement at right guard next Saturday when Nebraska visits Minnesota. "We've got the drive to compete for him. Without him, we wouldn't be where we're at. But everyone's just taking that in stride and saying we're going to give our all to Spence."
Long meant so much to his teammates. He was a throwback to the great linemen of Huskers past – a walk-on from Elkhorn, Neb., who toiled on the scout team, earned his scholarship, then all-conference honors and a recognition as a captain in his fifth-year senior season.
He started 33 games. He remains a top student, majoring in pre-med. He'll probably be a doctor, even if the NFL delays his continued studies.
He went down on the fifth play from scrimmage last week in the Huskers' 44-7 win at Purdue. Long was hustling around the backside of a rush by
Imani Cross
and fell over the legs of defensive end
Ryan Russell
. Long's left knee buckled.
Coach Bo Pelini was among the first to reach him on the ground. Long underwent surgery Thursday to repair a torn MCL. Don't bet against his return in time to work for NFL scouts ahead of the May 8-10 NFL draft.
"What happened to Spencer sucks," senior left tackle
Jeremiah Sirles
said. "There's no way around it. His career got cut short here at Nebraska, but a lot of young guys have got great opportunities now.
"We're going to honor Spencer with our effort. We're going to honor Spencer with the way we play, because he was our captain. We followed him."
Who will they follow now? Perhaps Sirles, a veteran of 34 starts, fellow seniors
Andrew Rodriguez
at right tackle and center
Cole Pensick
. With Moudy and junior
Jake Cotton
at left guard, the offensive line is still a seasoned group.
Coaches have talked this week of shifting Pensick, using untested
Ryne Reeves
or
Givens Price
or even pulling the redshirt from junior college transfer
Chongo Kondolo
.
It will work best if Moudy sticks. He fits the pedigree at 6-foot-5 and 300 pounds, another top student who has worked in the program for four years. As recently as last season, Moudy spent time on the scout team. Pelini said he noticed a big jump in the spring.
What happened?
"Probably just wanting to play, "Moudy said. "The desire to play. I kind of got tired of sitting on the scout team. I had to take another step mentally."
Long, with Cotton and offensive line coach John Garrison, aided Moudy in his ascent.
He began to prove himself at Purdue. Moudy allowed one sack but otherwise played well.
The other linemen chided him for the mistake.
"He did a great job," Sirles said, "but he's going to held to the same standard Spencer was held to. People are like, 'Oh, that's not fair.' But we all hold ourselves to a high standard. It doesn't matter who's out there playing."
Injuries such as this one are all too common over the past two seasons at Nebraska. Senior defensive tackle Baker Steinkuhler went down last year during the Huskers' regular-season finale against Iowa.
The defense did not respond well as Wisconsin and Georgia gouged Nebraska for 115 points in subsequent games.
I-back Rex Burkhead, a leader and motivational figure in the same vein as Long, missed six games of his senior year with a knee injury last season. In his place, the Huskers found a new star,
Ameer Abdullah
, and hardly missed a beat.
Which path will the offensive line take over the next six weeks? It figures to define their legacy.
October, 15, 2013
10/15/13
12:48
PM ET
Nebraska senior co-captain and three-year starting right guard
Spencer Long
is done playing for the season with an injury to his left knee that will require surgery.
Coach Bo Pelini said Tuesday on the Big Ten coaches' teleconference that an evaluation after the Huskers' 44-7 win on Saturday over Purdue showed less damage than originally feared, but Long, a first-team All-Big Ten pick by ESPN and second-team Associated Press All-American a year ago, will undergo surgery on Thursday.
Long was hurt on a running play during Nebraska's opening drive against the Boilermakers when he fell over Purdue defensive end
Ryan Russell
as the Nebraska lineman tried to block on the backside of a rush by
Imani Cross
. A former walk-on from Omaha, Neb., Long has started 33 games since 2011.
He was the most experienced member of an offensive line that helped the 5-1 Huskers rush for 284.8 yards this season, eighth nationally and second to Wisconsin in the Big Ten. Additionally, Nebraska has allowed three sacks in six games, tied for the fewest nationally with Fresno State, Northern Illinois and Toledo.
Junior
Mike Moudy
replaced Long against Purdue and will likely move into the starting lineup on Oct. 26 against Minnesota, opposite junior
Jake Cotton
at left guard. The Huskers are off this week.
Sophomores
Givens Price
and
Ryne Reeves
could also receive more playing time as a result of the injury. Newcomer
Chongo Kondolo
, a junior-college transfer who is on target to redshirt this season, could also factor, Pelini said.
"We're looking at all our options," Pelini said.
Taylor Martinez's status has not changed. He's still not returned to practice or cleared to return, according to Pelini.
August, 8, 2011
8/08/11
11:20
AM ET
By the end of the day, all 12 Big Ten preseason camps will be under way. The weekend featured practices, players reporting and several media days around the league, so we wanted to get caught up.
We already hit on some of the bigger items, such as Nebraska quarterback Bubba Starling being
held out of practice
as his baseball-football decision looms and Michigan redshirting wide receiver Darryl Stonum and
suspending two others
.
Here are other notable nuggets from around the league:
IOWA
Strength and conditioning coach Chris Doyle met with reporters Friday during media day and for the first time addressed the outbreak of rhabdomyolosis in January that put 13 players in the hospital. You can check out video of Doyle's comments here. He didn't go into too many details, calling the situation a "problem" and saying the program has moved forward. Doyle said the well-being of players remains his top priority and that while the intense workout that led to the rhabdo has been eliminated, Iowa will continue to "train with volume."
Iowa expects freshman defensive tackle Darian Cooper to report in the middle of the week after a "complication" prevented him from reporting with his classmates.
Offensive lineman Nolan MacMillan isn't practicing because of a sports hernia suffered during spring ball.
ILLINOIS
Freshmen Donovonn Young and Josh Ferguson are making things interesting in the running back competition. Jason Ford remains the front-runner, but offensive coordinator Paul Petrino continues to challenge the senior, as he did in the spring after Ford was limited by injuries. "I need to see Jason run downhill, violent, and get up and do it again," Petrino told the Chicago Sun-Times. Both Young and Ferguson have looked impressive early in practice and could push for carries. Competition is good at every position, but specifically at running back, so I definitely see this as a positive development for the Illini.
Offensive tackle Corey Lewis won't be ready for the start of the season as he continues to work his way back from knee surgery. Illinois will look to unproven players Michael Heitz and Simon Cvijanovic to emerge during camp.
PURDUE
The Boilers got some bad news at a thin position as defensive end Rashad Frazier didn't show up for the team's first practice Saturday. Frazier was expected to compete with Robert Maci and Ryan Russell for playing time. "We'll move on without him," coach Danny Hope said. Purdue has moved defensive tackle Ryan Isaac to the end spot to help with the low numbers there. The good news is veteran end Gerald Gooden has impressed the coaches so far.
WISCONSIN
Keep an eye on the competition at right tackle as Josh Oglesby and Rob Havenstein will vie for the starting job. Oglesby, a heralded recruit, has been plagued by injuries throughout his career, undergoing six knee surgeries, according to coach Bret Bielema. Oglesby will be limited in camp, so Havenstein, who practiced with the first-team offense this spring, has a good opportunity.
Bielema listed seven starting spots that are up for grabs in camp: quarterback, running back, right tackle, strong safety, one defensive end spot, one defensive tackle spot and strongside linebacker.
MICHIGAN STATE
Heralded incoming freshman Lawrence Thomas could play linebacker or defensive end, coach Mark Dantonio said Sunday after the team's first practice. The 6-foot-3, 275-pound Thomas will begin practicing at linebacker but could make a move, much like another top recruit, William Gholston, did last year.
Wide receiver Keshawn Martin and running back Nick Hill entered camp as Michigan State's top two kick returners. Martin, the league's top punt return man in 2010, will be a busy man on special teams, which is a good thing given how dangerous he can be in that area.
PENN STATE
OHIO STATE
Buckeyes players reported during the weekend and will practice for the first time today. All 105 players expected to be part of the preseason camp roster reported, but the group didn't include linebackers Dorian Bell and Jonathan Newsome, and receiver James Louis. Newsome has announced he'll transfer to Ball State and both Bell and Louis could be heading elsewhere as well.
NEBRASKA
Two Huskers offensive linemen, senior Marcel Jones and freshman Givens Price, are sitting out with injuries. Jones should be back this month, while Price will miss all of camp. Incoming freshman cornerback Charles Jackson also isn't practicing because he hasn't been cleared academically.