January, 13, 2014
1/13/14
10:00
AM ET
The BCS is dead. RIP. As we memorialize the BCS era throughout ESPN.com today, we're selecting All-BCS teams from each conference. As a reminder, the BCS era lasted from the 1998 season through the recently completed 2013 season. To narrow our selections a bit, players had to play at least two seasons in the BCS era to be eligible. Nebraska players are part of our list even though the Huskers played in the Big 12 until 2011.
Here's our Big Ten All-BCS team.
Coach:
Jim Tressel, Ohio State -- Tressel led Ohio State to the 2002 national title, the Big Ten's only championship in the BCS era, as well as seven Big Ten titles (one vacated).
OFFENSE
QB:
Drew Brees, Purdue (1997-2000) -- He led Purdue to the 2000 Big Ten championship and finished his career with league records for passing yards (11,792), touchdown passes (90), total offensive yards (12,693), completions (1,026), and attempts (1,678). Brees won the Maxwell Award in 2000.
RB:
Ron Dayne, Wisconsin (1996-99) -- The 1999 Heisman Trophy winner set the NCAA's career rushing record with 6,397 yards (not including bowl games). He won all the major national individual awards in 1999 and became the first player to repeat as Rose Bowl MVP.
[+] Enlarge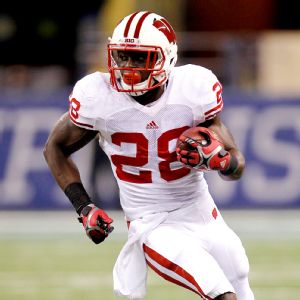 Gregory Shamus/Getty ImagesMontee Ball had 39 TDs for Wisconsin in 2011.
RB:
Montee Ball, Wisconsin (2009-2012) -- The man nicknamed "MoneyBall" tied Barry Sanders' NCAA single-season touchdowns record with 39 in 2011 and set the mark for career touchdowns with 83. He won the Doak Walker Award as the nation's top running back in 2012.
WR:
Braylon Edwards, Michigan (2001-04) -- The Big Ten's most recent Biletnikoff Award winner holds the league record for career touchdown receptions (39) and ranks fourth in career receiving yards (3,541). He's the only Big Ten receiver to record 1,000 yards in three consecutive seasons.
WR:
Lee Evans, Wisconsin (2000-03) -- Evans twice led the Big Ten in receiving yards, eclipsing 1,500 yards in 2001 before rebounding from an ACL tear to record 1,213 yards and 13 touchdowns in 2003.
TE:
Dallas Clark, Iowa (1999-2002) -- Clark earned the John Mackey Award in 2002 after recording 43 receptions for 742 yards as Iowa went undefeated in the Big Ten.
OL:
Greg Eslinger, Minnesota (2002-05) -- One of the more decorated Big Ten linemen in the BCS era, Eslinger won the Outland Trophy in 2005. He was a two-time first-team All-America selection and a three-time first-team All-Big Ten selection for one of the nation's top rushing offenses.
OL:
Joe Thomas, Wisconsin (2003-06) -- Another Outland Trophy winner (2006), Thomas earned unanimous consensus All-America honors that year. He earned first-team All-Big Ten honors in each of his final two seasons and was the No. 3 overall pick in the 2007 NFL draft.
OL:
Dominic Raiola, Nebraska (1998-2000) -- In 1998, Raiola became the first Nebraska freshman offensive lineman to start a game in seven years. He went on to earn the Rimington Trophy as the nation's top center, first-team All-Big 12 honors in his final two seasons and consensus first-team All-America honors in 2000.
OL:
Robert Gallery, Iowa (1999-2003) -- Gallery claimed the Outland Trophy in 2003 as well as first-team All-America honors. He twice earned first-team All-Big Ten honors as the anchor of a nationally elite offensive line.
OL:
Jake Long, Michigan (2003-07) -- Although Long didn't win the Outland, he twice earned consensus first-team All-America honors (unanimous selection in 2007) and twice earned Big Ten offensive lineman of the year honors (beating out Thomas in 2006). Long was the No. 1 overall pick in the 2008 NFL draft.
DEFENSE
DE:
LaMarr Woodley, Michigan (2003-06) -- Woodley claimed the Rotary Lombardi Award in 2006 as the nation's top lineman. A first-team All-American that season, he finished his career with 10 forced fumbles, tied for seventh on the Big Ten's career list.
DE:
Ryan Kerrigan, Purdue (2007-10) -- Unlike most of the men on this list, Kerrigan never played for any BCS bowl teams at Purdue but still had a remarkable career that ended with unanimous consensus first-team All-America honors in 2010. The Big Ten defensive player of the year tied the NCAA record for forced fumbles (14) and recorded 33.5 sacks and 57 tackles for loss.
DT:
Ndamukong Suh, Nebraska (2005-09) -- The most dominant defender in recent years finished fourth in Heisman voting in 2009 (should have been higher) and earned several awards, including the Bednarik, Nagurski and Outland. Suh finished his career with 24 sacks, 57 tackles for loss, four interceptions, three forced fumbles and 41 quarterback hurries.
DT:
Devon Still, Penn State (2008-11) -- Penn State produced a string of outstanding defensive tackles including Still, the Big Ten's defensive player of the year in 2011. Still earned consensus first-team All-America honors after recording 17 tackles for loss.
LB:
James Laurinaitis, Ohio State (2005-08) -- Laurinaitis won major national awards in each of his final three seasons, including the Nagurski Trophy in 2006. The two-time Big Ten defensive player of the year became just the third Ohio State player to earn consensus All-America honors in three seasons.
LB:
Paul Posluszny, Penn State (2003-06) -- Posluszny is one of only two players (Pat Fitzgerald) to twice win the Bednarik Award as the nation's top defender. He became the first Penn State linebacker to twice earn AP All-America honors.
LB:
LaVar Arrington, Penn State (1997-99) -- A freakishly athletic linebacker at Linebacker U., Arrington twice earned first-team All-Big Ten honors and won the Bednarik and Butkus Awards as a junior in 1999. He was the No. 2 overall pick in the 2000 NFL draft.
CB:
Jamar Fletcher, Wisconsin (1998-2000) -- Fletcher claimed the Jim Thorpe Award as the nation's top defensive back in 2000, won Big Ten defensive player of the year honors that year and was a three-time first-team all-conference selection. He's tied for fourth in league history with 21 career interceptions and holds the league record for interception return yards (459).
CB:
Darqueze Dennard
, Michigan State (2010-13) -- Dennard also claimed the Thorpe Award as he helped Michigan State to its first outright Big Ten title in 26 years and a Rose Bowl victory against Stanford. The two-time first-team All-Big Ten selection recorded 10 career interceptions and led the "No Fly Zone" Spartans secondary.
S:
Tyrone Carter, Minnesota (1996-99) -- The only Big Ten safety to win the Thorpe Award, Carter also twice earned first-team All-Big Ten honors and earned unanimous All-America honors in 1999. He set the FBS record for career tackles by a defensive back with 528.
S:
Mike Doss, Ohio State (1999-2002) -- A three-time first-team All-Big Ten selection, Doss earned unanimous consensus All-America honors in 2002 as Ohio State won the national title.
SPECIAL TEAMS
K:
Mike Nugent, Ohio State (2001-04) -- Nugent won the Lou Groza Award as the nation's top kicker in 2004 and claimed consensus All-America honors in both 2002 and 2004. He holds the Big Ten record for consecutive made field goals with 24.
P:
Brandon Fields, Michigan State (2003-06) -- His name is on the Big Ten's punter of the year award for a reason. Fields earned consensus All-America honors in 2004, earned first-team All-Big Ten honors three times and twice led the league in punting, tying for third in career average (45 ypp).
Returns:
Ted Ginn, Ohio State (2004-06) and Steve Breaston, Michigan (2003-06) -- Ginn holds the Big Ten single-season records for kick return average (25.6 ypr) and career punt return touchdowns (6), while Breaston claims the league mark for career punt return yards (1,599) and is tied for third in punt return touchdowns (4).
It's tough enough putting together these teams for one season, much less 16 seasons. You can't please everyone, and many exceptional players didn't make the cut.
We decided to go with five offensive linemen rather than a center, two guards and two tackles, in order to recognize the best overall players in the trenches.
There was some debate for a second receiver alongside Michigan's Edwards, as the Big Ten hasn't exactly mass-produced superstars at the position. Several players had great seasons like Michigan State's Charles Rogers in 2002, but we put more stock into overall career output and went with Wisconsin's Evans, who led the league in receiving in 2001 and 2003.
Cornerback created some debate among Fletcher, Dennard and Ohio State's Malcolm Jenkins, also a Jim Thorpe Award winner. We faced another tough decision at safety between Ohio State's Doss and Iowa's Bob Sanders.
Surprisingly, the defensive tackle spot produced few bona-fide superstars. Nebraska's Suh, who played his entire career in the Big 12, was an obvious choice but a second choice proved to be tough.
Arguably the toughest choice came at kicker between Nugent and Iowa's Nate Kaeding. Both won Lou Groza Awards and set numerous records. We gave the nod to Nugent, but not by much.
March, 19, 2013
3/19/13
5:30
PM ET
To your emails ...

Mel from Cincinnati writes: Adam,I really enjoy reading the blog, thanks for all you do. First of all, I'm really glad to see an East/West alignment. Purdue in the West makes sense for football, although I think Indiana would be OK as well. Have you heard whether or not other sports e.g. basketball would also be using a divisional alignment? If so then I would think Indiana would be a much better choice for the West Division, to provide at least some balance in that sport. Right now from a basketball standpoint, the proposed divisions would put most of the traditionally strong basketball teams in the East.

Adam Rittenberg: For the record, this isn't my uncle Mel in Cincinnati (although I do have one). Basketball divisions don't appear to be on the table because all teams qualify for the Big Ten tournament, so there's really no point. I know athletic directors are seriously considering increasing the number of conference games in hoops so teams can play each other as much as possible in an expanded league. But all of the division discussions taking place pertain only to football.


---
Dave from Plymouth Meeting, Pa., writes: I would prefer seeing MSU move to the west to give a little more balance. That said, I think the BIG needs to look at what has happened over the years with the SEC. When they first went to divisional play, I can remember Florida, Georgia, and Tennessee were consider the top of the SEC and all were in the east. Then once the sanctions were over for Alabama and Auburn, the west division has been dominant mainly with Bama and LSU deciding the SEC champ. I am not sure what the answer is, but I can see initially the east being the dominate division, but who knows 5 years down the road maybe the west then takes over for a number of years.What is also tough with any divisional alignment is the non-powerhouse teams in the conference. It becomes harder for them to break through and build their programs if they do not have the opportunity in some years to play 3 or 4 teams in the conference that are at or below their level (i.e. 3 or 4 conference wins). That is what boost interest for the fan base and gives hope for the future of those schools.

Adam Rittenberg: Dave, I think the Big Ten brass sees it similarly, as things tend to be cyclical with a few exceptions. Certainly the proposed East division looks stronger than the West, but things tend to shift with coaching changes, personnel changes and other factors. What if Purdue goes to the West and regains its form from the late 1990s/2000? What if Northwestern becomes more like Stanford with improved recruiting efforts? What if Michigan State takes a step backward? Or Penn State struggles more with the sanctions? There are a lot of unknowns. You're right that it makes it tough for the non-traditional powers, but we've seen more parity in the Big Ten in the past 25 years. These teams can compete with the right recruiting/coaching efforts.


---
Sam from Nashville writes: The decision on whether to put Indiana or Purdue in the West seems clear: Indiana. First, let me say what everyone is thinking: It doesn't really matter either way. The balance of power between divisions is not made or lost with these two teams (no offense intended...well, sort of). But there is another reality, and that is division realignment isn't easy on either the fans or the sports writers. The solution is all about acronyms. Putting Purdue in the East (Purdue, Penn St, Rutgers, Ohio St, Maryland, Michigan, Michigan State) gives us the "PROM" division. Think Brady Hoke in a tuxedo with Urban Meyer on his arm in scandalous evening dress. Putting Indiana in the West (Wisconsin, Indiana, Illinois, Iowa, Nebraska, Northwestern, Minnesota) gives us the "WIN" division. I did not forget about Minnesota, because no one associates them with winning and naturally they should be left out of such an acronym. Thus, to remember the division alignments, we need only to think PROM, WIN, and what Minnesota will not do against (insert your favorite B1G team here).

Adam Rittenberg: Easy on the Gophers, Sam, but this is a creative way to remember the potential divisions. I have to get the Meyer-Hoke mental image out of my mind now. Thanks for that.


---
Buddy from Chicago writes: Looks like Nebraska will be winning the West for the forseeable future. Either MSU or UM should move to West to balance the power.

Adam Rittenberg: No disrespect to the Huskers, but how many division titles has Nebraska won in the past 15 years? It's far from a guarantee that the Huskers will be playing for the Big Ten championship every year. Wisconsin's track record indicates it will be in the division mix most seasons, and both Iowa and Northwestern have shown they can compete. Although Iowa needs to get back on track, Northwestern is definitely a program on the rise after five straight bowl appearances. It'll be important for Minnesota, Illinois and Purdue or Indiana to take steps with their programs.


---
Paul from Rapid City, S.D., writes: Horrible alignment! This reminds me of the Big 12. The geographical talent rich/based teams are in East divisions which will isolate the Western division teams (Big 12 South vs North). The West division will not be nearly competetive as the East, just like the Big 12 North; eventaully lost 3 teams Nebraska, Missouri, and Colorado.

Adam Rittenberg: Paul, some valid points there. You have to wonder how much the rest of the country would pay attention to the "West" division, especially if none of those teams are in contention for national titles. As I mentioned before, it's important that Northwestern continues to win eight or more games per year, for Iowa to get back to where it was in 2008-09 and for Minnesota and Illinois to start winning more consistently. I also think there are fewer guarantees -- aside from Ohio State and Michigan -- about the success of the "East" division teams.


---
DJ from Minneapolis writes: You can't include everyone, I get that and I am sure there were some tough exclusions. But with that said, how could you seriously leave Greg Eslinger off of this player tournament list? He won every award he could possibly win. You could even argue he is the best center the B1G has ever produced.

Adam Rittenberg: DJ, I strongly considered Eslinger for the list, and he would have been my next choice behind Robert Gallery. He had an exceptional career at Minnesota and will go down as one of the best offensive linemen in recent Big Ten history. Ultimately, I felt Gallery's dominance at left tackle for those Iowa teams gave him a slight edge, although the center position also carries extreme importance. If we went with one representative per team, Eslinger undoubtedly would have been the pick for Minnesota. But Gallery's accomplishments at Iowa resonated a little bit more in the region.
April, 22, 2010
4/22/10
11:12
AM ET
D.J. Burris doesn't need to be reminded of the way it used to be at Minnesota.
The Golden Gophers weren't just a good rushing offense, but a record-setting one. Minnesota didn't just produce good offensive linemen, but great ones like All-Americans Greg Eslinger and Ben Hamilton.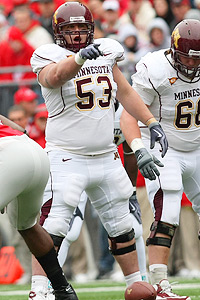 Aaron Josefczyk/Icon SMID.J. Burris & Co. are looking forward to running an offense that emphasizes the power run.
The team's history isn't lost on Burris and his linemates this spring.
"We're definitely aware of the tradition here about running the football," said Burris, Minnesota's starting center. "That's why we're taking it upon ourselves to get it back."
Pride is the word Burris and even non-linemen like quarterback
Adam Weber
use to describe what's happening up front this spring in Minneapolis. The team's running game hasn't merely slipped off its perch, but plummeted to the bottom of the Big Ten.
The last two seasons have seemed extremely un-Gopher-like:
2008: Minnesota finished last in the Big Ten and 104th nationally in rushing offense (103.8 ypg)

2009: Minnesota finished last in the Big Ten and 111th nationally in rushing offense (99.5 ypg)
Part of the problem has been a lack of continuity. Minnesota ran the spread offense under Mike Dunbar in 2007-08, and then switched to a pro-style system, designed to emphasize the power run, under Jedd Fisch last season.
The Gophers are adjusting to another new coordinator this spring, as Jeff Horton takes over the offense. But Horton's top goal, one the players clearly appreciate, is simplifying a convoluted system and identifying the hallmarks for the unit to succeed.
"We know where we're going as an offense," said Burris, who started at guard as a freshman before moving to center the last two seasons. "Our playbook's a lot thinner, and we know exactly what we're doing on every play now, so it's nice. Every season, it's been something new, something new, and then this year we simplified it with what we've already been doing.
"That makes us a lot more comfortable."
Head coach Tim Brewster didn't hide the fact he wanted more toughness from the line this spring, and he has seen the group respond. All five starters are back and continuing to work in the top spots, but they're being pushed by players like Ed Olson and Brooks Michel. Returning starters like Matt Carufel and Jeff Wills are healthier, and massive tackle Jeff Wills has slimmed down a bit.
During an April 10 scrimmage, the line started slow but got stronger as things went along, creating holes for backs
DeLeon Eskridge
and
Duane Bennett
.
Weber, who has a vested interested in the line's performance, has seen a difference this spring.
"They're playing with confidence and they're playing with pride," he said. "You can definitely tell, when it's third-and-1, when it's fourth-and-1, they can sense that they need to pick up their game a little bit, and we've been winning a lot of those battles."
After being pushed around too much the last two seasons, Burris and his crew expect to turn the tables this fall.
"As an offensive line, that's where your pride comes from, when you can walk into a game and you can run the ball up and down the field," he said. "That's when you feel good about yourself."
January, 22, 2010
1/22/10
1:30
PM ET
I hope you enjoyed the decade recap series. We had a lot of fun researching and putting it together. Not surprisingly, my
top players list
generated a ton of feedback -- mostly negative, but that's cool -- from the Big Ten faithful.
Because there were so many deserving players left off the list, I decided to put together an all-decade team to recognize some of the other standouts in the Big Ten from 2000-09. I made the offensive line a bit more general to acknowledge the best players there.
Unlike the top 10, I was a bit more lenient about players who had only one outstanding season during this decade.
Enjoy.
OFFENSE
QB:
Troy Smith, Ohio State
RB:
Mike Hart, Michigan
RB:
Larry Johnson, Penn State
WR:
Braylon Edwards, Michigan
WR:
Charles Rogers, Michigan State
TE:
Dallas Clark, Iowa
C:
Greg Eslinger, Minnesota
OL:
Joe Thomas, Wisconsin
OL:
Robert Gallery, Iowa
OL:
Jake Long, Michigan
OL:
Eric Steinbach, Iowa
DEFENSE
DE:
LaMarr Woodley, Michigan
DT:
Wendell Bryant, Wisconsin
DT:
Jared Odrick, Penn State
DE:
Tamba Hali, Penn State
LB:
Paul Posluzsny, Penn State
LB:
A.J. Hawk, Ohio Sate
LB:
James Laurinaitis, Ohio State
CB:
Jamar Fletcher, Wisconsin
CB:
Malcolm Jenkins, Ohio State
S:
Bob Sanders, Iowa
S:
Mike Doss, Ohio State
SPECIALISTS
K:
Mike Nugent, Ohio State
P:
Travis Dorsch, Purdue
Returners:
Ted Ginn Jr., Ohio State and Steve Breaston, Michigan
January, 19, 2010
1/19/10
9:00
AM ET
Our decade recap continues with a look at the top players in the Big Ten from 2000-09. The league produced just one Heisman Trophy winner, Ohio State quarterback Troy Smith in 2006, but many other national award recipients on both sides of the ball.
We saw outstanding one-year performances from players like Brad Banks (2002), Larry Johnson (2002), James Hardy (2007) and Shonn Greene (2008), and impressive four-year career efforts from Paul Posluszny, James Laurinaitis, Mike Hart, Javon Ringer, Taylor Stubblefield and others.
[+] Enlarge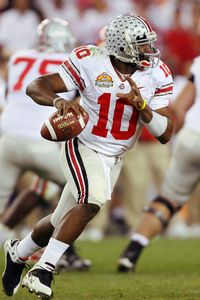 Jason Parkhurst/US PresswireOhio State's Troy Smith was the runaway winner of the Heisman Trophy in 2006.
The league produced solid linemen and linebackers the entire decade, while star quarterbacks and running backs were sprinkled throughout.
Believe me, it wasn't easy to get this list down to 10 players, but here goes.
I put more weight on players who had multiple outstanding seasons. Also, players who had most of their production in the 1990s didn't make the cut.
1. Troy Smith, QB, Ohio State:
The league's lone Heisman Trophy winner tops the list. Smith took home the Heisman, the Walter Camp and the Big Ten MVP awards in 2006. He also led Ohio State to a Fiesta Bowl championship following the 2005 season.
2. Braylon Edwards, WR, Michigan:
The 2004 Biletnikoff Award winner earned consensus All-America honors that year, completing a terrific four-year run in Ann Arbor. Edwards still holds the Big Ten record for career touchdown receptions with 39, two more than fellow Wolverine Anthony Carter.
3. A.J. Hawk, LB, Ohio State:
Hawk was the face of a ferocious Buckeyes defense during the mid part of the decade. The two-time All-American (unanimous in 2005) won the Rotary Lombardi Award and helped Ohio State to a Fiesta Bowl victory.
4. Joe Thomas, T, Wisconsin:
The Thomas-Jake Long debate is a good one, but I'm giving the edge to Thomas, the 2006 Outland Trophy winner. Thomas anchored several powerful Wisconsin offensive lines, earned consensus All-America honors in 2006 and twice made the All-Big Ten squad.
5. Paul Posluszny, LB, Penn State:
Posluszny is one of only two Big Ten players to win the Bednarik Award two times. He also took home the Butkus Award in 2005 and helped restore Penn State after the program had slipped from 2000-04.
6. James Laurinaitis, LB, Ohio State:
Laurinaitis was quite possibly the most decorated Big Ten player of the decade on either side of the ball. He joined select company at Ohio State in earning All-America honors three times (unanimous in 2007). Laurinaitis won the Butkus and Nagurski awards and twice earned Big Ten Defensive Player of the Year honors.
7. Greg Eslinger, C, Minnesota:
Laurence Maroney and Marion Barber III shared the rushing load, but Eslinger was the mainstay who created rushing lanes no matter who had the ball. The 2005 Rimington Trophy winner was Minnesota's only three-time All-Big Ten selection this decade.
8. Bob Sanders, S, Iowa:
No player meant more to Iowa's renaissance this decade than Sanders, the team's only three-time All-Big Ten selection in the aughts. Nicknamed "The Hitman," Sanders epitomized a program that got the most from its players for the majority of the decade.
9. Mike Hart, RB, Michigan:
We witnessed lot of great one-year performances from Big Ten running backs, but Hart was one of the league's few mainstays this decade. Despite being plagued by injuries as a sophomore, Hart finished fourth on the Big Ten's all-time rushing list (5,040 yards) and had 28 career 100-yard rushing games.
10. Antwaan Randle El, QB, Indiana:
Randle El brought a new brand of football to the Big Ten and had a record-setting career despite never reaching a bowl game. The dual-threat star won Big Ten MVP honors in 2001 and ranks fourth on the league's career total offense list with 11,364 yards.
Also considered:
Michigan T Jake Long, Michigan State WR Charles Rogers, Michigan State RB Javon Ringer, Iowa QB Brad Banks, Iowa T Robert Gallery, Purdue WR Taylor Stubblefield, Ohio State WR Ted Ginn Jr., Michigan DE LaMarr Woodley, Illinois RB Rashard Mendenhall, Penn State QB Michael Robinson, Penn State RB Larry Johnson, Purdue WR Dorien Bryant, Purdue WR John Standeford, Ohio State S Mike Doss, Wisconsin DE Erasmus James, Iowa RB Shonn Greene, Northwestern QB Brett Basanez, Illinois LB J Leman, Penn State LB Dan Connor.
September, 23, 2009
9/23/09
9:00
AM ET

Posted by ESPN.com's Adam Rittenberg
How does a team spend the final 24 hours before kickoff? Minnesota gave me a chance to find out, and I
tagged along
as the Gophers went through their final preparations before last week's game against Cal.
One of the highlights included sitting in with offensive coordinator Jedd Fisch and quarterbacks
Adam Weber
,
MarQueis Gray
and
Adam Lueck
. Fisch is a sharp, young coach and incorporates a lot of technology into game preparation. The former Denver Broncos assistant brought much of the Denver offense to the Gophers, and since Minnesota hasn't run all the plays in games, the players watch tape from the Broncos' 2008 season to give themselves a better feel.
It was also interesting to see how the coaches don't overload players right before games. Meetings are usually 15 to 30 minutes, and head coach Tim Brewster's speeches to the team never lasted more than 3 or 4 minutes. There are several key points, an overarching theme or two, and that's it. No need to go overboard. The energy level among players and coaches definitely reaches a fever pitch on game day, and I don't think I've ever been on a quieter bus ride than the one from the team hotel to TCF Bank Stadium.
The new stadium, by the way, is a big hit. Big Ten fans are going to love it. Minnesota's ridiculously big locker room is very impressive. There are displays honoring the team's national award winners -- Bobby Bell, Tyrone Carter, Greg Eslinger and Matt Spaeth -- lining one of the walls, and pictures of the team's greatest players to don each jersey number encircle the room. Senior wide receiver
Eric Decker
is already considered the Gophers' greatest No. 7, and he dresses only a few feet away from his picture on the wall.
Special thanks goes out to Minnesota's director of football operations Dan O'Brien for helping me out during the weekend.
August, 11, 2009
8/11/09
5:36
PM ET
Posted by ESPN.com's Adam Rittenberg
RANTOUL, Ill. -- I'm about to head out to the field to watch Illinois' practice. Check back later for a few practice observations and more from Camp Rantoul.
But first, your latest preseason watch update.
To the surprise of no one, Minnesota's Eric Decker and Illinois' Arrelious Benn were named to the preseason watch list for the Biletnikoff Award, given to the nation's top wide receiver. Decker, who led the Big Ten in receiving yards last year, was a semifinalist for the award in 2008. Both Decker and Benn are All-America candidates.
Iowa left tackle Bryan Bulaga leads a group of four Big Ten players named to the Outland Trophy watch list. Penn State defensive tackle Jared Odrick, Penn State center Stefen Wisniewski and Illinois guard Jon Asamoah also were named to the list.
Bulaga, a junior, could be one of the nation's premier left tackles this year and a candidate to enter the NFL draft in 2010. Odrick also seems like a viable candidate for the award, which last went to a defensive player in 2007 (LSU's Glenn Dorsey).
Four Big Ten players have won the Biletnikoff Award, most recently Michigan's Braylon Edwards in 2004. Three Big Ten linemen have captured the Outland Trophy this decade: Wisconsin's Joe Thomas (2006), Minnesota's Greg Eslinger (2005) and Iowa's Robert Gallery (2003).