January, 22, 2013
1/22/13
4:15
PM ET
As colleague Brett McMurphy
tweeted earlier today
, the SEC leads all conferences with 23 players on the two Super Bowl rosters (based on 2012 conference membership). But the Big Ten isn't too far behind.
The San Francisco 49ers and Baltimore Ravens boast a combined 19 Big Ten players on their rosters for Super Bowl XLVII. That's tied with the ACC for the second highest total among conferences this season.
Here's the Big Ten contingent for the Big Ten in New Orleans on Feb. 3.
SAN FRANCISCO 49ERS
Active roster:
A.J. Jenkins
, WR, Illinois
Garrett Celek
, TE, Michigan State
Trenton Robinson
, S, Michigan State
Jonathan Goodwin
, C, Michigan
Alex Boone
, OL, Ohio State
Ted Ginn
Jr., WR, Ohio State
Larry Grant
, LB, Ohio State
Donte Whitner
, S, Ohio State
NaVorro Bowman
, LB, Penn State
Scott Tolzien
, QB, Wisconsin
Reserve/Injured list:
Mario Manningham
, WR, Michigan
Practice squad:
Al Netter, OG, Northwestern
Nate Stupar, LB, Penn State
BALTIMORE RAVENS
Active roster:
Sean Considine
, S, Iowa
Tandon Doss
, WR, Indiana
Sam Koch
, P, Nebraska
Bernard Pollard
, S, Purdue
Marshal Yanda
, OL, Iowa
Practice squad:
Jack Cornell, OL, Illinois
Here are some coaching staff connections for each team ...
49ERS
Head coach Jim Harbaugh played quarterback at Michigan
Quarterbacks coach Geep Chryst served as a Wisconsin assistant in 1988
Assistant secondary coach Greg Jackson was a Wisconsin assistant in 2010
Linebackers coach Jim Leavitt joined Hayden Fry's staff at Iowa in 1989
Running backs coach Tom Rathman played running back at Nebraska
RAVENS
Head coach John Harbaugh coached Indiana's defensive backs and special teamers in 1997
Assistant head coach/special teams coordinator Jerry Rosburg coached Minnesota's secondary in 1996
Offensive coordinator Jim Caldwell played at Iowa; served as a Penn State assistant from 1986-92 and a Northwestern assistant in 1981
Defensive coordinator Dean Pees held the same post at Michigan State from 1995-97
Secondary coach Teryl Austin held the same post at Michigan from 1999-2002 and served as a graduate assistant at Penn State
Offensive line coach Andy Moeller played linebacker at Michigan and coached the Wolverines offensive line from 2000-07
January, 20, 2012
1/20/12
11:00
AM ET
Bret Bielema made a rapid rise up the college coaching ladder.
Big Ten position coach at 26 ... Big 12 co-defensive coordinator at 32 ... Big Ten defensive coordinator at 34 ... Big Ten head coach at 36.
[+] Enlarge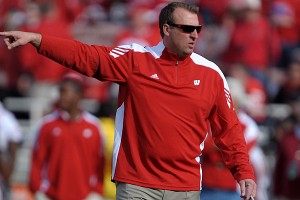 Kirby Lee/Image of Sport/US PresswireWisconsin coach Bret Bielema says he isn't upset after losing 11 assistants in the past three seasons.
Bielema's ambition helped put him on the fast track. And when he's hiring assistant coaches at Wisconsin, he wants to see the same qualities.
"When you talk to a coach, if he doesn't want to advance in this profession, we probably won't talk very long," Bielema told ESPN.com on Thursday. "I want guys that want to be coordinators, or guys that are coordinators who want to be head coaches. If they don't want to sit at the front of the room, we're probably dealing with the wrong type of coach. I want guys who want to advance."
Bielema has had plenty of assistants advance in recent years.
He lost two after the 2009 season, one of whom, Randall McCray, went from position coach to coordinator. He lost three after the 2010 season: defensive coordinator Dave Doeren became head coach at Northern Illinois, while running backs coach John Settle and nickel backs coach Greg Jackson both departed for posts in the NFL.
Wisconsin has lost six assistants in recent weeks, a number that has raised eyebrows in college football circles. The team is coming off of back-to-back Big Ten titles and back-to-back Rose Bowl appearances. Bielema's job is very secure. While one assistant (Paul Chryst) left for a head-coaching job and two others (Bob Bostad, Dave Huxtable) went from position coaches to coordinators, the exodus has left some wondering whether there's something wrong at Wisconsin.
Bielema views things differently.
"It's really not that unusual," he said. "It's unusual at a program that has as much success as we've had, where we're able to keep that continuity of winning in place. I take it as a compliment to what we've been able to do. All those coaches are moving on. Two of them didn't get coordinator jobs, but everybody else got coordinator jobs or titles that made it significantly better for them where they were going.
"To me, it's a tremendous challenge that I love, I embrace and I have a lot of fun with it."
Bielema has filled two vacancies with offensive coordinator Matt Canada and wide receivers coach Zach Azzanni. After an extensive interview process for the coordinator job, Bielema went with Canada, in large part because Canada has called plays in different systems (spread, pro style) and can adapt.
"I interviewed a lot of coaches of different levels: NFL, college, big college, small college," he said. "I'm not a résumé guy. I want a football coach. And as this thing gets moving forward, I kept coming back to him. I just think he's going to be a great fit for what we're going to blend together at Wisconsin. I'm going to hire four new offensive coaches that are going to come from different areas of the country and come together and play the style of football we like at Wisconsin."
Wisconsin's staff will be two-thirds new in 2012, but Bielema won't be surprised if he's doing more hiring a year from now.
"I have every year," he said. "Usually the NFL takes two, took two from me last year. It's just one of those things, the beauty of the beast here at Wisconsin."
April, 25, 2011
4/25/11
9:00
AM ET
MADISON, Wis. -- Wisconsin loves to describe its program as "not sexy," but the label is becoming less and less accurate.
After the Badgers made their first Rose Bowl appearance in 11 seasons, nine members of coach Bret Bielema's staff received inquiries from other teams. Defensive coordinator Dave Doeren landed the head-coaching job at Northern Illinois. Two assistants, John Settle and Greg Jackson, left for posts in the NFL. Offensive coordinator Paul Chryst turned down a lucrative coordinator offer from Texas to remain with his alma mater.
[+] Enlarge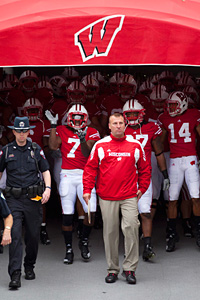 Jeff Hanisch/US PresswireCoach Bret Bielema leads a Wisconsin program that has churned out a lot of elite players in recent seasons.
The inquiries also are coming Wisconsin's way, as decorated recruits from "coast to coast" -- particularly running backs and offensive linemen, two position groups where the Badgers have flourished -- express interest in the program.
"They're getting recruited by heavy, heavy people in their area," Bielema said. "We haven't had that number of people respond from outside our area."
Wisconsin is pushing for a $76.8 million athletic performance center that would include new locker rooms and training facilities and an upgrade for the McClain Center, the team's indoor practice facility. Although Wisconsin has remained in the top half of the Big Ten on the field, it needs a boost with its facilities.
So, is Wisconsin bringing sexy back? Perhaps on the surface, but the program hasn't changed at its core.
"The only reason we're at the level we're at is because we maximize what we are," Bielema said. "Our staff, our players and our administration recognizes why we've had this success and not to deviate from that plan just because there might be better things out there.
"We're going to build this new facility, but bigger isn't always better. It's about the components and how functional it is and what it stands for."
The Wisconsin Way will be put to the test in 2011 as the Badgers lose more standout components than any other Big Ten squad. Gone are four All-Americans -- defensive end J.J. Watt, tight end
Lance Kendricks
and offensive linemen Gabe Carimi and John Moffitt -- the 2010 Johnny Unitas Golden Arm award winner in quarterback
Scott Tolzien
, the 2009 Big Ten Offensive Player of the Year in running back
John Clay
, and other key contributors.
Other than Ohio State, every Big Ten team has struggled to reload in recent years. Can the Badgers buck the trend in 2011?
"Here, we really have to develop our players where they're really good their last 2-3 years," co-defensive coordinator/defensive line coach Charlie Partridge said. "We feel like this is a developmental program, and we're proud of that."
No position group better demonstrates the philosophy than the defensive ends Partridge coaches.
In 2009, O'Brien Schofield went from anonymous to first-team All-Big Ten, finishing second nationally in tackles for loss (24.5) and tied for sixth in sacks. Watt began his career as a tight end at Central Michigan and finished it as one of the nation's best defenders. He's projected as a first-round pick in this week's NFL draft and could be the first Big Ten player selected.
There are other examples of Badger reloading. Wisconsin has produced at least one 1,000-yard rusher in each of the past six seasons. Carimi and his predecessor at left tackle, Joe Thomas, both won the Outland Trophy as seniors.
"People from the outside looking in, they've never heard of these names so they assume they're not any good," Bielema said. "We try to have people waiting in the wings. I remember when no one knew who Lance Kendricks was, or Gabe Carimi, or John Moffitt or Scott Tolzien or J.J. Watt. We were able to develop those guys, bring them through and the results were what you saw last year.
"It's our desire to have a championship every season, but sometimes you're not going to have the personnel to accomplish that. What you want to do is remain competitive, stay in the top level of our conference."
Bielema thinks Wisconsin has a chance to be just as good on defense.
Although Watt leaves a major void, the Badgers boast unprecedented depth at defensive tackle and more overall depth along the line. The secondary returns All-Big Ten cornerback Antonio Fenelus, playmaking safety Aaron Henry and others with experience. If linebacker Chris Borland stays healthy after missing most of 2010 with shoulder injuries, the midsection will be solid.
Leadership shouldn't be an issue as both Henry and defensive tackle Patrick Butrym are stepping forward.
"I'm sure a lot of people out there are counting us out," Henry said. "I could care less about flying under the radar. I just want guys to go out there every week and leave a statement, that we are Wisconsin football, we do play hard-nosed football and we're going to play every snap like its our last."
[+] Enlarge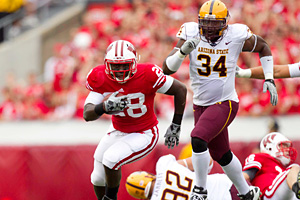 Jeff Hanisch/US PresswireRunning back Montee Ball, 28, returns to a talented Wisconsin backfield along with speedy James White.
The bigger questions come on offense, starting with the most important position on the field.
Jon Budmayr
understudied for Tolzien in 2010 and, barring a major surprise, will move into the starting role. Budmayr, who had his ups and downs this spring, must not only display efficiency but remain healthy as there's no proven depth behind him.
Wisconsin once again will lean on a run game expected to be among the nation's best as backs
Montee Ball
and
James White
, the 2010 Big Ten Freshman of the Year, both return. Although three starting linemen depart, the coaches are excited about who will fill the gaps.
"There's questions for any team, what they can and cannot do," Ball said. "That's why we keep grinding every day so we can show everybody what we're capable of doing."
At Wisconsin, there's no other way. The Badgers aren't a team that can simply show up and win, a fact reinforced last season.
"The thing we did best was we practiced so well during the week," Butrym said. "The one time we didn't practice well was [before the Michigan State game]. It was a Thursday and it was very sloppy and the end result of that was a loss."
Butrym admits the poor practice made him "a little paranoid" about sniffing out signs of complacency. So far, the attitude is good.
"We definitely have to earn it," Henry said. "Ohio State's still in the conference, we added Nebraska, Iowa's still in the conference. Guys know nothing's going to be handed to us."
February, 17, 2011
2/17/11
2:42
PM ET
Wisconsin has lost another assistant to the NFL as nickelbacks coach Greg Jackson heads to the San Francisco 49ers.
Jackson, who also assisted former defensive coordinator Dave Doeren with the linebackers, spent only one season with Wisconsin after coming there from Tulane. He will serve as assistant secondary coach with the 49ers.
The Badgers already lost running backs coach John Settle to the Carolina Panthers earlier this month.
"Though his stint in Madison was brief, Greg's contributions to the entire football program were great," head coach Bret Bielema said. "We wish him nothing but the best with the 49ers and want to thank him for his time with the team. He is a good coach with a bright future."
Wisconsin's defensive staff will have a new look in 2011. Defensive line coach Charlie Partridge and secondary coach Chris Ash both were promoted to co-coordinators, and the Badgers hired Dave Huxtable from Central Florida to serve as linebackers coach.
Jackson's departure means one more position must be filled.
August, 9, 2010
8/09/10
2:00
PM ET
Schedule:
Bret Bielema and the Badgers hold their first preseason practice at 3:35 p.m. ET today at Camp Randall Stadium.
What's new:
Not much in terms of personnel, as Wisconsin returns 16 starters, including 10 on offense and its entire offensive line. Bielema hired a new secondary coach in Chris Ash, who joins the staff after spending eight of the past 10 seasons at Iowa State. Wisconsin also welcomes Greg Jackson as nickel backs and assistant linebackers coach. Bielema oversaw special teams the past three seasons, but now will assign the units to four assistants.
Sidelined:
Backup quarterback
Curt Phillips
is out until at least October following ACL surgery on his right knee. Running back
John Clay
(ankle), offensive lineman Peter Konz (lungs) and linebackers Mike Taylor (knee) and Chris Borland (shoulder), all are cleared for the start of practice.
Key battle:
Look toward the defensive line. Wisconsin loses both of its starting defensive tackles in Jeff Stehle and
Dan Moore
, and will be looking for several young players to step up. Junior Patrick Butrym started two games last fall and is a strong possibility for one of the top spots, but Jordan Kohout, Eriks Briedis, Ethan Hemer and others are in the mix for playing time. J.J. Watt has locked up a starting defensive end spot, but Louis Nzegwu and David Gilbert continue to compete on the other side.
New on the scene:
The Badgers need to upgrade their special teams play in 2010, which creates opportunities for incoming freshmen to see the field right away. Keep an eye on players like Beau Allen, Frank Tamakloe, Peniel Jean and Cameron Ontko. True freshmen are more likely to see the field on defense than offense this fall.
Back in the fold:
Taylor started the first seven games last fall at linebacker and was leading the team in tackles before tearing his ACL against Iowa. The redshirt sophomore returns in practice and should form a dynamic young linebacker tandem with Borland, the reigning Big Ten Freshman of the Year.
Breaking out:
Lance Kendricks
put Badgers fans at ease about the loss of Garrett Graham with a career-best performance in Wisconsin's Champs Sports Bowl win against Miami. Kendricks steps into a featured role after recording 29 receptions for 356 receiving yards. Watt also should have a huge season at defensive end. Overshadowed by O'Brien Schofield last fall, Watt recorded 15.5 tackles for loss and 4.5 sacks last fall.
Quotable:
"I do like the fact that our kids, the majority of our players that are going to be significant players in this year's senior class, all went through the scars of [the 2008] season themselves, in addition to myself and several of my coaching staff. So we'll make note of any mistakes that were made that year. But again, the 2010 season is based on the individuals that are in that room."
-- head coach Bret Bielema
March, 7, 2010
3/07/10
7:23
PM ET
Wisconsin head coach Bret Bielema filled its final staff vacancy Sunday by hiring former NFL veteran Greg Jackson.
Jackson will coach nickel backs and linebackers for the Badgers. He replaces Randall McCray, who left last month to become defensive coordinator at Middle Tennessee.
Jackson spent the last three seasons at Tulane, where he coached several positions, mainly safeties and nickel backs. He previously coached defensive backs at Louisiana-Monroe and Idaho. He'll assist defensive coordinator Dave Doeren with the linebackers and new secondary coach Chris Ash with the defensive backs.
Bielema said on his
Twitter page
that Jackson will recruit on the East Coast.
"The experience Greg brings as a player and a coach and the leadership he has shown in both positions makes him a perfect fit for our staff," Bielema said in a release. "He is a wonderful addition and I look forward to seeing him work with our defense and special teams."
Jackson won a Super Bowl as a safety with the New York Giants and also played for the Eagles, Saints and Chargers.
BIG TEN SCOREBOARD
Saturday, 12/27
Saturday, 12/20
Monday, 12/22
Tuesday, 12/23
Wednesday, 12/24
Friday, 12/26
Monday, 12/29
Tuesday, 12/30
Wednesday, 12/31
Thursday, 1/1
Friday, 1/2
Saturday, 1/3
Sunday, 1/4
Monday, 1/12
Tweets from https://twitter.com/ESPNCFB/lists/b1g