January, 1, 2011
1/01/11
4:19
PM ET
Mark Dantonio called the 2011 Capital One Bowl a chance for Michigan State to measure up. Alabama showed the Spartans still have a long, long way to go.
Here's a look at Michigan State's humbling
49-7 loss
to Alabama in the Capital One Bowl.


How the game was won:
Alabama showed up from the get-go and mauled Michigan State on both sides of the ball. The Tide utilized their superior talent to overwhelm the Spartans, as quarterback
Greg McElroy
and his running backs shredded the Michigan State defense. The Spartans never got their ground game going against Alabama's athletic defense and quarterback
Kirk Cousins
couldn't find any sort of rhythm. They also couldn't stretch the field to get back in the game. Just a complete disaster for Dantonio's team in a bowl in which the Big Ten typically performs decently.
Player of the game:
McElroy. The Alabama signal-caller turned in a brilliant performance in his final collegiate game. He completed 13 of 17 passes for 220 yards and a touchdown with no interceptions against a hapless Michigan State defense. Alabama's defense also had several outstanding individual performances, including that of Courtney Upshaw.
Turning point:
You could go with the opening drive, but Michigan State trailed by only two touchdowns and had first-and-goal from the 7-yard line early in the second quarter. But after an inexcusable substitution penalty, Cousins absorbed a blind-side hit and lost the ball, which pin-balled all the way back to the 38-yard line. That set up the rarely seen punt on fourth-and-goal. Michigan State's only chance went up in smoke.
Stat of the game:
Michigan State finished with minus-48 rush yards in the loss. The Spartans' previous season low for rushing was 31 yards in their only other loss, a 37-6 defeat at Iowa.
What it means:
Dantonio has done a lot of good things in his four seasons as Spartans coach, but the program clearly isn't at elite status yet. Michigan State didn't perform like it deserved to be in a BCS bowl and was totally noncompetitive against a 9-3 Tide team. It doesn't take away from the Spartans' first Big Ten title in 20 years, but the loss leaves a sour taste after a special regular season. Michigan State must continue its recruiting efforts and keep upgrading the talent to be able to compete with teams like Alabama. The Spartans lose several outstanding seniors like linebacker Greg Jones but return a pretty good core for 2011.
December, 28, 2010
12/28/10
6:00
PM ET
It has been an unforgettable year for Mark Dantonio both on and off the field. Michigan State's fourth-year coach guided the Spartans to an 11-1 record and their first Big Ten championship since 1990. He also worked his way back from a heart attack in mid September and made several of the season's most memorable play calls.
Dantonio and the Spartans wrap up their season Jan. 1 in the Capital One Bowl against defending national champion Alabama. The game serves as a reunion of sorts for Dantonio, who opposes Nick Saban, his former boss at Michigan State. But most of all, Michigan State has a chance to "measure up," Dantonio said.
[+] Enlarge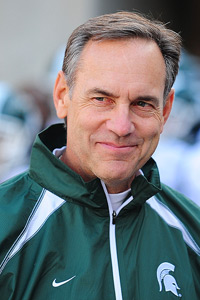 Andrew Weber/US PresswireMark Dantonio sees facing Alabama in the Capital One Bowl as both a great challenge and a great opportunity for his program.
I caught up with Dantonio earlier today.
Here's the first part of my interview. Part II will appear Wednesday morning.
What has been the focus of your preparation for this game?
Mark Dantonio:
We try to have a different focus every day, and our first focus when we got down [to Orlando] was to refocus and get back to work. We've got to measure up, we've got to measure up to Alabama. In a lot of ways, we're a football team that has come on this year. Alabama's a football team that had come on a couple years ago and was the No. 1-ranked team and the defending champion and [had] the defending Heisman Trophy winner. And we're a team that wasn't in the Top 25 early on. We're a team that has raised our play as the season went along. So we've got to be able to measure up to that football team that we're playing. It's a great challenge, a great opportunity as well.
It seemed like your players had no letdown about not making a BCS bowl. Was that you reinforcing it to them or the players realizing on their own what's at stake?
MD:
I think it was mutual. We talked all year long about how our focus was to win the Big Ten championship. In a normal year, an 11-1 [overall record], a 7-1 [conference record] is going to win the Big Ten championship outright. From my perspective, from our players' perspective, the main thing is we are champions of this conference and we want to represent. That's why we talk about how we've got to measure up. We have to be emotionally ready coming into this football game. It's so important that you not be flat, that you not let Disney World and everything else around us have us fall asleep and the next thing you know, it's New Year's Day and we're not ready to play emotionally. That was the focus today.
What has it been like for you to spend time with Coach Saban leading up to this game?
MD:
It's been good. When you have an opportunity to step back and see someone who's had a direct impact on your career, it's always good to spend time together again. I spent five years of my life as his secondary coach, so we worked very closely in that area. It was good just to talk to him, whether it's about recruiting or about the families or whether it's just about things. I had an opportunity on Sunday morning to spend about 20 minutes with him, so that's been a big positive for me personally.
He's been a mentor to me as a football coach. When I look at what we do and how we do things, organizationally, recruiting, defensively -- even though they may have a different defense now and we may play a different one than we played when we were both at Michigan State -- there's still some common threads there. He has had a direct impact on my career.
Has he had a stronger influence on you as a defensive coach or as a head coach?
MD:
I would say as a defensive coach. I worked with Coach Saban from '95-99, so you're going back 11-15 years ago when I was an assistant. As I moved forward in coaching, it was to become a better defensive coach, then a defensive coordinator and then a head coach. So even though we follow a lot of the same things that we did at Michigan State, the biggest impact he's had on me is as a defensive coach and the fundamentals that were really instilled in me and the philosophy. The X's and O's may be a little bit different, but the philosophy in how to do things and the teaching progression and the importance of technique, all those things he influenced me greatly.
You mention defense. What are some of the biggest challenges for your team defensively in this game?
MD:
Alabama presents so many different problems for you. Outstanding wide receiver in
Julio Jones
, 75 catches made. [Marquis] Maze is equally as impressive. They've got a couple other guys who can play very well also. Their running backs, [Trent] Richardson and [Mark] Ingram are outstanding running backs. A little mirror type seasons. Last year, Richardson was hurt early. This year, Ingram was hurt early, but they're both tremendous backs and have game-breaking ability. And then you look at their offensive line: big, physical, a little young in places. And then their quarterback, [Greg] McElroy, throws the ball very effectively, 70 percent completion ratio, and an outstanding leader. He does a great job leading his football team offensively. They'll be a challenge to stop. We've got to eliminate the big plays and force some turnovers and play well in certain situations.
December, 22, 2010
12/22/10
9:00
AM ET
Michigan State's secondary had a big-play problem in 2009. The Spartans gave up too many and made too few of their own.
Consequently, Michigan State ranked last in the Big Ten in pass defense (267.6 ypg), pass touchdowns allowed (32) and fewest takeaways (14). The Spartans ranked second to last in the league in interceptions with just six.
[+] Enlarge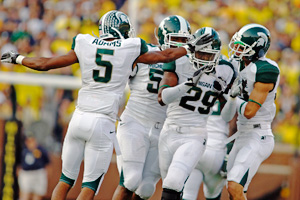 AP Photo/Tony DingCornerbacks Johnny Adams (5) and Chris Rucker (29) combined to make 11 interceptions in 2010.
When the players started preparing for the 2010 camp, they didn't take long to find a group motto.
"We came up with MAP," safety Trenton Robinson said.
It translates easily: Make. A. Play.
"In our heads going into the season and everything, it was like, 'We've got to make a play,'" Robinson said. "If one guy in camp or during spring ball would make a play, everybody would be like, 'MAP. Make a play. Somebody make a play.'
"That was our biggest focus, just making plays."
The Spartans' defensive backs made plenty of plays this fall as Michigan State surged to 11-1 and a share of the Big Ten championship.
Michigan State ranked second in the Big Ten and tied for 11th nationally in interceptions with 17, nearly tripling its total from 2009. The Spartans had four games with multiple interceptions, including a four-pick performance against Northern Colorado and three picks against both Michigan and Illinois.
All four starting defensive backs -- safeties Robinson and Marcus Hyde, and cornerbacks Chris L. Rucker and Johnny Adams -- finished the regular season nationally ranked in passes defended. They combined for 12 interceptions and 30 passes defended.
Arguably no position group in the Big Ten had a bigger one-year turnaround than Michigan State's secondary, as all four starters received second-team all-conference honors from either the coaches or media.
"Last year, we would get in position to make a play, but we just couldn't come down with it or break it up," Robinson said. "This year, we're making plays on the ball. When the ball goes up, we're trying to turn into wide receivers, getting interceptions, knocking the ball down. That's the biggest difference."
Spartans quarterback
Kirk Cousins
saw an attitude change among the defensive backs this fall.
"They felt like they didn't live up to expectations last year and that wouldn't happen again," Cousins said. "They simply made a decision to play at a higher level and play with confidence. At the same time, coverage can be a result of pressure from the D-line. When the whole defensive steps up, including the defensive line, they're able to pressure a quarterback and force them to make poor decisions.
"That's going to help the secondary."
Michigan State will need every area of its defense to be clicking against Alabama in the Capital One Bowl. The Tide boast a veteran quarterback in
Greg McElroy
, two outstanding running backs in former Heisman Trophy winner
Mark Ingram
and
Trent Richardson
, and an elite receiver in
Julio Jones
.
"They're going to throw the ball deep on us, and I feel like Chris Rucker and Johnny will be in position on those wide receivers," Robinson said. "It's just going to come down to who's going to make that play. Hopefully, it's us."
December, 5, 2010
12/05/10
11:11
PM ET
Alabama Crimson Tide (9-3) vs. Michigan State Spartans (11-1)
Jan. 1, 1 p.m. ET (ESPN)

Alabama take by SEC blogger Chris Low
: National championships don't come easily, and back-to-back national championships in college football are practically unheard of.
Alabama (9-3) fell short in its goal to repeat this season, which isn't stunning given how rarely that's happened in this sport. But seeing the Crimson Tide lose two of their last three SEC games was certainly different, especially when you consider that Nick Saban's club had won 16 straight regular-season SEC games coming into this season.
Inconsistency plagued the Crimson Tide, who had trouble putting four quarters together. Never was that more apparent than in the final regular-season game when they built a 24-0 lead on No. 1 Auburn in the first half, only to unravel across the board and drop a bitter 28-27 decision at home.
This is still an extremely talented team with three guys who will probably go in the first round of the NFL draft next April. Nonetheless, the Crimson Tide's inexperience in the secondary caught up with them this season. They will be even more inexperienced in the bowl game. Junior safety Mark Barron underwent surgery for a torn pectoral muscle after being injured in the Auburn game and won't be able to play against Michigan State.
Senior quarterback
Greg McElroy
suffered a concussion against Auburn, but he should be fine for the bowl game. Probably the most surprising thing about this season for the Crimson Tide was that they weren't able to run the ball better, although
Mark Ingram
and
Trent Richardson
battled injuries.
---

Michigan State take by Big Ten blogger Adam Rittenberg
: A BCS bowl appearance would have been huge for Michigan State, but a matchup against Alabama in the Capital One Bowl is the next best thing.
As expected, the Spartans were snubbed from the big bowls despite a BCS-worthy résumé: a team-record 11 wins, a co-Big Ten championship, a victory against Rose Bowl-bound Wisconsin. Instead, they get an opportunity to prove just how worthy they are against the defending national champions, who are led by a man who used to coach in East Lansing.
The Nick Saban-Michigan State connection certainly adds intrigue to arguably the nation's best non-BCS bowl. Saban coached the Spartans from 1995-99, compiling a 34-24-1 record before bolting for LSU before the 2000 Citrus Bowl (now Capital One Bowl). Current Spartans coach Mark Dantonio served as Saban's secondary coach in East Lansing.
The game pairs two of the nation's smartest and classiest quarterbacks in Michigan State's
Kirk Cousins
and Alabama's Greg McElroy as well as two of the nation's most accomplished defenders in Michigan State's Greg Jones and Alabama's Marcell Dareus. Jones and the Spartans' run defense face arguably their biggest test of the season against reigning Heisman Trophy winner Mark Ingram, a native of Flint, Mich., as well as dynamic sophomore Trent Richardson.
After setting so many milestones this fall, Michigan State aims for one more. The Spartans look for their first bowl win since 2001 and their first Jan. 1 bowl win since the Citrus in 2000.
September, 11, 2010
9/11/10
10:31
PM ET
Penn State came into Saturday night's pressure cooker at No. 1 Alabama with a simple plan.
Run the football
Don't commit turnovers
Keep Alabama's offense off the field


The Lions failed in all three areas, leading to a somewhat predictable result: a
24-3 loss
to the defending national champs.
Penn State wasn't very competitive in the final 20 minutes or so, but the Lions had many chances to make the Tide sweat a little more. All four Penn State turnovers took place in Alabama territory, including a
Rob Bolden
interception at the Tide 3-yard line as the Nittany Lions seemed poised to tie the score at 7-7.
With another chance to grab momentum after halftime, a strong Penn State drive ended with another Bolden interception, this time at the 13-yard line. Bolden finished 13 for 29 for 144 yards with two interceptions and no touchdowns.
None of this should surprise you. Bolden was bound to make some mistakes in his first road start, no matter the opponent. Put him against Alabama on the road, and you had to expect some miscues. He'll learn from the experience and be better off eventually. I still like what he brings to the table.
More troubling for Penn State is the continued inability to spark
Evan Royster
and the run game. Royster had only 32 yards on nine carries. Frustration must be building for the senior, who returned to school to improve his NFL stock but hasn't done so thus far.
Penn State's defense also struggled against a balanced Alabama offense, as quarterback
Greg McElroy
and running back
Trent Richardson
both had big games.
Where does this leave Penn State? Still a step behind Ohio State, Iowa and, to a lesser extent, Wisconsin in the Big Ten.
The Lions have some work to do in the next two weeks before another huge test Oct. 2 at Iowa to open league play.