December, 16, 2014
12/16/14
3:02
PM ET
Bo Pelini is going home. What a stunner. Yet it makes perfect sense.
Nebraska's coach of the past seven years likely could have held out for a bigger job than Youngstown State. Pelini went 67-27 in Lincoln and won nine games every season -- the first coach at a Power 5 program fired for on-field performance after such a victorious run.
He owns experience as an NFL assistant and as a successful coordinator at LSU and Oklahoma. More dominoes are set to fall this year. Surely, another brand-name program, perhaps motivated by the union last week of Gus Malzahn and Will Muschamp at Auburn, would have extended Pelini an offer before the room went quiet in the 2014-15 version of musical coaching chairs.
[+] Enlarge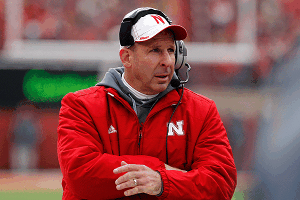 Bruce Thorson/USA TODAY SportsBo Pelini might have found the right fit at Youngstown State.
But Pelini was content with Youngstown State, a traditional FCS power with a 20,630-seat stadium and a legend in the president's office.
The prospect of working near Jim Tressel likely appealed to Pelini. Tressel won four Division I-AA crowns at YSU from 1986 to 2000 before he left for Ohio State and returned this year to run his old university.
Pelini was comfortable, after all, alongside Tom Osborne at Nebraska. Osborne, who won three national titles in Lincoln, hired Pelini in 2007. They worked in a building named after the former coach. And it never appeared to bother Bo.
Not much bothered him, in fact, about coaching. He was at his best in Lincoln on the practice field and the sideline. Sure, he lost his cool once in a while, but that's just Pelini. He never wondered how to act on Saturday.
Sunday through Friday could give him trouble. The anti-Pelini crowd argued that he operated more like a coordinator than a CEO.
Last month, two days after Wisconsin gouged Nebraska for 59 points and 581 rushing yards, Pelini failed to explain, now somewhat famously, his postgame comment that he didn't look at the "big picture" in performing his job.
There was an easy answer waiting for him. A time existed for big-picture talk, he could have said. In the wake of a five-touchdown loss, he needed to focus on his players and how to fix their lapses. But he didn't find the words, just like the answers to other big-picture questions avoided him in his time at the school.
Pelini grew to accept his role as the face of the corporation that is Nebraska football. But was he ever comfortable with it?
Maybe in this final year, yes, though it was too late to reverse some of the habits and stagnation that ultimately led to his ouster.
Pelini will be paid $150,000 a month by Nebraska through February 2019, minus his YSU earnings.
Yes, he could have waited for a more prestigious job. But Youngstown State offers a chance for him to get comfortable in a hurry. He grew up there. He is a product of the region's blue-collar vibe -- a favorite son who remained charitable to the community, like many others who made it big out of the northeast Ohio coaching cradle.
Youngstown is a fighter's town. Ray Mancini and Kelly Pavlik are rooted in its history. The city, with a population that has dwindled to 65,000, has refused to go down in the face of adversity.
That is Pelini. In Youngstown, he will face a fraction of the media attention to which he's accustomed. Many of the distractions in place at a Big Ten school just don't exist in Youngstown. The expectations remain high -- and Pelini never had trouble with expectations.
It was the peripheral challenges that bothered him. In Youngstown, he can focus on coaching, relationships and the fundamentals of football.
He ought to thrive at home.
December, 17, 2012
12/17/12
11:00
AM ET
After announcing Danny Hope's dismissal last month, Purdue athletic director
Morgan Burke defended the school's financial commitment
to the football program.
"I don't think there's any resource commitment question," he said.

Still, the facts showed Hope earned less ($950,000) than every other Big Ten head coach, and his staff was among the lowest-paid in a major conference. Before Gus Malzahn left Auburn for Arkansas State, he was
earning more as an offensive coordinator
($1,309,600) than Hope was as a head coach in the Big Ten. That raises a red flag.
Whether Burke liked it or not, questions about Purdue's investment in football would linger. The school appears to have answered some of them in the contract for new head coach Darrell Hazell. Purdue's trustees on Saturday approved a six-year contract for Hazell that will pay the coach $2 million annually, more than double what Hope earned. The trustees also approved $2.1 million for Hazell to hire assistant coaches, approximately
$500,000 more than Hope had
for his annual staff salaries.
Other notes about Hazell's contract:
He receives a base salary of $250,000 and a supplemental stipend of $1.75 million for media and marketing appearances, of which $300,000 can be deferred. He'll receive a minimum raise of $50,000 for each year of his contract.
He can earn up to $1 million in bonuses (based on the team's academic and on-field performance), including a $400,000 bump for getting Purdue to a Rose Bowl or another BCS-level bowl.
Purdue provided Hazell with a $725,000 interest-free loan to pay his buyout at Kent State. If Hazell meets the conditions of his contract, the loan will be forgiven at the end of the six years.
Hazell must pay Purdue $2.5 million if he leaves for another job before Jan. 1, 2015. The buyout drops to $1.5 million if he leaves before Jan. 1, 2017, and then to $500,000 if he departs before the end of 2018.
Hazell's contract doesn't pop off the page in today's college football, where coaches' salaries are spiking. But the compensation package is more appropriate for a major-conference coach, and it should allow him to bring in a solid staff, which he had at Kent State. Hazell has yet to officially announce any of his staff appointments.
September, 13, 2012
9/13/12
10:15
AM ET
Ten items to track as you ingest a 12-pack of games involving Big Ten teams Saturday.
1. The green flag:
After the Big Ten's Week 2 disaster, Michigan State is the league's only legitimate hope for a national title run. Coach Mark Dantonio wisely isn't thinking about carrying the Big Ten banner, and his Spartans face their second home test in the first three weeks as No. 20 Notre Dame visits East Lansing. It's another big game for new starting quarterback
Andrew Maxwell
, who rebounded nicely last week after tossing three interceptions in the opener against Boise State. If Maxwell performs well against
Manti Te'o
and a solid Irish defense, more folks might start taking Michigan State seriously as a dark-horse championship contender.
2. The thin red line:
Dominant offensive line play has defined Wisconsin for the better part of two decades, but the program's hallmark position (along with running back) is suddenly under the microscope. A horrific performance against Oregon State, a game in which the Badgers finished with just 35 net rush yards, led to the dismissal of new line coach Mike Markuson after just two games. Head coach Bret Bielema has tabbed the unproven Bart Miller, a Bob Bostad disciple, to lead the group. "We're going to take some baby steps," Bielema said. "And my guess is we're going to have a great amount of change in a short amount of time." Wisconsin could use a bounce-back performance Saturday night against Utah State, which comes off of an upset of Utah.
[+] Enlarge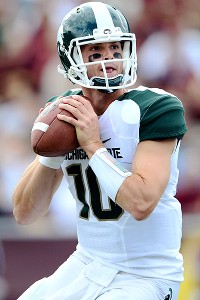 Andrew Weber/US PresswireAndrew Maxwell and Michigan State should be tested by Notre Dame on Saturday night.
3. Casting call for Robinson, Miller:
Michigan quarterback
Denard Robinson
and Ohio State quarterback
Braxton Miller
did it all for their respective offenses in hard-fought Week 2 wins. Although both men can do special things with the ball in their hands, their coaches need other weapons to emerge, if only to protect the signal-callers from injury. Ohio State coach Urban Meyer wants to be "a little smarter" about Miller's carries after the sophomore logged 27 against UCF. The problem is that top running backs
Jordan Hall
(foot) and
Carlos Hyde
(knee) are banged up, and freshman
Bri'onte Dunn
should get the start Saturday against Cal. Robinson recorded his fourth career 200-yard rushing performance last week against Air Force, but running back
Fitz Toussaint
had just 7 yards on eight carries in his season debut. Michigan's offensive line wants to get Toussaint going and should get the chance Saturday against a woeful Massachusetts team.
4. Receiving orders for Wildcats:
Northwestern's quarterback rotation seems to be functioning well so far, and while
Trevor Siemian
has led comebacks the first two weeks,
Kain Colter
will continue to start. Head coach Pat Fitzgerald seems more concerned with the guys catching passes than throwing them. The wide receivers, undoubtedly Northwestern's strongest position group entering the year, struggled with drops in last week's win against Vanderbilt. Fitzgerald challenged all his players this week but especially the receivers, saying, "I reminded them that it's a $60,000 scholarship. Catch the ball." As good as running back
Venric Mark
has been, the offense is driven by high-percentage passes. The receivers look to get back on track against Boston College, which ranks 11th nationally in pass-efficiency defense.
5. TerBush's time:
Purdue coach Danny Hope loves his quarterback rotation, but another knee injury to
Robert Marve
has put
Caleb TerBush
in the spotlight. TerBush returned to the starting lineup last week and had mixed results, struggling early before relieving Marve and guiding the game-tying touchdown drive in the closing minutes. While most Purdue fans preferred Marve over TerBush, the Boilers will move forward with TerBush and
Rob Henry
calling signals. TerBush could really use a big performance against Eastern Michigan before an open week, a game against Marshall, and then a defining stretch to open Big Ten play (Michigan, Wisconsin, Ohio State).
6. Bo vs. Gus:
Nebraska coach Bo Pelini called his team's performance against UCLA "embarrassing," and the criticism justifiably centered on a defense that surrendered 36 points, 26 first downs and a whopping 653 yards to the Bruins at the Rose Bowl. Pelini pointed to the need for better tackling and also indicated the defense has been geared more toward stopping pro-style teams than spread teams. Nebraska faces Arkansas State on Saturday. While Gus Malzahn doesn't like his offense to be labeled a spread system, he'll use the entire field, numerous formations, accelerated tempo, and plenty of trickery to keep defenses off balance. Malzahn, the first-year Arkansas State coach, brings his offense, rated seventh nationally in total yards this season (574.5 ypg), into Memorial Stadium on Saturday. "We will be tested," Pelini said. "...We need to get better against that offense. It comes kind of at the right time for us." It should be fun to watch Pelini and Malzahn match wits Saturday.
7. Iowa's search for the end zone:
Iowa is one of just two FBS teams with just one touchdown in two games this season. The Hawkeyes failed to reach paydirt on their home field in last week's loss to rival Iowa State. Needless to say, this isn't the start Iowa had hoped for under new coordinator Greg Davis, and the struggles of senior quarterback
James Vandenberg
have been particularly baffling. Iowa looks for the end zone Saturday in a critical game against Northern Iowa, an FCS program that gave Wisconsin all it could handle in Week 1. Iowa considers itself the state's flagship program. It's a very tough claim to make if the Hawkeyes lose to Iowa State and Northern Iowa in consecutive weeks.
8. Hoosiers, Gophers face first real challenges:
Indiana and Minnesota are two of the Big Ten's five undefeated teams through the first two weeks, and both squads looked impressive last week after shaky openers. Both squads also haven't played anyone, making it tough to accurately gauge their progress. Although Ball State and Western Michigan aren't powerhouses, both are legitimate FBS programs that can pull off victories Saturday. Indiana has dropped consecutive games to Ball State and turns to
Cameron Coffman
, who makes his first start at quarterback in place of
Tre Roberson
. Minnesota's defense has impressed to date, but Western Michigan quarterback
Alex Carder
provides a nice test.
9. Opportunity knocks for Lions:
Penn State has had ample opportunities in its first two games under coach Bill O'Brien, but the Nittany Lions repeatedly haven't cashed in and sit at 0-2. Questions about confidence resurfaced after a heartbreaking loss to Virginia, a game in which Penn State was plus-4 in turnover margin but missed four of five field goal attempts. It'll be interesting to see how sophomore kicker
Sam Ficken
performs in front of the home crowd Saturday against Navy. But Ficken, who still has the top place-kicking job, is just a piece of the puzzle, and Penn State has to start finishing drives and getting key second-half stops. The Lions have done some good things the first two weeks. They now need to finish the job and get a win, or the season will really begin to slip away.
10. Spartans' D prepares for two QBs:
Michigan State's defense has been as advertised so far, ranking eighth nationally in yards allowed and 12th in points allowed. The Spartans' challenge changes this week as they must prepare for two Notre Dame quarterbacks after
Tommy Rees
led the game-winning drive last week against Purdue. Freshman
Everett Golson
will get the start for the Irish and coach Brian Kelly would like him to finish the game, too, but Kelly showed last week he isn't afraid to go with Rees, who has had been both the hero and the goat at times during his career.
August, 3, 2012
8/03/12
3:45
PM ET
Nebraska is no longer the new kid in the Big Ten, and the Huskers have high hopes for their second go-round in the league. They play an interesting nonconference slate followed up by another taxing run through the Big Ten.
Let's see what Bo Pelini's squad can look forward to in 2012 ...
Nonconference opponents (with 2011 records)
Sept. 1: Southern Miss (12-2)
Sept. 8: at UCLA (6-8)
Sept. 15: Arkansas State (10-3)
Sept. 22: Idaho State (2-9)
Legends division games

Oct. 20: at Northwestern
Oct. 27: Michigan
Nov. 3: at Michigan State
Nov. 17: Minnesota
Nov. 23: at Iowa
Crossover games
Sept. 29: Wisconsin
Oct. 6: at Ohio State
Nov. 10: Penn State (protected)
No plays
Illinois
Indiana
Purdue
Gut-check game:
Ohio State. Some might have expected to see Wisconsin here, but the result of the Big Ten opener won't matter much unless Nebraska follows it up with a strong effort on the road. The Huskers suffered two blowout losses in hostile road venues (Camp Randall Stadium and Michigan Stadium) in 2011, and if they want to contend for the league title, they'll have to be better away from Lincoln. Ohio State will be an improved team under Urban Meyer, especially on defense, and Nebraska must contend with
Braxton Miller
, who played well in Lincoln last year before leaving with an injury. The game also marks a homecoming for Pelini, an Ohio State alum who has a big opportunity to make a statement at his alma mater.
Trap game:
Penn State. It would be Northwestern, but Nebraska lost to the Wildcats last year and should be geared up to avenge the defeat. The Penn State game, meanwhile, falls after Legends division showdowns against Michigan and Michigan State. Nebraska could be in command of the division on Nov. 10, or it could be essentially out of the race. Penn State is banned from postseason play and has been weakened by player transfers in recent days. Nebraska gets the Lions in Lincoln, where the Huskers typically lose one game they shouldn't. They need to be geared up for Bill O'Brien's team.
Snoozer:
Three of Nebraska's nonconference games are very intriguing, in part because of the new head coaches at Southern Miss (Ellis Johnson), UCLA (Jim Mora) and Arkansas State (Gus Malzahn). This contest doesn't fit the description. Idaho State went 1-7 in the FCS Big Sky Conference last year. Huskers should roll.
Non-con challenge:
There are a few options here, but I'm going with the opener against Southern Miss. The Golden Eagles won a team-record 12 games in 2011, including an upset win against Houston in the Conference USA championship game. Although Southern Miss loses seven starters on defense and must reload there, it boasts a dangerous weapon on offense in
Tracy Lampley
. Defensive playmakers
Deron Wilson
and
Jamie Collins
also return.
Telltale stretch:
After an open date in Week 7, the Huskers open Legends division play on the road against a Northwestern team that stunned them last year in Lincoln. Two division showdowns follow against Michigan (home) and Michigan State (road) before Nebraska faces a cross-division foe in Penn State. While the opening games against Wisconsin and Ohio State will tell a lot about Big Red, Nebraska needs to take care of business within the division, beginning with the Northwestern game. A 3-1 or 4-0 stretch here should put Nebraska in good shape for the stretch run.
Analysis:
Nebraska once again plays one of the toughest schedules in the Big Ten, especially when factoring the division crossover games and some tricky nonconference contests. The Huskers should emerge from non-league play at 4-0 before opening the Big Ten portion with defending champ Wisconsin and an improved Ohio State team. The big key is consistency, particularly in hostile road environments, where Nebraska made too many major errors to win games in 2011. Nebraska's overall road schedule isn't easy with a long Week 2 trip to Pasadena and Big Ten road contests at Ohio State, Michigan State, Northwestern and Iowa. If the Huskers go 4-1 away from Lincoln, they should be in the mix for the division crown.
More B1G schedule analysis:
Legends:
Minnesota
|
Iowa
|
Michigan State
|
Michigan
Leaders:
Indiana
|
Purdue
|
Wisconsin
|
Illinois
July, 20, 2012
7/20/12
1:30
PM ET
On Thursday, we began ranking all 48 Big Ten nonconference games in 2012, beginning with the
13 least-compelling contests
on the slate.
This next batch of 14 contains a few more interesting games but is mostly a middling bunch. Here is where you'll find much of the exciting MACtion on the Big Ten schedule. We'll count these down until we get to the must-see games.
34. Central Michigan at Iowa, Sept. 22:
The Chippewas were a robust 3-9 last season, though they did somehow upset eventual MAC champion Northern Illinois. At least a team that surrendered 33.3 points per game last season should allow Iowa fans to see their team light up the scoreboard.
33. Eastern Michigan at Purdue, Sept. 15 :
Prepare to see a lot of directional Michigans on this list. Ron English did great work last year in getting a formerly moribund program to 6-6 (with the help of two FCS wins). He could punch his ticket out of Ypsilanti and into a major head-coaching gig if he can pull off an upset over a Big Ten team on the way to a bowl.
32. Eastern Michigan at Michigan State, Sept. 22:
At least this is an in-state, uh, "rivalry." The Spartans are 8-0 all-time against EMU and have never won by fewer than 32 points.
31. Michigan State at Central Michigan, Sept. 8:
Only slightly more interesting because it's on the road, for some reason. Michigan State beat Central Michigan 45-7 last year in a game I dare anyone to remember.
30. Marshall at Purdue, Sept. 29:
Purdue plays Eastern Michigan and then gets a bye week before hosting Marshall. Safe to say the Boilers won't be getting a lot of national attention during those three weeks. Marshall did win a bowl game last season, though it was only the Beef O'Brady's Bowl.
29. Northern Iowa at Iowa, Sept. 15:
How does an FCS game get ranked this high? Because Northern Iowa is a really good FCS team that nearly upset the Hawkeyes last time they played, three years ago. And coming as it does a week after the Iowa State clash, well, this could possibly be interesting.
28. Louisiana Tech at Illinois, Sept. 22:
Louisiana Tech is not a bad team. It won eight games a year ago and challenged TCU in the Poinsettia Bowl before losing by a touchdown. Still, with no history (this is the first meeting) and very little in common, this matchup won't generate too much pre-game hype.
27. Miami (Ohio) at Ohio State, Sept. 1:
This doesn't figure to be a great game (the Redhawks won just four games a year ago). But it is the Buckeyes' opener, which makes it Urban Meyer's debut. That and the geography bump this one up a few notches.
26. Indiana at Navy, Oct. 20:
Now we're starting to get into some games that could go either way. Navy has been a much better program of late than the Hoosiers and could cause fits with its offense. IU may regret scheduling this one between the Ohio State and Illinois games, with little time to prepare for that option attack.
25. Western Michigan at Minnesota, Sept. 15:
The Gophers had better play well if they want to win this one. Western Michigan gave Illinois and Purdue everything they wanted last year and could be the MAC favorites with prolific quarterback
Alex Carder
returning.
24. Western Michigan at Illinois, Sept. 1:
The Broncos lost just 23-20 in Champaign last year. There would have been easier ways for Tim Beckman to open his Illini tenure, though he is very familiar with WMU, having coached at Toledo.
23. Ohio at Penn State, Sept. 1:
Bill O'Brien's Penn State debut comes against a Bobcats crew that won 10 games a year ago (and is coached by former Nebraska coach Frank Solich). Upset alert. Given all that's gone on in State College, the most interesting things about this game might be happening away from the field.
22. Arkansas State at Nebraska, Sept. 15:
The Red Wolves won 10 games a year ago and now are coached by offensive guru Gus Malzahn, who'll match wits against Bo Pelini's defensive mind. I am officially intrigued.
21. Navy at Penn State, Sept. 15:
The Midshipmen had a losing record last year for the first time since 2002. But you can never take them lightly because of their style of play and constant effort. Navy will have to overcome quite a talent gap, however.
February, 17, 2011
2/17/11
1:30
PM ET
Kevin Wilson has no hard feelings.
Wilson knows how it must look: four assistant coaches leaving his Indiana staff for other jobs days after they came aboard. But after living the assistant's life for decades and understanding how the coaching carousel moves, Wilson doesn't harbor any ill will toward those who bolted Bloomington.
[+] Enlarge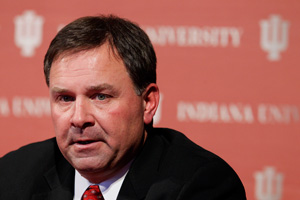 AP Photo/Darron CummingsKevin Wilson understands the offseason coaching carousel is part of the business side of college football.
"I don't pigeonhole a guy on what he's got to do," Wilson told ESPN.com on Thursday. "If they can pay [Auburn offensive coordinator] Gus Malzahn $1.3 million, if a guy can get a better deal, more power to him. With the timing, some things came in front of guys' laps that I don't think they anticipated. I didn't have a problem with any guy, I didn't have a problem with any coach.
"That's the business side of college football. It doesn't look good maybe, but as an assistant football coach, you do what's best for you."
To recap the staff departures:
Offensive coordinator Brent Pease returned to Boise State for the OC job after Bryan Harsin left for Texas

Defensive ends coach Jerry Montgomery left to become defensive line coach at Michigan

Cornerbacks coach Corey Raymond left to become secondary coach at Nebraska

Running backs coach Jemal Singleton left for the same position at Oklahoma State
Indiana has filled most of the gaps, hiring two offensive coordinators (Kevin Johns and Rod Smith), a new defensive ends coach (Brett Diersen) and a new cornerbacks coach (Brandon Shelby). Wilson will hire his final full-time assistant coach (presumably for the running backs) in the near future.
There are two major periods of activity for coaching changes: following the season and after national signing day. Wilson made his hires following the season but several got swept away in the post-signing day flurry.
"I think we put together a great staff," Wilson said, "and the guys that left, it was unfortunate because they were great fits here. I thought we stole some good ones. We wanted them here. We encouraged them to be here. Unfortunately, when a guy hasn't moved, hasn't bought a house, it's almost like he was a free agent. I think we maybe helped the stock of some young coaches and now they can quote say they were a Big Ten coach although they never coached in a Big Ten game.
"We kind of spiked the guys' stock a little. Maybe that hurt us, but at the same time I've got no ill will against any of those guys or any of those programs."
Wilson points out that his core group of hires -- co-defensive coordinators Mike Ekeler and Doug Mallory, and Johns -- has remained intact. Indiana has committed greater resources to football, which is evident in Wilson's contract (seven years, $8.4 million) and getting coaches like Johns and Ekeler away from good situations at Northwestern and Nebraska, respectively.
"We've been presented financially with a good situation where our salaries are going to be extremely competitive," Wilson said. "The bottom line is I don't think we're taking a backseat to anyone. These guys felt family wise, career wise, it's better. We wish them well. But shoot, I think we have a heck of a gig going.
"There are some good people who want to be at Indiana."
December, 31, 2009
12/31/09
4:00
PM ET
Northwestern's biggest challenge Friday against Auburn might take place before the ball is snapped.
Auburn offensive coordinator Gus Malzahn is known for his innovative approach and extensive playbook, but he sets everything up by running a ton of pre-snap motion to throw off the opposing defense. For defenders, a misstep before the snap can lead to disastrous results after it.
[+] Enlarge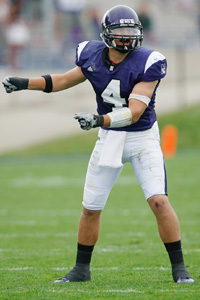 Scott Boehm/Getty ImagesSafety Brendan Smith knows the Wildcats can't afford to be fooled by Auburn's pre-snap motion.
"It's like window dressing," Northwestern senior safety Brendan Smith said. "They're saying, 'Hey, we're going to try and confuse you. Watch this!' Like if they're magicians, 'Here's the magic. Watch me over here! Watch me over there! Boom!' They try to motion around, but they're going to run the same play."
Smith and his fellow defenders have spent the past few weeks studying Auburn's pre-snap motion so they can recognize it in the Outback Bowl and not get sucked in. They've seen Auburn shuffle a ton of personnel before the snap, only to run a simple inside zone play to running back
Ben Tate
.
The solution to contain Auburn? Just do your job.
"They take advantage of the mental mistakes on defense," Smith said. "As long as we play one team, Auburn, we have a great chance of winning."
Northwestern will rely heavily on Smith and fellow safety Brad Phillips, another senior, to direct others on Auburn's pre-snap motion.
"Sometimes, we could say, 'Play it! Play it! Play it!'" Smith said. "Other times, we'll have to check and get us into something else. That's all dependent on the pre-call. But a lot of the looks will get us into our base [defense]."
Like Auburn, Northwestern runs a no-huddle spread offense that should help the NU defenders prepare for the Tigers' up-tempo pace. Though the Wildcats usually don't run as much pre-snap motion as Auburn, they can execute plays like rapid fire, keeping the defense on its heels.
With three weeks to practice against their own offense and examine Auburn's, the Wildcats defenders feel ready.
"The biggest thing is studying their tendencies," defensive end Corey Wootton said of Auburn. "Certain formations, certain sets they're in, it's pretty predictable what they're doing."
December, 31, 2009
12/31/09
9:30
AM ET
Here's a quick look at the first of three Big Ten games on New Year's Day, as Northwestern (8-4) squares off against Auburn (7-5) in the Outback Bowl (ESPN, 11 a.m. ET).


WHO TO WATCH:
Mike Kafka
. Few Big Ten players proved more valuable to their teams this fall than Kafka, who ended the season playing his best football. He complemented an efficient short passing attack with more downfield shots to receivers
Andrew Brewer
and
Zeke Markshausen
. Kafka faces an Auburn defense that defends the pass well (28th nationally) but has struggled with depth problems for most of the fall. You figure Auburn's high-powered offense will hit on some big plays against the Wildcats, so Kafka will be called upon to answer. If he plays like he did Nov. 21 against Wisconsin, Northwestern should be in good shape.
WHAT TO WATCH:
The chess match between Mike Hankwitz and Gus Mulzahn. Hankwitz, the Northwestern defensive coordinator, has seen it all in two plus decades running defenses. But Mulzahn's innovative offense, which employs a huge playbook and a ton of motion before the snap, will test Hankwitz's scheming skills. Northwestern's defense got healthier and improved its tackling as the season went on, but the Wildcats have been gashed for big plays at times. Hankwitz had an excellent game plan against Missouri's high-powered offense last year in the Valero Alamo Bowl, and it will be interesting to see what he comes up with after nearly a month to prepare for Malzahn and Auburn.
WHY WATCH:
Northwestern finished the season as one of the nation's hottest teams, going 3-0 in November with two wins against ranked opponents (Iowa and Wisconsin). After a lengthy layoff, the Wildcats play on New Year's Day for the first time in 13 years and search for their first bowl victory since the 1949 Rose Bowl. It's also the Big Ten's first crack at the SEC, regarded as the nation's premier conference in large part because of its BCS title game wins against Ohio State. Northwestern still struggles to shake its miserable pre-1995 history, and a win against Auburn would go a long way toward erasing the program's poor past.
PREDICTION:
The Wildcats are the hotter team, as Auburn dropped five of its final seven contests, but the Tigers are feeling good about themselves after taking No. 1 Alabama to the wire in the Iron Bowl. Both teams are excited to be here, and both boast strong offenses. Auburn takes an early lead behind big plays from quarterback
Chris Todd
and running back
Ben Tate
, but Northwestern once again rallies, as it has all season. The Wildcats win this one, 31-28.
December, 6, 2009
12/06/09
9:30
PM ET
Outback Bowl: Northwestern (8-4) vs. Auburn (7-5)
Jan. 1, 11 a.m. (ESPN)


After being snubbed by the Outback Bowl for Iowa last year, Northwestern received a somewhat surprising invitation to the Tampa game, as it makes its first Jan. 1 bowl appearance since 1997.
The Wildcats now look for the same result as the Hawkeyes, who last year crushed South Carolina in the Outback to claim the Big Ten's only bowl victory. Northwestern hasn't won a bowl game since the 1949 Rose.
The game pits two teams (Northwestern and Auburn) that have never played, as well as two potentially explosive spread offenses. Senior quarterback
Mike Kafka
, a second-team All-Big Ten selection, leads a Wildcats attack that settled into a rhythm in its final two games. Kafka will need to be sharp against an Auburn defense that ranks 28th nationally against the pass, though there could be some running room for a Wildcats rushing attack that has struggled to get on track.
Veteran defensive coordinator Mike Hankwitz has been a key part of Northwestern's surge the last two seasons, but he will be tested against Auburn and spread guru Gus Malzahn. The Tigers will try just about anything on offense and boast the nation's No. 12 rushing unit, led by senior running back
Ben Tate
. The game features two efficient passers in Kafka and Tigers senior
Chris Todd
, who ranks 21st nationally in passer rating.
Northwestern comes in very hot, having gone 3-0 in November with two wins against top 20 opponents. Auburn started 5-0 before dropping five of its final seven contests, though the Tigers did give No. 1 Alabama all it could handle.