August, 6, 2012
8/06/12
2:00
PM ET
Mac or PC? Most of us fall into one of these camps.
Michigan State defensive coordinator Pat Narduzzi doesn't put himself in either, at least on fall Saturdays. He opts for The Bullough, which, at 6-foot-3 and 252 pounds, doesn't fit into most cubicles. Fortunately for Narduzzi, there's more than enough room on the football field.
"Max, he's like my computer," Narduzzi said of junior middle linebacker
Max Bullough
. "He calculates different things. He's the most unbelievable middle linebacker that I've coached, just because of the mental aspect of the game."
It's high praise from someone who coached former Big Ten Defensive Player of the Year Greg Jones, who played both outside linebacker and middle linebacker at Michigan State.
[+] Enlarge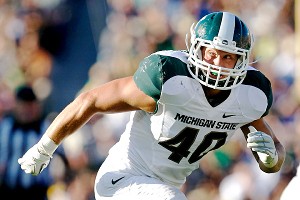 Scott Boehm/Getty ImagesMichigan State's linebackers follow Max Bullough, who knows how to get the defense lined up.
Bullough has the ideal frame to play middle linebacker, and as a third-generation Michigan State Spartan who also has a grandfather and an uncle who played at Notre Dame, he also has ideal bloodlines. But what sets him apart, at least in Narduzzi's eyes, is the way his mind works on the football field.
See, most football players worry about doing their jobs. It's a fine approach, and one that, if executed by all 11 men, can lead to tremendous success.
But it's not that simple for Bullough.
"I don't know, it's just how my mind works, but I have to know all the pieces to the puzzle in order to understand what's happening, why we're doing it, what I'm supposed to do," Bullough said. "I like the whole picture. So in order to learn my spot, I learned everyone else's along the way. It's easier to remember."
Easier? Hmmm. Perhaps for a finance major who last year earned Michigan State's scholar-athlete award for having the highest GPA on the team for players who have reached at least junior academic status.
Can Bullough line up the entire defense before the snap?
"Pretty close," he said. "I get a little iffy with the safeties. I'm not sure of their alignment. But other than that, I know just about every position in the front seven."
Bullough takes care of his own business as well. He led the team with 89 tackles last season, his first as the starting middle linebacker, and had 7.5 tackles for loss and 3.5 sacks en route to earning second-team All-Big Ten honors. The junior enters 2012 on preseason watch lists for four major awards (Bednarik, Butkus, Outland, Lombardi).
Michigan State returns eight starters from the league's top defense in 2011, and while players like end
William Gholston
and cornerback
Johnny Adams
will generate most NFL hype, Bullough is the unit's leader.
"What he does best is he goes out and he gets the defense lined up," senior outside linebacker
Chris Norman
said. "You don't find a lot of middle linebackers who can do that. For that reason, people are willing to follow him. That's one of the marks of a leader. Do you have anybody following you? He does. So I think he's going to be an even better leader than he was last year."
Narduzzi gives Spartans defenders the freedom to direct coverage based on what they see from opposing offenses before the snap. He considers it a better approach that "me just calling it from the sideline and guessing."
Bullough's presence makes it easier on his coach.
"My dad coached in the Ivy League," Narduzzi said, referring to his late father, Bill, a former Columbia assistant. "He said he had a bunch of smart guys, but they were not very intelligent when they got on the football field. Not only is Max good in the classroom, but he's got knowledge to be a great coach like his grandpa."
Hank Bullough, a lineman on Michigan State's Rose Bowl championship team in 1952, had an extensive career, first at his alma mater and then in the NFL. Max Bullough could follow a similar path, but he has unfinished business as a player.
"I might not be the most athletic, the fastest, the strongest, whatever it may be," he said, "but if I can know what's coming a little bit before someone else, that's a positive for me and the team."
February, 19, 2009
2/19/09
10:27
AM ET
Posted by ESPN.com's Adam Rittenberg
The sudden death of former Michigan State and New York Giants star Brad Van Pelt on Tuesday brought tributes from around the sports world. Here are several statements from current and former Michigan State dignitaries about Van Pelt, a two-time All-American safety for the Spartans.
Head football coach Mark Dantonio: "A three-sport athlete at Michigan State, Brad Van Pelt didn't simply compete at the collegiate level; he excelled. Brad is truly one of the all-time greats in Spartan football history. I had an opportunity to visit with Brad during his tour of the new Skandalaris Football Center last year, and I could sense his Spartan pride. He impacted a lot of lives during his college and pro careers. Our thoughts and prayers are with the Van Pelt family in this time of grief."
Athletic director Mark Hollis: "Brad Van Pelt ranks among the greatest multi-sport athletes in Michigan State history. He truly was a bigger than life sports figure. Brad was a loyal Spartan, who cared deeply about everyone associated with this university."
Former Michigan State basketball player Gary Ganakas, a teammate of Van Pelt's: "Brad Van Pelt was a wonderful person. He seemed to be everybody's friend because he acted like a big kid in sports and in life. He will be missed by everyone he touched during his life. Brad had a good heart. He never forgot that he came from Owosso [Mich.]. Despite all of his success in college and during his 14-year NFL career, he never big-timed people.
"He was simply a nice guy. He was an avid golfer and some of my fondest memories come from the golf course. Brad was certainly fun to watch on the tee box because he swung so hard. He swung as hard as any amateur or pro that I've ever seen. Everybody near the tee box took a step back because his ball could fly anywhere. When Brad swung his golf club, he took people's breath away. It truly was a pleasure to play a round of golf with him."
Former Michigan State football player Joe DeLamielleure: "Brad Van Pelt was the modern day Jim Thorpe and that's no exaggeration. He played three sports at Michigan State and excelled in all three. Anything he picked up he could do well and if he concentrated, he would do it great. Obviously, Brad was a tremendous college football player because he's in the Hall of Fame, and if he had played on better teams with the New York Giants, he'd be in the Pro Football Hall of Fame, too.
"Honestly, Brad played the wrong position in college. He could have been our starting quarterback because he could throw the ball a mile. Brad also had an offensive player's personality. We spent my entire college career searching for a quarterback. If Brad had played quarterback, we would have won a lot more games. He was a natural athlete and looked smooth in everything that he did. Unfortunately, George Perles and Hank Bullough pulled him away [from quarterback] to become the big playmaker for our defense.
"Brad and I played against each other in the NFL and we had several head-to-head battles. He loved to play the game. In so many ways, he was just a big kid. Brad was a humble man -- the guy next door."