April, 21, 2010
4/21/10
4:00
PM ET
CHAMPAIGN, Ill. -- When A.J. Jenkins left campus for winter break, he didn't think he'd come back.
Jenkins, like the rest of his Illinois teammates, endured an extremely disappointing 2009 season. As part of a wide receiving corps billed as arguably the nation's best in the summer, Jenkins recorded only 10 receptions for 123 yards and a touchdown in eight games played. He had one more reception, three times as many touchdowns and more than double the number of receiving yards as a true freshman at Illinois.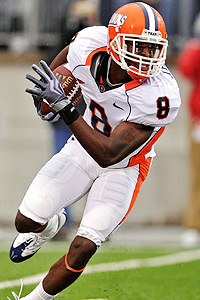 Jamie Sabau/Getty ImagesIllinois wide receiver A.J. Jenkins almost transferred.
Rumors swirled that Jenkins would transfer, and for a while, they were true.
"Obviously, I was very frustrated," Jenkins said. "I didn't want to come back. I wanted to play closer to home."
The Jacksonville, Fla., native began researching SEC and ACC schools as possible transfer destinations. He wanted to play in a pro-style offense, rather than the scheme Illinois had run in 2009, which seemed to waste players like All-America candidate
Arrelious Benn
and tumbled to 87th nationally in passing after finishing 20th in 2008.
But Jenkins didn't cut off ties with Illinois or head coach Ron Zook as he weighed his options.
"Last year was tough on everybody," Zook said, "and we had several long talks. I understood where he was coming from. Most players go through some form of that, and when you have the type of year that we had and you're successful, you begin to feel, 'I'm not going in the direction that I need to be going.'"
Zook's support made a difference in Jenkins' decision to return to Illinois.
"Usually, when players try to transfer, [coaches] say, 'I don't want you back,'" Jenkins said, "but coach Zook kept calling me over the break, kept on telling me they still wanted me this year. That was the main thing."
Since making his choice to remain at Illinois, Jenkins hasn't looked back. He stood out in the winter program and carried over his performance to spring practice, where Illinois has been installing a new offense with several unproven quarterbacks.
The 6-foot, 185-pound Jenkins has clicked with new offensive coordinator Paul Petrino, who talked to the junior the first day he was hired.
"He's been the best receiver this spring," said Petrino, who recruited the Jacksonville area and remembered Jenkins as a high school standout. "A.J.'s been a great worker. He can be a real good player for us. Sometimes, change is good."
While researching transfer possibilities back home in December, Jenkins also did some checking on Petrino, hired Dec. 14 to replace Mike Schultz. Jenkins saw a coach who employed a receiver-friendly system, had some NFL experience and had helped wideouts like
Harry Douglas
reach the next level.
"The reason I was trying to transfer [was] to go to a coach with a long résumé of good, positive aspects, so you can't get any better than this," Jenkins said. "He's a coach that I didn't have before, as far as pushing you to the limit in everything, as a player and as a man."
Jenkins recorded receptions of 50 and 22 yards in Illinois' second scrimmage of the spring, as he's trying to build chemistry with quarterbacks Nathan Scheelhaase, Jacob Charest and Chandler Whitmer. Zook also points out Jenkins has improved his blocking.
Zook sees a tougher player in Jenkins, and a potential team leader for 2010.
"He's a different person," Zook said. "
As for the outlook for this fall, Jenkins wants everyone to stay tuned.
"I'm a person that doesn't hold any expectations," he said. "I don't have any boundaries, so just look on Saturday."
July, 23, 2008
7/23/08
1:14
PM ET
Posted by ESPN.com's Adam Rittenberg

David Gilreath produced more than his share of highlights as a freshman at Wisconsin, setting several team records as a dynamic return specialist.
| | |
| --- | --- |
| | |
| | David Stluka/Getty Images |
| | Wisconsin's David Gilreath is looking to expand on his skills as a wide receiver. |
But Gilreath didn't spend the offseason replaying his 56-yard punt return against Minnesota or his 60-yard kickoff runback against Tennessee in the Outback Bowl. The big games and accolades rarely entered his thoughts during the winter and spring.
"Have you seen the Penn State game?" he asked.
Wisconsin's trip to Happy Valley was the biggest stain on a season that culminated in a New Year's Day bowl berth but left many players, including Gilreath, unsatisfied. Badgers coach Bret Bielema called the 38-7 loss the "only time that I didn't recognize the crowd on Saturday that we'd coached during the week."
But early in the second quarter, Wisconsin trailed by only three points and had the ball. Quarterback Tyler Donovan found Gilreath wide open over the middle, but the freshman bobbled the pass and Penn State's Lydell Sargeant swooped in for an interception.
"I never knew about momentum that much," Gilreath said. "Once I dropped that pass, it went downhill. You'll always remember that play you messed up on, whether it be in third grade or whatever. It's been going through my mind ever since."
Gilreath is hard on himself, but when a player sets the goals he does, he has to be. Last fall, he set team records for kickoff return yards in a season (967) and in a game (189) to go along with other milestones, but he has yet to start a game and his capacity at wide receiver remains largely unknown.
A reasonable expectation for the fall would be securing and maintaining a starting job, but Gilreath aims higher.
"I want to be an All-American," he said. "With Luke Swan and Paul Hubbard gone, it's an opportunity for me to step in there and be the guy. I come in thinking, 'Yeah, this is my chance.'"
He capitalized in spring practice and likely will enter the season as the starter opposite classmate Kyle Jefferson. Who throws them passes this fall remains to be seen, though Gilreath gives a slight edge to fifth-year senior quarterback Allan Evridge.
Gilreath had only one reception last season, while Jefferson ranked third on the team in both receptions (26) and receiving yards (412). But the two sophomores, who share the title of team's fastest man, want to show Wisconsin's offense goes beyond the ground game and All-American tight end Travis Beckum.
"People say, 'Oh, they've got the four running backs and they've got Travis and a couple other guys,'" Gilreath said. "But I don't think we're ranked as high as we are just because we have a run game. Especially when Travis is doubled, and they've got to put a lot of guys in the box for our run game, we've got to go out and make plays. We'll show the country then."
Opponents are already aware of Gilreath's prowess as a return man. He racked up 226 return yards at Minnesota, playing just miles from his hometown of New Hope, Minn., and tallied 199 return yards in a close victory over Michigan State.
Gilreath became the first Wisconsin freshman since Ron Dayne to win Big Ten Player of the Week honors when he took home the special teams award for his performance against The Citadel in Week 3. Naturally, when Gilreath reflects on the game, a missed opportunity comes to mind.
"There was a punt return, I think my first one of the game, there was a huge opening to the right and I just ran to the left, wasn't even thinking about it, just thought I would use my speed," said Gilreath, who still gained 34 yards on the play. "It would have been a touchdown."
There will be other chances this fall for Gilreath, who, at 5-11 and 165 pounds, tries to model his game after other smaller receivers. Baltimore Ravens wideout Mark Clayton and former Cal star DeSean Jackson are two of his favorites, and he also watched his cousin, Harry Douglas, a big-play threat for Louisville during the team's Orange Bowl run in 2006.
Despite leading the Big Ten in punt returns (14 ypr) and ranking seventh in kickoff returns (23 ypr) as a freshman, Gilreath didn't surprise himself.
"I set my standards pretty high," he said. "I did some things out there, but I didn't do much. I didn't score. I guess that will come."