July, 9, 2012
7/09/12
9:00
AM ET
Joe Paterno has become a polarizing figure in recent months, but all parties would agree that he defines Penn State football.
Paterno was affiliated with the Nittany Lions program for 62 years of its 125-year existence. He served as Nittany Lions coach for nearly 46 seasons before being fired in November. And his impact is particularly significant in the program's victories total.
[+] Enlarge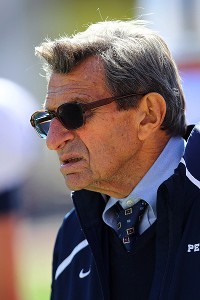 Michael Hickey/US PresswireAccounting for nearly 50 percent of the program's wins, Joe Paterno was the face of Penn State.
Of Penn State's 827 all-time victories in football, Paterno coached the team for 409, the most of any coach in Division I history. Other than former Florida State coach Bobby Bowden, who accounts for an astounding 64 percent of the Seminoles' all-time wins (304 of 475), Paterno's percentage of Penn State's wins (49.4) places him in select company. Only Air Force's Fisher DeBerry (49.1 percent) and BYU's LaVell Edwards (49.2 percent) have accounted for a similar chunk of program wins -- among FBS programs that have been around for more than 30 years -- as Paterno has at Penn State.
ESPN.com is taking a closer look at coaches this week, and today's topic examines which programs are defined by one coach. Penn State fits the description because of Paterno's long and successful career. Penn State also is unique because its program has been around so long, and while there was success before JoePa -- eight undefeated seasons between 1894-1947, a Rose Bowl appearance in 1923 -- almost all of the program's significant achievements (two national titles, 24 bowl wins) occurred on Paterno's watch.
What about the other Big Ten teams?
In terms of winningest coaches, here's how they look:
Illinois:
Robert Zuppke, 131 of program's 580 wins (22.6 percent)
Indiana:
Bill Mallory, 69 of 449 (15.3 percent)
Iowa:
Hayden Fry, 143 of 593 (24.1 percent)
Michigan:
Bo Schembechler, 194 of 895 (21.7 percent)
Michigan State:
Duffy Daugherty, 109 of 638 (17.1 percent)
Minnesota:
Henry Williams, 136 of 646 (21.1 percent)
Nebraska:
Tom Osborne, 255 of 846 (30.1 percent)
Northwestern:
Lynn Waldorf, 49 of 488 (10.04 percent)
Ohio State:
Woody Hayes, 205 of 837 (24.5 percent)
Purdue:
Joe Tiller, 87 of 586 (14.8 percent)
Wisconsin:
Barry Alvarez, 118 of 635 (18.6 percent)
As you can see, no coach comes close to Paterno in terms of percentage of his program's wins. But this ratio is just one gauge of a program-defining coach.
Another important factor is a team's history both before and after a coach took the job. Look at Wisconsin before Alvarez arrived in 1990. The program had endured five consecutive losing seasons and had just six winning seasons since 1963. Wisconsin's previous two coaches, Don Morton and Jim Hilles, had gone a combined 9-36 at the helm.
Alvarez transformed Wisconsin into an upper-tier Big Ten program, leading the Badgers to three Big Ten titles and three Rose Bowl championships. His hand-picked successor, Bret Bielema, has carried on Wisconsin's momentum, but Alvarez fostered the change. He is Wisconsin football, period.
Two iconic coaches regarded by many the faces of their respective programs are Ohio State's Hayes and Michigan's Schembechler. They tied for the most Big Ten championships with 13. Hayes won the most Big Ten games (152 to Schembechler's 143), while Schembechler owns the record for best winning percentage in conference games (.850).
But both men led programs that had success under other coaches. Michigan was a national superpower under the likes of Fielding Yost (.888 career win percentage), Harry Kipke, Fritz Crisler and Bennie Oosterbaan, while Schembechler never won a consensus national title. The Wolverines boast six coaches who have served 10 or more years, most recently Lloyd Carr (1995-2007).
Ohio State carved a place among the nation's elite under shorter-tenured coaches like Francis Schmidt and Paul Brown, while Jim Tressel won a national title and more than 81 percent of his games during his 10 years in Columbus.
Are Michigan and Ohio State defined by Schembechler and Hayes, respectively? Depends on your perspective. My take: both are iconic, but Hayes is more defining.
Iowa's Fry fills a similar role to Alvarez. He took over a program on the downturn for several decades and put it in the Big Ten's top half. Fry is the coach people think of when Iowa comes to mind, although his successor, Kirk Ferentz, has put his own stamp with a solid run since 1999.
Other Big Ten programs seem to fit into different categories.
Programs with two great coaches:
Nebraska -- Osborne (255-49-3) and Bob Devaney (101-20-2)

Purdue -- Tiller (87-62) and Jack Mollenkopf (84-39-9)
Programs that had its most successful coaches many years ago
Illinois -- Zuppke (131-81-13 from 1913-41); Arthur Hall (27-10-3 from 1907-12)

Minnesota -- Williams (136-33-11 from 1900-21; Bernie Bierman (93-35-6 from 1932-41 and 1945-50)

Michigan State -- Daugherty (109-69-5 from 1954-72); Biggie Munn (54-9-2 from 1947-53); Charles Bachman (70-34-10 from 1933-46); Chester Brewer (58-23-7 from 1903-10, 1917, 1919)
Historically weak programs with a lot of coaching turnover
Indiana -- No coach with career winning record since Bo McMillin (1934-47), no coach with 70 or more wins at school

Northwestern -- No coach with 50 or more wins at school, only one coach with tenure longer than 10 years
You could argue Zuppke remains Illinois' defining coach, even though he hasn't coached in more than 70 years. Osborne is undoubtedly the face of Nebraska's program, but is he the Huskers' defining coach? Tough to say that after looking at what Devaney did (two national titles, eight Big Eight titles).
Could any current Big Ten coach end up being a program-defining figure? None will occupy his job as long as Paterno did at Penn State. Northwestern's Pat Fitzgerald is just nine wins shy of Waldorf's victories mark, and he turned 37 in December. Fitzgerald's strong ties to the program, plus Northwestern's poor history and absence of coaching greats, create an opportunity should Fitzgerald have success for a long period.
What are your thoughts? Which Big Ten programs are defined by a coach, and which are not? Share them
here
.
September, 23, 2011
9/23/11
2:30
PM ET
Thanks to the fine folks at ESPN Stats & Information for these helpful nuggets on Week 4 games featuring Big Ten teams ranked in the AP Top 25.
Bret Bielema took over as Wisconsin's head coach in 2006 and is 23-0 in regular-season nonconference games with the Badgers. That is tied with Joe Paterno for the second-best start by a Big Ten coach (Paterno's nonconference streak started when Penn State began Big Ten play in 1993). Michigan's Fielding Yost has the record with 41 straight.
Nebraska has won 16 straight games against current Mountain West Conference teams and is 20-2 all-time. The last time the Huskers lost to a current MWC team was 1963 against Air Force. Wyoming is 1-14 all-time against current Big Ten teams, its only win coming against Wisconsin in 1986.
If Michigan wins this week, Brady Hoke would be the third coach in Michigan history to defeat a team that he coached the previous season. In 1901, Yost came to Ann Arbor from Stanford and promptly thumped his old team 49-0 in the first ever Rose Bowl. In 1929, Harry Kipke came to Michigan after one season as head coach at Michigan State. Michigan beat its intrastate rival 17-0 that season.
Wisconsin leads the Big Ten in scoring offense and defense, ranking in the Top 15 nationally in both categories (T-11th in offense, T-4th in defense). It joins Stanford and Texas Tech as the only other teams to rank in the top 15 in both categories.
Illinois is 3-0 for the first time since 2001. That year, the Illini went 10-2 and played in the Sugar Bowl. The previous five times the Illini started 3-0, they lost their next game. Illinois hasn't started a season 4-0 since 1951.
August, 12, 2008
8/12/08
1:41
PM ET
Posted by ESPN.com's Adam Rittenberg
Another overdue mailbag. I'll run some gassers later today.
As Charlie Weis would say, fire away.
Dan from Minneapolis writes: Adam, you pointed out the unique nature of first time coaches in the UM - MSU rivalry. I also wanted to point out uniqueness about first time coaches in the UM - OSU rivalry. Aside from Cooper, going back to WW Hayes, first time coaches have WON their first meeting in the series. Correct me if I am wrong but that is quite impressive
Adam Rittenberg writes: You're correct, first-time coaches have fared well in the Michigan-Ohio State series, perhaps because the games typically are played later in the season when coaches have a better feel for their teams. Woody Hayes lost his first meeting with Michigan, 7-0, in 1951, but Earle Bruce beat the Wolverines in 1979 and Jim Tressel did the same in 2001. The Buckeyes went through four coaches during the 1940s who went 1-2-1 against Michigan. Michigan hasn't had a coach lose his first game against Ohio State since Harry Kipke in 1929. Kipke's first game, interestingly enough, was played midway through the season on Oct. 19. Rich Rodriguez will have a tough task to keep Michigan's run alive, but it helps that the game is at the end of the season.
---
Zach from Sumpter, S.C. writes: Adam, I'm a Purdue Boilermaker grad and Air Force officer stationed down in the heart of SEC and ACC country. Its rough being a Big Ten fan down here and not getting the usual dose of Big Ten and Purdue football news that was readily available back when I was living in West Lafayette, so I appreciate your blog. My question to you is this: who would you pick to be the top three darkhorse teams to crack the top three spots in the conference aside from the preseason list of favorites like Ohio State, Wisconsin, and Penn State; and provided darkhorses do emerge how would you forecast the conference standings to look at the end of conference play? Finally, I have one sort of "biased" question for you. Do you see Purdue cracking the top three in the conference as a darkhorse candidate? We are returning a ton of seniors to both offense and defense this year and while not all are returning starters, this large corps of seniors will be leading our talented juniors and sophomores. If injuries are kept to a minimum and things go well on and off the field, I feel Purdue could have a strong showing this year. Your thoughts?
Adam Rittenberg writes: Zach, thanks very much for the note. I would put Illinois, Michigan State and Michigan in the "dark horse" category, though I wouldn't call Illinois a dark horse after last season's Rose Bowl run. Michigan State has some momentum after last season but a lot of preseason hype to back up in its opener at Cal. Michigan will be a big mystery until Aug. 30. Purdue could make a run, especially if the offensive line stays healthy, but I don't see the Boilers finishing in the top three. The schedule is brutal with Oregon, Central Michigan and Notre Dame to go along with trips to Ohio State and Michigan State. A lot depends on how quarterback Curtis Painter performs in those big games.
---
Ross from Minneapolis writes: Do you have any interviews with Iowa players or coaches coming up in the B10 blog? I love the blog, but I haven't seen many interviews with any Hawkeye players or coaches, aside from a very good interview with Ferentz right before B10 Media Day. Have they not available for comment? Thanks.
Adam Rittenberg writes: I've received several e-mails about this and wanted to address it. Iowa has very limited access to players and assistant coaches during the preseason. I was sent to Michigan's practice the day of the Hawkeyes' media day [Aug. 4], and because of a conflict, I can't attend the scrimmage this Saturday at Kinnick Stadium. I've been informed that coach Kirk Ferentz doesn't permit players to do phone interviews before the first game. The blog will definitely feature the Hawkeyes more after the season gets underway, but for now, I'll do what I can.
---
Steve from Hoboken [I'll assume it's N.J.] writes: What is your take on the Justin Boren situation? I'm a UM alum and tend to believe the scuttlebut that Boren never seemed fully committed to the program, but I also can't tell the extent to which it's sour grapes. I do find it interesting that all the cheap shots have been fired by the Boren camp. (I suppose that comment could be construed as sour grapes also)
Adam Rittenberg writes: Every coaching change prompts transfers and unhappy players. Obviously the difference here is the guy transferred to Michigan's archrival. I doubt RichRod and his staff keep things G-rated during practice, but on the other hand, this is football. As the late Randy Walker used to say, "it's not koom-ba-ya out there." My guess is Boren won't sound off too much more until the Michigan game, though you've got to wonder how much his comments rankled his former teammates. This will be a hot story the next three years until Boren graduates.
---
Brendan from Maryland writes: What kind of QB system do you think penn state will employ, and how would each QB affect the team when they are on the field?
Adam Rittenberg writes: Penn State will use more of a spread offense this season, and the idea is not to have too much variation between the two quarterbacks, if the Lions choose to play both. It means Daryll Clark, the likely starter, needs to prove himself as a passer and exploit the senior-laden receiving corps. It also means Pat Devlin needs to display his ability as a running threat. If a quarterback, especially a first-year starter, can be categorized, defenses will find a way to stop him. That's why Penn State will look for versatility from both candidates.
---
Greg from Princeton, N.J., writes: Are the Badgers' running back corps still the best in the Big Ten even after Lance Smith was dismissed from the team. How will this affect Wisconsin this season?
Adam Rittenberg writes: A Wisconsin source told me the group dynamic among the running backs has improved without Smith. Though he certainly would have helped this fall, Wisconsin is still pretty stacked back there. It puts a little bit more pressure on backup Zach Brown, who has a different body type and style from starter P.J. Hill and John Clay. Smith and Brown are comparable. Ultimately, the key for Wisconsin could be Clay, who has all the tools to be a star but is still grasping the system. A couple times during Saturday's scrimmage he didn't know where to line up. One time he found his place at the last minute, took the handoff and still gained about seven yards.
---
Bill from Terre Haute, Ind., writes: Why no love for the hoosier in any of your rankings? You need to look harder into what they got coming back. Dont be surprised if they end up with 9 wins this year, especially if Finch is cleared to play.
Adam Rittenberg writes: Jerimy Finch would certainly provide a boost if the NCAA allows him to play [not sure how much luck Indiana will have], and safety Austin Thomas is a nice player. But cornerback will be a mystery until the opener. You can't discount what Indiana lost at that position -- Tracy Porter was very underrated around the country. As for the team as a whole, the schedule is beneficial, with eight home games and no Michigan or Ohio State. I'm still not sold on the defense, but 7-8 wins is definitely possible.
August, 6, 2008
8/06/08
4:25
PM ET
Posted by ESPN.com's Adam Rittenberg
I had hoped to post this earlier in the week during my trek through the state of Michigan but got bogged down with practices, interviews, tours and the like.
E-mailer Steven from Phoenix brings up an interesting note about the Michigan-Michigan State rivalry.
Steven writes:
Hi Adam: I read your predictions on the Big Ten Rival football games this fall. As a Wolverine fan, I hope you're right on the Michigan/Michigan State game because there's an interesting historical note to this series. First year coaches don't typically win in this series. The last coach to win in his first try was Nick Saban for MSU in 1995. But something had to give because he was going up against first year coach Lloyd Carr in the game. Saban is the first coach to win in his first try in at least the last ten MSU coaches. At Michigan, the last coach to win in his first try against MSU was Bennie Oosterbaan in 1948. Bump Elliott, Bo Schembechler, Gary Moeller and Lloyd Carr all failed in their first attempt at beating Michigan State. On another note, first year Michigan coaches are nearly perfect against Ohio State in their first try. Just a couple of notes I thought I'd pass along for future use in case you're interested. You can check out the records to see what I mean. Keep up the good work. Steve
Let's check out the history of first-year coaches in the series since the first rookie coach faced the opposing team in 1911:
First-year coaches in the UM-MSU series
Year
New coach
Team
Game result
2007
Mark Dantonio
Michigan State
Michigan 28, Michigan State 24
2003
John L. Smith
Michigan State
Michigan 27, Michigan State 20
2000
Bobby Williams
Michigan State
Michigan 14, Michigan State 0
1995
Nick Saban
Michigan State
Michigan State 28, Michigan 25
Lloyd Carr
Michigan
1990
Gary Moeller
Michigan
Michigan State 28, Michigan 27
1983
George Perles
Michigan State
Michigan 42, Michigan State 0
1980
Frank Waters
Michigan State
Michigan 27, Michigan State 23
1976
Darryl Rogers
Michigan State
Michigan 42, Michigan State 10
1973
Denny Stolz
Michigan State
Michigan 31, Michigan State 0
1969
Bo Schembechler
Michigan
Michigan State 23, Michigan 12
1959
Bump Elliott
Michigan
Michigan State 34, Michigan 8
1954
Duffy Daugherty
Michigan State
Michigan 33, Michigan State 7
1948
Bennie Oosterbaan
Michigan
Michigan 13, Michigan State 7
1947
Clarence Munn
Michigan State
Michigan 55, Michigan State 0
1938
Fritz Crisler
Michigan
Michigan 14, Michigan State 0
1933
Charlie Bachman
Michigan State
Michigan 20, Michigan State 6
1929
Harry Kipke
Michigan
Michigan 17, Michigan State 0
Jim Crowley
Michigan State
1928
Harry Kipke
Michigan State
Michigan 3, Michigan State 0
1927
Tad Wieman
Michigan
Michigan 21, Michigan State 0
1923
Ralph Young
Michigan State
Michigan 37, Michigan State 0
1921
Albert Barron
Michigan State
Michigan 30, Michigan State 0
1920
George Clark
Michigan State
Michigan 35, Michigan State 0
1918
George Gauthier
Michigan State
Michigan 21, Michigan State 6
1916
Frank Sommers
Michigan State
Michigan 9, Michigan State 0
1911
John Macklin
Michigan State
Michigan 15, Michigan State 3
The history obviously doesn't bode well for Michigan coach Rich Rodriguez, who gets his first taste of the rivalry Oct. 25 at Michigan Stadium. Then again, more first-year Michigan coaches have won their first games in the series than their Michigan State counterparts. And it was interesting to see that even though Schembechler and Moeller lost their first games against State, both coaches guided Michigan to Big Ten championships those seasons.
The best debut? Oosterbaan, whose team beat Michigan State in the season opener before running the table and winning the 1948 national title. A quick note: Michigan coach Fielding Yost didn't face Michigan State in his first season of 1901 even though the series began in 1898.
As for first-year coaches in the Michigan-Ohio State series, the last six Wolverines first-year coaches have won their initial matchup with the Buckeyes. In contrast, four of the last six Ohio State first-year coaches dropped their first game against Michigan.