Big Ten:

Hawkeyes-Jackets 010510
January, 6, 2010
1/06/10
12:14
AM ET
[+] Enlarge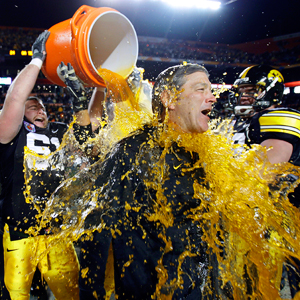 AP Photo/Lynne SladkyFerentz has led Iowa to back-to-back bowl victories.
Kirk Ferentz did something totally out of character with a three-point lead and about seven minutes left in the FedEx Orange Bowl.
He called for a fake field goal, which failed miserably and gave Georgia Tech's offense new life with 6:45 left.
Then, a few minutes later, Ferentz did something totally in character. He celebrated a
huge win
for his Iowa program.
As he stood on the victory podium, Ferentz probably wasn't thinking about April 2008. Back then, Iowa was coming off of three mediocre seasons. The team had more player arrests and legal issues than wins and All-Big Ten selections. Many felt Ferentz's time in Iowa City was running out. In scrambling to find a Big Ten coach on the hot seat, several media members, including yours truly, picked Ferentz.
Just look at him now.
Iowa has gone 20-6 the last two seasons with wins in the Outback Bowl and the Orange Bowl. Player conduct has improved significantly, and the team will enter next fall with Big Ten title aspirations as it competes with Ohio State and Wisconsin for the crown.
Ferentz probably had a better team at Iowa in 2002, but no Hawkeyes squad better reflected what he stands for than the 2009 version. They played hard, played together and played with no ego. They were solid in their fundamentals and rarely lost focus, even after falling behind in eight of their first nine games. They overcame numerous injuries and a schedule that did them no favors. They prepared extremely hard, never more so than for a tricky opponent in Georgia Tech.
The formula led to a BCS bowl win.
There's not a major-conference coach who gets more out of his talent than Ferentz does at Iowa. That's why he's always on the NFL radar. But he's not going anywhere. As the Big Ten's second-longest tenured coach, it's not in his character to leave a good thing.
In just a year and a half Ferentz not only stabilized the Iowa program, but took it back to the top.
January, 5, 2010
1/05/10
11:47
PM ET
For a while, it seemed like neither team wanted to win the FedEx Orange Bowl. But after an odd sequence midway through the fourth quarter, Iowa's offense once again came up big in the clutch. The Hawkeyes held on for a
huge win
, improving the Big Ten's bowl record to 4-3, its first winning mark since 2002. Georgia Tech's loss drops the ACC to 3-4 in the postseason.


How the game was won:
After dominating the first half everywhere but the scoreboard, Iowa had enough offense down the stretch to stymie Georgia Tech and the celebrated triple option offense, which took way too long to get going. Norm Parker's defense completely shut down
Josh Nesbitt
,
Jonathan Dwyer
and company for a half and Iowa's offense overpowered Georgia Tech down the stretch. Following several bizarre blunders by both teams in the fourth quarter, the Hawkeyes (11-2) rode freshman running back
Brandon Wegher
and an inspired offensive line to the clinching touchdown.
Turning point:
Iowa surprised everyone by running a fake field goal from the 4-yard line midway through the fourth quarter, only to fail miserably. But Dwyer committed an even bigger mistake on the next play, nearly taking a safety and preventing Georgia Tech from getting into an offensive rhythm. Dwyer's huge loss set up a punt, and Iowa marched down the field for a touchdown with 1:56 left.
Player of the game:
Ricky Stanzi
deserves a ton of credit for making huge plays in his first action since Nov. 7, but I'm giving this to a defensive player. Iowa defensive end Adrian Clayborn once again proved to be a force throughout the game, stuffing the run and dropping Nesbitt for two sacks. Clayborn was the face of the team in its first signature win at Penn State and its last against Georgia Tech. And, he's coming back in 2010.
Stat of the game:
Georgia Tech (11-3) entered the game without punting for 22 consecutive possessions. The Yellow Jackets went three-and-out on their first four possessions and punted six times in the first half. Iowa held Georgia Tech to 156 total yards, just 32 in the first half.
Unsung hero of the game:
If you told Kirk Ferentz before the season that Wegher would be his leading rusher in a BCS bowl game, he would have told you to take a hike. But Wegher stepped up in a big way for the ailing
Adam Robinson
, gaining 113 yards and a 32-yard touchdown on 16 carries (7.1 ypr).
What it means:
It's a huge win for Iowa and the Big Ten, which restores national respect after being college football's piñata ever since Ohio State's first national-title flop. Iowa completed a storybook season by winning in its own style, with suffocating defense and just enough offense from Stanzi and his weapons. Parker showed why he's one of the best defensive coaches in the game: Iowa limited Georgia Tech to just one offensive touchdown. Georgia Tech once again looked mortal on offense in a bowl game, and while the Yellow Jackets fought hard, they made too many mistakes against a more disciplined Iowa team.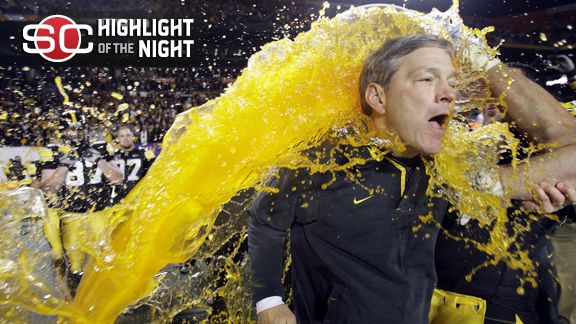 January, 5, 2010
1/05/10
10:01
PM ET
MIAMI, Fla. -- This game is far from over, but so far Iowa has controlled most of the game, and the Hawkeyes' defense has been the highlight. Here's a quick breakdown of the first half:


Turning point:
Jerrard Tarrant's 40-yard interception return for a touchdown with 24 seconds remaining in the first quarter single-handedly changed the momentum of the game and kept the Jackets in it.
Stat of the half:
Iowa's defense has held the Yellow Jackets to just 32 yards of total offense in the first half. That's the fewest the program has produced in the first half in at least 20 years.
Best player in the half:
Iowa quarterback
Ricky Stanzi
. He's made an impressive comeback after missing the final two and a half regular season games with an ankle injury. Although he's thrown one interception -- and a costly one at that -- he's done the Hawkeyes more good than harm. Stanzi has completed 12 of 17 passes for 181 yards and two touchdowns, and he's beat the Yellow Jackets deep on several occasions.
January, 5, 2010
1/05/10
8:49
PM ET
MIAMI, Fla. -- Iowa quarterback
Ricky Stanzi
doesn't look at all rusty after missing the last few games of the regular season with an ankle injury. If he does have any rust, Georgia Tech's defense dust it off for him on the Hawkeyes' first scoring drive.
Stanzi looks sharp, and his 54-yard pass to tight end
Tony Moeaki
should give the Yellow Jackets reason for concern. The play led to a three-yard touchdown pass to
Marvin McNutt
three plays later and gave Iowa the lead, 7-0, with 8:10 left in the first quarter. Don't forget that in the two games Georgia Tech lost this year -- to Georgia and Miami -- the Jackets' defense couldn't get off the field. If Stanzi keeps this up, they could have the same problem tonight.