February, 8, 2013
2/08/13
10:30
AM ET
Dozens and dozens of recruits officially became Big Ten players during Wednesday's signing day. There are lots of new names to learn, and some of them are much more fun than others.
With that in mind, we've come up with our annual recruiting all-name team. There might not be a name quite as good as new Alabama signee
Dee Liner
, who of course, plays on the D-line. But the Big Ten is no slouch when it comes to monikers.
There's a Taco and a Sprinkle on the defensive line. There's a Nebraska linebacker who shares a name with the most famous woman in grunge and a Huskers offensive lineman who might be nicknamed "The Rock." Minnesota has a linebacker named De'Niro who hopefully won't keep asking Jerry Kill, "You talkin' to me?" We've got a Dad in the secondary, some Jazz in the receiving corps and a big ol' Butt at tight end.
What's in a name? Hopefully some great future players here who will keep brightening up our lives. Presenting the 2013 Big Ten recruiting all-name team:
Team Captain:
Taco Charlton
, DL, Michigan
Alternate captain:
Courtney Love
, LB, Nebraska
Offense
QB:
Tanner McEvoy
, Wisconsin
RB:
Akrum Wadley
, Iowa
RB:
Ezekiel Elliott
, Ohio State
WR:
Jazz Peavy
, Wisconsin
WR:
Marchie Murdock
, Illinois
WR:
Csont'e York
, Michigan
TE:
Jake Butt
, Michigan
OL:
Chongo Kondolo
, Nebraska
OL:
Dwayne Johnson
, Nebraska
OL:
Dallas Hinkhouse
, Illinois
OL:
Graham Bullmore
, Northwestern*
Defense
DL: Taco Charlton, Michigan
DL:
Chikwe Obasih
, Wisconsin
DL:
Tracy Sprinkle
, Ohio State
DL:
Henry Poggi
, Michigan
LB:
De'Niro Laster
, Minnesota
LB: Courtney Love, Nebraska
LB:
Josey Jewell
, Iowa
DB:
Sojourn Shelton
, Wisconsin
DB:
Daletavius McGhee
, Minnesota
DB:
Boaz Joseph
, Nebraska
DB:
Dad Poquie
, Penn State*
Specialists
K:
Hunter Niswander
, Northwestern
All-purpose:
Godwin Igwebuike
, Northwestern
* walk-on
February, 6, 2013
2/06/13
7:30
PM ET
One thing Urban Meyer has definitely brought to the Big Ten is some serious signing day drama.

Meyer flipped several recruits Ohio State's way last year, and on Wednesday the Buckeyes were one of the big stories on signing day again. They won battles for two key blue-chippers in ESPN 150 safety
Vonn Bell
and four-star receiver
James Clark,
while also keeping ESPN 150 running back
Ezekiel Elliott
in the fold after he took a late visit to Missouri.
"It was a very eventful day," Meyer said. "We went to bed last night with three guys very on edge. I thought, 'If we hit one out of three, it would be all right. Two out of three would be a good day. Three out of three is going to be, knock it out of the park.'"
It turned into another home run day for the Buckeyes, who currently rank No. 3 nationally in
ESPN.com's class rankings

(and No. 1 in Scout.com's rankings). How good was it? Here's what assistant coach Kerry Coombs tweeted Wednesday afternoon.
"You know that Christmas when you got exactly everything you wanted plus a few extra special bonuses? That's what today was! #bestclassever."
Ohio State did lose previously committed receiver
Taivon Jacobs
to Maryland, but it was more than happy to trade him for Clark. Landing Bell, a Georgian who was hotly pursued by Tennessee and Alabama, was the sweetest victory. Meyer called it a "street fight." In making his announcement on ESPN, Bell said Meyer was on a mission to beat Alabama and win national championships.
Meyer didn't take the bait when later asked about gunning for 'Bama, saying Michigan would always be Ohio State's rival. But he did acknowledge that there's "a little bit of a chase gong on with the SEC. ... We want to increase the speed on our team little bit."
The Buckeyes definitely did that, while Meyer once again proved he's one of the great closers in college football.
Though Ohio State hogged most of the headlines, the other Big Ten teams also celebrated their 2013 classes while making a little news as well:
Nebraska rode the roller coaster with ESPN 300 athlete Tre'vell Dixon, who had already committed, decommited and recommitted to the Huskers during the process before word leaked out this week he would be going to Arizona State. In the end, Dixon signed with Nebraska, which put together a Top 25 class.
Minnesota scored a late coup with junior college linebacker De'Vondre Campbell, a one-time Tennessee commit who was expected to sign with Kansas State. Campbell, who was also courted by Texas, has three years of eligibility left.
Wisconsin lost committed safety Marcus Ball -- whose older brother, Ray, is a Badgers offensive lineman -- to Arizona State. But new coach Gary Andersen managed to hold most of the class together while adding a few key signees.
There was a little intraconference intrigue on signing day as Iowa nabbed linebacker Reggie Spearman, who had been committed to Illinois.
Indiana quietly put together one of its best classes ever, and avoided any last-minute poaching.
No news was good news at Penn State and Michigan. The Nittany Lions, despite severe scholarship limits, still brought home a strong collection of talent that included the nation's No. 1 pro-style quarterback (Christian Hackenberg) and top tight end (Adam Breneman). The bulk of Michigan's class had been assembled for months, and the Wolverines withstood some late drama with defensive tackle Henry Poggi, who stayed on board despite a late push from Alabama.
Michigan didn't get as much attention on signing day as Ohio State, but Brady Hoke still put together a class currently ranked No. 6 in the nation by ESPN.com. And unlike Meyer, who got so tired of sweating out Bell's decision that he had to go get on the treadmill, Hoke had a drama-free day. The Wolverines announced their entire class by noon ET.
One thing that appears likely after the latest signing day: Michigan and Ohio State are headed for plenty of dramatic collisions on the field in the coming years.
You can see every Big Ten team's signees by going
here
.
February, 6, 2013
2/06/13
2:50
PM ET
Brady Hoke's recruiting has followed a pattern at Michigan. The Wolverines start extremely fast, pile up elite prospects, sprinkle in a few later in the cycle and finish with a nationally decorated class. This year's crop seems to be no different as Michigan, along with archrival Ohio State, has
secured a spot among the nation's top classes
. Hoke and his staff targeted both lines, especially the offensive line, and signed five offensive linemen ranked in the ESPN 300. Michigan made arguably its biggest splash in late January by adding standout
Derrick Green
, rated as the nation's No. 5 running back by ESPN Recruiting.
ESPN.com caught up with Hoke to discuss Michigan's 27-man 2013 class.
What were your primary objectives with this class and the top needs for Michigan, and how did you do in terms of meeting them?
Brady Hoke:
Well, No. 1, both of our fronts, offensively and defensively, when we came in a couple years ago, we only had eight scholarship offensive linemen. So the last two years, we've been trying to built that. I think the coaches did a tremendous job. And then that was the same way on defense. We needed to make sure we were doing our job. A year ago, we took six defensive linemen, and this year, we took three. We really wanted to help ourselves up front. We had to find some tight ends in both years [2012 and 2013], because this [had been] a spread team that had only played minimally with a tight end. We were fortunate enough to have Kevin Koger our first year, who did a tremendous job. So those really were what the needs were. We wanted to get a quarterback, big running backs in this class, that was very important, and try to get some more length at the corner position, guys with a lot of range to them.
[+] Enlarge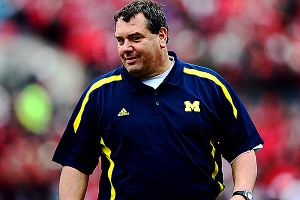 Andrew Weber/USA TODAY SportsWith only 11 returning starters, Michigan coach Brady Hoke said he's excited about the competition this spring.
You mentioned the offensive line and it seems like you really loaded up in the interior. What stood out to you about that group?
BH:
The biggest thing is we wanted guys who could really control the line of scrimmage from a run-blocking standpoint. Those guys who could really dominate at the point of attack, the guys who would really finish well on their blocks. Having
Taylor [Lewan
] around with this group and the group from last year for another year, it's a big part of it.
What's the significance of Derrick Green's signing at running back?
BH:
The significance will be that it's a big back. He was a nationally rated guy, obviously, which is always exciting. But we needed some big backs, and Derrick is a guy who fits that mold. He can break tackles, he runs hard, he's a downhill runner and with what we want to do in the two-back sets, it's something that we thought him and
Deveon Smith
and
Wyatt Shallman
could bring to us.
What was your reaction when you found out Derrick had committed?
BH:
We were excited, obviously. That's always exciting when you compete for a young man who you really believe in your heart that this is the best place for him. And then he decides that's where he needs to go.
You've mentioned the linemen, but who are some of the guys who can help you out on the perimeter?
BH:
When you look at the secondary,
Ross Douglas
and
Dymonte Thomas
both being in school now, that helps them with their development.
Jourdan Lewis
is an exceptional athlete that we've been able to see do a lot of things.
Delano Hill
will be one of those safeties who will shock you when he tackles you. And
Channing Stribling
and
Reon Dawson
are both big corners. So I think we'll have great competition, and that always makes you better.
You haven't been afraid to play young players on defense at Michigan. Do you see some of these defenders you signed today helping you as freshmen?
BH:
I think that's to be seen, but there's no doubt that those guys who have that innate ability from an athleticism point of view, the mental makeup and so forth, they can possibly do that.
What type of quarterback is Shane Morris and what are you getting from a leadership standpoint?
BH:
We're getting a lot as a leader. He was our first [verbal] commitment of this class. He did a tremendous job of recruiting guys and really trying to get close to potential classmates and guys who did come within the class. From a football standpoint, his demeanor on the field, his arm strength, his intelligence, his vision, we all think is very good.
You've done well in Michigan and in the Midwest. Are you looking to expand the recruiting reach more in the future?
BH:
We're always going to take that 300-mile, 400-mile radius and try to do the best possible job there, but being the national brand Michigan is, when you look at it from the standpoint of the academic reputation and the history and the tradition of the football here, we're real excited about going wherever we need to and find those guys that fit the mold of what we're looking for at Michigan.
Defensive line is always top of mind for you. What do you think about the guys you brought in there?
BH:
Henry Poggi
is going to be a very good player here. He's got that ability, that quickness, loose in the hips. Maurice Hurst is a very powerful, great-first-step inside player. When you look at
Taco Charlton
, he's a 6-6 defensive end, he's got a lot of range and can create a lot of havoc. He's a very good athlete, good basketball player. We have three guys I think will be pretty good players for us.
You and Ohio State are big rivals on the field. How intense is the rivalry between you two in recruiting?
BH:
You're recruiting and you're competitive, which you have to be in this business. It's always a competitive situation. Do you want to win? Yeah. We've taken nine guys out of the state [of Ohio] who we feel very good about.
What stands out to you most about this recruiting cycle at Michigan?
BH:
It was a different year to some degree. Possibly having a lot of commitments early was part of it. When Shane committed early, it kind of snowballed. When Taco Charlton was here on an unofficial [visit], he committed after a basketball game. Some of it's shocking, as quickly as things went, but it was a very good year for us.
January, 18, 2013
1/18/13
4:30
PM ET
These questions may or may not be real ...
Anthony from Dayton, Ohio, writes:
On your and Brian's piece about divisional realignment, I have a question concerning protected cross-over games. First, if there is one protected cross-over game for each team, that would keep that team from playing the other members in the other division except once every 6 years (6 against your division, 1 against protected cross-over, 1 rotating over 6 other teams). Next, say there was a cross-over game for Ohio State is Illinois, and Michigan had Minnesota. How would this be fair balance every year if say, Illinois gets better and Minnesota stays down (or vice versa) over the next few years and this helps decide overall who goes to the B1G championship game. I rather just rotate the 2 cross-over games to guarantee that the teams will play at least each team in the other division once every three years instead of once every 6. This argument doesn't bring in the pros and cons of 9 conference games which is a whole other subject. Thanks for your time and answering my question.
Adam Rittenberg:
Thanks for taking the time to write it, Anthony. I can tell you a 9-game conference schedule certainly is on the table for Big Ten athletic directors, and a 10-game conference schedule -- which creates an even number of home games and road games -- also will be strongly considered. The crossover question relates more to preexisting rivalries than the quality of the opponents in certain years. I included Michigan-Minnesota as a crossover because of the Little Brown Jug rivalry. Same with Illinois-Ohio State (Illibuck rivalry). If those rivalries aren't worth preserving, the crossovers aren't necessary. That's a debate that must take place among the ADs. Clearly some rivalries are worth preserving, while others maybe aren't. If no potential crossover rivalries are worth preserving, let's eliminate the crossovers altogether and just have a rotation so teams play one another more often.
---
Jason from Rochester, Minn., writes:
Adam, I was hoping for a bigger splash for WI's new coach (bigger name and/or someone with strong ties to a hot recruiting area), but I'm happy with Anderson. Can you share some thoughts on Anderson's best & most questionable assistant coach hires?
Adam Rittenberg:
Jason, I'm going to reserve judgment on the assistants Andersen brought with him from Utah State, because I don't have much familiarity with them other than what they did this past season, which was obviously great (11-2 record). Andersen made a great, great decision to retain running backs coach Thomas Hammock. Wisconsin's running back tradition started before Hammock arrived as an assistant, but he has continued it and created an environment of friendly competition that typically produces more than one great back per season. I wasn't crazy about the Andy Ludwig hire as offensive coordinator, mainly because I follow Cal closely (grew up in Berkeley) and wasn't impressed with what Ludwig did there. Ludwig wasn't the only offensive coordinator to struggle working alongside former Cal coach Jeff Tedford, but he needs to show he can maintain Wisconsin's success on offense.
---
Brian from Omaha writes:
Adam, love your columns, keep up the great work! One question,
Rex Burkhead
was listed as #18 running back in the draft and isn't even going to the Senior Bowl. Why is that? He can run inside or outside the tackles, catch and block well. I think he averaged around 8 yards a carry this year on a hobbled but now healthy knee. He is going to be a late round jackpot for someone much like LaVonte David falling to the second round last year cause of his size.
Adam Rittenberg:
Brian, it comes down to the injury and what it did to Rex's senior season. If he had been healthy all season and put up the numbers many of us thought he would -- numbers like we saw in the Capital One Bowl against Georgia -- he could be off to Mobile, Ala., next week. Burkhead originally was scheduled to participate in the East-West Shrine Game, considered the No. 2 predraft all-star event, but he decided not to go, and instead will focus on the NFL scouting combine next month in Indianapolis. Burkhead can be a successful NFL running back and will do great in the team interviews, but when players who have serious knee injuries during their senior seasons will face some doubters. It's up to Burkhead to prove his doubters wrong at the combine.
---
Charles from Wichita, Kan., writes:
I am a Big Ten grad lost in Big 12 country (seriously, a KU EXHIBITION basketball game was on 3 channels). I saw today you guys posted divisional realignment ideas and I'm curious what you think of one that crossed my mind; a North-South alignment. Most Big Ten rivalries can be split on a North-South basis and the rest of the strong rivalries can be saved by their alignments. The divisions would be North: Minnesota, Wisconsin, Northwestern, Purdue, Michigan, Michigan State, Rutgers. South: Nebraska, Iowa, Illinois, Indiana, Ohio State, Penn State, Maryland. By this the protected rivalries would be: Minnesota-Iowa, Wisconsin-Nebraska, Northwestern-Illinois, Purdue-Indiana, Michigan-Ohio State, Michigan State-Penn State, Rutgers-Maryland. I understand this doesn't really incorporate Rutgers and Maryland into real rivalry games and you can argue that Nebraska has to travel to Maryland for a divisional game, but it keeps the traditional powers separated evenly and the good games lost are Purdue-Illinois, Northwestern-Iowa, Wisconsin-Iowa, Purdue-Ohio State, Ohio State-Wisconsin, Michigan State-Ohio State.Thoughts?
Adam Rittenberg:
Charles, you present an interesting option, but my beef with the current setup is that too many rivalries have to be protected through crossovers rather than grouping rivals in the same division. One common complaint among Big Ten fans is that we have too many cross-division rivalry games at the end of the season rather than division games that have greater bearing on which teams go to Indy for the league championship. I think the best alignment models are ones that not only create balance in the divisions, but preserve as many rivalries as possible through division assignments rather than crossovers. The crossovers should be the last resort in preserving rivalries. That's why of my crossovers, the only really important ones are Indiana-Purdue and Michigan-Minnesota. I think the crossover rivalries are too big a part of your setup and would create some of the same frustration we see right now.
---
Evan from State College, Pa., writes:
Why is everyone making division alignment so complicated? Why not just send Illinois over to the Legends and slide Maryland and Rutgers into the Leaders? It seems like many rivalries are upheld, geography works out, and balance is maintained.
Adam Rittenberg:
Evan, you outline one approach to alignment. My concern is whether the Leaders division would be strong enough. It's possible that both Rutgers and Maryland struggle for a while as they acclimate to a new league with higher demands. Purdue's program has been down several years, and while Indiana seems to be on the rise, the Hoosiers aren't a legitimate Big Ten title contender. My fear is that you have at least four mediocre to poor programs. If you follow your plan, you have to hope Penn State remains successful throughout the sanctions period and suffers few long-term effects. Maybe that proves to be the case, but as a league, I don't think you can take that chance, no matter how good of a coach Bill O'Brien turns out to be. My concern is that division becomes Ohio State and no one else, while the Legends division has a better mix of squads.
---
Kyle from Seattle writes:
We've seen a number of posts about the Big Ten needing to raise the ceiling of the best teams to compete on a national level. Can we see an article about how it appears that the Big Ten has been raising the floor where the worst teams are becoming less easy outs? It just seems like Michigan State, Northwestern, Indiana, and Minnesota have gotten much better in recent years with Iowa being the only program that appears to have backslid at all.
Adam Rittenberg:
Kyle, we've written about the improvement each of those programs has made in recent years, particularly Michigan State and Northwestern, which haven't been part of the bottom-feeder group for a while. The stability both Mark Dantonio and Pat Fitzgerald provide in East Lansing and Evanston, respectively, is helping both programs become consistent bowl participants -- MSU has six straight bowl appearances, Northwestern has five -- and, more recently, bowl champions. Minnesota doubled its wins total in Year 2 under Jerry Kill, whose teams typically take an even bigger jump in Year 3. Indiana certainly took a step in Year 2 under Kevin Wilson, although the Hoosiers still have a long way to go on the defensive side. I think it's a little tough to make the case the Big Ten is bringing up the bottom when you still have teams like Illinois this year or Indiana in 2011 that are among the nation's worst major-conference squads. When the Big Ten no longer has a 2- or 3-win team, maybe your argument is a little easier to make.
---
Chris from Traverse City, Mich., writes:
Just a point of reference; Michigan's 2013 recruiting class that will be announced in a couple weeks already has commits from "9" different states.
Adam Rittenberg:
Chris, I'm guessing you're referring to
this week's podcast
and our discussion with recruiting expert Tom VanHaaren about Michigan's recruiting and whether the Wolverines are branching out enough. While it's true Michigan has commits from nine states, the bulk of the Wolverines' class hails from the Big Ten footprint. Michigan has just four recruits from outside the footprint -- one from Colorado, one from North Carolina, one from Massachusetts and one from Maryland -- and one of them, Baltimore native Henry Poggi, soon will be from the footprint when Maryland joins the conference. Although Michigan's Midwest recruiting efforts are strong, it's fair to ask whether the Wolverines are spending enough time and energy in the nation's top recruiting hotbeds -- Texas, Florida, California -- or in regions like the South and Southeast where, by any measure, there are more elite prospects. As Tom said on the podcast, "To compete at a high level, so many prospects come out of those areas -- the Southeast, the West, Texas -- you're really going to have to eventually win with those guys." He added that while it's not a huge problem right now, Michigan must put greater emphasis on those areas in the future and is doing so (already offered five juniors from Florida).
---
Dan from Dallas writes:
Greetings, A'dam! I have a question that I'm sure all B1G fans have been aching to have answered: Since Ohio State vacated all of its 2010 wins, does that mean that Michigan State actually won a trip to the 2011 Rose Bowl by virtue of its tie-breaking win over Wisconsin and, as a logical consequence, did Michigan State subsequently beat TCU in that game, which was officially called the 2012 Buffalo Wild Wings Bowl?
Adam Rittenberg:
But of course! I love revisionist history. I'll get on the phone with the Big Ten and make sure the official record shows Michigan State's Wings Bowl win against TCU actually counts as a Rose Bowl win from two years before.
January, 11, 2013
1/11/13
9:00
AM ET
The folks at ESPN Recruiting have presented their final pre-signing day version of the
ESPN 300
, listing the nation's top prospects in the 2013 class.
Let's see which Big Ten commits made the rundown (note: positions listed by ESPN Recruiting):
No. 11: CB Eli Apple (formerly Woodard), signed with Ohio State
No. 15: QB Christian Hackenberg, committed to Penn State
No. 43: CB Gareon Conley, committed to Ohio State
No. 48: LB Trey Johnson, committed to Ohio State
No. 49: WR Jalin Marshall, committed to Ohio State
No. 56: DT Joey Bosa, committed to Ohio State
No. 62: CB Cam Burrows, signed with Ohio State
No. 67: TE Adam Breneman, signed with Penn State
No. 88: CB Jourdan Lewis, committed to Michigan
No. 91: G David Dawson, committed to Michigan
No. 93 ATH Dymonte Thomas, committed to Michigan
No. 101: G Patrick Kugler, committed to Michigan
No. 102: TE Marcus Baugh, committed to Ohio State
No. 104: OT Logan Tuley-Tillman, committed to Michigan
No. 106: OT Evan Lisle, committed to Ohio State
No. 109: RB Ezekiel Elliott, committed to Ohio State
No. 114: LB Mike McCray II, committed to Michigan
No. 116: DE Taco Charlton, committed to Michigan
No. 127: QB Shane Morris, committed to Michigan
No. 128: LB Mike Mitchell, committed to Ohio State
No. 134: OT Chris Fox, committed to Michigan
No. 147: ATH Rashard Fant, committed to Indiana
No. 149: RB Corey Clement, committed to Wisconsin
No. 157: G Kyle Bosch, committed to Michigan
No. 164: QB Matt Alviti, committed to Northwestern
No. 177: QB Danny Etling, signed with Purdue
No. 182: TE Jake Butt, committed to Michigan
No. 188: LB Shane Jones, committed to Michigan State
No. 208: G Brendan Mahon, committed to Penn State
No. 216: DT Michael Hill, committed to Ohio State
No. 218: S Jayme Thompson, committed to Ohio State
No. 232: WR Jaron Dukes, committed to Michigan
No. 237: WR Dominic Walker, committed to Nebraska
No. 247: QB Johnny Stanton, committed to Nebraska
No. 254: DT Henry Poggi, committed to Michigan
No. 261: QB J.T. Barrett, signed with Ohio State
No. 265: RB Keyante Green, committed to Purdue
No. 279: DT Darius Latham, committed to Indiana
No. 280: ATH Ben Gedeon, committed to Michigan
No. 281: DT Donovan Munger, committed to Ohio State
No. 281: QB Damion Terry, committed to Michigan State
No. 287: DT Billy Price, committed to Ohio State
No. 296: LB Marcus Newby, committed to Nebraska
Ohio State (15 recruits) and Michigan (14) dominate the ESPN 300, but Nebraska has made a nice push recently and Indiana will surprise some folks with multiple entries. Three Big Ten teams -- Illinois, Iowa and Minnesota -- don't have a recruit ranked in the ESPN 300.
The latest
class rankings
also are out.

Ohio State holds steady at No. 4, while Michigan drops a spot to No. 7. Penn State holds steady at No. 24, while Nebraska moves up a spot to No. 26 and Wisconsin moves up two spots to No. 30. Michigan State holds steady at No. 34, while Indiana moves down a spot and rounds out the top 40.
January, 4, 2013
1/04/13
1:00
PM ET
Recruitniks have had today marked on their calendars for quite a while, but for those in the dark, the Under Armour All-America Game takes place tonight at 5 p.m. ET in St. Petersburg, Fla.
There's definitely a Big Ten flavor to the
starting lineups for the game

, unveiled Thursday afternoon. Nine players who have verbally committed to Big Ten teams will start in the game, led by Black team quarterback
Christian Hackenberg
, the Penn State pledge rated as the nation's top pocket passer by ESPN Recruiting.
Hackenberg and long-snapper
Tyler Kluver
, an Iowa commit, are the only Big Ten recruits on the Black squad. The White team includes even future Big Tenners.
Here's the full list ...
BLACK TEAM
QB Christian Hackenberg, committed to Penn State
LS Tyler Kluver, committed to Iowa
WHITE TEAM
Kugler also is serving as one of four captains for the White team. Conley is a one-time Michigan recruit who decommitted in November and switched his pledge to Ohio State in early December. After playing on the same team as Kugler, Dawson and Poggi on Friday, Conley definitely will be the enemy when they hit the college ranks.
June, 4, 2012
6/04/12
12:00
PM ET
These are questions for wise men with skinny arms.
June, 4, 2012
6/04/12
11:30
AM ET
The Michigan Wolverines continued their hot streak on the recruiting trail by landing four-star defensive tackle
Henry Poggi
(Baltimore/Gilman) on Monday. The 6-foot-3, 255-pound lineman is commitment No. 20 for Michigan and the 16th commitment ranked as a four-star.
"I am grateful to say that I am choosing Michigan. I feel comfortable there and I hope I will fit in," Poggi said. "I know that they have great players at my position on their roster and in the incoming recruiting classes. I will do my best to compete and hopefully I will make the team and be additive in helping the team reach their goals. I know that I start at the bottom of the depth chart."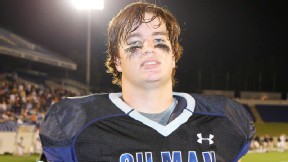 Courtesy of Maggie ThomasHenry Poggi could play inside or outside on the defensive line.
This is another big win for Michigan as Poggi chose the Wolverines over Alabama, Ohio State, Auburn, Florida and Stanford, among others. He's ranked as the No. 23 defensive tackle in the country, but he could be used in various ways.
Poggi's versatility along the line will give the Michigan coaching staff plenty of options as he could line up at the three-technique defensive tackle spot or move outside to the five-technique defensive end position.
Michigan seemed to move into the driver's seat after Poggi and his parents took a visit to Ann Arbor in March. After that trip, his father said that the visit was over the top and showed Henry that he fit in socially with the rest of the team. What might have been more important on that trip, though, was that Poggi's mom came away impressed and comfortable with what Michigan would offer her son.
"(Henry's mother) sat with Brady [Hoke], she spent about 40 minutes with him, and he explained to her why he coaches," said Biff Poggi, Henry's father. "He's passionate about impacting the lives of kids, and she believed him and felt like that was deep in his heart. The academic piece, she also thought in her mind is every bit as impressive and maybe more than Stanford."
This commitment now gives Michigan three very good prospects on the defensive line as Poggi joins defensive tackle
Maurice Hurst Jr.
(Westwood, Mass./Xaverian Brothers) and defensive end
Taco Charlton
(Pickerington, Ohio/Pickerington Central).
Poggi is also the fifth commitment for Michigan along the defensive line ranked as a four-star between the 2012 and 2013 classes. Depth and competition are being built in the trenches, something Hoke said would be a priority going forward.
BIG TEN SCOREBOARD
Saturday, 12/20
Monday, 12/22
Tuesday, 12/23
Wednesday, 12/24
Friday, 12/26
Saturday, 12/27
Monday, 12/29
Tuesday, 12/30
Wednesday, 12/31
Thursday, 1/1
Friday, 1/2
Saturday, 1/3
Sunday, 1/4
Monday, 1/12
Tweets from https://twitter.com/ESPNCFB/lists/b1g