Big Ten:

Huskers-Badgers-120112
December, 2, 2012
12/02/12
2:50
AM ET
INDIANAPOLIS -- When the Big Ten championship game ended and both teams went to the middle of the field to shake hands, Nebraska safety
P.J. Smith
stayed back a few yards.
Hands on his hips, Smith simply stared at the Wisconsin players celebrating a
70-31 victory
and a league title. It was almost too much for the senior to process.
"Everything, I mean, everything went wrong," he would say a few minutes later in a news conference. "It's just ... I don't know. It's hard to explain."
As a group, the Cornhuskers clearly appeared dumbfounded by this result. They went into Saturday's game having won six straight games to cap a 10-2 regular season. After a humiliating 63-38 loss at Ohio State in early October, the team bonded together and got its defense back to playing at a level worthy of the Blackshirts label.
Then came this nightmare of a performance, as Wisconsin ran for 539 yards, the most rushing yards ever surrendered by a Nebraska defense. The Badgers had 42 points at halftime. When they scored their ninth touchdown early in the fourth quarter, Huskers coach Bo Pelini turned his back to the field and threw his play sheet in the air.
"Shock doesn't even begin to ... shock doesn't even begin to explain it," he said.
[+] Enlarge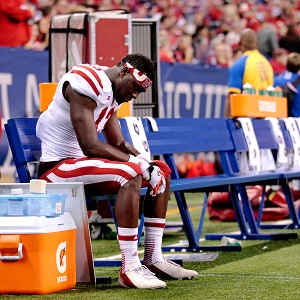 AP Photo/Michael Conroy"Everything, I mean, everything went wrong," Nebraska's P.J. Smith said. "It's just ... I don't know. It's hard to explain."
So what in the heck happened? Pelini said the Huskers practiced against "99 percent" of what Wisconsin used on offense. But the Badgers showed several new wrinkles and a handful of trick plays. While Nebraska was worried about the interior of its defensive line because of an injury to starting tackle
Baker Steinkuhler
, the Badgers spent more time than normal running outside. Their three terrific tailbacks repeatedly beat Nebraska defenders to the edge and then turned the corner for huge gains.
"They were bouncing runs to the outside to get us in space," defensive coordinator John Papuchis said. "We've had some struggles with that this year, and they exposed us with that tonight."
Wisconsin dictated play with its offensive line, which has improved immeasurably since the Huskers' 30-27 win against the Badgers in Lincoln on Sept. 29. Nebraska contributed to its own demise by continually missing tackles and losing leverage. The most embarrassing moment in a night full of them for Big Red came when
Montee Ball
spun out of an arm tackle from
Jason Ankrah
and raced down the sideline, where cornerback
Ciante Evans
had the angle on him. But Ball stiff-armed Evans to the turf and scooted in for another touchdown.
"They controlled us up front, and when they do that, you don't have a chance," defensive line coach Rick Kaczenski said. "It just got out of hand, and there wasn't a whole lot we could do to help. That's bad when you're a coach, because they're looking toward you. And I didn't have an answer."
The blowout loss was wildly disappointing on so many levels for Nebraska.
The program still hasn't won a conference title since 1999 and likely won't ever have a better opportunity than this championship game presented, against a five-loss team that finished third in the Leaders Division. Ohio State looks like it is building toward dominance and could be a formidable opponent in Indianapolis for years to come.
The defeat also raises familiar, uncomfortable questions about Pelini's ability to get this team over the hump. Pelini is 49-19 in Lincoln and has won at least nine games every season. But the Huskers have had some notable defensive disasters under a coach known for his knowledge of that side of the ball. In their three losses this season, they have allowed 653 yards to UCLA, 498 to Ohio State and now 640 to Wisconsin. They thought they had it fixed after the Ohio State game. They were wrong.
"Hell, we were the No. 15 [total] defense even with the UCLA and Ohio State game on top of us," senior linebacker
Will Compton
said. "We killed it at practice last week. I'm at a loss for words right now. I'm embarrassed. It's just awful."
These humbling setbacks shouldn't be happening at the end of Year 5 under Pelini. So the Nebraska fan base will debate again whether he can get the program over the hump or whether he's taken the Huskers as far up the mountain as he can. It sounds silly to say Pelini will be on the hot seat, but Huskers fans demand championships.
A bleary-eyed Pelini opened and closed his news conference with an apology to Nebraska fans everywhere. But he bristled when asked whether Saturday's loss showed cracks in his foundation.
"You can try to put a big thing on it," he said. "It's on me. Put it on me."
The Cornhuskers hadn't suffered this type of loss with so much on the line since Colorado beat them 62-36 in the final regular-season game of 2001. That Nebraska team still somehow found its way into the BCS national title game. This one just went from a potential Rose Bowl appearance to a possible spot in the Outback Bowl.
"This was it for us," Compton said. "And we blew it."
All that's left is another painful search for answers.
December, 2, 2012
12/02/12
2:37
AM ET
INDIANAPOLIS -- They came in droves, as family members, friends and colleagues embraced Wisconsin offensive coordinator Matt Canada on what had become a field of dreams at Lucas Oil Stadium.
"That," Canada told one group of well-wishers, "was fun."
It hasn't been a fun season at times for Canada, his staff or the Badgers' players. Of the six assistants Wisconsin lost following the 2011 season, four were on the offensive side, including longtime coordinator Paul Chryst. Another staff change occurred after Week 2 this fall, as Wisconsin dismissed offensive line coach Mike Markuson and promoted a graduate assistant, Bart Miller, to the crucial role.
The Wisconsin offense -- one that had a whole lot of fun the previous few seasons -- stopped and started. It looked great against weaker opponents (Purdue, Illinois, Indiana) and inefficient against better ones (Oregon State, Michigan State). At times, it showed both of its faces in the same game (Nebraska Part 1, Ohio State, Penn State). Canada, the primary playcaller, took his share of heat, even in recent weeks.
"It's been a long year," Canada said. "I'm just really proud of the way our guys stuck together. ... We kept working and kept grinding, and our players kept believing."
The work and the belief culminated Saturday night, as Wisconsin put on a clinic in dismantling Nebraska
70-31
in the league title game. Wisconsin (8-5) is heading back to the Rose Bowl for the third consecutive year -- the Badgers will be the first five-loss team to play in the game -- and the Badgers punched their ticket in style.
Wisconsin racked up a team-record eight rushing touchdowns and 539 rushing yards, 25 shy of the team record set in the Badgers' previous trip to the Hoosier State (Nov. 10 at Indiana). The Badgers had three running backs eclipse 100 rushing yards for the first time in team history, with freshman
Melvin Gordon
(9 carries, 216 yards, 1 TD), senior
Montee Ball
(21 carries, 202 yards, 3 TDs) and junior
James White
(15 carries, 109 yards, 4 TDs). They averaged 10.8 yards per carry (11.8 yards through the first three quarters).
"I'm just happy they're with us," a beaming Thomas Hammock, the Badgers' running backs coach, said on the field afterward. "They compete hard, and they kept the same level of intensity all season. It obviously showed today."
[+] Enlarge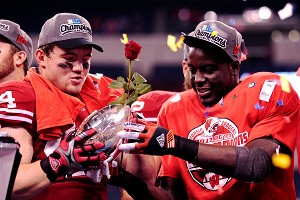 AP Photo/Michael ConroyLinebacker Chris Borland, left, and running back Montee Ball get their hands on the Big Ten hardware.
Although Wisconsin's 70 points tied for the second most in team history in the modern era, the Badgers aren't strangers to big numbers, even in this rocky season. What made Saturday night's performance unique is the variety of plays Canada called and the players executed to perfection.
It started with Gordon, an immense talent from whom Badgers fans have clamored for more, lining up at wide receiver to begin the game. Wisconsin ran both runs and a pass -- White connecting with
Sam Arneson
for a touchdown -- out of its "Barge" formation. Canada put his spin on the swinging-gate play in the first quarter as quarterback
Curt Phillips
found fullback
Derek Watt
while seven of their teammates lined up on the other hashmark. Wisconsin also hit on a wide receiver pass as
Jared Abbrederis
found a wide-open Phillips to set up a second-quarter touchdown.
"We practiced 99 percent of what they showed us today," Nebraska coach Bo Pelini said.
It certainly didn't look like it, as Wisconsin repeatedly used its standard plays -- like the jet sweep -- to set up its exotic ones.
"We've been practicing this stuff," Canada said. "That was the beauty of where we were. We felt like we had a chance to run some plays. We really didn't add a lot of plays this week."
Phillips insisted Wisconsin hadn't held back its creativity in recent games against Ohio State and Penn State. But the Badgers were determined to give Nebraska a vastly different look than the one it saw Sept. 29 in Lincoln.
"It was fun," Phillips said. "We practiced a lot of that stuff all season long. We just hadn't necessarily had an opportunity to use it. We had no reason to hold anything back."
Wisconsin undoubtedly was the looser team, in part because no one expected much from a squad that had lost five games and found itself in the title game only because both Ohio State and Penn State had been hit with NCAA sanctions. But no Big Ten team has been in more big games in recent years than the Badgers, who met the moment, especially on offense.
"The expectations were extremely high coming in, no doubt about it," Canada said. "If you want to do it, jump in the deep water with the big sharks and go get it."
Even a freshman such as Gordon understood the magnitude of Saturday's game.
"I kept telling myself, 'This is a big game,'" said Gordon, who averaged 24 yards a carry. "I wanted to install some trust in my coaches and teammates. All practice, all week, I told myself, 'Go hard, go hard, go hard. Something good is going to come out of it. This is a big stage. Make something happen.'"
Although Gordon had much of Badger Nation buzzing, Ball turned in another signature performance, setting the NCAA career rushing touchdowns record (76 total) and tying the NCAA mark for multiple-touchdown games (25). He eclipsed 190 rushing yards for the third time in four games and eclipsed 5,000 rushing yards for his career.
"Hopefully, this performance propels him to the top of the Doak Walker [Award]," head coach Bret Bielema said, "because he's a guy that deserves it in every way."
Many will say Wisconsin doesn't deserve a third straight trip to Pasadena, a first in the Big Ten since Michigan went from 1977 to '79. Some will say Saturday night's offensive explosion was an aberration and that Stanford's defense will provide a reality check Jan. 1.
Wisconsin's response?
"We're better than what our record shows," Gordon said. "We know that. We just came up short a couple times. I hope this puts any critics to rest about us being a bad team."
The criticism won't go away, but neither will Wisconsin. The Badgers are headed back to Pasadena.
Fun times, indeed.
December, 1, 2012
12/01/12
11:50
PM ET
INDIANAPOLIS -- A five-loss Wisconsin team that didn't win its division and, according to many, didn't belong in the Big Ten championship game dominated No. 12 Nebraska from the onset. The Badgers punched their ticket to the Rose Bowl for the third consecutive year in by far their best performance of the season.
Some quick thoughts from a mostly stunned Lucas Oil Stadium following Wisconsin's
70-31 victory
.


It was over when:
Wisconsin running back
Montee Ball
, exploiting Nebraska's game-long inability to defend the edge, scored on a 16-yard touchdown midway through the second quarter to put the Badgers up 35-10. Yes, this game was over that early, if not sooner. The Badgers had weathered a small Nebraska rally after scoring two touchdowns in the first 2:07 and reclaimed a commanding lead on Ball's run. Just in case Nebraska had any notions of another second-half rally, Ball raced 57 yards to the end zone in the third quarter, posterizing Huskers nickelback
Ciante Evans
along the way.
Game ball goes to:
Wisconsin's running backs. Offensive coordinator Matt Canada was masterful in mixing and matching the Badgers' three top backs -- Ball, junior
James White
and freshman
Melvin Gordon
-- each of whom eclipsed 100 rushing yards. Ball (202 rushing yards, 3 TDs) stole the show in the third quarter, while Gordon (216 rushing yards, 1 TD) set the tone with a 56-yard touchdown on the fourth play of the game. White had a rushing touchdown and a passing touchdown out of the Barge formation in the first half and added another rushing score as Wisconsin stormed out to a 42-10 halftime lead. He finished with 109 rushing yards and four rushing touchdowns along with his passing score.
Stat of the game:
There's something about Wisconsin's rushing offense and the state of Indiana this season. Despite an inconsistent rushing attack all season, the Badgers went nuts in their three games in the Hoosier State. They had 467 rushing yards and four touchdowns Oct. 13 at Purdue, a team-record 564 rushing yards and seven touchdowns Nov. 10 at Indiana and 539 rushing yards and eight touchdowns Saturday night.
Best call:
There are so many to choose from, as Canada saved all his tricks for Saturday night. We saw the Barge a bunch, including White's pass to
Sam Arneson
at the end of the first half. But we'll go with a pitch from quarterback
Curt Phillips
to receiver
Jared Abbrederis
, a high school signal-caller who threw back to Phillips for a 27-yard gain. White scored from a yard out on the next play.
Second guessing:
Down 49-10, the Huskers showed some life when
Jamal Turner
appeared to score on a 55-yard reception early in the third quarter. But the play was brought back when officials flagged Nebraska receiver
Kenny Bell
for unnecessary roughness on a block against Wisconsin's
Devin Smith
. Bell led with his shoulder, and while the play looked ugly, it seemed like a clean hit.
What it means:
Wisconsin becomes the first five-loss team to punch its ticket to the Rose Bowl. While the Badgers undoubtedly saved their best for last, their advancement likely will increase criticism and mockery of the Big Ten after a rough season. After a wildly inconsistent season on offense, the Badgers had everything click in their most important game of the season. Nebraska, meanwhile, had its worst performance since an Oct. 6 beating at Ohio State. The game certainly raises questions about the Huskers, which were far from dominant in Legends Division play and overcame sloppiness with second-half fortitude. After so many escapes, the Huskers dug themselves way too deep a hole against Wisconsin. Nebraska is still searching for its first conference title since 1999.
December, 1, 2012
12/01/12
10:05
PM ET
INDIANAPOLIS -- Another game, another NCAA record for Wisconsin senior running back
Montee Ball
.
After setting the NCAA career total touchdowns record last week at Penn State, Ball broke Travis Prentice's record for career rushing touchdowns with his 74th on a 16-yard dash and leap to the pylon in the second quarter of the Big Ten championship game against Nebraska.
If Ball scores in the second half, he'll tie Prentice's record for career games with multiple touchdowns (25).
Ball has 14 carries for 111 yards and a touchdown in the first half, as Wisconsin leads 42-10.
December, 1, 2012
12/01/12
7:21
PM ET
INDIANAPOLIS -- Hello from Lucas Oil Stadium, where the second-ever Big Ten championship game will kick off shortly.
There were reports of slow ticket sales earlier this week, and the game likely will fall far short of a sellout. But we saw lots of red in the streets of Indy the past 36 hours, and however many fans are in here, we know they will be enthusiastic.
Nebraska fans might have a tinge of nervousness, too. This has been a tremendous year for Big Red, but there's some pressure on the Cornhuskers to finish this off with their first conference title since 1999 and avenge some previous league title game failures. I wouldn't be surprised to see Nebraska get off to one of its slow starts as it feels the magnitude of this moment. The good news is that this team knows how to play from behind and rally in the second half. Wouldn't it be fitting if the Huskers won this game by that same script?
People say 7-5 Wisconsin has little to lose -- though Bret Bielema points out that a third straight Rose Bowl appearance is definitely something to lose. The Badgers have a chance to go to either Pasadena or Jacksonville, Fla. -- site of the Gator Bowl. If that's not something to lose, I'm not sure what its.
There's no real secret to what Wisconsin needs to do: pound the rock with
Montee Ball
. Not only is that their strength, by far, but doing so helps keep the explosive Nebraska offense off the field. Running successfully also forced the Huskers to decide whether they need to bring a safety into the box for run support. If so, that will open up play-action pass opportunities down the field for
Curt Phillips
, who must have a good game for the Badgers to have any realistic chance.
Nebraska's pass defense has been one of the very best in the nation, but the play-action creates unique problems. The Badgers completed 15-of-28 passes against the Huskers for 239 yards in the first meeting, although that was with
Joel Stave
at quarterback. Only one other team on the Huskers' schedule, UCLA, completed more than 50 percent of its passes against the Blackshirts.
This also seems like a potential crowning moment for
Taylor Martinez
, who has won over Huskers fans with a terrific season full of clutch performances. The wind and cold kept Martinez in check last week at Iowa as he wore gloves on both hands. But he should love the turf and perfect conditions indoors tonight. Wisconsin's defense has done a great job containing big plays and took away
Braxton Miller
's effectiveness on the ground versus Ohio State. But with
Rex Burkhead
healthy and
Ameer Abdullah
in the same backfield, the Badgers have an awful lot to contain tonight. Martinez has shown the ability to sustain drives in the passing game as well if the Badgers gum things up like they normally do.
I was a little surprised that Nebraska is only a slight favorite in this game, but both teams have played so many nail-biters that it's understandable. Last year's first Big Ten title game was a classic. Tonight, we could have the same thing.
December, 1, 2012
12/01/12
12:15
PM ET

Brian Bennett interviews Nebraska legend Tommie Frazier from the Big Ten title game.
December, 1, 2012
12/01/12
9:00
AM ET

Wisconsin coach Bret Bielema discusses the Badgers' matchup against Nebraska in the Big Ten championship game.
November, 30, 2012
11/30/12
6:00
PM ET
INDIANAPOLIS -- Nebraska head coach Bo Pelini and Wisconsin head coach Bret Bielema met with the media on Friday on the eve of the Big Ten championship game at Lucas Oil Stadium.
Here are a few highlights and notes from each coach's media session:
Pelini
Pelini declined to name a starting center between Mark Pelini and Cole Pensick. Both competed for the job this week after Justin Jackson got hurt in the Iowa game. "You're going to see both of them," he said. " You're going to see a mix of guys that go through there both at the left guard spot, and the center spot."
Nebraska will also be without starting defensive tackle Baker Steinkuhler, but Pelini isn't expecting any drop-off. "I feel like we have our full gamut, everything that we want, offensively, defensively at our disposal," he said. "And I have a lot of confidence in the guys that are going to be playing."
One plus on the health front: Pelini said running back Rex Burkhead, who returned last week in the second half at Iowa, is 100 percent healthy and that he "knocked the rust off" last week. For the first time since the Sept. 29 game against Wisconsin, Nebraska will have a healthy Burkhead and Ameer Abdullah ready to go in its backfield. "Having Rex back for us, I think, is big," he said. "We're going to have a whole other option there as far as somebody to carry the football. I think that will make Ameer that much more effective. "
The Huskers have some extra motivation to win their first conference championship since 1999. This is Tom Osborne's final year as athletic director, and taking him to the Rose Bowl would be a great sendoff. "It would be pretty special to be able to present Coach with a trophy," Pelini said. "It means a lot to me."
Pelini guaranteed that Nebraska fans would show up for Saturday's game, even though ticket sales have been sluggish. "I'm sure there will be a great atmosphere," he said. "I know Wisconsin travels well. Nebraska travels well. [But] I don't care if there are 10 people in the stands -- it's going to be a heck of a football game."
Bielema
Linebacker Chris Borland, who missed the past two games with a hamstring injury, and wide receiver Jared Abbrederis, who suffered a head injury late last week at Penn State, are both full go and have practiced since Wednesday, Bielema said. Getting Borland back will make a big difference. "He makes you a really good head coach in a short amount of time," Bielema said. "We were doing what was supposed to be a halfspeed kicking drill on Thursday. And No. 44 decided to go full speed, and was very disruptive, shall we say. Really good players make players in the huddle better around them. And No. 44's that kind of guy."
Wisconsin has experience in this game, but not starting quarterback Curt Phillips. The senior did not make the trip to Indianapolis last year as he was recovering from his third knee surgery. But Phillips got to go through Friday's walk-through at Lucas Oil Stadium (Nebraska declined to do a walk-through), and Phillips got a special extra treat at the Colts' home field. "He's a [Peyton] Manning fan growing up, so we put him in his [Manning's] locker," Bielema said. "What used to be his locker, we were told. Gave him his own spot there. He was like a king bee sitting in there today."
As the home team this year (the Legends team got the home designation last year), Wisconsin is enjoying the perks of having the Colts locker room. "It is different," Bielema said. "You walk into that pro locker room, and it's bigger. I've got a head coach's office in there, and I could bring 15 of my buddies and we could have a heck of a good time. There is more room in there than you could ever think of."
The Badgers have dealt with a lot of tough losses this year, including overtime defeats in three of their past four games. Bielema said this team deals with adversity as well as any group he's had. But the coaching staff still had to be cognizant of the players' mindset. "It's very important for us to not brow beat our guys," he said. "You have to be hard on them, but on the same account you can't lose them. We did some things in practice that curtailed that, but also just physically backed off them a little bit, to make sure you weren't taxing them, because everybody is human. You have a breaking point that's there."
Wisconsin would probably like to import some of the wind and cold that slowed down Nebraska's offense last week in Iowa City. Instead, the Huskers will play under perfect conditions indoors, and the turf play to the benefit of a speedy team. "It's very, very clear that they're probably one of the fastest teams, if not the fastest from A to Z, that we've played this year," Bielema said. "I tried to get them to put in a longer turf out there, but nobody bought into it. So we're going to play on the fast track out there. But we've got some speed, too. We've got some guys that can run. I think our guys are gassed up and ready to play."