Big Ten:

Huskies-Wolverines-090410
September, 4, 2010
9/04/10
9:23
PM ET
ANN ARBOR, Mich. -- Michigan defenders J.T. Floyd and Craig Roh can empathize with their counterparts from Connecticut.
"He's a crazy animal to tame," Floyd said.
"What you saw happening out there," added Roh, "is what was happening all of practice to us."
After having
Denard Robinson
make them look bad for the past seven months, Floyd and Roh got to sit back and watch another defense get humiliated. Needless to say, they enjoyed the view.
[+] Enlarge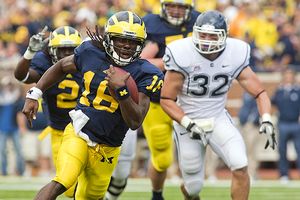 AP Photo/Tony DingDenard Robinson rushed 29 times for 197 yards and a touchdown and completed 19 of 22 passes for 186 yards and a score against Connecticut.
So did a record crowd of 113,090 at the rededicated Michigan Stadium, as Robinson delivered a historic performance in his first career start, lifting Michigan to a
30-10 victory
against UConn. Robinson shattered Michigan's single-game quarterback rushing record with 197 yards and a touchdown, surpassing Steve Smith's mark midway through the third quarter.
More surprising is what Robinson did with his arm, considered useless by some after he completed only 45.2 percent of his passes as a true freshman in 2009. He completed his first eight pass attempts and finished the game 19-for-22 for 186 yards and a touchdown.
Robinson completed 14 passes all of last season.
"I knew I always could throw the ball, it was never a question," Robinson said. "It was just getting the offense down pat."
He appeared to master coach Rich Rodriguez's spread system on Saturday.
How tough was it to stop Robinson? Connecticut defenders tried just about everything, even stealing his cleats.
"They were like, 'Take his shoe, take his shoe,'" said Robinson, nicknamed "Shoelace" for famously leaving his footwear untied at all times.
"They took them off on one of the plays," he added.
It didn't matter. Robinson could wreak havoc barefoot if he wanted to.
Rodriguez waited until Friday night to gather his three quarterbacks and inform Robinson that he'd start the opener. Rodriguez let Robinson, freshman
Devin Gardner
and last year's starter,
Tate Forcier
, take reps with the first-team offense throughout camp.
But it would have been a surprise to many, including center David Molk, if anyone but Robinson had taken the first snap on Saturday.
"Most of the guys knew," Rodriguez said. "I don't think it was a big secret. Denard was taking a lot of reps with the [starters]. ... Denard certainly had asserted himself in camp more than anyone else."
Robinson always has had the big-play skills. His first career touch as a college player resulted in an electrifying 43-yard touchdown run, on a broken play, no less.
But until Saturday, he hadn't shown the ability to consistently move an offense. Consider four of the five scoring drives he engineered against Connecticut.
14 plays, 96 yards, six runs by Robinson

7 plays, 77 yards, three runs by Robinson (capped by 32-yard touchdown)

19 plays, 74 yards, six runs by Robinson

11 plays, 89 yards, three runs by Robinson
Robinson finished the game with 29 carries and absorbed several big hits, including a helmet to his left hip that left him sprawled on the field. Running back
Vincent Smith
wasn't worried.
"He always gets up," Smith said. "Very tough."
Robinson missed a total of two plays.
As Robinson's carries total rose, Michigan quarterbacks coach
Rod Smith
turned to offensive coordinator Calvin Magee.
"We were like, 'We've got to be careful here,'" Smith said. "But Denard, he didn't back down. He said, 'Coach, give it to me.'"
Rodriguez didn't realize Robinson had 29 carries until looking at the postgame stat sheet. Was it too much?
"If he can carry it 29 times for 200 yards, he'll carry it 29 times for 200 yards," Rodriguez said. "I don't know if he can do that each and every game."
In the past, Michigan might not have had a choice, as Robinson was a totally one-dimensional player as a freshman. Not only did he struggle with his accuracy, but he threw four interceptions in only 31 attempts.
Third-and-long used to mean punt or turnover. On Saturday, it meant opportunity.
After Connecticut had reclaimed momentum just before halftime, Robinson converted five third downs on a 19-play drive that set up a field goal.
Two plays after returning from the hip injury, Robinson pump-faked and then hit a wide-open
Terrence Robinson
in stride for a 42-yard gain, setting up another touchdown.
Asked to describe the play, Denard Robinson, for the first time all day, looked confused.
"It was, uh, I can't tell you," he said.
After leaving the podium, Robinson greeted Rodriguez, telling him, "They were trying to take one of our plays, coach."
The way Robinson looked Saturday, Rodriguez could have handed Connecticut coach Randy Edsall the playbook.
"There were probably more times he should have went down the field," Rodriguez said. "But we were able to control the game from a running standpoint."
Things get tougher next week, as Robinson hits the road to face a Notre Dame team that contained
Robert Marve
and Purdue on Saturday.
"He did what he had to do," Rod Smith said. "We gave him the reins, he took it and ran with it. Basically, now it's going to be his to run with for a while."
Robinson didn't sound so sure after the game.
"We probably don't know who's going to start next week," he said. "We'll see."
Riiight.
Informed of Robinson's comment, Rodriguez smiled.
"Stay tuned."
September, 4, 2010
9/04/10
8:28
PM ET

Adam Rittenberg talks with Michigan center David Molk after the win against Connecticut.
September, 4, 2010
9/04/10
8:15
PM ET

Adam Rittenberg talks with Michigan running back Michael Shaw after the Wolverines' 30-10 win over Connecticut.

September, 4, 2010
9/04/10
6:44
PM ET
ANN ARBOR, Mich. --
Denard Robinson
, your table is ready.


Robinson was nothing short of brilliant in his first career start, complementing his track-star speed with shocking accuracy in the passing game. He set the Michigan single-game quarterback rushing record in the third quarter and made several clutch throws on third downs to seal a 30-10 win against Connecticut.
This is how Rich Rodriguez's offense is supposed to work, with a trigger man that drives defenses nuts. Can Robinson replicate this against superior competition, beginning next week at Notre Dame? We'll find out, but he's certainly fun to watch.
Michigan's defense still has some issues, but it applied steady pressure on
Zach Frazer
and made several big plays, none bigger than J.T. Floyd's forced fumble against USC transfer
D.J. Shoemate
after Connecticut appeared to be set up for first-and-goal. Better quarterbacks likely will capitalize on the Wolverines' secondary in the coming weeks, but Rodriguez has to be pleased with the front seven.
The Wolverines really seemed to feed off the momentum from the opener, jumping on Connecticut and never truly looking back.
I'm heading down for interviews but will be back with much more from the Big House.
September, 4, 2010
9/04/10
6:17
PM ET
ANN ARBOR, Mich. --
Denard Robinson
completed 45.2 percent of his passes last season.
The stat is worth repeating after what Robinson has done to Connecticut's secondary today. He entered the game with major questions about his passing ability, and has answered them emphatically. Robinson is 17 of 19 passing for 172 yards as Michigan leads UConn
30-10 with 11 minutes to go
.
Sure, you'll see Robinson's running ability on the highlights later today and Sunday. But his passing skills, especially in the second half, have proven to be the difference in a likely Michigan win.
Robinson led another long touchdown drive -- 11 plays, 89 yards -- and completed several big throws, including a 38-yarder to
Terrence Robinson
after an excellent pump fake. On third-and-6 from the Connecticut 11, Rich Rodriguez made a perfect call on a Huskies blitz and Robinson flipped the ball to
Vincent Smith
for an easy touchdown. Robinson doesn't resemble the passer we saw last season, both with his accuracy and his decision-making.
Michigan's defense still has some issues with tackling and spacing, but the J.T. Floyd forced fumble near the goal line is looming large.
September, 4, 2010
9/04/10
5:43
PM ET
ANN ARBOR, Mich. -- Michigan did everything right but reach the end zone on its opening drive of the second half.
In many ways, it was
Denard Robinson
's most impressive drive of the game, as he made three big throws on third down to keep the chains moving. Connecticut seemed poise to carry over the momentum it generated late in the first half, but Robinson didn't let it happen, making a great throw to Kelvin Gray on third-and-11. He continued to move the ball even though Connecticut's defensive line picked up its play.
I'm amazed by how little room he needs to get to the second and third levels on defense. With 22 carries for 155 yards, Robinson already has set the Michigan single-game quarterback rushing record, breaking Steve Smith's mark (147) set against Minnesota in 1983.
The Huskies did a nice job near the goal line, forcing a Brendan Gibbons field goal. Michigan leads 24-10.
September, 4, 2010
9/04/10
5:14
PM ET
ANN ARBOR, Mich. -- Here's a quick look back at the first 30 minutes, as Michigan leads Connecticut
21-10 at halftime
.
Best player in the half:
Michigan sophomore quarterback
Denard Robinson
. "Shoelace" has been brilliant in his first career start, wrong-footing Connecticut defenders and showing impressive accuracy on his passes. He already has 131 rushing yards and a touchdown on 15 carries, and he completed his first eight pass attempts.
Turning point:
Really two of them here. Robinson set the tone on Michigan's first drive, leading the offense 96 yards in 14 plays and putting Connecticut's defense on its heels. Connecticut grabbed the momentum late in the half following
Michael Smith
's juggling 47-yard catch on third-and-10 to set up a
Jordan Todman
touchdown with 17 seconds left.
Best call:
Randy Edsall kept his team in the game with a great call late in the half. He called timeout on third-and-goal, fully intending to go for it on fourth down. When Connecticut was stopped short, the offense rushed to the line and scored easily as Michigan was caught off guard.
September, 4, 2010
9/04/10
5:06
PM ET
ANN ARBOR, Mich. -- This one's not over yet, and if the game turns in Connecticut's favor, the turning point will be easy to pinpoint.
On third-and-10 from Connecticut's own 44-yard line, wide receiver
Michael Smith
made a great juggling catch and raced 44 yards. It marked the second straight third-and-long conversion for the Huskies, who haven't fully taken advantage of Michigan's young secondary. The pass to Smith certainly had to be a confidence boost for Huskies quarterback
Zach Frazer
, who looked very shaky for most of the half.
I loved Connecticut's decision to rush to the line on fourth-and-goal from the 2, catching Michigan a step slow as
Jordan Todman
scored.
Connecticut certainly can attack this Michigan defense, and the Huskies aren't out of this one at all, down 21-10.
September, 4, 2010
9/04/10
4:52
PM ET
ANN ARBOR, Mich. -- Michigan's speed on offense has been the story so far, but don't forget about the guys up front.
The Wolverines' size advantage is one area I really thought they could exploit heading into the game. So far, they have.
When
Michael Shaw
scored from three yards out to put the Wolverines up 20-3, he barely got touched before the goal line. Center David Molk, guard Stephen Schilling and others are generating excellent push against a smaller Huskies defensive front.
Michigan's offensive line was supposed to be a strength entering the year, as the Wolverines boasted both experience and depth with young players like Taylor Lewan.
Denard Robinson
and co. clearly don't need much space to make things happen, and so far, they're getting plenty of it.
The Wolverines lead 21-3 with 2:08 left in the half.
September, 4, 2010
9/04/10
4:26
PM ET
ANN ARBOR, Mich. -- Michigan's defense has had several "uh-oh" moments so far, but the Wolverines certainly are bringing the heat in the first half against Connecticut.
Craig Roh and
Mike Martin
have looked great pressuring Connecticut quarterback
Zach Frazer
. Roh ended a Huskies drive late in the first quarter on a blitz in Frazer's face. The sophomore looks bigger, but he hasn't lost a step. If Michigan can continue to take away the middle of the field, it should be in good shape against Huskies star tailback
Jordan Todman
.
Frazer has looked shaky so far, missing several open receivers on plays that could have changed the game. The big-play opportunities are there in Michigan's secondary; he just needs to start cashing in.
Michigan still leads 14-0 early in the second quarter.
September, 4, 2010
9/04/10
4:13
PM ET
ANN ARBOR, Mich. -- Ask any Michigan defender about facing
Denard Robinson
in practice and they just shake their heads.
Connecticut players are doing the same thing right about now.
Robinson looked masterful directing his first drive of the 2010 season, as Michigan marched 96 yards in 14 plays. His elusiveness is really giving Connecticut's defenders trouble on the edges, and he's complementing his running with some accurate passes. Running backs
Michael Shaw
and
Vincent Smith
also looked good, and the offensive line is generating good push.
Robinson followed things up on Michigan's next possession with a dynamic 32-yard touchdown run with a sick cutback. Any doubt about who should be directing Michigan's offense have been put to rest in a hurry.
We all knew Robinson could be a perfect fit for Rich Rodriguez's spread offense. He certainly looks like it so far.
It's all Michigan right now,
up 14-0
with 1:27 left in the opening quarter.
September, 4, 2010
9/04/10
3:26
PM ET
ANN ARBOR, Mich. -- No surprise here, but sophomore
Denard Robinson
will get the start at quarterback for Michigan today against Connecticut, head coach Rich Rodriguez said on his pregame radio show.
Robinson makes his first career start after backing up
Tate Forcier
in 2009. Forcier started every game last fall for the Wolverines. True freshman
Devin Gardner
also will be in the mix for the Maize and Blue.
September, 4, 2010
9/04/10
2:42
PM ET
ANN ARBOR, Mich. -- Greetings from the Bigger House, which will be rededicated today following a $226 million renovation. Michigan opens a critical season against Connecticut after back-to-back losing campaigns.


The place certainly looks nice. I know the media is pleased with the new press box, which comes with an excellent pregame spread. Great atmosphere around the stadium today and around campus last night. A surprising number of Connecticut fans are here, although I hear they've always traveled well for basketball. A special shout-out to my new friend Matan, a Michigan fan living in Bogota, Colombia, who tells me the Big Ten blog gets him through the day.
The weather will be interesting, as the winds are gusting up to 25 miles an hour, blowing toward the southwest. Both teams' specialists could have some adventures out there, and Michigan is replacing both its starting kicker and starting punter.
All signs point to sophomore
Denard Robinson
starting for Michigan at quarterback, but head coach Rich Rodriguez likely will play multiple signal-callers. Michigan must establish the line of scrimmage on both sides of the ball. If the Wolverines' offensive line is as advertised, and if defensive tackle
Mike Martin
can clog up the middle, Michigan should control the line.
Connecticut's defense is solid, especially at linebacker, as Greg Lloyd starts in the middle after being told earlier this year that he would redshirt the season because of injuries. The Huskies also boast an outstanding running back in junior
Jordan Todman
, who will be Michigan's primary focus on defense.
Michigan will be without three players: cornerback Troy Woolfolk (ankle, out for season), safety Jared Van Slyke (clavicle) and running back
Fitzgerald Toussaint
. Wideout
Junior Hemingway
(hamstring) is questionable.
Check in before the game as Brock Mealer, the brother of Michigan offensive lineman Elliott Mealer, leads Michigan out of the tunnel after an amazing recovery from a serious car accident.
The atmosphere will be electric, but can Michigan match it with its play?