March, 25, 2015
Mar 25
12:00
PM ET
If you just awoke from a 15-year nap and heard that Iowa posted a 26-25 record over the past four years with three bowl losses, you might assume little had changed around the program since the late years under Hayden Fry.
In fact, Iowa has endured plenty of change under coach Kirk Ferentz, entering his 17th season in 2015. And the Hawkeyes anticipate more movement – progress, actually, as spring practice opens in Iowa City on Wednesday.
For an additional spring primer, check out our report on the state of the Iowa program and three key position battles.
Schedule: The Hawkeyes open drills Wednesday. For a third consecutive year, Iowa will take its show on the road to West Des Moines for an open practice on April 11. The conclusion of spring is set for April 25 at Kinnick Stadium with another workout open to the public.
[+] Enlarge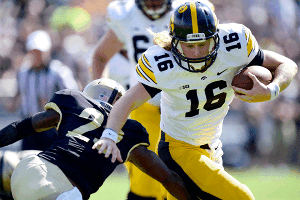 Marc Lebryk/USA TODAY SportsCoach Kirk Ferentz said that C.J. Beathard will be Iowa's No. 1 quarterback heading into spring practice.
What's new? In the wake of discontent after its TaxSlayer Bowl loss to Tennessee, Iowa broke from the norm, releasing a January depth chart that featured a change at quarterback, movement at linebacker and on the offensive line. Additionally, Ferentz promoted his son, offensive line coach Brian Ferentz, to run game coordinator, added nickels and cornerbacks to responsibilities of recruiting coordinator Seth Wallace and moved LeVar Woods from coaching linebackers to tight ends.
Biggest question: What's the status of Jake Rudock? An answer figures to arrive on Wednesday afternoon as Ferentz meets with the media. All indications point toward the exit of Iowa's two-year starter, who is scheduled to graduate this spring and may be eligible to play immediately at another school in 2015. Junior C.J. Beathard, after replacing Rudock in the TaxSlayer Bowl, sits atop the depth chart. Rudock, who completed 61.7 percent of his passes last season for 2,436 yards, 16 touchdowns and five interceptions, has displayed interest in Michigan. But will Iowa grant him a release, and can Rudock maneuver the Big Ten transfer rules? We'll likely know soon.
Three things we want to know:
1. Signs from Beathard that he was the right choice. Iowa effectively made its QB choice for 2015 in January by vaulting Beathard over Rudock. If Ferentz intended for this race to play out over the spring and summer, it was a miscalculation to demote his most-experienced signal caller. So for better or worse, Beathard it is. He played well off the bench last year at Pitt and started in place of the injured Rudock at Purdue, struggling in a 24-10 win. Beathard is a dual threat. His leadership will be key.
2. Clarity on the O-line. Gone are Brandon Scherff and Andrew Donnal, Iowa's reliable pair of bookends. The line, under the Ferentz's solid guidance, has long served as a stabilizing force for the Hawkeyes. Iowa appears set to turn to Boone Myers and Ike Boettger, a pair of sophomores, at tackle. Also on the line, Iowa needs leadership from Austin Blythe, who is returning to center after playing guard for much of last season.
3. Continued development at linebacker. The front four, featuring Drew Ott and the departed Carl Davis and Louis Trinca-Pasat, rated as the strength of the Iowa defense last year. Traditionally, Iowa has produced linebackers worthy of that label. Next season should bring a return to tradition, but the work starts now. With Woods' shift to coach on the offensive side, Jim Reid handles the whole group, featuring Josey Jewell – prepared to take over in the middle for Quinton Alston – Bo Bower and Ben Niemann.
February, 19, 2015
Feb 19
4:00
PM ET
With spring practice near in the Big Ten, we're taking a
snapshot of every program
. We'll examine recent performance, win-loss trends, coaching, current personnel and recruiting.
Iowa is up next:
2014 record:
7-6 (4-4 Big Ten, fourth in West Division)
Three-year record:
19-19
Coaching situation:
Kirk Ferentz is the dean of Big Ten football coaches, heading toward his 17th season in Iowa City -- four years short of the Hayden Fry reign. Ferentz built a stable foundation, raised Iowa to a level that arguably exceeded Fry's best years and has watched the Hawkeyes slide over the past five seasons. Defensive coordinator Phil Parker has been with Ferentz since the beginning, and offensive coordinator Greg Davis is a veteran in the business who has been criticized at multiple stops for doing less with more than some of his peers. The head coach's son, Brian Ferentz, recently promoted to run game coordinator, is considered an innovative coach, and LeVar Woods, newly moved to coach tight ends, did nice work with the linebackers.
Roster situation:
It's not awash in talent. The Hawkeyes have developed linebackers and offensive linemen well. And the trend figures to continue with youngsters like
Bo Bower
and
Josey Jewell
on the defensive side and
Ike Boettger
,
Boone Myers
and
Sean Welsh
on offense. Iowa loses talented offensive tackles
Andrew Donnal
and
Brandon Scherff
(a consensus All-American); receivers
Kevonte Martin-Manley
and
Damond Powell
; running back
Mark Weisman
; defensive tackles
Carl Davis
and
Louis Trinca-Pasat
; and linebacker
Quinton Alston
. That's a lot to replace. Defensive end
Drew Ott
is a budding star, and cornerback
Desmond King
is already there. Iowa needs
C.J. Beathard
or
Jake Rudock
to take charge at quarterback.
Recruiting situation:
The Hawkeyes signed a
21-man class
this month that ranked
57th nationally
and 10th in the Big Ten, one spot ahead of Indiana and also ahead of Northwestern, Minnesota and Illinois. It's never been about rankings, though, for Iowa, which signed the
No. 49 class
a year ago. If the Hawkeyes find the right fits, they're doing well. For instance, Iowa badly needs a running back to break its stretch of oddly poor luck at the position over the past several years. It had a solid candidate in Karan Higdon out of Florida, but he flipped to Michigan at the 11th hour. Iowa will always find a few hidden gems. It found a promising legacy at home in 27th-rated athlete
Drew Cook
and pulled the nation's No. 5-rated center,
James Daniels
, out of Ohio. Still, the Hawkeyes need more high-end talent to keep up with fellow West Division contenders Wisconsin and Nebraska, against which Iowa is 1-4 over the past three years.
Trajectory:
After the 2012 and 2013 seasons, the Hawkeyes' three-year record was 19-19. Same this year. Is Iowa stuck in neutral? Sure looks like it. As recently as 2010, it's three-year record was 28-11. Go back to 2004, it was 32-7. The last time Iowa had a three-year record under .500 was 2001 after Ferentz's third season, and the program was clearly trending up. What now? Well, at best, Iowa is treading water, though a solid showing in 2015 could put it back on track. Worst case, its troubling finish to 2014, followed by the loss of a strong senior class, more uncertainty at quarterback and a sluggish recruiting class could spell doom for this regime.
January, 27, 2015
Jan 27
3:00
PM ET
We are looking around the league this week at one position for each Big Ten team that needs improvement, either because of poor production in 2014 or a loss of important personnel. Iowa is up next.
Problem position:
Offensive tackle
Why offensive tackle is a problem:
Tackle was the least of Iowa's problems in 2014. In fact, it was the Hawkeyes' clear strength, with Outland Trophy winner
Brandon Scherff
on the left side and fellow senior
Andrew Donnal
opposite Scherff. As Iowa struggled to find consistency elsewhere, Scherff and Donnal remained solid. But there is no heir apparent. See the problem?
How it can be fixed:
By doing what Iowa does better than anything else -- develop linemen. Say what you want about the lack of recent forward movement in Kirk Ferentz's program, the Hawkeyes have continued to produce quality linemen. The head coach's son deserves credit for the work done with Scherff over the past three years, but Donnal and center
Austin Blythe
are perhaps better examples of his good work.
Early 2015 outlook:
The postseason depth chart lists
Boone Myers
, a rising sophomore, ahead of junior
Cole Croston
, the backup in 2014, at left tackle. Both came to Iowa City as walk-ons, though Myers, a backup guard last season, has earned a scholarship. Former tight end
Ike Boettger
, a sophomore still in need of more weight, started the offseason ahead of freshman
Keegan Render
on the right side. No matter the personnel, Iowa must find solid replacements. The Hawkeyes don't have the flexibility or athleticism on offense to account for an unreliable pair of bookends. Expect plenty of attention from the coaches paid to the tackles this spring.
September, 9, 2014
9/09/14
2:10
PM ET
This much we know:
Iowa
all-American offensive tackle
Brandon Scherff
hurt his right knee last week in the Ball State game. What we don't know: how much, if any, time Scherff will have to miss.
Iowa TV station KCRG reported that Scherff underwent surgery on the knee Tuesday morning.
On Twitter
, reporter Scott Westerberg said Scherff told him he hoped to be back for the Sept. 20 game against Pitt but was confident he'd return in time for the start of Big Ten play.
But later on during the Big Ten coaches' teleconference, Hawkeyes coach Kirk Ferentz wouldn't confirm or deny that report.
Asked specifically if Scherff had surgery, Ferentz said, "Brandon injured his knee Saturday, I guess that's pretty apparent. Outside of that, I don't have much to tell you. He got hurt, came back and he did a helluva job. He was stiff on Sunday, like you'd expect. We had a lot of guys sore and stiff. Right now, he's got an opportunity to play, so that's what we're focused on."
Ferentz is usually pretty forthcoming on injuries, but this week is a rivalry week as the Hawkeyes face Iowa State. So it's not too surprising he wouldn't say much about his best player.
If Scherff is out, that could put the Iowa offense in a bind. The team ranks just 11th in the Big Ten in rushing after two games, a surprising figure. And Iowa has had to scrape by both Northern Iowa and Ball State at home. Without Scherff, beating Iowa State and Pitt becomes a trickier challenge. Redshirt freshman
Ike Boettger
would step in at left tackle for Scherff.
Scherff isn't the only Hawkeye nursing some bumps and bruises this week. Defensive end
Drew Ott
, who was named the Big Ten defensive player of the week for his 13-tackle performance against Ball State, was reportedly hospitalized Monday morning after a scooter incident.
Ott, who wasn't wearing a helmet, was struck by a car while riding his scooter around campus,
according to reports
. Ferentz said he spoke to Ott on Tuesday morning, and all indications are that he's OK.
"As far as I know, he will be ready to go," Ferentz said.
It's a relief to hear that Ott avoided a potential serious injury. As for Scherff, we may have to wait to find out more.
June, 25, 2012
6/25/12
10:00
AM ET
Another June weekend is in the books, which means it's time for another recruiting roundup. As camps take place around the league, several players joined the commitment lists for the 2013 classes.
Let's take a quick look at what has happened since Friday:
June, 21, 2012
6/21/12
12:00
PM ET
Playoffs? Don't talk about playoffs. Are you kidding me? Playoffs?