Big Ten:

Irish-Wolverines-091011
September, 11, 2011
9/11/11
2:25
AM ET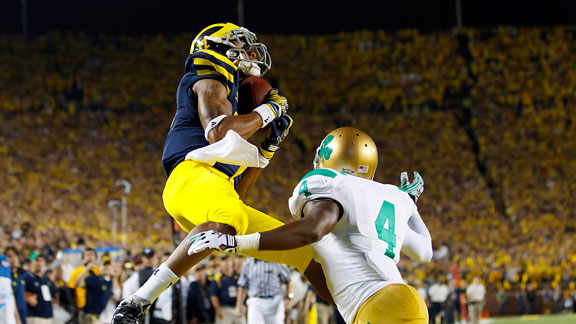 Rick Osentoski/US PresswireRoy Roundtree's only catch of the night was the game winner for Michigan with 2 seconds left.
ANN ARBOR, Mich. -- Michigan told tradition to take a hike on Saturday, turning the Big House into a night club and even breaking out some funky, glow-in-the-dark dancers at halftime.
Yet the Wolverines'
35-31 victory
over Notre Dame, as crazy and exciting as it was, had a distinctly reminiscent feel amidst the all-new atmosphere. We've seen Michigan win wild shootouts before. We've seen
Denard Robinson
go crazy and will his team to victory. We've certainly seen the maize and blue take advantage of a Notre Dame self-detonation and begin the season 2-0, as they've done now three straight years.
The question is whether or not this team is actually any different than the Rich Rodriguez editions which started fast and then fell apart during Big Ten play. First-year coach Brady Hoke made sure to sober up a joyous locker room by saying this win represents one small step in the journey.
"We've got a lot of things we can do better on both sides of the ball and in the kicking game," Hoke said. "We're not near where we need to be."
One thing that hasn't changed, thankfully, is Robinson's ability to pull off late-game magic. For all the talk in the preseason about how the star quarterback would have to adjust to a pro system under new coordinator Al Borges, the second game of the new era sure looked like a vintage Shoelace scene-stealer.
After an opening-week victory over Western Michigan in which Robinson ceded many of his carries to the running backs, he was back carrying the bulk of the load on Saturday. Of the Wolverines' 452 total net yards, Robinson accounted for 446 of them.
Feel any different than last year?
"No," he said. "I'm still playing football. I'm still going out there having fun."
[+] Enlarge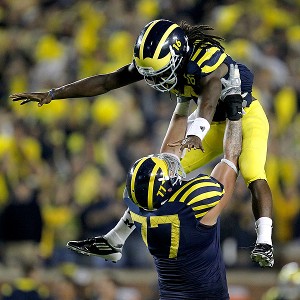 Gregory Shamus/Getty ImagesDenard Robinson and the Wolverines celebrate an amazing fourth-quarter comeback. Robinson passed for 338 yards, four TDs and three interceptions against Notre Dame.
However, Robinson didn't look comfortable in the new system early on. He was just 2-for-9 passing in the first half and had only one big run. He threw three interceptions in the game, and his lone rushing touchdown came on a freak bounce after running back
Stephen Hopkins
fumbled at the goal line. It was unclear whether Notre Dame's defense had bottled up Robinson, or if Michigan's new offense did. Or maybe Robinson was just too caffeinated for the night time.
"At halftime, I needed to calm him down," center David Molk said. "Sometimes he just speeds everything up. Once he got back out there in the second half, he was ready to go."
Robinson threw three touchdowns in the fourth quarter, including two in the final, ludicrous 1:12. While he had some success passing the ball from under center, he also lobbed a lot of jump balls that his receivers simply came down with, especially
Junior Hemingway
(three catches for 165 yards).
"All summer during workouts and everything, one thing I noticed about all our receivers is they know how to go and get the ball," he said. "I know with Junior, if I throw it up there, he's going to get it."
Hoke and Borges said several times in the preseason that they wanted to lighten the burden on Robinson, both to diversify the offense and to keep him healthy. Yet when Michigan fell behind on Saturday, it relied on Robinson just as much as ever in the running game. The three tailbacks Michigan used combined for a total of 10 yards.
"Give [Notre Dame] some credit, because I think they're more stout up front," Hoke said. "But I also would say we've got to be better at the point of attack. I didn't see a whole lot of room, and maybe there were a couple times where we didn't have the greatest vision in the world. But it all starts up front on both sides, and we've got a lot of work to do up there."
That especially goes for the defense. The much-maligned, Greg Robinson-coached unit from 2010 allowed an average of 450 yards per game and surrendered 532 to Notre Dame in South Bend last season. The Irish had 513 total yards on Saturday and consistently gashed the middle of the Wolverines' defensive interior for a healthy average of 6 yards per rush.
There's not much in the statistics to suggest Michigan has suddenly turned a corner defensively under new coordinator Greg Mattison. Well, except for turnovers. With five turnovers gained against Notre Dame, the Wolverines have created eight takeaways this year (against three giveaways). Last year, they finished last in the Big Ten in turnover margin and tied for the third-fewest takeaways in the league.
So maybe that is a change. And maybe there is more resiliency in this group, one that managed to score not one but two apparent game-winning touchdowns in the final 72 seconds.
"I think it just comes down to our mental toughness as team," defensive tackle Mike Martin said when asked to identify where this team has improved. "Coach has always stressed that since he got here. Whatever the situation is, whether it's a positive or a negative for us at the time, we're going to keep playing as hard as we can."
Michigan beat Notre Dame in a thriller. That's nothing new, no matter whether it's day or night. It remains to be seen whether this is the dawn of a different type of Wolverines team.
September, 10, 2011
9/10/11
11:48
PM ET
ANN ARBOR, Mich. -- Instant analysis from Michigan Stadium, where
Michigan beat Notre Dame 35-31
in one of the craziest games you'll ever see.


How the game was won:
It was a typical Michigan-Notre Dame game, with huge plays, wild momentum swings and a down-to-the-wire finish. But this may have been the wildest one ever. The two teams traded three touchdowns in the last 1:12, each one looking like it would be the game-winner. After Irish scored with 30 seconds left, the Wolverines somehow answered, with
Denard Robinson
first finding a wide-open
Jeremy Gallon
for a 64-yard strike and then hitting
Roy Roundtree
from 16 yards out with two seconds to go. In fact, Michigan came within a couple of feet of scoring again on the final kickoff. It was insane, nearly inexplicable and an unreasonable amount of fun.
Turning point:
Notre Dame appeared ready to go in for the clinching touchdown in the fourth quarter, but quarterback
Tommy Rees
fumbled as the ball just fell out his hands as he attempted to pass. Michigan recovered at the 9-yard line with 6:08 left to stay in the game.
Stat of the game:
Michigan had 90 yards of offense in the first half and 362 in the second half. Robinson accounted for 446 of the 452 yards his team produced.
Player of the game:
Michael Floyd
. He may have been held out of the end zone, Floyd was otherwise unstoppable. The Notre Dame receiver had 13 catches for 159 yards, and late in the game a Michigan defender just grabbed Floyd's jersey to keep from getting beat deep. The extra attention the Wolverines paid to Floyd on Notre Dame's final drive freed up Riddick for the Irish's final touchdown.
Unsung hero of the game:
Jeremy Gallon. The sophomore didn't have a catch until late in the fourth quarter. He finished with two huge ones that went for 78 yards and a touchdown. Notre Dame looked completely unprepared to cover him both times.
Second guessing:
Notre Dame got stuffed repeatedly on third and short while trying to run in the middle of the Michigan defense. The Irish lack a power run game, and the Wolverines have Mike Martin inside as a great run stuffer. Notre Dame might have been better off going with play-action or sticking to the passing game in those situations, and maybe they would have won the game.
What it means:
Michigan has a lot to work on especially defensively and in figuring out how to best use Robinson in the offense. But, holy cow, what a victory in the first night game ever at Michigan Stadium. The Wolverines are 2-0 and stand a good chance of entering Big Ten play at 4-0. For Notre Dame, all the team and its fans can do is wonder what the heck is going on. The Irish are 0-2 despite putting up huge offensive stats the first two games, and they cannot seem to avoid the big turnovers. With Michigan State coming to South Bend next week, Notre Dame is facing the real possibility of an 0-3 start in a year that started with serious BCS aspirations.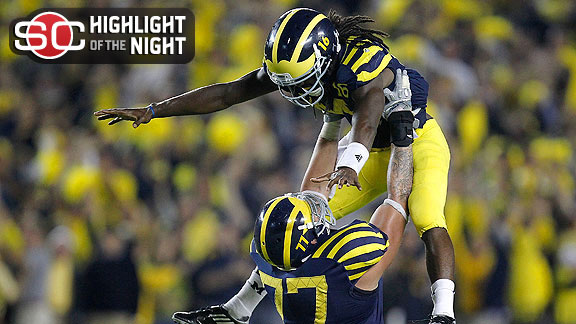 September, 10, 2011
9/10/11
11:03
PM ET
ANN ARBOR, Mich. -- We've seen this story before, haven't we? Notre Dame takes a big lead, can't hold it and Michigan rallies for the victory.
The Wolverines would be very happy for a rerun tonight. And it might just happen.
The Irish led 24-7 going into the fourth quarter, but Michigan has rallied in a big way. A couple of big plays, including a 77-yard
Denard Robinson
pass as Kapron Lewis-Moore had a hold of his ankles, have helped the Wolverines close the gap to 24-21. Mostly, though, the defense has stepped up and played better up front, giving Robinson and company a chance to get back into the game.
As bad as Robinson and the passing game looked there for a while, he now has two touchdown throws and 165 yards through the air. So things can change quickly. As they often do with Notre Dame and Michigan.
September, 10, 2011
9/10/11
10:42
PM ET
ANN ARBOR, Mich. -- Not surprisingly, Michigan has drawn its biggest Big House crowd ever to the first night game here.

The official count: 114,804.

The night game looks like a keeper.
September, 10, 2011
9/10/11
10:28
PM ET
ANN ARBOR, Mich. -- Michigan's only score so far against Notre Dame came on a pretty 43-yard pass from
Denard Robinson
to
Junior Hemingway
.
Other than that, though, the passing game has done very little for the Wolverines.
Robinson has had trouble consistently hooking up with his receivers. He's just 3-of-13 for 59 yards and has thrown two interceptions, the last one killing a promising-looking drive. Robinson finally appeared to be getting loose with his legs earlier, ripping off a 38-yard run. But the attempt to adapt him to Al Borges' passing offense so far looks awfully shaky.
The Wolverines are lucky that Notre Dame can't stay out of its own way. The Irish have three turnovers, or else they'd probably be ahead a by more than just 10 points.
September, 10, 2011
9/10/11
9:48
PM ET
ANN ARBOR, Mich. -- Quick analysis of the first half at Michigan Stadium, where Notre Dame leads Michigan 17-7:


Stat of the half:
Some numbers don't lie. Notre Dame has 268 total yards to just 90 for the Wolverines. The Irish have been clearly the better team, and might have a bigger lead if not for two interceptions, one of which led to Michigan's only score.
Denard Robinson
has accounted for 88 of his team's first-half yardage, but Notre Dame has for the most part contained Shoelace the first 20 minutes.
Best player in the half:
Michael Floyd
. It was obvious coming in that Floyd was Notre Dame's best offensive weapon, and he has delivered. With Michigan cornerback Troy Woolfolk not starting and playing only a handful of snaps because of a hand injury, the Irish have looked to Floyd often. He became Notre Dame's all-time leading receiver with a seven-catch, 112-yard first half.
Best call:
Two plays after Jordan Kovacs picked off Notre Dame quarterback
Tommy Rees
, Robinson got the defense to bite on a play-action. He had all kinds of time and waited for
Junior Hemingway
to get free from cornerback Gary Gray. Robinson threw it up, and Hemingway dived into the end zone for a 43-yard touchdown. That got the Big House crowd back into things, but big plays have been few and far between so far for the home team.
September, 10, 2011
9/10/11
9:34
PM ET
ANN ARBOR, Mich. -- Michigan's defense came up with timely turnovers last week against Western Michigan, turning two into defensive scores.
While the Wolverines haven't been great on defense tonight against Notre Dame, they are once again creating takeaways -- and getting a little help from the Irish.
Jordan Kovacs picked off a
Tommy Rees
pass early in the second quarter, setting up a 43-yard touchdown pass by
Denard Robinson
two plays later to make it 14-7. The Wolverines showed an aggressive defensive look before that interception, with their deepest player no more than 5 yards from the line of scrimmage. It seemed to confuse Rees.
Rees also made a mistake later in the red zone, forcing a ball into traffic that J.T. Floyd picked off. Notre Dame now has four turnovers in the red zone in its first six quarters of the season.
The Irish are still dominating statistically, but because Michigan has come up with a pair of turnovers, the game is still just 14-7. The Wolverines may need more, because right now they don't have a lot of answers for
Michael Floyd
, who's over 100 yards receiving already.
September, 10, 2011
9/10/11
8:45
PM ET
ANN ARBOR, Mich. -- The last time Notre Dame came here, the Irish thoroughly outplayed the Wolverines in the first half until Michigan rallied for victory.
The same story might have to play out for Michigan fans to leave happy tonight.
Notre Dame leads 14-0 and is in complete command so far. Michigan's offense has a pair of three-and-outs. The Irish, meanwhile, have done everything right.
Tommy Rees
is a perfect 8-for-8, foiling every Wolverines attempt to blitz by making the right read. It's hard to believe Brian Kelly chose
Dayne Crist
over this kid to start the year.
The Irish offensive line is also pushing around Michigan's front, giving Rees time and opening plenty of room for
Cierre Wood
, who scored the game's second touchdown on an easy jaunt into the end zone.
The Wolverines need to make some adjustments, fast, or it's going to be long night under the lights.
September, 10, 2011
9/10/11
8:27
PM ET
ANN ARBOR, Mich. -- The Big House was electric to start this game, after a touching ceremony to honor Desmond Howard and the sun set for a true night experience.
But the early proceedings did not go well for the Wolverines.
They went three-and-out on their first series, as Notre Dame showed good pursuit after
Denard Robinson
's first, seven-yard run. Even worse, the Irish zipped down the field for a touchdown on the ensuing possession, opening huge holes for running back
Cierre Wood
. Right now, Notre Dame looks better in the trenches, and that could be an early warning sign for Michigan.
Also, Troy Woolfolk did not start at cornerback for the Wolverines after wearing a cast in warm-ups. Without him, the defense might have trouble covering
Michael Floyd
and the other Irish receivers.
But it's early, even here at night. Remember Michigan got off to a shaky defensive start last week and recovered nicely.
September, 10, 2011
9/10/11
7:43
PM ET
ANN ARBOR, Mich. -- Greetings from the Big House Night Club.
We're almost ready for Michigan-Notre Dame under the lights, and the atmosphere is already rocking. The Wolverines handed out yellow pom-poms to fans, and the student section in particular is making great, coordinated use of them. It looks cool and should be a good sight on TV.
Also pretty cool: Both teams' special throwback uniforms for this game. I was lukewarm on the striped Michigan duds when they were unveiled, but they look much better in person. And Notre Dame's are sharp as well.
Personnel news: Michigan cornerback Troy Woolfolk had a cast on his right hand during warmups. Woolofolk had an ankle problem earlier in the week but was supposed to be full go. It will be interesting to see how he handles the matchup with the big, physical
Michael Floyd
if he is indeed lined up against the Notre Dame star receiver tonight.
Linebacker Cam Gordon is not expected to play for the Wolverines tonight for the second straight week. Reserve linebacker Marell Evans is still not eligible.
Almost time to kick it off under the lights.