March, 26, 2013
3/26/13
9:00
AM ET
Minnesota coach Jerry Kill guided the team to a bowl game during his second season in Minneapolis despite some depth and injury problems in 2012. What's in store for Year 3 of the Kill era? I recently caught up with him to get his outlook for the Gophers' spring practice, which opens today.
How has the offseason gone for you guys so far?
Jerry Kill:
Well, I think the bowl game, even though we lost, the kids played very hard and well. We got healthy, for one, before we went to the bowl, and we had a great month with our kids and a great experience. And coming into the offseason, I think there was a lot of confidence gained. All our kids' strength and testing numbers went up. I guess I can use
Ra'Shede Hageman
as an example, He benched 450 pounds, squatted well over 500 and cleaned 350, with a 38-inch vertical. So kids like that got a lot better.
We feel up front and on the defensive line, we've gotten stronger. I think we've added some depth to the defensive line, and secondary-wise, we played several freshmen in that game against Texas Tech. We've got the flexibility to play
Derrick Wells
at corner and safety. I think the biggest question mark we've got going in is, we lost five scholarship linebackers. It's like a year ago when we lost seven secondary players and kind of hit the jackpot in recruiting. Damien Wilson, a junior college transfer, has had a great spring, and I'm looking forward to seeing him on the field. The guys who need the reps this spring are
James Manuel
,
Aaron Hill
,
Lamonte Edwards
, and young men we redshirted named
Jack Lynn
and
Nick Rallis
. And then we've got four other kids coming when fall camp starts. Our secondary a year ago had a lot of questions and really played well. I think, this year, linebacker is where we need to step up on defense.
And then on offense, I feel we'll be a much better football team than we were a year ago because we get everybody back except for
Brandon Green
and Q [
MarQueis Gray
], really. So I think that unit will be much improved.
[+] Enlarge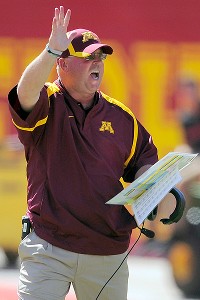 AP Photo/Mark J. TerrillJerry Kill begins his third season as head coach of the Gophers.
You showed off a good power running game in that bowl game. Is that what we should expect from your offense going forward?
JK:
Yeah, that's what we were at Northern Illinois. We could run the power at you, but then we were athletic enough to turn and run the zone read with the quarterback. Both [Chandler] Harnisch and [Jordan] Lynch, when we needed to throw it, we completed it. But we still made our living on running the football. It was the first time, in the bowl game, that we had the same offensive line that we had at the beginning of the seaon. We had so many people get experience there. But that's what we want to be -- a team that gives you a lot of different looks, shifting and motion and different personnel grouping. But you've still got to be able to run the football, and certainly in the Big Ten.
Speaking of that offensive line, after a lot of injuries there last year, how is the position looking this spring?
JK:
Well, we've got a lot of depth, no question. Eddie Olson, he won't go through the spring, but he had a good year a year ago. If we can get his foot healed up and done right, it kind of works out. He'll continue to get stronger. We redshirted
Jonah Pirsig
, who's a 6-foot-8, 6-9, 320 pound tackle,
Ben Lauer
, who's 6-7 and probably 305, and
Isaac Hayes
, who is a 6-2, 300-pound offensive guard. So those kids, I'm anxious to see them in the spring.
We've got
Zac Epping
,
Jon Christenson
and
Caleb Bak
-- in the weight room, he benched 350, squatted 550, so he's gotten stronger.
Josh Campion
is a strong kid; he benches well over 400 pounds. So the same guys who when I first got here were getting pushed around have gotten stronger. And then we've added these young kids that have come in.
Marek Lenkiewicz
is up to 290 pounds,
Tommy Olson
is healthy again and
Brian Bobek
, who transferred from Ohio State and had great credentials when he went to Ohio State, he's another one who's very physically strong. Then there's
Foster Bush
and
Joe Bjorklund
. They're all young kids, but they've gotten physically stronger.
When we got here, I think we had about seven or eight offensive linemen. So we've built it through walk-ons and kind of did it the hard way. But I feel good about that position, along with our tight ends, quarterbacks and receivers. Our defense improved tremendously from one year to the next. For us to be competitive in the Big Ten -- which I think we can be -- our offense has to take the steps our defense did a year ago. And I think we can.
Philip Nelson finished the season for you at quarterback and had a nice bowl game, but you also have some talented young guys there. Is it his job to lose this spring or a more open competition?
JK:
We took the redshirt off Philip last year, and he did some good things and had some things he struggled with, as you'd expect for a freshman. He did some great things in the bowl game. When we go into camp, somebody is going to have to go in there and beat him out. But the thing that's good about that is the competition.
Mitch Leidner
and Chris Streveler are great athletes who can play another position if needed, but they both want to play quarterback and they're very capable of giving someone a run for their money. I can tell you, our defense is very high on Leidner. Mitch is probably close to 6-5 and 230, and he is a 4.6, 4.65 guy [in the 40-yard dash]. And very strong. And then Streveler is quicker than that. He came in during the second semester, and I think he's the third-fastest guy on our team. When we had him in camp, he played receiver also.
So all three of those guys are great kids, students of the game, and the type of kids you want playing quarterback leadership-wise. We'll let it work out. Leidner and Streveler are the type of kids who would say, "Coach, if it helps the team if you move me, I'll do that." But in the spring we're going to let them compete and make sure we're solid at that position. If you look at last year, it was kind of a miracle we got to a bowl game, because we had three different quarterbacks and three different centers. Not many people can win doing that.
February, 6, 2012
2/06/12
11:00
AM ET
The Big Ten recruiting classes are signed and sealed, and although a few more recruits could come aboard, we have a good idea of what the rosters will look like heading into the 2012 season.
That means it's Power Rankings time. Again.
We're taking a post-signing day look at where the league stacks up. There aren't too many changes from our
previous rundown
, but some teams received a bump from strong recruiting classes.
As they say on Twitter, #legooo.

1. Michigan State:
The Spartans' recruiting class didn't crack ESPN's top 25, but it features several strong prospects and is loaded up at wide receiver and defensive back. Mark Dantonio tells us he can't remember recruiting 10 athletes like the ones Michigan State added in the class. Michigan State already is one of the Big Ten's most athletic teams, so this bodes well for the Spartans as they look for another big season.
2. Michigan:
Brady Hoke and his staff rode a fast start to 2012 recruiting and finalized a class ranked No. 7 nationally. The Wolverines started three freshmen on defense in 2011 and added several more who can contribute early in their careers, including linebacker Joe Bolden, cornerback Terry Richardson and defensive tackle Ondre "Pee Wee" Pipkins. If Michigan can maintain its momentum on defense after losing several stud linemen, it will be very tough to beat in 2012.
3. Ohio State:
Urban Meyer announced himself with a superb recruiting class featuring arguably the nation's best crop of defensive line prospects. Ohio State would have been an improved team in 2012 after its first seven-loss season since 1897, but the recruiting class boosts the Buckeyes even more. The defensive front seven should be a deeper and stronger unit, and players like Noah Spence, the Big Ten's top-rated recruit, have a chance to contribute immediately.
4. Nebraska:
The Huskers missed on their top signing day target (offensive lineman Andrus Peat) but still inked a solid class that should help at positions like linebacker, where Big Red lacked size and depth. Linebacker Michael Rose could contribute early in his career. Nebraska also addressed the departure of standout cornerback Alfonzo Dennard with talented juco addition Mohammed Seisay.
5. Wisconsin:
Quality not quantity was the theme for Wisconsin, which signed only 12 players, the Big Ten's smallest class by five recruits. The Badgers lost two offensive line commits to other schools but added a decorated quarterback in Bart Houston and some solid players to the defensive back seven, including linebacker Vince Biegel. This is the type of season that will test Wisconsin's ability to reload and provide a true gauge of the program's progress under Bret Bielema.
6. Penn State:
New coach Bill O'Brien and his staff had to scramble to keep the class together, and the 2012 recruiting haul didn't quite match what Penn State adds in most seasons. The coaches were able to keep some good prospects and fulfilled a need at wide receiver with Eugene Lewis and others. It'll be interesting to see how quarterback Steven Bench turns out after Penn State lost verbal commit Skyler Mornhinweg to Florida.
7. Purdue:
The Boilers added speed in their 2012 class, and they loaded up on quarterback prospects for the future with four signal-callers. But Purdue also beefed up along the offensive line with Jordan Roos and others. With coaching changes and personnel changes throughout the Leaders Division -- not to mention Ohio State's bowl ban -- Purdue has an excellent chance to make some noise in 2012.
8. Iowa:
The big story in Iowa City isn't so much the recent recruiting class but the seismic changes going on in one of the nation's more stable programs. After having the same coordinators for the past 13 seasons, Kirk Ferentz must replace both Norm Parker and Ken O'Keefe, who left late last week for a post on the Miami Dolphins' staff. Iowa will have new leadership on both sides of the ball, creating some uncertainty but also some excitement. The Hawkeyes added some nice pieces in the 2012 class, such as running back Greg Garmon and defensive end Faith Ekakitie.
9. Northwestern:
Although the Wildcats' class didn't crack the national rankings, it looks like the best haul in Pat Fitzgerald's tenure as head coach. Northwestern picked up a potential difference-maker on defense in defensive end/linebacker Ifeadi Odenigbo. Malin Jones could be the team's answer at running back, a spot that has suffered during Fitzgerald's tenure. The Wildcats also added the league's top transfer in former USC receiver Kyle Prater.
10. Illinois:
It might take a year for Tim Beckman and his staff to make a big splash on the recruiting scene. Illinois' 2012 haul didn't receive great reviews, but the Illini are pursuing several nationally elite 2013 prospects from within the state. Linebacker recruits Tajarvis Fuller and Tyrone Neal should help Illinois in the defensive back seven. There's enough talent on the squad to get back to a decent bowl, but Beckman and his staff have plenty of work ahead.
11. Minnesota:
The Gophers inked a class that drew good reviews from ESPN's analysts. Jerry Kill and his staff retained several top in-state prospects, including offensive lineman Isaac Hayes, wide receiver Andre McDonald and quarterback Philip Nelson. McDonald and fellow wideout Jamel Harbison could be immediate contributors for an offense that needs more options. But defense must be the top offseason focal point for Minnesota, which added several juco defenders.
12. Indiana:
Although the Hoosiers remain at the bottom, we liked their recruiting class, which should first and foremost provide immediate help on defense. Junior college defenders like Tregg Waters and Jacarri Alexander likely will step in right away for a struggling unit. Indiana also will increase the competition at quarterback with heralded prep prospect Nate Sudfeld and juco addition Cameron Coffman.
February, 2, 2012
2/02/12
11:00
AM ET
Minnesota went just 3-9 in coach Jerry Kill's first season, and Kill experienced health problems that landed him in the hospital a couple of times. Despite those obstacles, the Gophers managed to sign a class of 31 recruits on Wednesday that many experts described as a strong group. I caught up with Kill to talk about the work he and his staff did on the recruiting trail.
What were some of your main goals with this class, besides just adding more talent to the roster?
Jerry Kill:
The most important thing for us was to make sure we got kids that fit in here at the University of Minnesota and the system and the things we expect. I think we did that. And then of course we needed to improve the athleticism and speed in our football program and I think we did that too. Most of these kids we've had in camp and had a personal evaluation on. There's nothing like having them in your camp and seeing what they can do. That makes a huge difference because you know more about them than anybody when you can get them at your place and work with them at your camps.
You guys won only three games last year. So what were you able to sell to recruits this offseason?

JK:
I think the big thing was, last year we came in and we didn't really have a chance to put a recruiting class together. When I took the job, our athletic director wanted us to honor the existing scholarship offers, which we did. So this is our first recruiting class. As far as selling it, we have a great state here in Minnesota and we are the state school. We don't share it with anybody, and the Twin Cities is a great place to live and go to school. And as a coaching staff, we've all been together for a long time. We've turned programs around, and this is not the first one we've been a part of. I think our staff is probably in the top 5 in tenure in the country. So I think the stability of our coaching staff and the direction we're going, I think it was a good fit for us to go and recruit kids.
You got what many people feel are three of the top four or five players in the state of Minnesota. How important was that not only for this class but moving forward as you try to keep top talent home?

JK:
To be honest with you, I think we got everybody -- there's only one person I can think of that I wish we could have gotten. But other than that, I think we did a great job in our state, and that's where it all starts. When I first got here, I picked up an article that said 38 kids from Minnesota were playing in bowl games, but they weren't going to the University of Minnesota. So we needed to do a great job of locking our state down this year, and I think we did a good job of that. But you've got to do it year in and year out.
Two of the top-rated players in this class are at receiver, with Andre McDonald and Jamel Harbison. Was improving your overall playmaking ability a big priority with this class?

JK:
Absolutely. There's no question that we felt we had to get better in the skill positions. We've got eight kids who are already here and have started school this semester, and I think six of them are among the faster kids on our football team. So there's no question we've improved our speed and athleticism and playmaking ability, and that gives you chance to win. I always say speed makes up for a lack of coaching, so hopefully we can get a player or two who can make a play and make us look good.
You also signed six junior college players. How much of an immediate impact are you expecting from them?

JK:
A lot of people talk about how we took some junior college kids, but there's about three or four of them that have got three years left. We've known about them through the years and were a part of putting them in some places. When you build programs, you've got to be somewhat uncommon. I use Tony Dungy's book all the time -- he's one of our guys here at the University of Minnesota. We have to be a little bit uncommon on how we do things. I think the kids we picked up are unique and will really fit in, and there's no question they will make an immediate impact.
Offensive lineman Isaac Hayes is an ESPNU 150 player and one of the top prospects to sign with a Big Ten school this year. What can you tell us about him and his recruitment?
JK:
First of all, his mother has done an outstanding job. He's got a brother who went to Stanford. I wish I could have gotten here a little bit earlier and maybe we could have gotten him, because he's a good-looking young man, too. But Isaac's a young man who's tremendously smart, comes from a great program has a great mother. I think he has a great chance to do good things early in his career, because I think he's farther along than most. He's a very athletic, very physical player and we were very fortunate to get him. He was courted pretty well. I think already having one brother away from home and having his mom here certainly helped us.
Overall, by signing a class 0f 29 players that you had time to evaluate, how much does that improve the overall depth and competition on your roster?

JK:
I think it has already helped. I think there's a huge difference from walking in here a year ago to take over a football team and what we're doing right now. Players are doing the workouts and listening to the strength coaches. It's a different mentality than it was a year ago. And the more competition you have, there's no place to hide. I've always said that. We didn't have enough competition last year, and we'll have more this year. Hopefully, through another recruiting class a year from now we'll have more. But competition makes you push yourself and become excellent instead of average. So hopefully we've created a little competition.
February, 2, 2012
2/02/12
9:00
AM ET
The most relevant day of the year for outdated fax machines has come and gone. The ink is dry on those letters of intent, and -- with a few notable exceptions -- the recruiting classes of 2012 are complete.
There were a few surprises in the Big Ten on national signing day, but things went mostly as expected. That meant banner days in Columbus and Ann Arbor, as Ohio State and Michigan brought home what every analyst agrees were the league's top two classes. But final judgments on these recruiting efforts won't be passed until a few years from now, when the blue-chippers and the under-the-radar guys prove themselves on the field.
For now, though, we look back and hand out some awards for the Big Ten's big recruiting day:

Top class:
Ohio State
Michigan put together a terrific crew, too, but the Buckeyes take top honors. Urban Meyer secured the services of five ESPNU 150 players and 12 prospects rated at least four stars by ESPN. It's a class loaded with potential stars on the defensive and offensive lines, which should form the foundation of Meyer's program. Ohio State got pledges from six players who were originally committed to another Big Ten school, meaning Meyer weakened other teams while strengthening his own. Add in the fact that he got a late start on recruiting after his November hire, and this looks like one of the more impressive efforts in recent league history.

Player you'll see next season: Michigan LB Joe Bolden
In our recruiting roundtable discussion on Tuesday, all three ESPN.com experts picked Bolden as someone who could make an immediate impact. While Bolden just made the cut for the ESPNU 150, checking in at No. 142, he's got excellent size (6-foot-2, 225 pounds) and instincts for the game already. And Michigan will likely have playing time available as it searches for more playmakers at the linebacker spot.

Biggest surprise: Nebraska missing out on Andrus Peat
While the Huskers were never a lock to land this Top 10 overall prospect, Nebraska fans felt good about their chances with the star offensive tackle. Understandably so, since his older brother, Todd, is a defensive lineman for Bo Pelini. But the younger Peat went his own way and chose Stanford, a choice that would have seemed inconceivable 10 years ago. Nebraska still had a good signing day as defensive tackle
Aaron Curry
and athlete
Alonzo Moore
made last-minute choices to come to Lincoln. But Peat was the one who got away.

Wildest signing day: Iowa
There were few dull moments for Iowa on signing day. The Hawkeyes made some late offers and made some late additions like wide receiver
George Kittle
, whose father, Bruce, played offensive line at Iowa. There was also buzz about defensive back
Dinero Moss
switching his commitment from Minnesota to Iowa, and offensive line target
Alex Kozan
didn't show up at a signing day ceremony at his high school. Another recruiting target said
Iowa didn't have a scholarship for him
after telling him not to worry. What a day in Hawkeye Country.

Future award winner: Ohio State DE Noah Spence
The 6-foot-4, 245-pound Spence was rated as the No. 4 overall prospect in this class by ESPN.com and was the only five-star recruit to sign with a Big Ten school. He'll have a lot of competition on a now-stacked defensive line in Columbus, but Spence has all the tools to be a future star as an athletic pass-rusher for the Buckeyes.

Program on the rise: Minnesota
We're not predicting Big Ten titles in the Gophers' immediate future, but there's little question that second-year coach Jerry Kill has improved the overall talent and depth of his roster with his first full recruiting class. Minnesota needed offensive playmakers and appears to have addressed that with receivers
Jamel Harbison
and
Andre McDonald
. Four of the team's six junior-college transfers should provide some immediate help to a defense in desperate need of bodies. Kill might have found his quarterback of the future with in-state star
Philip Nelson
and a potential offensive line anchor in blue-chipper
Isaac Hayes
. This 31-man class won't rocket the Gophers to the top of the Legends Division, but it should lead to better things than 3-win seasons.

Big-splash recruit: Northwestern LB Ifeadi Odenigbo
Northwestern has landed some solid offensive recruits in recent years, but Pat Fitzgerald hadn't made a big splash on the defensive side until now. Odenigbo is an ESPNU 150 prospect who brings speed and play-making ability to the edge, where Northwestern needs a lot of help in pressuring opposing quarterbacks. The Wildcats need some game-changers on defense to take the next step, and Odenigbo helps in the process.
January, 19, 2012
1/19/12
2:00
PM ET
With national signing day just two weeks away, ESPN.com has revealed its final rankings for the class of 2012. And the big winners in the Big Ten appear to be Ohio State and Michigan.
The Buckeyes, helped by the arrival of Urban Meyer, have secured commitments so far from five players in the
final 2012 ESPNU 150
, including three in the top 100. They are:
No. 4:
DE
Noah Spence
No. 65:
DE
Adolphus Washington
No. 98:
DE
Se'Von Pittman
No. 104:
OG
Joey O'Connor
No 108:
DT
Tommy Schutt
If these players pan out, Meyer could be building an intimidating defensive line in Columbus, and we all know that winning starts in the trenches.
Michigan is second in the league with four ESPNU commitments, and like Ohio State the Wolverines are loading up on defense with this class. Their top prospects are:
No. 68:
CB
Terry Richardson
No. 113:
OLB
Royce Jenkins-Stone
No. 132:
OG
Kyle Kalis
No. 142:
OLB
Joe Bolden
Only three other members of the ESPNU 150 are committed to Big Ten schools, and somewhat surprisingly, Minnesota and Northwestern account for two of them. They are:
No. 51:
DE
Ifeadi Odenigbo
, Northwestern
No. 112:
OG
Isaac Hayes
, Minnesota
No. 131:
ILB
Michael Rose
, Nebraska
ESPN has also updated its
class rankings for 2012
, and Michigan leads the Big Ten pack at No. 7 nationally. Ohio State is the only other league school ranked, sitting right behind the Wolverines at No. 8. The Buckeyes could overtake Michigan if Meyer is able to reel in some more top prospects late.
Speaking of which, our recruiting folks also take a look today at where some of the
top uncommitted prospects stand
, including blue-chippers who are looking at Big Ten schools. The No. 8 overall prospect, athlete
Davonte Neal
, has Ohio State on his list. Offensive tackle
Andrus Peat
, the No. 9 prospect whose older brother plays for Nebraska, is strongly considering the Huskers, as is athlete
Devin Fuller
(No. 39). Michigan is in play for offensive guard Josh Garnett (No. 44), while Ohio State is battling for tailback
Joel Caleb
(No. 83). The Buckeyes, Wolverines and Wisconsin are all hoping to hear good news from offensive tackle
Jordan Diamond
(No. 94), who isn't expected to announce his decision until after signing day.
October, 20, 2011
10/20/11
3:30
PM ET
The
latest ESPNU 150
-- ESPN.com's ranking of the top high school football players in the Class of 2012 -- is now out. And the Big Ten school with a the highest-rated recruit committed is ... Indiana?
Yep, quarterback
Gunner Kiel
, who pledged his services to
Kevin Wilson
and the Hoosiers, checks in at No. 20, highest among current Big Ten recruits. Here's a look at where the other ESPNU 150 players planning to enter league the next year are ranked:
No. 67:
Cornerback
Terry Richardson
, Michigan
No. 100:
Defensive end
Se'Von Pittman
, Michigan State
No. 105:
Offensive tackle
Joey O'Connor
, Penn State
No. 114:
Offensive guard
Isaac Hayes
, Minnesota
No. 115:
Linebacker
Royce Jenkins-Stone
, Michigan
No. 130:
Defensive tackle
Tommy Schutt
, Penn State
No. 134:
Linebacker Tommy Rose, Nebraska
No. 135:
Offensive tackle
Kyle Kalis
, Michigan
Only having nine players in the ESPNU 150 is not a heavy presence for the Big Ten, but many of the top prospects have yet to announce where they're going to school. Here's a look at
who the top prospects are considering
, including many Big Ten targets.
The ESPN recruiting folks have also updated their
class rankings by school.
Michigan's class is ranked No. 6 nationally, one spot lower than last month. Penn State is No. 18, the same spot it held in the previous rankings. No other Big Ten school cracked ESPN.com's Top 25 class rankings.
September, 26, 2011
9/26/11
4:00
PM ET
Minnesota coach Jerry Kill has dealt with seizures for years, always finding the strength to return to his duties within days.
But the seizure Kill suffered on the sideline late in a Sept. 10 game against New Mexico State has taken a greater toll. The coach checked himself into the Mayo Clinic on Sunday after suffering persistent seizures since the initial one.
Minnesota athletic director Joel Maturi tells the (St. Paul) Pioneer Press' Charley Walters that
he isn't sure when Kill will be released from the hospital
or whether the 50-year-old will coach the Gophers this week at Michigan.
"The guy's got some health issues that we're going to take care of," Maturi said. "I'm more concerned about Jerry right now than I am any other aspect."
Kill is in stable condition.
Maturi said Kill was upfront about his health history when the Gophers hired him in December.
"He's continued to coach, and he's been pretty successful doing it his way," Maturi said. "For whatever reason, he's had a relapse or whatever it is of these seizures. We can't get it under control, and we need to find a way. I feel badly for everybody involved, but it's like anything else -- it's the hand we're dealt, and we're going to deal with it in the right way. We're blessed to have a staff that's been with Jerry and knows who he is, knows what he wants, and they'll carry it on real well. Hopefully, our kids will respond appropriately."
This is a situation no one likes to see, and Kill certainly is taking the right approach by putting his health first. His staff of longtime assistants has handled these situations before, although they haven't had to operate without Kill for an extended period.
You have to wonder how Kill's situation is affecting the players, as well as Minnesota recruits. Minnesota has 20 players committed for the 2012 class, headlined by ESPNU 150 offensive lineman Isaac Hayes.
Needless to say, it has been a rough few weeks both on and off the field for the Gophers football program. We continue to wish Jerry Kill well in his recovery.
July, 25, 2011
7/25/11
12:00
PM ET
Happy Media Days week.
The Indianapolis Star interviewed the athletic directors at Indiana, Purdue and Notre Dame about the state of their programs and college sports in general.
Joe Rexrode looks at how Michigan State tried to deal with "runners," the guys who befriend players for a chance at some payoff down the road.
Highly recruited lineman Isaac Hayes decided to stay at home and give back to Minnesota. (P.S., It's going to be awfully difficult to avoid making "Shaft" jokes every time we write about Isaac Hayes the next four to five years.)