January, 18, 2012
1/18/12
10:15
AM ET
The folks at ESPN Recruiting stepped into the rewind machine Wednesday and
looked back at the ESPNU 150 from 2008

to see which heralded recruits panned out and which did not.

From a Big Ten slant, this exercise is essentially a referendum on Ohio State's class, which
ranked sixth nationally that year

and featured eight ESPNU 150 prospects, headlined by quarterback Terrelle Pryor. Several other Big Ten squads had prospects in the 150 as well.
Overall, the results are mixed. Some players matched their hype, like Ohio State center Mike Brewster and, when healthy, Penn State linebacker
Michael Mauti
. Others did not or have not, once again proving that recruiting rankings should be viewed with caution.
Here's a look.
Prospects ranked from 1-25

No. 4: Terrelle Pryor, QB, Ohio State
-- Helped Buckeyes win three Big Ten championships and two BCS bowls before departing in June because of multiple NCAA rules violations.
No. 18: Etienne Sabino, LB, Ohio State:
-- Started the 2011 season after redshirting in 2010. Hasn't been a difference-maker for Buckeyes, but ended with a strong performance in the Gator Bowl and could be a key player in 2012.
Prospects ranked from 26-50

No. 42: Mike Brewster, C, Ohio State
-- Four-year starter undoubtedly paid off for Ohio State. Brewster earned All-Big Ten honors and was an All-America candidate his final two seasons.
No. 48: Andrew Sweat, LB, Ohio State
-- Sweat had a solid but unspectacular career for Ohio State. He was the team's top linebacker in 2011, and Ohio State missed him late in the season.
Prospects ranked between 51-75

No. 56: J.B. Shugarts, T, Ohio State
-- Started the final three seasons at right tackle but never earned All-Big Ten honors.
No. 58: Michael Mauti, LB, Penn State
-- Plagued by knee problems, but very effective when healthy. He turned in a strong 2010 season and entered 2011 as an All-America candidate before tearing his ACL in September. He'll be back in 2012.
No. 69: Dann O'Neill, T, Michigan
-- Redshirted as a freshman before transferring to Western Michigan, saying Michigan wasn't the right fit. He earned third-team All-MAC honors in 2011.
No. 71: Darryl Stonum, WR, Michigan
-- Turned in a nice year in 2010, but found himself in off-field troubles throughout his Michigan career. Wolverines coach Brady Hoke on Tuesday dismissed Stonum after his latest infraction that resulted in jail time.
Prospects ranked 76-100

No. 88: Mike Adams, T, Ohio State
-- One of the Big Ten's top offensive linemen during his final two seasons, earning first-team all-conference honors in 2010 and second-team honors in 2011 despite playing in only seven games. He had some off-field issues with the Buckeyes and was part of the Tat-5 with Pryor.
Prospects ranked 101-125

No. 107: Jake Stoneburner, TE, Ohio State
-- An excellent weapon when used in the Ohio State offense. He recorded a team-high seven touchdown receptions in 2011, but had only 14 overall receptions. He returns in 2012 and should have a bigger role in a more wide-open offense.
No. 115: Brandon Moore, TE, Michigan
-- Moore has two receptions in three years as a reserve tight end for the Wolverines. He could see a bigger role in 2012 as
Kevin Koger
departs.
No. 119 Baker Steinkuhler, DT, Nebraska
-- Started the past two seasons on the Huskers' defensive line and recorded 40 tackles, including five for loss and two sacks, during the 2011 season. He earned honorable mention All-Big Ten honors and will be called upon to take a leading role for Big Red in 2012.
Prospects ranked 126-150

No. 128: Patrick Nixon-Youman, CB, Illinois
-- Hip surgery a few years ago slowed Nixon-Youman's progression, but he appeared in 11 games in each of the past two seasons in a reserve role. He could play a bigger role in 2012.
No. 130: Keanon Cooper, LB, Minnesota
-- Started in 2011 for Minnesota and recorded 77 tackles, including six for loss, as well as two forced fumbles and a fumble recovery. He enters his third season as a starter in 2012 and will need to be a big contributor for the Gophers' defense.
No. 135: Travis Howard, CB, Ohio State
-- Took on a bigger role in 2011 and recorded 44 tackles, two interceptions, two forced fumbles and five pass breakups for the Buckeyes. He'll enter the 2012 season as a projected starter and could end his career with a flourish.
No. 141: J.B. Fitzgerald, LB, Michigan
-- Started only three games in his career, but appeared in 50 contests and was a valuable reserve and special teams performer for Michigan in 2011.
No. 148: Tyler Westphal, DE, Wisconsin
-- Had a serious shoulder injury following his redshirt year in Madison and eventually transferred to North Dakota State.
Minnesota linebacker
Brendan Beal
, who has yet to play for the Gophers after transferring from Florida, is No. 133 in the rankings.
August, 29, 2011
8/29/11
4:15
PM ET
While several Big Ten quarterback competitions have spilled into game week, Michigan is still waiting to determine its starting running back.
Mike Shaw and
Fitzgerald Toussaint
are listed as co-starters on Michigan's Week 1 depth chart for Saturday's season opener against Western Michigan. Shaw emerged in preseason camp and appears to have the inside track to start against the Broncos, although coach Brady Hoke said Monday that Toussaint still could win the top job.
Shaw has been a fairly solid back at Michigan, averaging 5.04 yards a carry with 11 touchdowns in his career. Toussaint came to Michigan as a heralded recruit but redshirted in 2009 and missed much of last season with various injuries.
Vincent Smith
is clearly Michigan's third-down back, but it will be interesting to see how the carries are dispensed between Shaw and Toussaint on Saturday.
A few other depth chart notes:
Will Heininger is listed as a starting defensive end opposite Craig Roh, even though walk-on sophomore Nathan Brink drew praise from the coaching staff throughout camp.
I'm a little surprised to see Brendan Gibbons handling field goals ahead of freshman Matt Wile. Gibbons made only 1 of 5 attempts last season as the kicking game really hurt the Wolverines. Wile came in with some strong prep accolades but will handle kickoffs, punts and possibly longer field-goal attempts for the time being.
J.T. Floyd and Courtney Avery are listed as co-starters at cornerback opposite Troy Woolfolk. Floyd likely will get the starting nod against Western Michigan.
Kelvin Grady will join top kickoff returner Jeremy Gallon, while four players are listed as potential starters at punt returner: Junior Hemingway, Drew Dileo, Gallon and Martavious Odoms.
Sophomores Mike Jones and Cam Gordon, along with junior Kenny Demens, are listed as the starting linebackers ahead of older players such as J.B. Fitzgerald and Brandon Herron.
Aside from Wile, the depth chart includes only two freshmen in backup roles: cornerback Blake Countess and strongside linebacker Jake Ryan. Freshmen running backs Thomas Rawls and Justice Hayes aren't listed on the chart.
April, 26, 2011
4/26/11
11:00
AM ET


Michigan linebacker J.B. Fitzgerald talks about the Wolverines' changes on defense, Michigan's young talent and more.


April, 19, 2011
4/19/11
10:00
AM ET
ANN ARBOR, Mich. -- It didn't take long for Greg Mattison to get the attention of his new players at Michigan.
"Within the first five minutes," Wolverines defensive end Ryan Van Bergen said, "all the guys on the defense bought into him, were going to listen to him and were going to take his criticisms."
Most coaches don't have it so easy. Then again, most coaches don't leave one of the NFL's best defenses to coach one of college football's worst.
Mattison had a pretty good gig as Baltimore Ravens defensive coordinator. But when a chance to return to Michigan surfaced, he left Ray Lewis, Ed Reed, Terrell Suggs and others to oversee a defense that had reached historic lows in the past three seasons. The Wolverines finished 110th nationally in yards allowed (450.8 ypg) and 108th in points allowed (35.2 ppg) in 2010, last in the Big Ten for both categories.
[+] Enlarge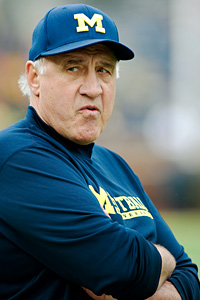 LON HORWEDEL/Icon SMIGreg Mattison came back to Michigan to join Brady Hoke, his "closest friend in the world," in resurrecting the Wolverines.
"I never would have left the Ravens for any job but Michigan and with coach [Brady] Hoke as the head coach," Mattison said.
Mattison had instant credibility among his new players.
Van Bergen lists the Ravens and the Steelers as his favorite pro defenses to watch. Even Michigan offensive players like receiver
Darryl Stonum
point out Mattison's connection to the Ravens and to recognizable stars like Lewis.
"You'd have to be pretty close-minded to not realize he had something great at Baltimore," Van Bergen said. "He was in a situation he didn't necessarily have to leave ever. For him to come here, to say this program means more to him, it shows he's got an emotional tie to what this program can do. It's not just a job for him. It's a passion."
Mattison doesn't spend much time discussing his time with the Ravens. Instead, he often tells the players about his previous stop at Michigan as an assistant from 1992-96.
He first coached the defensive line before serving as defensive coordinator in his final two seasons. In those two years Michigan held 19 of 25 opponents to 20 points or fewer and never allowed more than 30 points.
Mattison takes over a unit that allowed 34 or more points in nine games last season, hemorrhaging 65 against Illinois and 52 against Mississippi State in the Gator Bowl.
"I don't even think about what's happened [recently]," Mattison said. "We're here for a reason, and on my side that's to get Michigan defense to a level that's accepted by Michigan defense."
What is that level?
"The winged helmet means excellence," Mattison explained. "It means toughness on defense. It means swarming to the football on defense. It means celebrating together when a good play is made. In our room, it means you don't run the football on that defense. Anything that is your benchmark on defense, that's what the winged helmet stands for because it always has stood for that.
"Nothing aside from being exactly right is acceptable."
Mattison's first step to restoring Michigan's defense takes place up front. He has installed his trademark 4-3 defense, a system he shaped under previous Michigan coaches Gary Moeller and Lloyd Carr and others.
Michigan will use more defensive linemen and most likely bigger defensive linemen than it did in recent seasons, a necessary change after the 2010 season. Size is already a focal point in recruiting.
"When we went against Wisconsin, we were giving up 60 pounds up front," Van Bergen said, referring to a
48-28 loss
that Wisconsin closed out with 29 consecutive run plays. "There were teams that outmanned us because of their size. We never overcame that."
The linemen received plenty of attention this spring. Mattison and Hoke, who have both spent most of their coaching careers with the defensive line, spent much of their time working alongside line coach Jerry Montgomery in practice.
"They've got three sets of eyes on them every play," Hoke said. "We ought to be able to be a little more physical at the line of scrimmage."
Other defensive position groups also are responding well to the system.
"I love everything they're bringing in," linebacker J.B. Fitzgerald said. "It feels like Michigan to me."
This spring, Mattison has focused heavily on third downs and red zone performance, two areas where the Wolverines struggled in 2010, ranking 95th and 87th in the nation, respectively. He also stressed finishing plays.
Players are instructed to chase the football on every play, even after the whistle.
"If there's a ball on the ground, even if it's an incomplete pass and Denard [Robinson] overthrows it by 60 yards, all the defensive linemen are running to that football, and we're going to pick it up and bring it into the end zone," Van Bergen said. "[Mattison] emphasizes, 'If you go full speed through the whistle, good things will happen for you.'"
After three years where mostly bad things happened, Michigan's defenders, especially seniors like Van Bergen and Fitzgerald, are ready for a change.
"Those seniors on defense have heard enough about where we've been," Hoke said. "They have a lot of pride. When you have that kind of pride, you want to be accountable to the team and to the tradition of playing defense here."
April, 13, 2011
4/13/11
5:00
PM ET
ANN ARBOR, Mich. -- It has been a productive day here on Michigan's campus as I visited with new Wolverines head coach Brady Hoke, coordinators Greg Mattison (defense) and Al Borges (offense), Big Ten Offensive Player of the Year
Denard Robinson
and others.
I enjoyed re-connecting with Hoke, who remembered me from my early ESPN.com freelancer days as we visited on the Mid-American Conference weekly coaches' calls. The new coach seems to be well received by his new players and most Michigan alumni, but as he knows better than anyone, he needs to win games to maintain the good will.
A few notes before I make the drive north to Sparta:
[+] Enlarge

Andrew Weber/US PresswireMichigan will continue to use Denard Robinson as a rushing quarterback.

Robinson is aware of the need to stay on the field this fall, but he'll be fighting his natural aggressiveness at times. The quarterback never felt seriously injured last season, though he was banged up enough to miss stretches in several games. "That's something I have to start doing, just going out of bounds, sliding, which I don't like doing," Robinson said. Sliding? Robinson hasn't been practicing it this spring, and Borges isn't going to keep his quarterback from doing what he does best. "I can tell him to [slide], and he won't do it anyway," Borges said. "We're still going to be very running quarterback oriented. We still have maintained anywhere from five to seven plays in our offense that still feature the quarterback as a runner."

So "Shoelace" -- who was unlaced during our interview Wednesday -- will still be on the move this fall, but Michigan wants to put more of the rushing load on its running backs. No position group could be impacted more by Borges' offense than the backs. Borges made it clear that he wants a bell cow in the backfield, but none has created separation this spring. And while Michigan wants to have a downhill running attack this fall, the coaches don't necessarily need a prototypical power back to carry the rock. That's good news for a guy like Vincent Smith, who checks in at 5-6, 180. "They don't give you any more yards because you weigh 20 more pounds," Borges said. "Whoever can gain the yards is the guy who will play. We're cognizant of how big they are, but when we watch video of high school backs, the thing we're interested in, assuming they're not teeny, is if they can gain yards. If they look like they can break tackles and make people miss in the open field and have some acceleration, size is important but secondary to that."

One area where size matters -- both this season and in future recruiting -- is along both lines. Michigan needs to get bigger up front, especially along the defensive front, to hold its own in the Big Ten. Defensive end Ryan Van Bergen told me that several Big Ten teams "outmanned us because of their size." Having an extra defensive lineman on the field this fall should help -- defensive tackle Will Campbell, at 335 pounds, will beef up the front -- but Michigan is definitely trending toward bigger players. "There's some body composition that we've got to continue to change and strength gains that we need to make," Hoke said. "On both sides of the ball, that will be an emphasis in this year's [recruiting] class."

It's hardly a secret that Hoke spends most of his time in practice with the defense, and specifically the linemen. "It's important," he said, "and it also is my sanity because I'm a teacher, first and foremost, and love to teach the game." The linemen aren't starved for attention this spring with Hoke, Mattison and D-line coach Jerry Montgomery attending to them. "I have 38 years of coaching and 28 of them are defensive line," Mattison said. "Brady's coached defensive line 28 years, I think, and Jerry Montgomery is an excellent young defensive line coach."

Some of the players recognized by the coaches for their spring performances include cornerbacks Courtney Avery and Greg Brown, safety Carvin Johnson, linebackers Cam Gordon and J.B. Fitzgerald, and wide receivers Roy Roundtree, Darryl Stonum and Junior Hemingway. Both Borges and Hoke really like what they have at receiver, and Borges noted that Roundtree has really stood out this spring.
The strongest theme that came across Wednesday was Michigan getting back to its roots. Whether it's stressing rivalry games with "Ohio" -- Hoke isn't the only one who leaves off "State" -- or embracing the defensive tradition or reflecting the values Hoke and Mattison saw here in the 1990s, Michigan players and coaches sense a need to re-establish their identity.
I'll have more Michigan coverage later this week and especially early next week, so stay tuned.