January, 22, 2013
1/22/13
4:15
PM ET
As colleague Brett McMurphy
tweeted earlier today
, the SEC leads all conferences with 23 players on the two Super Bowl rosters (based on 2012 conference membership). But the Big Ten isn't too far behind.
The San Francisco 49ers and Baltimore Ravens boast a combined 19 Big Ten players on their rosters for Super Bowl XLVII. That's tied with the ACC for the second highest total among conferences this season.
Here's the Big Ten contingent for the Big Ten in New Orleans on Feb. 3.
SAN FRANCISCO 49ERS
Active roster:
A.J. Jenkins
, WR, Illinois
Garrett Celek
, TE, Michigan State
Trenton Robinson
, S, Michigan State
Jonathan Goodwin
, C, Michigan
Alex Boone
, OL, Ohio State
Ted Ginn
Jr., WR, Ohio State
Larry Grant
, LB, Ohio State
Donte Whitner
, S, Ohio State
NaVorro Bowman
, LB, Penn State
Scott Tolzien
, QB, Wisconsin
Reserve/Injured list:
Mario Manningham
, WR, Michigan
Practice squad:
Al Netter, OG, Northwestern
Nate Stupar, LB, Penn State
BALTIMORE RAVENS
Active roster:
Sean Considine
, S, Iowa
Tandon Doss
, WR, Indiana
Sam Koch
, P, Nebraska
Bernard Pollard
, S, Purdue
Marshal Yanda
, OL, Iowa
Practice squad:
Jack Cornell, OL, Illinois
Here are some coaching staff connections for each team ...
49ERS
Head coach Jim Harbaugh played quarterback at Michigan
Quarterbacks coach Geep Chryst served as a Wisconsin assistant in 1988
Assistant secondary coach Greg Jackson was a Wisconsin assistant in 2010
Linebackers coach Jim Leavitt joined Hayden Fry's staff at Iowa in 1989
Running backs coach Tom Rathman played running back at Nebraska
RAVENS
Head coach John Harbaugh coached Indiana's defensive backs and special teamers in 1997
Assistant head coach/special teams coordinator Jerry Rosburg coached Minnesota's secondary in 1996
Offensive coordinator Jim Caldwell played at Iowa; served as a Penn State assistant from 1986-92 and a Northwestern assistant in 1981
Defensive coordinator Dean Pees held the same post at Michigan State from 1995-97
Secondary coach Teryl Austin held the same post at Michigan from 1999-2002 and served as a graduate assistant at Penn State
Offensive line coach Andy Moeller played linebacker at Michigan and coached the Wolverines offensive line from 2000-07
April, 30, 2012
4/30/12
2:00
PM ET
Several Big Ten players who didn't hear their names called in New York during the weekend still received some good news about their football futures. As soon as the NFL draft concluded, the undrafted free agent scramble began.
Here's an initial list of Big Ten UFA signings. Every Big Ten squad except Indiana had a player signed through free agency. We'll be sure to post more as they become official.
ILLINOIS
IOWA
MICHIGAN
Brandon Herron, LB, Tampa Bay Buccaneers
MICHIGAN STATE
MINNESOTA
NEBRASKA
NORTHWESTERN
OHIO STATE
PENN STATE
Quinn Barham, OL, Detroit Lions
Derek Moye, WR, Miami Dolphins
D'Anton Lynn, CB, New York Jets
Andrew Szczerba, TE, Dallas Cowboys
Eric Latimore, DE, Minnesota Vikings
PURDUE
WISCONSIN
Several players seem to be in good situations, whether it's playing for their hometown team (Kinnie, Netter) or near a family member (Lynn, whose dad, Anthony, coaches running backs for the Jets). It's still shocking to see Brewster on this list rather than the draft one. I'm also surprised Moye, Wiggs, Linthicum and Dimke didn't get drafted.
Other Big Ten players have tryouts with NFL squads, such as Northwestern quarterback
Dan Persa
(Tampa Bay), Minnesota wide receiver Da'Jon McKnight (Minnesota Vikings), Indiana offensive lineman Chris McDonald (Miami, Green Bay) and Minnesota safety Kim Royston (Minnesota Vikings).
August, 17, 2011
8/17/11
2:00
PM ET
Illinois set team records for points scored (423) and points per game (32.5) in Paul Petrino's first season as offensive coordinator.
Here's the scary part: Petrino thinks the unit can be even better this fall.
Quarterback
Nathan Scheelhaase
is the biggest reason why, as he returns for his second year as the starter. Illinois boasts good depth at running back despite the departure of first-team All-Big Ten selection Mikel Leshoure, and the offensive line could be the team's strongest unit.
I checked in with Petrino after Wednesday's morning practice in Rantoul, Ill. Here are his thoughts:
How would you rate the unit a little more than halfway through camp?
Paul Petrino:
I'm very happy. We've definitely come out and shown improvement. Nathan has improved 100 percent, throwing the ball really well. Our O-line is playing well, excited about our backs and our receivers have gotten better. Overall, all the way around, we've really improved. We're a lot better offense right now than we were last year.
Are there examples with Nathan where you see him taking those steps?
PP:
No question. He's got such a quicker release. He's getting the ball out of his hand, he's got a lot stronger arm. Any phrase you can use about throwing the ball, he's doing better. And he understands the whole offense better. He gets us out of bad plays, gets us into good plays. Our quarterback has to do a lot at the line and in the running game, too, getting us to our best plays, and he's done a great job of that.
Can you do extend him in the passing game this year?
PP:
There's throws he's making right now I wouldn't have even called for him last year in games -- or in practice, for that matter. That's great. Just got to keep it up. We'll pass more. We're still going to run the ball to win. There's no question our strength is still going to be running the ball, but we'll pass the ball more. If we can be like the bowl game and the Purdue game, throw for about 220-240 yards and run the ball like we always do, that would be perfect.
What has stood out to you about the running backs?
PP:
Jason Ford
is being a punisher, running hard and really doing a good job. And those two freshmen are studs,
Donovonn Young
and
Josh Ferguson
, they're going to be great players. They're playing so good they keep Jason on his toes, but Jason's been running really hard, I've been really happy with him. And then
Troy Pollard
gives us a little different wrinkle. He has great vision and he's just a great kid and a leader. Those four guys are going to be good.
Did you have to challenge Jason a bit?
PP:
Yeah. The best thing that happened to Jason was those two freshmen. They both have great attitudes, they both work hard, they're always upbeat. Jason saw, 'Oooh, I better make sure I'm busting my tail every minute to keep my job.' And then when he does that, with his talent, he's a great player.
How would you describe the freshmen from a style standpoint?
PP:
Donovonn Young is just an aggressive, violent, downhill runner. Obviously not as good a player yet, but the kind of style like Adrian Peterson, just violent, downhill and hard. Josh Ferguson's just super fast. He can really cut, runs low to the ground and has great speed.
How many backs do you anticipate playing?
PP:
I would say all four. Ford being the main workhorse and then Donovonn and Josh a lot. Then Troy has different little things he does for us, too.
How does the depth situation look at wide receiver?
PP:
Darius Millines
has been playing great. He played a bunch for us last year as a freshmen, had a great catch in the bowl game, and he's had a great camp. He's probably had the best camp of all of them. There's three of them that all played as true freshmen: Darius Millines,
Ryan Lankford
and
Spencer Harris
. You've got A.J. [Jenkins] and those three, those are our four best players. It's a pretty good group. Ryan's been playing well, been real consistent, plays with great effort. But Darius has played the best of all of them. He has been real explosive, making all kinds of big plays for us.
How is the offensive line shaping up? You have quite a lot coming back.
PP:
Yeah, it should be our strength. We've got four starters back. Jeff Allen should be a great player for us. Hugh Thornton plays right next to him, and then Graham [Pocic] and Jack [Cornell]. Those four should be very good players. Then our [strong-side] tackle will be a freshman, Michael Heitz or Simon [Cvijanovic]. Michael is ahead right now.
How are things looking for the backup quarterback spot?
PP:
It's pretty neck and neck. They're two different styles.
Miles Osei
can really run and is good at our option stuff, and Reilley O'Toole has been throwing the crap out of the ball and doing a really good job for us.
How high are your expectations for this offense?
PP:
High, real high. We're always going to set our expectations high. We set the school record last year, and we're going to break it this year.
April, 19, 2011
4/19/11
3:15
PM ET
Aside from Wisconsin's record-setting unit, no Big Ten offense ended the 2010 season playing better than Illinois.
The Illini eclipsed 530 offensive yards three times in their final five games, averaging 492.4 yards during the stretch. Their main thrust came on the ground, as they racked up 1,644 rush yards and 19 rushing touchdowns in the final five contests. And while the pass attack was up and down throughout the year, quarterback
Nathan Scheelhaase
finished with his best performance in the Texas Bowl against Baylor, completing his first 13 pass attempts (a team record to start a game) en route to a 242-yard effort.
[+] Enlarge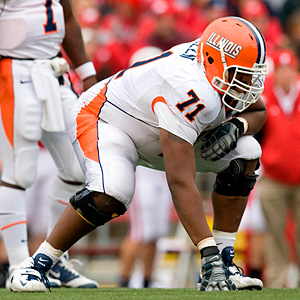 Jeff Hanisch/US PresswireSenior Jeff Allen is one of three veterans returning on Illinois' offensive line.
Expectations are justifiably higher for the Illini offense in 2011, and the Big Ten had better be ready.
"We've improved a lot," offensive coordinator Paul Petrino said. "Everybody understands [the system] better. It helps us play faster."
Although Illinois loses first-team All-Big Ten running back
Mikel Leshoure
and several other contributors, most returning players have the luxury of being in Petrino's system for a second season. The Illini had different offensive coordinators in 2008 (Mike Locksley), 2009 (Mike Schultz) and 2010 (Petrino).
The continuity has helped so far this spring.
"It means a lot," tackle Jeff Allen said. "I'm just blessed for [Petrino] to come back for his second year. That's a big benefit. This is my first time having the same offense [two years in a row], and instead of learning something new, I'm just able to play faster and have a better knowledge of the game."
Illinois brings back three full-time starters up front (Allen, center Graham Pocic and guard Hugh Thornton) as well as a part-time starter (guard Jack Cornell). Also returning are fullback
Jay Prosch
and tight end
Evan Wilson
, both of whom play major roles in run blocking.
Petrino's offense features an unbalanced line -- tackles and guards are on the strong side or weak side, rather than the right or the left -- and the approach has clicked with players.
"I love creating matchups," Allen said. "Being able to always go against the best player, the best defensive end on each team, it's great. It gives us the ability to do things that we wouldn't be able to if we had a normal formation. It shows the coaches have a lot of trust in me."
Asked if the line needs to be a team strength this fall, Petrino quickly replied, "It needs to be, no question."
Without Leshoure, Illinois will rely more on Scheelhaase. The redshirt sophomore is a dynamic athlete who will remain a big part of the run game -- "He might have to run more [in 2011]," Petrino said -- but must evolve as a passer.
Petrino is seeing promising signs as Scheelhaase goes through his second spring in the system.
"We really wanted to see him become more accurate, get a quicker release and just understand the whole offensive scheme better," Petrino said. "He's done all those things. ... A lot of times they say the game starts slowing down for you when you know what you're doing. When the game slows down, you get the ball out of your hands faster. He's just more comfortable.
"He believes in what he sees and he pulls the trigger."
Although the Illini must build more depth at both running back and receiver, two areas hampered by injuries this spring, Petrino has raised the ball for the unit.
"He expects greatness out of us," Allen said. "He wants us to be the best offense in the country. That's our goal: to be the best."
March, 28, 2011
3/28/11
3:30
PM ET
The spring superlatives series, which examines the strongest and weakest position groups for each Big Ten team, marches on with Illinois.
Strongest position: Offensive line


Top returnees: T Jeff Allen, C Graham Pocic, G Hugh Thornton, G Jack Cornell
Key losses: G Randall Hunt, T Ryan Palmer
The skinny: I loved the way this group performed in the second half of the 2010 season, repeatedly punishing opposing defenses with its unbalanced formations. Allen and Pocic both are All-Big Ten candidates and Thornton has 15 career starts under his belt. Losing both Hunt and Palmer hurts, but Illinois should have enough depth to fill the gaps as Cornell boasts starting experience and Corey Lewis, a projected starter before going down with injury, should be back for the season. The line also is entering its second season in coordinator Paul Petrino's system, which should pay dividends.
Weakest position: Wide receiver
Top returnees: A.J. Jenkins (56 catches, 746 yards, 7 TDs)
Key losses: Jarred Fayson (38 catches, 355 yards, 1 TD); RB Mikel Leshoure (17 catches, 196 yards, 3 TDs)
The skinny: Jenkins' return really helps, but Illinois has to develop a lot more depth at receiver in 2011. Leshoure, the team's top running back, finished third on the squad in receptions, and besides Jenkins, no returning wideout recorded more than seven receptions last fall. The run game figures to be good, but Leshoure's departure takes away some big-play explosiveness. Quarterback Nathan Scheelhaase showed in the Texas Bowl that he can be an efficient passer, but he needs more than one reliable target.