May, 10, 2013
5/10/13
9:00
AM ET
By
Adam Rittenberg, Brian Bennett
and
Matt Fortuna
| ESPN.com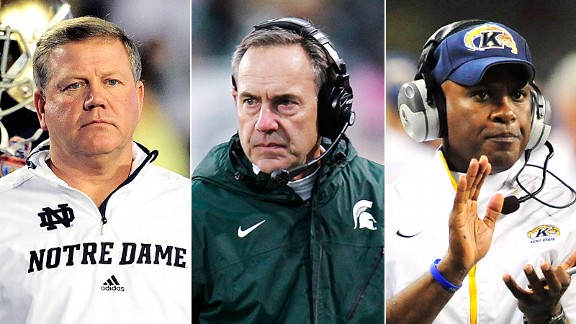 Getty ImagesThe Big Ten's nine-game conference slate and Notre Dame's ACC arrangement will make it tough for Brian Kelly's Irish to keep up rivalries with Mark Dantonio's Spartans and Darrell Hazell's Boilers.
After Notre Dame finalized its arrangement with the ACC last fall, it
decided to suspend its annual series against Michigan
. It begs the question: What will become of Notre Dame's other two Big Ten rivalries against Purdue and Michigan State?
All three schools have decisions to make. The Big Ten's move to a nine-game conference schedule beginning in 2016 makes it harder for Purdue and Michigan State to play Notre Dame annually in a home-road alternation. For example,
Michigan State's 2017 slate
includes a home game against Alabama, a road game against Notre Dame and five Big Ten road games, limiting the school to just six home dates, one below its stated minimum to meet the budget. Purdue also says it needs to play seven home games per season, and its
Notre Dame home-road schedule doesn't match up
with when it will play five Big Ten home games and five Big Ten road games. "We're off cycle," Purdue athletic director Morgan Burke told The (Lafayette) Journal and Courier.
Notre Dame has its own scheduling concerns with guaranteed ACC opponents every year and a desire to play a true national schedule.
Although Michigan-Notre Dame gained the most national attention in recent years, both Purdue and Michigan State have more historic rivalries with the Irish. Purdue and Notre Dame first met in 1896 have played every season since 1946. Michigan State and Notre Dame first met in 1897 and have played in all but two seasons since 1959.
What will happen to these two series? We gave our takes on the three teams.
Adam Rittenberg on Purdue

The buzz around much of the Big Ten is to cut ties with Notre Dame altogether. The Irish didn't want to be in the Big Ten. They got a deal from the ACC they'd NEVER get from the Big Ten. So why should Big Ten teams keep playing Notre Dame? While it seems easy to tell Notre Dame what it can do with
that Shillelagh
, it's not so simple for a program like Purdue. In fact, I think the Boilers should do whatever they can to keep the Irish on the annual schedule as often as possible.
Purdue fans might skewer me for this, but Purdue needs Notre Dame more than Notre Dame needs Purdue. Why? National attention. When Purdue plays Notre Dame, the Boilers get the national spotlight. When Notre Dame visits Ross-Ade Stadium,
ABC/ESPN immediately chooses the game
for prime time. When else does that happen for Purdue?
The Notre Dame game resonates for Purdue fans. It fills the stands at Ross-Ade Stadium, which has
looked like a ghost town
on fall Saturdays in recent years. When Purdue beats Notre Dame, people pay attention. Sure, Purdue can add some other strong non-league opponents. I liked the Oregon series from a few years back. But playing Notre Dame and beating Notre Dame has tremendous value for Purdue, its program and its recruiting efforts.
Burke says Purdue can't have six home games for budgetary reasons. Well, Michigan had six home games last year, so it can happen from time to time. I'm OK with Purdue taking a short break from Notre Dame here and there, but the Boilers would be foolish to completely cut ties with their in-state rival. This series is good for Purdue fans and good for the program. Purdue should fight to keep it going.
Brian Bennett on Michigan State

Much like with Purdue, there is a lot of history in the
Megaphone
series between Michigan State and Notre Dame. That includes 75 all-time meetings, the so-called Game of the Century in 1966 and, more recently, the Little Giants miracle of 2010. Only four years since 1949 have the two schools not played during the fall. It's a great series and one that should be kept if possible. Now here comes the but ...
... But the two schools are already scheduled to take two-year breaks after every four games between now and 2032, with the first two-year hiatus starting next season. So playing Notre Dame every single year is already a moot point. With the coming nine-game Big Ten conference schedule and the Spartans' agreements to play high-profile nonconference opponents like Oregon (2014 and '15) and Alabama (2016 and 2017), athletic director
Mark Hollis has some tough decisions to make
. Michigan State will face a very difficult road in the stacked East Division during Big Ten play as it stands. Does it make sense to play the Irish along with another strong program in the nonconference schedule? No, probably not.
The Spartans should try to work things out to where they can play Notre Dame in years when they don't have other marquee nonconference opponents while taking on those other high-profile teams during breaks with the Irish. Michigan State fans wouldn't really miss the Golden Domers that much when they're playing a team like Oregon or Alabama instead. The Spartans should strive to keep Notre Dame on the schedule frequently, but not so much that they handicap their own seasons in the process.
Matt Fortuna on Notre Dame

Much like a team in a conference, Notre Dame has eight annual games from 2014 on that will be set for the foreseeable future: USC, Stanford, Navy and five against ACC opponents. The Irish have already canceled their series with Michigan from 2015 on, leaving the status of the Michigan State and Purdue series up in the air.
Both of you make fair points: The Boilermakers, frankly, need Notre Dame more than Notre Dame needs them, and the Spartans already have quite the nonconference slate on-deck in the coming years.
Where does this leave the Irish?
Some will argue that the program gets whatever it wants, whenever it wants and, like Adam alluded to, should be left alone. But there is no denying that this program moves the needle, especially when playing Big Ten teams.
Every Notre Dame game at a Big Ten stadium since its Sept. 20, 2008, tilt at MSU has been in prime time, save for a 2009 game at Michigan ... which just began playing home night games in 2011, the only two of which were scheduled against Notre Dame.
But there is history to be saved in these series, and efforts from all sides should be made to keep these two, along with the Michigan one, going on a rotating basis. Notre Dame has played Purdue 84 times, which is the same number of times it has played rival USC (which it is keeping on the schedule for West Coast exposure) and only two fewer times than it has played Navy (which it is keeping for history).
Notre Dame's cancellation of its series with the Wolverines was a matter of necessity for the Irish, who needed to create as much scheduling flexibility as possible. The program's series with MSU already has scheduled two-year breaks for 2014-15, 2020-21 and 2026-27. And if the Purdue series does not match up with when the Boilers will play five Big Ten home games and five Big Ten road games, I'm sure smart men like Burke and Jack Swarbrick can get creative, though the onus should fall primarily on Burke.
The irony should not be lost: In keeping with a true national schedule and bringing its brand to different parts of the country, Notre Dame cannot abandon its Midwestern home.
May, 28, 2010
5/28/10
3:00
PM ET
Any Big Ten fans in Boston? I might see you this weekend.
Darnell from San Diego writes:
With NY/NJ earning the Superbowl bid in 2014, do you see it feasible to stage the big game or even a BCS game in the Big House? More seats mean more more money right?
Adam Rittenberg: You won't see the traditional bowl games move from their sites, as the college bowl experience is different than the Super Bowl experience. People plan their vacations around bowl trips. So unless the BCS wants to restructure things and have the championship game at a totally different site -- and run by a totally different staff -- you won't see it moved to a cold-weather city like Ann Arbor. Could it happen some day? Sure. The way sports are these days, people are thinking outside the box and willing to take risks. But I don't see a championship game being played north of Pasadena any time soon.
---
Adam from Miami writes:
Adam, seriously this is getting a little ridicules. Poll after poll Wisconsin is ranked higher than Iowa. Can you please give me the reasoning behind this, because I'm stumped. Wisconsin finished 16 in both the final polls, and ended the year beating a mediocre Miami (I know, I'm also a Cane). The Hawks finished 7 in both polls, and dismantled a conference champion in GT. The one question mark is our O-line, which we have a track record of reloading... Help me out here bro!
Adam Rittenberg: It comes down to returning starters and the fact that Iowa has a potential weakness along the offensive line, while Wisconsin doesn't have one position group that everyone is fretting about. I think a lot of these prognosticators look at returning starters and see Wisconsin bringing back its quarterback (Scott Tolzien), its Heisman Trophy candidate running back (John Clay), a great offensive line, its top wide receiver (Nick Toon) and some exciting young defenders (including 2009 Big Ten Freshman of the Year Chris Borland). Aside from maybe the secondary, Wisconsin doesn't have an area that gets you really worried. Iowa has a few more questions, not to say the Hawkeyes can't answer them. I have Iowa ranked ahead of Wisconsin in my power rankings, but I'm just giving you the rationale to flip-flop the two teams.
---
Jerry from New York City writes:
I just read your piece on recruiting and population shifts and the low number of rust belt players in the Rivals150. I was at a University of Wisconsin alumni event in New York during December where Barry Alvarez was the main speaker. He has a different take on recruiting.He explained that in states which have spring football such as Florida and Texas, the high school athletes are more developed and closer to their potential when they leave high school then are high school athletes from states without spring football. That accounts for their dominance in the Rivals150. According to Alvarez, those athletes from states without spring football have a lot more potential to develop while in college. That in his opinion is why teams such as Wisconsin and Iowa compete well against schools with more-heralded recruiting classes.
Adam Rittenberg: Spring football certainly makes a difference, but so does player development. And I tend to agree with Alvarez that the Big Ten is a superior conference in terms of player development. Just look at teams like Iowa, Wisconsin, Purdue and Northwestern in the last 15 years or so. They rarely finish high in the recruiting rankings but consistently put forth solid teams. Now the SEC and the Pac-10 have good coaches, too, but the quality of coaching in the Big Ten remains extremely high, because it has to be. Still, some of the things Ivan Maisel showed in his story have to make you concerned if you're a Big Ten fan.
---
James B. from Chicago writes:
Hey Adam,Thanks for some of the best blogging around. I have a problem that I was hoping that you can help me with.I recieved my Bachelor's from Northwestern in 2006, and I just finished medical school at University of Wisconsin. Now next month, I'll be starting residency in Ann Arbor at U Mich. Oh, and I grew up as a die-hard Ohio St fan. How can I keep my loyalties straight in all this mess? Any suggestions?
Adam Rittenberg: Wow, that is a problem, James. You could bill yourself as The Ultimate Big Ten Fan, but I don't know if people would appreciate that, given the rivalries in this league. In most cases, people stick with the team they grew up rooting for or the school they attended for undergrad. I don't know too many people who did both their undergrad and graduate work at schools with big-time football who have a stronger allegiance to their grad school team. Then again, my best friend is about to call himself a big Maryland basketball fan as he starts his Ph.D program in College Park this fall. I'd stay stick with Ohio State and/or Northwestern, but any more than that would be tricky.
---
Scott from Yakima, Wash., writes:
As a Spartan and Big Ten supporter way out west, I hope we, from all conferences and all teams across this nation, remember a great football player (of many) inducted into the HOF class of 2010; Pat Tillman. The man loved his country and embodied the best in man, and his essence cuts across all teams, conferences and sports. He is missed, but his sacrifice and dedication hopefully are not lost on us. Thank you, Pat.
Adam Rittenberg: Well said, Scott. Tillman will never be forgotten, and it was great to see him enter the College Football Hall of Fame.
---
Matthew from East Lansing, Mich., writes:
I know that the idea of ND to the Big 10 is fading, and that [Jack] Swarbrick said that they would only consider joining if there was a "seismic" change. The more and more times I read expansion articles though i begin to think that maybe it wont take the Big 10's doing to make that change. What I mean is that if we start this but dont touch the Big East there could still be a trickle down effect, ruining the Big East and ND's home to everything but football. This would probably leave them no choice but to crawl to us begging. Your thoughts?
Adam Rittenberg: Your scenario certainly could happen, but you're sort of banking on the SEC to poach teams from the ACC, and the ACC to once again look toward the Big East. Besides the Big Ten and ACC, I don't think many leagues will look to the Big East for potential expansion candidates. I think the Big East can survive if it loses one or two teams. Any more would create some problems. Then again, the Big East could end up as strictly a basketball conference and keep Notre Dame as a member. Would the Big Ten be willing to take a chance and leave the Big East alone, hoping to get Notre Dame on the back end? Perhaps. But Jim Delany is the type who wants to maintain as much control of a situation as possible.
---
John from Antarctica writes:
Hey Adam. I love the blog. Who do you think would win in a street fight between you and the other conference bloggers? My money is on you against any of them, except for maybe that guy who covers the SEC.
Adam Rittenberg: John, you'd end up a poor man. Then again, do you need money in Antarctica? I think I could take a few of them, but I'd definitely be the underdog in most matchups. Chris Low is a pretty tough hombre, but I think I'm faster than him. Imagine that: the Big Ten being faster than the SEC.

BIG TEN SCOREBOARD
Saturday, 12/27
Saturday, 12/20
Monday, 12/22
Tuesday, 12/23
Wednesday, 12/24
Friday, 12/26
Monday, 12/29
Tuesday, 12/30
Wednesday, 12/31
Thursday, 1/1
Friday, 1/2
Saturday, 1/3
Sunday, 1/4
Monday, 1/12
Tweets from https://twitter.com/ESPNCFB/lists/b1g