August, 29, 2013
8/29/13
10:55
PM ET
All offseason, we figured the Indiana offense had a chance to be explosively good, maybe one of the best in school history. Well, it didn't take long for the Hoosiers to start rewriting the record book.


By
blasting Indiana State 73-35 in the season opener
, Kevin Wilson's team scored its most points ever at home and the second-most ever by an IU squad, trailing only a 76-point performance in 1901. Thursday night's showing included 10 touchdowns, the final one coming by the third-string offense with more than 10 minutes left in the game. Wilson had his team take a knee late inside the Indiana State 10 rather than go for the all-time record.
(Here's where we issue the obvious caveat that Indiana State is a FCS team, and not a particularly strong one at that. It should have been a blowout. Still, Indiana had to hold off the Sycamores 24-17 last year, so the improvement is readily apparent.)
The quarterback question that hung over the Hoosiers during the summer was seemingly answered when
Tre Roberson
got the start. Playing for the first time since he broke his leg in Week 2 last year, Roberson threw two touchdown passes in his first seven attempts. But he came out in the first quarter after just four possessions in favor of
Nate Sudfeld
, and Roberson never returned. Sudfeld played the majority of the game, tossing touchdown passes on his first two attempts and finishing 12-of-17 for 219 yards and four touchdowns.
Cameron Coffman
also got in before the first half was over and played again late.
Is this Sudfeld's job now, or does Roberson keep starting? Tune in next week.
The bigger story, though, might have been the play of running back
Tevin Coleman
. Wilson had talked up Coleman during the preseason, and the sophomore showed why by running for 169 yards and two touchdowns on just 14 carries. He glides through the hole and looks like a potential future star.
Shane Wynn
also added three touchdowns, including a 58-yard punt return. But he had to leave the game when Indiana State's
Carlos Aviles
delivered a vicious, above-the-shoulder hit when Wynn was trying to field another punt. Aviles was ejected from the game as part of the new targeting rule; we'll have to wait and see on Wynn's health status.
Even with all the points, Wilson has plenty of ways to get his team's attention in the film room. His young defense played well for several drives after surrendering an early touchdown. But the Sycamores scored twice in the final 19 seconds of the first half, moving down the field for a touchdown pass and then scooping up a fumbled kickoff return by
Laray Smith
. Sudfeld was also picked off for a touchdown on the third play of the second half, cutting the score to 45-28. Offensive lineman
Jake Reed
also got ejected in the first half for throwing a punch in a boneheaded move.
Those are the kinds of errors Indiana simply can't afford to make when the competition gets much better, which will happen next week when Navy comes to Bloomington. This Hoosiers' offense can cover up a lot of problems, but it won't score with such breath-taking ease going forward. Still, as opening night showed, Indiana is going to be a fun team to watch this year.
August, 20, 2013
8/20/13
2:09
PM ET
Indiana is among the Big Ten's deepest teams at the offensive skill positions, but a young, talented offensive line returning four starters might have been the unit's biggest reason for optimism.

Make that three returning starters.
The Hoosiers' line has suffered a significant blow as right guard
Dan Feeney
will miss the entire 2013 season after suffering a right foot injury in last week's scrimmage. Head coach Kevin Wilson said Tuesday that Feeney has a Lisfranc fracture and will undergo surgery.
Feeney and tackle
Jason Spriggs
both set team freshman records in 2012 by starting all 12 games. Feeney, an honorable mention All-Big Ten selection, didn't allow a sack in 935 snaps and finished second on the team in knockdowns with 54.
Indiana still has good depth up front and likely will turn to sophomore
Jake Reed
to fill Feeney's spot. But Feeney and Spriggs had been pegged by many to lead the line this fall. Feeney's absence could sting.
The 6-4, 310-pound Feeney has a redshirt year available and will retain three years of eligibility.
July, 3, 2013
7/03/13
2:00
PM ET
Like most true freshman, Indiana offensive tackle
Jason Spriggs
entered his first preseason camp with measured expectations.
"I thought I was going to be redshirted," Spriggs told ESPN.com, "just like all the other freshmen."
It was a reasonable assumption, but one that in recent years often has proven incorrect at Indiana. The Hoosiers in 2011 played 32 freshmen (16 true, 16 redshirt), the most in the FBS. Last season, they played 11 true freshmen and five redshirt freshmen. IU had just eight seniors on its 2012 roster, tied for the fewest in the country.
Offensive line typically is the position group where freshmen are least likely to see the field. Most come to college lacking the physical development to stand their ground against Big Ten defense.
But Indiana's offensive line hasn't been immune from the youth movement. The Hoosiers play fast on offense, and their linemen grow up fast, too.
Spriggs started all 12 games last season, setting a team freshman record. But he didn't reach the milestone by himself: fellow true freshman
Dan Feeney
also started every game at right guard.
The Hoosiers opened the season with two true freshmen (Spriggs and Feeney) and two true sophomores (
Bernard Taylor
and
Peyton Eckert
) on their starting offensive line, flanking fifth-year senior center Will Matte. Both Taylor and Eckert had cracked the starting lineup in the third week of their freshman year in 2011. When Taylor went down with an injury midway through last season, he was replaced by a redshirt sophomore (
Collin Rahrig
) who had made eight starts as a redshirt freshman.
"Getting in the mix early on takes away a lot of the nervousness and the worry of thinking about what it's like," Spriggs said.
Indiana's line remains one of the Big Ten's youngest. But because of the fast-tracking, the Hoosiers are among the league's most experienced groups. They also could be one of the best.
"We're striving to be the No. 1 O-line in the Big Ten," Spriggs said. "And I think that's actually going to happen this year."
Indiana wasn't far off in 2012, despite its youth. The Hoosiers finished second in the Big Ten in total sacks allowed (17). When pass attempts were factored in, IU led the Big Ten, surrendering one sack every 31.8 pass attempts. Indiana led the league in passing by a wide margin, and the line recorded five games with no sacks allowed and two others with just one sack allowed.
Although Matte departs, Indiana brings back its other four starting linemen as well as two others with starting experience.
"We have everybody returning," Spriggs said, "and I feel like the trust is a lot better than last year. Last year, we had me and Feeney and the rest of the freshmen coming in, nobody really knew where we stood. During the season, I was still learning everything, flying by the seat of my pants.
"Now everybody's been in the same room for at least a year, so that's going to help out a lot."
Spriggs got his opportunity when projected starting tackle Charlie Chapman
sustained a concussion in camp
. Feeney simply outplayed the competition into a top spot at the end of camp.
The 6-foot-4, 305-pound Feeney didn't surrender a sack all season, while the 6-7, 280-pound Spriggs led Indiana with 80 knockdowns. Both earned honorable mention All-Big Ten honors and made several all-freshman teams, including
ESPN.com's
.
"It was pretty crazy, playing against people so big and knowing the Big Ten is known for having such big, talented linemen," Feeney said. "I definitely had to adjust to the size of people and the speed. But I felt like I transitioned well."
Taylor came to Indiana targeting a starting job early in his career. But he also was realistic about his development.
"When I got here, I felt like I wasn't ready," he said. "But when coach throws you in there, you're not going to say no. You've just got to step it up and do it. I was in the same boat as Jason. I ended up getting thrown in there.
"But we've all grown together because we're with each other every day."
The linemen are together on the practice field, in the weight room and even away from Memorial Stadium. Feeney lives with Eckert and center
Jake Reed
, Taylor lives with tackle
Ralston Evans
and Spriggs lives with center
Wes Rogers
and tackle
Jacob Bailey
. Spriggs and Feeney roomed together last year.
"When you're with somebody that long," Spriggs said, "working and striving to get better, you start trusting everybody."
Matte is the lone starter lost from an offense that finished second in the Big Ten in yards and put up 49 points against Ohio State, the most the Buckeyes had allowed since 1994. The Hoosiers boast three experienced quarterbacks as
Tre Roberson
returns to the mix, as well as arguably the Big Ten's top receiving corps.
IU's linemen prioritized the run game this spring, as the team finished 10th in the Big Ten in rush yards (1,570) and last in attempts (399). If the Hoosiers achieve better balance, stay a step ahead of defenses and more effectively translate all those yards into points, their goal of becoming the Big Ten's best line could come true.
"We talk about that all the time," Taylor said. "It's our No. 1 agenda."
July, 3, 2012
7/03/12
12:00
PM ET
July, 19, 2010
7/19/10
9:00
AM ET
Indiana coach Bill Lynch remembers eleventh-hour recruiting.
Until recent years, he found himself right in the thick of it.
For decades, Lynch anticipated his schedule in late January and early February to be consumed with finding high school players to fill the final few spots of a recruiting class. It was standard procedure during his tenure as Ball State's coach from 1995-2002. The down-to-the-wire scramble continued when Lynch arrived at Indiana in January 2005, and remained for several years as the program made another transition from Terry Hoeppener to Lynch.
"Shoot, man, we were looking for guys the weekend before signing day," Lynch recalled. "We were scrambling to fill a class."
[+] Enlarge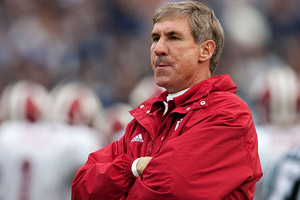 Maxwell KrugerBill Lynch has already collected 20 verbal commitments for the 2011 class.
Of the 24 players Indiana signed in 2005, 14 committed in January or early February and another didn't sign until after National Signing Day. Things improved for the 2006 class, but Indiana still got seven commitments after Jan. 1, plus a junior college addition in June.
Back then, the idea of wrapping up a recruiting class in July or August sounded laughable.
Fast-forward to last week, as Lynch talked about where Indiana stood for its 2011 recruiting haul.
"We're right at the end," he said.
The calendar read July 15.
Indiana has turned heads in Midwest recruiting circles by already collecting 20 verbal commitments for the 2011 class. The Hoosiers' total leads the Big Ten and ranks among the national leaders. Indiana has 17 more commits than Penn State and 14 more than archrival Purdue.
Although the class likely won't rank among the national leaders come February, Lynch and his staff have unquestionably upgraded their overall talent, landing decorated prospects like linebacker
Zack Shaw
, athlete
Raymon Taylor
, tight end
Jake Reed
and running back
D'Angelo Roberts
, who pledged last week.
"We've been fortunate to kind of jump ahead," Lynch said, "but throughout the process, we felt like there were kids we had targeted who we felt like we could get. We felt like we could get a good number."
June, 23, 2010
6/23/10
5:30
PM ET
It's no longer a coincidence.
Indiana's approach to recruiting can now be labeled a strategy, and it appears to be paying off.
Of the 25 players Indiana signed in February, 21 made verbal commitments before the 2009 season kicked off. Head coach Bill Lynch and his staff received six commitments last June and a whopping 11 commits last July. Tight end Paul Phillips was the only Hoosiers recruit to say yes after the calendar flipped to 2010. And Indiana's total doesn't even include players like Jibreel Black, a decorated defensive end who committed to IU in June before re-opening his recruitment and eventually landing at Michigan.
The Hoosiers once again have started extremely fast for 2011 recruiting, landing their 17th verbal commitment Tuesday from offensive lineman
Jalen Schlachter
, who had offers from Wisconsin and Missouri, among others. Indiana has surged past Ohio State (15 verbals) for the most in the conference. The Hoosiers have more commits than Wisconsin, Illinois, Iowa, Michigan and Penn State combined. They have 16 more verbals than the Nittany Lions (1).
Does a bunch of early verbals equate to a great recruiting class? No. But Indiana seems to be doing a job of not only targeting solid prospects, but ones who will say yes early in the process. The Hoosiers also have covered themselves if a few commits decide to sign elsewhere.
Colleague
Bill Kurelic
writes:
Other than Schlachter, Lynch's other big commitments include one of the top athletes in the state of Michigan in defensive back Raymon Taylor (Highland Park, Mich./Highland Park) who picked Indiana over Wisconsin and Illinois, linebacker Max Pirman (Orrville, Ohio/Orrville) who turned down offers from Nebraska and Kansas, as well as in-state prospects quarterback Tre Roberson (Indianapolis, Ind./Lawrence Central), defensive back Ken Mullen (Fort Wayne, Ind./Bishop Luers), tight end Jake Reed (Columbus, Ind./North) and defensive back Nick Stoner (Greenwood, Ind./Center Grove).

Lynch and the Indiana staff have a very solid base of commitments. They can now hone in on prospects to fill their remaining open spots and have plenty of time remaining to do so.
The (Bloomington) Herald-Times' Chris Korman
further explains Indiana's approach
(subscription required):
Five years into the post-Gerry DiNardo era -- and those years, of course, were not stable due to the illness and death of Terry Hoeppner -- this staff has established strong roots in the area around Detroit. It has mined Ohio heavily, and especially the smaller schools; several of IU's coaches played college ball in the state and most of them coached there. That they have an intimate knowledge of parts of the state that aren't tread upon regularly by other major programs has become quite apparent.
The final verdict on Indiana's recruiting class won't be known until February. But you have to like the aggressive approach and early scouting from a program that doesn't have the luxury to sit back and wait for prospects to come knocking on its door.