January, 15, 2014
Jan 15
1:00
PM ET

Before we close the book on the 2013 season, here's the final version of the Big Ten power rankings. Bowl performances were factored in, as well as how teams finished the season, although there aren't too many changes from the
previous version of the power rankings
.
Let's get started ...
1. Michigan State (13-1, previously: 1):
The Spartans rallied to beat Stanford in the Rose Bowl Game presented by VIZIO to record their team-record 13th victory. Thanks to stifling defense and improved quarterback play, Michigan State had its best season since the mid-1960s. The Spartans return QB
Connor Cook
and most of the skill players on offense, but must replace a lot of production on defense.
2. Ohio State (12-2, previously: 2):
After winning 24 consecutive games to open the Urban Meyer era, Ohio State dropped consecutive games on big stages. The Buckeyes' defense couldn't slow down Clemson's pass game in the Discover Orange Bowl, and turnovers doomed Ohio State in the second half. Meyer's defensive staff will have a different look with new assistants Chris Ash and Larry Johnson.
3. Wisconsin (9-4, previously: 3):
Like Ohio State, Wisconsin ended its season with a thud and a sloppy bowl performance against South Carolina. The Badgers received big performances from running backs
Melvin Gordon
and
James White
but couldn't stop South Carolina quarterback
Connor Shaw
or hang on to the football.
4. Nebraska (9-4, previously: 6):
All roads lead to 9-4 for Bo Pelini's team, but the Huskers are much happier to be there after an upset victory over Georgia in the Taxslayer.com Gator Bowl. An improved defense did a nice job of keeping the Bulldogs out of the end zone, and seniors such as wide receiver
Quincy Enunwa
stepped up in their final college game.
5. Iowa (8-5, previously: 4):
A stout Hawkeyes defense kept the team in the Outback Bowl, but the offense never truly got going and lost starting quarterback
Jake Rudock
to injury. Iowa had its chances for a quality bowl win, but has to settle for a strong regular-season improvement and raised expectations entering the 2014 season.
6. Penn State (7-5, previously: 7):
An impressive victory at Wisconsin marked the final game of the Bill O'Brien era. New coach
James Franklin
has brought a lot of enthusiasm to Happy Valley and should sparkle on the recruiting trail. His management of talented quarterback
Christian Hackenberg
and an undermanned defense will loom large this fall.
7. Minnesota (8-5, previously: 5):
The Gophers had by far the most favorable bowl matchup but didn't reach the end zone for more than three quarters against Syracuse. Although a special-teams play ultimately doomed Minnesota, the Gophers' inability to establish a better passing game was a key element in a very disappointing loss. Minnesota should expect more in 2014.
8. Michigan (7-6, previously: 8):
You knew it would be tough for Michigan in the Buffalo Wild Wings Bowl when quarterback
Devin Gardner
hobbled off of the plane on crutches. But the Wolverines never gave themselves a chance in the game, caving defensively against Kansas State's
Jake Waters
and
Tyler Lockett
. A blowout loss ended Michigan's highly disappointing season and marked the end for offensive coordinator Al Borges. Can coach Brady Hoke get things turned around in 2014?
9. Northwestern (5-7, previously: 9):
Northwestern is awaiting confirmation that running back
Venric Mark
can return for a fifth season, and should get it in the next few weeks. Mark will help an offense that never truly got on track last fall and might need to be more of a pass-first unit if
Trevor Siemian
remains the starting quarterback. The defense returns nine starters.
10. Indiana (5-7, previously: 10):
It took a little longer than expected, but coach
Kevin Wilson
fired defensive coordinator Doug Mallory last week as Indiana again will try to upgrade a perennially porous unit. The Hoosiers will be more experienced throughout the roster this fall, but the defense must change the script under new leadership as they enter the brutal East Division.
11. Illinois (4-8, previously: 11):
While Wilson made a change at defensive coordinator, coach Tim Beckman is sticking with Tim Banks and the rest of his staff for a pivotal 2014 season. Like Indiana, Illinois will be more experienced on defense but must replace
Nathan Scheelhaase
at quarterback. A favorable schedule gives Illinois a chance to make a bowl game.
12. Purdue (1-11, previously: 12):
No Big Ten team is more excited to start working this offseason than the Boilers, who are rebuilding through the quarterback spot with
Danny Etling
and early enrollee
David Blough
, who officially arrived this week. Purdue must improve along both lines and replace veteran defenders such as cornerback
Ricardo Allen
and tackle
Bruce Gaston Jr.
December, 30, 2013
12/30/13
10:00
AM ET
Generally, the end of a season brings some kind of closure to the coaches, players and fanbase. However, with Michigan's 31-14 loss in the Buffalo Wild Wings Bowl to Kansas State, it seems as though there are twice as many questions as answers about what Team 134 actually was.
Here's a closer look at those questions that will now become the identity of this team for the next eight months.
Does Shane Morris take over at QB next season?
[+] Enlarge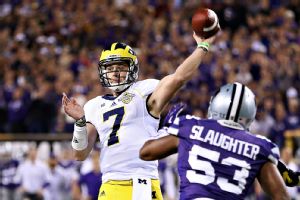 Christian Petersen/Getty ImagesShane Morris' performance was a glimmer of hope in a bleak Buffalo Wild Wings bowl performance for Michigan on Saturday.
He definitely surprised quite a few people with how composed he was through the game. Even more surprising was that he was most effective in the first half (15-of-19 passing for 121 yards), when most young quarterbacks would probably be finding their footing. Though he is the prototypical pocket passer, he still displayed his athleticism in the second half when he broke out for a 40-yard run. One more year of
Devin Gardner
at quarterback means one more year that Brady Hoke and Al Borges don't begin running the offense that they really want. And if he can use his game experience and grow during the offseason, he could be the best bet for the Wolverines come fall.
Does Morris' poise and Michigan's lack of playmakers means Gardner is a WR again?
The Wolverines are clearly in need of wide receivers next season.
Devin Funchess
(49 catches, 748 yards) and
Jake Butt
(20 catches, 235 yards) both return, but the only other receiver who tallied more than 10 catches this season that will be back is
Jehu Chesson
(15 catches, 221 yards). When Gardner played receiver last season he picked up 266 yards on 16 receptions. That kind of production could be huge in the receiver corps next season.
What was with Derrick Green's lack of touches during the Buffalo Wild Wings Bowl?
Green saw the field in the first half but didn't get a carry (his only carry) until the second half. After a season in which he carried the ball 82 times for 265 yards, he only accounted for five yards on one carry against Kansas State. The Wolverines' run game was nearly nonexistent, and yet they didn't even give Green the chance to turn it into something early on. Hoke said that the Wolverines needed to pass the ball more in the second half since they were down, but that doesn't explain that lack of Green -- who proved himself as the most talented running back this season -- during the first two quarters.
Did the defense do anything between Ohio State and Kansas State?
The Wolverines defense never picked up any momentum on defense and did nothing to aid an offense that -- all things considered -- looked at least decent. On the first three drives the Wildcats scored without much opposition from Michigan. Kansas State was 7 of 11 on third downs. The scouting report was relatively clear, and the Wolverines just didn't seem to execute. The first item on that report would've been:
Tyler Lockett
is the go-to receiver. Lockett accounted for three touchdowns on 10 receptions and 116 yards against Michigan.
Second, the defensive line needed to find a way to get pressure on
Jake Waters
and instead, Michigan only accounted for two sacks and four tackles for a loss. Those aren't exactly promising stats when the Wolverines really needed rattle Waters in order for the D to get off the field. Third, Michigan needed to play with fundamentals and technique -- their keywords this season-- against a team that they knew would be very well-coached and very disciplined. Instead, it gave up big plays on several occasions because it was out of position.
Why did the problems stay the same all season?
Obvious statement: Over the course of four months teams should improve. However, with Michigan the problems that cropped up in week one and two were the same ones that plagued Michigan on Saturday: the offensive line's inability to run block, the lack of a running back being able to create anything when the O-line did block, dropped passes, struggling to create a solid four-man rush, a secondary that is either out of position or in the right position but not able to finish on plays consistently. Why couldn't the Wolverines find answers to these consistently throughout the season? Why couldn't the coaches correct them? Why couldn't the players execute? This might be the most troublesome question of all.
December, 29, 2013
12/29/13
3:11
AM ET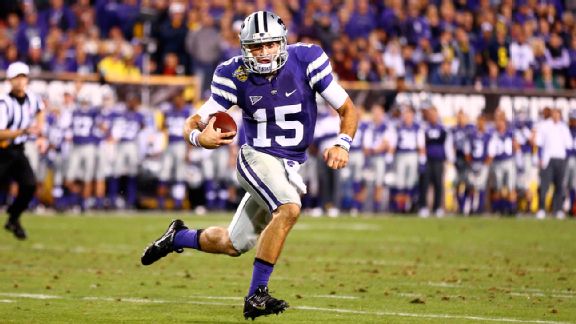 Mark J. Rebilas/USA TODAY SportsJake Waters threw three touchdown passes, but his timely rushes kept the Wildcats' offense moving.
TEMPE, Ariz. --
Jake Waters
was reticent. It was all so easy, but it didn't feel right to admit that. Still, the numbers told a story.


Waters was exceptional, leading a dominant offensive effort for Kansas State in a
31-14 win
over Michigan in the Buffalo Wild Wings Bowl. He threw three first-half touchdown passes Saturday night, all to
Tyler Lockett
. Michigan knew what was coming, yet the Wolverines were powerless to stop it.
Yes, Waters had to admit. It was easy.
"When you have a special player like Tyler, any time he's one-on-one, I'm looking for him," Waters said. "I have that confidence in him, because he's such a special player."
Michigan quarterback
Shane Morris
had a solid enough game, too. The freshman was making his first career start in place of injured
Devin Gardner
. He hadn't thrown a pass in a game since Nov. 2, but he was sharp. He completed 15 of 19 throws in the first half. He was cool, composed, confident. But unlike Waters, Morris got little help.
When the game was over and the Kansas State crowd cheered for head coach Bill Snyder as the Wildcats accepted the trophy for their first bowl victory in 11 years, Waters wasn't even on the stage. Lockett was the offensive MVP. The defense had dominated. Waters was a supporting player.
When Michigan slumped off the field, owner of a 7-6 record and loser of five of its final six, Morris was at the forefront. Amid a season gone awry, for a program adrift as it stares down a bleak offseason in which so many areas need to improve dramatically, he offered hope.
"Who knows who will be the quarterback next year?" Morris offered when asked about the future -- a 2014 season in which Gardner is slated to return but wholesale changes appear imminent.
All season, Waters split time with
Daniel Sams
in a two-quarterback system, but he improved, and so did the team. Kansas State rallied from a 2-4 start to finish as one of the nation's hottest teams.
[+] Enlarge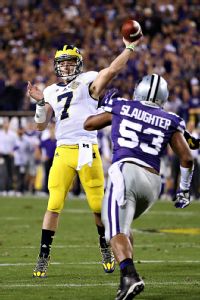 Christian Petersen/Getty ImagesShane Morris performed admirably in his first career start, giving Michigan hope for the future.
All season, Morris waited in the wings. A former ESPN150 recruit, he threw just nine passes behind Gardner, and Michigan devolved.
Saturday's meeting was a marker for where both programs now stand. Kansas State is poised for 2014, with Waters and Lockett speaking jubilantly about the future. Michigan is at a crossroads, with Morris a lone bright spot in a finale that included a disastrous defensive effort and another lackluster effort from the ground game.
And yet, in the aftermath, the praise for Waters was limited, offered largely as a side note to Lockett's impressive performance. But even Kansas State's players raved about Morris, who threw 38 passes and finished as Michigan's leading rusher.
"Shane held his own," Michigan receiver
Jeremy Gallon
said.
"You would've thought he was doing it five years now," lineman
Taylor Lewan
said.
Michigan coach Brady Hoke credited his quarterback, too, but found little consolation in the performance. His job now is to decide whether Morris in an answer to one of many problems.
On the other side, Snyder shrugged off his willingness to stick with Waters for the bulk of the game as simply riding the momentum of a hot hand. But it's Waters and Lockett and Snyder who have all the momentum now. As the page turns on the final chapter of 2013 and they look ahead to what's to come, there isn't simply hope and promise in Manhattan, Kan. There is expectation.
"Ending the season 6-1," Lockett said, "it gives us a lot more to look forward to going into next year."
For Michigan, the future might be the baby-faced quarterback who led the offense to just six points before Saturday's final two minutes, but even that remains a question still unresolved.
December, 29, 2013
12/29/13
1:30
AM ET
TEMPE, Ariz. -- Kansas State and Michigan finished the regular season headed in opposite directions, and that dichotomy was clear from the outset Saturday as the Wildcats cruised to a
31-14 win
in the Buffalo Wild Wings Bowl.


It was over when:
Shane Morris' third-down pass with 7:30 to play and Kansas State up by 18 fell incomplete, sending Michigan's punt team in for the fifth straight drive and effectively ending any chance at a comeback attempt. Michigan's offense was stuck in neutral throughout, and while Kansas State failed to cash in on several second-half opportunities to put the game away, there was never any real drama down the stretch.
Dante Barnett
's interception on Michigan's next drive ensured the final score was as one-sided as the play on the field had been throughout.
Game ball goes to:
Kansas State quarterback
Jake Waters
. The junior-college transfer was nearly flawless all night, completing 21 of 27 passes for 271 yards, three touchdowns and no interceptions.
Tyler Lockett
caught all three touchdowns and would have had a fourth if he didn't drop a perfectly thrown ball from
Daniel Sams
in the end zone. Waters was impressive with his arm, but he made his share of plays with his legs, too, racking up 42 rushing yards, including running for five first downs. Aside from the drop, Lockett was exceptional. He finished with 194 all-purpose yards -- his sixth game this season with more than 150 all-purpose yards.
Stat of the game:
22. That was Michigan's rushing total with 2 minutes left on the clock, a dreadful effort that effectively doomed any chance at moving the ball consistently. The ground game has struggled all season for the Wolverines, and Kansas State didn't seem to break a sweat shutting down Michigan's runners. A 14-yard run by
Devin Funchess
on a double reverse in the first quarter and a 40-yard scramble by Morris with less than 2 minutes to play provided the only highlights. The rest of the ground game amounted to just 11 yards on 13 carries, and Morris was forced to carry the load in his first career start.
Unsung hero:
Morris, a true freshman, stepped in for injured
Devin Gardner
, and he was solid. He wasn't asked to make too many tough passes -- particularly in the early going -- but he also got no support from the running game. Still, he completed 15 of 19 passes in the first half for 121 yards, converting a couple of big third downs and improvising when plays broke down. In the end, it didn't matter much, as Michigan simply couldn't overcome its many holes, and while Morris was calm, cool and consistent, the lack of support doomed his second half.
What Michigan learned:
It has a quarterback for the future, but there are plenty of other issues that need to be addressed. Morris was solid despite getting precious little help from his teammates, but even if he continues to develop over the offseason and unseats Gardner as the quarterback of the future, Michigan's prospects won't improve much if the defense and running game don't get much better. Kansas State ran with ease up the middle, had wide open receivers often and had little trouble completely silencing Michigan's ground game. It was a script far too familiar for the Wolverines in 2013, and Brady Hoke has his work cut out for him finding answers before the 2014 season begins.
What Kansas State learned:
There's no bowl jinx, and Bill Snyder can win games in December just as easily as he wins them in the fall. Kansas State hadn't won a bowl game since 2002, but the Wildcats dominated this one from the outset. The offense continues to evolve, and the defense completely shut down Michigan. After a slow start to the season, Kansas State finished as hot as anyone, winning six of its final seven games. More importantly, the pieces are in place for that success to continue into 2014.
To watch the trophy presentation of the Buffalo Wild Wings Bowl,
click here
.
December, 26, 2013
12/26/13
10:00
AM ET
Big Ten bowl season is right around the corner, as Minnesota and Michigan will be in action Friday night and Saturday night, respectively. It's time to make some predictions.
Brian won the regular-season predictions contest by one game and benefited with a free meal at Harry and Izzy's in Indianapolis. But Adam correctly pegged Michigan State to beat Ohio State in the Big Ten championship game. So the overall race is all square entering the postseason.
We'll have another set of predictions for the final five bowls featuring Big Ten teams next week.
Let's get started ...


TEXAS BOWL
Minnesota vs. Syracuse; 6 p.m. ET Friday; Houston
Brian Bennett's pick:
Simply put, the Gophers need to win this game against a mediocre Orange team that has already lost to Penn State and Northwestern this season. Syracuse's run defense is one of its strengths, so expect a physical and possibly at times ugly game. But Minnesota's offensive line was good enough to power the run game against most teams in the Big Ten and will do so again in this one.
David Cobb
will enjoy his second bowl trip to Texas a lot more than last year as he runs for 105 yards and two scores. Syracuse mounts a rally late, but a
Ra'Shede Hageman
sacks ends things in Houston.
... Minnesota 24, Syracuse 20

Adam Rittenberg's pick:
Of all the Big Ten bowl matchups, this is the most favorable. Although Syracuse has some decent wins (Maryland, Tulane, Boston College) and overcame a sour start to the season, the Orange have struggled offensively and will be without safety
Durell Eskridge
, their leading tackler, in the bowl. Minnesota's defense has been very consistent since the Michigan's loss and should keep Syracuse out of the end zone.
We saw significant improvement from Minnesota's offensive line before last year's Texas Bowl, as the Gophers eclipsed 200 rush yards against Texas Tech. I expect to see similar strides from quarterback
Philip Nelson
and the pass attack, as Minnesota gets young pass-catchers
Maxx Williams
,
Drew Wolitarsky
and
Donovahn Jones
involved early. Texas native Cobb records another 100 yards on the ground and Minnesota ends a solid season with a fairly comfortable bowl win.
... Minnesota 27, Syracuse 17


BUFFALO WILD WINGS BOWL

Michigan vs. Kansas State; 10:15 p.m. ET Saturday; Tempe, Ariz.
Rittenberg's pick:
Kansas State comes in as the hotter team after winning five of its final six games, although just one against a team with a winning record (Texas Tech). Michigan undoubtedly struggled down the stretch but turned in an encouraging performance on offense in The Game against Ohio State. The big factor here is the Wolverines' quarterback situation as starter
Devin Gardner
continues to battle turf toe on his left foot. Freshman
Shane Morris
has barely played this season, and though he has worked with the starting offense during bowl prep, the game is a bigger stage. Michigan gets a decent performance from its offensive line and run game, but it doesn't translate to enough points as Kansas State outlasts the Wolverines thanks to two touchdowns from
receiver/returner Tyler Lockett
... Kansas State 24, Michigan 20
Bennett's pick:
If Gardner were healthy, Michigan would be my pick. But seeing him exit the team plane on crutches and the likelihood that Morris makes his first career start means the Wolverines could seriously struggle on offense. Kansas State is in much better shape at quarterback with its tandem of
Jake Waters
and
Daniel Sams
. I expect Michigan's defense to play better than it did against Ohio State;
Taylor Lewan
should slow down Wildcats sack artist
Ryan Mueller
, and
Blake Countess
can help neutralize Lockett. But the Wolverines lost four of their last five for a reason, and with a unsteady quarterback situation, I can't pick them here.
... Kansas State 21, Michigan 17.

SEASON RECORDS
Bennett:
80-17
Rittenberg:
80-17
December, 13, 2012
12/13/12
12:15
PM ET
Penn State fans were disappointed today when junior college All-America quarterback
Jake Waters
announced
he had committed to Kansas State
.

The Nittany Lions were thought to be in the lead for Waters, and he said during his news conference that he was leaning toward Penn State the past few days. In the end, though, he said he went with his gut in picking Kansas State.
Waters threw 39 touchdowns against just three interceptions while leading Iowa Western to a junior college national title this season. His commitment would have been a nice coup for Bill O'Brien, who could have used Waters as a bridge to star incoming high school recruit
Christian Hackenberg
. Rising sophomore
Steven Bench
is the only scholarship quarterback on the roster right now.
Will losing Waters turn out to be a major blow for Penn State? Who knows? It was amusing to see Lions fans (and Kansas State fans, for that matter) get so worked up over a guy they probably had not even heard of until a few weeks ago. He might turn out to be a star, or he could be the next
Rob Bolden
or
Paul Jones
. Nobody knows for sure.
O'Brien probably still will want to add a quarterback in this class if at all possible, for depth if nothing else. But for now, Bench will enter the spring as the starter and will have a leg up on Hackenberg after learning O'Brien's system for one year.