March, 11, 2015
Mar 11
9:00
AM ET
The Big Ten men's basketball tournament begins today. Remember when one of these things didn't take five days to complete?
1. The defending national champions opened spring ball on Tuesday. While everybody was understandably
talking about the quarterback "battle"
on the first day -- it's not much of a battle right now, of course, with J.T. Barrett and Braxton Miller recovering from injuries -- that's more or less a sideshow.
Sure, it's going to be utterly fascinating to see whether Cardale Jones can hold off the previous starters for the job. In the long run, however, it won't matter if Jones, Barrett, Miller or even Stephen Collier or Stephen Colbert starts for the Buckeyes. Quarterback is really the least of Urban Meyer's concerns.
He doesn't actually have many on this loaded roster. Yet if there's anything that could hold back Ohio State from making a repeat trip to the College Football Playoff, it's the defensive line. That might sound funny, since we were singing the praises of that unit as a dominant one all last year. But the Buckeyes had very little depth on the line last year and lost senior All-America tackle Michael Bennett, as well as senior defensive end Steve Miller.
Incoming freshman defensive end Dre'Mont Jones, whom we'd tabbed as one of
five instant impact signees in the Big Ten
last month, may not be able to contribute at all this year
because of a recent knee injury
.
It's going to be extremely important that holdover players like Michael Hill, Tyquan Lewis, Donovan Munger and Jalyn Holmes make a difference to keep this defensive line playing at a high level. And it's telling that none of them made much of a dent on the team last year even though Meyer isn't afraid to play rookies.
"I'm very disappointed in the young defensive linemen we brought in here," Meyer said,
according to Cleveland.com
. "Not with what kind of people they are, just with performance."
Spring practice is just beginning in Columbus and the pads haven't even come on, so there's no good way to tell yet if some of those players have made improvement. But watching for that will be more critical to Ohio State's 2015 prospects than whatever happens with the quarterbacks.
2. Student attendance is an issue for several Big Ten schools and one Adam Rittenberg
addressed in the blog
a year ago. Recently, Iowa and Michigan lowered prices on their student season tickets in part to lure students back in.
The Cedar Rapids Gazette's Marc Morehouse has a look at
student ticket prices throughout the league
and how Iowa compares. After Michigan's reduction, Ohio State tops the conference at $272 for student season tickets, while Penn State is second at $218. Supply and demand appear to be at work here, as those two schools have the largest and most energetic student sections in the Big Ten.
Six other schools have remaining ticket packages that top $100 for the season. Maybe I'm old (check that: I am really old) but I don't remember having that kind of extra spending money lying around when I was a college student. Maybe we shouldn't criticize student for not turning out at some of these places but applaud the ones who make the effort and pay the expense to do so. Just a thought.
Around the league:
February, 3, 2015
Feb 3
9:00
AM ET
One more day until fax machines make their annual 24-hour return to prominence ...
1. While Big Ten teams look to stock the cupboard in recruiting, Rutgers scored a nice addition to its roster in a different way.
Former South Carolina linebacker Kaiwan Lewis decided to
transfer to the Scarlet Knights
, and as a graduate transfer, he will be eligible for the 2015 season. Lewis made 11 starts for the Gamecocks, and will be a candidate to replace Kevin Snyder at middle linebacker. Lewis also considered Nebraska, which has a big need at linebacker, but the Pleasantville, N.J., resident ultimately opted to end his career closer to home.
It's a good reminder that Rutgers' geography can help it climb the Big Ten ladder, as there are a ton of players in New Jersey. Lewis' transfer was also a bit of good news on a day when the team found out that linebacker recruit Sidney Gopre's
arrival will again be delayed
.
2. On Monday, I took a look at how the
2014 All-Big Ten team ranked as ESPN recruits
and found that the team was made up mostly of guys who were three-star and below prospects, along with a solid handful of four-star players. There were no five-star prospects on either the first or second team. Some readers pointed out, correctly, that the Big Ten simply doesn't sign a lot of five-star studs. Some of that is no doubt geography -- there are just more big-time recruits in the South -- and perhaps a bit of bias against those who do sign with league teams. Joey Bosa, for example, sure seemed to fit the profile of a five-star prospect out of Fort Lauderdale, Fla.
But it's also true that some bad luck and circumstances have plagued some of the five-star recruits who have come to the Big Ten since 2010. Take a look:
2010: Safety Demar Dorsey signed with Michigan, but Dorsey was denied admission to school and in fact never played a down above the junior college level.
2011: Nebraska landed five-star running back Aaron Green, and he rushed for 105 yards as a true freshmen before transferring to TCU. The Huskers enjoyed the career of a much less-heralded prospect in that same class: two-star recruit Ameer Abdullah.
2012: The Big Ten's lone five-star recruit that year was Noah Spence. He had eight sacks in 2013 to lead Ohio State, but was suspended for three games following the regular season after he tested positive for ecstasy. Spence reportedly failed another drug test last fall and was declared permanently ineligible for the Buckeyes; he has since transferred to Eastern Kentucky.
2013: Ohio State defensive back Eli Apple was the lone five-star Big Ten recruit. Apple surprisingly didn't make it onto the field in 2013, but started at cornerback as a redshirt freshman for the national champs.
2014: Michigan's Jabrill Peppers was the highest-rated recruit to enter the Big Ten, but he missed almost the entire season with an injury. He will move to safety this fall as a redshirt freshman. Ohio State's Raekwon McMillan was also a five-star guy, and he was a solid contributor as a true freshman who should likely start next season.
As you can see, things were a bit shaky with some of these blue-chippers in previous years, but the luck has been improving of late. Ohio State has two five-star prospects -- quarterback Torrance Gibson and linebacker Justin Hillard -- committed in this class, though Gibson has been looking around.
On to the signing day eve links:
East Division
West Division
September, 25, 2014
9/25/14
8:00
AM ET
With every team in action for just the second weekend this season, there's plenty to get to in the links this morning. Before diving into that, three thoughts on hot topics in the Big Ten as an important Saturday draws closer.
1. What's the secret?:
Chalk it up as gamesmanship or protecting the offensive plan, but there's really no reason for Brady Hoke to be trying to
hide his starting quarterback
at this point. For one thing, Minnesota coach Jerry Kill has already made it clear that he won't waste time preparing for a "ghost," which means he's already gearing his team up for
Devin Gardner
. Considering Gardner's multipurpose abilities, it would seem far easier for the Gophers to adjust to
Shane Morris
if the Wolverines elect to start him, so there doesn't seem to be much gained there. And from a Michigan standpoint, if Hoke is sticking by Gardner, wouldn't he be better served with a public vote of confidence from his coach instead of leaving open the debate about which option is really best to lead the attack? Hoke surely has enough to worry about at this point elsewhere, and he's never seemed all that concerned about public perception when it comes to his news conferences. But it's hard to think guarding a secret about his starting quarterback is worth the effort, and there's a chance it might actually be doing damage.
2. Sneaky-good game of the weekend:
Before the season started, it was easy to overlook the matchup. Even now with both teams bringing a loss into the weekend, it might still not stand out as worth watching. But Maryland visiting Indiana for the Big Ten opener for both promises to be entertaining, and it may also have the benefit of being a worthwhile win for the victor down the road. The Hoosiers put themselves back on track for a possible bowl bid with their win at Missouri last weekend, and the Terrapins have emerged as something of a dark horse threat in the East Division with their only loss coming in a shootout against a tough West Virginia squad. There's much more on the line than might have been guessed before the season when it just looked like the conference debut for Maryland, and it certainly will be worth watching on Saturday afternoon.
3. Buckeyes scrambling to replace Spence:
Ohio State already had to rely on
Steve Miller
to fill the void at defensive end left by
Noah Spence
's suspension before his second failed drug test, so it hasn't had to come up with a new solution since a second failed drug test made it unlikely they would ever get the All-Big Ten pass-rusher back on the field. But what would happen now if Miller goes down or the Buckeyes need to expand the rotation back to eight or nine guys up front as they originally planned? It's possible
Adolphus Washington
might again be forced to move back outside after seemingly finding a spot to settle once and for all on the interior, and Urban Meyer admitted there have been discussions about making that adjustment. But he indicated it won't happen this week, which could put freshmen
Tyquan Lewis
and
Jalyn Holmes
in line for action against Cincinnati. That definitely wasn't what Ohio State had in mind before the season when the line was touted as perhaps the nation's best unit, but that's now the reality of its situation.
East Division
West Division
June, 20, 2014
6/20/14
4:30
PM ET
I'm taking your questions for a third time this week, filling in the Friday time slot for the vacationing Rittenberg. I'll be gone myself next week, so this will be the last time I talk to you for a bit.
What do you got?

Doc from Scottsdale, Arizona, writes:
What is your best case scenario for the Big Ten brand next season in regards to the Playoff? Assuming just one team gets into the Playoff, does it matter which school is there "representing" for the BIG or should just having a presence in the game be considered a victory for the league?
Brian Bennett:
Best-case scenario, naturally, is winning a national title. Nothing enhances your brand quite like that. But the second part of your question is the important one, Doc. I think it's vital for the Big Ten to get a team into the Playoff this season. Conferences that don't take part in the four-team event will basically be irrelevant. I don't even think it matters if a Big Ten representative wins its semifinal as long as it is competitive (nightmare scenario: a blowout loss to the No. 2 SEC team in a semi.) Makes no difference which team from the league gets there, but the conference needs to make sure its champion is involved most years.
---

JR from Winchester, Virginia, writes:
What signs or trends from the first few nonconference games will you be looking for that will telegraph what kind of year Nebraska will have? (Turnovers? Ability to pass the ball? Defensive line play?) Thanks.
Brian Bennett:
You picked three good ones there, JR. Nebraska should have little to no trouble with its first two opponents, Florida Atlantic and McNeese State. Fresno State on the road in Week 3 could prove a bit dicier, but the Huskers should still win that game if they are a legitimate Big Ten contender. I want to see dominance, especially in the trenches and on that defensive line, in those first three games. I want to see
Tommy Armstrong
take care of the ball and show that he can make plays down the field. And mostly, I want to see Nebraska avoid some of the extreme mood swings and fluctuations we've witnessed in the past.
A great nonconference performance doesn't guarantee anything, because an injury or other adversity can strike any time. But it would be nice for the Huskers to avoid drama early on.
---

@TimShay17 via Twitter writes:
The Badgers' passing game is their biggest question mark this season. Which is more of a concern: QB race or the unknowns at WR?
Brian Bennett:
Good question, and I say it's the wide receivers.
Joel Stave
, at the very least, is a known quantity. The team won nine games with him as its starter last season, and an extra year of experience can only help him. If
Tanner McEvoy
beats out Stave, then it's because McEvoy is playing well in practice and offering an improvement. The receivers are still a giant question mark. It's anyone's guess who will lead this team in receiving this year after Wisconsin relied so heavily on
Jared Abbrederis
the past two seasons.
---

PurpleCatResurgence from Northbrook, Illinois, writes:
Look I get it, Northwestern was sub-.500 last year, and the team still has some holes to fill, but the Cats are getting NO love in the national publications. This is almost the same team that if they get what, 5-6 plays go their way, they are a 9- or maybe even a 10-win team. They have a tough schedule this season, no doubt, but how many wins do you see this team achieving? In your view, what has to break right for this team to play in Indy this fall? Love the blog- Go Cats!
Brian Bennett:
It is funny how quickly things can change. Northwestern was 4-0 and rising toward the top 15 heading into October last season. Then came the loss to Ohio State, the first of seven straight defeats, and now the Wildcats are basically off the national radar. Still, this is a team that won 10 games in 2012 and had been to five straight bowl games. As you said, Northwestern dealt with some serious bad luck in 2013, not only late in games but also with a ridiculous rash of injuries.
So Pat Fitzgerald's team could easily be one of the most improved in the Big Ten in 2014.
Venric Mark
is healthy again, and the offense has a solid identity behind
Trevor Siemian
. Plenty of talent returns on defense. The schedule is not easy, as the Wildcats drew Michigan and Penn State from the East Division and play at Notre Dame in November. On the other hand, the West does not appear to have any truly dominant teams. I definitely see the 'Cats getting back to a bowl. For them to truly contend for a division title, the offense needs to rediscover its explosiveness, and Fitzgerald will have to figure out how to get over the hump in some of those close games.
---

@mort_c15 via Twitter asks:
Urban Meyer has said repeatedly that this year's freshmen will play will for OSU and few will redshirt. How many will, in your opinion, RS?
Brian Bennett:
Meyer told me this spring, as he said often, that he made a mistake by not playing more true freshmen last season. He plans to avoid that in 2014. At the same time, he's not going to play freshmen just to play them. Barring injuries, it's safe to say that
Raekwon McMillan
,
Johnnie Dixon
,
Curtis Samuel
and
Jalyn Holmes
will play.
Erick Smith
could get a look at safety. Guys like
Marshon Lattimore
and
Malik Hooker
could force their way onto the field on special teams, at the very least. The more likely redshirt candidates are offensive linemen, like
Kyle Trout
and
Brady Taylor
, and quarterback
Stephen Collier
. Expect to see a lot of true freshmen on the field for the Buckeyes, but if a whole bunch of them are in key roles, that's probably not the best sign.
---
Dave from Columbus, Ohio, writes:
There seems to be more time travelers here predicting how their favorite team (who has never shown the ability to win out) is going to just absolutely BEAT everyone, go undefeated and win the national championship. Yet you restrain yourself from laughing at them. Is it ever hard to do so?
Brian Bennett:
I may have to hold back a chuckle or two. But that's the beauty of the preseason in college football (or any sport, really). Everybody's undefeated, and optimism abounds. Why punish that? The actual season will do that on its own.
May, 27, 2014
5/27/14
11:00
AM ET
Jamal Marcus
was staring at a great opportunity at Ohio State.
With defensive end
Noah Spence
suspended for the first two games of the 2014 season, Marcus was the favorite to start in Spence's place to begin the year. He had ably filled in for Spence in the Orange Bowl loss to Clemson, registering six tackles and looking like a key piece of the future.
But the junior is now a former Buckeye, as he is transferring. An Ohio State spokesman confirmed the move, which was reported by Eleven Warriors on Monday, saying it was a mutual decision.
Marcus didn't practice the last couple of weeks of spring because of what coach Urban Meyer termed an academic issue. Now, what should be one of the nation's best defensive lines and arguably
the top unit in the Big Ten
could be scrambling a bit in Weeks 1 and 2.
Senior
Steve Miller
and redshirt freshman
Tyquan Lewis
are the likely top candidates to start at defensive end, along with
Joey Bosa
. Ohio State will be thin at the position against Navy and Virginia Tech. Incoming recruits
Jalyn Holmes
,
Darius Slade
and
Dylan Thompson
might have to get ready early.
If the Buckeyes can weather the storm -- especially against Navy's cut blocks -- then they should be fine when Spence returns. But figuring out the defensive end rotation now becomes a major priority this summer.
May, 2, 2014
5/02/14
9:00
AM ET
Now that spring practice has played out in the Big Ten, we thought we'd try to identify the best overall position group on any team in the league.
Had we done this exercise last year, we might have chosen the Michigan State secondary, a.k.a., the "No-Fly Zone." Ohio State's offensive line would have ranked highly as well, along with Wisconsin's running backs, Iowa's linebackers and Indiana's receivers.
This season, there is once again some stiff competition. The Badgers' running backs are still impressive, with
Corey Clement
joining the cast in a bigger role with
Melvin Gordon
. Nebraska's backs are also strong, with
Ameer Abdullah
and
Imani Cross
. You could make a case for Michigan State's defensive line, even with two new starting tackles, simply because of the sheer talent of
Shilique Calhoun
and underappreciated senior
Marcus Rush
. Other units that could be very strong include Iowa's offensive line, Michigan's linebackers and Maryland's receivers, if healthy.
[+] Enlarge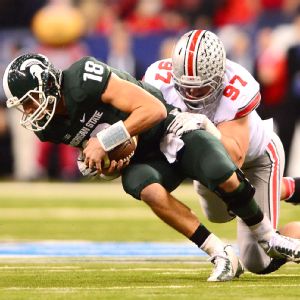 Andrew Weber/USA TODAY SportsDefensive end Joey Bosa made an instant impact as a freshman and helped transform Ohio State's defensive line into the Big Ten's most formidable unit.
But my vote for the Big Ten's best position group goes to Ohio State's defensive line.
It's not a crew that is swimming with All-Americans and award winners, though defensive end
Noah Spence
and defensive tackle
Michael Bennett
both made second-team All-Big Ten last season. Still, for sheer talent and depth, it's hard to beat the Buckeyes' defensive front four.
Start with
Joey Bosa
, who had an outstanding true freshman season with 7.5 sacks and 13.5 tackles for loss in 2013. He should be even better with a year of experience under his belt, and he's one of the top candidates for Big Ten defensive player-of-the-year honors as a sophomore. At the other end spot is Spence, who finished second in the Big Ten in sacks with eight last fall. The junior will have to serve two more games of his three-game suspension to start the season, but
Jamal Marcus
showed he can fill in adequately after he had six tackles in a strong Orange Bowl performance.
The Buckeyes aren't huge in the middle with Bennett and
Adolphus Washington
, who both are listed at 288 pounds. But both are very athletic. Bennett started his career at defensive end, and Washington looked like possibly the best player on the line last spring until he moved back and forth in the fall. The junior has finally found a home at tackle.
"I've picked up about 40 pounds since the end of my senior year of high school," he told ESPN.com. "The defensive end spot became so much harder for me to move and carry all that weight. But I've still got my speed in closer quarters with bigger guys who are much slower than me, so I've still got my advantage."
Washington said that "basically, it's all defensive ends on the field," when Ohio State starts its preferred four. That athleticism can do some major damage.
"We've got guys that can pass rush from any spot on the field, and that's dangerous," Bennett said. "Who are you going to double team? We all have the mindset that if you're single-blocked, you should get to the quarterback, and we all have the ability to do that."
New position coach Larry Johnson took over from Mike Vrabel this winter, and the former longtime Penn State assistant wants to rotate guys in much more than his predecessor did. The Buckeyes should have the luxury of depth, especially when Spence returns.
Tommy Schutt
and the 340-pound
Chris Carter
can help plug the middle, while
Steve Miller
,
Tracy Sprinkle
,
Michael Hill
,
Tyquan Lewis
and Purdue transfer
Rashad Frazier
should all contribute in some form.
Jalyn Holmes
and
Dylan Thompson
are 2014 signees who could add even more reinforcements.
Ohio State led the Big Ten in sacks last season and finished third in rush defense despite some soft spots at linebacker. The defensive line returns every player of significance from 2013 and has a lot of young players with room to improve.
"I didn't know we could grow as much as we have this spring," Bennett said.
That's a sobering thought for everyone else, and it's another reason why the Buckeyes' defensive line should be the best position group in the Big Ten.
October, 24, 2013
10/24/13
2:00
PM ET
From commitments to official visits to offers tendered, the Big Ten is never at a loss for headlines.
Here's a look at the latest from an always busy conference:
Bill O'Brien serving pancakes
Urban Meyer has been known as the master in flipping committed prospects in his time at Ohio State and rightfully so with more than a dozen pledged targets becoming Buckeyes. O'Brien is catching up after flipping
Jason Cabinda
(Flemington, N.J./Hunterdon Central) from Syracuse to Penn State on Wednesday.
Cabinda marks the sixth pledge to change stripes and join the Nittany Lions since O'Brien took over the reins in Happy Valley.
He's raided Maryland three times in landing running backs
Richy Anderson
and Johnathan Thomas as well as offensive guard
Tanner Hartman
. O'Brien has also plucked quarterback
Steven Bench
from Rice and landed defensive tackle
Parker Cothren
from Purdue.
Buckeye leafs
Ohio State's biggest target is headed to Columbus this weekend for the game against Penn State as the top-ranked linebacker in the nation regardless of position comes to town on an official visit in
Raekwon McMillan
(Hinesville, Ga./Liberty County).
McMillan isn't the only one slated to take an official visit as East Mississippi Community College teammates
Avery Gennesy
at offensive tackle and A.J. Stamps at safety are coming along. ESPN 300 wide receiver
Josh Malone
(Gallatin, Tenn./Station Camp) will be on an official visit, too as will commit and defensive end
Jalyn Holmes
(Norfolk, Va./Lake Taylor).
By the way, Gennesy and Stamps went to the same community college current Ohio State junior and 2013 signee
Corey Smith
went to.
ESPN Junior 300 standouts
Jauan Jennings
(Murfreesboro, Tenn./Blackman),
Lorenzo Nunez
(Kennesaw, Ga./Harrison),
Brandon Wimbush
(Jersey City/N.J./St. Peter's Prep),
Minkah Fitzpatrick
(Jersey City N.J./St. Peter's Prep),
Jacques Patrick
(Orlando, Fla./Timber Creek),
Anthony McKee
(Columbus/Walnut Ridge),
Shy Tuttle
(Lexington, N.C./North Davidson),
Larry Scott
(Hubbard, Ohio/Hubbard) and
Kelly Bryant
(Piedmont, S.C./Wren) have all said they are coming.
As always, the list is fluid and could change at any time. There are a good collection of commits coming to the game as well.
Lee getting close
ESPN 300 linebacker
Brandon Lee
(Indianapolis/Lawrence Central) cut his list down to Cal, Louisville, Missouri and Virginia Tech on Wednesday night. He will be announcing his decision on Nov. 8, and has already taken an official visit out to Cal and will be out to see Virginia Tech this weekend.
The No. 242 ranked prospect had Northwestern and Penn State in his top list, so those two schools are now obviously out of the running.
It's still a bit of a mystery as to where he will end up, since Lee has kept everything close to the vest. He is keeping everyone in suspense and taking it down to the wire right up to his announcement date.
London has a top five and a timeline
Running back
Madre London
(Ft. Lauderdale, Fla./St. Thomas Aquinas) is a highly coveted senior among Big Ten teams. With limited options remaining, plenty of teams are hoping to land the three-star back.
On Wednesday, London tweeted that his top five is Nebraska, Michigan State, Wisconsin, Illinois and Pitt and that he will be making his final decision in two weeks.
The Spartans might have the edge here, but it could go either way since he has taken a few visits recently to various programs.
At 6-foot-2, 202 pounds, he would be a great fit for most programs, so landing this Florida athlete will be a big deal for whichever program gets his commitment.
Michigan coaches on the road
October, 15, 2013
10/15/13
8:00
PM ET
Editor's note: For a look at the national recruiter power rankings based only on Class of 2014 success,
click here
.
Michigan and Ohio State both sit in the top 10 recruiting rankings this year after each landed top 10 classes in 2013 -- the Buckeyes were third, while the Wolverines were sixth.
That's why it should come as no surprise that the two schools have the top four recruiters in the Big Ten Conference for the Class of 2014 so far.
Here's a look at the top 10 recruiters in the Big Ten and why they deserve such high praise:
To continue reading this article you must be an Insider
July, 1, 2013
7/01/13
4:00
PM ET
Michigan retains the top spot in
RecruitingNation's latest class rankings

, but the Wolverines' archrival is making a nice move.
Ohio State rises three spots to No. 14 after adding four commitments in an eight-day span earlier this month, including ESPN 150 offensive tackle Jamarco Jones and ESPN 300 tight end/defensive end Jalyn Holmes. The Buckeyes are now up to 14 commits for the 2014 class.
Michigan also has 14 commits after adding linebacker Noah Furbush on Monday. The Wolverines continue to lead the nation with nine ESPN 150 prospects.
Penn State and Northwestern both drop one spot in the latest rankings, coming in at No. 19 and No. 22, respectively. Both teams are close to wrapping up their 2014 classes as Penn State is operating under scholarship restrictions and Northwestern, which already has 12 pledges, likely won't sign more than 17 players in February.
Another Big Ten notable is Rutgers, which checks in at No. 23 in the latest rankings, rising six spots. The Scarlet Knights, who join the Big Ten in 2014, picked up seven commits in the past two weeks and now have 20 on the board.
No other Big Ten programs appear in RecruitingNation's top 30, although teams like Michigan State, Nebraska, Iowa and Wisconsin can't be too far off.
June, 21, 2013
6/21/13
12:00
PM ET
Cardinals beat the Cubs. In other news, the sun came up this morning.
June, 20, 2013
6/20/13
12:00
PM ET