August, 6, 2014
Aug 6
4:00
PM ET
The Big Ten's starting to gain respect from bookmakers when it comes to the Heisman odds.
Bovada released an
updated version of its Heisman odds
earlier this week, and five Big Ten players now find themselves on the list. The conference currently has more odds-on candidates than the ACC (3) and Big 12 (2), but trails the SEC (8) and Pac-12 (8).
Before, only Ohio State quarterback
Braxton Miller
and Wisconsin running back
Melvin Gordon
made the cut. Now there are three new faces. Here are the odds:
Braxton Miller, QB, Ohio State
-- 15/2 (Was 4/1 before)
Melvin Gordon RB, Wisconsin
-- 16/1 (Was 16/1 before)
Ameer Abdullah, RB, Nebraska
-- 33/1
Connor Cook, QB, Michigan State
-- 40/1
Christian Hackenberg, QB, Penn State
– 50/1
Bovada lists Miller with the third-highest odds in the country to win the Heisman, behind Florida State's
Jameis Winston
and Oregon's
Marcus Mariota
. Gordon is also getting a lot of respect, as only one running back -- Georgia's
Todd Gurley
-- is ranked ahead of him.
As for the two new quarterbacks, Hackenberg and Cook are among 17 other signal-callers to make the cut.
August, 5, 2014
Aug 5
1:33
PM ET
By
Gil Bransford
| ESPN.com
Jonathan Daniel/Getty ImagesBraxton Miller could become Ohio State's all-time leader in wins.
The 2014 college football season has the potential to showcase one of the most talented groups of quarterbacks in recent memory. Jameis Winston, Marcus Mariota, Brett Hundley and Bryce Petty are all being talked about as potential first-round NFL draft picks, while Braxton Miller and Everett Golson have the chance to solidify their place in their respective school's storied histories.

In preparation for the 2014 season and in conjunction with interviews conducted by ESPN CFB analyst Kirk Herbstreit, ESPN Stats & Info will take a deeper look at the top QBs entering the fall. Today, we take a look at Ohio State quarterback Braxton Miller.
A look back at 2013
Braxton Miller had an outstanding junior season, becoming the first player in Big Ten history (since 1990 when the award was first given) to win the Offensive Player of the Year award in consecutive seasons. He was the only Power Five conference quarterback to throw for at least 2,000 yards and rush for 1,000 yards last year. If Miller can accomplish that feat again, he will join
Colin Kaepernick
and become the second FBS quarterback in the past 10 years to reach those thresholds in three seasons.
Miller has rushed for at least 100 yards in 14 games since the start of 2011, second most among FBS quarterbacks. He had five such games last season, which tied for fourth among FBS quarterbacks. Miller has always been a prolific rusher, but he's also improved as a passer every year at Ohio State. Miller's completion percentage, passing yards and touchdowns have increased every season.
He was more willing to operate from the pocket last year. He attempted 85 percent of his passes from the pocket, nearly 20 percentage points higher than in 2012. His 19 touchdown passes from inside the pocket were tied for the most in the Big Ten with Indiana's Nate Sudfeld and Penn State's Christian Hackenberg.
A look ahead to 2014
With another 11-win season, Miller will pass Art Schlichter for the most wins in school history (36). Assuming Miller stays healthy, he has a good chance of passing Schlichter.
According to the
ESPN Football Power Index
, Ohio State has the best chance (41 percent) of winning the Big Ten, nearly 20 percentage points better than Wisconsin, and is projected for between 10 and 11 wins heading into bowl season. The Buckeyes have won 24 consecutive regular-season games, four shy of tying the Big Ten conference record.
The Buckeyes have big shoes to fill. They must replace six of 11 starters on offense, including league-leading rusher Carlos Hyde and four starters from an offensive line that combined for 135 starts.
Miller might have to shoulder more of the load. In the past, he has stepped up when his team needed him. Miller enters 2014 with six career game-winning drives in the fourth quarter or overtime, including three last season. The six career game-winning drives are the most among returning FBS quarterbacks and five more than any other returning quarterback in the Big Ten.
One area in which Miller needs to get better is on third down. He ranked in the bottom third of the FBS in Total QBR (47.1) and completion percentage (50.9) on third down. Only Michigan's Devin Gardner and Purdue's Danny Etling were sacked more on third down than Miller (12) among Big Ten quarterbacks. Only two of the past 10 national championship quarterbacks have had a third-down QBR less than 70 in the season they won the title.
August, 4, 2014
Aug 4
3:30
PM ET
Online sportsbook Bovada
updated its Big Ten title odds
last week, making Ohio State even more of a favorite (10-to-11) while placing Purdue as a 300-to-1 long shot.
We decided to check in with Bovada sportsbook manager Kevin Bradley about those new odds and about B1G betting in general. Here's what he had to say:
What were some of the bigger jumps, or key changes, in the updated list of the Big Ten odds?
[+] Enlarge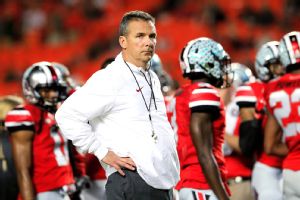 Chris Trotman/Getty ImagesUrban Meyer and the Buckeyes are the odds-on favorites to win the Big Ten.
Kevin Bradley:
There's really nothing that stood out as a huge move in that conference. Ohio State remains the favorite at 10-to-11; actually, they moved a little bit. They've taken the most money out of every team, followed by the next two favorites -- Michigan State and Wisconsin. So I think our odds were pretty on for this conference, particularly.
The only team that sort of dropped a little bit was Northwestern. We had them at 75-to-1 at one point; now they're at 40-to-1. They've actually taken a little bit of money. They're a long shot, but there are people that like betting on those big long shots. You never know what's going to happen.
How much does the B1G take in compared to conferences like the SEC?
KB:
I'd say it's pretty significant, but the SEC still remains our biggest conference by far -- even when it comes to betting on the national championship, or even if you look at game lines from week to week or win totals that we have up. It always seems like the SEC still kind of reigns over everybody else.
In your updated odds, Purdue is listed at 300-to-1 while newcomer Rutgers -- which has a pretty difficult schedule -- is 200-to-1. That's a big difference. Where do you come up with odds like those?
KB:
A lot of times when we're doing these odds, we're ranking the teams just like anyone else who ranks college football teams. And we're sort of looking at what the chances are for each team to win the conference. And if we're going to have an odds-on favorite like Ohio State at minus money, the need is to balance out the odds to make them fairer to people. So, in order to do that, we'll have some teams with super high odds like Purdue. If you look at all of conferences, we'll have some teams as high as 500-to-1 to win a particular conference. It's basically looking at their schedule, looking down the road, looking at their win total, looking at some of their projected lines, that means -- realistically -- they have no chance.
In the Big Ten there are very few bets, very little money, on the huge long shots. People in the conference are sticking with the favorites -- Ohio State, Michigan State, Wisconsin, a little bit of Nebraska. But there's not too much money on the big long shots.
One team missing from your odds is Penn State, which is currently banned from the postseason. There is some talk the ban could be lifted next month, so was there any discussion about leaving the Lions in and factoring in those odds? And where would Penn State be here if it was eligible for the postseason?
KB:
They'd probably be in the middle of the pack. But in those types of situations -- and obviously the NCAA, whether it's basketball or football, causes a lot of problems a lot of times with suspensions and weird rulings and that sort of stuff. Like [Jameis] Winston, when we were doing Heisman odds when he had all those charges against him, we had put him up and down because we didn't know if people would vote for him. And the [Johnny] Manziel suspension, who knew if they were only going to suspend him for half of a game? You can imagine our struggles keeping up with all that stuff because it's so shady in my opinion because you never know what they're going to do.
So we're always monitoring it but, if Penn State's eligible, we'll add them in. And a good example was I was talking to one of my guys who's keeping an eye on baseball futures, and I told them to close them down until the trade deadline was over -- because every time there was a rumor about anyone, the odds fluctuated so much. It's just safer to keep them down. So, the same thing happens in college football.
Speaking of Penn State, head coach James Franklin doesn't discuss or divulge injuries at all. How hard does that make your job, and how will that affect the lines and everything this season?
KB:
It's a complete pain in the ass, especially in college sports because there's so many teams to keep up with. So, when people are hiding injuries or you don't know the status of players, we post lines a lot later and we have to be careful with our win totals and our future odds, our conference odds, because of those things. It's sort of like the NFL; a good comparison is Bill Belichick and the Patriots. We go through injury reports daily because the NFL is so big that we're super on top of that. And every guy on his team is questionable every week, and I hate it. Every week when I look at it, I scream.
So, yeah, that definitely makes our job harder. And you can just imagine once November rolls around when every sport is in full swing, keeping up with all these reports and rumors. No doubt we're on top of that as much as we can be. But there are times where we'll miss it for a couple minutes when some guys will pick off some lines or future odds -- and those things get me even more mad. But that's the name of the game.
May, 22, 2014
May 22
10:30
AM ET
The last time Ohio State's
Braxton Miller
and Michigan's
Devin Gardner
shared a field, the two quarterbacks combined for 10 touchdowns and 747 yards of offense in a
wildly entertaining shootout
at Michigan Stadium.
It proved to be the end of Gardner's season, as a foot injury sidelined him for the Buffalo Wild Wings Bowl and the first part of spring practice in March. Miller went on to suffer his first two losses under coach Urban Meyer. He injured his throwing shoulder in the Orange Bowl and
underwent surgery in Feb. 21
, limiting his throwing in spring practice.
[+] Enlarge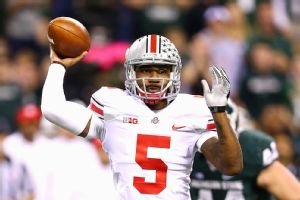 Andy Lyons/Getty ImagesShoulder surgery limited Ohio State's Braxton Miller, but the two-time Big Ten offensive player of the year is still finding ways to improve.
Both quarterbacks have delivered record performances for their teams. Miller owns back-to-back Big Ten offensive player of the year awards and could become the league's first three-time winner this fall. Gardner has been a quarterback of extremes --
prodigiously productive
in some games,
bafflingly bad
in others.
The final chapter for both players arrives this fall. Before that lies a pivotal summer.
Miller's first priority is to return to full strength. But some of his most important work in the coming months will be in the film room.
"In the digital age we live in, video is so easy to come by, so he can study whoever he wants," Ohio State offensive coordinator Tom Herman told ESPN.com. "Preferably, let's study us first and figure out the ins and outs of our offense. And then when you have extra time or want to take a break from that, let's study some defenses that we'll face this season. And beyond that, the next in the pecking order is why don't you study some other offenses, study some other quarterbacks."
Two quarterbacks Herman wants Miller to study likely will compete with him for national honors in 2014: Florida State's
Jameis Winston
, the reigning Heisman Trophy winner and national champion, and Oregon's
Marcus Mariota
, who might be the best pro quarterback prospect in the college ranks this season.
"What are those guys doing really well?" Herman said. "Is there anything you can glean from watching them on the field that might help your game?"
Herman had a similar plan for Miller last summer, encouraging him to watch Clemson's
Tajh Boyd
-- "That kid was a really good player," Herman said.
[+] Enlarge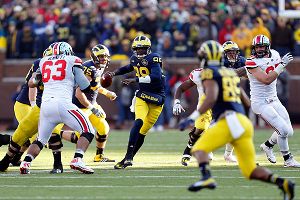 Gregory Shamus/Getty ImagesMichigan QB Devin Gardner, coming off a foot injury, struggled in the spring, but still looks on track to start the season opener.
Gardner went through most of the spring at less than 100 percent and struggled in the spring game, completing just 2 of 10 passes with an interception. He's still learning the offense under new coordinator Doug Nussmeier, and head coach Brady Hoke praised his consistency for much of the session.
But Hoke still discusses Michigan's quarterback situation by mentioning two names -- Gardner and sophomore
Shane Morris
. Many
question
whether Michigan's quarterback competition is
real or imagined
. Gardner has 16 starts at quarterback, while Morris has just one (the bowl game).
But unlike Miller, Gardner has to confirm himself as the top option when preseason camp begins in August.
"He has an advantage," Hoke told ESPN.com. "I wouldn't make that mistake. Because of the experience, playing a lot of snaps, being in a lot of big games. But at the same time, Shane, how he handled himself in the bowl game, how he was composed and how he approached the game, is encouraging."
Hoke wants both quarterbacks to not only retain what they learned in the spring but grow as leaders this summer.
"The message is we can't accept the players how they are right now," Hoke said.
The same applies to Miller, as good as he has been at times the past two seasons. His approach to rehab and film study will determine whether he -- and potentially Ohio State -- takes the next step in 2014.
"He's on fire right now, doing a great job with it from what I understand," Herman said. "The things that he is now able to talk to me about on the phone when I'm out on the road recruiting or when I see him in the building, you can tell he's poured himself into it, which is good."
December, 7, 2013
12/07/13
11:00
AM ET
INDIANAPOLIS -- Ohio State quarterback
Braxton Miller
began the season as a top Heisman Trophy candidate. He could end it the same way.
[+] Enlarge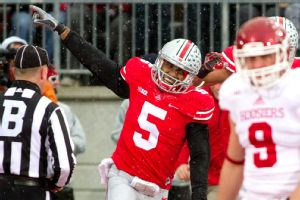 Jason Mowry/Icon SMIBraxton Miller probably can't win the Heisman Trophy, but he can earn an invitation to New York if he has a big game against Michigan State.
Miller likely can't win the Heisman on Saturday night against Michigan State in the Big Ten championship -- Florida State's
Jameis Winston
appears to be a lock -- but he could earn an invitation to New York for the trophy presentation. Who will join Winston in the Big Apple? Candidates such as Alabama's
AJ McCarron
, Fresno State's
Derek Carr
and Northern Illinois'
Jordan Lynch
all have had their teams lose critical games in recent days.
Miller hasn't lost a game in two seasons, and he collected his second consecutive Big Ten Offensive Player of the Year award on Tuesday. Although a knee injury and some shaky play took him off of the Heisman radar in September, Miller has been brilliant for most of Big Ten play, leading the league with 295 yards of offense per game. He has four runs of 40 yards or longer and has completed 65.7 percent of his passes, ahead of Troy Smith's team record of 65.3 percent set during his Heisman Trophy-winning season in 2006.
Although Ohio State always garners some of the spotlight, the Buckeyes haven't played an opponent this good, or been on a stage this big. If Miller performs well, he will get noticed.
"He'll be as prepared as he's ever been," Buckeyes coach Urban Meyer said this week. "He's been in some big stages, maybe not a championship game or a BCS bowl game yet. I just would anticipate he'll handle it great because usually the brighter the lights, the better he plays."
Michigan State's top-ranked defense will do what it can to subdue Miller and prevent him from having a Heisman moment at Lucas Oil Stadium. But the Spartans are wary of how dangerous Miller can be.
"I see a magician, a guy with a sixth sense, a guy that can take a bad play and make it a very good play, a guy that can create," Michigan State coach Mark Dantonio said. "You can know what Ohio State is doing, be right on top of it, do what you do to stop it that particular time, but he can create and make it a good play."
Someone needs to sit alongside Winston in Times Square. Miller's opportunity to do so comes Saturday night.
November, 22, 2013
11/22/13
10:00
AM ET
Because knowledge is power!
Ohio State coach Urban Meyer has praised Braxton Miller for being a complete quarterback this season, and the numbers certainly bear that out. He's attempting 84 percent of his passes inside the pocket -- an increase of 18 percentage points compared to last season -- and he's completing 71.3 percent of those passes, which is the best in the Big Ten.

Both Indiana and Ohio State are tied for second in the FBS with 18 touchdowns on drives lasting 1 minute or less. But the Hoosiers haven't been able to piece together sustained drives. The Buckeyes have eight touchdown drives lasting five minutes or longer. Indiana? Zero.

Michigan State's defense is arguably the best in the nation. And here are some numbers to chew on that might just back that up: The Spartans have allowed 13 runs of 10 yards or longer, which is seven fewer than any other FBS team. They lead the BCS with 122 total pressures (hurries, knockdowns, sacks). And they've allowed a BCS conference-low 29.1 yards-before-contact per game on designed runs.

[+] Enlarge

AP Photo/Al GoldisConnor Cook is among the best in the country on third down.

Just how good has MSU quarterback Connor Cook been in the clutch? On third downs, he's statistically the best quarterback in the conference. In Big Ten games, he has a QBR of 93.2 on third downs. He's converting 49 percent of those downs, completing 64.7 percent of his passes and averaging nine yards every pass attempt.

Northwestern's penchant for snatching defeat from the jaws of victory has been pretty well documented this season, and no other team has really experienced as much heartbreak. The Wildcats have an FBS-high six losses when it has a lead in the fourth quarter in the last two seasons. And they've lost four games this year when tied or leading in the fourth quarter, which is tied for the most such losses in the country along with Temple, South Alabama and Utah.

In some respects, Wisconsin's rushing attack has been the most dominant in the nation. The Badgers average 4.3 yards per rush before first contact, the most in the BCS. It's averaging a BCS-best 9.4 yards per rush outside the tackles. And it leads the nation in rushes of 30 yards or longer (20) and 50 yards or longer (9).

Minnesota quarterback Philip Nelson obviously has made some long strides since the beginning of the season, but he's really been on top during Minnesota's four-game winning streak. His 90.5 opponent-adjusted QBR ranks second-best in the FBS since Week 8, behind only Florida State's Jameis Winston (94.3). (He's a full point above Texas A&M's Johnny Manziel.)

Nebraska has shown, again and again, its ability to win the close games. As a matter of fact, Nebraska has won seven games in a row that were decided by seven or fewer points. That's the second-longest streak in the country, behind only Arkansas State's eight wins. And the Cornhuskers also have won six Big Ten games in the past two seasons after trailing in the fourth quarter.

Iowa's defense doesn't get as much credit as the Spartans, but it's still a top-10 unit -- and it's especially good in the red zone. The Hawkeyes have allowed just nine red-zone touchdowns, which is tied for the lowest total in the nation. And they haven't allowed a first-quarter touchdown since Week 1.

Illinois sophomore tailback Josh Ferguson is quite the balanced player. He leads the Illini in rushing yards (554), but he's also a big part of the passing game. He has 498 receiving yards on 43 receptions, which puts him at second in the nation in terms of receiving yards by a running back. And he needs just six yards to break Kameno Bell's single-season school record for receiving yards by a running back.
November, 5, 2013
11/05/13
9:00
AM ET
COLUMBUS, Ohio -- The Heisman Trophy campaign was effectively over before it could even really start.
With the starter and a preseason awards favorite on the sideline, the backup made his own push for some hardware and was seemingly well on his way to making a case as the next-best quarterback in the Big Ten when given the stage.
Like Braxton Miller's bid for the biggest prize in college football, Kenny Guiton's run for individual glory was short-lived as well when the centerpiece of Ohio State's spread offense returned from a nearly three-week absence due to a knee sprain. But imagine voting committees having the option to put them together, and there might not be a bronze statue safe from the one-two punch the Buckeyes have unleashed this season.
Certainly the contributions of both have been integral in the 21-game unbeaten streak Ohio State has put together, and the two friends have gone out of their way to praise each other and stress that team goals come first. And while Guiton's recent cameos in the same formation as Miller and increased playing time in blowouts may have improved his chances of sneaking onto an All-Big Ten team in some capacity, if it were possible to put the production of the two together, a combined resume with nearly 2,800 yards of offense and 36 touchdowns would stack up with just about any quarterback in the country.
"We've not seen all the teams yet," Buckeyes coach Urban Meyer said. "But I've got the two that I like.
"I have a lot of respect for the other quarterbacks in the league, but if we're drafting, I've got the two that I like."
Meyer would almost certainly need two pretty high picks if he was going to keep his tandem together in a hypothetical Big Ten draft, with Guiton again receiving some chances to show how valuable he is to the Buckeyes and how useful he might have been to a large handful of teams around the league as a full-time option.
After more than a year of kicking around the idea, Ohio State has also finally found a way to put Guiton and Miller on the field at the same time, with the former taking the snap and the latter lining up as a receiver. That package has already produced a pair of touchdowns in the last two games, with Guiton scoring on a designed rush against Penn State and then throwing a jump pass for a score in the blowout last weekend of Purdue.
But with Miller sitting out the entire second half of the laugher against the Boilermakers, Guiton also had a chance to pad his stats outside of the red zone, rushing for 98 yards, throwing for 59 more and picking up right where he left off during his unforgettable September. Both the absence due to injury and the recent lopsided scores have impacted Miller's personal numbers, leaving him on the outside of the Heisman conversation despite clearly playing the best football of his career.
But assuming Miller would have been able to match the statistics Guiton has put up when he was on the sideline, imagine an awards contender who has completed more than 71 percent of his passes for 2,065 yards with 29 touchdowns and just 5 interceptions, rushed for 717 yards and 7 more scores and also guided a team to a perfect record and a No. 4 ranking.
Those stats would match up quite well with current Heisman front-runners
Johnny Manziel
of Texas A&M, Oregon's
Marcus Mariota
and Florida State's
Jameis Winston
, even if they don't really mean much and there's no such thing as splitting an individual honor like the Heisman among two players at the same position. But they can at least offer another reminder of just how prolific the Buckeyes have been at quarterback, regardless of which one is actually on the field.
"I haven't watched enough of the other [Big Ten] guys, so it would be too hard for me to say," offensive coordinator Tom Herman said. "I like our No. 1 guy, and I'd put our No. 2 guy up against anybody.
"Now, whether he's better than them or not, I'm sure there are other guys that may do certain things better than him, but when it comes to managing the game and being a leader and all that, you'd have to do a lot of convincing, a lot of lobbying for me to say there's a better one out there in this conference."
Put the two together, though, and that lobbying might have to go to the national level.