August, 20, 2010
8/20/10
9:00
AM ET
Who will be Ohio State's No. 3 wide receiver this season?
The question has been asked for months, even before Duron Carter's departure from the school in mid June. Ohio State boasts two proven receivers in
DeVier Posey
and
Dane Sanzenbacher
, but the team has no other returning wideouts who caught a pass in 2009.
Interested parties wondered if senior
Taurian Washington
would take charge. Others watched redshirt freshman
Chris Fields
, who drew strong reviews from the coaching staff after spring ball. And don't forget about guys like
Grant Schwartz
,
James Jackson
or even true freshmen like James Louis or Verlon Reed.
[+] Enlarge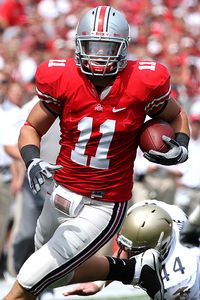 Matthew Emmons/US PresswireOhio State tight end Jake Stoneburner only had two catches last sesaon, but figures to play a bigger part in the offense in 2010.
My take: forget all those names for a second. Quarterback
Terrelle Pryor
's third option in the passing game this fall doesn't even play wide receiver but ... wait for it ... tight end.
"Oh, yeah,"
Jake Stoneburner
said when asked about filling the No. 3 role. "During camp, they've had some instances where they'll split me out and they'll have a two-back set with three receivers, and I'm the third receiver out there with Dane and DeVier."
Some people out there must be thinking I can't be serious. An Ohio State tight end being an integral part of the passing game? Jim Tressel would go for fourth-and-8 in his own red zone before featuring a tight end as a pass catcher.
Stoneburner had a grand total of two receptions in 2009, while starting tight end Jake Ballard had only 13. In 2008, Ballard and Rory Nicol combined for 11 receptions all year.
Nicol used to joke about how rarely the ball came his way. Ohio State tight ends used their hands for blocking and not much else.
It's why Stoneburner initially wasn't thrilled about switching from receiver to tight end before last season.
"I knew they didn't get the ball," he said.
What might change in 2010? For starters, Stoneburner is admittedly a pass-first tight end who has made blocking his top offseason priority.
He's a big target at 6-foot-5 and 245 pounds, and he boasts good speed in the middle of the field. Perhaps most important, Pryor likes to throw him the ball.
"The spring is when I really saw it," Stoneburner said. "We would have plays we normally hadn't run with the tight end running routes, and he's looking at me, like, 'Hey, get open on this. I'll try and get you the ball.' With Terrelle knowing the offense more and being more comfortable out there, he's looking for more targets. With me being able to run good routes and get open, he's looking at me to be one of his primary targets."
A year ago, we heard similar talk about Stoneburner being a bigger part of the passing game, and it never happened. But Pryor spread the ball around a bit better in the Rose Bowl and has continued to do so in practice.
Plus, Stoneburner has developed his game.
"I want to be an every-down tight end, and you've got to be able to block and catch the ball," he said. "I felt like with my speed and athleticism, I'll always be able to get open and catch the ball, but I really had to work on my strength, knowing the defense, knowing who to block when and footwork and that kind of stuff."
Stoneburner agrees that Ohio State needs more than two reliable receivers this fall. But Pryor should have more options, regardless of the position they play.
"We've got a lot more weapons," Stoneburner said. "The running backs can catch the ball just as good as the receivers and tight ends, so having all that come together at once, it's going to lead us to being able to do more things with our offense."
August, 18, 2010
8/18/10
6:05
PM ET
I won't be making it out to many preseason practices this year. Fortunately, the Big Ten Network is giving all of us a peek at every Big Ten squad during its
Football Preview Tour
. My pal Dave Revsine and analysts Gerry DiNardo and Howard Griffith are more than halfway through the tour, but the first two episodes aired earlier this week: Indiana and Ohio State.
I'll be watching all 11 preview shows and posting my thoughts right here.
Up first, Indiana and Ohio State.
INDIANA
The Hoosiers practiced in shoulder pads and shorts, and head coach Bill Lynch is intentionally reducing the amount of hitting in this preseason (to keep his team fresher for the season), so the workout wasn't as revealing as most of the others should be.
Wide receiver Damarlo Belcher is a huge target and made several routine catches in space. Indiana also seemed to be swinging the ball a lot to the running backs, including Trea Burgess and Zach Davis-Walker. "Against the nonconference opponents, they can win those games with this pass game," DiNardo said. Starting quarterback Ben Chappell was a bit shaky on some throws, but I'm not worried about him.
The running backs didn't seem to have much room on the inside throughout the practice. A few backs did a nice job of bouncing to the outside. Freshman Matt Perez had a very nice run in team drills.
Defensive tackle Tony Carter did a nice job of crowding the middle on one play, and linebacker Tyler Replogle had a nice hit against Darius Willis.
I liked what I saw from Indiana's three junior college transfers on defense: linebacker Jeff Thomas and cornerbacks Andre Kates and Lenyatta Kiles. Kates has extremely fast feet, and Thomas brings good size to the table.
Despite the losses of left tackle Rodger Saffold and veteran guard Pete Saxon, Griffith said Indiana's offensive line looked the best it has in years.
Quarterback Edward Wright-Baker reportedly has fallen behind Dusty Kiel on the depth chart, but he looked good passing the ball in this practice.
OHIO STATE
DiNardo brought up a good point about the need for Ohio State to have a dominant running back again, and how it will keep defenses guessing against quarterback Terrelle Pryor.
Pryor definitely seemed different to me, both in his interview with the BTN crew and in the practice. He showed patience and footwork under pressure and fired a good pass to Dane Sanzenbacher in team drills. I also liked the way he yanked defensive lineman Garrett Goebel off the pile to help running back Dan Herron get out. Pryor seemed to be running hard during conditioning and talked about his new attitude toward meetings as he hopes to increase his leadership.
Pryor had one big mistake, though, as safety Jermale Hines stepped in front of a pass to Jake Stoneburner and made the interception. Just a perfect read by Hines.
Cameron Heyward just looks bigger than everyone else on the field (probably because he is). I particularly enjoyed watching Heyward go against All-Big Ten guard Justin Boren. Two All-America candidates right there. Everyone keeps calling Heyward a defensive end, but I saw him lining up inside several times during the practice. I'll keep going with the very vague "defensive lineman."
The running backs and linebackers went against each other during a goal-line drill, and both sides had their moments. Herron absolutely trucked Dan Bain on one play, living up to his "Boom" nickname. Jaamal Berry scooted by his man, while Scott McVey made a nice stop against Carlos Hyde, who boasts good size and had mixed results in the drill.
Running back Jordan Hall had some nice moments, including a burst up the middle in team drills.
Some of the reserve wide receivers stood out. Sophomore James Jackson made a nice catch along the sideline, and senior Grant Schwartz showed the ability to create vertical separation.
Defensive end Nathan Williams, currently sidelined with a knee injury, was in a stand-up position on one play, while the other three first-team linemen -- Heyward, John Simon and Dexter Larimore -- were down in a stance. You figure Ohio State will use Williams like it did Thaddeus Gibson in 2009.
Berry had a good blitz pickup on one play, nearly leading to a big completion from Joe Bauserman to Taurian Washington.
Linebackers Andrew Sweat and Dorian Bell showed good hitting and tackling skills.
Up next:
Penn State
April, 27, 2010
4/27/10
1:30
PM ET
The spring game recaps series marches on with Ohio State, which held its spring game Saturday afternoon at Ohio Stadium.
The Buckeyes didn't have many glaring issues this spring, but
Terrelle Pryor
and the offense responded nicely Saturday after a poor performance the week before in the jersey scrimmage. Pryor played only one quarter but completed 8 of 12 passes for 108 yards and a touchdown, finding wideout
Dane Sanzenbacher
four times for 61 yards.
The game's most significant development came with the reserve quarterbacks, as
Kenny Guiton
made a strong case to back up Pryor, rather than
Joe Bauserman
. Guiton, an eleventh-hour signing in 2009, completed 11 of 21 passes for 167 yards and two touchdowns, both to
Taurian Washington
, including the game-winner with 55 seconds left to give the Gray team a 17-14 victory. Guiton also had a potential touchdown pass dropped by DeVier Posey minutes into the game.
Bauserman, meanwhile, had his struggles Saturday, completing just 6 of 15 passes for 75 yards and two interceptions, including one in the end zone. He had a 43-yard completion to
James Jackson
and led the Scarlet team with 35 rush yards, but he'll be in a battle with Guiton in preseason camp.
The game didn't provide too many answers in the running back race, as top backs
Dan Herron
and
Brandon Saine
both had only four carries apiece. Herron racked up 32 yards, giving him a solid yards-per-carry average (8 ypc), while Saine broke off a 14-yard gain. Redshirt freshman
Jaamal Berry
missed the game with an ankle injury, so Carlos Hyde (6 carries, 26 yards),
Jordan Hall
(4 carries, 17 yards) and
Bo DeLande
(5 carries, 28 yards, TD) got most of the work.
Other Buckeyes nuggets:
Ohio State needs to identify a No. 3 wideout, and Washington strengthened his case Saturday with three receptions for 83 yards and two touchdowns. Duron Carter should be back with the team at some point, but Washington enters the summer as the man to beat. Chris Fields and Jackson also are in the mix there.
Linebacker Etienne Sabino ended spring ball on a good note with a game-high seven tackles and a forced fumble. Sabino likely locked up a starting job this spring alongside All-Big Ten candidates Ross Homan and Brian Rolle. Dorian Bell also should be in the mix at linebacker after recording five tackles, including one for loss, in the spring game.
Like the rest of the offense, the line bounced back nicely from the jersey scrimmage and protected the quarterbacks. The left tackle spot isn't settled, but junior Mike Adams finally appears to be taking charge of a spot that, given his talent, should already be his.
I really think Ohio State needs to get its tight ends and fullbacks more involved in the passing attack this fall, and Saturday seemed to be a good step in that direction. Tight end Jake Stoneburner, who could be a huge factor for the Buckeyes, had three catches for 43 yards, while fullback Zach Boren led the Gray team with four receptions for 44 yards.
The kicking game remains a question mark entering the summer. Punter Ben Buchanan struggled Saturday (35.7-yard average), and there was only one made field goal, a 47-yarder by freshman Drew Basil. It'll be interesting to monitor the kicker competition between Basil and Devin Barclay in preseason camp.
April, 1, 2010
4/01/10
9:00
AM ET
The Rose Bowl shed new light on
Terrelle Pryor
and the Ohio State offense -- a glow that Buckeyes fans hope doesn't go anywhere.
[+] Enlarge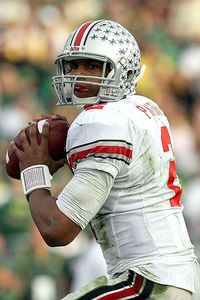 Stephen Dunn/Getty Images Pryor completed 23 of 37 passes for 266 yards with two touchdowns in Ohio State's win over Oregon.
Ohio State's offense was mediocre at best during the regular season, and Pryor hadn't shown enough consistency in the passing game to complement his unique athletic talent. But in Pasadena, Pryor and his teammates put forth the
balanced, efficient and effective product
everyone had been waiting for.
The game marked a potential turning point for Pryor and the offense, a place where the Buckeyes could build. Ohio State offensive coordinator Jim Bollman certainly hopes so.
But Bollman also knows it's not that easy.
"You're not going to walk on the field [Thursday] and all of a sudden, be at that point," Bollman said. "How hard we all have to work, how focused we have to be to get back to that point, that's what's in front of us. That's the challenge, that's how you try to improve.
"You're not working toward an unseen performance level. We've been to that point. But everybody's got to understand what it takes."
Getting back to that point -- and beyond it -- is the challenge for Ohio State's offense, which begins spring practice Thursday afternoon. Bollman said Pryor won't be limited after offseason knee surgery, and the hope is that the third-year quarterback takes another step after his giant leap between the 2009 regular-season finale and the Rose Bowl.
So can Ohio State open up the playbook, particularly with the pass, for Pryor?
"If we show [progress] along those lines, certainly that would be a logical way for us to head in," Bollman said. "Plus, having the weapon of him being able to run, should we choose to do those kinds of things. But for him in the realm of the passing game, that's got to be a full team deal. Our protection has got to improve. His own performance has to be more consistent. We've got to get more of those outs going to the tight ends and the running backs.
"All of that has got to come together, and that's going to be a fun part of this spring."
Ohio State returns nine starters on offense, including four of five linemen and two capable receivers in
DeVier Posey
and
Dane Sanzenbacher
. But to truly spark the passing attack, the Buckeyes must identify more options this spring.
They need a No. 3 wideout, as
Ray Small
departs and no returning players besides Posey and Sanzenbacher recorded more than 20 receptions last fall. Running back
Brandon Saine
, who had 17 catches for 224 yards last year, should help a bit, but Ohio State wants more depth at receiver.
Bollman said
Taurian Washington
has the best chance to step in, but the senior had no catches last year and boasts only three in his college career.
Duron Carter
also returns, and Bollman thinks
Chris Fields
and
James Jackson
, as well as some incoming recruits, could factor into the mix.
"Washington's probably the leading candidate," Bollman said. "He really finished up the year strong, did a good job coming through in the bowl game. He'd be a guy that we're counting on to give us a hand in there."
A bigger boost could come from the tight end position, which Ohio State typically uses for run blocking. Former Buckeyes tight end Rory Nicol used to joke about how little the tight ends were used in the passing attack, and while
Jake Ballard
made a memorable catch in the Rose Bowl, he finished the season with only 14 receptions.
Things could change with
Jake Stoneburner
stepping into a featured role. The 6-5, 245-pound Stoneburner had only two receptions as a freshman last year, but his production should increase.
"His speed certainly can have more of an effect on the game than some other guys we've had in the past," Bollman said. "That's going to cause openings for someone, if not him. That can have a different effect on things, for sure."
March, 23, 2010
3/23/10
5:30
PM ET
You have questions. I might have the answers.
Stephanie from Denver writes:
Is there a specific reason Adam why the Big Ten gets constantly made fun of and/or bashed in majority of sports? For example, people continually made fun of Big Ten basketball throughout the year, yet in the Sweet 16 no other conference has more teams in than the Big Ten?Is it due to the money factor and the Big Ten having more than any other conference (as well as the number of alumni)?
Adam Rittenberg: Stephanie, I was thinking about this very topic after Sunday's NCAA tournament games. The negativity stems from a lot of factors, and money and fan support are certainly among them. No one likes it when the rich get richer, and the Big Ten is having a very good year both on and off the court/field. There's also a perception that the Big Ten is arrogant and set in its ways, and the league lacks some of the flashy teams or personalities that media members and fans love. The style of play in both Big Ten football and basketball also doesn't jibe with those who love to see 50-47 scores in football and 95-90 scores in hoops. It's funny how a Big East basketball game can end 53-50 and no one makes a stink about it. The Big Ten constantly will fight some negativity, but the league doesn't care if it keeps winning.
---
Dallas from Evanston, Ill., writes:
Hi Adam, have you heard anything new on whether Northwestern will be playing at Wrigley this year?
Adam Rittenberg: Dallas, from talking with Northwestern officials the last few weeks, there are still some hurdles to clear to get a game finalized. One issue is insurance for the game and who will pay for it. I have little doubt the game can happen, but time is running out to have it played this fall. Northwestern really wanted as much time as possible to promote a Wrigley Field game, and we're basically seven months away from a potential event there. That might sound like a lot of time to fans, but you would ideally like 9-12 months at the very least to market the game to fans. Moving a game to Wrigley would leave NU with only five true home games, so the school would have to sort out its season-ticket package.
If something isn't finalized by the end of March, you could be looking at 2011 or 2012.
---
Mike from New York writes:
Hey Adam,When Penn State heeded the call in 1989 to join the Big 10, something rather funny happened. It was still called the Big 10! I am actually a really big fan of the Big 10 logo, with the clever idea of sneaking "11" into the negative space. I guess my question is, if the big 10 expands to 12 schools, do you think the conference would/should change their name or stick with tradition? I would prefer it still be called the Big 10.
Adam Rittenberg: I would expect the Big Ten brand name to be too powerful for the league to change it. The conference has been called the Big Ten since 1917, when Michigan resumed membership, and I can't see a name change coming. As for the clever logo, it would have to change because the "11" wouldn't apply any more.
---
Leland from Hebron, Ohio, writes:
Hey adam im a huge Buckeye fan and i know the defense will be alright and i see terelle pryor imroving with stability on the o-line but i was wondering who do think will step up and make an impact at the wide receiver position i know we got posey makin plays and sanzenbacher is a good 1st down receiver but who do think will step up and be the 3rd 0r 4th guy cause i think if our offense wants to be explosive we need another go to guy to catch the deep ball and do think stoneburner will make an impact i think if they use him he could make some plays Go Bucks!
Adam Rittenberg: Duron Carter showed some good things last fall as a true freshman, and I'd expect him to move into that No. 3 wide receiver position in 2010. Carter has good size and quickness, and if he keeps his academics on track, he should be a contributor this fall. Taurian Washington also will be in the mix for the No. 3 spot, and
Chris Fields
and
James Jackson
aren't too far behind.
---
Theresa from Irvine, Calif., writes:
Adam, I've read that Notre Dame would make more from television contracts if the school joins the Big Ten. But then there are contrary reports that state the exact opposition (Notre Dame makes more television money because it doesn't have to split coupled with BCS money and so on).Which one is correct? Would the Irish make more if they joined the Big Ten?
Adam Rittenberg: Even after the Big Ten television revenue pot is sliced 11 ways, Big Ten teams still take away more money ($15-20 million) than Notre Dame does on its own (reportedly $9 million). So Notre Dame would definitely make more from TV if it joined the Big Ten, largely because of the successful Big Ten Network. How much the Irish would lose from relinquishing their independent status is tough to tell, and we're not just talking money there. But from a media rights perspective, Notre Dame and just about any team would benefit from joining the Big Ten.
---
Eric from Stanford, Calif., writes:
I am a life-long (admittedly rather young) Michigan fan who currently attends Stanford. In response to a question regarding the possibility of hiring Les Miles to replace [Rich] Rodriguez should he be fired, you responded "I totally agree with you that Harbaugh gets too much credit for simply making Stanford respectable again". Although somewhat biased, I cannot disagree with you more. Jim Harbaugh has taken a team with relatively little athleticism, except for Toby Gerhart and sophomore quarterback Andrew Luck, and last year led them to the point where they were able to compete for a Pac10 Conference Championship. Given the state of Stanford football when he arrived, his coaching stock is deservedly high. It would be difficult for me to witness Harbaugh leaving Stanford, but if he is going to do so, I hope he leaves for Michigan.
Adam Rittenberg: Again, Jim Harbaugh has done a really good job at Stanford, especially in recruiting. The program was in terrible shape after the Buddy Teevens/Walt Harris years. But it's not like Stanford has no football tradition or nothing to sell. You have one of the nation's best academic schools, best campuses and best overall athletic departments. Stanford is competing for conference titles, which is great. Growing up in the Bay Area, I remember Stanford football being very solid in the 1990s. My point is, to anoint Harbaugh as the Second Coming, like many of my media colleagues tend to do, seems a bit premature. How about winning a Pac-10 championship or a bowl game first? It seems like certain coaches whose personalities appeal to media members (Harbaugh, Mike Leach) get so much credit, and while some of it is deserved, I'd just like to see more proven on the field.