January, 9, 2014
1/09/14
10:30
AM ET
With the 2013 college football season now in the rearview mirror, we're taking an early peek at the months ahead by looking at three items each Big Ten team must address before the 2014 season.

Up next: the
Minnesota Golden Gophers
.
1. Decide on a quarterback:
Minnesota rotated between sophomore
Philip Nelson
and redshirt freshman
Mitch Leidner
this past season. It appeared to be Nelson's team by the end of the regular season, but then Leidner played the majority of the snaps in the Texas Bowl against Syracuse. Leidner is a little bit better runner while Nelson is a little bit better passer at this point, but neither has established himself as the clear-cut option. And while depth is always a good thing, the Gophers will be best served by identifying a true starter this spring. Redshirt freshman
Chris Streveler
could factor into the mix as well. The focus for each candidate in the coming weeks should simply be to get better, because Minnesota needs more out of the quarterback spot if it wants to take the next step. Which goes hand in hand with the next item ...
2. Get better at wide receiver:
Minnesota's leading returning wide receiver next year will be
Drew Wolitarsky
, who had 15 catches for just 259 yards and one TD. The Gophers had one of the worst passing attacks in the country in 2013, and the lack of threats at the receiver position was a big reason why. The good news, if you're an optimist, is that Wolitarsky and
Donovahn Jones
emerged as the top options late in the season, and both were true freshmen. They are talented and should improve as they mature. They also need more help there, whether it's from rising senior
Isaac Fruechte
, the oft-injured
Jamel Harbison
or an incoming recruit. Minnesota hasn't been able to stretch the field in the passing game for two years, and that must change.
3. Replace defensive stalwarts:
While the majority of the roster returns, some very valuable defensive players will need to be replaced in 2014. That includes All-Big Ten defensive tackle
Ra'Shede Hageman
, starting linebackers
Aaron Hill
and
James Manuel
and defensive back
Brock Vereen
, who was versatile enough to play both cornerback and safety as needed. There's no real substitute for Hageman's sheer athleticism, but the team is high on sophomore
Scott Ekpe
's potential. Minnesota has recruited well recently at linebacker and defensive back, so some in-house solutions should be ready. The Gophers' defense was very solid in 2013 and should stay that way if adequate replacements emerge.
More to-do lists
Indiana
Wisconsin
November, 9, 2013
11/09/13
4:09
PM ET
Any doubt that Minnesota is evolving into a balanced offense was put to rest in a
24-10 victory
over Penn State in Minneapolis on Saturday afternoon.


The Nittany Lions stacked the box early against the Gophers, dared them to pass -- and then watched Minnesota quarterback
Philip Nelson
respond in a big way. The sophomore was 12-of-18 for 165 yards by halftime, helped his team score on its first four drives and then watched tailback
David Cobb
take over the second half.
This marked the Gophers' fourth consecutive victory in Big Ten play, the first time that occurred since 1973, about two decades before Penn State joined the conference. The Golden Gophers are now 8-2 -- one of the more unlikely eight-win teams playing in a BCS conference -- and they haven't been eliminated from the Big Ten title race just yet.
Minnesota earned the Governor's Victory Bell and. More importantly, the Gophers are continuing to earn respect in the Big Ten.
Where the game was won:
Through the air. As unlikely as it might have sounded before the game, Minnesota's run-heavy offense decided to pass early and often against a struggling Penn State secondary. Statistically, it was the second-best passing performance of the season for Minnesota. The running game took off in the second half, but Minnesota did most of its damage during that pass-happy first half, scoring 24 points.
The game was over when ... :
Penn State quarterback
Christian Hackenberg
fumbled a snap on the Minnesota 1-yard line with less than seven minutes left to play. Minnesota linebacker
James Manuel
fell on the ball, and that put an end to Penn State's comeback hopes. Trailing by 14, a touchdown would have given them life. But that fumble put the game out of reach.
What it means for Minnesota:
The Golden Gophers are making their case to be considered one of the better teams in the Big Ten. They're still behind the likes of Ohio State and Michigan State, but Minnesota and Wisconsin certainly seem to be the best teams behind them. Minnesota should find itself in a decent bowl game; this is the best team it has fielded in at least the last decade.
What it means for Penn State:
Complementary football, something Bill O'Brien stresses, isn't coming easily for Penn State (5-4, 2-3). The offense played OK in the first half, while the defense was dominated. And those roles were reversed in the second half -- the defense shut out Minnesota, but the offense didn't score. Expectations this season were around seven or eight wins, and that's far from a guarantee now.
February, 28, 2013
2/28/13
12:00
PM ET
We're previewing spring football in the Big Ten today and Friday. Be sure to check it out.
Link time ...
January, 11, 2013
1/11/13
3:30
PM ET

Minnesota's linebackers, cornerbacks and offensive linemen are three groups that need big winter performances before spring ball kicks off.
March, 28, 2012
3/28/12
12:00
PM ET
Visited a Leaders division city (Champaign) on Tuesday and parked my car next to a bar called Legends. So confused.
March, 1, 2012
3/01/12
10:15
AM ET
To get you ready for spring practice, which kicks off this month, we're taking a look at how each team might fill the roles of two key contributors who are no longer on campus.
Up next, Minnesota.
BIG SHOES TO FILL:
Kim Royston
, S
[+] Enlarge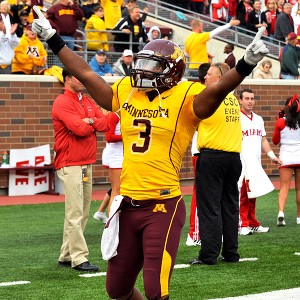 AP Photo/Tom OlmscheidReplacing Kim Royston will be a tall order for the Minnesota defense.
Why:
Royston was one of few bright spots for a Minnesota defense that struggled mightily for much of the season but finished well. He recorded 123 tackles, the fourth-highest total in the Big Ten and the most on the Gophers by 36 stops. He recorded one of the team's four interceptions on the season and had 3.5 tackles for loss, including a sack, and two pass breakups. Royston's 71 solo tackles were 18 more than any other Gophers player in 2011. He provided leadership for a secondary that lacked it and earned the Carl Eller Award as Minnesota's top defensive player.
Replacement candidates:
James Manuel
(6-2, 214, Jr.);
Derrick Wells
(6-foot, 191, Jr.); Jeremy Baltazar (6-foot, 190, Jr.);
Michael Carter
(5-11, 185, Sr.);
Steven Montgomery
(5-10, 195, Fr.)
The skinny:
The return of cornerback Troy Stoudermire should help Minnesota replace Royston's production, but the team remains extremely unproven at safety. Will this be Manuel's time to shine? Minnesota certainly could use a big season from the junior, who had only 11 tackles in 10 games this past season. Wells had similar numbers (8 tackles, 11 games) in a reserve role but could challenge for a starting spot. Baltazar and Carter both are more natural cornerbacks but could help at nickelback. Montgomery, who isn't afraid to hit people, could be a factor here. The concern is Minnesota lacks many natural safeties and likely needs to have a by-committee approach to the position.
BIG SHOES TO FILL:
Da'Jon McKnight
, WR
Why:
Like Royston, McKnight was by far Minnesota's most productive player at his position in 2011. He recorded 51 catches, 35 more than any other Gophers player. He had twice as many touchdown catches (4) and 570 more receiving yards than anyone else on the roster. He led Minnesota in receiving in each of his final two seasons and was one of the more underrated wideouts in the Big Ten. McKnight made 30 starts in his career and was always MarQueis Gray's first option in the passing game.
Replacement candidates:
Brandon Green
(6-foot, 186, Sr.);
Malcolm Moulton
(5-11, 186, Jr.);
Marcus Jones
(5-8, 170, So.);
Devin Crawford-Tufts
(6-2, 191, So.);
Andre McDonald
(6-2, 200, Fr.); Jamel Harbison (5-11, 195, Fr.)
The skinny:
Wide receiver will be one of the more intriguing positions to watch both in spring practice and in preseason camp when heralded recruits McDonald and Harbison arrive. Green has started 18 games in his career but needs to take his game to the next level. Most of Minnesota's returning players are smaller wideouts, so a bigger player like McDonald could fill in well for McKnight, whose size made him a threat on the outside. There's good speed in the group with players like Jones, who averaged 15.8 yards a catch as a freshman and led the team with 370 kick returns yards and a touchdown.
January, 17, 2012
1/17/12
6:00
PM ET
Bring it.
Nicholas from West Des Moines, Iowa, writes:
can we PLEASE get a replacement announced for norm parker already?! ... and why is everyone so concerned with derby leaving? we seem fine at the QB position, shouldn't we be worrying about getting a RB and filling in the gaps left on defense?
Adam Rittenberg:
Nicholas, I definitely hear ya on the Norm Parker replacement. Iowa's
job posting
for an assistant coach expires Jan. 26, so hopefully we'll get an announcement by then. Regarding
A.J. Derby
's departure, I think the reaction stems more from Iowa losing several players in recent weeks, most notably star running back Marcus Coker. Also, Derby arrived with a ton of hype and immediately became a fan favorite. Fans hate to see highly touted recruits not pan out or transfer, and some see Derby's departure as a sign of a systematic problem at Iowa. But on the whole, I agree that replacing Coker and bolstering the defense, especially the line, are bigger issues for the Hawkeyes right now.
---
Ed from Rochester Hills, Mich., writes:
So the Basketball coach at Iowa throws a chair and Commishioner Delaney's response is "The conference did not ask for, nor did the conference expect, an apology from the coach. The conference is primarily focused on future conduct, not statements of apology." Pat Narduzzi makes a comment about 60 minutes of unnecessary roughness and MSU Athletic Director Mark Hollis is required to admonish the MSU coach by the commish.I am detecting a double standard by Delaney.
Adam Rittenberg:
Ed, while you make an interesting point, there are some differences with the Narduzzi situation. For starters, it was a quote to media members rather than an outburst during a game. Also, some interpreted the quote as being directed toward an opponent, Michigan. McCaffery's chair-throwing was done in front of his own team after an argument with officials. The Hawkeyes' opponent, Michigan State, had nothing to do with it. While we can debate whether Narduzzi's comment was taken out of context, you are usually going to see a stronger response from the league to something someone says or does that's directed toward an opponent. You saw similar responses to player unsportslike conduct violations directed toward opponents.
---
Samuel from Iowa City, Iowa, writes:
Adam, to answer your question about coaches, I prefer my coaches have some positive character rather than bad character or zero character. Iowa's Fran McCaffery has not crossed a line in my opinion. Slamming a chair is one thing. Bob Knight style kicking, choking, head butting and throwing chairs onto the court is something different altogether.
Adam Rittenberg:
Samuel, thanks for your response. I agree that it's fine for coaches to show some emotion on the sideline. It's an emotional game, and coaches can sometimes light fires under their teams but showing some fire themselves. I don't have a major issue with what McCaffery did. He didn't direct any of it toward Iowa's opponent. But it's something you don't want to see every game or every few games.
---
Jeff from West Chester, Ohio, writes:
Should Purdue fans be concerned that Danny Hope hasn't hired replacements for Emanuel and Elmassian? Signing day is approaching and I fear defensive recruits from the surprisingly good class may waver.
Adam Rittenberg:
Jeff, it has been extremely quiet on the Purdue coaching front. The team hasn't officially announced the departures of Gary Emanuel and Phil Elmassian, although neither are listed on the
official roster
. Although most of Purdue's 2012 class plays offense, recruits always want to know which direction the team is headed on both sides of the ball. Although Purdue didn't have a great year on defense in 2011, Emanuel's ouster is a bit surprising. Danny Hope has a former defensive coordinator, Donn Landholm, still on staff, but he'll be looking to replace two veteran assistants.
---
Elliot from East Richfield, Minn., writes:
With Troy Stoudermire being granted another year for the Minnesota Gophers, the Gophers seem to have their cornerbacks pretty set with Stoudermire and
Brock Vereen
, among others. However, both safety positions are unsettled.Who do you see emerging at safety for the Gophers?
James Manuel
and maybe
Michael Carter
? Maybe some newcomers will get a chance to play?
Adam Rittenberg:
Elliot, I really think Minnesota will enter spring practice with most of its starting spots open on defense. We heard some good things about Manuel in 2010, when he started three games, but he played strictly as a reserve in 2011, recording 11 tackles in 12 games. Carter was one of Minnesota's top recruits under former coach Tim Brewster, but he hasn't really panned out. There certainly will be opportunities for players to step up in the defensive backfield, as the Gophers must replace
Kim Royston
's production at safety. Remember that Minnesota also
signed three junior college defensive backs
. Those guys weren't brought in to sit on the bench.
---
Clayton from Fort Collins, Colo., writes:
Adam -- Thanks for your article regarding coaches sideline demeanor. It would be fun to see you and Brian have a "blog blow-up" once in a while! All jokes aside, I get tired of hearing people rant about Bo Pelini's sideline behavior. As a former college football player, I feel strongly that a passionate coach is not uncommon and actually appreciated by the players. Nebraska fans too soon forget how reserved and soft Bill Calhahan was, almost as though he didn't care enough. Bo had his issue at A&M in 2010, had a very professional apology, and has sense cleaned up his act. Can we put it to bed or are we going to keep talking about this? "cue TV panning to BO getting all red faced and mad on the sideline, chomping his gum"
Adam Rittenberg:
Clayton, thanks for your perspective. It's always interesting to ask how a coach's sideline behavior affects his team. Sometimes it certainly seems to fire up players in the right way. Other times, it seems like a coach who seems out of control leads to a team playing a bit recklessly. While I see your point about Pelini's issue at A&M being in the past, I don't think he'll be able to avoid the cameras on the sideline. No coach really escapes them these days, and TV folks are looking for reactions. I think Bo seemed calmer for the most part this season, although he was none too pleased, for obvious reasons, in the Capital One Bowl loss. While I don't believe a coach has to stomp around and scream at officials to show he cares more, I think players want to see some response from the man leading them.
---
Alan from Evansville, Ind., writes:
Hey Adam, What should IU fans make of all the departures from the IU football team, which appears to be a continuing trend with Wright-Baker and Kiel leaving the team this week? Is this a healthy sign that shows Wilson is making sure he has the kids he wants to work with, or is this a sign that something (or many things) are wrong in Bloomington and with this new coaching staff? Additionally, do you think these departures will have a negative impact on the school's ability to recruit going forward?
Adam Rittenberg:
Alan, these things can go either way. You always have some attrition after a coaching change, even some delayed attrition like we're seeing with Ed Wright-Baker and
Dusty Kiel
. The offensive direction seems pretty clear with
Tre Roberson
returning and Seth Littrell coming as as coordinator, and while Wright-Baker and Kiel would have provided some depth, their playing-time options seemed limited, especially with Cameron Coffman coming in from a juco. You see quarterbacks transfer more than those at other positions because of the playing-time issue. Now is Kevin Wilson a tough guy to play for? He's a brutally honest guy. He doesn't sugarcoat anything. His style might not jive with certain players. But I think once he gets his guys in there, he'll be pretty successful at IU.
September, 9, 2010
9/09/10
12:00
PM ET
These links are high in fiber.
September, 1, 2010
9/01/10
2:00
PM ET
I've reviewed the
Big Ten Network's preview
of Minnesota. The crew of Dave Revsine, Gerry DiNardo and Howard Griffith attended a Gophers scrimmage at TCF Bank Stadium.
Here are some notes and observations:
Minnesota looked a lot more physical on both sides of the ball. The offense certainly is keeping it simple, but the line generated good push and the backs consistently had nice gains. A new-look defense definitely has further to go, but there were several nice hits in the scrimmage from defensive back Kyle Henderson and others. The BTN crew seemed to like the arrival of offensive coordinator Jeff Horton, who will really emphasize the power run game this fall. "For the first time, the schemes fit each other," DiNardo said.
Head coach Tim Brewster wanted to upgrade the schedule at Minnesota, and he has gotten his wish this year. "It's the toughest schedule in the conference," DiNardo said. Games against Middle Tennessee, Northern Illinois and USC will challenge a young team early, but it also could help in the long run. "No one's going to give them a chance in a lot of these games," Griffith said. "This is an opportunity for the team to come together and rally."
Junior running back Duane Bennett had a very good day. He made several good cutbacks and bounced outside for a nice gain in the scrimmage. He capped a long drive by the first-team offense when he bounced off defensive back Shady Salamon and into the end zone. Although Minnesota will use several ball carriers, "Bennett's the better back right now," DiNardo said.
DeLeon Eskridge also had some nice runs, although he also lost the ball following a jarring hit from safety Kyle Theret, who lays the wood and will be missed in Thursday night's opener. I also was impressed with true freshman Donnell Kirkwood, who spun off tackles well in the scrimmage. Fullback Jon Hoese had a big gain on fourth-and-short. Minnesota is certainly keeping things simple with the run game. "They have an inside zone, outside zone and they have a gap scheme." DiNardo said. "And that's their run game."
It was tough to tell how much Minnesota's run game has improved, given all the new faces in the defensive front seven. DiNardo likes the first-team offensive line, especially guards Matt Carufel and Chris Bunders, and he thinks Ed Olson will be a future All-Big Ten player and possibly a future All-American.
Senior quarterback Adam Weber threw the ball well and looked comfortable in the offense. He made a perfect throw to Da'Jon McKnight on a deep route for a touchdown, putting the ball just beyond the defensive back's hands. He also threaded the ball to Troy Stoudermire for a first down in the scrimmage. Weber told the BTN crew how his injury issues last year changed his approach to getting treatment and preparing himself for the physical toll.
MarQueis Gray had a good scrimmage as the backup quarterback and as a starting wide receiver. He had a big gain on an end-around play, where he cut back before lowering his shoulder into a defender and gaining a few more yards. Great quote from Weber on Gray: "Very impressed with MarQueis this year. It's never easy when you're a quarterback. He's a true quarterback. ... MarQueis is all about giving it up for his teammates. You could put him at left guard and he'd have a great time doing it." Brewster added that he'll get the ball in Gray's hands a lot this fall.
Henderson stood out on defense with several nice hits, and Ryan Grant and Kenny Watkins also showed some good physical play. The BTN crew identified defensive backs Christyn Lewis and James Manuel as newcomers to watch, and Griffith, echoing Brewster, sang the praises of defensive end Ra'Shede Hageman, a converted tight end.
It was interesting to hear Brewster tell BTN crew about "building a program from the foundation up." He talked about overhauling the roster after he arrived and taking time to put his plan in place. His coaching changes definitely have served as evidence, but it wasn't as if the cupboard was totally empty when he arrived. "We've had a lot of staff turnover at Minnesota," DiNardo said, "but the good news is I believe this is the best staff Tim Brewster's had since he's been here."
September, 1, 2010
9/01/10
8:00
AM ET
We knew going into the season that Minnesota had to replace nine defensive starters, more than any other Big Ten squad.
Make it 10. And possibly all 11.
Safety Kyle Theret is
suspended for Thursday night's opener at Middle Tennessee
, head coach Tim Brewster announced Tuesday. Theret continues to serve a penalty for his drunken-driving arrest in March, although he practiced with the team in preseason camp. Veteran offensive lineman Dom Alford, a projected starter, also is suspended for an unspecified violation of team rules. Ed Olson will start in Alford's spot.
Minnesota really could use Theret, who led the team in interceptions (3) last year and recorded 73 tackles and seven passes defended. The team's only other returning starter on defense, safety Kim Royston, also could miss the game as he continues to rehab a broken leg suffered in spring practice.
Brewster said there's only "a small chance" Royston will play, adding, "I don't want to put him out there until I'm 100 percent certain that he's ready."
If Royston sits, Minnesota will take the field with 11 new starters on defense. Good thing Middle Tennessee will be without star quarterback Dwight Dasher,
suspended for the game
.
Get to know names like Christyn Lewis, James Manuel, D.L. Wilhite, Mike Rallis and Michael Carter. They're just some of the new starters Minnesota needs to step up Thursday night against the Blue Raiders.
September, 22, 2009
9/22/09
9:45
AM ET

Posted by ESPN.com's Adam Rittenberg
Here are two Big Ten recruiting nuggets for you, courtesy of the fine folks at ESPN's Scouts Inc.
Under Armour All-American defender Dominique Easley picks Nittany Lions
ESPNU 150 defensive end Dominique Easley of Curtis (Staten Island, NY) has given Penn State a commitment for the Class of 2010.
The 6-foot-3, 260-pound prospect also visited Florida, Georgia and Rutgers. Others among his 18 offers were Tennessee, Michigan, Miami-Florida, Oregon, Boston College, UConn, Duke, Maryland, Pittsburgh, Texas Tech, UCLA and Syracuse.
Easley pledged after watching the fifth-ranked Nittany Lions defeat Temple, 31-6, on a campus visit this past weekend.
"I always liked Penn State," Easley told Staten Island Live.Com. "I didn't think I was going to commit, but being out there and talking to everybody made me feel like this was the place."
He also told ESPN affiliate Web site NittanyNetwork.com via text message, "The education is unbelievable and Coach [Larry] Johnson is the coach for me because he reminds me of my high school coach."
ESPN's Craig Haubert said of the news, "The New York prep star seemed like he was headed to Florida at one point over the summer, but Penn State was able to persevere and land the talented defender. With Easley they get a versatile lineman who possesses one of the quickest get-off's in the 2010 class. The ESPNU 150 member is a DE/DT tweener who we think will grow more into a true DT in time, but he can give Penn State some options in how they use him especially early on.
"The Nittany Lions are assembling a very talented group of defensive line help in this class and are preparing to inject a big infusion of youth to the position. Easley along with fellow UA All-Americans end Dakota Royer (Manheim, Pa./Central) and defensive tackle Evan Hailes (Chesapeake, Va./Oscar Smith) sit at the top of Penn States class and join recent commit C.J. Olaniyan (Warren, Mich./Mott) as talented defensive line prospects in this class."
Easley registered 51 tackles, 10 sacks and two fumble recoveries, both returned for touchdowns, during his junior season.
Indy safety James Manuel says yes to the Gophers after official
James Manuel (Indianapolis, Ind./Warren Central) committed to Minnesota over offers from Michigan State, Iowa, Louisville and Cincinnati after making an official visit to campus, NittanyNetwork.com's Bill Kurelic reports.
"I really enjoyed my visit," Manuel said. "I had a great, great time at the game even though they lost. The atmosphere was crazy. The coaches said I have a good chance to come in and compete for a spot."
The high school corner who projects as a safety for the Gophers registered a 4.19 20-yard shuttle, 7.26 three-cone drill, 30.5-inch vertical and 10-foot-8 broad jump at the Atlanta Under Armour Combine.