July, 26, 2011
7/26/11
2:00
PM ET
The wait is finally over for Big Ten players not selected in April's NFL draft.
Free agent deals are finally taking place during a whirlwind week in the post-lockout NFL.
We'll have
additional updates
as the day goes on, but here's a look at where Big Ten players are landing.
ILLINOIS
CB Travon Bellamy, St. Louis Rams
WR Jarred Fayson: New Orleans Saints
G Randall Hunt: St. Louis Rams
DE Clay Nurse: New England Patriots
INDIANA
QB Ben Chappell: Washington Redskins
WR Terrance Turner: Philadelphia Eagles
IOWA
P Ryan Donahue: Detroit Lions
LB Jeremiah Hunter: New Orleans Saints
TE Allen Reisner: Minnesota Vikings
LB Jeff Tarpinian: New England Patriots
MICHIGAN
T Perry Dorrestein: New York Jets
CB James Rogers: Denver Broncos
TE Martell Webb: Philadelphia Eagles
MICHIGAN STATE
WR Mark Dell: Denver Broncos
LB Eric Gordon: Jacksonville Jaguars
T D.J. Young: Arizona Cardinals
MINNESOTA
T Dom Alford: Cleveland Browns
FB Jon Hoese: Green Bay Packers
QB Adam Weber: Denver Broncos
NEBRASKA
K Adi Kunalic: Carolina Panthers
TE Mike McNeill: Indianapolis Colts
DE Pierre Allen: Seattle Seahawks
G Ricky Henry: Chicago Bears
T D.J. Jones: Miami Dolphins
S Rickey Thenarse: Seattle Seahawks
NORTHWESTERN
DT Corbin Bryant: Chicago Bears
LB Quentin Davie: Detroit Lions
OHIO STATE
G Bryant Browning: St. Louis Rams
G Justin Boren: Baltimore Ravens
RB Brandon Saine: Green Bay Packers
WR Dane Sanzenbacher: Chicago Bears
DT Dexter Larimore: New Orleans Saints
CB Devon Torrence: Minnesota Vikings
PENN STATE
WR Brett Brackett: Miami Dolphins
LB Chris Colasanti: Indianapolis Colts
LB Bani Gbadyu: Oakland Raiders
DT Ollie Ogbu: Indianapolis Colts
PURDUE
TE Kyle Adams: Chicago Bears
WR Keith Smith: Detroit Lions
WISCONSIN
CB Niles Brinkley: Pittsburgh Steelers
RB John Clay: Pittsburgh Steelers
QB Scott Tolzien: San Diego Chargers
November, 4, 2010
11/04/10
10:15
AM ET
A perfect 10 today: 10 items to track in Week 10 in the Big Ten.
1. JoePa goes for No. 400:
The all-time coaching wins leader in major college football can reach another milestone if Penn State beats Northwestern on Saturday. Joe Paterno can join John Gagliardi and Eddie Robinson as the only college football coaches to record 400 career victories, and he can become the first man in Division I-A/FBS history to do so. This is a moment likely never to be seen again, as the 83-year-old Paterno, in his 45th year as Penn State's coach, is truly one of a kind. A win Saturday also would make Penn State bowl eligible.
[+] Enlarge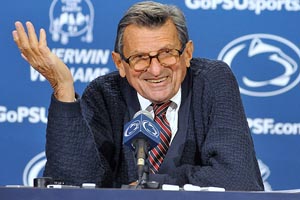 AP Photo/Pat LittleJoe Paterno can reach 400 career victories by beating Northwestern on Saturday.
2. Michigan's D tries to stop the bleeding:
The
Michigan Wolverines
have been one-third of a team for most of the season, excelling on offense but stumbling repeatedly on both defense and special teams. Michigan's defense seemed to regress after the bye week, bringing more heat on head coach Rich Rodriguez and coordinator Greg Robinson. Rodriguez shot down talk of defensive staff changes, but he's taking on a greater role with the defense as Michigan tries to end its three-game Big Ten slide. The Wolverines on Saturday face an Illinois offense beginning to surge.
3. Endgame in West Lafayette:
Two of the front-runners for Big Ten Defensive Player of the Year meet Saturday at Purdue's Ross Ade Stadium. Purdue defensive end Ryan Kerrigan has been simply unstoppable this season, cementing himself as a first-round draft pick in April with 7.5 sacks and 18.5 tackles for loss. Kerrigan leads the Big Ten in both categories, but not far behind sits Wisconsin defensive end J.J. Watt, who boasts five sacks and 13.5 tackles for loss to go along with six pass breakups, five quarterback hurries and two blocked kicks. There's plenty of mutual respect between the two stars. Kerrigan goes up against Wisconsin left tackle Gabe Carimi, another likely first-round pick.
4. Spartans rushing to rebound:
Despite what he called an "embarrassing performance" at Iowa, Michigan State coach Mark Dantonio maintained that "the sky is not falling around here." He's right, too, as the Spartans still are very much alive for the Big Ten title and a possible trip to the Rose Bowl. Michigan State can get well Saturday against last-place Minnesota, and it would be well served to reignite a rushing attack that has gone cold the past three weeks. Minnesota allows a league-worst 201.8 rush yards a game and
will miss starting defensive tackle Brandon Kirksey
because of a suspension. Spartans backs
Edwin Baker
,
Le'Veon Bell
and
Larry Caper
need a big day.
5. Iowa faces trap game:
Everyone in Iowa City wants to fast-forward to Nov. 20 and the Ohio State game, but the Hawkeyes first must take care of business on the road against two teams that give them trouble. Up first is Indiana, which dominated Iowa for the better part of three quarters last year and picked off
Ricky Stanzi
five times before the Hawkeyes rattled off 28 fourth-quarter points. Indiana beat Iowa in 2006 and 2007 and boasts a passing attack that will challenge the Hawkeyes' secondary. It's important for Iowa to keep the pedal down in Bloomington.
6. The joy of six:
Three Big Ten teams -- Michigan, Illinois and Penn State -- enter Saturday's games with five victories, needing one more to become bowl eligible. One team will reach the magic number in Ann Arbor as Michigan and Illinois lock horns. The Wolverines would remove a lot of pressure by beating the Illini and virtually ensuring the end of their postseason drought. Like Michigan, Illinois hasn't been to a bowl since after the 2007 season and can continue its surprising surge with a victory. Teams like Indiana and Purdue also can inch closer to bowl eligibility with upset wins Saturday.
7. Persa back in Pennsylvania:
Dan Persa
was a high school star in Pennsylvania, but he barely got a sniff from Penn State in the recruiting process. He landed at Northwestern and has been the biggest reason for the Wildcats' 6-2 start. Persa, whose mother and sister went to Penn State and who grew up attending Nittany Lions games, heads back to his home state to try and spoil Paterno's 400 party. The Northwestern junior is cleared to start after suffering a concussion last week. While Persa heads home, Northwestern is at its best on the road, winning six consecutive games stretching back to last season. The Wildcats also fare well in November under coach Pat Fitzgerald, compiling a 9-4 record, including a 6-1 mark the past two seasons.
8. Scheelhaase takes aim at shorthanded secondary:
Illinois quarterback
Nathan Scheelhaase
has put himself in the mix for Big Ten Freshman of the Year honors, and he gets another chance to shine Saturday at the Big House. Scheelhaase, who last Saturday completed 16 of 20 passes for 195 yards and four touchdowns, faces a struggling Michigan secondary that lost starting cornerback J.T. Floyd to a season-ending ankle injury this week in practice. True freshman Courtney Avery starts in Floyd's spot opposite James Rogers, the Wolverines' lone non-freshman cornerback. Illinois is a run-first offense, but don't be surprised if Scheelhaase takes to the air against the vulnerable Wolverines.
9. Penn State's quarterback situation:
Freshman
Rob Bolden
might be Penn State's future, but sophomore
Matt McGloin
has been on the field at the end of back-to-back Nittany Lions victories. Bolden has fully recovered from a concussion suffered Oct. 23, and the coaches let the two quarterbacks compete for the starting job throughout practice this week. McGloin performed well in his first career start last week against Michigan, but quarterbacks coach Jay Paterno indicated after the game that Bolden still held the top job. Joe Paterno mentioned he might play both quarterbacks against Northwestern, so it'll be interesting to see how things play out.
10. Purdue turns to Robinson:
Purdue expects to start its third quarterback this season as true freshman
Sean Robinson
gets the nod against Wisconsin. Robinson played most of the Illinois game last Saturday, completing just 7 of 20 passes for 52 yards and a touchdown. The Boilers will use
Rob Henry
if his throwing hand improves, but Robinson is their top option. "If he was an immature freshman, didn't have some of the same intangibles, we could be in some real trouble," coach Danny Hope said. "This guy can come over and make a commitment from a maturity standpoint to become a quarterback we can win with."
November, 3, 2010
11/03/10
1:40
PM ET
Big Ten teams have faced some major personnel challenges this season.
No team in America has been hit harder at key spots than Purdue, while other Big Ten squads like Wisconsin and Penn State also have lost key players.
But I can't remember a single position being ravaged more by both injuries and player departures than Michigan's cornerback spot.
The latest bit of bad news arrived Wednesday, as Wolverines coach Rich Rodriguez confirmed that
cornerback J.T. Floyd will miss the rest of the season
after suffering a "freak" ankle injury in practice Tuesday. Floyd's ankle isn't broken, but he suffered ligament damage and needs surgery that will keep him sidelined for a while.
The redshirt sophomore has started all eight games for Michigan and ranks third on the team in tackles with 66. Floyd also has an interception, a forced fumble and four pass breakups.
Michigan's struggles in the secondary are no secret, and this certainly doesn't make things easier.
Rodriguez said true freshman Courtney Avery will start Saturday against Illinois opposite senior James Rogers, the Wolverines' only non-freshman cornerback still available.
"We're pretty young in the secondary," Rodriguez told reporters on a conference call. "We're getting younger."
Yikes.
Remember these names?
Troy Woolfolk: Multiyear starter in the secondary suffered season-ending ankle/foot injury in camp.
Justin Turner: Decorated recruit was granted his release from the team in August.
Vlad Emilien: Young defensive back left the team in September.
Demar Dorsey: The Big Ten's top-rated recruit signed with Michigan in February but was denied admission in June.
Boubacar Cissoko: Blue chip recruit started the first four games in 2009, missed two games because of a suspension, returned for a game and then was dismissed for violating team rules. Cissoko is now in jail serving time for his role in multiple robberies.
Donovan Warren: First-team All-Big Ten selection in 2009 declared for the NFL as a junior but wasn't drafted in April.
Adrian Witty: Signed with Michigan in 2009 but never made it to Ann Arbor because of academic issues.
Michigan's defense has more issues than just one position, but the Wolverines certainly would be better with some of these guys on the field right now.
Rodriguez also said Wednesday that receiver
Martavious Odoms
(foot) and safety Mike Williams (concussions) likely won't return this season. Running back
Fitzgerald Toussaint
(shoulder) will miss Saturday's game.
Not good for a team that desperately needs a win.
October, 9, 2010
10/09/10
5:36
PM ET
ANN ARBOR, Mich. -- Michigan built its 5-0 record on big plays, especially those involving
Denard Robinson
.
But through the first two-plus quarters today, Michigan State is making all the noise.
All three of the Spartans' touchdowns have stretched longer than 40 yards, the last a 41-yard pass from
Kirk Cousins
to
Mark Dell
to put Michigan State up 23-10. The Spartans made a statement on the first drive of the second half, continuing to exploit the holes in Michigan's defense.
Cousins stayed in the pocket nicely despite pressure from Craig Roh and made a beautiful throw to Dell, who beat true freshman Cullen Christian. Christian had entered the game after an injury to James Rogers.
Michigan needs to resurrect its big-play offense before it's too late. The Spartans lead 24-10 early in the third quarter, but Michigan is driving.
August, 30, 2010
8/30/10
3:30
PM ET
Welcome to National Depth Chart Day. No day on the college football calendar inspires more curiosity about depth charts than the Monday before the season, when most teams release their Week 1 two-deeps.
(And then there's Purdue, which didn't include a depth chart in its game notes for Notre Dame. Ugh.)
I've had the chance to review depth charts from those programs that released them today -- two-deeps from Illinois, Michigan State and Minnesota are coming soon -- and I checked in on several coaches' news conferences.
Here's what stood out:

INDIANA
Even though Indiana will shift to a 3-4 defensive alignment this year, the depth chart lists a 4-3 with Darius Johnson and Fred Jones as the starting ends and Chad Sherer and Tyler Replogle flanking junior college transfer Jeff Thomas at linebacker.
Interesting to see several veteran offensive linemen like Justin Pagan and Cody Faulkner listed as backups rather than starters. Junior Andrew McDonald steps into some big shoes at left tackle as Rodger Saffold departs to the NFL.
The backup quarterback job remains open, as Dusty Kiel and Edward Wright-Baker are both listed as No. 2 behind Ben Chappell.
Indiana expects big things from redshirt freshman Duwyce Wilson, listed as a starter at wide receiver, kick returner and punt returner.

IOWA
Sophomores Micah Hyde and Greg Castillo are listed as the starting cornerbacks. Shaun Prater doesn't appear on the depth chart after dealing with a leg injury in camp. Prater hasn't been officially ruled out for the Eastern Illinois game, but I wouldn't expect to see much of him on Saturday.
James Ferentz is listed as the starting center, a spot where Iowa might be a little thin following Josh Koeppel's motorcycle accident Monday morning.
Starting defensive end Broderick Binns is suspended for the opener, so Christian Ballard is listed as a possible starter at both end and tackle. Mike Daniels and Lebron Daniel are the next options behind Ballard.

MICHIGAN
Sophomores Denard Robinson and Tate Forcier and freshman Devin Gardner are listed as co-starters at quarterback. Head coach Rich Rodriguez reiterated Monday that Gardner won't redshirt this fall.
Vincent Smith and Michael Shaw are listed as co-starters at running back, with Michael Cox behind them.
True freshman Carvin Johnson is listed as the starter at the spur position (safety/linebacker). Pretty big surprise here, and a testament to Johnson's work in camp.
Senior James Rogers steps into Troy Woolfolk's starting cornerback spot opposite J.T. Floyd.
Receivers Martavious Odoms and Kelvin Grady clearly showed enough in camp to be listed as starters or possible starters against Connecticut.

NORTHWESTERN
Sophomore running back Arby Fields returned to practice Monday and wore a no-contact jersey after being sidelined with a shoulder problem. He's listed as a co-starter at running back with Jacob Schmidt and Stephen Simmons. Northwestern wanted a clear No. 1 running back to emerge in camp, but Fields' injury changed the plan.
Junior Bryce McNaul is listed as the third top linebacker alongside returning starters Quentin Davie and Nate Williams. McNaul won the job in camp.
Venric Mark is the only true freshman listed on the depth chart, both as a backup wide receiver and a co-starter at punt returner. I'll go out on a huge limb (sarcasm) and predict Mark will be the man on returns for the Wildcats very shortly.

OHIO STATE
Junior defensive end Nathan Williams, a projected starter, will miss the Marshall game with a knee injury. He should be back shortly thereafter. Solomon Thomas will start in Williams' spot Thursday night.
Starting cornerback Chimdi Chekwa (hamstring) is questionable for the Marshall game, but corner Devon Torrence (hamstring) should be fine.
Sophomore C.J. Barnett's strong performance in camp lifted him ahead of Orhian Johnson on the Week 1 depth chart. Johnson missed a chunk of camp with an injury.
Start salivating, Buckeyes fans, because running backs Jordan Hall and Jaamal Berry likely will handle kickoff returns against Marshall.

PENN STATE
Sophomores Kevin Newsome and Matt McGloin and freshman Robert Bolden are listed as co-starters at quarterback for the Youngstown State game.
Sophomore Devon Smith's strong camp landed him a starting spot at both receiver and kick returner, and a backup role on punt returns.
Redshirt freshman Garry Gilliam is listed as the starting tight end, as Andrew Szczerba likely will miss the opener with a back injury. Penn State obviously is thin here after losing Andrew Quarless and Mickey Shuler.
Veterans Nate Stupar, Chris Colasanti and Bani Gbadyu are listed as the starting linebackers, with promising younger players like Michael Mauti and Gerald Hodges right behind them.

WISCONSIN
After a very impressive camp, freshman running back James White appears at No. 3 on the depth chart behind both John Clay and Montee Ball. White also is the No. 2 punt returner behind David Gilreath. His emergence likely will result in veteran Zach Brown redshirting the season.
Senior Blake Sorensen likely will start at outside linebacker, as Mike Taylor continues to rehab after undergoing a second procedure on his knee in camp. Culmer St. Jean and Chris Borland are listed as the other starting linebackers.
The starting cornerback spots remain open, as Niles Brinkley, Antonio Fenelus and Devin Smith will compete in practice this week.