July, 17, 2013
7/17/13
12:00
PM ET
Big Ten media days start in one week.
April, 4, 2013
4/04/13
12:00
PM ET
The spring practice live blog comes to you from Michigan today. Be sure and check in starting at 1 p.m. ET, and Wolverines quarterback Devin Gardner will take your questions at 1:30 p.m. ET.
To the links ...
March, 20, 2013
3/20/13
1:15
PM ET
Michigan has suffered a huge setback early in spring practice, as the team announced Wednesday that junior linebacker
Jake Ryan
tore his ACL during Tuesday's practice.
Ryan is the team's top returning defensive player, having led the Wolverines last year with 88 tackles, 16 tackles for loss, 4.5 sacks and four forced fumbles. We named him to our
2012 All-Big Ten team
and rated him
No. 17
in our Big Ten postseason player rankings.
[+] Enlarge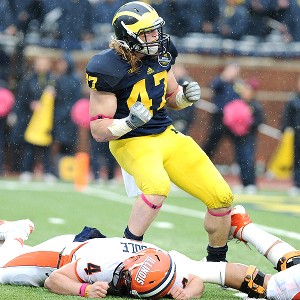 Lon Horwedel/Icon SMIJake Ryan's knee injury leaves a hole in the Michigan defense that will be difficult to fill.
Michigan officials said Ryan is out "indefinitely." If there's any bright side to this injury, it's that it happened on March 19. Typical recovery time for torn ACLs is generally said to be between six to nine months. We don't know how severe Ryan's injury is -- whether it's a complete or partial tear, for instance, or whether there's damage to other ligaments -- but if he were to meet the most optimistic side of that recovery timetable, then he could possibly still come back and play for the Wolverines by midseason. But again, that's if everything goes perfectly.
There have been success stories of athletes recovering quickly from torn ACLs. The most notable one is Minnesota running back Adrian Peterson, who led the NFL in rushing last season after suffering his ACL tear on Christmas Eve 2011.
"I know he will attack his rehabilitation just like he does everything else and will be back when he's ready," head coach Brady Hoke said in a statement.
Linebacker also looks to be Michigan's deepest position. Hoke told ESPN.com last week before Ryan's injury that "we feel a little stronger at that position" and that he expected great competition.
Desmond Morgan
, who started at weak side linebacker last year, had been working out at the middle linebacker spot to allow him and rising star James Ross to play at the same time. The Wolverines also have sophomores
Joe Bolden
and
Royce Jenkins-Stone
, senior
Mike Jones
and incoming freshmen Mike McCray II and Ben Gedeon to compete for snaps.
However, most of those guys -- with the exception of McCray -- profile more as middle or weak side linebackers, and lack the size to play the strong side spot that Ryan occupied. That puts more pressure on senior Cam Gordon -- Ryan's backup -- to play a bigger role. Gordon has appeared in 33 career games, and Hoke praised his winter workout efforts in his interview with ESPN.com last year. But Gordon has yet to show that he can be a star or a major disruptive force the way Ryan has been. Make no mistake about it: this is a big, big loss for Greg Mattison's defense.
The Wolverines have plenty of time to figure out some answers, but it remains to be seen if they can find anyone to fill the playmaking shoes of Ryan. It's the first real negative of the offseason for Michigan, which got great news when
Taylor Lewan
returned, when
Devin Gardner
got his extra year of eligibility, and of course on signing day.
Time will tell how well the team will fill in for Ryan, or whether he can return at all for 2013. But until then, the guy with the flowing golden locks and penchant for making impact plays will be sorely missed.
March, 13, 2013
3/13/13
9:00
AM ET
Michigan begins spring practice on Saturday with both some question marks and some major returning talent. Brady Hoke says of his team: "We're very young. But these guys have a lot of fight to them." There will also be a lot of fighting for starting jobs, beginning in a few days. I recently caught up with the third-year Wolverines coach for his thoughts on the approach of spring ball:
What are the main things you're looking for this spring?
Brady Hoke:
Well, you know, we've got a lot of open spaces. Some guys graduated, some guys aren't with the program anymore and we've got a lot of young guys. I think we only have 11 starters back on both sides of the ball, so there's going to be a lot of great competition, which is exciting. I think the leadership of our seniors, they've done a nice job of holding everybody accountable. But when you get out there with the pads on, it's a little different than just running around in shorts.
[+] Enlarge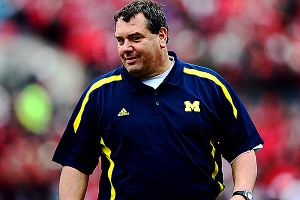 Andrew Weber/USA TODAY SportsWith only 11 returning starters, Michigan coach Brady Hoke said he's excited about the competition this spring.
Some of that competition will be on the offensive line, where you've got three open jobs on the interior. How do you see those battles right now?
BH:
Well, I think the interior of both lines, there's going to be a lot of competition. We've got to find a center, and that's between [
Jack] Miller
and [
Graham] Glasgow
, and
Joey Burzynski
will try to figure that out a little bit, too. At the guard positions,
Ben Braden
is going to move down inside and start out at the left guard, but he'll have a lot of competition because Burzynski is back and so is
Blake Bars
.
Kyle Kalis
will move into the right side, and it will be interesting again with [
Kyle] Bosch
and some of the guys who have been here a little bit. I think it will be a really good competition at all three of those inside positions.
Having
Taylor [Lewan
] back is huge. I think it's great for him and great for Michigan.
Mike Schofield
has had a really good winter. He had some real bright spots during the course of last season, and I think his development is going to be something special.
You mentioned the defensive line, where you also lost a couple of veterans. How does that shape up?
BH
: I think inside, we get
Jibreel Black
for another year and
Quinton Washington
. But once you get through that, there are a lot of young guys ...
Willie Henry
,
Ondre Pipkins
,
Ryan Glasgow
,
Richard Ash
and
Chris Wormley
are all guys who can either play the inside tackle or the strongside end. We'll find out the guys who are competitive.
Tommy Strobel
is another guy we think had a real good winter, and
Keith Heitzman
. So it's going to be fun to see them compete.
Does having so many young guys in key spots on the line make you nervous? Or do you have a lot of confidence in them because you recruited most of them?
BH:
I think it makes you nervous if you think you may have recruited the wrong guys. But we like the work ethic. We like how they've come in to learn and with a lot of enthusiasm. I think there's some competitiveness that we need to keep pushing as a program. You know, we lost five games on the road. We've played pretty well at home but we've got to do better on the road and that's a mindset, a mentality that you have to compete through everything, on every down.
Devin Gardner goes into spring practice as your starting quarterback. How has he developed as a leader?
BH:
I have been really excited about the progress he's made. I'm seeing that maturity that it takes and the leadership it takes and the competitiveness it takes to be the quarterback at Michigan. I think that's a real big part of how he's grown, and I think he's done a nice job with it. I'm liking the direction he's going, and hopefully he can just keep going and keep growing.
What about your running back position this spring, with Fitz Toussaint hurt and Derrick Green not there yet?
BH:
You know, Fitz has come along pretty well. I don't think he'll do a lot of contact or anything like that, but I think he'll be cleared for a lot more drill work. That's gone real well. We've moved [
Dennis] Norfleet
back to running back and we're going to give him an opportunity. Dennis, he's a smaller guy, but he's a very competitive, very tough young man.
Drake Johnson
is a guy we redshirted a year ago, and we really liked the way he competed in scout situations. In the bowl practices, we did some scrimmages and gave him a lot of carries, and we're very excited about what he has to offer.
Thomas Rawls
is coming back, and I think he learned a lot last year about the vision he needs to play with, and I like how he's competed through the [winter]. And
Justice Hayes
is a guy who gives you a little bit different look because of how he can get on the perimeter. He did some things in a couple of games last year, but now I think he'll have a big stage to prove himself more this spring. And he's a bigger guy now, he's 190-something pounds, so he's a little bigger.
[+] Enlarge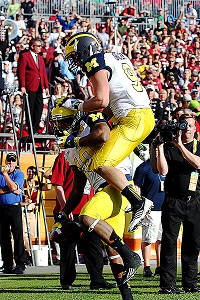 Kim Klement/USA TODAY SportsMichigan coach Brady Hoke said that he's pleased by more than just the on-field success of WRs Drew Dileo and Jeremy Gallon.
You have Jeremy Gallon back at receiver, but you lost Roy Roundtree. You sounded excited about some of the younger guys there during bowl prep. Is spring their time to step up now?
BH:
Yeah, I think so. First of all, I think the leadership with Gallon and
Drew Dileo
, they've done a really nice job being leaders at that position. They're not big guys, but they have a real spirit for the game and really do a nice job of working and leading. We have
Amara Darboh
, who played a little last year, and
Jehu Chesson
, who we redshirted a year ago. And I think
Jeremy Jackson
has had a very good winter; we're very excited about some of the progress he's made.
Joe Reynolds
is a guy who walked on here, and he's done a very nice job. And
Bo Dever
, his dad played here and he walked on. I think that during the course of the spring, we'll be in pretty good shape there. I think as we keep going, we'll keep improving at that position.
Linebacker was a strength for you last year and looks to be so again. Do you see some good competition there this spring, particularly at the weakside spot?
BH:
Yeah, I think with
Desmond Morgan
and
James Ross
, there's going to be great competition.
Joe Bolden
and
Royce Jenkins-Stone
and
Mike Jones
are all guys who are very competitive, and I think the three young guys coming in are going to be guys who will give us a lot of good competition and a lot of good depth.
Kaleb Ringer
is coming back from injury, so we'll see what he can give us. At the sam linebacker,
Jake [Ryan
] is coming back, and we really like what
Cam Gordon
has done during the winter. So I think we feel a little stronger at that position.
How do you replace what Jordan Kovacs gave you in the secondary?
BH:
I don't know if you ever replace that kind of leadership, but I really think
Thomas Gordon
, he's played a lot of football here, and it's time for him to demonstrate the leadership. And he's doing that. Because of the number of snaps and everything he's done, he's really fallen into his own a little bit.
Courtney Avery
has played a lot of football, and whether he's a corner a nickel or wherever, he's got to give us great leadership and great reps.
Blake Countess
is getting healthier; he'll do some things during the spring.
Josh Furman
, I think, has come on.
We've got to see where
Terry Richardson
is and where
Marvin Robinson
is. Both those guys have played a number of snaps. We've got
Raymon Taylor
back, who I think started every game for us last year, we're excited about his development.
Dymonte Thomas
is a guy who's going to compete, and he'll pressure some guys.
Jarrod Wilson
is another guy who played some last year for us. Ross Douglas is here early.
Jeremy Clark
is a 6-foot-4, 210-pound safety we redshirted a year ago, and it's going to be a big spring for him to make some moves.
So I think we may have more personnel back there. And even more in the fall when
Channing Stribling
gets in, and
Reon Dawson
gets in and
Jourdan Lewis
. I think it's going to add something to our secondary.
Finally, what has your message been to the team this offseason after last year's 8-5 season?
BH:
Well, our message has been, we haven't met the expectations at Michigan. That's something that as a football community… that we really feel that we have to do a much better job in all areas, from the coaching aspect of it, from learning and playing with the competitiveness we want to have, from every player at every position playing with the intensity we want to play with. It's about having a mindset and a mentality of how we want to play the game. We make no excuses, but at the same time, we know we have a lot we can do to play better football.
March, 7, 2013
3/07/13
10:00
AM ET
Spring practice is kicking off around the Big Ten, and we're taking a look at one potential breakout player for each team. We're spotlighting players who could take a major step during spring ball, so those who have started multiple seasons or earned All-Big Ten recognition in 2012 aren't eligible.
Next up: the
Michigan Wolverines
.

James Ross III, LB, sophomore, 6-foot-1, 225 pounds
It looks like Michigan's linebacking corps are in very good hands for the foreseeable future.
Jake Ryan
emerged as a star during his sophomore campaign, while rising junior
Desmond Morgan
and rising sophomore
Joe Bolden
should be mainstays in the rotation.
It's possible that Ross might have the highest ceiling of them all. He made two starts last year as a true freshman when Morgan was injured, and he made a team-high 12 tackles in the Nov. 17 win over Iowa. He showed lots of promise as a ball-seeking missile at weakside linebacker; a full offseason of weight training should help him be more prepared to shed blockers and go head-to-head with the Big Ten's most bullish running backs (guys like
Mark Weisman
and
Carlos Hyde
). It's going to be awfully hard to push Morgan out of the starting lineup, but a big spring by Ross could convince the coaching staff to move Morgan to middle linebacker.
Michigan has several players who could break out this spring, including some young linemen on both sides and those at receiver. But Ross might have the best combination of talent and opportunity, and steady spring progress from him would further empower what is arguably already the Wolverines' strongest position.
February, 19, 2013
2/19/13
1:00
PM ET
It's time for another installment of our postseason position rankings, and today we're looking at one of the strongest groups in the Big Ten in 2012: the linebackers.
Just about every team boasted one standout linebacker last season, and many had multiple ones. That makes this list one of the tougher ones to date, and there's not a whole lot of separation between teams, especially in the middle. Star power matters, but depth is also important.
You can see how we ranked the linebackers entering the season
here
. Here's how we see things now:
1. Penn State (Preseason ranking: 2):
We ranked the Nittany Lions second in the preseason, not knowing for sure how
Michael Mauti
would bounce back from his latest knee injury. Well, we picked him as our Big Ten defensive player of the year.
Gerald Hodges
was his usual brilliant self, especially when he switched into beast mode during league play. And the guy nobody talks about,
Glenn Carson
, also had a very solid season. Linebacker U., indeed.
2. Wisconsin (Preseason: 3):
Mike Taylor
and
Chris Borland
were so good and so consistent that we may have begun to take them for granted. Taylor collected 123 tackles, while Borland had 104, and the two combined for 25 tackles for loss and 7.5 sacks. The unsung member of the trio,
Ethan Armstrong
, added 93 stops. Once again, the linebackers were the strength of a very good Badgers defense.
3. Michigan State (Preseason: 1):
Max Bullough
was a first-team All-Big Ten performer who led the Spartans with 111 tackles.
Denicos Allen
didn't match his 2011 numbers but still managed 10 tackles for loss and three sacks. Sophomore
Taiwan Jones
surpassed
Chris Norman
late in the year to give the unit even more depth. This group may have lacked the truly huge, game-changing plays, but it's hard to ask for much more than what it provided all season.
4. Michigan (Preseason: 5):
The Wolverines linebacking crew became the backbone of the defense in 2012.
Jake Ryan
turned into a star with his flair for the big play; he piled up 16 tackles for loss and four forced fumbles.
Kenny Demens
and
Desmond Morgan
were both solid, underrated players, and freshmen
James Ross III
and
Joe Bolden
helped give this group outstanding depth.
5. Northwestern (Preseason: 11):
The Wildcats made the biggest jump from the preseason rankings, as all three starters (
Damien Proby
,
David Nwabuisi
and
Chi Chi Ariguzo
) collected at least 91 tackles. Ariguzo developed into a big-time playmaker, with 10.5 tackles for loss, two interceptions and four fumble recoveries. Proby and Nwabuisi were almost criminally underrated.
6. Ohio State (Preseason: 4):
The Buckeyes had the most interesting stories at linebacker.
Ryan Shazier
emerged as a destructive force of nature, especially in the second half of the season.
Zach Boren
switched from fullback to linebacker midseason and made a surprisingly smooth transition.
Etienne Sabino
broke his leg but came back to finish the year.
Storm Klein
returned from a suspension to contribute a little. There were some weak spots and shaky moments here, but Shazier's sheer strength helped hold this group together.
7. Iowa (Preseason: 8):
Stats alone would tell you that the Hawkeyes had one of the best linebacking corps around. First-year starter
Anthony Hitchens
was one of the top tacklers in the nation with 124 stops, while
James Morris
(113) and
Christian Kirksey
(95) also ranked among the league leaders in that category. But tackle numbers alone don't tell the whole story, and Iowa lacked the kind of high-impact plays from its linebackers that teams above it on this list produced.
8. Nebraska (Preseason: 7):
The Huskers had their issues on defense, but it was hard to fault the play of
Will Compton
, who led the team with 110 tackles and three fumble recoveries.
Alonzo Whaley
,
Sean Fisher
and
David Santos
ably filled out the rest of the group, but Nebraska had trouble finding the right combination of speed and experience at linebacker.
9. Minnesota: (Preseason: 10):
The Gophers were young in a lot of spots but not at linebacker, where experienced veterans like
Mike Rallis
and
Keanon Cooper
led the way.
Aaron Hill
rounded out what was a solid, if unspectacular, corps that helped Minnesota make great strides on defense.
10. Illinois (Preseason: 6):
Injuries were one reason why
Jonathan Brown
didn't blossom into the superstar we expected to see. He had 9.5 tackles for loss but played in only nine games. It says something about both the Illini linebackers and the defense as a whole that true freshman
Mason Monheim
led the team with 86 tackles. He and fellow first-year player
Mike Svetina
at least give Illinois some reason for optimism.
11. Purdue (Preseason: 9):
Dwayne Beckford was kicked off the team in August, and things didn't get a whole lot better from there.
Will Lucas
led the group with 66 tackles, but it was a sign of Purdue's problems at linebacker that converted quarterback
Sean Robinson
started here. Improving the linebacker play should be a top priority for new head coach Darrell Hazell.
12. Indiana (Preseason: 12):
Junior-college import
David Cooper
stepped right in and made an immediate impact, recording 86 tackles and nine behind the line of scrimmage. But the Hoosiers struggled to find consistent play elsewhere at the position. It's no coincidence that Kevin Wilson's latest recruiting class includes several potential linebackers.
January, 11, 2013
1/11/13
4:30
PM ET
Weekend's here! Forgot how much I liked these.
Daniel from Ypsilanti, Mich., writes:
Hey Adam, I think Lewans recent decision to continue at Michigan might have implications in Derrick Green's future commitment decision. You guys even stated that it makes a big difference in the Oline for next year. Do you think a five star RB might keep in mind the presence of a lineman like Lewan when deciding where to go? An All American lineman on an offense that would have an opening for early playing time sounds quite enticing for an RB does it not? Add to that Morris , who should be starting in the next couple years barring anything unforeseen, and it seems like the perfect fit for Green. What do you think?
Adam Rittenberg:
Daniel, I think the
Shane Morris
factor would be a lot bigger than the
Taylor Lewan
factor for a player like Green, and the biggest factor is how well Michigan is recruiting at offensive line for the coming years. You don't make a decision like this based on one lineman who will only be there for your true freshman season. Morris, meanwhile, could be Green's quarterback for multiple years, and Michigan's offensive line recruiting efforts for 2013 are among the best in the nation. Michigan has five offensive line recruits in the ESPN 300 (all among the nation's top 160), including three of the nation's top seven guards. The future of Michigan's offensive line is a greater selling point to a running back like Green than the Lewan-led line in 2013.
Matt from Omaha writes:
Adam,I have to say your final rankings for the B1G, while meaningless, struck a chord with me. All season you preached it's not about who you lost to, but who you beat. So how in the world, three teams that we beat are ranked in front of us-with virtually the same record (in Michigan's case worse), makes no sense. True, Nebraska did not acquit themselves well in the B1G title game. However, they played toe to toe with Georgia for 3 and 1/2 quarters before falling short. There is no shame in that for a team that nearly beat Alabama.
Adam Rittenberg:
Matt, you correctly acknowledge the power rankings are meaningless because they are -- especially the Jan. 8 version -- despite all the ire they generate. Now refresh my memory: when did I say the power rankings were all about who you beat and not about who you lost to? The line I've reiterated time and again about the rankings is that they're a snapshot of how a team is performing right now. It's the ultimate what-have-you-done-for-me-lately thing. That's why Nebraska sits at No. 5. The Huskers ended the season poorly. I simply can't look past the Big Ten title game flop. To me, it really invalidated a lot of what Nebraska did in the regular season. Harsh? Maybe. But Nebraska lived a fairly charmed life down the stretch in Legends Division play, surviving turnovers and benefiting from calls and injuries. It received a seemingly favorable matchup in Indy (5-loss Wisconsin) and proceeded to lay a giant egg on the big stage. While Michigan also lost its final two games, it competed a lot better against Ohio State than Nebraska did and competed better in its bowl game than Nebraska did. Nebraska's head-to-head win on Oct. 27 might as well have happened decades ago, for power rankings purposes.
Yooper from Minneapolis writes:
Hey Adam ... humor me with a way-too-early bold prediction for next year for the league's bowl record. It sure seems like most B1G teams outta see improvement next year, and even without OSU & PSU playing this year it could've easily been 4-3 had the UMs not blown games in the last minute. I'm gonna say 5-3 in bowls, and 3-1 on NYD, including a RB win...all of which sets the league up nicely to place someone in the first playoff the following year...what you got?
Adam Rittenberg:
Yooper, you're a braver man than I am, as I can't offer a sensible prediction without knowing the bowl matchups. What if the Big Ten faces a 1-loss Oregon team in the Rose Bowl? Won't be easy to win it. I do think the Big Ten has a stronger chance of sending two teams to BCS bowls next season as Ohio State once again becomes eligible. Will that hurt the league's overall bowl matchups like it has in years past? Perhaps. But if teams like Michigan State, Michigan and Nebraska make strides in 2013, the league will be set up to post a better bowl mark. It's important to remember that that Big Ten's bowl lineup is never easy, and a .500 record is a pretty good performance in most seasons. I think there's a decent chance the Big Ten improves on this year's record. How much? Without seeing the matchups, I can't go there.
Derek from Chicago writes:
I think everyone needs to chill out about how down the B1G actually is. As much as everyone likes to point at certain losses and say the B1G just can't compete on a national level, that simply isn't the case. A few consecutive years of some marquee losses is embarrassing, but the B1G isn't as far behind as people like to think in terms of competition. I am not a Wisconsin fan, but let's look at the Badgers here for a little perspective. The teams that went to the 2011 and 2012 Rose Bowls were without a doubt national championship-level teams, loaded with NFL talent, that would have competed with any team from the all-powerful SEC. This year's Rose Bowl team was mediocre at best, and only lost to a top-10 Stanford team by a touchdown. Not bad for a team that had no business being in the Rose Bowl. It's unfortunate that the B1G keeps losing these marquee national matchups, but the reality is that the B1G isn't actually down, it more just a string of bad luck that is easy to criticize. It's silly to say "the B1G just doesn't have the speed on the edges to compete Oregon," when we're just one score away from "Oregon just doesn't have the strength to compete with the B1G". (I use Oregon as an example, but feel free to insert SEC, Big 12, etc).
Adam Rittenberg:
Derek, you make some good points here, and you challenge people to put the Big Ten's bowl performance into context. It's true that the Big Ten hasn't been that far away and has been hurt by unfavorable matchups and unfortunate circumstances (Ohio State/Penn State being ineligible this year). Ultimately, a league like the Big Ten needs to win more games -- Rose Bowls, other BCS bowls and the national title game. Wins like those have a way of making criticism go away. Wisconsin should have won the Rose Bowl after the 2010 season. It had a better team than TCU but didn't play better on that day. Wisconsin had no business losing three games with last year's team, led by
Russell Wilson
. That's not just bad luck or bad circumstances. You don't get credit for competing well year after year if the marquee wins don't start coming. The Big Ten needs to start winning some of these big games again if it wants any credit nationally.
Bill from Michigan writes:
Adam - Spartan fan here. You guys do a great job but on your 5 defensive players to watch - trade S. Calhoun for
Taiwan Jones
. Nothing against Calhoun who does have a lot of potential, but Jones beat out a solid 3 yr starter (C. Norman) this year and just keeps getting better. He is my pick as a breakout performer. Will be interesting to see if either of us is right. Take care.
Adam Rittenberg:
Bill, we probably should have explained it better, but
those lists
are meant to recognize players who aren't starters but will be soon and could make a big impact in 2012. We could have included Jones, and I came away impressed with what he did this season, but he already took a big step in moving into the starting lineup. He definitely could take things to another level next season, but it might be tough because
Max Bullough
and
Denicos Allen
both are back, and both are very productive as well.
Shilique Calhoun
, meanwhile, could take a spot where there's a need after Will Gholston's departure. I think we might both be right about these two, but Jones' accomplishments certainly should be recognized this year.
Sam from Fairfax, Va., writes:
Adam, I think you missed the mark with which Michigan linebacker you chose in your "5 Defensive Players to Watch" column. Yes, Bolden should be good next year and play a decent amount of snaps, but there's a good chance that
Desmond Morgan
slides over from weak to middle linebacker this offseason. The two positions are similar enough in Michigan's defense that he should be able to pick it up fairly quickly, but he's never had good enough athleticism to really stand out at weakside linebacker. James Ross on the other hand does and is a much more natural fit for the position. I think Ross is your next star on the linebacking corps at Michigan, with Bolden needing more time to grow and getting fewer opportunities to shine.
Adam Rittenberg:
Sam, thanks for the note. You're not the only Michigan fan I've heard from who is vouching for Ross ahead of
Joe Bolden
. The Morgan move would make sense for Ross to slide in at weakside linebacker, while Bolden could be used more as a fourth 'backer. Both players are talented and Michigan looks absolutely loaded at linebacker for years to come. It'll be interesting to see whether the Wolverines identify a difference-making defensive lineman to complement their strength at linebacker.
Bob from Crown Point, Ind., writes:
Purdues of the world? That's your answer to Gino in Columbus?...c'mon Adam. Purdue is not that far removed from the strong football years under Tiller. Add in the history of Purdue basketball...both men and women's...and I think Purdue's athletic contributions to the Big Ten Conference should have been defended a bit stronger.
Adam Rittenberg:
Bob, you have to put the reference in the proper context. I was
explaining to Giro
that the Big Ten's revenue sharing model allows programs with fewer resources, like Purdue, to have the same cut as programs with many more resources, like Ohio State. It had nothing to do with how many championships won or athletic contributions. From a pure revenue/resource standpoint, Purdue is near the bottom of the Big Ten. Purdue sponsors the fewest number of varsity sports (18) of any Big Ten institution. Not a knock, just a fact. Purdue has tradition in both football and men's basketball, and the Big Ten's revenue sharing model allows programs like Purdue, Minnesota, Northwestern and Indiana to receive the revenue to compete with some of the larger athletic programs in the conference.
December, 11, 2012
12/11/12
9:00
AM ET
The Big Ten doesn't name an official all-freshman team, but that won't stop us from coming up with our own.
There were many impressive debuts this year in the league, and several players showed off promising potential. Here is our 2012 all-freshman squad, captained by freshman of the year
Deion Barnes
:
Offense
QB:
Joel Stave
, Wisconsin*
RB:
Melvin Gordon
, Wisconsin*
RB:
Imani Cross
, Nebraska
WR:
Aaron Burbridge
, Michigan State
TE:
Kyle Carter
, Penn State*
TE:
Devin Funchess
, Michigan
TE:
Dan Vitale
, Northwestern
OL:
Jack Allen
, Michigan State*
OL:
Jason Spriggs
, Indiana
OL:
Donovan Smith
, Penn State*
OL:
Austin Blythe
, Iowa*
OL:
Dan Feeney
, Indiana
Defense
DL: Deion Barnes, Penn State*
DL:
Adolphus Washington
, Ohio State
DL:
Noah Spence
, Ohio State
DL:
Dean Lowry
, Northwesterm
LB:
Mason Monheim
, Illinois
LB:
Joe Bolden
, Michigan
LB:
Mike Svetina
, Illinois
LB:
James Ross
, Michigan
DB:
Nick VanHoose
, Northwestern*
DB:
Frankie Williams
, Purdue*
DB:
RJ Williamson
, Michigan State*
Specialists
K:
Taylor Zalewski
, Illinois*
P:
Drew Meyer
, Wisconsin*
KR:
Dennis Norfleet
, Michigan
All-purpose:
Josh Ferguson
, Illinois*
* -- redshirt freshman
As you can see, we got creative again -- we had a 3-4 defense for our ESPN.com All-Big Ten team, and now we have a revolutionary 4-4-3 setup on our all-freshman defense. Why? Well, the pool for newbie defensive backs in this league was very shallow, so we preferred to recognize an extra linebacker instead of forcing the issue at DB. ... You might also notice our 12-man, three-TE offense. We believe the young tight ends in this league are extremely promising, and we didn't even include Penn State's
Jesse James
. Outside of Burbridge, there wasn't much production from freshman receivers. ... We left off some pretty good young offensive linemen who just missed the cut, including Minnesota's
Josh Campion
and Illinois'
Ted Karras
. ... Stave gets the nod over the Gophers'
Philip Nelson
even though he missed the final month with a broken collarbone. Nelson had a great game against Purdue but had some poor statistical outings down the stretch. ... Carter was the only freshman who also made our All-Big Ten team. ... Gordon showed what a high ceiling he has with his 200-plus yard performance in the Big Ten title game. He could be an absolute superstar.
June, 3, 2011
6/03/11
9:00
AM ET
The calendar has flipped to June, and summer recruiting is in full swing around the Big Ten.

There have been quite a few verbal commitments in recent days, so let's take a quick look at where each Big Ten team stands with its 2012 class.

ILLINOIS
INDIANA
IOWA
MICHIGAN
MICHIGAN STATE
MINNESOTA
NEBRASKA
NORTHWESTERN
OHIO STATE
PENN STATE
PURDUE
WISCONSIN

May, 10, 2011
5/10/11
3:00
PM ET
A big step to recruiting success is knowing exactly what you want, and Michigan's new coaching staff has a clear vision for its first full recruiting class.
Especially on defense.
"I know what our recruiting emphasis is going to be," Wolverines defensive coordinator Greg Mattison told me last month in Ann Arbor. "We need to get bigger, stronger defensive linemen. We've got to get bigger in a lot of ways on defense, and that's how we're recruiting."
The fact that Michigan already has
10 verbal commitments
for the 2012 class -- most of any Big Ten team -- certainly stands out. But the more interesting element is that six of Michigan's commits play linebacker or defensive line, and all of the players are listed at 215 pounds or more.
The Wolverines are beefing up in their defensive front seven.
"They know what they want their identity to be," Tom Luginbill, national recruiting director for ESPN's Scouts Inc., told me Tuesday. "They know what type of fit works for them. That's one thing that is so overlooked and not given any credence in recruiting. Everybody wants to focus on, 'This guy's a four-star [recruit], this guy's a five-star.' That doesn't necessarily mean he's the right player for your program.
"There's got to be that happy medium between getting a great player, but getting the right guy for you. That can be hard to do."
Luginbill has seen Michigan strike a balance so far. Although the Wolverines haven't landed or even offered every top-rated local prospect, they've received pledges from players who can flourish in Mattison's defense, such as outside linebacker
Royce Jenkins-Stone
.
"He's going to be a really, really, really good player," Luginbill said. "For what Greg Mattison wants out of the linebacker position, he brings that physicality and that Ray Lewis-style of play, which is something that they dramatically need."
Michigan's quick start to 2012 recruiting hasn't surprised Luginbill, who notes that coach Brady Hoke and several of his assistants, including Mattison, boast ties to the Midwest. And after the Wolverines' historic struggles on defense the past three seasons, the staff has made the unit its top priority clear on the recruiting trail.
"This is a very strong linebacker-based group right now," Luginbill said. "There's 10 verbal commitments, and you're looking at three of those top players [Jenkins-Stone,
Joe Bolden
and
James Ross
] are either inside or outside linebackers, as far as the way we've got them rated.
"We're going to be putting together the [ESPNU] 150 in the first week of June. Right now, the way we've got their guys rated, they've got three to four guys who are going to be in that ESPNU 150 grade range. So it's a strong group."
May, 5, 2011
5/05/11
9:00
AM ET
I meant to get to this earlier in the week but got bogged down with
Big Ten spring wrap-up stuff
. Anyway, there have been some interesting recent developments in Big Ten recruiting.
Here are my thoughts ...

Wisconsin lands commitment from QB Bart Houston
First off, I'm going to love writing and saying the name Bart Houston in the coming years. Great quarterback name.
Bret Bielema told me last month that Wisconsin's Rose Bowl run increased the program's national exposure. He said the Badgers have received calls from more top-level recruits and from recruits who live far from Madison. The coach also acknowledged most of these players were running backs and offensive linemen, two positions where Wisconsin has thrived.
Houston's commitment for the 2012 class
is significant because of the position he plays. For an ESPNU 150 Watch List quarterback to pick a run-heavy team like Wisconsin shows the program can appeal to elite signal callers. I grew up in the Bay Area, and I remember Houston's high school (De La Salle) dominating the state and national ranks. There's a lot to like here.
Wisconsin wants to show it can reload year to year like Ohio State, but the Badgers have seen drop-offs at the quarterback spot (2008). There's a lot of concern about the quarterbacks heading into the 2011 season. Wisconsin ultimately needs to upgrade its quarterback recruiting, and Houston is a good start.

Michigan's fast start to 2012 recruiting
New Wolverines coach Brady Hoke and his assistants aren't wasting any time on the recruiting trail so far. Michigan already has landed eight verbal commitments for 2012, two more than any other Big Ten squad (Ohio State and Penn State both have six verbals).
More notable is the fact that four of Michigan's commits are linebackers, including ESPNU 150 Watch List member
Joe Bolden
and
James Ross
, who has drawn strong reviews from some recruiting services. Hoke and defensive coordinator Greg Mattison both talked to me this spring about wanting to upgrade the size and strength of the defensive front seven through recruiting. These early commits give an idea of what the coaches envision for the defense in the coming years.

Ohio State recruiting and the NCAA situation
A lot of folks are wondering how the situation involving coach Jim Tressel and the NCAA will impact Ohio State's recruiting.
The Buckeyes boast six verbal commits for 2012, but only one -- wide receiver
Frank Epitropoulos
-- has pledged after the NCAA situation came to light. Running back
Bri'onte Dunn
, who committed in September, recently told Bucknuts.com that
he might reconsider his college choice
.
After his son committed to Ohio State, John Epitropoulos, a former Buckeyes player, told
The Cleveland Plain Dealer
, "We needed some good news around here, and if it so happens that he can be the good news, so be it."
Tressel's future has to be on the minds of recruits considering Ohio State, and it'll be interesting to see how many more commit before the NCAA situation is resolved. Ohio State assistant head coach Luke Fickell told me last month that he hasn't encountered much negative recruiting yet, but you can bet some schools will use the Tressel/NCAA situation to steer players away from the Buckeyes.
Other recruiting thoughts
After a very slow start to 2011 recruiting, Penn State already has six verbal commits for 2011, including four linemen. Decorated defensive tackle prospect Jarron Jones has given Penn State a soft verbal and still will visit other schools.
Michigan State got on the recruiting scoreboard for 2012 in a big way with three verbal commitments late last week. Among the commits is linebacker Riley Bullough, the younger brother of Spartans linebacker Max Bullough.