August, 21, 2014
8/21/14
2:30
PM ET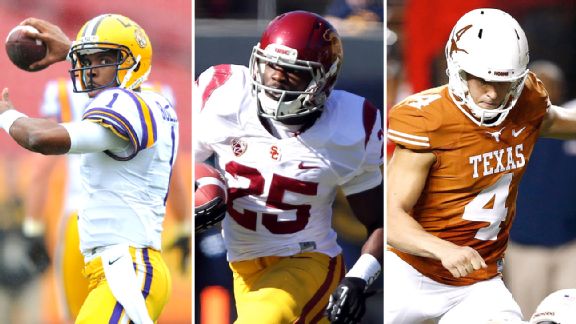 USA TODAY Sports, USA TODAY Sports, Getty ImagesRob Bolden, Silas Redd and Anthony Fera opted to leave PSU in the wake of the Sandusky scandal.
Two seasons ago, in the wake of unprecedented sanctions, the football world waited to see what kind of fate would befall the Penn State Nittany Lions.
Could they still win? Could they still recruit? Better yet, just how many players would leave?
One of the biggest ramifications of the sanctions was a penalty that allowed Penn State players to transfer to any other program without sitting out a year. In the end, only nine players transferred that summer.
Penn State fared just fine the past two seasons. But whatever happened to those nine transfers anyway -- and how did
they
end up faring?
Let's take a look:
QB Rob Bolden
Transferred to:
LSU (then Eastern Michigan)
Claim to PSU fame:
He became the first true freshman quarterback to start a PSU opener since Shorty Miller in 1912. He later lost the job to walk-on Matt McGloin.
How he's fared since transferring:
LSU moved Bolden to wide receiver, but he did not play a single game for the Tigers. So, last month, he transferred to Eastern Michigan. He'll be eligible immediately, but he's no lock for the starting quarterback spot.
No starter has yet been named
.
Grading the move:
D. Transferring was the right move for Bolden; transferring to LSU was not.
---
WR Justin Brown
Transferred to
: Oklahoma
Claim to PSU fame:
He was an important part of the passing game in both 2010 and 2011 and was initially projected to be the top PSU wideout in 2012.
How he's fared since transferring:
He did well for the Sooners in 2012, his final season of eligibility, by catching 73 balls for 879 yards and five touchdowns. The Pittsburgh Steelers drafted him in the sixth round a year ago, and he has two catches this preseason.
Grading the move:
B. It was high-risk, high-reward. He met his goal of being drafted, so it looks as if it paid off.
---
DT/OG Jamil Pollard
Transferred to:
Rutgers
Claim to PSU fame:
He was the only true freshman who signed with PSU and headed elsewhere.
How he's fared since transferring:
After suffering what was termed a "career-ending injury," Pollard returned to the team
just six months later
. He was moved from defensive tackle to offensive guard over the offseason, and he'll be fighting for situational time in 2014.
Grading the move:
Incomplete. It's difficult to rate someone who never played for Penn State. Plus, it's still pretty early in his career.
---
OL Ryan Nowicki
Transferred to:
Illinois (then Northern Arizona)
Claim to PSU fame:
He drew the ire of fans and teammates when he transferred to another Big Ten school. Said cornerback Stephon Morris: "That's a coward move."
How he's fared since transferring:
He didn't play for Illinois in the 2012 season and then decided to move closer to home by transferring to Northern Arizona last June. He played in six games last season, and he's not expected to start this season.
Grading the move:
C. He wasn't going to see much time at Penn State, so his transfer made sense. But maybe he should've just picked Northern Arizona first.
---
RB Silas Redd
Transferred to:
USC
Claim to PSU fame
: He was the Nittany Lions' star offensive player after rushing for 1,241 yards as a sophomore. His transfer, at the time, was the biggest blow to the team.
How he's fared since transferring:
Injuries stalked Redd and he never quite lived up to the hype generated in Happy Valley. Through nine games in 2012, when he was at his healthiest, he averaged 81.3 yards a contest while splitting carries. Redd played in just six games in 2013, went undrafted this past May and signed with the Washington Redskins. He's already fought his way up
to No. 4 on the depth chart
.
Grading the move:
D-. Penn State fifth-stringer
Zach Zwinak
actually outrushed Redd in 2012 -- 1,000 yards to 905 yards -- so it's difficult to imagine a scenario where Redd wouldn't have been better off at PSU.
---
TE Kevin Haplea
Transferred to:
Florida State
Claim to PSU fame:
He left PSU with six catches for 60 yards and a touchdown.
How he's fared since transferring:
He saw significant time for the Seminoles in 2012 as a run-blocking tight end, and he redshirted last season due to a knee injury. He's back for one final season, and he'll be a key backup at the position.
Grading the move:
A. He's seeing more time on the field than he likely would have at Penn State. Plus, he's on a team that won the national title last season and is the favorite to win it again this season.
---
K Anthony Fera
Transferred to:
Texas
Claim to PSU fame:
He was the first Penn State player since Chris Bahr in 1975 to be the starter for field goals, kickoffs and punts.
How he's fared since transferring:
Fera battled with a groin injury in 2012, but he really came on strong when his health improved for 2013. He was a consensus All-American and a Lou Groza Award finalist. He tried out for the Tampa Bay Buccaneers
two weeks ago
but is not yet on the roster.
Grading the move:
B+. He likely would've done just as well if he stayed at Penn State, but he performed incredibly well at Texas.
---
S Tim Buckley
Transferred to:
NC State
Claim to PSU fame:
He was a former walk-on and became the first Penn State player to transfer.
How he's fared since transferring:
He mostly played special teams in 2012, but he competed in all 12 games last season and even registered a start against East Carolina. He finished last season with 25 tackles. He's no starter, but he's also a redshirt junior.
Grading the move:
A-. Not bad for a former walk-on. There's no guarantee he would've received as much playing time in Happy Valley.
---
LB Khairi Fortt
Transferred to
: Cal
Claim to PSU fame:
He had 33 tackles in 2011, and he was in line to be the top backup in 2012 and a starter in 2013.
How he's fared since transferring:
He sat out the 2012 season due to knee surgery but rebounded in 2013. He was one of 12 semifinalists for the Butkus Award but suffered a season-ending injury in Game 9. He declared early for the NFL draft and was taken in the fourth round by the New Orleans Saints. He's currently listed as the
second-team outside linebacker
.
Grading the move:
C-. Cal won just a single game last season, and Fortt almost certainly would've started for the Nittany Lions' in 2013. At least he's flying high now as an NFL rookie.
July, 5, 2013
7/05/13
3:00
PM ET
Wishing you a great holiday weekend. I'm off next week, so direct your questions to
this guy
. My next mailblog comes your way July 16. Don't forget, follow us
on Twitter
.
Let's get started ...
Glenn from Leesburg, Fla., writes:
Adam, I'm not an Urban Meyer fan by a long shot and continue to question his recruiting football players vs college students who play football. However, in the case of his being mum about (Aaron) Hernandez, do you think there are potential legal ramifications that are influencing his silence? Considering Hernandez has not actually been accused of anything, maybe comments by Meyer could have an effect one way or the other if there is a trial.
Adam Rittenberg:
Glenn, you could be right, especially if Meyer went into any specifics about Hernandez's past at Florida, which is
very much under the microscope
. Would anyone be surprised if Meyer is called to testify during Hernandez's trial? Still, he could issue a statement with general comments about Hernandez and what has happened. I doubt such a statement would have any bearing on a future trial.
---
Jason from New York writes:
Adam,Loved your write up on the
B1G-ACC Battle For New York
. The B1G will clearly be the favorite in NYC. First, geography. If you look at a map, not only is Rutgers closer to NYC than Syracuse.......but......Maryland AND Penn State are also BOTH closer to NYC than Syracuse! That is 3 teams in the B1G that are geographically closer to NYC than Syracuse. Another point......half of the ACC is the old Big East. Syracuse and the old Big East did not take the Big Apple by storm. Just because a few schools from North Carolina are thrown in the mix, suddenly Syracuse and the ACC will take New York by storm? I think not. The ACC can't touch the B1G in football. The B1G alumni in NYC are strong. You think anyone in NY cares about a Wake Forest @ Syracuse football game? Give me the B1G football lineup any day! The B1G is also pretty strong in basketball. Sorry, Andrea, no one in the Big Apple is going to drive 3.5 - 4 hours to watch Syracuse play any of those confederate schools. Not only is NYC B1G country, but with the addition of Maryland, now Washington DC is B1G Country as well. Do you agree?
Adam Rittenberg:
Love the enthusiasm, Jason, and obviously I agree with much of what you write here. Andrea brought up ACC basketball and the value it will bring to New York. She's right, but football remains king in terms of true market share, and as you point out, having teams like Ohio State, Michigan and Penn State play in New York more often will only help the Big Ten's cause in the area. It will be interesting to see how much Syracuse helps the ACC in New York, and how much Rutgers helps the Big Ten. The Orange and the Scarlet Knights could be the deciding factors in this whole debate, but as you point out, I can't see the enthusiasm in New York for the other ACC schools match the enthusiasm for the Big Ten schools.
---
Ben from Cleveland writes:
I don't know if Meyer should weigh in on Hernandez or not, but I do know that there was no reason for him to weigh in on it at a *youth* football camp. They're kids, he doesn't need to be talking to them about a possible triple murderer.I personally don't need to hear him weigh in on it. I don't know what people want him to say. He tried to help Hernandez and be something of a father figure to him at Florida. Considering that, its probably a sensitive topic for him.
Adam Rittenberg:
That's a good point, Ben, although Meyer talked to reporters after the camp was over. Still, I don't think a news conference is the right forum for Meyer to address the Hernandez issue. It's obviously a sensitive topic and he'd want to choose his words very carefully. That's why I felt a one-time written statement that would be his only comment on the matter might be the best way to go.
---
Nate from York, Pa., writes:
At the beginning of the season PSU fans were lamenting the losses of
Silas Redd
and
Anthony Fera
as they would have helped win the first two games and made it a 10 win season. Looking back now I think the biggest transfers that affected Penn State would have been either Khari Fortt or
Jamil Pollard
as their transfers have impacted the long-term depth. Is this a correct statement?
Adam Rittenberg:
There are two different questions here, Nate. One, which transfers hurt Penn State most in 2012? Two, which transfers hurt Penn State most in the long term? To answer the first, I'd definitely go with Fera, although it's worth pointing out that he was injured for most of the season at Texas. A healthy Fera gets Penn State at least the Virginia game, which was lost on missed field goals. It's interesting how Redd's departure didn't hurt nearly as much as we thought at the time. Part of that has to do with Bill O'Brien's pass-driven offense and Matt McGloin's development at quarterback. Long term, Penn State certainly could have used Fortt at linebacker, which lacks depth right now. Pollard might become a star at Rutgers, but I'm less concerned about Penn State's ability to reload along the defensive line.
---
Jerry from Bethesda, Md., writes:
Adam, you really underestimate what Maryland will bring to the Big Ten. It may take a while for the football program to become truly competitive, but both the men's and women's basketball programs will compete for championships. Maryland's lacrosse program will dominate. Both the men's and women's soccer programs will competer for championships. Both the men's and womne's lacrosse programs will competer for championships. Trust me, Big Ten prorgams in basketball, soccer, lacrosse, field hockey, etc., will come to hate Maryland because these progams at Maryland are elite programs at the national level. Look for (Mark) Turgeon to have a very good team in 2014 with a top 5 recruiting class joinging some very talented already on board! :o) Maryland will be a force in the Big Ten.
Adam Rittenberg:
Jerry, I don't disagree with anything you write here. However, this is a football blog and that's really our focus when it comes to Maryland and the Big Ten. The Big Ten values broad-based athletic programs and Maryland should be a very good addition for the reasons you outline here. But we're all about football, a sport where Maryland has a long way to go after the first two seasons under Randy Edsall. Recruiting does appear to be on the uptick as Mike Locksley is working his magic for the Terps, but we need to see better results on the field before Maryland moves into the Big Ten East.
---
Josh from Los Angeles writes:
Not even sure why the media is brining Meyer into the picture. Sure he was his head coach and possible father figure, but you can't save people from themselves no matter how much you try. Some people are just evil, and IF Hernandez is guilty why would Meyer have to say anything about it? What about his parents or family, what about his circle of friends, what about Belichick or current teammates? Why is Meyer the only one with perceived influence on this poor young man? It just makes me sad, that people will pass buck and say oh you didn't do enough to save this man, or you used him to win games at Florida and did nothing for him. You can only do so much, it's up to that person to listen and do the right thing.
Adam Rittenberg:
Ultimately, Hernandez is responsible for his own actions and deserves what's coming to him. But Meyer reportedly went to great lengths to help Hernandez stay on track. You might not care what he says now, but others would like to hear from someone who knew Hernandez so well. There's interest in how Hernandez got to this point. If you've been following the Hernandez coverage, there are numerous stories with quotes from others who knew him. Meyer, meanwhile, has chosen to remain silent, which is his right. I also think the fact Hernandez's past at Florida is under the microscope puts the focus on Meyer, who oversaw a program with numerous off-field problems and has been portrayed by some as an enabler. That's part of his legacy, just like the national championships and the success of Tim Tebow.
---
Steve from Northville, Mich., writes:
Look, I'm a Michigan fan and I can't claim to be particularly fond of Urban Meyer, but I don't think its fair to involve the guy in the Aaron Hernandez affair and expect him to weigh in. As you addressed, he did what he could at Florida to point the kid on the right path. Hernandez hasn't been Meyer's responsibility since he went to the NFL, and I don't know whether they had kept in touch since then, but I don't feel he has any relevance to Hernandez current lifestyle and decisions.Meyer is wise to keep mum about this so as not to fan the flames by taking either position. We've seen a number of coaches this offseason make remarks, that while intended to be innocent, generated a lot of media attention and public critique because coaches occupy such a prominent role in society as representatives of many valued things. The term "coachspeak" exists for a reason, referring to the generic non-information they commonly supply in interviews so as to satisfy media desire for a quote without revealing anything. I can understand his desire to stick to that custom at this time.
Adam Rittenberg:
Some excellent points here, Steve, especially about the dangers of coaches making controversial comments during the offseason. As I mentioned in
Tuesday's post
, Meyer would have to choose his words carefully if he makes any public comment about Herndandez. That's why I felt a prepared statement would be the best way to go.
---
Nick from Indianapolis writes:
As a Badger fan I am very pleased about how Gary Andersen has handled things in madison. He seems to bring a positive attitude and I think he will do well. However I am a little concerned that fans are a little too excited about him. He has a very high bar to reach and he hasn't even coached a first game. What are your thoughts on the issue?
Adam Rittenberg:
Nick it's called an extended honeymoon, and Andersen certainly isn't the first new coach to enjoy one. We're seeing the same thing with Darrell Hazell, who has made a very positive impression so far at Purdue. But both coaches are 0-0, and as we know, they'll ultimately be judged on what happens when the games begin. Andersen is a very good defensive coach and turned around a program (Utah State) that I considered a lost cause. He now enters a much bigger stage in the Big Ten and must show he can continue the things Wisconsin does well (power run game, elite offensive linemen and running backs), while upgrading areas like athleticism at wide receiver and defensive back. Fans' emotions are always extreme, whether they're positive or negative. That's why they're fans. But I think Andersen will do well at Wisconsin.
August, 2, 2012
8/02/12
5:05
PM ET
Our first game featuring a Big Ten team is four weeks from today (and sorry, Minnesota fans, for forgetting this week that the UNLV game was moved to Thursday night). More importantly, today brings the first fall practice for a Big Ten team (Indiana), and everyone will be on the field by Monday.
August is a time for optimism -- and a lot of repetitive storylines. Here are five story angles/quotes that I guarantee you will not read this month:
"Our summer workouts weren't very good. Hardly anyone participated. It was the worst summer since I've been here."
"The new strength coach is average at best. He didn't really push us very hard. We're in poor shape right now."
"Player X had a disappointing season/got hurt/got arrested/forgot how to play football last year, but he says that 2012 will be either the same or worse."
"Player Y is replacing star Player Z this season. His teammates and coaches have little confidence that he can get the job done."
"Team A is getting a lot of preseason hype. But instead of blocking it out and focusing on the little things, team members are openly celebrating and feeling extremely cocky."
Enough silliness. Let's get to your e-mails:
Brett from Conshohocken, Pa., writes:
Question for you regarding the transfers out of PSU. Do those transfers count against the 40 reduced scholarships, or is it only 40 brand new scholarships that count against that total? Since six scholarship athletes have left, do we now have 34 reduced scholarships left, or because some of those scholarships were partially used, do they not count against the total? What about Jamil Pollard? He didn't play a down at PSU, so does his scholarship count as a reduced one?
Brian Bennett:
Brett, I understand the scholarship reductions can be confusing. The players who have transferred this summer have little bearing on the sanctions. Penn State can only offer 15 scholarships in each of the 2013, '14, '15 and '16 classes, and it will have to play with 65 total scholarship players from 2014-17. So none of the current transfers make much of a difference, though I guess you could say losing Pollard means one less player toward the 65 total in 2014.
---
Ryan from Chicago writes:
Brian, the normal transfer rules have supposedly been lifted for PSU players due to the sanctions laid down by the NCAA, however the players that have decided to leave have done so for reasons not directly related to a loss of a bowl/scholarships. Aside from
Silas Redd
aiming for a National Championship, these players are leaving in order to get more playing time at another school, to be closer to home, or to get into a program they couldn't get into during their normal recruitment. Is this really what the NCAA wants to happen?
Brian Bennett:
I'm not sure I'd agree with your assessment there, Ryan.
Khairi Fortt
went to Cal; he's from Connecticut and was listed as a co-starter at linebacker for Penn State.
Anthony Fera
was the Nittany Lions' punter and kicker and opted to go to Texas. Pollard's high school said the sanctions were the reason he decided to go to Rutgers. So clearly, some of these players have left because of the bowl ban/scholarship sanctions, though other transfers like
Rob Bolden
and
Tim Buckley
had little to do with it.
---
FFX Lion from Washington, DC writes:
I was thinking about the Penn State sanctions, and I think there is something about the math surrounding the scholarship reductions that doesn't quite add up. Beginning next year, 2013, and each year since, till 2016, no more than 15 scholarships per year can be awarded. Beginning in 2014, and through 2017, there is an overall limit of 65. However, if you do the math, and add 15 awarded in '13, 15 in '14, 15 in '15, and 15 in '16, that adds to 60. So, by my calculation, they are really subject to a 60 scholarship limitation for 2016 only. This wouldn't be the case in 2015, because that would include 2012 scholarships which can be more than 15. Am I mistaken, or did the NCAA fail to check their math properly?
Brian Bennett:
You forgot to include any possible redshirts. While the school can only take 15 players in each of those four years, there could be some leftover players because of voluntary or injury-related redshirts. A freshman this season who redshirts would be a fifth-year senior in 2016. Though that does bring up an interesting question of whether Bill O'Brien can afford to redshirt any players when the 65-scholarship limit sets in -- or even now, given the personnel losses. (P.S. I give your question a C-minus -- little lunch link message humor for you there).
---
James McKenzie from Bloomington, Ind., writes:
So, you've covered that the NCAA only vacates wins to the offending team, but that does not 'give' the opponent the win. How does this effect the opponents loss column? Does the losing team get to erase the 'loss'?
Brian Bennett:
Nope, it has no effect at all on the other team. Sorry, hopeful Hoosiers fans. By the way, remember that 2010 game between Ohio State and Penn State, which the Buckeyes won 38-14? No, you don't. The NCAA says it never happened and neither team won. A Buckeyes fan waking up and remembering that game is, I believe, the plot to the new "Total Recall" remake.
---
Mike from Wixom, Mich., writes:
You guys listed
MarQueis Gray
as a better player than
Taylor Martinez
, yet only a few weeks ago had Martinez listed as the better QB in your position rankings. Do you guys even pay attention to what you are writing or do you just draw names from a hat?
Brian Bennett:
I would insist it be a St. Louis Cardinals hat if Adam and I did that. Wouldn't put my hand near a Cubs hat. Anyway, it's a good question, Mike, but careful, reading explains the discrepancy. As we mentioned in each of those posts, our position rankings were based most heavily on last year's production, while our preseason Top 25 weighs potential for this season a lot more. That's why Gray jumped Martinez, because we feel Gray -- though he had a slightly worse overall 2011 than Martinez -- has enormous potential because of his physical gifts. On the other hand, Martinez does have more experience and better weapons around him. It's a close call.
---
Max W. from Andover, Minn., writes:
Your article on big ten players on the
Hornung watch list
, at the end of it you suggested that a Purdue player may make the list before the year is up. I'm only writing to ask if you think the Gopher's Troy Stoudermire could make that list also since he gets to come back for another year?
Brian Bennett:
Good point on Stoudermire, who probably slipped out of voters' minds because he was injured last season. When healthy, he's an excellent cornerback and is the Big Ten's career leader in kick return yards. It will be interesting to see if the Gophers try to protect him a little bit this season by not using him as much on returns.
---
Charles from Phoenix writes:
My condolences for adding 10 strokes to your handicap, I mean, congrats on the marriage! How balanced do you think UW will be on offense this season? I don't think it gets much better than 234 passing and 235 rushing per game in 2011 but can they still have enough balance to keep defenses honest? I'm hoping for around 180-200 passing and 200+ on the ground each game, does that seem far fetched to you?
Brian Bennett:
Thanks, Charles. There isn't much that could make my golf game worse. As far as the balance, I think the Badgers will still be able to have good splits, but not as remarkably even as last season. People quickly forget just how great Russell Wilson was last season, and it won't be easy to replace him. Plus, I think Wisconsin will feel the loss of Nick Toon more than a lot of people expect. The Badgers might lean on that running game a bit more this season. But the running game is so good that it will open up easy passing lanes for
Danny O'Brien
, and with
Jared Abbrederis
and some excellent tight ends, Wisconsin should easily be able to generate 180-200 passing yards per game.
---
John Koenig from Austin, Texas writes:
Looking at your schedule analysis, I find it interesting that Michigan/Michigan State both have to play Nebraska as their next game. State has a bye. Michigan could have a problem there, a week after State and on the road.
Brian Bennett:
Not sure what schedule you're looking at, John. Michigan hosts Michigan State on Oct. 20, then plays Nebraska on the road the following week. The Spartans go to Wisconsin the week after the Michigan game, and then have Nebraska at home. But those three Legends Division games have a chance to be epic. There's little doubt in my mind that Michigan State was emotionally and physically spent from a brutal schedule stretch when it lost in Lincoln last year. Take nothing away from the Huskers, who played a terrific game that day, but the Spartans were very flat and oddly listless offensively in the loss. Same could happen for the Wolverines, who are going to be sky high for Michigan State's visit to the Big House the previous week. Of the three, I'd rather have Nebraska's schedule.
---
Mochila from Grand Rapids, Mich., writes:
Brian, did you know that it's theoretically possible that a 3-10 B1G team advances to the Rose Bowl? In the scenario, the four eligible Leaders teams lose their nonconference, cross-divisional, and Ohio State/Penn State games. The remaining 3 games between the four teams could be split 2-1, 2-1, 1-2, and 1-2, with one of the 2-1 teams advancing with a head-to-head tie breaker and a 2-10 record. Then suspend your disbelief one more moment and imagine that team (we'll say Indiana for hilarity's sake) beating the Legends Division team. Would the Rose Bowl be forced to take that 3-10 Indiana team? Would it be the worst thing to ever happen to the B1G, or the most hilarious in hindsight?
Brian Bennett:
I love it. You don't even have to go that hilarious extreme to imagine a 5-7 team winning the division and then upsetting the Legends champ for the Rose Bowl bid. As far as I know, there would be nothing stopping the Leaders team from going to the Rose Bowl, though the team might need a special waiver a la last year's 6-7 UCLA team to play in the postseason. It would be a tremendous black eye for the Big Ten, and the subject of endless scorn by the rest of the country. And imagine if you're a 10-2, second-place Legends team watching that happen. Or imagine the look on Jim Delany's face handing out that trophy. That's why Pat Fitzgerald's idea of a selection committee picking the second Big Ten title game participant this year wasn't outlandish. He could turn out to look like a genius on that one.
August, 2, 2012
8/02/12
9:45
AM ET
Penn State has absorbed personnel hits on both offense and defense since the NCAA handed down major sanctions against the program last week.
The Nittany Lions' special-teams units won't be spared, either.
Junior
Anthony Fera
, who handled both punting and place-kicking duties in 2011, will transfer to Texas, colleague Joe Schad and others are reporting. Fera earned second-team All-Big Ten honors (media) as a punter last season, averaging 42 yards per punt with 18 punts inside opponents' 20-yard line. He also connected on 14 of 17 field goal attempts and was a semifinalist for the Lou Groza Award.
Fera, a native of Cypress, Texas, earned three Big Ten Special Teams Player of the Week honors in 2011 and became the first Nittany Lions specialist since Chris Bahr in 1975 to be the starter for field goals, kickoffs and punts.
Next to starting running back
Silas Redd
, Fera is the most significant departure for Penn State so far. The Lions likely will turn to sophomore
Sam Ficken
for place-kicking duties and junior
Alex Butterworth
to handle the punting, but Fera certainly will be missed, especially for an offense that could have some significant struggles.
Fera is the seventh Penn State player to confirm a transfer elsewhere, joining Redd (USC), linebacker
Khairi Fortt
(Cal), tight end
Kevin Haplea
(Florida State), quarterback
Rob Bolden
(LSU), safety Tim Buckley (NC State) and defensive lineman Jamil Pollard (Rutgers). There likely will be more to come, including
possibly top wide receiver Justin Brown
, who would be another significant loss for the offense.
There was a lot of excitement in Nittany Nation about the pledges of loyalty made last week by a group of Penn State's upperclassmen as well as several top 2013 recruits. In reality, most of the seniors wouldn't have benefited from leaving State College. Who expected guys like
Matthew McGloin
or
Michael Mauti
to leave? All along, the key players to watch were those with multiple years of eligibility remaining.
So far, those are the individuals heading elsewhere.
August, 1, 2012
8/01/12
9:25
PM ET
Senior wide receiver
Justin Brown
said he was still mulling a transfer Wednesday night and wasn't sure whether he would remain at Penn State.
"I haven't made a decision yet," he said in a brief telephone interview. "I just don't know."
Brown said he doesn't have a timetable for his decision, although preseason practice starts Monday. His high school coach, George Kosanovich of Concord (Del.), said Brown fielded calls from about three or four schools, including Cincinnati, Illinois and Oklahoma.
As the Nittany Lions' top returning wideout, Brown's decision could prove critical to Penn State's offensive success -- especially without starting tailback
Silas Redd
, who announced his transfer to USC on Tuesday.
If Brown leaves, unproven receivers
Shawney Kersey
, a redshirt junior, and sophomore
Allen Robinson
-- who combined for just eight catches last season -- would battle for the top spot.
Brown finished last season with 35 receptions, 517 yards and two touchdowns.
Five Penn State players have already announced their intent to transfer since the sanctions: Redd, linebacker
Khairi Fortt
, safety
Tim Buckley
, defensive lineman
Jamil Pollard
and tight end
Kevin Haplea
. Quaterback
Rob Bolden
was released from his scholarship prior to the sanctions, according to a source.
August, 1, 2012
8/01/12
10:00
AM ET
The hits keep coming for Penn State, as linebacker
Khairi Fortt
and incoming freshman Jamil Pollard have decided to go elsewhere.
Fortt, a junior from Stamford, Conn., is
transferring to Cal
. He was a highly-decorated recruit who played as a true freshman in 2010 and was a member of the linebacker rotation last season. He finished 2011 with 33 tackles, including six for loss, and 2.5 sacks.
He missed some time this spring with a sprained knee but was listed as the co-starter at middle linebacker going into fall practice, along with
Glenn Carson
.
"Basically I wanted to take a leap of faith and trust in God," Fortt told the Stamford Advocate this morning. "This is what's right for me and my family. ... The way you go through life is the way you handle adversity. The friends I've made here are friends."
Penn State should still be fine with its starting linebackers -- this is Linebacker U., after all -- considering that it boasts first-team All-Big Ten performer
Gerald Hodges
, fifth-year senior
Michael Mauti
and Carson, who started every game last season. But Mauti has had recurring knee problems and is no lock to stay healthy. Losing Fortt definitely hurts the depth at the position.
There was a lot of talk at Big Ten media days about who in the league was recruiting Penn State players. But it turns out that the Nittany Lions should have been worried about the Pac-12 more, as Fortt's teammate and fellow Connecticut native
Silas Redd
moved on to USC on Tuesday.
Pollard, an incoming defensive tackle, has
decided to go to Rutgers
instead of Penn State. He was rated a three-star prospect by ESPN.com and the No. 37 defensive tackle in his class.
His high school coach, Clyde Folsom, told The News of Cumberland County (N.J. ) that the NCAA sanctions against Penn State were the reason for Pollard's departure.
"We spoke last week when the penalties became public at Penn State," Folsom told the newspaper. "He wasn't sure what he wanted to do; he wasn't in the right state of mind at the time to really make a decision. But over a 48-hour period there were six or seven Division I schools that were interested in bringing him in on scholarship."
If you're scoring at home, five players on the active roster -- Fortt, Redd, quarterback
Rob Bolden
(LSU), tight end
Kevin Haplea
(Florida State) and walk-on safety
Tim Buckley
(NC State) -- have officially transferred thus far. There will likely be more to come. Penn State, which begins practice on Monday, will have to hope the hits stop coming soon.
February, 13, 2012
2/13/12
12:00
PM ET
Did you survive the first weekend without any college or professional football?
July, 19, 2011
7/19/11
12:00
PM ET
The dog without the bag, it's incomplete. It's a marriage.
April, 11, 2011
4/11/11
12:01
PM ET
It's Minnesota Wild appreciation day here in Chicago.