November, 20, 2014
Nov 20
8:00
AM ET
November upside: Competitive games, division races. Downside: Dropping temperatures, snow flurries.
The Big Ten is definitely making the trade worth it.
1. Boiling down the Broyles:
The guys on the field jockeying for individual awards deserve the attention, and their coaches are always quick to deflect any praise back to the players doing the work in pads. But it's time to take a minute and give a little credit to the assistants in headsets, either on the sidelines or in the booth, because the Big Ten might have the deepest pool of candidate for the coveted but often overlooked Broyles Award for the country's top assistant. The list is longer than three names in the league, of course, but Ohio State offensive coordinator Tom Herman, Wisconsin defensive coordinator Dave Aranda and Penn State defensive coordinator Bob Shoop would all be deserving winners for the incredible work they've done this season. The guys on the defensive side of the ball have put together units that both rank in the top three in the nation in total defense, with the Badgers currently No. 1. That gives Aranda a slight edge over Shoop, but it's a tougher call against Herman, who not only has Ohio State leading the Big Ten in scoring again, but as the quarterbacks coach, is also responsible for the rapid rise of redshirt freshman
J.T. Barrett
. If both teams stay on track for a collision in the Big Ten title game, maybe they can settle the matter once and for all in Indianapolis.
2. B1G love:
The first time could have been written off as a fluke, but the College Football Playoff selection committee proved it truly respects the depth at the top of the Big Ten this week with five teams ranked among its Top 25. It would have been easy to write off No. 25 Minnesota following a home loss or to drop Nebraska out entirely after getting crushed by Wisconsin. But just like Michigan State last week, the way the committee has reacted to losses in the conference reflects how highly it thinks of the Big Ten despite those early missteps to start the year. The Huskers and Gophers square off Saturday in what will definitely serve as an elimination game in the West Division and will probably wind up being a loser-leaves-town matchup for the committee, which would drop the Big Ten down to four teams in its poll. But considering how that compares with the ACC or Big 12, the committee still clearly isn't buying the supposed demise of the Big Ten.
3. Under-the-radar matchup:
Michigan has been in the spotlight for all the wrong reasons essentially all season long, and this week has been no exception with the troubling off-the-field issues with defensive lineman
Frank Clark
and his subsequent dismissal. The Wolverines may even be in a hurry to get the year over with and move on. Even with all their problems on the field, they are in position to qualify for the postseason and go out on a high note as Brady Hoke's tenure likely draws to a close. The odds are going to be stacked against them in a major way next week against Ohio State, but the Wolverines have home-field advantage, an underrated defense and potentially no shortage of motivation with Maryland coming to the Big House -- and if the chance to earn a trip to a bowl game doesn't bring out the best in Hoke's club, there's really no reason to even consider it a possibility he could return for another year.
East Division
West Division
October, 23, 2014
Oct 23
8:00
AM ET
Working for the weekend -- and the return of Big Ten football? Let's pass the time together.
1. Buzz-building weekend:
For all the problems generating much hype for teams in the Big Ten early in the season, it doesn't seem to really be slowing down individuals in the league heading into the final weekend of October. In fact, the next couple weeks could be critical for launching a few stars into the conversation for the stretch run, beginning with
Melvin Gordon
and a campaign that appears to be back on track. Just like Wisconsin collectively, Gordon was a bit slow out of the gates and became something of a forgotten man. But coming off a bye week with another opportunity to potentially put up big numbers against Maryland and its soft rush defense, he could be right back in the thick of a few trophy races.
Ameer Abdullah
takes on a Rutgers defense that was just gashed by
J.T. Barrett
, and the Nebraska rusher could use an impressive outing to recapture some hype that slowed down considerably after the loss at Michigan State and an off date of his own. Then there's Barrett, who is flying up the charts with his eye-popping numbers. The Ohio State quarterback is also in position to capture more attention if he adds a solid Penn State defense to his list of recent victims.
2. Position under fire:
The problems the Penn State offensive line have had are no secret, and
Christian Hackenberg
surely has the bruises to prove it. But if the Nittany Lions are going to bounce back and regain some of the winning swagger they had during the four-game winning streak that opened the season, they're going to need to show some marked improvement in a hurry. Coming off a bye week to work out a few kinks, Penn State is certainly going to be put to the test to see what it accomplished with the extra practice time on Saturday night against the Buckeyes. Count
Joey Bosa
among those who has noticed the guys in charge of blocking him next have had issues at times this season, pointing out some "struggles" and noting their youth after practice on Wednesday. The Ohio State pass-rusher also made clear, however, that he is expecting Penn State's best shot this weekend and won't take anything for granted, though he was obviously fired up to hit the road after practice. The Nittany Lions had certainly better be energized and ready for the sensational sophomore's top effort as well.
3. Under-the-radar matchup:
The coaches may have taken notice and started ranking them in their poll, but the Gophers still aren't drawing much of a spotlight despite sitting on top of the West Division. There might not really be any incentive to pay attention to Illinois at this point, but it's a program that still has something to play for as its coach fights for his job and a bowl game remains mathematically in reach. So despite the justifiably low intrigue there might be nationally for Minnesota's trip to Illinois, the outcome figures to be plenty relevant in the Big Ten. If the Gophers win again, they're halfway through the league schedule without a loss and on the inside track in the divisional race heading into their second and final bye week. Should the Illini pull an upset, they'd be right back at .500, Tim Beckman's seat would be considerably cooler and they could once again start entertaining the idea of playing in the postseason. Maybe that's a stretch to make the game itself worth watching for casual fans, but the final score will carry weight for both teams.
East Division
West Division
August, 11, 2014
Aug 11
8:00
AM ET
(Welcome to a new incarnation of the links, which have expanded and moved from lunchtime to the morning. With our apologies to Buster Olney).
With a little more than a week of preseason practice in the books at most Big Ten campuses, it's too early to say which teams are having the best August so far. But we can definitely point to the team that had the toughest opening week-plus in the league: Nebraska.
In a three-day period, the Cornhuskers lost three potential starters on defense. First, projected starting nickel back Charles Jackson went down with a season-ending knee injury. The nickel position has grown in stature with the rise of spread offenses, and Ciante Evans showed how important it can be in Nebraska's system the past couple of years.
A day after Jackson's injury, coach Bo Pelini announced that safety LeRoy Alexander, who was battling for a starting job, would be suspended for the season. Then on Friday night, linebacker Michael Rose-Ivey informed the world via Instagram -- and later confirmed by Pelini -- that he would miss the season with a torn ACL.
Ouch.
Much of the optimism around Nebraska this season stemmed from what fans saw as potentially the best defense under Pelini during the Huskers' run in the Big Ten. The offense has a lot of potential, especially if quarterback Tommy Armstrong Jr. can step forward. But defensive breakdowns have haunted Big Red in some of their biggest Big Ten games.
Rose-Ivey, who appeared to be really improving, is probably the easiest to replace, as defensive coordinator John Papuchis has a deep well of linebackers to call upon. Josh Banderas likely takes over his spot.
It's a little murkier in the secondary, where junior college transfer Byerson Cockrell now likely takes on an even larger role, and Nathan Gerry -- who played linebacker as a freshman in 2013 -- must make the adjustment to safety.
The Lincoln Journal Star's Steven M. Sipple
remains optimistic about the Nebraska defense
despite the injuries.
"There's been predictable overreaction," Sipple writes. "But to say the three losses have decimated Nebraska's defense would be a significant overstatement. I spoke with Pelini late Saturday afternoon. As one might expect, he retained confidence. He said there was no reason to start holding anything back schematically. All systems go, he said.

"The Huskers still look excellent in the front seven and possess better-than-decent overall talent and depth in the secondary, but a handful of newcomers will have to step up quickly."
These injuries shouldn't make or break the Huskers' season. Pelini has built depth on that side of the ball. But that depth has taken a shot to its broad side, and Nebraska needs good health the rest of training camp or else some of that early optimism could start to fade.
Depth chart stuff
"I don't feel like where I'm at today is some outstanding or amazing thing," Hruby told the Chicago Sun-Times. "It's just more of a challenging route ... the way I kind of think about finding and accepting and trying to take on these challenges that most people would probably say are impossible, one, or very unlikely or just plain dumb."
Bumps and bruises
Weekend scrimmages
West Division
East Division
May, 15, 2014
May 15
10:00
AM ET
With spring practice officially behind us, we're taking a look at each Big Ten team and identifying a player who announced himself as a potential key performer this fall.
These are guys who haven't played big roles yet but showed enough during the 15 spring practices -- not just some fluky, spring-game performance against backups -- to factor heavily into their team's plans.
The next stop on the Big Ten tour is a new one, and Rutgers might have found a dangerous weapon to deploy at wide receiver ahead of its first season in the league.

Spring breakout player: WR Janarion Grant
The Scarlet Knights already have seen what Grant can do when he gets his hands on the football, but last season about the only way that happened was when it was kicked to the speedster. Now Rutgers needs him to do the same thing when the ball is thrown his way.
Grant made an impact as a freshman on special teams, turning the Rutgers into a legitimate threat in that phase by returning both a kickoff and a punt for a touchdown last season. But he wasn't much of a factor at wide receiver with just 3 receptions for 21 yards, numbers that hardly match up with the game-changing ability Grant was flashing elsewhere.
A productive spring and the chance to catch a lot more passes on the practice field appear to be closing the gap between what Grant can provide on special teams and what he can bring to the offense, with the potential slot receiver impressing the coaching staff enough through 15 workouts to be honored as the most improved player on that side of the ball, setting himself up to be an invaluable target in the fall.
The Scarlet Knights must replace both
Brandon Coleman
and
Quron Pratt
at wideout, and the sophomore would seem to be as strong of a candidate as any to replace their production based on the development he showed during the spring and the flashes of excitement he provided last fall as a returner. Assuming Grant is able to be a consistent, reliable target with his hands, the 5-foot-11, 170-pounder is capable of making things happen for the Scarlet Knights with his legs.
"It means a lot to win the [most improved offensive player] award," Grant said after the spring game. "I feel good just catching the ball more, being able to get my hands on the ball and be physical with it."
The football was already going to be in his hands when opponents kicked it to Rutgers. Now that Grant is making strides catching passes, it figures to be there much more often.
April, 28, 2014
Apr 28
4:30
PM ET
Spring practice 2014 is now just a memory for the Big Ten, and we've recapped every spring game so far. Our 14th and final recap takes us to Piscataway, N.J., to check in on new league member Rutgers.
The White team defeated the Scarlet squad 21-0 before about 11,500 fans at High Point Solutions Stadium. You can find coverage of the game
here
,
here
and
here
.
Star of the game:
Running back
Desmon Peoples
had 109 all-purpose yards, including 85 rushing yards and two touchdowns.
[+] Enlarge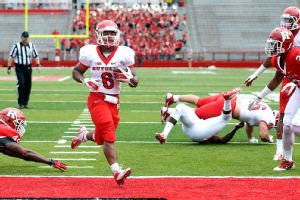 AP Photo/Mel EvansDesmon Peoples rushed for 85 yards in the Rutgers spring game.
How it went down:
The biggest news from the spring game -- other than offensive coordinator Ralph Friedgen's absence due to kidney stones -- was that head coach Kyle Flood said quarterback
Gary Nova
would be his starter if the season kicked off today. Nova, a senior, had a huge experience lead in the three-way spring competition and used that to his advantage. Nova was 6-of-13 for 78 yards in the spring game and rushed for a score.
"I like the fact that Gary is making good decisions," Flood said. "I think he threw one interception in 14 practices and the first half of the spring game. I think that's a pretty good job. It's hard to do that without making good decisions. He's protecting the football and I think his location has been good."
Peoples also opened a lot of, um, people's eyes this spring. The Scarlet Knights are deep at tailback, and
Paul James
,
Savon Huggins
and
Justin Goodwin
all were limited during the spring because of injuries. Peoples took the opening and literally ran with it, and the 5-foot-8, 175-pounder is in line to see a bigger role this fall because of it.
Receiver
Janarion Grant
led all receivers with 45 yards on three catches, though he had some drops. A special-teams dynamo last season, Grant could be an important part of the offense with his speed if he continues to develop as a wideout.
"He's light years from where he started," Flood said. "When you're not necessarily in the the top four or five receivers, it's hard to make the progress you'd like to make. That's the nature of the season. With the graduation of
Brandon Coleman
and
Quron Pratt
, he becomes a very valuable guy for us."
The defense, not surprisingly, had the upper hand most of the day. Freshman defensive end
Kemoko Turay
displayed his talent with three sacks, and defensive tackle
Darius Hamilton
continued to be disruptive. He led the White team with four tackles.
Rutgers still needs to make strides in its passing game and secondary as well as building overall depth to get ready for its inaugural Big Ten season. With the spring game in the books, that day draws ever closer.
April, 28, 2014
Apr 28
5:00
AM ET

The spring workouts are in the books, and the long offseason has arrived. But before diving into summer and the painful wait for football to return, we're taking a look back at the developments from March and April and sneaking a peek at what to expect in the fall for the
Rutgers Scarlet Knights
.
Three things we learned in the spring
Nova separates from the pack: The big story going into spring practice was Rutgers' three-way quarterback competition. Senior Gary Nova would start if the season began today. That shouldn't be a surprise, as Nova has 28 career starts while junior Mike Bimonte and redshirt freshman Chris Laviano have never taken a college snap. But Nova will have to show that he's improved from a rocky 2013 season.
The Peoples champion: Running back Desmon Peoples hasn't played a huge role so far in his Scarlet Knights career, but he could be in line for a lot of carries this fall. He had a standout spring and gained 85 yards and scored two touchdowns in the spring game. He's only 5-foot-8 and 175 pounds, but his quickness could make him a nice complement to starting tailback Paul James, who was out this spring with an injury.
D-line is fine: Darius Hamilton closed last season on a tear and did more damage during spring practice. The junior defensive tackle has become a leader on defense. Julian Pinnix-Odrick returned from a torn ACL, and he showed his ability this spring. Senior defensive end David Milewski won a team award for his mental toughness and hustle during spring ball, and redshirt freshman Kemoko Turay looks like a promising pass rusher. Rutgers' defensive line is small by Big Ten standards, but this should be an area of strength for the Scarlet Knights.
Three questions for the fall
Opening the Fridge: The vanilla play calling of the spring game didn't tell us much about how new offensive coordinator Ralph Friedgen's attack will look -- and Friedgen wasn't even at the game because of kidney stones. There's no question that the Scarlet Knights need more consistency and explosiveness on offense, and that side of the ball has been overhauled -- not just with Friedgen but new offensive line coach Mitch Browning. With the whole O-line back and an experienced quarterback, there's no real reason not to see major improvement -- especially in a ground game that averaged just 3.7 yards per carry last season (95th in the FBS).
More playmakers on offense: For Friedgen's offense to work, Nova will need to feed the ball to playmakers. Rutgers has some good ones in guys like James and receivers Leonte Carroo and Ruhann Peele. But with Peele and Carroo out for the spring game, the team's lack of depth at wideout was exposed by several drops by their fill-ins. Speedster Janarion Grant could become a major weapon and not just a special-teams ace if he can improve his hands. The Scarlet Knights need him and others to step forward.
Secondary concerns: Defensive backs Anthony Cioffi, Nadir Barnwell and Delon Stephenson all were baptized by fire last year as true freshmen -- and they were burned often. Rutgers' pass defense ranked No. 120 in the FBS a year ago. The cornerback situation shouldn't be as desperate as it was at times last season, and the experience should make the trio much better. But there still is a lot to prove, and finding the right mix in the secondary will be a big key for new defensive coordinator Joe Rossi.
One way-too-early prediction
With an unforgiving inaugural Big Ten schedule that includes crossover games against Nebraska and Wisconsin along with East Division powers Ohio State, Michigan State, Penn State and Michigan -- plus nonconference road games at Washington State and Navy -- the Scarlet Knights will finish with a losing record and miss a bowl game for just the second time since 2005.
March, 7, 2014
Mar 7
2:00
PM ET
We're taking snapshots of each position group with every Big Ten team entering the spring. The series wraps up with the specialists.

Illinois:
The Illini might not be exceptional in the kicking game, but they're in better shape than they were when coach Tim Beckman arrived. Punter
Justin DuVernois
returns after a solid junior season, while
Taylor Zalewski
looks for a bit more consistency in his second full season as the placekicker. Zalewski made 12 of 17 field-goal attempts last fall. The return game is the real plus, as
V'Angelo Bentley
provides a major threat, especially on punt returns.

Indiana:
Like Illinois, Indiana brings back a dynamic returner in
Shane Wynn
, who averaged 14 yards on punt run-backs despite limited work. Punter
Erich Toth
also is back for his third season as the starter. Toth placed 18 of 52 attempts inside the opponent's 20-yard line. IU suffers a big loss at kicker as
Mitch Ewald
, the team's career field goals and field-goal percentage leader, departs.
Aaron Del Grosso
and
Griffin Oakes
will compete at kicker, and Jake Shake (
shake and bake!
) could enter the mix this summer.

Iowa:
Here's another Big Ten team that looks very strong on returns, as Iowa boasts the Big Ten's most dynamic tandem in
Kevonte Martin-Manley
(punts) and
Jordan Cotton
(kickoffs). Martin-Manley had two punt-return touchdowns in 2013. Punter
Connor Kornbrath
ranked near the bottom of the Big Ten in average, but placed 27 of 65 attempts inside the opponent's 20. Iowa loses kicker
Mike Meyer
, a four-year starter. Junior
Marshall Koehn
seems likely to step up, but could be pushed by incoming freshman
Mick Ellis
and others.

Maryland:
Notice a theme so far? Most Big Ten teams are strong in the return game, and Maryland is no exception. If
Stefon Diggs
returns at full strength from his leg injury, he'll be a dangerous man with punts and kickoffs in his hands.
Will Likely
performed extremely well in Diggs' spot, averaging 26 yards on kickoff returns and 12.8 yards on punt returns. Maryland brings back an excellent kicker in
Brad Craddock
(21-for-25 on field goals last year), and punter
Nathan Renfro
enters his third season as the starter.

Michigan:
Matt Wile
has done a bit of everything for Michigan, but could settle into the starting placekicker role this fall. Wile handled kicking duties late last season and also served as Michigan's punter after
Will Hagerup
was suspended for the season. Hagerup, the Big Ten's punter of the year in 2012, will reclaim the role if he can avoid off-field problems that have surfaced throughout his career. Wile then could focus on kicking, as
Kenny Allen
is the only other option there. Michigan is still waiting for big things from kick returner
Dennis Norfleet
and must find someone to handle punts. Top recruit
Jabrill Peppers
could help.

Michigan State:
Special teams once again should be a strength for MSU, which returns All-Big Ten punter
Mike Sadler
, a Ray Guy award semifinalist who will contend for All-America honors in 2014. Kicker
Michael Geiger
also is back after connecting on 15 of 16 field-goal attempts as a true freshman.
Macgarrett Kings Jr
. and
Andre Sims Jr
. both put up good numbers on punt returns. Michigan State had by far the fewest kick returns (18) in the Big Ten last year and will look for a boost from
R.J. Shelton
and others.

Minnesota:
After an above-average year on special teams in 2013, Minnesota again should be good in the third phase. Punter
Peter Mortell
didn't get as many accolades as Sadler or Purdue's
Cody Webster
, but he had an excellent sophomore season, averaging 43.3 yards per attempt with 15 of 50 yards or longer.
Marcus Jones
is a major threat on returns after bringing back both a kickoff and a punt for touchdowns last fall. Redshirt freshman kickers
Ryan Santoso
and
Andrew Harte
will compete as the Gophers lose
Chris Hawthorne
.

Nebraska:
The Huskers are looking for some upgrades on special teams, particularly on punt returns, as Nebraska ranked 123rd in the FBS last fall. Primary returner
Jordan Westerkamp
is back, but he'll face some competition. Nebraska brings back punter
Sam Foltz
, who had a solid freshman season, averaging 41.6 yards per boot.
Mauro Bondi
is set to step in at kicker as
Pat Smith
departs. If Bondi struggles, incoming freshman Kris Brown could get a look this summer.
Kenny Bell
, who led the Big Ten in kick return average (26.5 yards per return), is back.

Northwestern:
The Wildcats lose a huge piece in
Jeff Budzien
, named the Big Ten's top kicker in each of his final two seasons.
Hunter Niswander
can handle both kickoffs and punts but seems likely to slide into Budzien's spot. Northwestern's punting was a mess in 2013, ranking 118th nationally in net average (33.2 ypp).
Brandon Williams
departs and
Chris Gradone
or Niswander will take over. The big news is Northwestern brings back
Venric Mark
, an All-America punt returner in 2012. Primary kick returner
Matt Harris
is back after a solid freshman season.

Ohio State:
Aussie, Aussie, Aussie. Indeed, the Aussie is back at punter as
Cameron Johnston
returns after an excellent debut season (I refuse to call a 21-year-old a freshman). Ohio State hopes for similar results from another first-year specialist in kicker
Sean Nuernberger
, an early enrollee expected to step in for the departing
Drew Basil
. Sophomore
Dontre Wilson
will continue to have a big role on returns after handling kickoffs last year. Ohio State must replace
Corey Brown
on punt returns and could look to redshirt freshman
Jalin Marshall
or true freshmen
Curtis Samuel
and
Johnnie Dixon
.

Penn State:
The kicking game continues to be an area of concern.
Sam Ficken
owns the team record for consecutive field goals (15) and started strong last season but ended with just 15 of 23 conversions, including four misses inside 40 yards. Penn State needs a new punter after losing
Alex Butterworth
, and will turn to
Chris Gulla
.
Jesse Della Valle
did a good job on punt returns, but Penn State needs a boost on kickoffs after finishing last in the league (19.1 yards per return). The Lions could stick with
Geno Lewis
or look for a newcomer such as
De'Andre Thompkins
to emerge. PSU also must shore up its coverage units.

Purdue:
As if the Boilers didn't have enough to address on offense and defense, the kicking game needs attention. Punter
Cody Webster
finished his spectacular career with All-America honors, and the Boilers finished second nationally in net punting (41.7 yards per punt). Incoming freshman
Austin McGehee
will take over for Webster.
Paul Griggs
and
Thomas Meadows
continue to work at kicker, as Griggs made only 50 percent of his attempts (6 of 12) last season. The kick return game is strong with
Akeem Hunt
and
Raheem Mostert
, but Purdue must replace punt returner
Ricardo Allen
.
B.J. Knauf
could be a good fit there.

Rutgers:
The kicking game historically is a strength for Rutgers, which has a knack for blocking kicks and pulling off fakes. Rutgers loses a productive piece in punter
Nick Marsh
, who also handled kickoffs. The Scarlet Knights will turn to
Joseph Roth
as their replacement. Kicker
Kyle Federico
finished the season well, particularly in the Pinstripe Bowl, and returns for his junior season. Rutgers has a major weapon on returns in
Janarion Grant
, who brought back both a punt and a kickoff for a touchdown during his freshman season.

Wisconsin:
The kicking game has held back Wisconsin in the past, so it's definitely an area to watch during the offseason. Kicker
Jack Russell
converted 9 of 13 field-goal attempts after taking over for
Kyle French
. He'll try to hold off incoming freshman
Rafael Gaglianone
.
Andrew Endicott
, who handled kickoffs last fall, also returns. Wisconsin is looking for more from punter
Drew Meyer
, who averaged just 38.6 yards per attempt in 2013. Top returner
Kenzel Doe
is back and should handle both punts and kickoffs, although Wisconsin could look to others for help, such as newcomers
Serge Trezy
and
Natrell Jamerson
.
More position breakdowns