April, 17, 2014
Apr 17
5:00
PM ET
CHICAGO -- Illinois hopes Deion Sanders was right when he famously stated, "If you look good, you feel good. If you feel good, you play good."
The
Illini unveiled their new look
this week, part of a
rebrand with Nike
for all the school's athletic teams. I'm a fan of the white uniforms with white helmets and the sleek shield on the collar. Athletic director Mike Thomas said the new threads give Illini teams the consistent look they had lacked. Football coach Tim Beckman wants more consistency on the field this fall after back-to-back losing seasons.
The Illini finished spring practice on Saturday, and I caught up with Beckman on Thursday at Niketown to recap the session.
[+] Enlarge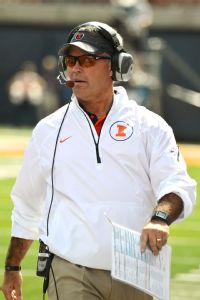 Keith Gillett/Icon SMITim Beckman likes the experience his Illinois team will have in 2014.
What were your main objectives for the spring, and did you achieve them?
Tim Beckman:
We always have three goals. First, we wanted to become more physical up front, and we were much more physically and mentally tougher this spring than we've been. We wanted a competitive edge. You've got to compete against yourself, against your fellow players. And then position-wise, we knew we had to strengthen up on the defensive front. We knew defensively, we had growing up to do. We know why: We had a bunch of freshmen playing for us, sophomores playing for us. Offensively, we had to find wide receivers to step in. We moved in the right direction. We still have some guys who have been in our program, who were there before I came, who still haven't played. The time has come.
Who is growing up for you on defense?
TB:
T.J. Neal
. He has probably the best linebacker spring that we had. He's gotten bigger, stronger. Even
Mason [Monheim]
, when he was starting for us [as a freshman], he was benching around 315 pounds. He's around 375-380, so his whole body's changed.
Austin Teitsma
is where he needs to be. He's playing better. We needed to work on our pass rush and
D.J. Smoot
, he has a great motor.
DeJazz Woods
has grown up. They should never have had to play, should have been redshirted. Now they're juniors and sophomores and they look like different guys.
Did you get what you needed out of the wide receivers?
TB:
The junior-college players have come in and helped.
Martize Barr
just turned a year older.
Geronimo Allison
had a great spring.
Justin Hardee
had a good spring.
Mikey Dudek
surprised us all. If you had to pencil in a starter right now, Mikey Dudek would be in there.
When you reviewed the quarterback play, what stood out?
TB:
Each guy has a very good talent.
Wes [Lunt]
has got very, very good arm strength. And arm strength to me isn't about throwing a 60-yard bomb, it's about getting that comeback or putting that seam route 18-25 yards right on that seam. He has a very, very good arm.
Aaron Bailey
has very, very good feet. He can run, he can make people miss, he's an athlete.
Reilly [O'Toole]
has played more and he's got experience, and he's kind of between them. His arm's a little better than Aaron's, but his feet are better than Wes'. All of them are outstanding competitors, and they get along.
When would you like to decide on the starter?
TB:
I've talked to [offensive coordinator Bill Cubit] about it. I don't think there's a time frame that we've got to do it right now, but as we go through the summer and they get a feel for where they're going to be, we talk to them honestly. I would say when two-a-days get humming, we've got to get where this guy's going to be doing most of it.
What are the team's strengths at this point?
TB:
We've got a lot of guys who have played. Were they ready to play back then? No, but they did. If you do it by position, we've got an offensive front that is experienced, and they're very, very good leaders. To be in a Big Ten game, you better win up front. Defensively, we're making definite strides with guys like
Teko Powell
,
Jarrod Clements
,
Joe Fotu
. We expect some big things when
Jihad Ward
gets here. The players are getting some maturity.
What areas still must be improved?
TB:
We can't let negativity absorb our program. We've got to be positive, we've got to believe. At times, there's too much questioning. We need to believe it can be done. Last season, we didn't start well a lot of times, but we gave ourselves opportunities to come back and win. We've can't start that way. We've got to go out there and know we can play with people in the Big Ten.
Wide receivers definitely got to step up. The offensive line depth is important. On defense, the young defensive backs have to come through for us and the front. But I feel better about it because they are getting bigger, they are getting stronger. They're not 18-year-olds. They're 20-year-olds now. And they play like it.
January, 22, 2013
1/22/13
12:00
PM ET
June, 27, 2012
6/27/12
4:00
PM ET
The book on Ron Zook when he got to Illinois read like this: phenomenal recruiter, average coach.
The description didn't change much
when Illinois canned Zook in November
following seven seasons. Zook signed several nationally elite recruiting classes, including the 2007 crop (headlined by Arrelious Benn and Martez Wilson), and he continued to recruit well until the on-field results took a dive. Illinois' recent NFL draft success -- the Illini have produced five first-round picks since 2008, more than any other Big Ten team during the span -- underscores the fact that Zook and his assistants knew where to find talent.

Tim Beckman arrived in Champaign with a similar recruiting profile to Zook's. He was known for his recruiting efforts at previous stops. Although the class Illinois signed in February didn't earn high marks regionally or nationally, it didn't seem fair to judge Beckman until he had more time to put his stamp on a class.
So far, the new coach is delivering.
Illinois has added four recruits in the past week as defensive end
Dawuane Smoot
gave
his pledge on Tuesday night
. The Illini already have 14 players committed for the 2013 class, the third highest total in the Big Ten behind national leader Michigan (22) and Iowa (15), which also has surged in recent days.
According to ESPN Recruiting, the Illini have two four-star recruits -- quarterback
Aaron Bailey
and cornerback
Darius Mosely
-- along with 10 three-star prospects.
I reached out to Jared Shanker,
ESPN's Midwest Recruiting Coordinator
, for some thoughts on the Illini's early recruiting success under Beckman.
"That is a little surprising," Shanker writes in an email. "For some, Illinois was their biggest offer at the time and they jumped on it, but the Illini have beat out some very good programs for a number of their commitments. Aaron Bailey was also high on Nebraska and Wisconsin, and Darius Mosely is a four-star corner who had offers from several BCS programs. The two four-star commits already on board is already half the number Illinois had in the previous three classes when they picked up only four.
"As for the three-star guys,
Jarrod Clements
was one of the top defensive line performers at the Columbus NFTC;
Caleb Day
is a versatile athlete the previous Ohio State staff was high on; and
Kenton Gibbs
was very good this spring competing at a few camps."
Beckman, who came to Illinois from Toledo and grew up in Berea, Ohio, not surprisingly has made his home state an emphasis in recruiting. Six Illini commits hail from Ohio.
"Beckman had a reputation for not being scared to compete with the BCS programs for recruits despite being at a MAC school," Shanker writes. "That mentality is going to serve him well at Illinois as the Illini are often considered a team in the bottom half of the Big Ten. A lot of the credit goes to recruiting coordinator Alex Golesh, who really worked the Ohio area hard."
Shanker added that while Illinois' class is shaping up well, the true test will be how well the staff scouted prospects who didn't receive much interest from the rest of the Big Ten. That's where the development component comes in.
"It won't matter who else offered them if they turn out to be as good as the Illini staff believes they are," Shanker writes, "and that is really all that matters."