August, 28, 2013
Aug 28
12:00
PM ET
May, 13, 2013
May 13
9:45
AM ET
It's pretty clear that the bulk of Michigan's talent, especially on defense, can be found in the younger classes.

As redshirt freshmen and sophomore fill more spots on the two-deep, older players are being phased out. Not surprisingly,
two of them are leaving the program
in safety
Marvin Robinson
and linebacker
Mike Jones
, both seniors. Robinson and Jones had been reserves throughout their careers. Robinson had been in the mix this spring to replace safety Jordan Kovacs in the starting lineup, but all indications suggest the job will go to sophomore
Jarrod Wilson
, who
impressed returning starter
Thomas Gordon
in spring practice.
Robinson appeared in 28 games, starting one in 2011, and recorded 21 tackles and a fumble recovery. Jones appeared in 29 career games, mostly on special teams, and recorded eight tackles.
Their exits bring Michigan's
offseason departure total to eight
, which, to be honest, is a little on the high side. Linebacker
Kaleb Ringer
left the program last week. None of the departing players figured to contend for starting jobs.
As WolverineNation's Mike Rothstein points out, Robinson's departure means
only 10 players remain from the 2010 recruiting class
, Rich Rodriguez's last as Wolverines coach. RecruitingNation
ranked Michigan's 2010 class 10th nationally
.
Although Robinson's exit hurts Michigan's numbers at safety, the Wolverines are building greater depth throughout the defense with younger players.
April, 12, 2013
Apr 12
1:00
PM ET
Half of the Big Ten wraps up spring practice this weekend, and five squads are holding spring games/scrimmages that are open to the public. We're taking a look at each one. Up next: Michigan's Mott Spring Game presented by PNC Bank.

When:
Saturday, 1 p.m. ET
Where:
Michigan Stadium, Ann Arbor, Mich.
Admission:
Free. Michigan Stadium gates open at 10 a.m. ET. The alumni flag football game starts at 11 a.m., and the Wolverines take the field at 12:40 p.m. Parking is free in the lots that Michigan operates around the stadium, although space is limited. Fans can park at Briarwood Mall and take shuttles to the stadium, which start at 9:30 a.m. Fans can make donations to Mott Children's Hospital upon entry into the stadium and
receive certain giveaways
.
TV:
The scrimmage will be
streamed live on BTN2Go
. The Big Ten Network will broadcast the scrimmage at 9 p.m. ET Saturday.
Weather forecast:
Cloudy and windy with a 30-40 percent chance of rain. Temperatures between 39-40 degrees, winds at 22-23 mph.
What to watch for:
Spring games are all about the future, and Michigan's future -- short term and especially long term -- will be on display at the Big House. The Wolverines return only five offensive starters and six defensive starters and have several potential starters -- cornerback
Blake Countess
and running back
Fitzgerald Toussaint
-- still recovering from major injuries. As a result, plenty of younger players will be showcased in the scrimmage.
Keep an eye on the interior offensive line as Michigan must fill starting spots at both guards and center. Sophomore
Jack Miller
has been working as the top center, but he's being pushed by
Joey Burzynski
and
Graham Glasgow
.
Ben Braden
and
Kyle Kalis
have drawn praise from the coaches as they target the starting guard spots. Most of the buzz at running back has been about Toussaint and incoming freshman Derrick Green, but others like
Justice Hayes
and
Thomas Rawls
have a chance to step up in the scrimmage.
Michigan will be without star linebacker
Jake Ryan
for the start of the season, but Cam Gordon has drawn good reviews this spring. It will be interesting to see how Gordon and
Brennen Beyer
look at the strongside linebacker spot, and whether Michigan can generate a good pass rush with players like Beyer,
Frank Clark
and
Mario Ojemudia
. Defensive coordinator Greg Mattison has made the pass rush a major priority this spring.
Wolverines fans also can monitor position competitions at safety (
Jarrod Wilson
seems to be in the lead to start opposite
Thomas Gordon
) and at outside receiver, where
Jehu Chesson
and
Amara Darboh
are getting a lot of work.
Notice that I haven't mentioned
Devin Gardner
? The Wolverines' top quarterback will be out there in a don't-even-think-about-touching-me orange jersey that Michigan got from Oregon State. Although fans want to see Gardner's offseason progress, the most important thing is keeping him healthy. It will be interesting to see how walk-on
Brian Cleary
, Michigan's No. 2 quarterback for the time being, performs in the scrimmage.
March, 13, 2013
Mar 13
9:00
AM ET
Michigan begins spring practice on Saturday with both some question marks and some major returning talent. Brady Hoke says of his team: "We're very young. But these guys have a lot of fight to them." There will also be a lot of fighting for starting jobs, beginning in a few days. I recently caught up with the third-year Wolverines coach for his thoughts on the approach of spring ball:
What are the main things you're looking for this spring?
Brady Hoke:
Well, you know, we've got a lot of open spaces. Some guys graduated, some guys aren't with the program anymore and we've got a lot of young guys. I think we only have 11 starters back on both sides of the ball, so there's going to be a lot of great competition, which is exciting. I think the leadership of our seniors, they've done a nice job of holding everybody accountable. But when you get out there with the pads on, it's a little different than just running around in shorts.
[+] Enlarge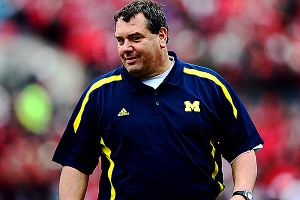 Andrew Weber/USA TODAY SportsWith only 11 returning starters, Michigan coach Brady Hoke said he's excited about the competition this spring.
Some of that competition will be on the offensive line, where you've got three open jobs on the interior. How do you see those battles right now?
BH:
Well, I think the interior of both lines, there's going to be a lot of competition. We've got to find a center, and that's between [
Jack] Miller
and [
Graham] Glasgow
, and
Joey Burzynski
will try to figure that out a little bit, too. At the guard positions,
Ben Braden
is going to move down inside and start out at the left guard, but he'll have a lot of competition because Burzynski is back and so is
Blake Bars
.
Kyle Kalis
will move into the right side, and it will be interesting again with [
Kyle] Bosch
and some of the guys who have been here a little bit. I think it will be a really good competition at all three of those inside positions.
Having
Taylor [Lewan
] back is huge. I think it's great for him and great for Michigan.
Mike Schofield
has had a really good winter. He had some real bright spots during the course of last season, and I think his development is going to be something special.
You mentioned the defensive line, where you also lost a couple of veterans. How does that shape up?
BH
: I think inside, we get
Jibreel Black
for another year and
Quinton Washington
. But once you get through that, there are a lot of young guys ...
Willie Henry
,
Ondre Pipkins
,
Ryan Glasgow
,
Richard Ash
and
Chris Wormley
are all guys who can either play the inside tackle or the strongside end. We'll find out the guys who are competitive.
Tommy Strobel
is another guy we think had a real good winter, and
Keith Heitzman
. So it's going to be fun to see them compete.
Does having so many young guys in key spots on the line make you nervous? Or do you have a lot of confidence in them because you recruited most of them?
BH:
I think it makes you nervous if you think you may have recruited the wrong guys. But we like the work ethic. We like how they've come in to learn and with a lot of enthusiasm. I think there's some competitiveness that we need to keep pushing as a program. You know, we lost five games on the road. We've played pretty well at home but we've got to do better on the road and that's a mindset, a mentality that you have to compete through everything, on every down.
Devin Gardner goes into spring practice as your starting quarterback. How has he developed as a leader?
BH:
I have been really excited about the progress he's made. I'm seeing that maturity that it takes and the leadership it takes and the competitiveness it takes to be the quarterback at Michigan. I think that's a real big part of how he's grown, and I think he's done a nice job with it. I'm liking the direction he's going, and hopefully he can just keep going and keep growing.
What about your running back position this spring, with Fitz Toussaint hurt and Derrick Green not there yet?
BH:
You know, Fitz has come along pretty well. I don't think he'll do a lot of contact or anything like that, but I think he'll be cleared for a lot more drill work. That's gone real well. We've moved [
Dennis] Norfleet
back to running back and we're going to give him an opportunity. Dennis, he's a smaller guy, but he's a very competitive, very tough young man.
Drake Johnson
is a guy we redshirted a year ago, and we really liked the way he competed in scout situations. In the bowl practices, we did some scrimmages and gave him a lot of carries, and we're very excited about what he has to offer.
Thomas Rawls
is coming back, and I think he learned a lot last year about the vision he needs to play with, and I like how he's competed through the [winter]. And
Justice Hayes
is a guy who gives you a little bit different look because of how he can get on the perimeter. He did some things in a couple of games last year, but now I think he'll have a big stage to prove himself more this spring. And he's a bigger guy now, he's 190-something pounds, so he's a little bigger.
[+] Enlarge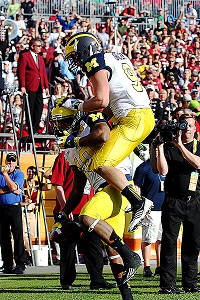 Kim Klement/USA TODAY SportsMichigan coach Brady Hoke said that he's pleased by more than just the on-field success of WRs Drew Dileo and Jeremy Gallon.
You have Jeremy Gallon back at receiver, but you lost Roy Roundtree. You sounded excited about some of the younger guys there during bowl prep. Is spring their time to step up now?
BH:
Yeah, I think so. First of all, I think the leadership with Gallon and
Drew Dileo
, they've done a really nice job being leaders at that position. They're not big guys, but they have a real spirit for the game and really do a nice job of working and leading. We have
Amara Darboh
, who played a little last year, and
Jehu Chesson
, who we redshirted a year ago. And I think
Jeremy Jackson
has had a very good winter; we're very excited about some of the progress he's made.
Joe Reynolds
is a guy who walked on here, and he's done a very nice job. And
Bo Dever
, his dad played here and he walked on. I think that during the course of the spring, we'll be in pretty good shape there. I think as we keep going, we'll keep improving at that position.
Linebacker was a strength for you last year and looks to be so again. Do you see some good competition there this spring, particularly at the weakside spot?
BH:
Yeah, I think with
Desmond Morgan
and
James Ross
, there's going to be great competition.
Joe Bolden
and
Royce Jenkins-Stone
and
Mike Jones
are all guys who are very competitive, and I think the three young guys coming in are going to be guys who will give us a lot of good competition and a lot of good depth.
Kaleb Ringer
is coming back from injury, so we'll see what he can give us. At the sam linebacker,
Jake [Ryan
] is coming back, and we really like what
Cam Gordon
has done during the winter. So I think we feel a little stronger at that position.
How do you replace what Jordan Kovacs gave you in the secondary?
BH:
I don't know if you ever replace that kind of leadership, but I really think
Thomas Gordon
, he's played a lot of football here, and it's time for him to demonstrate the leadership. And he's doing that. Because of the number of snaps and everything he's done, he's really fallen into his own a little bit.
Courtney Avery
has played a lot of football, and whether he's a corner a nickel or wherever, he's got to give us great leadership and great reps.
Blake Countess
is getting healthier; he'll do some things during the spring.
Josh Furman
, I think, has come on.
We've got to see where
Terry Richardson
is and where
Marvin Robinson
is. Both those guys have played a number of snaps. We've got
Raymon Taylor
back, who I think started every game for us last year, we're excited about his development.
Dymonte Thomas
is a guy who's going to compete, and he'll pressure some guys.
Jarrod Wilson
is another guy who played some last year for us. Ross Douglas is here early.
Jeremy Clark
is a 6-foot-4, 210-pound safety we redshirted a year ago, and it's going to be a big spring for him to make some moves.
So I think we may have more personnel back there. And even more in the fall when
Channing Stribling
gets in, and
Reon Dawson
gets in and
Jourdan Lewis
. I think it's going to add something to our secondary.
Finally, what has your message been to the team this offseason after last year's 8-5 season?
BH:
Well, our message has been, we haven't met the expectations at Michigan. That's something that as a football community… that we really feel that we have to do a much better job in all areas, from the coaching aspect of it, from learning and playing with the competitiveness we want to have, from every player at every position playing with the intensity we want to play with. It's about having a mindset and a mentality of how we want to play the game. We make no excuses, but at the same time, we know we have a lot we can do to play better football.
August, 27, 2012
8/27/12
5:00
PM ET
It's Depth Chart Monday around the Big Ten as most teams revealed new or updated depth charts for their upcoming season openers.
Indiana
and
Iowa
released depth charts last week, while Nebraska's won't come out until later this week. A few more teams unveil new or updated depth charts Tuesday, and we'll break down those as they file in.
While we won't break down the depth charts each week of the season, the first installments always carry a bit more weight as players have jockeyed for position during camp.
Here are some notes and thoughts from what we learned today:
MICHIGAN
Depth chart
(page 13)
Suspended players Fitz Toussaint and Frank Clark both are listed -- Toussaint is the starting running back, Clark as a backup weakside defensive end -- but their status for the opener against Alabama is yet to be determined. Coach Brady Hoke will make a decision soon. While it seems highly unlikely Clark will play, Toussaint's status will be a big story this week.
Roy Roundtree is listed as a starter at receiver despite missing a chunk of camp following knee surgery. Although Michigan has some decent other options at wideout, it really needs "Tree" on the field at JerryWorld. Speaking of receivers, backup quarterback Devin Gardner is listed as a third-string receiver and should see a bit of work there against the Crimson Tide.
Depth is a bit of a concern for Michigan entering the season, and it's the main reason why the Wolverines list 12 true freshman on the depth chart, four in backup roles. Expect freshmen like linebacker Joe Bolden and safety Jarrod Wilson to see plenty of field time.
As for position battles, Quinton Washington claimed a starting defensive tackle spot, moving Jibreel Black back to the end position. Will Hagerup and Matt Wile are listed as co-starters at punter, but Hagerup will get the starting nod against Alabama.
OHIO STATE
Depth chart
Regarding position battles, Reid Fragel, a converted tight end, claimed the starting right tackle spot ahead of freshman Taylor Decker. Travis Howard maintained his starting cornerback spot ahead of Doran Grant. The team's starting wide receivers entering the fall are Corey Brown, Devin Smith and Jake Stoneburner, a converted tight end. Ohio State's only unsettled position is tight end, where freshman Nick Vannett and sophomore Jeff Heuerman are listed as co-starters.
Like Michigan, Ohio State will have plenty of youth on the field this fall. Coach Urban Meyer lists 13 freshmen on the depth chart, including highly touted defensive linemen Noah Spence and Adolphus Washington, spring game star Michael Thomas at backup receiver and backup middle linebacker Camren Williams. The Buckeyes have three freshmen listed as backup offensive linemen, underscoring the depth issues there.
With projected starting running back Jordan Hall (foot) out at least a week, Ohio State will start Carlos Hyde at running back. Freshman Bri'onte Dunn will back up Hyde.
WISCONSIN
Depth chart
(page 13)
The Badgers put out a depth chart last week but made a few changes, including junior Zac Matthias and sophomore Kyle Costigan being listed as co-starters at right guard. Costigan had been listed as the starter, but Matthias made a push late in camp.
Backup cornerback Peniel Jean will miss four to six weeks after fracturing his foot last week in practice and undergoing surgery. Redshirt freshman Darius Hillary moves into the No. 2 role behind Devin Smith and likely will be the team's primary nickel back.
Sophomore Kyle French is listed as the starter for both field goals and kickoffs (he only occupied the kickoffs role last week). Coach Bret Bielema said freshman Jack Russell (great name) also will see time as a kicker in Saturday's opener against Northern Iowa.
PENN STATE
Depth chart
ILLINOIS
Depth chart
Safeties Steve Hull and Supo Sanni, the projected starters, aren't listed on the two-deep. Earnest Thomas and Pat Nixon-Youman are listed in their places. Both Hull and Sanni are week-to-week with injuries. Coach Tim Beckman said both would practice this week and likely will be game-time decisions.
Illinois shuffled its offensive linemen between positions throughout camp, and there could be more changes before game day. But ... Graham Pocic is listed as the starting center after playing mostly guard in camp. Pocic has started the past 26 games at center. Redshirt freshman Ted Karras, who has recovered from a foot injury, is listed as the starting right guard.
Tim Kynard will start at defensive end in place of Justin Staples, who will serve a one-game suspension against Western Michigan. Offensive lineman Simon Cvijanovic also won't play Saturday for undisclosed reasons.
Illinois lists co-starters at both running back (Donovonn Young and Josh Ferguson) and tight end (Jon Davis and Eddie Viliunas). Both Young and Ferguson should get plenty of carries against Western Michigan.
NORTHWESTERN
Depth chart
(Page 7)
After a strong camp, Venric Mark will start at running back for Northwestern. The 5-foot-8, 175-pound Mark, who came to Northwestern as a return specialist, moved from wide receiver after the season. Mike Trumpy, who comes off of ACL surgery, is the backup, and Northwestern likely will spread the carries around. Treyvon Green has recovered from a scary neck injury midway through camp and will play at Syracuse.
USC transfer Kyle Prater is listed as a backup receiver. Northwestern will start Demetrius Fields, Christian Jones, Rashad Lawrence and Tony Jones at receiver against the Orange. Prater saw some time with the first-team offense in camp and will be part of the rotation, but he still seems to be lacking a step as he gets back into game shape.
The Wildcats have no unsettled starting spots, and while there are a number of young players on the depth chart, only two true freshmen, defensive end Dean Lowry and superback Dan Vitale, made the two-deep. Heralded incoming freshman defender Ifeadi Odenigbo likely will redshirt and isn't listed on the depth chart.
PURDUE
Depth chart
(Page 6)
The Boilers have four unsettled starting spots, three on the offensive side. Juniors Kevin Pamphile and Justin Kitchens are battling at the left tackle spot, while juniors Devin Smith and Cody Davis are co-starters at right guard. Junior Gabe Holmes and fifth-year senior Crosby Wright are still competing for the top tight end spot. The lone unsettled spot on defense is at end opposite Ryan Russell, as Ryan Isaac and Jalani Phillips continue to compete.
No surprises in the starting backfield as Caleb TerBush, Robert Marve and Rob Henry are listed at quarterback in that order. It'll be interesting to see how Purdue uses Henry this year. It doesn't make much sense to waste his talents on the bench. No Ralph Bolden on the depth chart as the senior running back is still working his way back from the knee injury. The Akeems (Shavers and Hunt) will carry the rock against Eastern Kentucky.
The placekicking spot is also up in the air with three players -- Sam McCartney, Paul Griggs and Thomas Meadows -- in the mix to replace standout Carson Wiggs.
More depth chart fun comes your way Tuesday, so be sure and check in.
April, 10, 2012
4/10/12
3:44
PM ET
Michael Rothstein writes
: Fitzgerald Toussaint became a force in the second half of last season and enters this season as Michigan's workhorse back.
Chantel Jennings writes

: 2014 DE Malik McDowell had a Michigan offer before he had his driver's license. At 6-6, 270 and growing, his potential is scary.
Tom VanHaaren writes

: In his recruiting mailbag Tom VanHaaren writes that the visit of California DE Joe Mathis could have a far-reaching impact for Michigan.
Michael Rothstein writes
: The game might be more than four months away, but Michigan's players can't help but look ahead to their season opener with defending national champion Alabama.
Michael Rothstein writes
: Michigan safety Jordan Kovacs discusses the improvement of true freshman safety Jarrod Wilson along with the rivalry with Ohio, err, Ohio State.
March, 27, 2012
3/27/12
12:00
PM ET
March, 19, 2012
3/19/12
3:30
PM ET
Michigan defensive coordinator Greg Mattison is happy to see some familiar faces this spring.
The Wolverines return seven starters and many other reserves who played roles in orchestrating one of the more impressive one-year turnarounds for a defense in recent college football history. Mattison remains grateful for their contributions.
[+] Enlarge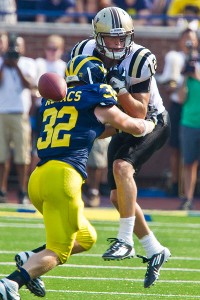 AP Photo/Tony DingSafety Jordan Kovacs is expected to be the leader of the Wolverines' defense next season.
He also guarantees them nothing for the coming season.
"Nobody has a right to any position," Mattison told ESPN.com on Monday. "It doesn't matter if you've started for three years, four years, one year. Every practice and every week is judged. We are always going to put the best football players on the field."
While this is a common refrain for coaches, who want to maintain as much competition as possible, Mattison finds himself doing more than paying lip service in spring ball, which kicked off Saturday. The scheme is no longer new. Neither are the expectations.
The learning curve for players hasn't so much been accelerated as it has been evened out. Other than three true freshmen who enrolled early and are practicing this spring -- linebackers Joe Bolden and Kaleb Ringer and safety Jarrod Wilson -- Michigan's defenders all have gone through a full year in the system.
"If a guy was a veteran, he would have picked up the new scheme at a certain rate," Mattison said. "If he was a younger guy, it would have taken him longer to pick up the scheme. Now, they've both had it, and there shouldn't be that learning factor that sometimes separates younger guys from older guys.
"Now it's who's playing the best and understanding the defense."
Mattison didn't shy away from using young players in 2011. Michigan started three freshmen -- linebackers
Jake Ryan
and
Desmond Morgan
, and cornerback
Blake Countess
-- for much of the season. Although all three earned invaluable experience playing for a successful defense, they're not assured of anything in 2012.
Consider what Mattison had to say about the linebackers, a group that returns all three starters (Morgan, Ryan, senior
Kenny Demens
).
"Those positions are not solidified in any way," said Mattison, who stressed the need for the linebackers to improve in zone coverage. "Every day, those are evaluated."
The same standard is applied for veterans like safety
Jordan Kovacs
, who many expect to become the undisputed leader of the defense.
"I was really proud of what he did a year ago," Mattison said, "but it's the same thing, and he knows it, and it's why he's such a great young man. ... He knows he has to improve. He knows that if he just goes out there and plays like he did last year, that may not be good enough."
Kovacs will provide leadership, but Michigan needs more after losing standout linemen
Mike Martin
and
Ryan Van Bergen
. Team 132 raised the bar on defense after it has sunk to historic lows.
But simply maintaining the level won't be good enough.
"That season, Team 132, is over," Mattison said. "Some of them had a big part in that, but they're 133. What are they going to be? Just because you played on that team does not mean you automatically will play on this team."
The reproving process is under way in Ann Arbor.