February, 17, 2012
2/17/12
9:00
AM ET
The 2012 Big Ten season doesn't kick off for six-and-a-half months, but spring football is just around the corner. All 12 Big Ten squads will hit the field next month for the first of 15 spring practices. There are plenty of new faces, as the winter months brought an unprecedented number of coaching changes to the Big Ten. Should be a fun and exciting spring around the conference.
Let's take a quick look at the Leaders Division:

IOWA
Spring practice start date:
March 24
Spring game:
April 14
What to watch:
New coaching flavor: For the first time in the Kirk Ferentz era, Iowa will welcome new coordinators on both sides of the ball. Phil Parker isn't exactly new, having served as Iowa's defensive backs coach throughout Ferentz's tenure, but he now takes charge of the defense for the first time. Will he continue running Norm Parker's scheme or shake things up? Iowa also will have a new offensive coordinator (yet to be named) and several new position coaches, including Reese Morgan, who moves from offensive line to defensive line.
Running back auditions: Iowa once again needs to identify a featured back after Marcus Coker transferred to Stony Brook in January. Coker basically was the team's rushing attack in 2011, accounting for 77.3 percent of the rushing yards and 61.9 percent of the carries. Jordan Canzeri and Jason White will compete with several other unproven players this spring. The good news is Iowa has had little trouble developing backs. Keeping them is another story.
Reloading the defensive line: The running backs might get more attention, but defensive line is Iowa's most pressing need entering the spring. The Hawkeyes lose three starters from last season's squad, including NFL prospect Mike Daniels at defensive tackle. While D-line historically has been a strength for Iowa, the Hawkeyes haven't had so much uncertainty in quite some time. Morgan, who hasn't coached on the defensive side, has his work cut out this spring.

MICHIGAN
Spring practice start date:
March 17
Spring game:
April 14
What to watch:
Defensive line rotation: It's a good thing coach Brady Hoke and defensive coordinator Greg Mattison focus so much on the defensive line. The unit needs some extra attention this spring after losing standouts Mike Martin and Ryan Van Bergen. The defensive tackle spot will be particularly interesting. A lot of eyes will be on Will Campbell to see if the big man can finally blossom. Quinton Washington and others are in the mix.
Receiving orders: Michigan needs to develop more options in the passing game this spring. The team loses top wideout Junior Hemingway, and Darryl Stonum was dismissed from the squad in January following another legal issue. Roy Roundtree needs a big spring as he looks to re-establish himself as the team's No. 1 wideout after a production drop-off last season. Tight end Kevin Koger also departs, creating an opportunity for others.
Al Borges' offense, Take 2: The new offense had some highs and lows in Year 1, and Michigan will be looking to establish greater consistency this season. It'll be interesting to see how a full year in the system impacts quarterback Denard Robinson. Robinson must cut down on his interceptions after tossing 15 last season. The Wolverines also are looking for an offensive line anchor following the departure of All-American center David Molk.

MICHIGAN STATE
Spring practice start date:
March 27
Spring game:
April 28
What to watch:
Take it to the Max: Andrew Maxwell's time has arrived as he steps in for three-year starter and three-time captain Kirk Cousins at quarterback. It's a tall order, but Maxwell has been groomed for this moment and has shown good potential in practices. He'll be working with a new set of leading receivers, including Tennessee transfer DeAnthony Arnett, who hopes to be cleared to play for the upcoming season. Maxwell must establish himself as a team leader this spring.
We're not Worthy: All-American Jerel Worthy is gone, and Michigan State needs a replacement for the standout defensive tackle. While Anthony Rashad White returns at the other D-tackle spot, the Spartans don't have much overall depth at the position. It'll be interesting to see what the coaches do with Micajah Reynolds, who has bounced between defensive line and offensive line during his career. It's a big spring for Vanderbilt transfer James Kittredge and a host of players who redshirted last season, including Damon Knox.
Receiving orders: Arnett seemingly would be Michigan State's No. 1 receiver if he's ruled eligible by the NCAA, but there are no guarantees and the Spartans must identify other options this spring. Bennie Fowler showed promise in 2010 before being slowed by a foot injury last season. He needs a strong spring. Michigan State also is moving Tony Lippett back to receiver from cornerback, where he started several games last season. Lippett is an excellent athlete who can provide a boost on the edge. The Spartans also will be looking for more from tight end Dion Sims.

MINNESOTA
Spring practice start date:
March 22
Spring game:
April 21
What to watch:
The search for a pass rush: Minnesota should be improved on offense in Year 2 of the Jerry Kill era, but the team could sink or swim depending on the defense. It starts up front with a defensive line that hasn't generated much pressure for several years. Coordinator Tracy Claeys wants to be aggressive, but can he find difference-makers? The Gophers haven't had an elite pass-rusher since Willie VanDeSteeg in 2008.
Supporting cast on offense: Although quarterback Marqueis Gray had his ups and downs last season, he accounted for most of Minnesota's offense, leading the team with 966 rushing yards and six rushing touchdowns. Gray needs more help if the Gophers intend to take the next step this season. Minnesota will be looking for a featured running back this spring, as Donnell Kirkwood and others are in the mix. The Gophers also need more options at receiver after losing Da'Jon McKnight.
Troy Stoudermire: Stoudermire turned heads last spring with some big hits from the cornerback spot. After receiving an additional year of eligibility from the NCAA in January, he'll look to deliver more punishment. Minnesota desperately needs leaders and playmakers to emerge in the secondary, and Stoudermire's return could be huge after he missed most last season with a broken bone in his forearm.

NEBRASKA
Spring practice start date:
March 10
Spring game:
April 14
What to watch:
Star search on defense: No Big Ten defense loses more star power than Nebraska, which must replace linebacker Lavonte David and cornerback Alfonzo Dennard, the league's top performers at their respective positions. David's departure is especially critical, as Nebraska lacked depth in its defensive midsection last season. Although Nebraska played most of the past season without defensive tackle Jared Crick, it needs some difference-makers to emerge in all three levels of the defense this spring.
Papuchis takes over: Like Iowa, Nebraska promoted a position coach to defensive coordinator, as John Papuchis takes control of a unit that fell short of expectations last season. Papuchis is young and energetic, and his rapid rise mirrors that of his boss, Huskers head coach Bo Pelini. Although no system overhaul is expected, it will be interesting to see how Papuchis puts his imprint on the defense this spring.
Taylor Martinez's maturation: Despite two years as the starter and the support of his coaches, Martinez enters a pivotal spring. Although Martinez remained healthy last season and showed improved decision-making at times, he also completed just 56.3 percent of his passes and didn't break off as many long runs. A full year in Tim Beck's offense could pay off for Martinez this spring, but he needs to continue to make strides. It will be interesting to see if the coaches even entertain the possibility of a competition, or if backup Brion Carnes gets more reps.

NORTHWESTERN
Spring practice start date:
March 3
Spring game:
April 14
What to watch:
Colter and the QB race: Northwestern will have a quarterback competition this spring as it looks for Dan Persa's replacement, but the hope among many is for Kain Colter to take control. Colter stepped in for Persa last season and emerged as the team's best all-around offensive weapon. But he needs to improve his arm strength and his accuracy and show he can be a more complete quarterback at this level. Although Colter will be on the field no matter what in the fall, he has the opportunity in spring ball to solidify himself as the starting quarterback.
Young defenders: The defense has been a big problem for the past year and a half, and Northwestern needs to identify more playmakers before September. The good news is the Wildcats played a lot of young players last season, particularly late in the season. Northwestern needs its youth to mature, beginning in the spring. Keep an eye on players such as defensive end Tyler Scott, safety Ibraheim Campbell, linebacker Collin Ellis and cornerback Daniel Jones. Northwestern needs several of them to take the next step.
Spotlight on the secondary: Few Big Ten units struggled more than Northwestern's secondary did last season. Making matters worse, the Wildcats lose three starters, including All-Big Ten safety Brian Peters and cornerback Jordan Mabin, a four-year starter. If Northwestern ever intends to turn the corner as a program, it needs to build better depth in the secondary, whether it's through recruiting or from moving players from other positions. It'll be interesting to see how the group performs this spring.
December, 27, 2011
12/27/11
5:00
PM ET
Iowa is no stranger to facing adversity in a bowl game.
In the 2001 Alamo Bowl, the Hawkeyes' first postseason appearance under head coach Kirk Ferentz, running back Ladell Betts couldn't play with a hamstring injury, leaving Iowa without a four-year starter. Iowa turned to Aaron Greving, who racked up 115 rush yards and earned offensive MVP honors in a win against Texas Tech.
[+] Enlarge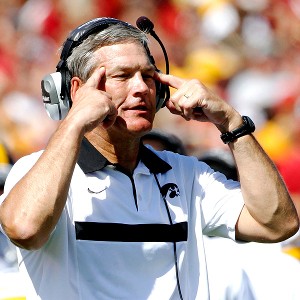 AP Photo/Charlie NeibergallKirk Ferentz says he can't explain all of the backfield issues Iowa has faced, but the Hawkeyes have to forge on in their bowl game against OU.
The Betts-Greving situation hardly compared to the crisis Iowa faced before the 2010 Insight Bowl. Top running back Adam Robinson had been suspended and subsequently arrested. Top receiver Derrell Johnson-Koulianos had been arrested on drug charges, leading to an odd news conference where Iowa admitted to
finding problems with its drug-testing program
for student-athletes. The team also announced that two reserve running backs,
Jewel Hampton
and Brandon Wegher, were transferring.
And yet Iowa still won the game, rallying to upset Missouri 27-24.
Another Insight Bowl matchup is on tap Friday night against Oklahoma, and Iowa once again is dealing with some adversity. Sophomore running back
Marcus Coker
, the team's most productive offensive weapon, is suspended for an undisclosed violation of team policy. There are other potential personnel issues, which
Ferentz deflected Tuesday
, but replacing Coker's 281 carries and 1,354 rush yards is the big one.
"It's football," Ferentz told ESPN.com on Tuesday. "If our running back had sprained his ankle, he wouldn't play then, either. So you don't surrender and forfeit the game. You keep playing. It happens all year long. Players are in and out. Somebody has to be ready to step in, and everybody else has to help those guys out."
Coker was that guy for Iowa last December, rushing for a team-bowl record 219 yards and two touchdowns against Missouri. But his loss leaves the Hawkeyes with a stable of unproven backs.
Ferentz said
Jason White
, who he describes as "steady" and "dependable," and
Brad Rogers
, who has mostly played fullback for Iowa, likely will be the team's top two ball-carrying options Friday against Oklahoma. Freshmen
Jordan Canzeri
and
Damon Bullock
are the next two in line.
"We'll basically use everybody we have," Ferentz said. "I don't know if I foresee us getting 200 yards like a year ago, and if we did, it will probably be three, four, five guys contributing to that yardage, not one. We'll do it by committee and just see how it goes."
Iowa's passing attack has been very effective at times, especially early in the season when the Hawkeyes employed some no-huddle. Oklahoma ranks just 83rd nationally against the pass.
But the Hawkeyes won't abandon their run game Friday night. Because they can't.
"We have to at least attempt it," Ferentz said. "We're not built to throw it 70 times a game. It's just not our mode of operation. If we get in a situation like that, it's not good. But the group's capable. They've been practicing well and they'll step up and do a good job."
The suspensions of both Coker and freshman
Mika'il McCall
have once again placed the spotlight on Iowa's running back position, which has seen an extraordinary amount of turmoil since the departure of Doak Walker Award winner Shonn Greene after the 2008 season.
Five promising backs have dealt with off-field issues
since Greene's departure.
"I wish I could explain it," Ferentz said. "There's no conspiracy theory or anything like that. We've just had some situations. You have to evaluate each one on an individual basis. We have had our share of transactions and transition. We'll get it settled down again."
When bowl games kick off, Iowa usually finds a way.
December, 20, 2011
12/20/11
6:00
PM ET
In 2008, Iowa caught a big break at the running back position when Shonn Greene went from furniture warehouse employee to Doak Walker Award winner.
Since then, the Hawkeyes haven't had much good fortune with their running backs. Whether it's injuries or off-field problems, Iowa's running back depth has taken hit after hit since Greene's magical season.
[+] Enlarge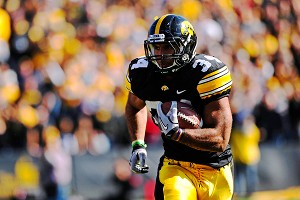 Byron Hetzler-US PRESSWIREStar RB Marcus Coker will not be allowed to play in the Hawkeyes' bowl game against Oklahoma.
The latest blow came Tuesday as the team announced starting running back
Marcus Coker
has been
suspended for the Insight Bowl for disciplinary reasons
. Iowa didn't elaborate on the suspension, saying only that Coker violated the school's student-athlete code of conduct. The sophomore will not travel with the team to Arizona later this week.
It marks the second consecutive year Iowa will play the Insight Bowl without its top back. Adam Robinson was
suspended for the game last year
for failing to comply with team policies. Iowa announced Robinson's suspension on the same day it confirmed running back
Jewel Hampton
, the team's second-leading rusher in 2008, would be transferring. Hampton dealt with injuries and off-field issues. Another promising running back, Brandon Wegher, announced late last season that he would also be transferring (he took a leave of absence from the team in August 2010). Weeks after Iowa announced Robinson's suspension, Robinson was
arrested for marijuana possession
.
Coker ended up rescuing Iowa in the 2010 Insight Bowl, rushing for a team bowl record 219 yards and two touchdowns in a win against Missouri.
He has been a huge part of Iowa's offense this season, accounting for 80.7 percent of the team's rushing yards (1,384), 15 of the team's 18 rush touchdowns and 281 of the team's 417 carries. Coker leads the Big Ten in carries and ranks second in rushing average (115.3 ypg).
Who will Iowa turn to at running back? Promising freshman
Mika'il McCall
was suspended for the regular-season finale against Nebraska, and his status for the bowl game is very much in doubt.
Iowa likely will turn to DeAndre Johnson,
Jordan Canzeri
,
Damon Bullock
and
Jason White
at running back. Johnson leads the crew with just 18 carries this season.
Gulp.
It's hard not to see Iowa becoming pretty one-dimensional against Oklahoma. The good news is the Sooners struggle against the pass, ranking 83rd nationally.
The bigger issue is why Iowa can't keep running backs on the field. The Hawkeyes seem to have little trouble developing running backs, but the lack of depth has become a major problem.
September, 5, 2011
9/05/11
5:00
PM ET
The blog is lighter than normal during the Labor Day holiday, but Big Ten teams remain hard at work.
Here are a few personnel nuggets revealed today around the league:
NEBRASKA
Nebraska coach Bo Pelini said linebacker Will Compton is day-to-day with a foot injury but has no structural damage. Compton missed the first five games of last season with a foot ailment. Pelini also said star cornerback Alfonzo Dennard (pulled leg muscle) is improving and getting closer to a return. I'd expect to see Dennard on the field Week 3 against Washington, at the latest.
MICHIGAN
Michigan should be close to full strength for its prime time showdown against Notre Dame. Top cornerback Troy Woolfolk, who suffered a left ankle injury on kickoff coverage against Western Michigan, should be ready for the Irish, coach Brady Hoke said. Woolfolk missed all of last season with a dislocated right ankle. Linebacker Cam Gordon (back) also is expected to return. Freshman
Jake Ryan
performed well in Gordon's spot against Western. Left guard Ricky Barnum is back this week from a suspension, but he'll compete with Michael Schofield for the starting job in practice.
WISCONSIN
Wisconsin starting left guard Travis Frederick likely will miss this week's game against Oregon State after suffering a slight MCL sprain in the opener. Sophomore Ryan Groy is listed as the starter in place of Frederick. The Badgers should get receiver
Manasseh Garner
(hernia surgery) back for the Beavers. Backup quarterback
Jon Budmayr
underwent surgery Friday to relieve a nerve problem in his throwing arm. His return is uncertain. "It could be two weeks, it could be two months," coach Bret Bielema said.
NORTHWESTERN
As I tweeted Sunday, quarterback
Kain Colter
is fine after undergoing precautionary X-rays following the win against Boston College. Expect Colter to start again in place of
Dan Persa
this week against Eastern Illinois. The Wildcats will be without starting defensive tackle Jack DiNardo (leg). Sophomore Will Hampton and freshman Chance Carter will compete to fill DiNardo's spot.
INDIANA
Ed Wright-Baker is listed as the No. 1 quarterback for this week's game against Virginia. No surprise there, as Wright-Baker delivered a solid effort in his first career start and wasn't the reason why IU lost to Ball State. Two starters, linebacker Leon Beckum and right tackle Josh Hager, aren't listed on the depth chart following injuries in the opener. Junior Lee Rose is listed as the starting weak-side linebacker, while veteran offensive lineman Justin Pagan shifts from guard to tackle. Receiver
Duwyce Wilson
and tight end
Ted Bolser
both aren't listed on the depth chart again as they deal with injuries.
IOWA
Jason White
will be the No. 2 running back this week after the season-ending injury to freshman
Mika'il McCall
. Sophomore defensive tackle Dominic Alvis has leapfrogged Thomas Nardo into a starting spot, while defensive tackle Carl Davis isn't listed on the depth chart because of an injury.
August, 30, 2011
8/30/11
5:00
PM ET
The first Big Ten coaches teleconference of the season took place earlier Tuesday. Given all the news and nuggets of Week 1, we're compiling notebooks for both divisions. We'll try to do these as often as possible on Tuesdays during the season.
Let's get things started with the Legends division.
IOWA

Coach Kirk Ferentz said if the Hawkeyes played a game today, A.J. Derby would serve as James Vandenberg's backup at quarterback. Derby, a fan favorite who boasts tremendous athleticism, has clearly made strides during camp to move slightly ahead of John Wienke, who Ferentz said also is improving. After so much talk about where Derby would end up playing, it seems like his future is at quarterback.
Ferentz said the biggest change we'll see on Iowa's defense this fall will be a larger rotation up front. Iowa typically went with a 5-man rotation the past few seasons, but after losing three linemen to the NFL draft, the Hawkeyes will rotate 6-8 players and possibly nine up front this season.
Jason White will get the next shot at running back behind starter Marcus Coker. Ferentz also said Iowa will use its freshmen tailbacks early in the season to get them accustomed to games. The past two seasons have shown Iowa can't take anything for granted injury-wise at running back.
MICHIGAN
Brady Hoke fielded several questions about the defense and not surprisingly spoke mainly about the line. He likes the depth the Wolverines have in the front four but emphasized the need to get off blocks and maintain "gap integrity" when the games begin. Got to love that football lingo.
Hoke gave a shout out to his boss, athletic director Dave Brandon, for allowing the Wolverines' kickers to use Michigan Stadium often during camp. The stadium not only provided a more realistic setting for the kickers, but the wind conditions in the Big House are different than on the practice fields. Hoke also praised Brendan Gibbons, who will handle field goals, saying he's "very excited about his progress."
MICHIGAN STATE
I asked Spartans coach Dantonio a bit about all the co-starters on his Week 1 depth chart, and he basically said anyone listed in bold will play a lot Friday night against Youngstown State. Not only will Michigan State rotate quite a few defensive ends Friday, but the offensive line rotation also likely will be larger as the Spartans figure out spots like left tackle and center. "How they play in a game situation determines where we go from there," Dantonio said.
Despite four consecutive bowl appearances and a Big Ten co-championship in 2010, Michigan State remains a fairly young team. The offense boasts a mix of veterans and youth, while the defense is fairly young entering 2011. "We're a young football team with a blend of experience," Dantonio said. "We have three seniors on defense in our top 22 players, so good things should be around the corner for us."
Dantonio began the call by thanking everyone for their support since the passing of his father, Justin, on Sunday. He'll return home to Zanesville, Ohio, in the middle of the week for the funeral and be back for the Youngstown State game.
MINNESOTA
Coach Jerry Kill said he has discussed a plan for future nonconference scheduling with the university administration, although he declined to provide details. Don't expect Kill's plan to include many more openers at USC. Said Kill: "Would I like to open up with USC every year? No. I'd like to open up right here at home."
Kill's Week 1 depth chart is filled with true freshmen and redshirt freshmen, but he considers his entire roster freshmen because they haven't gone through a season with the coaches. The result will be a more pared down game plan for Saturday. "There's no question we have to keep things simpler," Kill said. "We can't be like we were at Northern Illinois, so we'll have to adjust."
NEBRASKA
Coach Bo Pelini wants to see efficiency from his offense Saturday against Chattanooga. He stressed the need to limit penalties and turnovers, and to form sustained scoring drives against the Mocs. "At the end of the day, that's what's going to determine our success, how efficient we can be," Pelini said. You can tell Nebraska's poor finish on offense at the end of the 2010 season still irks Pelini.
Like his brother, Carl, the Huskers defensive coordinator, Bo is excited about what the team brings back in the secondary. He singled out the preseason play of cornerback Andrew Green, who likely will start in place of the injured Alfonzo Dennard on Saturday.
NORTHWESTERN
Coach Pat Fitzgerald said the competition between running backs Mike Trumpy and Jacob Schmidt will continue through game week. Trumpy has come on strong as of late, while Schmidt's consistency has impressed the coaches. "Both guys are going to play," Fitzgerald said. "If one guy gets hot, he'll take over the role and be the bell cow."
Fitzgerald didn't say much about the status of quarterback Dan Persa for Saturday's game. He does, however, know what to expect from Boston College. "They will try to run it down your throats until you stop them," he said.
August, 26, 2011
8/26/11
11:45
AM ET
It has been a fairly quiet training camp at Iowa despite some position competition on both sides of the ball.
The Hawkeyes on Friday
released their depth chart
for the season opener against Tennessee Tech. Not too many surprises here.
A few notes:
Only three spots list co-starters: Matt Tobin and Brandon Scherff at left guard, Matt Meyers and Jonathan Gimm at fullback, and Thomas Nardo and Dominic Alvis at defensive tackle. Alvis also is listed as a backup at defensive end behind Lebron Daniel. Fullback Brad Rogers, sidelined before the Insight Bowl with a heart issue, isn't listed on the two-deep.
Redshirt freshman quarterback A.J. Derby seems to be stepping up his game, as he's listed as a co-backup with junior John Wienke.
After starting last season at cornerback, Micah Hyde is listed as Iowa's starting free safety, ahead of Tanner Miller. Hyde also is a backup cornerback behind Greg Castillo. Junior Collin Sleeper is listed as the starting strong safety, while Jordan Bernstine is a backup at both strong safety and cornerback. There's not a ton of depth in the Iowa secondary, which could be a problem.
Junior Jason White is listed as the backup running back behind Marcus Coker.
Sophomore Christian Kirksey is listed as the starting weak-side linebacker ahead of classmate Anthony Hitchens.
Iowa's return men for both kickoffs and punts are to be determined.
April, 19, 2011
4/19/11
5:00
PM ET
I'll be compiling Friday's mailblog a little earlier than usual, so
send me those questions and comments
ASAP! Thanks for your continued participation.
Bryan from Kansas City, Mo., writes:
Hey Adam, as a Nebraska fan I just recently started following your blog. Impressive! Thanks for all the coverage so far and for all your different vehicles to tell the stories. As a new Big 10 fan, I need to be made more aware of some of the gritty rivalries that are present, as well as which venues are some of the most daunting to play in. What would your top 3 "must see in person" matchups be for this upcoming season?
Adam Rittenberg:
Thanks for reading, Bryan. Ohio State-Nebraska on Oct. 8 certainly jumps out to me. It has to be among the top five must-see games nationally entering the season, given the Big Ten/BCS implications and the return of Buckeyes coach Jim Tressel and the five suspended players, including quarterback
Terrelle Pryor
. Memorial Stadium will be electric that day/night. I'd also list the Nebraska-Wisconsin game on Oct. 1 in my must-see group. Although the Big Ten's primetime schedule hasn't been announced, it's a good bet the Huskers will play their first game as a Big Ten member under the lights. Camp Randall is awesome for night games. My third choice likely would be a nonconference game on Sept. 10: Alabama-Penn State or Notre Dame-Michigan (first night game at the Big House).
---
Matt from Farmington Hills, Mich., writes:
Adam, If Rich Rod knew what the Michigan-Ohio State game really meant, he would not have fielded three of the worst defenses in Michigan history in embarrassing fashion each November. No toughness, poor tackling, lackluster effort. That is simply not Michigan's brand of football. THAT is why Michigan fans relentlessly insisted that Rodriguez just didn't get it. He created a kind of football foreign to the Wolverines and to the Great Rivalry.
Adam Rittenberg:
Matt, you're not the only Michigan fan who feels this way. Rodriguez had won big with the spread offense and the 3-3-5 defense in the past, but it didn't work out for him at Michigan for a variety of reasons. His defenses displayed better fundamentals at West Virginia, and those units also had more experience. It's hard for coaches to go away from systems that have worked for them in the past, but Rodriguez could have been more flexible. Would things have turned out differently if Rodriguez had run a system similar to Greg Mattison's? Hard to tell. You need the players and you need coaches who can develop them. Rodriguez seemed to be lacking in both areas.
---
John from Norwalk, Iowa, writes:
Hey Adam, do you think that there's any correlation between spring game performance and performance in the upcoming season? It makes you feel good about your team to read about how players stepped up in their respective spring games, but how often does that translate to on-field performance in the fall?
Adam Rittenberg:
Great question, John. I know it's hard for fans because the spring game is usually all they see, but it's important to have perspective when judging a glorified scrimmage. I've seen too many players light it up in spring games and then do nothing on fall Saturdays. That's not to say a spring game performance like, say, Jamal Turner's at Nebraska doesn't suggest big things ahead, but it's important to see the spring games for what they are -- one of 15 spring practice sessions. I put a lot more stock in what coaches tell me about players' performances throughout spring ball.
---
Adam from Baltimore writes:
Hey Adam, Question regarding Roushar's idea of trying to be more vertical with the passing game. I love the idea of them going deep, but the biggest problem I see is (especially after their first scrimmage) the QB needs a lot of time (3-4 secs) to wait for those receivers to get down field to really exploit that dimension and I worry that this new O-line is too young to give even a QB as good as Cousins enough time. I know the running game will also help that, but I just question how feasible this new plan really will be with such a young O-line.
Adam Rittenberg:
You make an excellent point, Adam. Michigan State's offensive line has to be an area of concern with all the youth right now. The coaches feel there's more athleticism up front, but the line is really one area where you can't substitute for experience. I also wouldn't expect Dan Roushar to become Bobby Petrino overnight. Roushar knows the run game has to be a focal point, and I expect the Spartans to run the ball more this fall. You'll see some shots down the field, but more out of the play-action, which
Kirk Cousins
executes well.
---
David from Omaha writes:
Adam, As a Nebraska fan im new to your blog and maybe its just the contrast with Ubben, but do you not hold weekly chats? They are one of the things I look forward tot hem most. Ubben used to hold his chat the same day of every week unless he needed to reschedule. And I say this with all due respect, but Ubben always made a point to communicate with his readers when the chat will be each week. Again, not wanting to offend as someone new to your chats, but I have yet to see any reference to your chats other than, here is today's chat. Id like to plan to read your chats as I have found ESPN buries them on the site the day after they happen. So my rather long-winded question is, do you hold a chat every week. And if so, when is said chat? A specific day or whenever you feel like it. I would be grateful If you would update us on when there will be chats and if there is any sort of schedule, formula or logic utilized in scheduling them. Thanks!
Adam Rittenberg:
David, I'll chalk this up to you being new to the blog, as I typically list chat reminders every week on the day of the chat and also in the lunch links that day. Although the schedule has been a little crazy lately because of my vacation and my spring trips, the Big Ten chats take place every
Wednesday at noon ET (1 p.m. CT)
. We might change the time during the season, but for now, plan to join me then. I'll post a reminder Wednesday morning.
---
Josh from Iowa City, Iowa, writes:
Adam, this is a fairly specific question but hopefully you can lend your insight. Even with
Marcus Coker
's outstanding performance last year in the Iowa's bowl game, the Hawks will not feature a lot of proven-depth at the RB position. Even with veterans like
Marvin McNutt
on the team other guys are going to have to step up. Which Iowa offensive players do you think will grab this opportunity.
Keenan Davis
was the first that crossed my mind, a big receiver with good hands who has worked under some of the best receivers Iowa has seen. Your thoughts?
Adam Rittenberg:
Davis definitely comes to mind for me, too. He had a good spring by most accounts and looked very good in Iowa's spring scrimmage Saturday. It's important Davis takes hold of that No. 2 wideout spot. I also look at the tight ends,
Brad Herman
and
C.J. Fiedorowicz
, to play bigger roles in the offense. Herman has worked behind several NFL tight ends at Iowa, and Fiedorowicz boasts the physical gifts to really be special. One of the big keys is who steps up behind Coker. Will it be Jason White or
De'Andre Johnson
or an incoming freshman? You typically need at least two backs in the Big Ten.
---
Jeff from Lorain, Ohio, writes:
Does Hoke know that meeechigan plays Ohio State and not Ohio Univ. at the end of the season? Can he be that stupid?
Adam Rittenberg:
I think Hoke knows exactly what he's doing, Jeff. And from the looks of my inbox, he has tweaked quite a few Buckeyes fans with his "Ohio" references. It's all by design.
---
Oliver from Columbus, Ohio, writes:
Adam, would the Ohio State coaching staff being doing a disservice to the team if they didn't put the best candidate/player at quarterback during the five-game suspension that gives the team the best chance for success? This means putting someone at QB which would create a simple transition to Terrelle Pryor in Game 6. Thanks.
Adam Rittenberg:
Yes, the staff would be doing a disservice by not playing the best player. I don't see why they wouldn't in this situation. I'm guessing you think a guy like Kenny Guiton or Braxton Miller would create the easiest transition to Pryor because of their mobility in the pocket.
Joe Bauserman
moves around better than people think, though, and he has operated in this system for several years. I guess I'm not as concerned about having a similar quarterback to Pryor. The bigger question is how Pryor responds to his first game situation, a very difficult one in Lincoln.
April, 18, 2011
4/18/11
3:30
PM ET
My headline is inaccurate, as Iowa didn't exactly hold a spring game or even a full scrimmage Saturday at Kinnick Stadium. The Des Moines Register's Randy Peterson called it a "
Spring Whatever
" -- I like that.

Anyway, the Hawkeyes wrapped up spring ball and here's a snapshot at what went down Saturday.
Game coverage:
Here
and
here
and
here
Quotable:
"The best thing that happened today, other than one hamstring injury, is we didn't have any injuries. Our issues were coming into the spring with surgeries. That's why things can be ugly in spring. We have 6-8 guys that should be in our two deep that did not work but this spring but will be ready in June." -- coach Kirk Ferentz
Highlights
Iowa is looking for a No. 2 receiver to join Marvin McNutt, and one appeared to emerge Saturday. Junior Keenan Davis had an impressive practice/scrimmage, making several electrifying catches, including one over cornerback Shaun Prater that went for 25 yards. "It's his time," Ferentz said. "He needs to play like a starter. He's certainly more than capable. It's his time to go." The Hawkeyes had been hopeful Davis would move into the No. 2 role, and his effort Saturday was an encouraging sign.
Fan favorite A.J. Derby made a move this spring to draw even with John Wienke for the No. quarterback spot. Derby turned in a strong performance Saturday, unofficially completing 9 of 11 passes for 115 yards. Wienke, meanwhile, tossed two interceptions in the scrimmage. The athletic Derby long has been considered a candidate to play elsewhere, but he's solidifying himself as an option at quarterback. "We see him as a quarterback, that's what he sees himself as and we're on board with that 100 percent," Ferentz said. "It's not like we've got an eight-deep at quarterback. We've got three guys out there right now, and the way we protected during the spring at times, we may need eight quarterbacks."
There weren't any official stats from the scrimmage, but media reports noted reserve running backs Jason White and De'Andre Johnson looked decent. White and Johnson took most of the reps Saturday. "Jason White has really made some strides and improved," Ferentz said. "De'Andre Johnson has miles to go, but right now you can see he looks more like what we hoped he'd look like. He's healthy now and moving around a little, but he's got a lot to learn."
April, 15, 2011
4/15/11
1:30
PM ET
Since many of you have asked, I won't be attending any spring games this weekend (or next, for that matter). It's a little tough to explain to non-media folks, but I get a lot more out of visiting campuses midweek than for spring games, when things are chaotic. The good news: I'll recap every spring game Monday.
Now it's time to preview the six Big Ten spring games on tap Saturday (in reverse alphabetical order) ...

PENN STATE
The vitals:
Blue-White Game presented by AAA kicks off at 2 p.m. ET Saturday at Beaver Stadium; admission and parking are free
More details:
Penn State has a pregame autograph session and a ton of events planned for the weekend. All the information
can be found here
.
Three things to watch
1. The quarterbacks:
The race for the starting job has been the top story at Penn State this spring, and all four candidates will be on the field Saturday. Most eyes will be on sophomore Rob Bolden and junior Matt McGloin, who split the starts in 2010 and have paced one another throughout the spring. Both players
have impressed the coaches
, who likely won't name a starter until the summer. Saturday marks the final chance for Bolden and McGloin to showcase their abilities for the coaches and fans before spring ball concludes.
2. Line play:
Penn State has to upgrade both lines if it wants to contend in the Leaders division this season. The Lions have very little depth at defensive end because of injuries, but fans should keep an eye on defensive tackles Devon Still, Jordan Hill and Brandon Ware, all of whom have drawn praise from the coaches this spring. Penn State needs a big year from its interior linemen. The offensive line boasts four seniors and should be solid at the tackle spots, but it'll be interesting to see how the guards and centers perform as Penn State must replace standout Stefen Wisniewski.
3. Running backs:
Injuries will
keep several Penn State playmakers on the sideline
Saturday, but fans should get a clear read on the running backs. There's a lot of hype for
Silas Redd
after a solid freshman season, but he's being pushed by
Stephfon Green
and
Brandon Beachum
, who has stood out this spring after missing all of last season with a torn ACL. Green and Redd both have breakaway ability, while Beachum could be the power back Penn State has missed in recent years.

NORTHWESTERN
The vitals:
The spring football "exhibition," which will be more of a situational scrimmage, kicks off at noon CT (1 p.m. ET) at Ryan Field; admission and parking are free but fans are encouraged to bring nonperishable canned-food items for a food drive.
More details:
Northwestern is holding a youth football clinic and several other events. All the info
can be found here
.
Three things to watch
1. The race for backup QB:
All-Big Ten selection
Dan Persa
is on track to return by late May or early June, but he won't be taking any snaps Saturday. Northwestern will divide the reps evenly between three signal-callers -- sophomore
Kain Colter
, junior
Evan Watkins
and redshirt freshman
Trevor Siemian
-- vying to play behind Persa this season. Colter is the most intriguing candidate after a breakout performance against Texas Tech in the TicketCity Bowl, but all three players have endured some ups and downs this spring.
2. New faces on defense:
The coaches feel they've upgraded the athleticism on defense with recent recruiting, especially at spots like linebacker and defensive back. Northwestern's defense looked slow and overmatched at times last season, and quite a few jobs are open this spring. Keep an eye on players such as linebackers David Nwabuisi and Damian Proby and redshirt freshman safety Ibraheim Campbell, a player coach Pat Fitzgerald has praised multiple times this spring.
3. The running backs:
Persa carried the run game in 2010 but admits he took too many shots and will try to limit the damage this fall. He could use more help from a run game that has suffered since Tyrell Sutton graduated.
Mike Trumpy
provided a spark late last year and has had a good spring, and
Adonis Smith
has a year under his belt. Keep an eye on
Tyris Jones
, a physical runner who has stepped up this spring as a running back/H-back.