November, 20, 2013
Nov 20
11:00
AM ET
Any credible list of the Big Ten's best cornerbacks starts with Michigan State's
Darqueze Dennard
, moves on to Ohio State's
Bradley Roby
and then typically branches off in several directions.
Nebraska's
Stanley Jean-Baptiste
would appear third on some ballots, as would Michigan's
Blake Countess
, Iowa's
B.J. Lowery
and Nebraska's
Ciante Evans
. Wisconsin freshman
Sojourn Shelton
also is getting noticed for his recent play.
One name no one's talking about is
Eric Murray
, although Minnesota's coaches could filibuster for days about the sophomore cornerback. Murray's problem: Unlike the other aforementioned corners, he has yet to intercept a pass this season. Interceptions equal attention, especially the pick-six variety.
[+] Enlarge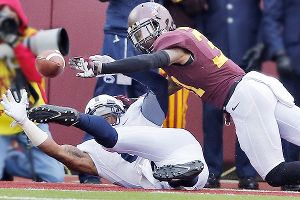 Zumapress/Icon SMIEric Murray has hounded receivers such as Penn State's Allen Robinson throughout the Big Ten season.
The irony is that Murray's lack of picks can be attributed, at least in part, to how much confidence the coaches have in his game.
"He doesn't play a lot of zone," Gophers defensive backs coach Jay Sawvel told ESPN.com "He's pretty much a man-to-man guy, and a lot of it's press-man. It's hard to get a lot of interceptions when you play as much press-man as he does.
"But we feel like he can get people stopped when we need to get 'em stopped."
It's why Minnesota often has Murray mark the opponent's top pass-catching threat. He has lined up across from Penn State's
Allen Robinson
, Michigan's
Jeremy Gallon
, Indiana's
Cody Latimer
, Northwestern's
Tony Jones
, Nebraska's
Kenny Bell
and
Quincy Enunwa
, and San Jose State's
Chandler Jones
, the nation's No. 7 wideout. The 6-foot, 194-pound Murray has the length to defend bigger receivers and the speed to pace smaller ones.
Every receiver struggled to match his typical production against Murray, whose next assignment is Wisconsin star
Jared Abbrederis
on Saturday, when the 19th-ranked Badgers visit No. 25 Minnesota in the most anticipated
Axe game
in years.
Robinson, the Big Ten's top wideout, was targeted five times with Murray guarding him and recorded just two receptions for 18 yards. Enunwa didn't record any receptions in the nine plays he went against Murray.
"Our staff, we think Darqueze Dennard's the best corner in this conference," Sawvel said. "I know Roby gets a lot of publicity, and we think he's really good, too.
"But outside of those two, we wouldn't trade Eric for anybody in the conference."
After playing mostly special teams as a freshman in 2012 -- cornerbacks Michael Carter and Troy Stoudermire started every game -- Murray had a strong offseason, leaving Sawvel optimistic about his potential for this fall.
Still, Sawvel wondered how the young cornerback would handle failure, and how often he would fail. The answer came Oct. 26 against Nebraska. On the fifth play from scrimmage, Bell beat Murray on a post for 42 yards to the Minnesota 2-yard line, setting up a touchdown.
"His reaction when he came back to the sideline was, 'I'm gonna kick his ass the rest of the game,'" Sawvel said. "It was not, 'Boy, he's tough to cover.' It wasn't any of that. There was no self-doubt. He was mad about it, but he was like, 'I got this.' And he did."
Nebraska targeted Bell three more times with Murray on him but completed zero passes, as Minnesota rallied for a 34-23 win.
"Whoever's in front of me, it doesn't matter," Murray said. "I just have to be comfortable in myself. If you think negative, negative things will happen."
Murray's positive outlook and drive helped him get to the Big Ten despite being largely overlooked in recruiting. After Murray's junior year at Milwaukee's Riverside University High School, his coach took him to three camps -- Central Michigan, Northern Illinois and Minnesota. Murray worked mostly as a receiver during the Gophers' camp, but head coach Jerry Kill wanted to see if his athleticism translated better at corner.
Days later, Murray returned to Minnesota for a second camp, where he worked one-on-one with Sawvel for 2 1/2 hours.
"Sometimes you get fortunate in recruiting," Kill said. "You've got to go with what you see."
The coaches liked what they saw then, and what they continue to see from Murray.
"Sometimes you have to motivate people to go to work, but not him," Kill said. "He loves playing football, and he takes what he does very seriously.
"He's one of those kids who really tries to master his craft."
Murray spends at least 30 minutes a day watching film of opposing receivers, charting their tendencies and the routes they most often run. He prefers man coverage to zone, where a cornerback must expand his vision rather than simply shadow the receiver.
Murray also watches other cornerbacks, like Dennard, a potential first-round draft pick who plays in an aggressive scheme where the corners are left to fend for themselves. Minnesota uses its corners similarly.
"He presses a lot, and I feel like that's more of my style," Murray said. "I would rather press more than anything."
Even if it means fewer interception opportunities. Murray has come close, as he came down out of bounds following a pick against UNLV and had an end zone interception against Penn State nullified by an offsides penalty.
"I really don't mind it," he said. "As long as my guy doesn't catch the ball, I'm all right. It'll feel really good to get my first one, but I'm not putting too much pressure on myself."
Instead, he'll keep pressuring his opponents. Next up is Abbrederis, whom Sawvel calls "the biggest challenge in the conference.
Murray won't be the only Gophers defensive back dealing with Abbrederis, but the two will see plenty of one another.
"You've got to match strength with strength," Sawvel said. "Where Darqueze Dennard and those people are, that's what Eric Murray will be in the next year or two.
"This is a guy who's going to be as good as it gets in this conference."
September, 14, 2013
Sep 14
5:15
PM ET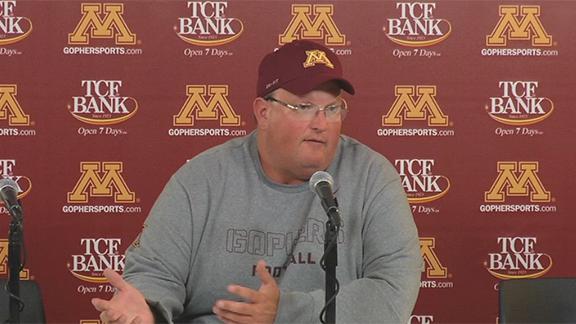 When Minnesota's quarterback needed to be replaced in the first half, the Gophers plugged in the backup and kept on moving.
That approach was also needed on the sidelines, when the Gophers had to fill the void on the coaching staff after
another health scare for head coach Jerry Kill
.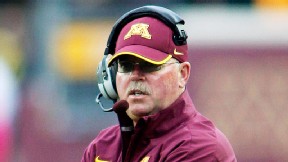 AP Photo/Andy KingJerry Kill suffered a seizure on the sideline for the third time since taking over as Minnesota head coach.
Kill suffered a seizure late in the first half of Saturday's game and was sent to the hospital. Minnesota's players and coaching staff are familiar with with Kill's epilepsy and know the drill when Kill must leave a game early. But simply being aware that something might happen and actually dealing with it are two different things, and with a different coach in charge on the sideline and a new quarterback on the field, the Gophers proved they could handle some adversity in a
29-12 victory
over Western Illinois.
"We keep our normal routine," defensive coordinator Tracy Claeys said. "That is how we were trained. That is what [Kill] would want.
"The team knows what they have to do and nothing changes."
A few responsibilities shift among the coaches, though. Claeys becomes the acting head coach up in the booth and defensive backs coach Jay Sawvel handles the field-level responsibilities.
But aside from that shuffling of the personnel, the Gophers proceeded as if nothing was wrong. After the offense struggled in the first half, Minnesota appeared to get stronger in the second half and pulled away.
Backup quarterback
Mitch Leidner
was instrumental in that surge after taking over in the first half when
Philip Nelson
suffered a leg injury. He was dangerous both as a rusher and a passer in an efficient outing that might establish a case for an expanded role at quarterback.
But even if Leidner stays on the bench, the Gophers are fully aware of how important it is to be prepared for anything and are ready to put the backup plan in action -- from the players to the coaching staff to the medical staff that was called in to help Kill during a game for the third time since he took over the program before the 2011 season.
"[Kill] was attended to by medical personnel on the field and was then driven to a local hospital as a precaution to ensure proper medication levels," Minnesota senior associate athletic director Chris Werle said in a statement. "He is resting comfortably.
"Coach Kill's staff, which is the most tenured in the nation, and his team are well acquainted with his condition and are prepared if a situation like this arises."
Having a plan is one thing. Executing it while facing adversity is another, and the Gophers pulled it off without a hitch.
April, 22, 2013
Apr 22
1:00
PM ET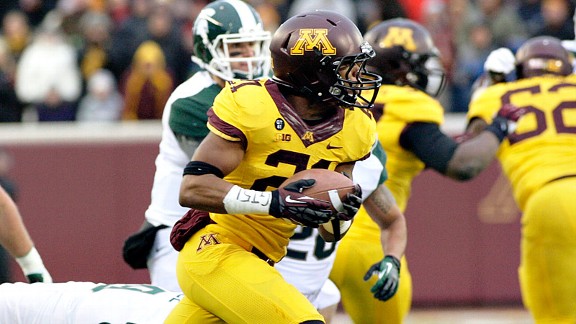 AP Photo/Paul BattagliaThanks to a solid 2012 season, Brock Vereen has excelled as a starting safety for the Gophers.
Anyone could see that Minnesota's secondary took a major step in 2012, helping the defense finish 12th nationally in pass yards allowed and 23rd in pass efficiency.
But could anyone identify the most invaluable piece of the Gophers' back four? Probably not.
The natural inclination is to pick one of the cornerbacks,
Michael Carter
and
Troy Stoudermire
, both of whom earned honorable mention All-Big Ten honors (Carter should have been a second-team selection). Safety
Derrick Wells
put up impressive numbers (74 tackles, two interceptions, 10 pass breakups, one fumble recovered) in his first season as the starter.
But any of those players would be the wrong answer.
"Yeah, we had Troy Stoudermire, yeah, we had Michael Carter, and Michael Carter had a really good year," Gophers defensive backs coach Jay Sawvel told ESPN.com. "But Brock was the most valuable of all our DBs last year. ... Just from a calming influence, from maturity, from a steadiness of play.
"When he wasn't out there, we weren't the same."
Sawvel can't stop raving about
Brock Vereen
, the Gophers' senior safety who started seven games last season (including each of the final six) and recorded 64 tackles, two interceptions and nine pass breakups. Although Minnesota must replace both Carter and Stoudermire this season, Vereen is back to anchor the secondary and the defense, which loses two starting linebackers and top pass rusher DL Wilhite.
"I need to step up and accept that leadership role," Vereen said. "That comes with confidence. It's definitely been a focus this spring. I've never been a vocal leader, so that aspect is something new, but I've always felt comfortable having guys look up to me.
"I know that I need to talk more, but at the same time, I also know some of the younger guys can learn just by watching me."
Vereen can educate Minnesota's young safeties and cornerbacks because he has played both positions for the Gophers. He spent his first two seasons at cornerback, starting four games in 2010 and all 12 as a sophomore the following year.
The 6-foot, 202-pound Vereen immediately bought in to Sawvel and the coaching staff that arrived with Jerry Kill after the 2010 season. He told Sawvel he wished he had been redshirted in 2010, as he had received little guidance as a true freshman.
"His first thing was, 'I can't wait to be coached. I can't wait to learn what a new staff is going to do,'" Sawvel said.
Vereen had a strong finish to the 2011 campaign, limiting talented receivers like Wisconsin's
Jared Abbrederis
(two catches, 27 yards) and Illinois' A.J. Jenkins (four catches, 30 yards). In hindsight, Sawvel wished he had flipped Vereen from side to side rather than leaving him in one spot because he evolved into Minnesota's top cover corner.
But after the season, the coaches moved Vereen to safety. They had brought in several cornerbacks through recruiting, and Sawvel saw a higher ceiling for vereen at safety.
"He doesn't have the hips of an elite corner," Sawvel said. "That doesn't mean he couldn't play it. He could or play it on a short-term basis, but by the same token, he's extremely smart and he's a physical guy. We thought with his skill set, he has a better chance to become an elite safety."
[+] Enlarge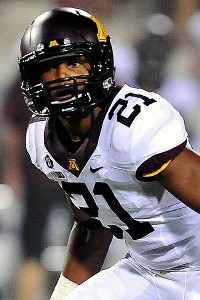 Gary A. Vasquez/USA TODAY SportsBrock Vereen is in a football family, parents who travel to his games and a brother who plays for the New England Patriots.
The coaches appear to be on the right track. Vereen sat out last spring with an injury and began the season as a reserve safety, in part because Sawvel knew Vereen was mature enough to handle coming off of the bench.
The turning point came in Week 4 against Syracuse, when Vereen and the defense shut down
Ryan Nassib
and the Syracuse offense in a 17-10 victory.
"After that game, it was clear," Sawvel said. "It was like, 'Brock's the starter. He needs to be on the field all the time.'"
More like all over the field. Vereen can cover slot receivers, square up running backs in the hole and even play a nickel safety/linebacker hybrid role, like he did against Texas Tech in the Meineke Car Care Bowl of Texas, when he led Minnesota with 10 tackles.
"Somebody asked me, 'What is he? Is he a strong safety? Is he a free safety?'" Sawvel said. "He's a field safety. That allows him to cover people a lot. But when we played Michigan State, they're lining up in two-back and he plays a really good game, and there's several times where we get the ball bounced to him, and it's him and [running back]
Le'Veon Bell
and he won all of them.
"That's a big luxury to have, that you have a guy who can do that much."
A native of Valencia, Calif., Vereen wanted "something new" for his college experience. His older brother, Shane, had starred for Cal at running back, and Brock drew interest from several Pac-12 schools in recruiting. He ended up picking his farthest suitor, Minnesota.
Although Vereen has family ties in the Midwest -- grandparents in Illinois, cousins in Indiana, an uncle living minutes away from Minnesota's campus -- life in Minneapolis provided a bit of a shock.
"I've never been more homesick than that first winter," Vereen said. "That definitely was something I needed to adjust to. But it's been great."
Vereen's parents, Venita and Henry, spend every fall and winter weekend on the road, attending their sons' games. Typically, one watches Brock with Minnesota and the other watches Shane play for the New England Patriots. If there's enough time between the two games, they'll attend both.
"I don't know how they do it, home and away," Brock said. "They have their little system worked out, and I just love 'em for it, all of their sacrifices for me."
Brock attends any of Shane's games that he can -- it helps that the Patriots are a perennial playoff team -- and Shane spends his bye weekend at a Gophers game. The two brothers talk daily, often about football, and Brock keeps close tabs on his brother.
"When I was in high school and he was in college, he was at the level I wanted to get to, so I wanted to know everything he did," Brock said. "And it's the same situation now. I've learned not necessarily from him telling, but just from watching him. That goes back to when we were kids. I've always been very observant of him. He's been very successful in everything that he's done, so I've been trying to do what he did to get to the level he's at."
Sawvel thinks Brock Vereen has NFL potential, although he'll need to "put out more good video" as a senior.
If NFL talent evaluators see what Minnesota's coaches do in Vereen, he could follow his brother's path a year from now.
"He's just very valuable to us," Sawvel said. "He really is."
February, 22, 2012
2/22/12
5:00
PM ET
During rare moments of free time,
Troy Stoudermire
thinks about all he has been through at Minnesota.
He set the team single-season record for kick return yards as a true freshman ... he moved from cornerback to wide receiver midway through the season ... he caught 26 passes for 306 yards as a sophomore ... he switched back to cornerback for his junior year ... he was suspended in September of his junior year and
posted on Facebook that he wanted to transfer
before deciding
to stay days later
... he set team's career kick return yards record later that year ... he emerged as a playmaker the following spring for a new coaching staff ... he set the Big Ten career kick return yards record in the 2011 opener ... he started the first four games at cornerback before suffering a broken bone in his forearm that ended his season ... he waited to hear if his college career was over.
[+] Enlarge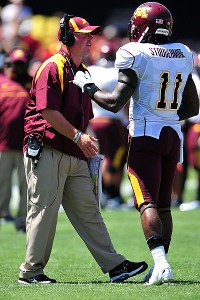 Gary A. Vasquez/US PresswireTroy Stoudermire will join Jerry Kill and the Gophers for a sixth season.
"I've definitely thought about it," Stoudermire recently told ESPN.com, "but I try to leave that in the past and just look at the future."
The time for reflection hasn't come for Stoudermire. It could have, if Gophers defensive backs coach Jay Sawvel had different news when he called Stoudermire on a Friday in January.
Stoudermire had applied to the Big Ten for a medical hardship waiver for 2011, which would give him one more season of eligibility. Applications for hardship waivers or sixth years of eligibility can go either way. Stoudermire's teammate
Kim Royston
got
good news last January
, while Purdue wide receiver
Keith Smith
was
denied a sixth year
. It's a crap shoot.
"I was very anxious," Stoudermire said. "I was actually in Dallas at home with my mom, just waiting for the call, waiting for my coach to let me know something. I was calling him every week to see what the status was. He was telling me they hadn't gotten back to him."
Stoudermire initially had been optimistic about his request, but he began to wonder whether he had played too many games in the 2011 season to qualify. He called Royston, who told him to be patient.
The call finally came Jan. 13, and with it, relief.
"I had nothing to say," Stoudermire said. "I was just super excited."
Stoudermire said the good news has helped him relax and focus more on school and football. He has never felt healthier during his college career, which can be traced in part to the long layoff he had last season.
When Minnesota opens spring practice March 22, Stoudermire will lead the secondary.
"It's a blessing to get another chance to come back and play another year," he said. "Coming back this year is real big. I know the defense, I had a full spring and a few games to play at corner, and when I come back this year, I should be better."
Stoudermire stood out during spring practice in 2011, especially because of the big hits he delivered. Minnesota practiced at a frenzied pace, using two sets of offensive players against the defense to run as many plays as possible. Stoudermire embraced the accelerated practices, and when the games began in the fall, he felt the pace was actually slower.
Stoudermire started strong, recording 24 tackles, two interceptions, three tackles for loss and three pass breakups in the first four games. But then the injury surfaced in a loss to North Dakota State, and Minnesota struggled without him, finishing 11th in the league in pass-efficiency defense (148.8) and recording a league-low four interceptions.
In fact, Stoudermire's interceptions total led the team as only two others recorded picks.
Royston was one of few bright spots on defense, making the most of his sixth season with a team-high 123 tackles. Minnesota needs Stoudermire to take a similar path in 2012 and lead an unproven group of defensive backs.
Stoudermire welcomes the role, helping his teammates during captains' practices and winter workouts.
"All the guys look up to me and call me," he said. "I let them know everything on the field. I set up meetings. I'm definitely taking that leader role, and I'm proud to say I'm the leader of the DBs right now."
Not a bad title to add to a unique career.
December, 30, 2010
12/30/10
1:59
PM ET
As expected, new Minnesota coach Jerry Kill completed new staff with a familiar face.
Kill has hired Jay Sawvel as the team's defensive backs coach and special teams coordinator. Sawvel has served as an assistant for Kill for the last 10 years at both Northern Illinois and Southern Illinois.
"Jay is an outstanding coach and a tremendous recruiter," Kill said in a statement. "He's a relentless guy. He's been with me a long time and that's important."
Kill also announced several other staff additions Thursday, including Eric Klein as strength and conditioning coach. Klein has worked under Kill for the last 17 years.
Sawvel is the
seventh assistant Kill brought over from Northern Illinois
.
Kill links much of his success to his core group of assistants, so it's no surprise that many of the aides are joining him in Minneapolis.
December, 20, 2010
12/20/10
3:46
PM ET
As expected, new Minnesota coach Jerry Kill is acting quickly to fill out his staff. Kill announced five additions of assistant coaches Monday.
Kill's former team, Northern Illinois, wrapped up its season Saturday with an impressive bowl win against Fresno State, and Kill has plucked four assistants from the Huskies' staff. Kill already brought over coordinators Matt Limegrover (offense) and Tracy Claeys (defense) from Northern Illinois to Minnesota.
Here are the Gophers' new additions:
Jim Zebrowski, quarterbacks coach
Rob Reeves, H-backs and tight ends coach
Pat Poore, receivers coach
Jeff Phelps, defensive line coach
Bill Miller, assistant head coach/linebackers coach
Zebrowski, Reeves, Poore and Phelps all served on Kill's staff at Northern Illinois. Zebrowski, Poore and Phelps all served in the same capacity with the Huskies as they will with the Gophers, while Reeves coached running backs at NIU. Kill retained Thomas Hammock from the previous Minnesota staff to coach the running backs, but Reeves adds good expertise after helping mold NIU star
Chad Spann
into the MAC's Most Valuable Player this season.
Miller most recently served as Kansas' co-defensive coordinator and linebackers coach in 2009 under Mark Mangino. The 32-year coaching veteran made a previous stop in Minnesota as the Gophers' defensive backs coach from 1986-88.
None of these additions comes as a surprise. Kill stated from the beginning that he would likely bring in a group of assistants who have been with him for some time. He has a veteran staff of assistants, including several who did a very good job with Northern Illinois this past season.
Minnesota still has one assistant coach vacancy to fill. Northern Illinois defensive backs/special teams coach Jay Sawvel seems like a good possibility.
Kill's staff will have good chemistry. The next challenge is to get the same out of the team in 2011.