February, 12, 2014
Feb 12
12:00
PM ET
The Big Ten blog also secretly interviewed for the Browns job.
January, 24, 2014
Jan 24
4:30
PM ET
Time to check the inbox for another weekend of frigid temperatures! Can you feel the excitement?
Don't forgot to follow us
on Twitter
.
In 3, 2, 1 ...
Sam from Nashville writes:
Do you think the B1G would ever allow the title game to be in a central location outside of "B1G Country"--like Nashville or Louisville--or is the conference's "SEC inferiority complex" too great? LP Field is big, new, actually outdoors, and warmer in December -- plus, it's only a 13 hour drive from the B1G's peripheral schools. Indy, by comparison is a 10-hour drive, and Chicago is 12.
[+] Enlarge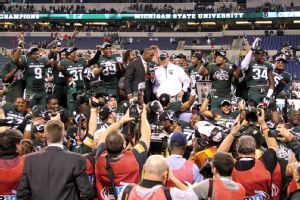 Brian Spurlock/USA TODAY SportsIt's hard to imagine the Big Ten title game not utilizing Lucas Oil Stadium in Indianapolis.
Adam Rittenberg:
While I'm sure LP Field is great, and that Brian Bennett would love to have the Big Ten title game in his home city, I don't really see the point of moving the game outside league borders. It has nothing to do with the SEC. Would the SEC ever play its title game in Indianapolis? Of course not. It has a great thing going in Atlanta. Fans love it, schools love it. Why mess with it? The Big Ten would be doing a major disservice by moving its game to Nashville or even Louisville when Indy or Chicago work much better for most fans.
Ndamukong Suh from The House of Pain writes:
You give no credit from my Huskers beating OSU in 2011. You make excuses that that year OSU was just mediocre, not saying that you are wrong here, but some credit belongs to Nebraska for gutting out the win. I can make the argument that the B1G got Nebraska aboard during one of its historic low points. From 2002 through 2013 Nebraska has been at its lowest win percentage since 1951 to 1961 (64 percent). That is good enough to tie for third-best win percentage with Iowa, only OSU (75 percent) and Wisconsin (70 percent) are higher in the B1G. So why do you insist on belittling that victory over the Buckeyes in 2011? The real difference between Nebraska and the top of the B1G is the turnovers. Granted it is part of the game, but when the Huskers do get a handle on that there isn't a team in the conference that they cannot compete with and beat.
Adam Rittenberg:
If this really was Suh, I'd be entering the Witness Protection Program. Sure, I'll give Nebraska some credit for a historic comeback against Ohio State, but to use that win in an argument why Nebraska is all of a sudden going to dominate the Big Ten West Division rings hollow. Nebraska has some decent wins since joining the Big Ten. It also has had some stinkers, none more so than in the 2012 Big Ten championship game. As to Nebraska's historic low period, so what? Nebraska is down (according to you) and Ohio State was down in 2011, so that game really doesn't matter. I agree completely with your last points about the turnovers holding back Nebraska and the fact the Huskers can compete with anyone. I never said they couldn't.
TM Ryan from Evanston, Ill., writes:
Adam: Will the Big Ten continue with a football championship game? It sounds like the SEC's game is the only true moneymaker (always sold out) among all conference title games and with the playoff coming in, the game allows for a playoff contender to pick up a late loss which can eliminate them from the playoff. Seems like there isn't much to gain any longer.
Adam Rittenberg:
There are certainly downsides, Ryan, but I think the Big Ten title game will be a moneymaker in most years, like the SEC's. It certainly was last year with two top 10 teams squaring off. If the selection committee puts emphasis on winning your league, which it says it will and which Jim Delany is fighting for, the game will have significance in the playoff picture. There will be some years where the Big Ten champ doesn't go to the playoff, but in most years, the Rose Bowl will be on the line, too. So there's more at stake -- and more money to make -- in having the game.
A.P. from East Lansing, Mich., writes:
I'm sure you've heard/seen the incident with Cass Tech QB
Jayru Campbell
. I fully expect Mark Dantonio to take his offer back. While this is disappointing (since he was a 4-star recruit), do you think this will affect anything for MSU moving forward in terms of recruiting? We'll be fine in the QB position because we'll have
Damion Terry
and possibly
Connor Cook
, too. What are your thoughts on the whole incident?
Adam Rittenberg:
It's always disappointing to see an incident like that, especially involving someone who has a promising future at stake. Michigan State surely will wait to see if charges are filed against Campbell --
nothing has come down yet
-- and will want to know all the details. But it certainly doesn't look good for a
recruit who has had other issues with violence
and plays a position where you need discipline and maturity. Michigan State seems set at quarterback for the next few years either way.
Samuel from Iowa City, Iowa, writes:
Adam, just finished reading about the continuing troubles with Penn State's AD. Which has brought me back to a question I've had for awhile. Why are AD hires not more high-profile news? Who are these guys who decided who will get millions, who will recruit the teams of the future? A lot rides on the B1G's ADs, and they are mostly enigmas to me.
[+] Enlarge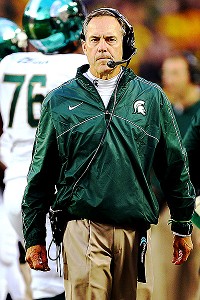 Mike Carter/USA TODAY SportsNo Big Ten coach in the BCS era fashioned better defenses than Mark Dantonio.
Adam Rittenberg:
It's a good point, Samuel, but in general we care a lot more about coaches than those above them. The coaching searches in the pro sports are similar, while general manager hirings usually aren't huge news (unless you live in Chicago and the Cubs hire Theo Epstein). Texas' somewhat recent AD hire generated some buzz, and like Dave Joyner,
Steve Patterson has some baggage
. Penn State's situation certainly was unique after the scandal, and Joyner certainly isn't your typical AD hire, especially for a program that large.
Mac from As Far South While Being Considered North writes:
Who were the best offensive-minded and defensive-minded coaches in the B10 during the BCS era? My pick for defensive mind is Mark Dantonio for what he did at OSU in 2002 and MSU the past four years. I found offense a little more hard to pick, my thoughts were Jim Tressel, Bielema and Lloyd Carr. Your thoughts?
Adam Rittenberg:
It's an interesting topic, Mac, although some of your picks for offense are off base. Bret Bielema is a defense guy (former coordinator at Kansas State and Wisconsin), while few would describe Jim Tressel and Lloyd Carr as offensive geniuses. My pick would be Joe Tiller at Purdue. He changed the game in the Big Ten with his spread system and had tremendous success early in his tenure. Dantonio would be my pick for his accomplishments both as a coordinator and head coach in the B1G. I'd mention Norm Parker, too, as he did a great job as Iowa's longtime defensive coordinator.
King from Los Angeles writes:
You told Brent from Iowa that "It's a what-have-you-done-lately type of deal." to support putting Nebraska ahead of Iowa. But a few questions down, you told Kenny from Nebraska that "Wisconsin ended the season poorly but had a better, more consistent squad than Nebraska for much of the season." Doesn't that contradict each other?
Adam Rittenberg:
I can see how it might be interpreted that way. I should have used different language. It comes down to which team I/we think is better at that moment if they played. Despite Iowa's convincing win against Nebraska five weeks earlier, I would pick Nebraska if the two squared off today after seeing both in bowls. And I'd pick Wisconsin to beat both.
August, 9, 2013
8/09/13
12:00
PM ET
I'm Carlos Danger, and I approved these links.
August, 9, 2013
8/09/13
11:00
AM ET
By
Brad Bournival & Tom VanHaaren
| ESPN.com
It's time to dip into the Big Ten recruiting mailbag and answer some of your questions. We'll try to give everyone a chance to get their questions answered. We encourage you to send your questions by Twitter to
@bbournival
or
@TomVH
. Feel free to email us as well at
brad.bournival.espn@gmail.com
or
TomVHESPN@gmail.com
.

@BeerTheDeer:
What are Wisconsin's chances with Joe Mixon and Damien Mama? If the Badgers can pull them both, does that do anything to raise Wisconsin's recruiting pull?
Brad Bournival:
Absolutely. You have to consider that seniors only get five official visits, so the Badgers are already way ahead of the game when it comes to landing the duo. Wisconsin's offensive line legacy and strong education isn't lost on Mama. The Badgers' ability to turn running backs into stars isn't lost on Mixon either. As far as what it would do to help Wisconsin in the recruiting scene, history shows that teams on a roll stay on a roll, especially on a year-to-year basis. Once a team gets hot with top recruits, others start taking a look.
@McArthurMatt:
Will Michigan State start putting the pinch on Michigan's Detroit Cass Tech pipeline with the commitment of Jayru Campbell?
Tom VanHaaren:
It depends on what you mean by pinch. Campbell didn't have a Michigan offer, so I don't know if you can consider that in your question. I think Michigan will still land players from Cass Tech, but Michigan State hiring Curtis Blackwell will certainly make for more competition.
Blackwell was involved with a lot of prospects in Detroit, so his relationship with the prospects and their families is a big bonus. I do think Michigan State has a shot with Cass Tech defensive end Joshua Alabi, who does have an offer from the Wolverines.
If Michigan State lands Alabi, then this is an argument that can be talked about. That would be a big win for the Spartans if they were to land him, but that's yet to be seen.
Michigan State will be a player for a lot of the local prospects now, but I don't think it will have a huge impact overall on Michigan's recruiting efforts.
@roberthendricks:
What do you think about Damian Prince? Where is he headed?
Bournival:
The three teams that look to be separating themselves are Florida State, Maryland and Ohio State, but I think this is a two-team battle between the Terrapins and Buckeyes. Maryland might be selling the in-state angle, but it's more than that as the Terrapins wouldn't mind having him be the face of the program. With 13 offensive linemen under scholarship next season and four starters leaving after this season, the Buckeyes can sell playing time and depth chart to the ESPN 300 offensive tackle. In the end, I think Prince stays home and becomes a part of Maryland's 2014 class.
@Paul_Zinn24:
Overall, how is the Big Ten stacking up in recruiting to other major conferences?
VanHaaren:
Not great. Michigan and Ohio State are holding the fort down with the No. 6 and 12 ranked classes, respectively and Penn State (20) and Northwestern (24) are in the top 25.
Outside of those four teams it doesn't look good. The Big Ten has 25 commitments in the ESPN 300 and 20 of those come from Michigan, Ohio State, Penn State and Northwestern. If you don't feel like doing the math, that means that the other eight teams have five ESPN 300 commitments combined.
The SEC has 77 ESPN 300 commits and the ACC has 35, so the Big Ten is behind significantly.
With that being said, there is still plenty of time left and there are a lot of ESPN 300 prospects that could pick Big Ten schools. Northwestern, Michigan, Penn State and Ohio State are all in on some top targets, so that number could still go up.
@dcarey71:
Is it true because of early enrollments that Penn State will be allowed to offer 17 scholarships instead of 15 this year?
Bournival:
That is correct with a couple of stipulations. The Nittany Lions need to stay at 15 scholarships a year, but it can also count early enrollees toward the class before it. So, since there's some wiggle room in the 2013 class, Penn State can sign 17 prospects in the 2014 class -- as long as two enroll early. Those numbers would meet the NCAA requirements under the sanctions, including the 65-maximum scholarship stipulation as well.
Incidentally, quarterback Michael O'Connor and defensive tackle Antoine White have both stated they want to enroll in January.
August, 8, 2013
8/08/13
12:00
PM ET
Happy happiness happens day.
August, 8, 2013
8/08/13
9:00
AM ET
By
Brad Bournival & Tom VanHaaren
| ESPN.com
Big Ten fodder is never hard to find, especially in recruiting. Here's a look at a few programs that highlighted a busy week in Big Ten recruiting:
Another Wangler on campus
To continue reading this article you must be an Insider
March, 25, 2012
3/25/12
8:11
PM ET
By
ESPN.com staff
| ESPN.com
Chantel Jennings writes
: Michigan is revamping its offensive line, as Ricky Barnum moves from guard to center and the coaches look for a starter at one guard spot and one tackle spot.
Michael Rothstein writes

: Junior Will Hagerup and sophomore Matt Wile are using the spring to resume the punting battle they carried out last season.
Jennings writes

: Detroit Cass Tech linebacker William White goes over his evaluation process as his recruitment starts to take off.
Jennings writes

: 2015 quarterback Jayru Campbell and running back Johnny Miggins were two of 10 Detroit Cass Tech prospects to visit Michigan on Saturday.