December, 30, 2011
12/30/11
11:45
PM ET
I have a contract with ESPN.com. It has a start date and an end date. It has a predetermined salary structure. It includes job expectations, company policies and, like any contract, a lot of legalese. But the important things are spelled out clearly.
Before agreeing to the terms, ESPN's legal department sends me the contract to review. I read it over. Usually several times. And then I sign it and send it in.
It's all right there in print -- no gray area.
[+] Enlarge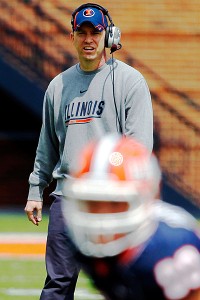 Michael Heinz/US PresswireJeff Brohm is among the Illinois assistant coaches who will fulfill their duties during Friday's bowl despite a contract dispute.
Four Illinois assistant coaches are steamed because they put pen to paper before fully studying what was written on the paper. They thought they had two-year rollover contracts and were surprised to learn recently that their deals had been reworked in the summer of 2010 and as a result, they no longer would be paid after Feb. 28. Illinois fired head coach Ron Zook on Nov. 27, and only one assistant (defensive line coach Keith Gilmore) is remaining on staff with new boss Tim Beckman.
The assistants were irate and lashed out. Offensive line coach Joe Gilbert called the situation "very unprofessional." They even threatened to boycott Saturday's Kraft Fight Hunger Bowl against UCLA, adding even more controversy to a game filled with it.
But the Bizzaro Bowl Boycott won't be taking place.
Zook told ESPN colleague Gene Wojciechowski on Friday night that
his former aides will show up Saturday at AT&T Park
.
"They're going to coach," said Zook, when contacted by ESPN.com Friday evening. "They're [the assistants] frustrated. But they're going to coach. They know it's about the kids. But they were trying to make a point. They've got careers, family, all of those things. They're class guys. And it's important that everyone knows they're really good people."
More from the story:
The dispute centers around a contract promise that Zook said was made to several of his assistant coaches by him and former Illinois athletic director Ron Guenther. According to Zook, the assistants -- Jeff Brohm, Ron West and Chip Long -- were told they would receive two-year deals which would run through the 2012 regular season. Assistant Joe Gilbert has told SI.com that he also was promised a multiyear contract.
"Somewhere -- I'm not sure how -- a couple of the contracts got changed," said Zook. "I truly believed they had two-year contracts. ... I'm not exactly sure how things got changed. I feel awful about it. They're great people and they did a great job. I don't know where it went wrong. I was under the understanding that they had two-year contracts."
I feel for the Illinois assistants. It's a bad deal for them, but it's because they signed bad deals. As athletic director
Mike Thomas told SI.com
, "We have a contract that's pretty clear, and we intend to honor that contract. We assume they'll honor it as well."
Boycotting would have been worse for the coaches and for the Illini players than it would have for the administration. If you want to stick it to your bosses, boycotting the Kraft Fight Hunger Bowl probably isn't the best move. If you want to stick it to your players, boycotting is the way to go.
Plus, these assistants are looking for jobs. They have good credentials. But no employer wants to see "quitter" on a résumé.
Who knows what to expect Saturday afternoon in San Francisco? But at least the Illini assistants with be with the players they've coached all season.
December, 30, 2011
12/30/11
3:30
PM ET
One team lost its final six games and fired its coach. The other team finished with a losing record and fired its coach. Still, they're both going to play a bowl game in San Francisco, and one team has to win it. Let's take a look at the Kraft Fight Hunger Bowl essentials:


WHO TO WATCH:
Illinois defensive end Whitney Mercilus. The junior leads the nation with 14.5 sacks and nine forced fumbles. He showed up on everybody's All-America team and will almost certainly head to the NFL after this game. So he may be primed to go out with a bang against a UCLA offensive line that is decent but not overpowering. Bruins tackle Jeff Baca may need some help containing the explosive Mercilus off the edge.
WHAT TO WATCH:
The Illini defense has been strong all season, but can the offense generate anything? After starting the season well, Illinois averaged just 11 points per game in its six straight losses to end the year. The offensive line was a mess, and quarterback
Nathan Scheelhaase
appeared to lose his confidence -- not surprising, considering how little time he was given to throw. Leading rusher
Jason Ford
is academically ineligible for the bowl, and offensive coordinator Paul Petrino bolted for Arkansas, leaving quarterbacks coach Jeff Brohm in charge of the playcalling. If Scheelhaase can get some protection, he has one of the top receiving threats in the country in
A.J. Jenkins
. But that's a big if.
WHY TO WATCH:
Well, you need something to do while getting ready to go out for New Year's Eve, right? We can't pretend this isn't one of the least appealing bowl matchups, given the complete lack of momentum or enthusiasm on either side. But, hey, it's still a Pac-12 vs. Big Ten meeting in California, even if this is about as far away from the Rose Bowl as you can get. Both teams have talent and tradition, and both will be looking to impress their new incoming head coaches.
PREDICTION:
Illinois 17, UCLA 9. I have little confidence in the Illini's ability to do much offensively. But the Illinois defense will be the best unit on the field and should be motivated to play for Vic Koenning, the defensive coordinator/interim head coach who is leaving after the game. It probably won't be pretty -- except for the background shots of San Francisco.
December, 28, 2011
12/28/11
10:00
AM ET
Illinois quarterback
Nathan Scheelhaase
views the Kraft Fight Hunger Bowl as the start of a new season.
It's hard to blame him. The Illini offense needs a fresh start after flat-lining in its final six games. According to Scheelhaase, the unit will look a bit different against UCLA on Saturday in San Francisco.
[+] Enlarge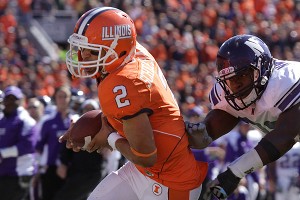 AP Photo/Seth PerlmanConsistency will be a major focus for Illinois QB Nathan Scheelhaase next season.
Quarterbacks coach Jeff Brohm has taken over the play-calling duties for offensive coordinator Paul Petrino, who earlier this month left for the same position at Arkansas. Brohm has spent the past few weeks installing some new elements for a unit that averaged just 11 points and 268.7 yards during the second-half slide.
"It's a little bit like preparing for your first game," Scheelhaase told ESPN.com this week. "Every team has stuff that they ran from last year, and for us, we had stuff that we ran from the season. But there's a lot of new things that we've installed, a lot of new stuff we're running going into this game that should put the defense on their heels a little bit.
"I think it will be a big benefit for us."
Brohm's knowledge of the personnel helped him implement some new wrinkles with the offense, and Scheelhaase said the amount of install didn't overwhelm him and his fellow teammates.
It's critical for Illinois to put Scheelhaase in favorable positions in the bowl game. The sophomore recorded fewer than 100 pass yards in three of his final four games and split time with freshman
Reilly O'Toole
. Scheelhaase also struggled down the stretch last year but made significant strides against Baylor in the Texas Bowl, completing 18-of-23 attempts for 242 yards in a 38-14 Illini win.
"My confidence really doesn't waver," Scheelhaase said. "That's due to preparation and due to just a strong work ethic. That part doesn't change. You've just got to make sure the rest of the guys around you are keeping their confidence.
"We've still got the players, we've still got the talent and it helps that we're doing some new things right now."
Illinois can't escape the disappointment from the way the regular season ended, but the team can still make a bit of history Saturday afternoon at AT&T Park. The Illini have a chance to win back-to-back bowl games in consecutive seasons for the first time.
A victory would be a nice springboard for Scheelhaase and the other players set to return and play for new coach Tim Beckman in 2012.
"To win back-to-back bowl games, no other quarterback that's come through this school has done that," Scheelhaase said. "To do that in the first two years would be a heck of an accomplishment. And the guys around me have the same thing in mind, to be a part of something special."
December, 7, 2011
12/07/11
12:00
PM ET
December, 6, 2011
12/06/11
11:05
AM ET
Illinois will be without another major piece of its coaching staff for the Kraft Fight Hunger Bowl against UCLA.
The school fired head coach Ron Zook one day after a season-ending loss at Minnesota. Now, offensive coordinator Paul Petrino is jumping ship and reportedly heading back to Arkansas to coach for his brother, Bobby. Defensive coordinator Vic Koenning is the Illini's interim head coach, but he said Sunday night that there's no guarantee he wouldn't leave before the bowl game if he found the right opportunity elsewhere.
Losing Petrino causes more uncertainty for the players, but perhaps this offense could use a shakeup right now.
Like his brother, Paul Petrino is an excellent playcaller, and Illinois averaged 32.5 points per game during his first season as coordinator last year. The offense was scoring at a similar clip in the first half of this year, but it suddenly ground to a halt over the last six games, all losses. The Illini averaged just 11 points per game in the final six and put up at least one scoreless half in each of those games. You can't blame that all on Petrino, but it was odd how the offensive line got worse as the year went along and how quarterback
Nathan Scheelhaase
's production and confidence dipped after a strong freshman campaign.
One of the main reasons Petrino left Arkansas was because he wanted to become a head coach, and he felt he needed to get out of his brother's shadow to do so. When Koenning was named interim coach, it became clear that Petrino wasn't going to succeed Zook. Now he heads back to Fayetteville to replace Garrick McGee, who was named head coach at UAB.
Quarterbacks coach Jeff Brohm reportedly will serve as Illinois' offensive coordinator for the bowl game. Brohm has experience as a playcaller, having served as offensive coordinator at Louisville under Steve Kragthorpe. He also was an assistant under Bobby Petrino at Louisville and helped tutor his brother, Brian, at quarterback. His knowledge of the Petrino-style offense should make this as smooth a transition as possible, and Brohm deserves a shot at being a coordinator again after getting a raw deal in his one year under the embattled Kragthorpe.
Ultimately, the Illinois coaching situation won't start to settle until athletic director Mike Thomas hires a new head coach.
August, 4, 2010
8/04/10
5:00
PM ET
Schedule:
First practice takes place Thursday at Memorial Stadium. First group hits the field at 4 p.m. ET and the second group at 5:30 p.m. ET. Team practices three times in Champaign before moving to Rantoul, Ill., on Aug. 9, for 15 workouts.
What's new:
Uh, like, everything. Ron Zook is still the head coach, but he has six new assistants, including coordinators Paul Petrino (offense) and Vic Koenning (defense). Illinois is breaking in new systems on both offense and defense, and redshirt freshman
Nathan Scheelhaase
takes over at quarterback following the departure of four-year starter
Juice Williams
. The new-look staff has some familiarity, as Petrino, quarterbacks coach Jeff Brohm and tight ends coach Chip Long all worked together at Louisville during the Cardinals' juggernaut days. Illinois needs a No. 1 wide receiver to emerge after Arrelious Benn's departure to the NFL.
Sidelined:
Strong-side offensive tackle Corey Lewis, a projected starter this spring, sustained a torn ACL in spring ball and likely will miss the season. Illinois needs a strong camp from Ryan Palmer as he steps into a featured role.
Key battle:
Illinois has two experienced defensive line pieces in Clay Nurse and Corey Liuget, but the other two spots should bring plenty of competition. Glenn Foster had a nice spring and could be the answer at the second defensive tackle spot, while several players, including Michael Buchanan and Nate Palmer, compete at the "bandit" position.
New on the scene:
Although veteran
Eddie McGee
can shift from wide receiver to quarterback if needed, true freshman Chandler Whitmer likely is a play away from the field. Whitmer enrolled early and impressed the coaches with his knowledge this spring. He enters the fall as Scheelhaase's backup. Also keep an eye on safety Trulon Henry, a junior college transfer and Benn's older brother. He enters camp as the backup to Supo Sanni at free safety.
Breaking out:
Wide receiver
A.J. Jenkins
nearly left Illinois in the winter before deciding to stay and
turn around his career
. Zook and Petrino raved about Jenkins this spring, and he'll likely be Scheelhaase's top target. Running back
Mikel LeShoure
will carry the load after a very impressive finish to 2009. Cornerback Terry Hawthorne also could have a big year after making an impact as a freshman last fall.
Back in the fold:
Illinois really missed Martez Wilson, and the middle linebacker finally gets to hit people again in camp after being fully cleared by doctors. Wilson suffered a herniated disk in his neck in the 2009 opener against Missouri and underwent season-ending surgery. The one-time, can't-miss recruit has one final chance to break out. Cornerback Miami Thomas also returns after tearing his ACL in camp last year.
Quoting:
"The players, we didn't execute. People want to jump on the coaches and blame the coaches. The last time I saw coach Zook catch a pass or make a tackle, they were wearing leather helmets. It is on us now. They brought in new coaches, but at the end of the day, we're the ones playing." -- defensive end Clay Nurse
July, 14, 2010
7/14/10
5:00
PM ET
If this whole coaching thing doesn't pan out, Ron Zook probably can land a job in human resources.
He has spent enough time interviewing job candidates during the last eight months.
Zook made his seventh -- and hopefully final -- coaching hire for the 2010 season on Wednesday, naming Chip Long as Illinois' new tight ends coach. Long replaces Greg Nord, who
left for a position at Kentucky
before coaching a single game at Illinois.
Long spent the last two years as a graduate assistant at Arkansas, where he tutored the tight ends. He worked under new Illinois offensive coordinator Paul Petrino with the Razorbacks and also has familiarity with new Illinois quarterbacks coach Jeff Brohm from a stint at Louisville.
"Chip is an outstanding young coach," Zook said in a prepared statement. "He is very knowledgeable of our offense after his experience with Paul Petrino. He's played the position at high level. Chip brings great energy to an already energized staff."
Long played receiver and tight end at North Alabama and helped Arkansas tight end
D.J. Williams
become a Mackey Award semifinalist in 2008.
"I'm extremely excited to come to Illinois and have the opportunity to work with a great coaching staff that has high expectations," Long said in a statement. "I'm fortunate to be coming into a system that I'm very familiar with, having worked with both coach Petrino and coach Brohm earlier in my career. They've been terrific mentors as I've broken into the coaching profession and I look forward to working with them again here at Illinois."
Long is young, but his experience with both Petrino and Brohm should help. Zook had to act quickly since camp begins in less than a month, and he came through.
I wonder the last time a team made seven assistant coaching hires in a single offseason while retaining its head coach. It's got to be a record.
April, 15, 2010
4/15/10
9:00
AM ET
For the Illinois Fighting Illini's young quarterbacks, getting hit is just the start.
[+] Enlarge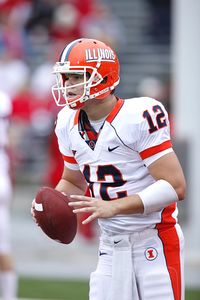 Joe Robbins/Getty ImagesJacob Charest is the only Illinois quarterback with college experience.
Illinois is allowing quarterbacks
Jacob Charest
,
Nathan Scheelhaase
and Chandler Whitmer to take on contact this spring. The three survived Saturday's scrimmage without injury, and will go live again in another scrimmage this week and in the spring game April 24 at Memorial Stadium. Although head coach Ron Zook admittedly is a bit nervous about seeing his quarterbacks shedding the no-contact jerseys, he and his assistants believe it's necessary.
In fact, Illinois' new-look offensive staff is doing all it can to make April feel like October for the quarterbacks.
"We've just got to get them as much game-type experience, live action, as they can get, and simulate the game as much as we can so they're tested and ready to go when the season comes," Illini quarterbacks coach Jeff Brohm told me. "This is a sport where tough guys play. You've got to be tough, you've got to be physical, you've got to be able to take a little criticism. You've got to be able to handle it when things go wrong, how you're going to respond.
"And the players have responded."
Brohm admits it's a work in progress and doesn't downplay the situation in Champaign. Illinois has a new offensive coordinator in Paul Petrino, three new offensive assistants and a new offensive system. Of the three quarterback candidates, only Charest, a sophomore, has experience at the college level, after playing in four games (starting one) last season.
Brohm also provides honest assessments of each quarterback at this stage:
Charest: "More of your drop-back passer, not real mobile."
Scheelhaase: "Extremely athletic, can run, just not a very polished passer at this point, and it's not his strength."
Whitmer: "He's not real big. He throws the ball extremely well, but he's not real mobile."
Petrino's offense ideally wants a quarterback who can sling the ball and operate in an NFL-style system.
Ryan Mallett
certainly met those demands last year at Arkansas, and it's why he's considered the nation's top quarterback prospect for the 2011 NFL draft. At Illinois, the coaches are prepared to adjust the scheme to fit their personnel, and Brohm said the quarterbacks will throw on the move and run some zone read, as they did under the previous regime.
Scheelhaase and Charest both
made big plays in Saturday's scrimmage
, and while Scheelhaase has generated the most buzz this spring, Zook said, "they've all had their days when they've had the upper hand."
When will the coaches decide on a starter? The sooner, the better. Zook wants to find the quarterback who best learns from his mistakes this spring.
"We do have a lot of young guys, and right now, it's hard to tell who's going to be the guy," Brohm said. "We would like to do it by the end of the spring, but that's not going to be a guarantee. We're going to make sure we make the right decision."
Brohm doesn't expect the quarterbacks to be hit in fall camp, citing the injury risk so close to the season. But from now until Sept. 4, when Illinois meets Missouri in St. Louis, the quarterbacks will be challenged every possible way in practice.
"We just want them to get under the fire and see what it's really like out there," Brohm said. "We're trying to demand the best and make sure that they leave this field knowing, 'I put myself in the game situation every single rep I had, and pretended the pressure was on the line.'
"If we do that, then we've done everything we can."
March, 2, 2010
3/02/10
9:00
AM ET
The Big Ten was the only major conference to avoid head-coaching changes this offseason, but the league certainly had its share of staff shuffling with assistants coming and going. Indiana's
hiring of Mo Moriarity as offensive line coach
on Monday marked one of the last turns on this year's Big Ten coaching carousel. Wisconsin still needs to hire a defensive assistant, but things are just about wrapped up.
Barring any late coaching changes, here's a look at who's gone, who's back and who's in new roles.
ILLINOIS
Offensive coordinator
Who's out: Mike Schultz (fired)
Who's in: Paul Petrino (previously offensive coordinator/wide receivers coach at Arkansas)
Defensive coordinator
Who's out: Dan Disch and Curt Mallory both were demoted to position coaches. Disch is staying on staff as linebackers coach.
Who's in: Vic Koenning (previously co-defensive coordinator at Kansas State)
Quarterbacks coach
Who's out: Kurt Beathard (fired)
Who's in: Jeff Brohm (previously quarterbacks coach at Florida Atlantic)
Tight ends coach
Who's out: Jim Pry (fired)
Who's in: Greg Nord (previously running backs coach/recruiting coordinator at Louisville)
Running backs coach
Who's out: Reggie Mitchell (left to become running backs coach/recruiting coordinator at Kansas)
Who's in: DeAndre Smith (previously running backs coach at UNLV)
Other moves
Mallory left his position as secondary coach to become defensive coordinator at Akron.
Special-teams coordinator Mike Woodford was fired along with Schultz, Beathard and Pry.
Ron West was hired as a defensive assistant. His official responsibilities have not been announced.
INDIANA
Offensive line coach
Who's out: Bobby Johnson (left to become assistant offensive line coach with the Buffalo Bills)
Who's in: Myron "Mo" Moriarity (previously served as head coach at Carmel (Ind.) High School
IOWA
No staff changes, but recruiting coordinator Eric Johnson was named tight ends coach. Wide receivers coach Erik Campbell previously had worked with the tight ends, while Johnson had helped Darrell Wilson with the linebackers.
MICHIGAN
Linebackers coach
Who's out: Jay Hopson (left to become defensive coordinator at Memphis)
Who's in: Quality control assistant Adam Braithwaite was promoted to outside linebackers/strong safeties coach. Defensive coordinator Greg Robinson will take a more active role with the linebackers in 2010.
Other moves
Secondary coach Tony Gibson will continue to work with cornerbacks and free safeties, and also serve as special-teams coordinator.
MICHIGAN STATE
Running backs coach
Who's out: Dan Enos (left to become head coach at Central Michigan)
Who's in: Brad Salem (previously served as head coach at Augustana College)
MINNESOTA
Offensive coordinator/quarterbacks coach
Who's out: Jedd Fisch (left to become quarterbacks coach with the Seattle Seahawks)
Who's in: Jeff Horton (previously served as quarterbacks coach with the Detroit Lions)
Wide receivers coach
Who's out: Richard Hightower (left to become assistant special-teams coach for the Washington Redskins)
Who's in: Steve Watson (previously served as associate head coach with the Denver Broncos in 2008)
Other moves
Running backs coach Thomas Hammock was named co-offensive coordinator
NORTHWESTERN
No coaching changes
OHIO STATE
No coaching changes
PENN STATE
No coaching changes
PURDUE
Defensive line coach
Who's out: Terrell Williams (left to become defensive line coach at Texas A&M)
Who's in: Gary Emanuel (previously served as defensive line coach at Rutgers). Emanuel also was named co-defensive coordinator with a focus on run defense.
WISCONSIN
Defensive backs coach
Who's out: Kerry Cooks (left to become outside linebackers coach at Notre Dame)
Who's in: Chris Ash (previously served as defensive backs coach/recruiting coordinator at Iowa State)
Other moves
Randall McCray, who served as Wisconsin's recruiting coordinator and assistant secondary coach, left to become defensive coordinator at Middle Tennessee. Wisconsin has yet to fill the vacancy.
January, 4, 2010
1/04/10
3:15
PM ET
Former UNLV assistant DeAndre Smith will become the fourth new member of Illinois' offensive staff in 2010, according to Rivals.com's Tom Dienhart.
Dienhart reports on his
Twitter page
that Illinois has hired Smith as its new tight ends coach, though Smith could end up overseeing the Illini running backs. Former Louisville assistant Greg Nord was named Illinois' tight ends coach in December.
An Illinois official couldn't confirm the hiring and said no announcement had been planned as of early Monday afternoon.
Smith has coached running backs at UNLV (2009), New Mexico (2008), Miami University (2005-07), Northern Illinois (2001-04) and Indiana State (1999-2000). He helped to produce standouts like New Mexico's Rodney Ferguson and Northern Illinois' Michael Turner and Garrett Wolfe.
Illinois lost its running backs coach, Reggie Mitchell, the team's recruiting coordinator, to Kansas last month. Mitchell had been the team's top recruiter in the Chicago area, though Smith has ties to Chicago and the Midwest from his time at Northern Illinois and other spots.
Head coach Ron Zook already has hired three new offensive assistants: coordinator/wide receivers coach Paul Petrino, Nord and quarterbacks coach Jeff Brohm. Offensive line coach Joe Gilbert likely will be the lone holdover from 2009.
December, 18, 2009
12/18/09
2:20
PM ET
After a wild night of rumors and negotiations, Illinois got the man it wanted to run its defense.
[+] Enlarge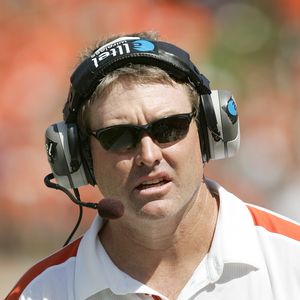 Todd Kirkland/Icon SMIVic Koenning left Kansas State to take a similar position at Illinois.
Illinois officially named Vic Koenning its new defensive coordinator at a news conference today in Champaign. Koenning, who previously served as Kansas State's co-defensive coordinator, replaces Dan Disch and Curt Mallory, who were demoted to position coaches.
"I'm ready to jump in there with coach [Ron] Zook, start to watch some recruiting tape, start to watch some games and get going," Koenning said Friday. "I couldn't be more excited to be here. In so many things in life, timing is everything, and the timing has worked out fantastic."
Illinois' hiring of Koenning
had been expected for several days
, but things got interesting Thursday night as Georgia re-entered the mix for his services. Koenning recalled how Kansas State head coach Bill Snyder came into his office several days ago and asked where Koenning was headed.
Ultimately, Koenning settled on Illinois, calling it a "much-needed change."
"There was some dialogue [with Georgia]," Koenning said. "It made for an interesting last 16, 18 hours, but when push comes to shove, the character and the drive and the enthusiasm that coach Zook exhibited made sure there was no doubt in the outcome."
A week after
dismissing four assistant coaches
and demoting two others, Zook has filled all four positions and has his staff in place for a make-or-break 2010 season. We can certainly debate whether Zook should still be at Illinois and whether the fired assistants were scapegoats for a miserable season, but you've got to give the team credit for its bold approach to finding replacements.
Time will tell if these hires can turn things around, but the early returns are favorable.
New offensive coordinator Paul Petrino has been around great offenses for some time, and he seems excited about the chance to break away from his brother Bobby and call his own plays. Petrino and new offensive assistants Jeff Brohm (quarterbacks) and Greg Nord (tight ends) were all at Louisville when the Cardinals lit up the scoreboard from 2003-06.
Koenning spent only one year at Kansas State, which ranks 40th nationally in total defense and 16th against the run. He built his reputation as a strong defensive coordinator at Clemson, which finished in the top 25 nationally in scoring, total defense, and pass efficiency defense in each of his four seasons there (2005-08).
Koenning had never been to Champaign and arrived "in the dark of night" early Friday.
"There may be some dark circles under my eyes," he said. "But you have an adrenaline rush when you come into a place like this. We're ready to go."
December, 16, 2009
12/16/09
4:00
PM ET
Two newsworthy items are now official in Champaign, as Illinois announced the departure of wide receiver
Arrelious Benn
to the NFL and the hiring of two offensive assistants.
As previously reported here at ESPN.com, Benn will
forgo his senior season and enter April's draft
. Benn said in a statement that the NFL is his "lifelong dream" and he still plans to complete his degree at Illinois. He told me he's about 20 hours short of his degree but fully plans to complete it.
Benn finalized his decision last week after receiving information from the NFL Draft Advisory Board.
"Wherever I fall in the draft, I have no say about it," Benn said. "It's not my decision. All I can do is be prepared up until that process. I received good feedback, and I just wanted to make that decision and make those things come true."
Head coach Ron Zook said in a statement: "I know this has always been a goal of his, to be in position to make this decision after three years. What is most impressive about him and his mother is their commitment to academics. Even though he will go on to have a great professional career, he is going to make sure to get a degree from Illinois. I love Rejus like my son, and he has always shown such great character and represented the university well."
Zook also has named Jeff Brohm and Greg Nord to his coaching staff. Brohm will coach quarterbacks, while Nord will work with the tight ends. Both men worked with new Illinois offensive coordinator Paul Petrino at Louisville from 2003 to 2006.
Brohm has mentored several standout quarterbacks, including Stefan LeFors and his younger brother, Brian. Nord, a longtime Louisville assistant, is the brother of Purdue offensive coordinator Gary Nord.
"I am very excited about these hires," Zook said in a statement. "Both Jeff and Greg are considered two of the best in the business for what they do. They are proven and have worked in this system with Paul [Petrino]. Their comfort level with the offense gives me great confidence as we move forward with improving this football team. They both are great family men who I know will be great for this community."
Illinois is expected to name Vic Koenning as its
new defensive coordinator in the coming days
.
December, 14, 2009
12/14/09
2:46
PM ET
Remember the dynamic Louisville offense from the middle part of the decade?
Illinois head coach Ron Zook hopes to recreate it.
Zook is hiring three former Louisville assistants to handle Illinois' offense in a make-or-break 2010 season.
Paul Petrino, most recently the offensive coordinator at Arkansas, takes the same job in Champaign. Petrino served as offensive coordinator and wide receivers coach at Louisville from 2003-06 before following his older brother Bobby to the Atlanta Falcons and then to Arkansas. Though the move from Arkansas to Illinois might seem a bit odd, Paul Petrino now will get to call his own plays (Bobby handled the Razorbacks' play-calling duties).
Greg Nord, who spent the past 15 years on Louisville's coaching staff, heads to Illinois to coach tight ends. And Jeff Brohm, the former Louisville offensive coordinator and quarterbacks coach who most recently held the same titles at Florida Atlantic, will coach QBs for Illinois, according to colleague Bruce Feldman.
Zook has acted extremely quickly since Friday, when he
dismissed four assistants
, including offensive coordinator Mike Schultz, and demoted co-defensive coordinators Dan Disch and Curt Mallory. The embattled coach clearly had a replacement plan before announcing the changes. He still has to find a defensive coordinator, with former Kansas assistant Bill Miller a possible candidate.
All three incoming assistants -- Petrino, Nord and Brohm -- were part of Louisville's heyday.
In case you've forgotten -- it feels like eons ago for U of L fans -- the Cardinals lit up the sky and the scoreboard from 2003-07. Louisville's offense ranked in the top 10 nationally in all five seasons, leading the nation in 2004 (539 ypg) and ranking second in 2006 (475.3 ypg).