June, 17, 2013
6/17/13
2:20
PM ET
Illinois coach Tim Beckman finally got his man as former Oklahoma State
Wes Lunt
has
decided to transfer to the Illini
, colleague Joe Schad is reporting.
Lunt, who passed for 1,108 yards with six touchdowns and seven interceptions as a freshman at Oklahoma State, picked Illinois ahead of Sugar Bowl champion Louisville. He'll sit out the 2013 season and have three seasons of eligibility left with the Illini.
Although Lunt is a Rochester, Ill., native, his transfer choice is sure to raise some eyebrows given the seemingly opposite trajectories of Illinois and Louisville. Some are already wondering whether Beckman will have an opportunity to coach Lunt in 2014. Beckman faced heavy criticism during a disastrous first season as Illini coach, and there was some talk Illinois would part ways with the coach following the 2-10 clunker.
[+] Enlarge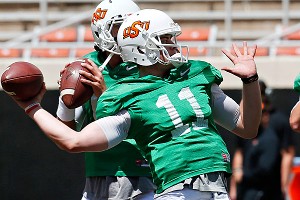 AP Photo/Sue OgrockiWes Lunt threw for 1,108 yards and six touchdowns last season.
Lunt's transfer is undoubtedly a big boost for Beckman and creates some optimism/goodwill among Illini fans. Will it cool off Beckman's seat and help his chances of a third season in Champaign? We debate it.
Adam Rittenberg
There's no denying Beckman needed some good news after nothing went right in Year 1. Illinois made a very strong push for Lunt, reportedly having former Illini quarterback Jeff George, who transferred to the school from Purdue,
meet Lunt during his visit to Champaign
. This is a big victory for Beckman, who landed Lunt despite all of his problems last season and a surging competitor in Louisville. How big? There's a better chance you'll see Beckman on the Illini sideline in 2014 with Lunt potentially calling signals.
Lunt wouldn't have made this decision if he thought Illinois would fire Beckman after just two seasons at the helm. He's taking a bit of a gamble as another 2-10 season -- or worse -- could spell the end for Beckman. But Illinois doesn't want to make another change in a program that has seen too much of it in recent years, and athletic director Mike Thomas certainly doesn't want to dump the guy he hired after only two seasons. What does that say to the next group of candidates? Illinois must show some improvement under Beckman in Year 2, which quite frankly won't be hard. Just take a step this season. The team has a clear offensive vision under new coordinator Bill Cubit that attracted Lunt. A few more wins and a sliver of hope for the future -- along with Lunt waiting in the wings -- should be enough to earn Beckman a third season.
Brian Bennett
The Lunt transfer is some rare good news and a much-needed off-the-field victory for Beckman, who can use any positive momentum after last year's disaster. But how much impact this move will have on Beckman's future is questionable at best, in my view.
Though Lunt and his family clearly must have checked in with Thomas and the Illini administration on their commitment to Beckman before deciding to come to Champaign, spring-time assurances of job security are worth about as much as a Hasheem Thabeet rookie card. I firmly believe that Thomas will give Beckman every chance to succeed and that he has no desire to dump his first major coaching hire at Illinois after just two seasons. But I also believe that if the Illini limp into November with only one or two wins and the Memorial Stadium stands are empty, then Thomas will be worried about the impact on his athletic department's bottom line, not some promise to or the promise of a transfer quarterback waiting in the wings.
Besides, do we even know if Lunt is worth all this hype? His numbers last year at Oklahoma State weren't great, and while he deserves credit for playing as a true freshman, the Cowboys' system usually makes stars out of its signal-callers. There's no guarantee that Lunt is better than Aaron Bailey, who was considered one of the jewels of Beckman's 2013 signing class.
Landing Lunt helps Illinois' depth and sends a signal that Beckman can still attract top talent. Ultimately, whether Beckman is still around to coach Lunt in 2014 depends on whether the Illini can show even modest improvement in 2013.
August, 5, 2010
8/05/10
11:00
AM ET
The house of pain is in effect 'yall
I say the house of pain is in effect
You know the house of pain is in effect y'all
And anyone that steps up is gettin' wrecked
And, with those poetic lines from Everlast, we enter the Big Ten's House of Pain. All week at ESPN.com, we're exploring the most-painful losses in a team's history. What constitutes pain? First, the game has to be significant. A rough loss in a going-nowhere year doesn't sting as much as one that prevented a team from reaching its ultimate goals.
Painful losses often happen against rivals. Painful losses often have especially painful endings. Painful losses often take place at the worst possible times. Although blowout defeats certainly can qualify as painful, losses that culminate with crunch-time turnovers, field goal makes or misses or generally bizarre plays usually stick out more.
The most important criteria: painful losses linger for you, the fans.
Trust me, this wasn't easy, and I know many of you will disagree with the choices. But I only got to pick one game for each Big Ten team. A special thanks to the Big Ten sports information staffs for helping me with the project.
Here goes ...

ILLINOIS
Date:
Nov. 3, 1990
Opponent:
Iowa
Site:
Memorial Stadium (Champaign, Ill.)
Final score:
Iowa 54, Illinois 28
After winning a Citrus Bowl championship the previous January, Illinois entered the 1990 season with raised expectations. The Illini lost the opener but won their next six, rising to No. 5 in the national rankings. They had big dreams, but rival Iowa changed everything by crushing them in front of their own fans at Memorial Stadium. John Mackovic's team had no answer for Iowa's Nick Bell, who rushed for 168 yards. After allowing one touchdown in its opponents' previous 49 possessions, Illinois watched Iowa reach the end zone on its first five drives. Illinois' 2000 loss to Michigan deserves honorable mention.

INDIANA
Date:
Nov. 7, 1988
Opponent:
Illinois
Site:
Memorial Stadium (Champaign, Ill.)
Final score:
Illinois 21, Indiana 20
Indiana went to Champaign ranked No. 20 nationally and boasting a 4-1 mark in Big Ten play after a win against Iowa. The Hoosiers seemingly had the game in hand, up 20-9 with less than four minutes remaining. But Illinois quarterback Jeff George, an Indianapolis native who attended Indiana's archrival Purdue before transferring, led the comeback and fired a touchdown pass with 21 seconds left. Illinois' drive came after Indiana quarterback Dave Schnell fumbled on a bootleg. The loss took Indiana out of the race for the Big Ten championship. Indiana's most painful moment came against Anthony Carter and Michigan in 1979.

IOWA
Date:
Jan. 1, 1986
Opponent:
UCLA
Site:
Rose Bowl (Pasadena, Calif.)
Final Score:
UCLA 45, Iowa 28
Iowa felt the pain both for what happened during the game and what happened soon afterward. Maxwell Award winner Chuck Long led the fourth-ranked Hawkeyes into Pasadena, but he was sacked four times by the Bruins. Tailback Ronnie Harmon had a miserable day, fumbling four times after doing so just once all season and dropping a wide-open touchdown pass. Some believed Harmon threw the game. An Iowa win could have led to a national championship after No. 1 Penn State and No. 2 Miami both lost in their bowl games.

MICHIGAN
Date:
Nov. 24, 1973
Opponent:
Ohio State
Site:
Michigan Stadium (Ann Arbor, Mich.)
Final score:
Ohio State 10, Michigan 10
Michigan has had its share of painful losses -- Appalachian State, Ohio State in 2006, Colorado in 1994 -- but this tie with the hated Buckeyes really stung the Maize and Blue. The game featured its share of pain, as Michigan rallied from a 10-0 deficit to tie things up, but missed two field goals in the closing moments. The controversy really started afterward, as Big Ten athletic directors voted that Ohio State should play in the Rose Bowl ahead of Michigan. The Big Ten's no-repeat rule had been scrapped just two years earlier. Michigan coach Bo Schembechler called the decision "an embarrassment to the Big Ten Conference" and stewed about it until his death in 2006.

MICHIGAN STATE
Date:
Jan. 1, 1966
Opponent:
UCLA
Site:
Rose Bowl (Pasadena, Calif.)
Final score:
UCLA 14, Michigan State 12
The Spartans came to Pasadena undefeated and ranked No. 1 in the country. UCLA jumped ahead as the Spartans coughed up the ball four times in the first half. Still, Michigan State had a chance and outgained UCLA 314-212 in the game. The Spartans rallied and scored with less than a minute left, setting up a potential tying two-point conversion attempt. But fullback Bob Apisa was stopped short of the goal line by UCLA's Bob Stiles, who knocked himself out making the tackle. Alabama was awarded the AP national title. Michigan State's 2006 loss to Notre Dame and 1966 tie against the Irish deserve honorable mention.

MINNESOTA
Date:
Oct. 10, 2003
Opponent:
Michigan
Site:
Metrodome (Minneapolis)
Final score:
Michigan 38, Minnesota 35
Minnesota was 6-0 and entered the Little Brown Jug rivalry ranked No. 17 nationally. Led by tailbacks Marion Barber and Laurence Maroney, Minnesota led 28-7 after three quarters and 35-21 with 11:11 left. But Michigan couldn't be stopped in the fourth quarter and scored 31 points in the final 15 minutes, capped by Garrett Rivas' field goal with 47 seconds left. Minnesota rushed for 424 yards but still felt short. The Gophers arguably have never been the same. No Big Ten team has more painful losses than Minny.

NORTHWESTERN
Date:
Nov. 11, 2000
Opponent:
Iowa
Site:
Kinnick Stadium
Final score:
Iowa 27, Northwestern 17
Northwestern has seen huge leads evaporate (Michigan State in 2006), suffered shocking early losses (Miami University in 1995) and come very close to ending its bowl drought the past two seasons. But Rose Bowl opportunities don't come around too often for the Wildcats, and they squandered one by falling to Iowa. A week after an unforgettable win against Michigan and ranked No. 12 nationally, Northwestern was totally outplayed by a Hawkeyes team that went 3-9. On a day when Purdue opened a path to Pasadena with a loss to Michigan State, the Wildcats stumbled on the doorstep.

OHIO STATE
Date:
Nov. 22, 1969
Opponent:
Michigan
Site:
Michigan Stadium (Ann Arbor, Mich.)
Final score:
Michigan 24, Ohio State 12
The Buckeyes brought one of their greatest teams ever to "that state up North" to face a Michigan team regaining respectability under first-year coach Bo Schembechler. Although Michigan played at home and carried a four-game win streak into The Game, Ohio State was a 17-point favorite. The Buckeyes scored a quick touchdown but never really recovered, as a Michigan team inspired by Schembechler and a 50-14 loss the year before shut down Rex Kern and Co. Ohio State committed seven turnovers and suffered one of the biggest upsets in college football history. It also spawned the Ten-Year War between Schembechler and Woody Hayes. Ohio State's 1998 loss to Michigan State merits honorable mention.

PENN STATE
Date:
Nov. 6, 1999
Opponent:
Minnesota
Site:
Beaver Stadium (State College, Pa.)
Final score:
Minnesota 24, Penn State 23
Undefeated Penn State looked every bit like a national championship team, rising to No. 2 in the polls behind freakish defenders like LaVar Arrington and Courtney Brown. The Nittany Lions held a two-point advantage when Joe Paterno decided to punt rather than attempt a long field goal try in the closing minutes, trusting his dominant defense. Minnesota began the game's decisive drive with a Hail Mary pass from Billy Cockerham to Ron Johnson. Moments later, the Gophers converted a fourth-and-16 to set up the game-winning field goal by freshman kicker Dan Nystrom. Penn State lost its final two regular-season games. The Lions' 1979 Sugar Bowl loss to Alabama and their 2005 loss to Michigan gain honorable mention.

PURDUE
Date:
Oct. 16, 2004
Opponent:
Wisconsin
Site:
Ross-Ade Stadium (West Lafayette, Ind.)
Final score:
Wisconsin 20, Purdue 17
Purdue's program hasn't been the same since The Fumble. The Boilers came in 5-0 and ranked fifth nationally, while quarterback Kyle Orton had established himself as the Heisman Trophy front-runner. Purdue led 17-7 with eight minutes left and had a three-point advantage and the ball with 2:49 remaining. On third-and-3, Orton scrambled and made a lunge for the first down, only to have the ball knocked loose. Wisconsin's Scott Starks scooped it up and raced 40 yards for the game-winning touchdown with 2:36 left. Purdue lost its next three games and backslid to the Sun Bowl, where it fell to Arizona State.

WISCONSIN
Date:
Oct. 23, 1993
Opponent:
Minnesota
Site:
Metrodome (Minneapolis)
Final score:
Minnesota 28, Wisconsin 21
Wisconsin might have celebrated a national championship had it found a way to beat the rival Golden Gophers. The Badgers were 6-0 heading to the Metrodome but fell behind 21-0 to a Minnesota team that went 4-7 that fall. Wisconsin closed to within 21-14 and reached the Minnesota 8-yard line before Brent Moss was stuffed on fourth-and-1. The Badgers went on to share a Big Ten championship and reach the Rose Bowl for the first time since 1963, but they were so close to winning it all. Honorable mentions include 1999 against Cincinnati, 1998 against Michigan and 2005 against Iowa in Barry Alvarez's final game.
February, 23, 2009
2/23/09
5:08
PM ET
Posted by ESPN.com's Adam Rittenberg

Illinois rounds out the list of team-by-team Rushmores. I'll take a look at the Big Ten's Rushmore on Tuesday.
Despite struggling for the better part of the last 15 years, Illinois boasts several of college football's all-time greats.
I doubt I'll get much argument with these selections, though there were some tough choices. Illinois enjoyed periods of success during the 1920s, 1960s and 1980s.
I realize my list challenges the historian inside each of you, but Illinois' not so recent past was simply too impressive to ignore.
Red Grange -- Quite possibly the most dominant player in college football history, Grange earned All-America honors in each of his three seasons with Illinois and was the first recipient of the Big Ten MVP award in 1924. Grange accounted for 2,646 yards of offense and 34 touchdowns at Illinois. He's a charter member of both the pro and college football Halls of Fame and was ESPN's pick as the greatest college football player ever.
Dick Butkus -- The namesake of the Butkus Award remains one of college football's greatest defensive players. Butkus twice earned first-team All-America honors, won the Big Ten MVP in 1963 and led Illinois to a Rose Bowl win on Jan. 1, 1964. He averaged 14.4 tackles a game in his Illini career and finished third in Heisman Trophy voting in 1964. Butkus and Grange are the only Illinois players to have their numbers retired.

Jim Grabowski -- A two-time All-American, Grabowski finished his career as the Big Ten's all-time leading rusher. Like his teammate Butkus, he placed third in the Heisman Trophy voting and claimed Big Ten MVP honors, both in 1965. He won Rose Bowl MVP honors after rushing for 125 yards in Illinois' win against Washington. Grabowski also excelled as a student and was a longtime radio analyst for Illinois football.

Robert Zuppke -- Zuppke laid the foundation for Illinois' early success on the gridiron, serving as head coach for 29 years. He was an offensive innovator and coached Illinois to four national titles and seven conference championships. The field at Memorial Stadium is named after Zuppke, who coached Grange and was inducted into the College Football Hall of Fame in 1951.
Others considered for Illinois' Rushmore included: Tony Eason, Jeff George, Dana Howard, Alex Agase, Moe Gardner, J Leman, Kevin Hardy and Kurt Kittner.
September, 3, 2008
9/03/08
4:59
PM ET
Posted by ESPN.com's Adam Rittenberg
| | |
| --- | --- |
| | |
| | Jeff Gross/Getty Images |
| | Brit Miller is looking forward to playing in front of former Illini greats on Saturday. |
The 2008 Rose Bowl was still several days away, and former Illinois great Dick Butkus tried to stay calm as he talked football with a group of Fighting Illini players.
"He didn't want to get his jazz up too much in front of us," Illinois linebacker Brit Miller recalled. "It was like a Wednesday or something, so it was still a little early to get really excited."
But it didn't take long for Butkus to have a Butkus moment.
"He kind of raised his head up and stared at the guys on the team and said, 'That's when you take 'em and you break 'em,'" Miller said.
"That was giving me chills right there. When a guy like Dick Butkus says that, you know you're part of a tradition when he's talking to you and he wants the best for you."
Butkus wants to see Miller and the other Illini linebackers at their best Saturday when he watches Illinois take on Eastern Illinois at the renovated Memorial Stadium.
To celebrate the completion of a $121 million face-lift to the 85-year-old stadium, Illinois will have dozens of past players on hand as the team honors the 10 greatest players in Memorial Stadium history at each position. The team will wear throwback jerseys from the Butkus era (1962-64) in another attempt to blend past and present.
As of Thursday afternoon, Illinois expected 42 former players to attend Saturday's celebration. The list includes Butkus and his nephew, Mark, linebackers Kevin Hardy and Dana Howard, quarterbacks Jack Trudeau and Jeff George, running backs Jim Grabowski and Howard Griffith, defensive lineman Ed O'Bradovich and tight end Ken Dilger.
Who knows, maybe Red Grange will show up. He's called the Galloping Ghost for a reason.
"We seem to believe he's always around," Miller said.
The reunion holds special meaning for Miller, who grew up watching Hardy, Howard and Simeon Rice and heard about Butkus from his father. Miller has sensed similar excitement from sophomore linebacker Martez Wilson, who he describes as "a laid-back fellow" but someone who could one day hold similar legend status at Illinois.
Even players like defensive end Will Davis, who don't hail from the state, look forward to performing in front of Butkus.

"Since I've been here as a freshman, he's the main person you hear about," Davis said. "That's a name that rings far."
Illini defenders have added motivation this week after a sloppy performance in a 52-42 loss against Missouri. Miller said he missed at least four tackles in the game, three of which turned into big plays.
"We've got to represent," he said. "We let too many yards go this past weekend. These guys that are coming back, they used to run shop. They don't want to come back and see people get ran over. Those are guys I really look up to because that was Illinois football at its peak right there. We're still trying to get back to that."