December, 6, 2012
12/06/12
1:10
PM ET
Search committee? Barry Alvarez don't need no stinking search committee.
"I won't use a search committee," Alvarez said Thursday. "Most search committees use me."
Boom! And we're off and running.
Barry's bluster came through loud and clear during a highly entertaining news conference in Madison earlier Thursday. Alvarez confirmed he'd coach Wisconsin in its upcoming Rose Bowl appearance, and he also discussed his search for Bret Bielema's successor, as well as Bielema's surprising departure from the school.
Alvarez is "not in a big rush" to name Wisconsin's next coach. He has reached out to some potential candidates and will begin face-to-face interviews next week. Like any AD, he has a short list of candidates and has made contact with several of them. Alvarez said he
won't pursue former Badgers offensive coordinator Paul Chryst
, but he told "The Dan Patrick Show" following the news conference that he might reach out to Boise State's Chris Petersen. He'll have to manage the search while also overseeing the football program.
[+] Enlarge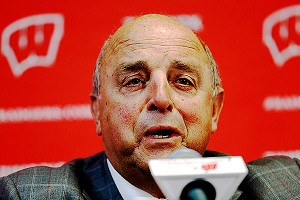 AP Photo/Morry GashWith Barry Alvarez making the hire, don't expect Wisconsin's next head football coach to radically change the offensive scheme.
"There's been a lot of interest shown in the position," Alvarez said. "It's on solid footing, good facilities and a good nucleus coming back."
For what it's worth,
Wisconsin's official job posting
for a head coach includes an anticipated start date of Dec. 24.
Alvarez's search will start with current head coaches, although he didn't eliminate qualified assistants. Direct ties to Wisconsin aren't a priority, although Alvarez will be looking for candidates who know exactly what the program is all about.
"You want to hire somebody that understands the culture here, understands Big Ten football," Alvarez said. "You always want to bring someone in that brings something more to the table, whether that be in recruiting [or other areas]. I don't have a problem with our scheme."
Translation: don't expect Wisconsin's next coach to be running a no-huddle spread with five wide receivers.
"You know what the plan is," Alvarez said. "It starts with those big palookas up front."
Bielema noted Wednesday that
assistant coach salaries played a role
in his move to Arkansas. He had lost several top assistants in recent years, six after the 2011 season.
"Our pay scale for assistant coaches is more than competitive and fair," Alvarez said. "As athletic director, I know what people are making, and every time someone has a hint that they may take another job, it's not prudent to jump and throw a pile of money at them. I see what the salaries are. ...
"We can get good assistants here … and we'll have stability here."
Alvarez reiterated he was "totally caught by surprise" when Bielema asked to speak with him late Tuesday morning. By the time Bielema approached Alvarez, the deal with Arkansas basically was done. Still, Alvarez knew Bielema had received other offers in the past and didn't feel betrayed by the move.
In a delicious little contradiction, Alvarez said he was surprised Arkansas athletic director Jeff Long never reached out to him to ask permission to pursue Bielema, noting, "There's some protocol in this." Alvarez then added that five minutes after being informed Bielema was leaving, he had a representative of a potential successor in his hotel room in New York.
Wonder if Alvarez contacted that coach's boss beforehand? Hmmm ...
Alvarez expressed pride in the job Bielema did at Wisconsin, noted that Bielema's record speaks for itself, and the three straight Rose Bowl appearances are "uncharted waters."
But he also had a few zingers:
On the next coach: "Bret used my game plan to win. The coach I hire will have to understand who we are and how we go about our business."

On whether the program is better now than when he retired after the 2005 season: "It's not worse. It's at least as good."

On Bielema's possible issues with fan criticism at Wisconsin: "In this business, you are going to be criticized."
It seems a little easier to understand why Bielema wanted to get out of Alvarez's shadow after listening to Alvarez on Thursday. Wisconsin fans never would love Bielema as much as they do Alvarez, and they'll get to see Alvarez one last time Jan. 1 at the Rose Bowl.
The best news for the next coach? As Alvarez said, "It's always easier to come in two after [the program changer]."
December, 4, 2012
12/04/12
7:43
PM ET
It's official:
Arkansas has hired Bret Bielema
to be its next head football coach.
Here are some statements on Bielema's departure from Wisconsin and his arrival with the Razorbacks.
Wisconsin athletic director Barry Alvarez
"I was very surprised when Bret told me he was taking the offer from Arkansas. He did a great job for us during his seven years as head coach, both on the field and off. I want to thank him for his work and wish him the best at Arkansas.
"I have a responsibility to our student-athletes, our football family and our fans, one that I take very seriously. It is my responsibility to ensure that the football program continues at a high level, and I have already started the process of trying to find a new head coach.
"Along with finding a new coach, my other main objective is to make sure that our student-athletes, specifically our seniors playing in their final game as Badgers, have a tremendous experience in the Rose Bowl. We will do everything within our power to make that happen."
Arkansas athletic director Jeff Long
"Bret Bielema is an exceptional leader of young men and an outstanding football coach who has proven his program is centered on establishing an unshakable foundation that emphasizes the development of each student-athlete as an individual. Coach Bielema has led his team to a historic run of championships while seeing a record number of student-athletes recognized for academic achievement.
"Throughout his career, he has demonstrated a commitment to competing for a national championship with a program known for discipline, honesty and integrity. His tough, aggressive style of play has been successful and will be appealing to student-athletes and Razorback fans. He not only shares the vision and values for the future of Arkansas football, he embraces them."
Bret Bielema
"I am very humbled and honored to become the head coach of the
Arkansas Razorbacks
. During my conversation with Jeff [Long] he described the characteristics for the perfect fit to lead this program. It was evident we share the same mission, principles and goals. The infrastructure in place at Arkansas shows the commitment from the administration to accomplish our goals together and I am excited to begin to lead this group of student-athletes. This program will represent the state of Arkansas in a way Razorback fans everywhere will be proud of."
One of the big questions Alvarez faces is who takes over the head-coaching duties for the Rose Bowl. There's been some buzz that Alvarez himself, who went 3-0 in Rose Bowls, could step into the top job. If not, defensive coordinator Chris Ash is expected to handle the head-coaching duties in Pasadena.