Big Ten:

Jerel Worthy to enter draft
January, 5, 2012
1/05/12
3:10
PM ET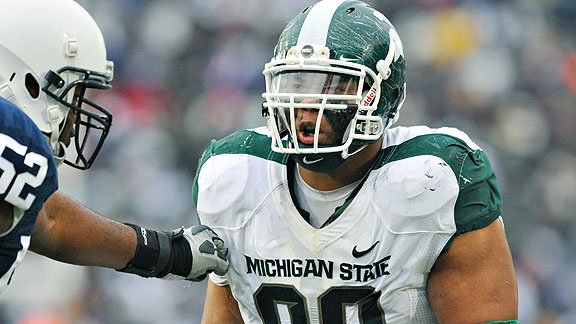 Icon SMIJerel Worthy expects to be selected within the first two rounds of next April's NFL draft.
As we noted a little earlier, Jerel Worthy made the right and unsurprising choice to skip his senior season and enter the NFL draft. I had a chance to catch up with the Michigan State All-America defensive tackle shortly after his announcement, and here's what he had to say about his decision-making process:
What were some of the factors that went into your decision?
Jerel Worthy:
I felt that, as far as the team and from an individual standpoint, I've accomplished a lot since I've been here. I'm leaving the program on the upper end. We still have a great defense and a lot of guys who are ready to take the spot that I previously controlled. And I'm basically starting a new chapter in my life. I'm finally able to support the needs of my family and help with the health issues of my parents, and that's important.
Could you tell us a little more about your father's health issues and how that impacted your decision?
JW:
In 2010 during two-a-days, my father suffered a stroke. He is still recovering, and now I can help to make sure he gets back to where he needs to be. That's important to me. It's my family.
What kind of feedback have you gotten from the NFL about your potential draft stock?
JW:
I got good news back, that I could be as selected as high as the first round or second round. After talking with a lot of GMs, my head coach and others, they feel like I can go within the top 50 picks of the draft. And I feel that's an accomplishment to be able to say that. That's something I'm going to try to do as I move on and start a new chapter of my life. I know with the hard work and dedication I've shown here, as much as I've given back to my community and just being a overall great character person, I know I can impress NFL teams with my knowledge of the game and being a character guy. That's one thing I want to show these guys, and hopefully they like me.
How much of a goal is it to become a first-round pick?

JW:
It's definitely the goal, just because of the simple fact that it's always been a dream of mine. And as long as I have that dream ahead of me, I'm going to work as hard as I can to get to it. I'm going to try and go about the process the right way, do things correctly and handle things like I did in college and try to make the best of the situation.
You said the Georgia win kind of sealed the decision for you. Why?

JW:
Because it just kind of solidified that I've accomplished a lot of things since I've been here. I left the program in the right position to be successful next year. And just getting that burden off our backs of not being able to win a bowl game. So when we won that game, being out there with friends and family, it felt like the right moment to go out. It felt like the greatest time of my life since I've been here, besides the few ridiculous "SportsCenter" plays we've had as a team. It's been a great ride and a great journey, and it's something I'm appreciative and grateful for.
You also went against an All-America center in the Georgia game. Did that reinforce the fact that you were ready?

JW:
I didn't really think of it that way. I knew those guys were good up front on the offensive line, but I just tried to do the best I can for my team. We had fun and the D-line was able to get after it and have a good day. When we have a D-line playing like that on all cylinders, and me only being a junior and a lot of these guys still underclassmen, I think the sky's the limit for this program.
Who do you see emerging as leaders on the defense next season?

JW:
For one, Johnny Adams, being one of the oldest guys, he'll be the leader in the secondary. Max Bullough will be the leader of the linebacker corps. And I expect Anthony Rashad White to be no less than amazing. I expect him to come in and be just as explosive and have just as much if not a bigger impact on the game than me. Before I leave, I will teach him as much as possible about the game. I expect him as well as Denzel Drone and Will Gholston to step up next year and have fun.
What's your plan from now until the draft?

JW:
I plan on figuring out who will support me in the next 48 hours. Then hopefully I will find a place to train right away and get cracking. I'm going to work as hard as possible, outwork my competition and try to have an impact right away.
And how close are you to your degree at Michigan State?

JW:
Technically, if I came back I would have had my degree as soon as this summer. I'm right on the brink of graduation and it's something I plan on doing. I vowed to my mom that I would get my degree before the next two offseasons. It's something I will definitely work on at every given chance.
January, 5, 2012
1/05/12
2:40
PM ET
And a DT makes three.

Michigan State junior defensive tackle Jerel Worthy announced Thursday that he will skip his senior year and enter the NFL draft this spring. It's a decision that many saw coming, and is the right one for Worthy.
He was a first-team All-American this year and his numbers -- 30 tackles, 10.5 for loss and 3.5 sacks -- don't tell the full story of his performance. Worthy commanded constant double-teams and blew up the inside of offensive lines all season, a key reason why the Spartans finished No. 5 nationally in total defense this season.
He's already got the body of an NFL linemen at 6-foot-3, 310 pounds, and he has been projected as a possible first-rounder -- he's No. 20 in Mel Kiper Jr.'s rankings. Worthy told reporters he made up his mind after the blocked kick sealed the Outback Bowl win against Georgia, knowing he could go out a winner. He'll be remembered as an important part of back-to-back, 11-win teams at Michigan State.
His departure will hurt, but the Spartans still retain a very solid nucleus on defense, especially if cornerback Johnny Adams decides to stay. Anthony Rashad White could emerge as the leader at defensive tackle, and defensive end William Gholston's huge Outback Bowl performance signals he could be ready to take over as a major force next season.
I'm hoping to talk with Worthy in a bit and will have more on his decision. He's the third Big Ten underclassman to declare for the draft so far, joining Illinois defensive end Whitney Mercilus and Iowa offensive tackle Riley Reiff. Wisconsin's
Montee Ball
is scheduled to make his announcement at 4 p.m. ET.
BIG TEN SCOREBOARD
Saturday, 12/20
Monday, 12/22
Tuesday, 12/23
Wednesday, 12/24
Friday, 12/26
Saturday, 12/27
Monday, 12/29
Tuesday, 12/30
Wednesday, 12/31
Thursday, 1/1
Friday, 1/2
Saturday, 1/3
Sunday, 1/4
Monday, 1/12
Tweets from https://twitter.com/ESPNCFB/lists/b1g