Big Ten:

Jerry Mongtomery
February, 17, 2011
2/17/11
1:30
PM ET
Kevin Wilson has no hard feelings.
Wilson knows how it must look: four assistant coaches leaving his Indiana staff for other jobs days after they came aboard. But after living the assistant's life for decades and understanding how the coaching carousel moves, Wilson doesn't harbor any ill will toward those who bolted Bloomington.
[+] Enlarge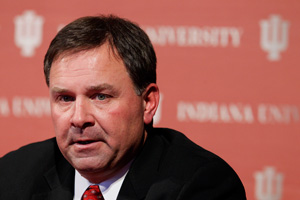 AP Photo/Darron CummingsKevin Wilson understands the offseason coaching carousel is part of the business side of college football.
"I don't pigeonhole a guy on what he's got to do," Wilson told ESPN.com on Thursday. "If they can pay [Auburn offensive coordinator] Gus Malzahn $1.3 million, if a guy can get a better deal, more power to him. With the timing, some things came in front of guys' laps that I don't think they anticipated. I didn't have a problem with any guy, I didn't have a problem with any coach.
"That's the business side of college football. It doesn't look good maybe, but as an assistant football coach, you do what's best for you."
To recap the staff departures:
Offensive coordinator Brent Pease returned to Boise State for the OC job after Bryan Harsin left for Texas

Defensive ends coach Jerry Montgomery left to become defensive line coach at Michigan

Cornerbacks coach Corey Raymond left to become secondary coach at Nebraska

Running backs coach Jemal Singleton left for the same position at Oklahoma State
Indiana has filled most of the gaps, hiring two offensive coordinators (Kevin Johns and Rod Smith), a new defensive ends coach (Brett Diersen) and a new cornerbacks coach (Brandon Shelby). Wilson will hire his final full-time assistant coach (presumably for the running backs) in the near future.
There are two major periods of activity for coaching changes: following the season and after national signing day. Wilson made his hires following the season but several got swept away in the post-signing day flurry.
"I think we put together a great staff," Wilson said, "and the guys that left, it was unfortunate because they were great fits here. I thought we stole some good ones. We wanted them here. We encouraged them to be here. Unfortunately, when a guy hasn't moved, hasn't bought a house, it's almost like he was a free agent. I think we maybe helped the stock of some young coaches and now they can quote say they were a Big Ten coach although they never coached in a Big Ten game.
"We kind of spiked the guys' stock a little. Maybe that hurt us, but at the same time I've got no ill will against any of those guys or any of those programs."
Wilson points out that his core group of hires -- co-defensive coordinators Mike Ekeler and Doug Mallory, and Johns -- has remained intact. Indiana has committed greater resources to football, which is evident in Wilson's contract (seven years, $8.4 million) and getting coaches like Johns and Ekeler away from good situations at Northwestern and Nebraska, respectively.
"We've been presented financially with a good situation where our salaries are going to be extremely competitive," Wilson said. "The bottom line is I don't think we're taking a backseat to anyone. These guys felt family wise, career wise, it's better. We wish them well. But shoot, I think we have a heck of a gig going.
"There are some good people who want to be at Indiana."
February, 8, 2011
2/08/11
5:00
PM ET
I don't keep statistics of every assistant coach move in the Big Ten in the past few decades, but I'd be surprised if we've seen an offseason quite like this one.
Although college football assistants change jobs every year in every league, the Big Ten has had an unusually high number of coaches make moves within the conference. Some changes were voluntary, some were out of necessity, and two coaches spent just days at one Big Ten school (Indiana) before jumping elsewhere within the league. New Big Ten member Nebraska played a role in several of these moves.
Here's the rundown:
Purdue linebackers coach Mark Hagen left to become defensive tackles coach/special teams coordinator at Indiana.
Northwestern receivers coach Kevin Johns left to become Indiana's receivers coach/pass game coordinator. He later was elevated to Hoosiers' co-offensive coordinator.
Former Michigan assistants Rod Smith and Greg Frey, out of work following Rich Rodriguez's firing, joined Kevin Wilson's staff at Indiana. Smith will serve as co-offensive coordinator/quarterbacks coach, while Frey will coach the offensive line.
Nebraska linebackers coach Mike Ekeler left to become co-defensive coordinator at Indiana.
Former Indiana assistant head coach/running backs coach Dennis Springer, out of work following Bill Lynch's firing, was hired by Northwestern as Johns' replacement (wide receivers coach).
Jerry Montgomery and Corey Raymond both took jobs on Wilson's staff at Indiana but soon left for positions elsewhere in the league. Montgomery will coach defensive line at Michigan, while Raymond is expected to be announced as secondary coach at Nebraska. Indiana also brought in a Nebraska defensive staffer, Brett Diersen, to help replace Montgomery and coach the defensive ends.
All in all, nine assistant have spent time at multiple Big Ten programs in recent months.
And we might not be done yet. There are several remaining Big Ten assistant coach vacancies -- Wisconsin's running backs coach, Illinois' linebackers coach, two potential openings at Nebraska -- that could be filled from within the league.
What does this mean? Perhaps not much, but the familiarity factor isn't something to overlook when some of these coaches reunite with their former teams on fall Saturdays. Johns knows Northwestern and vice versa. Same goes for Hagen and Purdue, Ekeler and Nebraska and, to a lesser degree because of head-coaching changes, Springer at Indiana and Smith/Frey at Michigan.
Indiana hosts both Northwestern (Oct. 29) and Purdue (Nov. 26) this season, but doesn't play Nebraska or Michigan.