December, 17, 2013
12/17/13
11:00
AM ET
Two winters ago, the Big Ten had an
unprecedented 40 coaching changes
. Three teams replaced their head coaches, and three others replaced three or more assistants.
Last year's coaching carousel
wasn't quite as packed, although eight of the 12 teams made at least one change, and Purdue had a complete staff overhaul. There were 32 changes in all, including nine at the coordinator level.
It's still early in the so-called silly season, and a
big coaching domino just fell in Austin, Texas
, but the Big Ten coaching realm has been relatively quiet so far (operative phrase: so far). The departures of Penn State assistants Charlie Fisher and Ron Vanderlinden are the only confirmed coaching changes in the league.
[+] Enlarge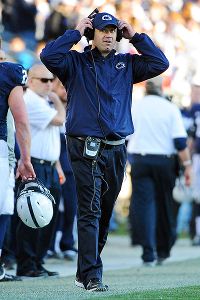 Rich Barnes/USA TODAY SportsNFL teams have their eyes on coach Bill O'Brien, but it's tough to say if he is ready or willing to leave Penn State just yet.
The Big Ten could avoid a head-coaching change for the first time since after the 2009 season. Athletic directors Mike Thomas (Illinois), Shawn Eichorst (Nebraska) and Dave Brandon (Michigan) have affirmed support for their head coaches.
Eichorst's statement released Nov. 30
didn't explicitly say coach Bo Pelini would return for the 2014 season, but it suggested as much.
Eichorst also shot down the claim from Mack Brown's attorney
that a Nebraska representative had contacted him about Brown's services.
Michigan State head coach Mark Dantonio, who is 41-12 in the past four seasons, has been mentioned as a fringe candidate for the Texas job. But Dantonio, who was born in Texas but grew up in Ohio, seems unlikely to leave a great situation at MSU, especially with a sizable raise coming his way. His boss, athletic director Mark Hollis, said Monday that he has "every reason to believe"
Dantonio and defensive coordinator Pat Narduzzi both will return
in 2014.
Potentially the only head-coaching drama in the Big Ten surrounds Penn State's Bill O'Brien, who last month completed his second winning season at the school despite heavy NCAA sanctions. O'Brien, who came to Penn State from the NFL's New England Patriots, talked with several NFL teams about coaching vacancies after the 2012 season but opted to stay put.
CBSsports.com's Jason La Canfora
reported Sunday that the Minnesota Vikings and Houston Texans are interested in O'Brien -- the Washington Redskins soon could be, too -- and that O'Brien is ready to return to the NFL.
It's the belief here and elsewhere that O'Brien will head to the NFL, but potentially not right away. He has one of the nation's top young quarterbacks at Penn State in
Christian Hackenberg
, the Big Ten freshman of the year, and likes having his family in Happy Valley. The NCAA reduced some of its scholarship sanctions against Penn State in September, and it's possible the final two years of the postseason ban will be eliminated. Wouldn't O'Brien like to compete for a Big Ten title with Hackenberg before returning to the NFL? Stay tuned.
Many assistant coach changes take place after the bowl season, but early indications are the Big Ten will remain relatively stable. After replacing two-thirds of his staff last winter, Illinois' Tim Beckman is expected to
keep the same group of assistants
for a make-or-break run in 2014. Northwestern was the Big Ten's biggest disappointment this season, but Pat Fitzgerald intends to keep his staff intact for the fourth straight year.
Indiana coach
Kevin Wilson
has yet to make any staff changes despite another horrific season on defense, although some still could be coming.
Michigan's Brady Hoke doesn't anticipate making changes
despite increased criticism for offensive coordinator Al Borges and line coach Darrell Funk. Pelini has been extremely loyal to his staff, and it's unlikely we'll see much movement at Iowa, Purdue and Wisconsin.
Even some of the Big Ten's top assistants might not be going anywhere. Narduzzi, who reportedly declined the head-coaching job at Connecticut, could remain at Michigan State for another year as more attractive jobs likely will open next year both regionally and nationally. Minnesota defensive coordinator Tracy Claeys, who masterfully led the team during Jerry Kill's health-related absence, has received interest elsewhere but
doesn't sound like he's ready to leave Kill
after two decades on his staff.
Anyone who follows the silly season knows there's a long way to go. We even saw a coaching change after spring practice began, as Jim Bridge went from Illinois to Purdue. It's naive to think more aren't coming around the Big Ten.
Several Ohio State assistants have been mentioned for other jobs, although two landing spots -- Miami (Ohio) and Florida Atlantic -- are off the board. Buckeyes offensive line coach Ed Warinner, the team's best assistant in my view, has been mentioned as a potential candidate at Army, where he spent 13 seasons.
Expect some shuffling in the coming weeks and months, but the Big Ten likely won't approach the big numbers of the past two winters. It'll be interesting to see how the relative stability impacts the on-field results in 2014.
April, 2, 2013
4/02/13
12:00
PM ET
Adam will be live-blogging from Michigan State today, and I'm heading up to Columbus to check out Ohio State. Good spring times.
March, 11, 2013
3/11/13
1:00
PM ET
Is it safe? Is Big Ten coach poaching season over? For the sake of this post, let's hope so.
Although this year's Big Ten coaching carousel didn't include as many riders as last year's, which featured an unprecedented 40 changes in the league, there was a flurry of activity at the end. We saw two coaches -- Jim Bollman and Jim Bridge -- make jumps from one Big Ten school to another (in Bridge's case, he left Illinois the day the Illini opened spring ball for Purdue, where he replaced, you guessed it, Bollman as offensive line coach).
Purdue saw a complete staff overhaul in the transition from Danny Hope to Darrell Hazell, while Wisconsin brought in seven new assistants under new boss Gary Andersen. Illinois coach Tim Beckman survived a disastrous first season in Champaign, but he lost six assistants during the winter months, five of whom left voluntarily. Iowa's stretch of staff stability is over, as Kirk Ferentz hired three new assistants for the second straight year, and Michigan State restructured its staff after losing offensive coordinator Dan Roushar to the NFL's New Orleans Saints. Michigan made its first staff change of the Brady Hoke era after losing defensive line coach Jerry Montgomery to Oklahoma.
Despite the movement around much of the Big Ten, the league also had complete staff continuity at four schools: Minnesota, Nebraska, Northwestern and Ohio State. Nebraska flipped responsibilities for Barney Cotton and John Garrison, making Cotton the tight ends coach and Garrison the sole offensive line coach. Ohio State added special teams coordinator to the title of cornerbacks coach Kerry Coombs.
Minnesota and Northwestern are the only FBS teams without a staff change for the past three seasons.
It seems like the carousel has finally stopped, so let's take a look at the staff changes throughout the league. These changes only include head coaches and full-time assistants.
Here's the rundown (number of new coaches in parentheses):

ILLINOIS (5)
Who's gone?
Chris Beatty, co-offensive coordinator/quarterbacks
Billy Gonzales, co-offensive coordinator/wide receivers
Luke Butkus, offensive line
Keith Gilmore, defensive line
Steve Clinkscale, cornerbacks
Who's in?
Bill Cubit, offensive coordinator/quarterbacks
Mike Bellamy, wide receivers
A.J. Ricker, offensive line
Greg Colby, defensive line
Al Seamonson, outside linebackers
Other moves
Hired Ricker after Bridge left for same post at Purdue
Made defensive coordinator Tim Banks secondary coach (had previously coached only safeties)
Split linebacker duties between holdover Mike Ward and new assistant Seamonson
Promoted Bellamy from assistant director of player personnel

INDIANA (2)
Who's gone?
Mike Ekeler, co-defensive coordinator/linebackers
Mark Hagen, defensive tackles/special teams and recruiting coordinator
Who's in?
William Inge, co-defensive coordinator/linebackers
James Patton, special teams and recruiting coordinator/assistant defensive line

IOWA (3)
Who's gone?
Erik Campbell, wide receivers
Lester Erb, running backs/special teams
Darrell Wilson, defensive backs/special teams
Who's in?
Bobby Kennedy, wide receivers
Chris White, running backs/special teams
Jim Reid, assistant linebackers
Other moves
Reid and holdover LeVar Woods will share linebacker duties
D.J. Hernandez, an offensive graduate assistant hired this winter, will work with the tight ends

MICHIGAN (1)
Who's gone?
Jerry Montgomery, defensive line
Who's in?
Roy Manning, outside linebackers
Other moves
Defensive coordinator Greg Mattison will coach defensive line (head coach Brady Hoke also has responsibilities there)
Manning and Mark Smith will share linebacker duties, as Smith now will handle the inside linebackers

MICHIGAN STATE (2)
Who's gone?
Dan Roushar, offensive coordinator/tight ends
Ted Gill, defensive line
Who's in?
Jim Bollman, co-offensive coordinator/tight ends
Ron Burton, defensive line
Other moves
Promoted quarterbacks coach Dave Warner to co-offensive coordinator/running backs coach. Warner will call plays this fall
Moved running backs coach Brad Salem to quarterbacks
Promoted defensive coordinator Pat Narduzzi to assistant head coach

PENN STATE (1)
Who's gone?
Ted Roof, defensive coordinator
Who's in?
Anthony Midget, safeties
Other moves
Promoted secondary coach John Butler to defensive coordinator. Butler will continue to coach cornerbacks
Running backs coach Charles London and linebackers coach Ron Vanderlinden will oversee special teams, an area Butler previously handled

PURDUE (10)
Who's gone?
Danny Hope, head coach
Gary Nord, offensive coordinator/quarterbacks
Tim Tibesar, defensive coordinator/linebackers
Greg Burns, defensive backs
Shawn Clark, offensive line
J.B. Gibboney, special teams coordinator
Patrick Higgins, wide receivers
Cornell Jackson, running backs
Donn Landholm, outside linebackers
Kevin Wolthausen, defensive line
Who's in?
Darrell Hazell, head coach
John Shoop, offensive coordinator/quarterbacks
Greg Hudson, defensive coordinator
Jon Heacock, defensive backs
Jim Bridge, offensive line
Kevin Sherman, wide receivers
Jafar Williams, running backs
Marcus Freeman, linebackers
Rubin Carter, defensive line
Gerad Parker, tight ends/recruiting coordinator
Other moves
Replaced Jim Bollman with Bridge after Bollman left for Michigan State

WISCONSIN (8)
Who's gone?
Bret Bielema, head coach
Matt Canada, offensive coordinator/quarterbacks
Chris Ash, defensive coordinator/defensive backs
Zach Azzanni, wide receivers
Andy Buh, linebackers
Eddie Faulkner, tight ends
Bart Miller, offensive line
Charlie Partridge, co-defensive coordinator/defensive line
Who's in?
Gary Andersen, head coach
Andy Ludwig, offensive coordinator/quarterbacks
Dave Aranda, defensive coordinator/linebackers
Chris Beatty, wide receivers
Bill Busch, secondary
Jeff Genyk, tight ends/special teams coordinator
Chad Kauha'aha'a, defensive line
T.J. Woods, offensive line
Retained from previous staff
Thomas Hammock, assistant head coach/running backs/recruiting coordinator
Ben Strickland, assistant secondary coach
Other moves
Hired Genyk to replace tight ends/special teams Jay Boulware, who left earlier this month for a post at Oklahoma
March, 8, 2013
3/08/13
9:00
AM ET
The early morning
tire-flipping and wheelbarrow races
are winding down in West Lafayette. After a spirited winter program, Purdue is set to return to the practice field March 19 for its first workout under new head coach Darrell Hazell. There are plenty of question marks on the roster, none bigger than quarterback, where several players (
Austin Appleby
,
Rob Henry
,
Bilal Marshall
,
Danny Etling
) will compete this spring. Purdue also is looking to replace key starters at defensive tackle, cornerback, running back and wide receiver. Hazell recently completed his coaching staff -- for the second time -- with
the hiring of offensive line coach Jim Bridge
.
The new Boiler boss checked in with ESPN.com earlier this week.
What have been some of the big themes of your offseason, and what would you like to see when the guys get out there in practice?
[+] Enlarge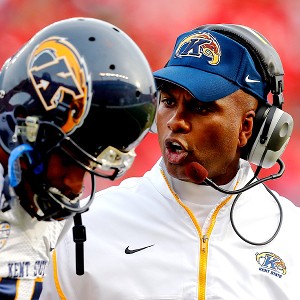 Jim O'Connor/USA TODAY SportsNew Purdue coach Darrell Hazell has emphasized being a smart football team, ball security and toughness early on.
Darrell Hazell:
We have three goals I want to really concentrate on. One is I want to make sure we become a smart football team, understand the whys and the reasons we're doing things. That's critically important for us, so I want to convey that we need to study the game and understand where all of our help is coming from. The second thing is we've got to make sure they understand the importance of ball security. We'll preach that day in and day out. We've got to get across the point of playing phenomenal special teams. And the last thing, I'm looking for a team that's going to be very tough and battle no matter what the situation is, and win those close games.
How has the toughness element been so far? It seems like it was a big part of the winter program.
DH:
I thought the first couple days, their eyes were wide open. But I think they're starting to settle in a little bit and understand what we're demanding out of them and why it is so tough on them right now. Because they're going to be in a lot of close football games, and you can't allow that to ever leave you.
I know you guys are wearing the "5%" T-shirts in workouts. What's the story behind those?
DH:
That was the goal and the emphasis for the 6 a.m. workouts. Five percent better in the last rep, five percent better than the last day, five percent tougher. My coaches are willing to demand five more percent than what they were giving the previous rep. It's all about improvement, and that's probably the biggest point to try and get across. If we're getting five percent better on each rep, on each day, we're going to continually get better.
What are the big keys for the players to understand what you want to do schematically this spring?
DH:
There's definitely a learning curve. You're talking about different languages, and you're talking about different schemes. It's going to take them a couple, three weeks to really understand exactly. A lot of times, they'll know where to line up, but what is your actual assignment when you line up there? Those things are sometimes taken for granted, but those things are very important.
Offensively, what are some of the things you and Coach [John] Shoop want to stress this spring, especially with the quarterback?
DH:
We're trying to figure out who our guy is going to be. A couple criteria, one obviously is you've got to take care of the football. Two, are you confident enough to stand in there and make those hard throws in those tough situations, and three, can you get us into the right play? Don't have us run a bad football play. Can you get us into the right situations that helps the team get a couple yards?
March, 7, 2013
3/07/13
3:30
PM ET
Must-see e-mail Thursday:
Luke B. from Jesup, Iowa, writes:
I found it ironic that Wisconsin's Gary Andersen made a fairly big deal about the timing of Jay Boulware's departure (albeit in a professional manner) just days before hiring Jeff Genyk from Nevada, a job Genyk took only 2 months ago. It's a great opportunity for Genyk, I don't fault him or Anderson. I guess my point is, there's obviously not a lot of loyalty in coaching these days. When opportunity (and money) knocks, you answer, and all of these coaches should be a lot less surprised when someone walks on them.
Brian Bennett:
A fair point. Consider: Just in the last few days, we've seen Jim Bollman go from Purdue to Michigan State after only being with the Boilers for a few weeks, and Jim Bridge leave Illinois for Bollman's old post at Purdue right as the Illini were starting spring practice. It seems the coaching carousel never stops these days. I have a hard time blaming assistant coaches for jumping at better opportunities, especially when they have such little job security. But it's also hard to stomach coaches preaching loyalty and commitment to players and then abandoning those players during key times of the year, like before their bowl games or on the eve of spring practice. I don't know how you fix that in a free market economy. I just hope that players go into their careers with open eyes and realize this is a business. And it would be nice if those players had the same freedom of movement as their coaches did.
---
Matt from Midway, N.C., writes:
Brian, maybe I am way off base, but do you think there is any correlation between the success of Indiana basketball and the positive recent football recruiting by Indiana? It seems like the basketball team has given off positive vibes to play football at Indiana.
Brian Bennett:
Indiana coach
Kevin Wilson
definitely uses the success of the basketball team to his advantage and likes to schedule recruiting weekends to coincide with home games in Assembly Hall. The electric atmosphere has to have some effect on those prospects, especially the in-state ones. I don't think basketball success is the biggest factor in any football player's decision by any means, or else Kentucky, Duke and North Carolina would be much better at football. But it can't hurt.
---
Mike S. from Covington, Ky., writes
: As an MSU grad, and long-time follower of the program, count me as one not excited by the shuffling of personnel, and hiring of Jim Bollman. It is highly doubtful, in my mind, that he is still connected enough in Ohio to recruit against Urban Meyer. The harsh recruiting facts are that State was outrecruited by Ohio State, Michigan and Notre Dame, and to me the fault for that lies with Mark Dantonio...his personality pales compared to Meyer, Hoke and Kelly. And he said he was satisfied with his 38th ranked class?! State needs some kids from Florida who have speed. Can we really expect new recruiting coordinator Brad Salem with a South Dakota background to make that happen??
Brian Bennett:
If your measuring stick is outrecruiting Ohio State, Michigan and Notre Dame, well, good luck with that. The Spartans can win their share of high-profile recruiting battles, but you just named three of the most powerful programs in the country. What Dantonio and his staff have excelled at of late is finding players who fit their system and really develop over their careers. The biggest concern is the resurgence of Michigan, because there's no doubt Michigan State made some hay on the recruiting trail while the Wolverines were stumbling around with Rich Rodriguez. Bollman was always known as a very good recruiter of offensive line talent, and I think he was brought in more to be a veteran voice on the staff than one of Dantonio's ace recruiters. Salem deserves a shot to show what he can do. But if you're judging him by whether he can beat out Meyer in Ohio or pull in higher-rated classes than Notre Dame, I'm not sure you'll ever be happy with a Michigan State recruiting coordinator.
---
Andy from Anaheim, Calif., writes:
Brian! Long time reader, first time mailer. With the NFL Draft coming up it got me thinking ... well, thinking a year into the future. What should we make of
Taylor Martinez
's draft prospects? He obviously has the athleticism to play at the next level, but where do you see him going at this point? Even with the emergence of dual-threat QBs at the next level (Wilson, Griffin, Kaepernick, etc), I think it's safe to say he's got too far to go as a passer to make it at quarterback. So would he be a wideout, like D-Rob? Or a DB, like one of his NU predecessors (Scott Frost)?
Brian Bennett:
Good first mailbag question, Andy. I think we could see the leadup to next year's draft go a lot like
Denard Robinson
's path for Martinez (hopefully minus the injury, and most likely minus the late-career collegiate position change). Like you, I can't see Martinez being an NFL quarterback. Martinez will need to be as willing to change positions as Robinson was, and not as stubborn as Eric Crouch was. Martinez is slightly bigger than Robinson; he's listed at 6-1 and 210 pounds, while Robinson measured 5-10 and 199 pounds at the NFL combine. There's no question that Martinez has the speed to play at the next level somewhere, whether that's at receiver or defensive back. If I were him, I'd be following Robinson's trajectory very closely.
---
The Like Ninja from Unknown writes:
The Monday Mailbag questions
regarding PSU's sanctions got me thinking. Theoretically, if PSU only had 65 players on scholarship in 2013, would the NCAA nullify the 2017 scholarship reduction by claiming "time already served" (aka, what Miami is hoping to do by voluntarily skipping their bowl games the last 2 years)? Or would 2013 just be an unofficial 5th year of reductions?
Brian Bennett:
There is no such provision in Penn State's consent decree with the NCAA. The only scholarship relief mentioned in the document is the following:
"In the event the number of total grants-in-aid drops below 65, the University may award grants-in-aid to non-scholarship student athletes who have been members of the football program ..."
In other words, Bill O'Brien could put some walk-ons (or "run-ons," as he calls them) on scholarship if the Nittany Lions fall below 65 scholarship players between 2014 and 2017. But that would mean some recruited scholarship players did not work out, and Penn State cannot afford many of those going forward.
---
Alex from Las Vegas writes:
So you write that the BIG has to
have a sense of urgency
given their lack of success as a conference yet the one thing that they could do to instantly improve the league, adding quality schools, was completely botched this year. Does the BIG even care about competitiveness or are they only concerned with a big TV footprint and nothing else?
Brian Bennett:
Saying that adding Rutgers and Maryland will water down the Big Ten product is a valid criticism. You could also make the case that adding teams from those areas will open up some new recruiting ground which could prove important in attracting talent to the league. Either way, expansion really isn't the issue. When you have programs of the stature of Ohio State, Michigan and Nebraska (and Penn State when it's back to normal) and others with major potential in Wisconsin and Michigan State, that should equal better performance than what we saw in 2012, or in recent years on the national stage. Besides, what other teams were realistically available for the Big Ten to add that would have strengthened the on-the-field product? I say not many.
---
Steve from Columbus, Ohio, writes:
Why is the Big Ten not pursuing Boston College? You get the Boston market, plus a great hockey team. Is it because BC is not a AAU member, we already have the Boston market, not enough people, recruiting?
Brian Bennett:
Would sportswriters also get the Boston Market? Because I could really go for some rotisserie chicken and mashed potatoes. Mmmm... But jokes about food aside, Boston College only nominally delivers that area because the Eagles are all but ignored in their own city. Yes, you could make the same argument about Rutgers and New York City and, to a lesser extent, Maryland football and Washington D.C. But there are also many more recruits in the mid-Atlantic region than there are in New England. And we've written over and over, AAU membership is a very big deal to the Big Ten presidents, which is why Rutgers and Maryland were more attractive to BC. If Jim Delany ever decides to basically annex the ACC and go to 20 members, then Boston College becomes a much more realistic potential candidate. But for now, I don't think the league would do much more than drive through the Boston Market (sorry, couldn't resist one more).
March, 7, 2013
3/07/13
12:45
PM ET
Illinois' turbulent offseason took another turn Tuesday when offensive line coach
Jim Bridge bolted for Purdue
on the same day as the Illini opened spring practice.
Fortunately for the Illini, Bridge's replacement will be on the field for the team's second spring workout later today in Champaign. According to multiple reports, Illinois has hired A.J. Ricker as offensive line coach. Coachingsearch.com's Pete Roussel
first reported Ricker's hiring
at Illinois, and a source also confirmed the move to
The (Champaign) News-Gazette
.
Although Illinois' offensive linemen must familiarize themselves with another new coach -- their third since the end of the season -- Ricker won't need to introduce himself to new Illini offensive coordinator Bill Cubit. Ricker served as Cubit's offensive line coach and run-game coordinator at Western Michigan for the past two seasons. He was
hired last month as offensive tackles/tight ends coach at Middle Tennessee
.
A four-year starter at center for Missouri from 2000-03, Ricker played briefly in NFL Europe and the Arena league before starting his coaching career as a graduate assistant at Western Michigan. He spent two years at St. Joseph's College in Indiana, serving as head coach in 2010, before returning to WMU.
Although Ricker doesn't have nearly as much as experience as Bridge, head coach Tim Beckman had to act quickly, and he found someone who knows Cubit's vision on offense. Illinois' staff overhaul is now complete for the second time.
March, 6, 2013
3/06/13
12:00
PM ET
It's Wednesday. Business time.
March, 5, 2013
3/05/13
2:50
PM ET
Big Ten assistant coach poaching must be contagious.
After losing offensive line coach Jim Bollman to Michigan State, Purdue reportedly has turned to another Big Ten school for his replacement. The Boilers have hired Illinois offensive line coach Jim Bridge for the same position,
the Associated Press is reporting
. Footballscoop.com
first reported Bridge's move
to Purdue.
Boilers head coach Darrell Hazell couldn't confirm Bridge's hiring "yet" when I talked to him earlier this afternoon. He didn't deny it, either, and reiterated that he hopes to fill the vacancy very soon.
Both
Bollman
and
Bridge
spent barely a month at their respective schools before jumping to other jobs. These moves are hardly unprecedented, and
we've seen intra-league jumps before
, but they seem to be happening at a much greater rate.
Bridge spent the past six seasons at NC State, the past two as the team's offensive line coach. He also has coached at Boston College, Eastern Michigan and The Citadel, and served as a graduate assistant at Ohio State.
His departure from Illinois comes at a bad time, as the Illini open spring drills today. It also continues a tumultuous offseason for coach Tim Beckman, who will have to replace a sixth assistant coach, five of whom have left the program voluntarily. The uncertainty about Beckman's future could have contributed to Bridge's exit, although Bridge called Illinois "a great fit for me" at the time of his hiring.
You have to feel for the Illinois players, who have gone through so many transitions in such a short period. Remember this the next time a coach complains about a recruit changing his verbal commitment.
March, 4, 2013
3/04/13
9:00
AM ET
Very little went right for Illinois under first-year coach Tim Beckman last year. After a 2-10 season, the Illini are ready to turn the page and look forward to 2013 when they hit the practice field Tuesday.
I recently caught up with Beckman to ask about the pressing issues his team faces this spring. Here is that Q&A:
[+] Enlarge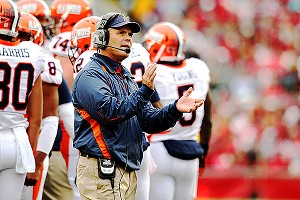 Brace Hemmelgarn/USA TODAY SportsDespite a 2-10 record this past season and a slew of changes on his staff, Illinois' Tim Beckman is full of optimism heading into spring workouts.
You turned over half your staff from last year, with some voluntary departures and some not. What has that been like and how much transition are you going through right now?
Tim Beckman:
Well, it's kind of crazy, because I saw a stat the other day where there's only, like, 22 staffs that haven't changed in college football, so it's been the norm. But I think with the professionalism that coaches have and the guys I've been able to hire into this new family, they're outstanding people. They're professionals, they've been coordinators, they've been head coaches, they've been in great programs. The transition has been good. I've been able to hire two Illini, which is huge, with [receivers coach Mike] Bellamy and [defensive line coach Greg] Colby.
So I think it's been a great transition. Our players have been really excited. With Mike Bellamy, he's been involved with this program for a year. So the kids were pumped when he was hired on staff, because they know him. And now he brings that Illinois flavor to the staff. All the other coaches, we've been working with each other. Jim Bridge was telling me the other day there are four or five other guys that he's been with at other places. So that's one of the unique things, because it's like a fraternity. These guys have worked with one another.
How much will the offense change with new coordinator Bill Cubit?
TB:
Well, it's Bill's offense. It's what Bill was hired for. And that's how it's always been, really, with the coordinators. But I think the uniqueness that Bill has, in coaching against him, is that he's been able to adapt his offense based on personnel. He's had
Jordan White
, a great, great football player. He's had great wide receivers, and he's been able to move them around and adapt his offense to the guys that need to be getting the football.
After a year like last year, what do you do to keep the players' confidence up?
TB:
We went back to a lot of competition, back to a lot of leadership building. We addressed the situation that occurred. I met, as I always do, with each one of the players for 10 minutes. That takes a good week. We did that in December. I asked them what their goals were, because we split up the season into four quarters -- winter workouts, spring practice, summer workouts and then the most important quarter, the season. And I had them set goals for themselves to attain each quarter. So they just wrote out their goals out for spring ball. And I also do the same thing for the team. "What do you want this team to be able to say they can do after each quarter?"
Our motto is win whatever is needed, and win the day. Whatever is needed today for us to become a better and closer football team.
What are your primary concerns for this spring?
TB:
The scenario here is depth. There hasn't been depth. And when you get a young man injured, it hits you drastically because you just don't have that depth. We were able to get 10 young men here in January, five junior college players and five high school players. Junior college wise, there hasn't been a whole bunch here before. There might have been one or two. But we needed to add age to our football team, and that's what the junior college players help us do.
You've only seen the junior college guys in winter workouts so far, but what is your early impression of those guys?
TB:
The first thing that I look at always is how have they been accountability wise. Because it's new. They get in here, and, bam, they're thrown into the fire right away. I'm proud, because they've all been very accountable. We haven't been late for things. Being in school and being a football player hasn't got their minds out of whack or anything like that. They've shown football wise that they can compete, but they've also shown that they're doing a very good job of being accountable on and off the football field.
How do you see the quarterback competition, where you've got a veteran starter in Nathan Scheelhaase but also a guy in Reilly O'Toole who's played a lot and a big-time recruit (Aaron Bailey) coming in?
TB:
As in any position, there's competition. Nathan will go in as the guy, being the starter. Somebody's got to beat him out. But Nathan's won a lot of football games here. We had a tough year, no question, but that's not going to be on Nathan's shoulders. He was getting sacked too many times. All those things you can't have your quarterback doing, getting hit. We've got to get better at protecting our quarterback, and we've got to be able to get the ball out quicker and do those types of things so our quarterback can be successful.
[+] Enlarge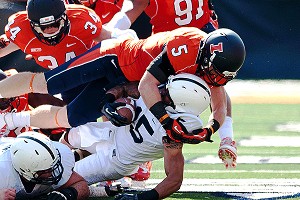 Bradley Leeb/USA TODAY SportsSteve Hull will be trading in delivering hits for making catches on offense this spring.
You talked often last year about the lack of depth at the offensive skill positions. How has that come along?
TB:
It's getting better. Those young men we played with last year have moved up in age. We've taken
Steve Hull
and moved him to offense, so that adds age and depth to that position. Wide receivers and DBs are the big concern here. And we've been able to add freshmen and junior college players to those positions.
Why did you move Hull to receiver?
TB:
He's had some issues with injury. We felt that Steve, for his fifth year, would be better suited to play on the offensive side of the ball to take out maybe some of the direct collisions he was getting as a safety. And he's been great with it. He loves it, and he's emerged as being one of the big vocal leaders on the team.
The offensive line really struggled last year, and you lost two senior starters in Graham Pocic and Hugh Thornton. How does that position group look going into spring?
TB:
Losing the two senior starters, they were dinged up a little bit during the season, so we had to move some players around. But we also had three, really four, players that got a lot of playing time last year. So they should be a year better. I like the philosophy that coach Bridge brings in here as our offensive line coach and what coach Cubit does with the running game. Our offensive line has done a great job these last three months -- and [strength coaches] Aaron Hillman and Dave Andrews get a lot of credit for it -- of getting stronger, getting bigger and doing those things you need to do to be a Big Ten offensive lineman.
You played a lot of freshmen on defense last year, like Monheim and Mike Svetina. Do you expect them to be much farther along this spring because of that experience?
TB:
No question. They're not going to be freshmen that are 18 years old out there starting in the Big Ten. They're going to have a year's experience. We played
Teko Powell
on the defensive line last year so he could gather experience.
V'Angelo Bentley
played a bunch last year as a true freshman, so he got a bunch of experience. Now these players that were just brought in in January, plus the redshirt freshmen, are going to have to step up and be involved in the front and in the back end. You had a guy like a
Jake Howe
, who was playing very good and then broke his hand and was out for the year. You have
Austin Teitsma
, who got quite a few reps last year. Darius Caldwell.
Houston Bates
, who got hurt last year.
Jonathan Brown
. We've got to get those guys back and healthy.
You mentioned concerns about depth in the secondary. What young players do you expect to step up there?
TB:
I think
Eaton Spence
has done a good job for us. V'Angelo Bentley has done a good job. The two freshmen we brought in have done a good job in winter workouts. I haven't seen them on the football field, but they've been doing their change of direction stuff very well. A young man named
Taylor Barton
, a true freshman, has done a good job. Eric Finney, who came in from junior college,
LaKeith Walls
,
B.J. Bello
,
Jevaris Little
-- these are names who have worked extremely hard this season. They're not names a bunch of people know because they've not played yet, other than Spence and Bentley. But these guys have definitely improved.
Have you started identifying leaders on this team yet?
TB:
Well, we have really been pushing it. We've been meeting on it. We've been talking about it as a team and then as individual classes, and then our honor council. We've had a guest speaker come in every Monday and talk about leadership, from military people to a gold medal winner in the wheelchair marathon. So we've really built that in. I've seen players from young and old step up in winter workouts, step up and be leaders. Steve Hull has emerged as a guy who definitely does an outstanding job of leading this football team.
Mason Monheim
, who was a freshman, he's jumped up and taken control.
Earnest Thomas
. Guys that probably weren't as much leaders last year that might not be seniors have jumped up and tried to lead this football team well.
We've got 62 players who are freshmen and sophomores, so there's a big number of guys who have been here three or less years because of redshirts. So we've got to be able to all be leaders in this program, and that's what we're stressing.
Not surprisingly, the fan base was really down on last year. What can you do to create some more optimism?
TB:
I opened up the Friday practices again to the community. This is the University of Illinois. It's our state, our team. We talk about it, and that's the truth. I want to get the community involved in this program. I've always wanted to do that and we're going to do it even more. We're going up to Chicago for a practice. Of course, we've got a game in Chicago at Soldier Field, which is an outstanding opportunity for Illini Nation and those things. We're moving forward.
Nobody was happy with last year. I mean no one. I haven't been involved in that type of year. So we have to move forward and we have to take this program forward. And that's what we asked this football team and this coaching staff to do.
February, 20, 2013
2/20/13
6:30
PM ET
Illinois' new wide receivers coach knows a lot about catching passes for the Orange and Blue.
Mike Bellamy earned first-team All-Big Ten honors as an Illini receiver in 1989 (he also earned second-team All-America honors as a kick returner that season), when he recorded 59 receptions for 927 yards and eight touchdowns. Bellamy went on to be a second-round draft pick of the Philadelphia Eagles in 1990.

His new task calls for him to upgrade Illinois' receiving corps, which, like the rest of the offense,
struggled mightily in 2012
. Head coach Tim Beckman promoted Bellamy from assistant director of player personnel and relations, a recruiting-based position, to receivers coach. Bellamy replaces Billy Gonzales, who
left Illinois
for a post with Mississippi State after only one season.
While Bellamy fills one vacancy, Illinois reportedly has lost another assistant as cornerbacks coach
Steve Clinkscale is headed to Cincinnati
. Clinkscale, one of Illinois' top recruiters, is the fifth assistant to depart Beckman's staff -- four left voluntarily, one was fired. All the staff turnover is no surprise after such a tough 2012 season and with Beckman's uncertain future in Champaign.
Bellamy will be Illinois' fourth new full-time assistant for 2013, joining offensive coordinator Bill Cubit, offensive line coach Jim Bridge and defensive line coach Greg Colby. The Big Ten Network's Howard Griffith, a former teammate of Bellamy's at Illinois,
first reported Bellamy's promotion
.
"I always say there are three places that I call home -- my family's house, my mother's house, and Memorial Stadium," Bellamy said in a statement. "As an alum, I think it's important to teach our players what it means to wear the orange and blue. This program has a proud and storied history, and I can't wait to pass the pride that I have have for Illinois Football on to our current student-athletes."
Bellamy played six seasons of pro ball, in the NFL and the World League, before starting a business with his wife in the Atlanta area. He began coaching high school football in 2008 and served as receivers and specialists coach at Clark-Atlanta University in 2011 before joining Illinois' staff. His previous role involved coordinating events for former players, campus outreach and assisting with recruiting and coaching clinics.
While he has limited coaching experience, his success as a former Illini star and his familiarity with the players should help him in his new role.
January, 27, 2013
1/27/13
8:00
AM ET
Illinois is losing one of the Big Ten's top assistants in defensive-line coach Keith Gilmore.
Rivals.com and others reported Saturday that Gilmore is leaving Illinois
to join North Carolina's staff in the same capacity. He'll be reunited with North Carolina defensive coordinator Vic Koenning, with whom he worked at Illinois from 2009-2011. Gilmore was the only assistant Illini head coach Tim Beckman had retained from the previous staff -- and for good reason.
He mentored two NFL first-round draft picks in defensive tackle
Corey Liuget
and defensive end
Whitney Mercilus
. Two of his linemen, tackle
Akeem Spence
and end
Michael Buchanan
, are expected to be drafted in April. Although Illinois certainly has had its issues the past two seasons, defensive line hasn't been one of them. Gilmore is a significant loss for Beckman's staff.
It's hard to blame Gilmore for leaving as Beckman faces potentially a make-or-break season in 2013. Things are much more stable at UNC, and Gilmore's familiarity with Koenning makes him a good fit in Chapel Hill.
Illinois will have at least three new assistants in 2013 after bringing in new offensive coordinator Bill Cubit and new offensive-line coach Jim Bridge.
Defensive line has been the Big Ten's strongest position in recent years. The league has lost two respected D-line coaches this weekend after Michigan State announced Friday that it's
cutting ties with Ted Gill
.
January, 24, 2013
1/24/13
12:00
PM ET
Fulgencio Umberto. The initials are F.U. Pritchett, which is exactly the way it feels right now.
January, 23, 2013
1/23/13
11:25
AM ET
Illinois on Wednesday announced a second hire for its offensive coaching staff as Tim Beckman selected Jim Bridge to oversee the Illini offensive line.
Bridge spent the past six seasons at NC State, the past two as the Wolf Pack's offensive line coach. He coached NC State's tight ends from 2007-2010 and needed a new post following the school's dismissal of Tom O'Brien.
Bridge replaces Luke Butkus, who
left Illinois after just one season for a post at Florida International
. He joins an offensive staff now led by coordinator Bill Cubit, who replaced the ousted Chris Beatty.
"Illinois is a great fit for me, personally, and Coach Beckman has assembled an outstanding staff," Bridge said in a prepared statement. "As a coach, you always look forward to competing in a premier conference like the Big Ten and at one of the nation's great academic institutions such as the University Illinois. I can't wait to get started with the members of our team and especially our offensive linemen."
Beckman and Bridge coached together on Urban Meyer's staff at Bowling Green in 2000, as Bridge coached tight ends and Beckman served as defensive coordinator. Bridge has coached tight ends or offensive line for most of his career and has made previous stops at Boston College, Eastern Michigan and The Citadel. His only previous Big Ten experience came as a graduate assistant at Ohio State in 2001.
He takes over an offensive line that underperformed in 2012 despite two veterans in
Hugh Thornton
and
Graham Pocic
. Several young linemen received extensive experience last fall, and Bridge will need to get the group back to the level it performed at for much of the 2010 season.