February, 2, 2010
2/02/10
10:30
AM ET
It's Super Bowl week, and here in Chicago, we're celebrating the
hiring of Mike Martz
as Bears offensive coordinator after a month-long search. Hope
Jay Cutler
has a life insurance policy.
OK, moving on to less depressing topics, like the Big Ten and Super Bowl XLIV.
Once again, the Big Ten has plenty of connections to the game, including 20 former players on the two teams, more than any other conference.
All 11 member schools will be represented by a player and/or coach participating in the game. Michigan has the highest number of former players (four), followed by Ohio State (three) and then six teams -- Illinois, Indiana, Iowa, Northwestern, Purdue and Wisconsin -- each with two former players. Penn State and Minnesota will have former coaches on the sideline Sunday.
Both head coaches have Big Ten roots, as the Colts' Jim Caldwell played at Iowa and served as an assistant at Iowa, Northwestern and Penn State. The Saints' Sean Payton had a one-year stint as an Illinois assistant in 1996.
Here's the full lineup of Big Ten links to Super Bowl XLIV, courtesy of the league office:
INDIANAPOLIS COLTS
Players
Kelvin Hayden
, DB, Illinois
Dallas Clark
, TE, Iowa
Bob Sanders
*, DB, Iowa
Mike Hart
, RB, Michigan
Marlin Jackson
*, DB, Michigan
Ervin Baldwin
, DE, Michigan State
John Gill
, DL, Northwestern
Anthony Gonzalez
*, WR, Ohio State
Curtis Painter
, QB, Purdue
Jim Sorgi
*, QB, Wisconsin
Coaches
Jim Caldwell, Head Coach (Played at Iowa from 1973-76; Assistant at Iowa in 1977, Northwestern in 1981 and Penn State from 1986-92)
Larry Coyer, Defensive Coordinator (Assistant at Iowa from 1974-77 and Ohio State from 1991-92)
Gene Huey, Running Backs (Assistant at Ohio State from 1988-91)
Tom Moore, Offensive Coordinator (Played at Iowa from 1957-60; Assistant at Iowa from 1961-62 and Minnesota from 1972-73 and 1975-76)
Ray Rychleski, Special Teams (Assistant at Penn State in 1991)
Bill Teerlinck, Defensive Assistant (Assistant at Indiana from 2003-04)
John Teerlinck, Defensive Line (Assistant at Illinois from 1980-82)
NEW ORLEANS SAINTS
Players
Pierre Thomas
, RB, Illinois
Tracy Porter
, CB, Indiana
Courtney Roby
, WR, Indiana
Adrian Arrington
, WR, Michigan
Jonathan Goodwin
, C, Michigan
Zach Strief
, OT, Northwestern
Malcolm Jenkins
, CB, Ohio State
Will Smith
, DE, Ohio State
Drew Brees
, QB, Purdue
Jonathan Casillas
, LB, Wisconsin
Coaches
Sean Payton, Head Coach (Assistant at Illinois in 1996)
Greg McMahon, Special Teams (Assistant at Minnesota from 1983-84 and Illinois from 1992-2004)
Bret Ingalls, Running Backs (Assistant at Northwestern from 2006-08)
Aaron Kromer, Offensive Line/Running Game (Assistant at Northwestern from 1999-2000)
Mike Mallory, Assistant Special Teams (Played at Michigan from 1982-85; Assistant at Indiana from 1986-87 and Illinois from 2001-05)
Terry Malone, Tight Ends (Assistant at Michigan from 1997-2005)
*-Injured reserve
January, 24, 2010
1/24/10
5:04
PM ET
I just got a chance to catch up with Minnesota head coach Tim Brewster, who on Friday
tabbed Detroit Lions quarterbacks coach Jeff Horton
as his new offensive coordinator.
Horton is the team's fourth offensive coordinator in five years and the second consecutive coordinator to join Brewster's staff from the NFL. Jedd Fisch came in from the Broncos and left after just one year in Minneapolis to join the Seattle Seahawks staff.
[+] Enlarge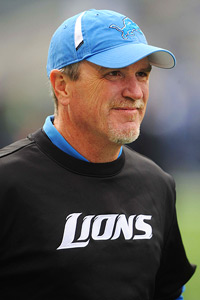 Kirby Lee/US PresswireJeff Horton takes over a Gophers offense that finished last in the Big Ten in total yards, points per game and touchdowns scored in 2009.
The NFL connection might concern Minnesota fans, who don't want to see a repeat of the 2009 offense -- which ranked last in the Big Ten in rushing, scoring and total yards -- during the 2010 season. It's hardly surprising Brewster looked to the NFL, as he wanted to keep a pro-style offense in place and not many college teams run one anymore.
Where Horton differs from Fisch is in his vast experience at the college level. Horton has logged 22 years in college football, beginning his career as a graduate assistant at Minnesota. While Fisch certainly had the youth and the enthusiasm of a college coach, his system and its complexities seemed much more suited to the NFL. There's only so much that college players can process, especially in limited time with the coaching staff, and Minnesota's players looked liked victims of information overload at times this season.
Horton should have a better grasp of what his new players can handle.
"Jeff Horton really loves college football and wanted very badly to get back into college football," Brewster said. "His time in the NFL was very well spent. He learned a lot. But he wanted to be here. ... He understands everything about the university, everything about the landscape here. All that makes it a perfect fit."
Horton needs to prove himself as a playcaller after serving as a position coach in both college and the NFL since 1998. But he boasts a strong track record of developing quarterbacks, a position where Minnesota needs more consistent results in 2010.
Horton had good success as Wisconsin's quarterbacks coach from 1999-2005, helping signal-callers like Jim Sorgi, John Stocco and Brooks Bollinger operate a system geared toward the power run and ball control. Wisconsin's quarterbacks managed games and limited costly errors, two qualities Minnesota wants to see from
Adam Weber
and
MarQueis Gray
in 2010.
"He's really been a great developer of quarterbacks," Brewster said. "That was really important to me. He's got an extremely calming influence on quarterbacks with his demeanor. He'll do a great job of coming in and helping us identify exactly what our strengths are and play to those strengths."
Horton also has familiarity with several Gophers assistants from his Wisconsin days, including offensive line coach Tim Davis and running backs coach Thomas Hammock.
"A lot of our guys have worked with Jeff before," Brewster said. "It'll be a very seamless transition offensively. Without changing the offense, Jeff will be able to come in and assimilate to what we want to do every easily. I wanted it to be obviously a player-friendly transition, and that's what Jeff gives us."
January, 22, 2010
1/22/10
7:02
PM ET
For the second straight year, Minnesota head coach Tim Brewster went to the NFL to find an offensive coordinator.
According to the
Detroit Free Press
, and several other reports, Minnesota has hired Detroit Lions quarterbacks coach Jeff Horton to run its offense. Horton replaces Jedd Fisch, who left Minnesota after only one season to take a position on Pete Carroll's staff with the Seattle Seahawks. Fisch had come to Minnesota from the Denver Broncos.
I've yet to receive official confirmation on Horton's hiring from the university, which should make an announcement in the coming days.
Horton, who interviewed for Minnesota's vacancy last year, has spent the last four seasons in the NFL but previously coached quarterbacks at Wisconsin and had head-coaching stints at both Nevada, his alma mater, and UNLV.
While at Wisconsin, Horton worked with several current Minnesota assistants, including co-defensive coordinators Kevin Cosgrove and Ron Lee and offensive line coach Tim Davis. He mentored quarterbacks such as Brooks Bollinger and Jim Sorgi at Wisconsin and Matthew Stafford this season with the Lions.