June, 13, 2012
6/13/12
11:00
AM ET
Our series continues looking at a player or a group of players from each Big Ten team who needs a home-run type of summer before preseason camp begins. Who needs to hit it out of the park in preparation for the season?
For previous entries,
click here
.
In the batter's box:
Nebraska

Who needs to step it up:
The young defensive tackles
Big Ten defenses are typically only as good as their lines. Nebraska has two proven veterans in end
Cameron Meredith
and tackle
Baker Steinkuhler
, who have combined for 53 starts the past two seasons.
Eric Martin
,
Jason Ankrah
and Joe Carter add depth at defensive end, which could emerge into a strong point for the Huskers this fall. But the tackle position, where Nebraska had plenty of star power earlier in coach Bo Pelini's tenure (some dude named Suh), needs several players to make strides during the summer. The Huskers were thin at tackle during spring practice as injuries limited or sidelined
Chase Rome
,
Thaddeus Randle
, Todd Peat Jr. and
Kevin Williams
. Rome logged significant time last fall after Jared Crick's injury, and he should be a big part of the plan this fall. The other three certainly have an opportunity to be in the rotation. As I've written several times during the offseason, Nebraska can survive the loss of star power on defense by fostering better overall depth. While all three defensive units have some question marks, the easiest solution, particularly in this conference, is to have a solid front that can go two or three deep. Solidifying the interior line before Sept. 1 is a huge priority for Big Red.
April, 3, 2012
4/03/12
5:30
PM ET
LINCOLN, Neb. -- They can't be called pop quizzes because they happen every day.
When safety
P.J. Smith
and his fellow Nebraska defensive backs enter their meeting room each day, they know exactly what's coming.
"This is the first time we've ever taken tests," Smith told ESPN.com. "Since the season ended, we had a test every week. And now, since [defensive backs coach Terry Joseph] is here, we have a test every single day we get in the meeting room."
Joseph's exams typically contain three questions, which require short written responses. The players have two minutes to complete their choices, which is 119 seconds longer than they have during games in the fall. The players with the lowest grades at week's end typically have to clean the secondary room.
"He tries to put pressure on us," Smith said.
Pressure is one word to describe the theme of Nebraska's offseason, particularly on the defensive side. Details is another. So is accountability.
[+] Enlarge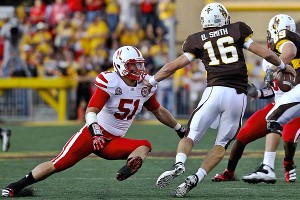 Troy Babbitt/US PresswireWith star LB Lavonte David gone, Nebraska will look to Will Compton to make an impact at the position.
The team ended the 2011 season with a thud, falling 30-13 to South Carolina in the Capital One Bowl. A defense that had entered the fall with a star-studded lineup -- tackle
Jared Crick
, linebacker
Lavonte David
and cornerback
Alfonzo Dennard
were the headliners -- finished 42nd nationally in points allowed and 37th in yards allowed, significant drops in both categories from the previous season (ninth in points allowed, 11th in yards allowed). The Huskers' D received some A-level performances from David and Dennard, but the overall unit, aside from a few exceptions, wasn't exceptional.
Nebraska didn't generate enough pressure (84th in sacks, 112th in tackles for loss) and didn't really have a hallmark.
"Generally, we didn't make a ton of busts a year ago," said defensive coordinator John Papuchis, who coached the defensive line in 2011. "But it's the small details within each defense that make the difference between being a good defense and a great defense. At times, we showed signs of being a very good defense. And at other times, we didn't live up to the standard we have set for ourselves.
"And I think what held us back more than anything came into those details."
Papuchis and the other defensive assistants have spent the offseason stressing concepts rather than pure memorization. The how and the why became more important than the what and the who.
They "went back to square one," even with older players, and worked on terminology as an entire unit. Crick and other Nebraska players talked before last season about the uniqueness of their defense, how
the scheme would help set the Huskers apart
in a new league.
"There's not one defense that's comparable to ours," Crick said. "Very complex, and that's what makes it unique. As a defensive lineman, I have five responsibilities, where other defensive linemen, all they've got to do is shoot their gap. We want it that way."
And it
is
different, as Nebraska uses a two-gap system not employed by most college teams. But because of several reasons -- the coaches point mainly to attention to detail -- the Huskers didn't enjoy a major schematic advantage.
"Our defense is kind of like learning how to study math," Papuchis said. "If you don't have a foundation, everything else after that won't make sense."
One issue Papuchis noticed with Nebraska's youngish secondary in 2011 was alignment. Players knew their responsibilities, but they would line up inside when they needed to be outside, or vice versa.
"What doesn't seem like a big deal, six inches one way or the other, makes all the difference in the world if they convert third-and-6," he said.
It's why Joseph tests them every day. Mistakes happen, Smith said, but Joseph wants the DBs to "make a new mistake. Don't make the same mistake."
Nebraska should have a more seasoned secondary in 2012, and Papuchis has been pleased this spring with
Daimion Stafford
,
Ciante Evans
,
Andrew Green
and
Antonio Bell
, among others. Linebacker
Will Compton
said the secondary is receiving extra attention this spring from both Papuchis and head coach Bo Pelini.
"We're getting back to some of the multiplicity we've had in the past," Pelini said. "I'm excited. I think we have a chance to be pretty good on defense."
There are different challenges for the other two groups on defense. The linebackers begin life without David, one of the nation's most productive defenders the past two seasons. Compton will lead the group, but depth is still a concern and will be for the next few years.
"We'll have guys very capable," Compton said. "It's about being a successful Will linebacker, not about being the next Lavonte David."
Nebraska has good depth at defensive end with
Cameron Meredith
,
Jason Ankrah
,
Eric Martin
and Joe Carter. And while the scheme stresses the need to prevent offensive linemen from reaching the second level, pass rushers could be turned loose more as Nebraska tries to generate more pressure.
New line coach Rick Kaczenski has brought an attacking style.
"Last year, we were a little bit passive," Meredith said. "Now offensive linemen at practice are telling us, 'You guys attack a lot more.'"
The linemen also are stressing accountability. If anyone is late for a meeting or another activity, the whole group runs or does
Turkish get-ups
.
"Everybody had a sour taste in how we finished up the season," Pelini said. "I said, 'Either you can talk about it or do something about it.' I think everybody around here has taken the attitude to raise their level of accountability.
"To get over the top, we've got to have a little bit more attention to detail, raise our standards that much more, raise our accountability that much more."
December, 16, 2011
12/16/11
12:00
PM ET
September, 9, 2011
9/09/11
11:00
AM ET
The Friday Q&A checks in with the Big Ten's
No. 1 player in the preseason rankings
, Nebraska standout defensive tackle Jared Crick. Nebraska opened its season with a
40-7 win
against Chattanooga, and while the
offense had some ups and downs
, the defense performed as advertised.
Here are Crick's thoughts on Week 1, the depth of the Huskers' defensive line and what to expect Saturday night against Fresno State.
How did you feel about the defense's performance in the opener?
[+] Enlarge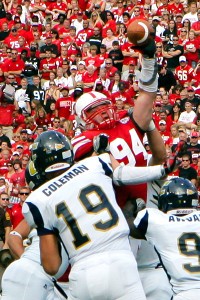 AP Photo/Nati HarnikJared Crick swatted away this throw by Chattanooga quarterback B.J. Coleman.
Jared Crick:
I thought we played well, but after watching the film, I feel a whole lot better. I didn't see what I would want to see, but it's a good sign knowing what you've got to work on and knowing the exact points you've got to sharpen. We didn't play bad as a defensive front; we didn't play bad as a defense as a whole. I thought we played pretty well, it being our first time out there, but I'm definitely very excited after watching the film. In the past, you watch a game and you know you've got a whole lot to work on. Going into this week, we've just got to sharpen up a few things. And once we get that sharpened, we're going to be a whole lot better defense.
Are you ever worried to watch the film, even after a win?
JC:
You're not worried, but you're always critical. You're always looking for the finer details, even if it's the littlest thing because sometimes that's what wins and loses games. You're very critical of yourself, you're very critical of your teammates. We played a good game. We only allowed seven points and that came on a bust on our part. But knowing the exact precise things we need to work on going into this next Saturday, it's very positive for us. It's a great feeling.
How much help will you have up front from guys like Cam [Meredith]?
JC:
It was good, but we expect that of Cam. Now that Cam's healthy, he's got a year of experience under his belt and he did that all through fall camp, he made plays. So we expected that from him. But it was definitely nice to see him come out Saturday and just have fun. Last year, at times he worried a little too much about his responsibility instead of just relaxing and letting the game come to him. That's exactly what he did Saturday and he did a great job for us.
Did you expect him to score on the interception?
JC:
I would have liked him to, but I'm just glad we got the turnover inside the 5. We always want to score as defensive linemen because we don't get that opportunity too much, but it was special enough that he got the pick.
Who else stood out to you along the defensive line?
JC:
[Jason] Ankrah played well for us, his first start. This was really the cornerstone of his career of seeing how good he can really be, going against some different competition finally. This is only going to build his confidence throughout this year, and I expect big things from him. And also the new guys who played, Joe Carter, Eric Martin, Chase Rome. I saw a lot of good things out of T-Mo, Terrence Moore. I feel good knowing where we're at as a defensive line right now.
Did you feel Jason was coming on strong in camp? When did he turn the corner?
JC:
Last spring he started to really come around. We asked him to gain a lot of weight. He came in at 240 and I think he's now up to 265, so he had to adjust to that weight change. He's playing a lot more physical. We saw it through this spring and he's progressed through the summer, into fall camp and definitely into the game. He's got to keep progressing.
You've only played one game, but do you have a sense of how offensive lines are going to approach you this year?
JC:
Hard to say. Chattanooga ran a lot of two-step drop, they got rid of the ball quick. I saw a couple double-teams, slide pro. We saw it all, so we're going to watch the film again, see what kind of protections we didn't do so well on, what we did do well. We don't expect offenses to run the same kind of protection that Cam had pressure on, that I had a lot of pressure. We're looking for the protections we didn't do so well on. We're going to anticipate that a lot more and have to prepare for how to beat it.