August, 25, 2014
Aug 25
5:00
PM ET
Welcome to our first game week mailbag of the 2014 season. Man, that feels good to type. Keep the questions flowing, and don't forget to follow me on Twitter at
@BennettESPN
@BennettESPN B1G lost lots of defensive star power (dennard, shazier, borland, hageman, bullough). What 4-5 guys step up to fill conf. void?

— Keith Glaser (@keithcg) August 25, 2014
.
Brian Bennett:
The strength on defense throughout the league right now is on the defensive line and at end in particular with
Shilique Calhoun
,
Randy Gregory
,
Joey Bosa
,
Noah Spence
,
Andre Monroe
, etc... The Big Ten definitely took a big hit at linebacker, with guys like Ryan Shazier, Chris Borland, Max Bullough, Denicos Allen, and Iowa's senior trio all moving on after last season. I'm looking forward to seeing who steps up at that position and expect some new stars to emerge at places like Michigan State (
Ed Davis
, maybe
Riley Bullough
), Ohio State (
Joshua Perry
,
Darron Lee
,
Raekwon McMillan
), Iowa (
Reggie Spearman
,
Travis Perry
) and Wisconsin (
Vince Biegel
).
@BennettESPN is alleged choice of McEvoy as WIS QB have to do with the potential weakness at WR? No one open, make plays with feet?

— Steve Moon (@moonraker717) August 25, 2014
.
Brian Bennett:
I don't think it has too do much with the questions at receiver. Head coach Gary Andersen has made no secret of his preference for mobile quarterbacks,
something we talked about
before he ever coached a game at Wisconsin. I believe Andersen really wanted
Tanner McEvoy
to win the job because he has a far superior ability to make plays with his feet than incumbent starter
Joel Stave
. I just wonder if giving McEvoy his first FBS exposure as a quarterback against LSU is the best move, but there is also a good chance Andersen will play both guys on Saturday, anyway.
@ESPN_BigTen @BennettESPN can Michigan do anything Saturday that will have them ranked in any national poll when they travel to Notre Dame?

— Scott Davis (@ScottDavis1004) August 25, 2014
.
Brian Bennett:
Michigan would likely have to climb over 7-to-10 teams to get into either major Top 25, so the Wolverines would need to win in impressive blowout fashion and benefit from some upsets. But this question is a good way to remind us all that we shouldn't really worry, or even pay much attention to, the polls. They mean nothing now, other than a possible subconscious influence on the College Football Playoff committee members. All that matters is what the selection committee thinks, and their first set of weekly rankings won't come out until late October. I still think the idea of a weekly Top 25 from a committee primarily charged with picking the four best teams is silly and unnecessary. But if you're going to fret over any set of rankings, make it those.
---
Sam from Colorado Springs, Colorado, writes:
What has to happen for Illinois to be the darkhorse team in the West Division? Do you see any possible way it could happen?
Brian Bennett:
It's probably a stretch to think Illinois can actually contend for a division title, even in the wide open, wild wild West. But stranger things have happened, and I do think the Illini can make a bowl game this season if things break right. Of course, it's all about that defense and whether coordinator Tim Banks can get the group to stop the run. The addition of some junior college players like
Jihad Ward
and
Joe Fotu
should help, and that side of the ball is more mature now. I expect the offense to remain very good, especially with strong-armed
Wes Lunt
at quarterback. This is a team that scored 32 points on Wisconsin and 35 against Ohio State last season, so even a return to mediocrity on defense could make Illinois a tough out.
---
KyleS from Columbia, South Carolina, writes:
I'm surprised you picked Rutgers only winning 4 games for this upcoming season. I know you were a blogger that followed Rutgers when they played in the Big East. Luckily for me when Rutgers wins 6+ games, I will be able to send you another email to say... I told you so.
Brian Bennett:
Now is the time for confidence and optimism. I'm not sure how having covered Rutgers previously is supposed to influence my prediction for this season, but if the Scarlet Knights do somehow manage to win six or more games against that schedule, by all means write me back and crow about it. Just know that I now have your e-mail address, too.
---
Rich from Omaha, Nebraska, writes:
Brian: Nebraska will be 2014's Auburn. Their O-line is much better than people realize. They have the best backfield in the Big Ten, especially now, unfortunately. Their defensive line and linebackers will be the best rated units by the end of the season statistically. And they won't turn it over 5 times when the beat an overrated Michigan State in East Lansing. No one outside of Nebraska sees it coming. Last year, I thought they might win 9. This year, they can win them all. Save this post and you'll realize in November, this is was not some homer drinking the Kool-Aid.
Brian Bennett:
Yes, people are feeling great about their teams. I'm looking forward to all the caterwauling from all 14 fan bases Saturday afternoon after their team's first failed third down. It's almost here. Enjoy all the ups and downs.
August, 15, 2014
Aug 15
1:00
PM ET
Illinois isn't trying to be Kansas State. The Illini would love to replicate K-State's on-field results, but their recent influx of junior college players isn't an effort to model what Bill Snyder has done in the Little Apple.
It boils down to basic math and basic needs.
"We needed depth, man," coach Tim Beckman told ESPN.com. "We just needed a bunch of depth."
[+] Enlarge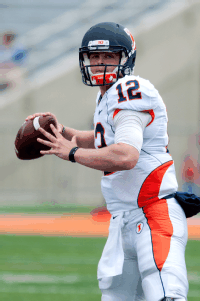 Bradley Leeb/USA TODAY SportsIllinois quarterback Wes Lunt isn't lacking major college football experience.
Illinois brought in six junior college players in 2013 and six more for the 2014 season. Add in quarterback
Wes Lunt
, who transferred from a four-year school (Oklahoma State) and will be eligible to play this fall, and the depth chart is filled with transfers in key roles. There are some non-transfer standouts, such as running back
Josh Ferguson
, but if you're studying up on the 2014 Illini, get to know the jucos -- wide receiver
Geronimo Allison
and defensive linemen
Jihad Ward
and
Carroll Phillips
, among others.
The program-building model isn't ideal, but if the transfers pan out, Illinois could get the bowl boost it sorely needs.
"Some people who feel like, 'We're building a program, we've got five, six years to do this,' they may not go that junior college route," said Alex Golesh, Illinois tight ends and running backs coach, and the team's recruiting coordinator. "We felt, 'Hey, we've got to get this thing going right now,' and this was our answer."
Beckman first realized the depth desperation after his first season, when the team reconvened for practice in March 2013. He and his staff had inherited a large senior class in 2012, but the subsequent two classes had atrophied. There were only about a dozen players left in each.
The coaches had a choice: start a bunch of freshmen and sophomores or look for immediate help elsewhere.
"You want to know how bad the number situation was here?" Beckman asked. "We didn't have enough defensive backs to be two deep."
So they picked up
Zane Petty
, a junior college safety from California who made seven starts last season. They added another California juco,
Eric Finney
, to play the Star position (safety/outside linebacker), and
Martize Barr
, a former New Mexico receiver/safety who landed at Iowa Western Community College. Barr originally was pegged for the secondary but moved to wide receiver.
The wide receiver and defensive line groups Illinois trots out this fall will reflect the junior college push. Barr and Allison should start, and
Tyrin Stone-Davis
, a Philadelphia native who played juco ball in California, will be in the rotation. The 6-foot-6, 295-pound Ward is expected to be a major contributor on the defensive line, along with Phillips at the Leo (rush end) and
Joe Fotu
and
Abe Cajuste
.
"This defensive line is like a different group," Golesh said. "Talk about dudes that look like they're supposed to look like and play like they're supposed to play."
Junior college recruiting isn't nearly as common in the Big Ten as it is in other leagues, but things are shifting. Teams that never used to bring in jucos, such as Wisconsin and Penn State, suddenly have a few on the roster.
Before initiating the push, Beckman consulted with Illinois' admissions office to gauge who could get into school. The coaches received transcripts from about 120 players, and the university identified who could make it academically. Only 25 to 30 players received the green light.
[+] Enlarge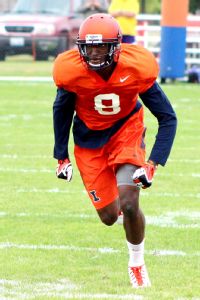 Courtesy University of Illinois AthleticsReceiver Geronimo Allison is one of 12 junior college players to transfer to Illinois in the past two seasons.
Golesh pinpointed which junior colleges had strong enough academic reputations and curriculums. Illinois almost only recruits junior colleges in California, Iowa (particularly Iowa Western in Council Bluffs, which regularly sends players to FBS programs) and a handful in state and in the Northeast.
The approach reduces the risk often attached to junior college players.
"We're recruiting a high-academic, junior college kid," Golesh said. "Those kids who are right on the border, we're not recruiting them because we can't get them in school. So there's one of your red flags that you cross off."
As Golesh dove deeper into junior college recruiting, he realized something else. Like Bill Snyder says about juco players:
The perception out there is something went wrong in his high school career. Young people are young people. What's the quality of their character?
"You go recruit the California junior colleges and it's amazing how many high school qualifiers are out there that were just overlooked because there are so many kids and the state is so big," Golesh said. "The misconception is the kid committed a crime or didn't qualify out of high school. That's not the case anymore."
Ward didn't qualify academically coming out of high school in Philadelphia, so he spent two years at Globe Institute of Technology, a junior college in New York. He connected with Illinois offensive coordinator Bill Cubit, a fellow Philly native, and signed with Illinois in February.
"For two years, I've been grinding," Ward said. "I always think the time is now. A lot of juco players, they're hungry. If you're not hungry, then I don't know what to say. We come here to eat."
Jucos arrive with ticking clocks, and Illinois coaches see the urgency in practice. Another benefit, according to Golesh, is how they push older players expecting to inherit, not earn, starting jobs.
The integration with the non-transfers seems to be going smoothly, too. Ward calls his new teammates "brothers for life."
"It's not a two-year thing," he added.
One challenge is leadership, especially for transfers in command positions. Like Ward, Lunt has blended well with his teammates since transferring from Oklahoma State.
But leading them "is a little harder," he said.
"To be a leader that everyone looks up to, you have to get on the field and play," Lunt said. "That's a big part of it."
Plenty of Illinois' transfers will play significant roles this fall on both sides of the ball. Asked how much Illinois will rely on the imports, Golesh replied, "A ton."
It won't always be this way. Beckman anticipates only one more year of heavy juco recruiting before Illinois will have the numbers it needs.
But to secure his future after two bowl-less seasons, Beckman needs the transfers to step up right now.
"They've come in ready to play, ready to try to give us some immediate impact," he said. "They've been unbelievable."
August, 4, 2014
Aug 4
10:30
AM ET
»
More team previews:
ACC
|
Big 12
|
Big Ten
|
Pac-12
|
SEC
Previewing the 2014 season for the
Illinois Fighting Illini
:
2013 overall record:
4-8 (1-7 Big Ten)
Key losses:
Nathan Scheelhaase, QB;
Steve Hull
, WR; Corey Lewis, OT;
Jonathan Brown
, LB; Houston Bates, DE/LB
[+] Enlarge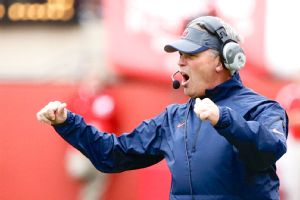 AP Photo/Nati HarnikThe Illini are 6-18 in three seasons under coach Tim Beckman.
Key returnees:
Josh Ferguson
, RB; Simon Cvijanovic, OT;
Michael Heitz
, G;
Mason Monheim
, LB;
Earnest Thomas III
, STAR;
V'Angelo Bentley
, CB;
Austin Teitsma
, DT
Instant impact newcomer:
Wes Lunt
, QB. There are several options here, but Lunt, the Oklahoma State transfer, should win the starting quarterback job and brings a big arm to the pocket in a quarterback-friendly offense. He'll look for two other newcomers, wide receivers
Geronimo Allison
and
Mike Dudek
. The Illini also are excited about defensive lineman
Jihad Ward
, a juco transfer.
Projected starters
OFFENSE:
QB:
Wes Lunt
, So., 6-5, 225; RB: Josh Ferguson, Jr., 5-10, 195; WR: Geronimo Allison, Jr., 6-4, 195; WR:
Justin Hardee
, Jr., 6-1, 195; WR:
Martize Barr
, Sr., 6-0, 195; TE:
Jon Davis
, Sr., 6-3, 240; OT: Simon Cvijanovic, Sr., 6-6, 310; OT:
Austin Schmidt
, So., 6-6, 295; G: Michael Heitz, 6-6, 310; G:
Ted Karras
, Jr., 6-4, 310; C:
Alex Hill
, Jr., 6-3, 310
DEFENSE:
DE:
Kenny Nelson
, Jr., 6-6, 250; LEO:
DeJazz Woods
, Sr., 6-3, 255; DT: Austin Teitsma, Sr., 6-2, 290; DT:
Teko Powell
, Jr., 6-3, 305; STAR: Earnest Thomas III, Sr., 6-2, 210; LB: Mason Monheim, Jr., 6-1, 235; LB:
T.J. Neal
, So., 6-1, 235; CB: V'Angelo Bentley, Jr., 5-10, 190; CB:
Eaton Spence
, Jr., 6-0, 185; S:
Taylor Barton
, So., 6-1, 215; S:
Zane Petty
, Sr., 6-1, 205
SPECIALISTS:
K:
Taylor Zalewski
, Jr., 6-3, 220; P:
Justin DuVernois
, Sr., 6-1, 190
Biggest question mark:
The season could hinge on how newcomers on defense, from transfers like Ward and
Joe Fotu
to freshmen like
Paul James
III, transition to this level. Illinois needs instant impacts from several arrivals to repair a unit that finished last in the Big Ten and 116th nationally against the run in 2013.
Most important game:
Oct. 25 vs. Minnesota. This game falls between tough trips to Wisconsin (Oct. 11) and Ohio State (Nov. 1) and immediately after an open week. Illinois' road schedule is absolutely brutal, and to contend for a bowl game, it must play well at home. This is a potentially winnable game that could be the difference between Illinois going bowling or staying home for the third consecutive season.
Upset special:
Nov. 15 vs. Iowa. It's hard to see Illinois winning at Nebraska, Wisconsin or Ohio State, and Minnesota at home wouldn't qualify as a huge upset. But Iowa is a preseason West Division title contender, and the teams don't have much familiarity with one another as they last met in 2008. Illinois could catch Iowa looking ahead to showdowns against Wisconsin and Nebraska.
Key stat:
Running back Josh Ferguson has 22 career big plays (rush, pass or reception of 20 yards or longer), which is 10 more than any other Illini player.
What they're wearing:
Illinois in April
announced a new branding identity with Nike
, which includes new uniform combinations. One getup has white uniforms and helmets with the numbers and the Block I in orange, and all the jerseys feature an Illini shield along the neckline.
New look for @IlliniFootball. #Illini @Nike pic.twitter.com/kkun14vCps

— Illinois Athletics (@IlliniAthletics) April 17, 2014
Team's top Twitter follows:
Head coach Tim Beckman (
@coachbeckman
), linebacker Mason Monheim (
@M_Monheim43
), running back Josh Ferguson (
@JoshFerguson_6
), quarterback
Reilly O'Toole
(
@ReillyOT4
), defensive tackle Austin Teitsma (
@Teitsma44
), wide receivers coach Mike Bellamy (
@CoachBellamy
) and the official team page (
@IlliniFootball
).
They said it:
"Obviously the defense has to play better, and we've got to score the ball when we get down close. The red zone really was our weakness last year. Also toward the end of the season, you saw more turnovers, we got a little careless with the ball. Those are the two big things." -- senior tight end Jon Davis
Stats & Info projections:
5.47 wins
Wise guys over-under:
five wins
Big Ten blog projection:
Five wins. Illinois should take another step in Year 3 under Tim Beckman and could reach the six-win plateau, which likely would mean a bowl appearance and secure a fourth year for Beckman in Champaign. But the road schedule -- Washington, Nebraska, Wisconsin, Ohio State and Northwestern -- doesn't help the Illini, who can't afford many slipups at home. There are too many question marks on defense to see Illinois pulling off a lot Big Ten upsets.
July, 14, 2014
Jul 14
2:30
PM ET
The SEC has to be first with everything and
kicked off its media days extravaganza earlier Monday
in Alabama. Never mind that the season doesn't start until late August.
Big Ten media days are still two weeks away in Chicago, but we're here to get you ready. This series lists three of the pressing questions that each league squad will face at media days, and the possible answers.
Illinois is first up in the proverbial hot seat. In addition to coach Tim Beckman, the Illini are bringing offensive tackle
Simon Cvijanovic
, tight end
Jon Davis
and defensive tackle
Austin Teitsma
.
1. What's the plan/timetable for the quarterback competition?
The starting job technically remains open as
Wes Lunt
,
Reilly O'Toole
and
Aaron Bailey
will continue to compete in camp.
Beckman said in April
that he wants the probable starter to start receiving more reps when the team begins two-a-day practices. Lunt seemed to have the edge for much of the spring and boasts the strongest arm, and offensive coordinator
Bill Cubit seems to be high on his development
.
O'Toole's experience keeps him in the mix. Bailey is a tremendous athlete but must show improvement as a passer to remain in the race. Expect to see some separation by about Aug. 10.
2. Who must step up on defense for the unit to improve?
It starts with the front seven as Illinois finished last in the Big Ten and 116th nationally in rush yards allowed (238.6 yards per game). The Illini lose top linebacker Jonathan Brown and Houston Bates, who played the Leo position, transferred to Louisiana Tech. Beckman praised the play of
T.J. Neal
coming out of the spring, and he forms a potentially strong tandem with
Mason Monheim
. The line is a mix of veterans who need to blossom such as Teitsma and
Kenny Nelson
, and newcomers like
Jihad Ward
,
Paul James
and
Joe Fotu
, who must make an immediate impact.
3. What will it take for Beckman to leave the hot seat and return for a fourth season?
This isn't a new question -- it has been asked throughout the offseason -- but it will undoubtedly come up during media days as Beckman will be a popular choice as the Big Ten coach on the hottest seat. Illinois AD Mike Thomas has said
the Illini need to win more going forward
, but has wisely avoided specific numbers for this season. The big debate seems to be whether Beckman could survive at 5-7 -- a third consecutive bowl-less season -- or if Illinois needs to reach the six-win plateau and qualify for postseason play. Beckman and the players likely won't speculate on what it will take to prevent a coaching change, although they'll address a schedule featuring several tough road games (Ohio State, Wisconsin, Nebraska).
July, 8, 2014
Jul 8
3:30
PM ET
Just before the holiday last week, we took a look at some
Big Ten units that will be under pressure
to perform this season. Now we want your opinion on which groups have the most riding on them.
Cue David Bowie as we list the nominees under the most pressure:
Michigan's offensive line: The Wolverines allowed 36 sacks and averaged just 3.3 yards per rush last fall, and that was with future NFL draft picks Taylor Lewan and Michael Schofield. Michigan needs a lot of players to grow up quickly on the O-line to have any chance of competing for a division title this season.
Ohio State's secondary: The Buckeyes' pass defense collapsed at the end of last season and lost top cornerback Bradley Roby to the NFL. New secondary coach and co-defensive coordinator Chris Ash is bringing a more aggressive mindset while relying on young, athletic players like Vonn Bell, Tyvis Powell and Cam Burrows.
Penn State's receivers: Who will replace Allen Robinson? That's a major question in State College. Sophomore Geno Lewis and true freshmen DeAndre Thompkins, Saeed Blacknall and Chris Godwin are among the top candidates.
Wisconsin's quarterbacks: Incumbent starter Joel Stave is a lightning rod for fans, and he's not guaranteed to keep his job over Tanner McEvoy. Whoever earns the nod must help improve the Badgers' passing game -- and deal with LSU's defense in the opener.
Illinois' defensive line: The Illini were one of the worst teams in the country at stopping the run last season, giving up 238 yards per game on the ground. Junior college transfers Jihad Ward and Joe Fotu are expected to help, but if things don't turn around quickly, this team is going to struggle again.
Which unit is under the most pressure to succeed this year? Vote now in our poll.
July, 3, 2014
Jul 3
9:00
AM ET
Last week, we presented a poll on the Big Ten players
facing the most pressure
in 2014. But football, of course, is a team sport. So what about the league units that will be facing the most pressure this fall?
There's little doubt that the No. 1 unit under the gun is Michigan's offensive line. That group was not good last year, to put it kindly, allowing 36 sacks and paving the way for a paltry 3.3 yards per rush. And that was before the two best players on the line, tackles Taylor Lewan and Michael Schofield, got drafted into the NFL.
Virtually every offseason discussion about whether the Wolverines can improve in 2014 begins with the offensive line concerns. There is an inordinate amount of pressure for players like
Kyle Bosch
,
Kyle Kalis
and
Jack Miller
to improve. Michigan had a true freshman early enrollee, Mason Cole, taking first-team snaps at left tackle this spring. The experience level will increase with the return of
Erik Magnuson
, who missed the spring with a shoulder injury, and
Graham Glasgow
, who was suspended for part of the spring and for the opener against Appalachian State
after being arrested
. But there are hardly any proven graybeards around.
[+] Enlarge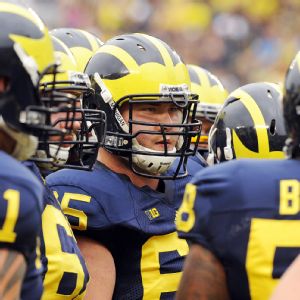 Lon Horwedel/Icon SMIKyle Bosch and the Michigan offensive line are one of the units that need to improve this season.
"A lot of it was youth," head coach Brady Hoke told ESPN.com this spring about the problems on the line last year. "We've got to make sure we're doing everything we can do to accelerate their development, to put them in positions where they can be successful."
New offensive coordinator Doug Nussmeier has simplified many of the blocking schemes, which the players embraced this offseason. Nussmeier -- who recently talked about the offensive line issues in
this podcast
-- wants to incorporate a downhill running game and a physical style, and that all starts up front. He's not going to turn the Wolverines' line into a carbon copy of the last team he worked for -- Alabama -- but hopefully he can make it into a respectable group.
If not, it will be a long year for
Devin Gardner
and probably another disappointing one for Michigan.
Here are some other Big Ten units facing pressure in 2014:
Ohio State's defensive backs:
The Buckeyes' offensive line has question marks as well, but the secondary will be under the most scrutiny. The Silver Bullets got shredded in the back end down the stretch last season, and that was with future NFL draft pick Bradley Roby around for most of it. Urban Meyer hired Chris Ash from Arkansas to be his co-defensive coordinator and defensive backfield guru, and Ash will try to mold younger players like
Vonn Bell
,
Tyvis Powell
and
Cam Burrows
into a more aggressive, playmaking conglomerate.
Penn State's receivers:
Sure, the Nittany Lions' O-line has major concerns, but as @flaveydavie asked on Twitter yesterday: "Penn State lost one of its biggest offensive weapons (Allen Robinson) last year. Who do you see filling that void?" Good question. Robinson was a special player, but he often didn't have much help. With him gone,
Christian Hackenberg
needs someone to catch his passes, and that could be sophomore
Geno Lewis
or a true freshman like DeAndre Thompkins, Saeed Blacknall or Chris Godwin. Penn State has a wealth of tight end options but will need to push the ball down the field to be effective.
Rutgers' secondary:
The Scarlet Knights' defensive backfield was hit hard by injuries and transfers last year and got picked apart while fielding the worst pass defense, statistically speaking, in school history. Several players who got thrown into the fire last year return, along with some recruits who could play right away. A new defensive coordinator should equal a more aggressive scheme. But cornerback
Ian Thomas
' departure -- again -- this summer was not a good start.
Wisconsin's quarterbacks:
We could have easily picked the Badgers' group of largely unknown and mostly unproven receivers. But the attention will be focused on who's under center, whether that is returning starter
Joel Stave
or competitor
Tanner McEvoy
. Wisconsin hasn't had great quarterback play since Russell Wilson left Madison, and whoever gets the job will be staring down LSU's defense in the opener.
Illinois' defensive line:
No Big Ten team was worse at stopping the run last year than the Illini, who gave up a whopping 238 yards per game on the ground. The problems all started with a lack of strength and push up front. Junior college transfers Jihad Ward and Joe Fotu were brought in to help shore up the unit, while there is hope for improvement from the likes of
Austin Teitsma
and
Teko Powell
. The Illini are gunning for a return to a bowl game this year, but they'll go nowhere fast if the D-line doesn't make major strides.
Iowa's linebackers:
The Hawkeyes like the talent they have here with projected starters
Quinton Alston
,
Reggie Spearman
and
Travis Perry
. Still, all three are relatively inexperienced, because
James Morris
, Christian Kirksey and Anthony Hitchens were such fixtures at linebacker the past few years. That trio of senior linebackers formed the heart and soul of Iowa's defense last year, and now their former backups have to make sure the level of play doesn't drop too dramatically.
April, 17, 2014
Apr 17
5:00
PM ET
CHICAGO -- Illinois hopes Deion Sanders was right when he famously stated, "If you look good, you feel good. If you feel good, you play good."
The
Illini unveiled their new look
this week, part of a
rebrand with Nike
for all the school's athletic teams. I'm a fan of the white uniforms with white helmets and the sleek shield on the collar. Athletic director Mike Thomas said the new threads give Illini teams the consistent look they had lacked. Football coach Tim Beckman wants more consistency on the field this fall after back-to-back losing seasons.
The Illini finished spring practice on Saturday, and I caught up with Beckman on Thursday at Niketown to recap the session.
[+] Enlarge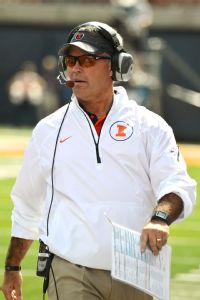 Keith Gillett/Icon SMITim Beckman likes the experience his Illinois team will have in 2014.
What were your main objectives for the spring, and did you achieve them?
Tim Beckman:
We always have three goals. First, we wanted to become more physical up front, and we were much more physically and mentally tougher this spring than we've been. We wanted a competitive edge. You've got to compete against yourself, against your fellow players. And then position-wise, we knew we had to strengthen up on the defensive front. We knew defensively, we had growing up to do. We know why: We had a bunch of freshmen playing for us, sophomores playing for us. Offensively, we had to find wide receivers to step in. We moved in the right direction. We still have some guys who have been in our program, who were there before I came, who still haven't played. The time has come.
Who is growing up for you on defense?
TB:
T.J. Neal
. He has probably the best linebacker spring that we had. He's gotten bigger, stronger. Even
Mason [Monheim]
, when he was starting for us [as a freshman], he was benching around 315 pounds. He's around 375-380, so his whole body's changed.
Austin Teitsma
is where he needs to be. He's playing better. We needed to work on our pass rush and
D.J. Smoot
, he has a great motor.
DeJazz Woods
has grown up. They should never have had to play, should have been redshirted. Now they're juniors and sophomores and they look like different guys.
Did you get what you needed out of the wide receivers?
TB:
The junior-college players have come in and helped.
Martize Barr
just turned a year older.
Geronimo Allison
had a great spring.
Justin Hardee
had a good spring.
Mikey Dudek
surprised us all. If you had to pencil in a starter right now, Mikey Dudek would be in there.
When you reviewed the quarterback play, what stood out?
TB:
Each guy has a very good talent.
Wes [Lunt]
has got very, very good arm strength. And arm strength to me isn't about throwing a 60-yard bomb, it's about getting that comeback or putting that seam route 18-25 yards right on that seam. He has a very, very good arm.
Aaron Bailey
has very, very good feet. He can run, he can make people miss, he's an athlete.
Reilly [O'Toole]
has played more and he's got experience, and he's kind of between them. His arm's a little better than Aaron's, but his feet are better than Wes'. All of them are outstanding competitors, and they get along.
When would you like to decide on the starter?
TB:
I've talked to [offensive coordinator Bill Cubit] about it. I don't think there's a time frame that we've got to do it right now, but as we go through the summer and they get a feel for where they're going to be, we talk to them honestly. I would say when two-a-days get humming, we've got to get where this guy's going to be doing most of it.
What are the team's strengths at this point?
TB:
We've got a lot of guys who have played. Were they ready to play back then? No, but they did. If you do it by position, we've got an offensive front that is experienced, and they're very, very good leaders. To be in a Big Ten game, you better win up front. Defensively, we're making definite strides with guys like
Teko Powell
,
Jarrod Clements
,
Joe Fotu
. We expect some big things when
Jihad Ward
gets here. The players are getting some maturity.
What areas still must be improved?
TB:
We can't let negativity absorb our program. We've got to be positive, we've got to believe. At times, there's too much questioning. We need to believe it can be done. Last season, we didn't start well a lot of times, but we gave ourselves opportunities to come back and win. We've can't start that way. We've got to go out there and know we can play with people in the Big Ten.
Wide receivers definitely got to step up. The offensive line depth is important. On defense, the young defensive backs have to come through for us and the front. But I feel better about it because they are getting bigger, they are getting stronger. They're not 18-year-olds. They're 20-year-olds now. And they play like it.
March, 3, 2014
Mar 3
2:30
PM ET
We're taking snapshots of each position group with each Big Ten team entering the spring. Up next: the defensive lines.

Illinois:
This is a significant concern for the Illini, especially after
the recent departure
of
Houston Bates
, who started last season at the Leo (defensive end/outside linebacker) spot. Illinois also loses its other starting defensive end,
Tim Kynard
. The team will rely heavily on junior-college players such as
Jihad Ward
and
Joe Fotu
, but it also needs holdovers like
Dawuane Smoot
and
Paul James
III to step up on the perimeter. Illinois returns more experience inside with
Austin Teitsma
and
Teko Powell
, but there should be plenty of competition, especially with the juco arrivals, after finishing 116th nationally against the run.

Indiana:
The anticipated move to a 3-4 alignment under new coordinator Brian Knorr creates a different dynamic for the line this spring. Indiana must identify options at the all-important nose tackle spot, and possibilities include sophomores
Ralphael Green
and
Darius Latham
, both of whom are big bodies.
Nick Mangieri
had a nice sophomore season and should be in the mix for a starting job on the perimeter (end or outside linebacker), while
David Kenney
could be a good fit as a 3-4 end. Defensive end
Ryan Phillis
is the team's most experienced lineman, and
Zack Shaw
also has some starting experience.

Iowa:
This group should be the strength of the defense as Iowa returns three full-time starters -- tackles
Carl Davis
and
Louis Trinca-Pasat
, and end
Drew Ott
-- as well as
Mike Hardy
, who started the second half of the season opposite Ott. End
Dominic Alvis
departs, but Iowa brings back almost everyone else from a line that allowed only eight rushing touchdowns in 2013. Junior
Darian Cooper
could have a bigger role and push for more playing time inside, and
Nate Meier
provides some depth on the perimeter after recording two sacks in 2013. Iowa is in good shape here.

Maryland:
The Terrapins employ a 3-4 scheme and appear to be in good shape up front, as reserve
Zeke Riser
is the only rotation player to depart.
Andre Monroe
leads the way at defensive end after an excellent junior season in which he led Maryland in both sacks (9.5) and tackles for loss (17).
Quinton Jefferson
started at defensive end last season and recorded three sacks. There should be some good competition this spring at nose tackle between
Keith Bowers
and
Darius Kilgo
, both of whom had more than 30 tackles last season. The challenge is building greater depth with players such as end
Roman Braglio
.

Michigan:
If the Wolverines intend to make a big step in 2014, they'll need more from the front four, which didn't impact games nearly enough last fall. Michigan's strength appears to be on the edges as veteran
Frank Clark
returns after starting every game in 2013 and recording a team-high 12 tackles for loss.
Brennen Beyer
, who started the second half of last season, is back at the other end spot, and Michigan has depth with
Mario Ojemudia
and
Taco Charlton
. There are more questions inside as
Willie Henry
,
Chris Wormley
and others compete for the starting job. Young tackles such as
Henry Poggi
and
Maurice Hurst Jr
. also are in the mix, and
Ondre Pipkins
should be a factor when he recovers from ACL surgery.

Michigan State:
The Spartans return the best defensive end tandem in the league as
Shilique Calhoun
, a second-team All-American in 2013, returns alongside
Marcus Rush
, one of the Big Ten's most experienced defenders.
Joel Heath
,
Brandon Clemons
and others provide some depth on the perimeter. It's a different story inside as MSU loses both starters (
Micajah Reynolds
and
Tyler Hoover
), as well as reserve
Mark Scarpinato
.
Damon Knox
,
James Kittredge
and
Lawrence Thomas
, who has played on both sides of the ball, are among those who will compete for the starting tackle spots. If
Malik McDowell
signs with MSU, he could work his way into the rotation.

Minnesota:
Defensive tackles like
Ra'Shede Hageman
don't come around every year, and he leaves a big void in the middle of Minnesota's line. The Gophers will look to several players to replace Hageman's production, including senior
Cameron Botticelli
, who started opposite Hageman last season. Other options at tackle include
Scott Ekpe
and
Harold Legania
, a big body at 308 pounds. Minnesota is in much better shape at end with
Theiren Cockran
, arguably the Big Ten's most underrated defensive lineman. Cockran and
Michael Amaefula
both started every game last season, and
Alex Keith
provides another solid option after recording five tackles for loss in 2013.

Nebraska:
Other than MSU's Calhoun, Nebraska returns the most dynamic defensive lineman in the league in
Randy Gregory
, who earned first-team All-Big Ten honors in his first FBS season. If the Huskers can build around Gregory, they should be very stout up front this fall. Nebraska won't have Avery Moss, suspended for the 2014 season, and players such as
Greg McMullen
and junior-college transfer
Joe Keels
will compete to start opposite Gregory. The competition inside should be fascinating as junior
Aaron Curry
and sophomore
Vincent Valentine
both have starting experience, but
Maliek Collins
came on strong at the end of his first season and will push for a top job.

Northwestern:
It will be tough to get a clear picture of this group in the spring because of several postseason surgeries, but Northwestern should be fine at defensive end despite the loss of
Tyler Scott
.
Dean Lowry
,
Ifeadi Odenigbo
and
Deonte Gibson
all have significant experience and the ability to pressure quarterbacks. Odenigbo, who had 5.5 sacks as a redshirt freshman, could become a star. The bigger questions are inside as Northwestern must build depth.
Sean McEvilly
is a solid option but must stay healthy.
Chance Carter
and
Max Chapman
are among those competing for starting jobs at tackle.

Ohio State:
A total mystery last spring, the defensive line should be one of Ohio State's strengths in 2014.
Noah Spence
and
Joey Bosa
could become the Big Ten's top pass-rushing tandem, and the Buckeyes have depth there with
Jamal Marcus
,
Adolphus Washington
and others. Returning starter
Michael Bennett
is back at defensive tackle, and while
Joel Hale
might move to offense, there should be enough depth inside with
Tommy Schutt
,
Chris Carter
and Washington, who could slide inside. Nose tackle is the only question mark, but new line coach Larry Johnson inherits a lot of talent.

Penn State:
Like the rest of the Lions defense, the line struggled at times last season and now much replace its top player in tackle
DaQuan Jones
. The new coaching staff has some potentially good pieces, namely defensive end
Deion Barnes
, who won 2012 Big Ten Freshman of the Year honors but slumped as a sophomore. Barnes and
C.J. Olaniyan
could form a dangerous pass-rushing tandem, but they'll need support on the inside, where there should be plenty of competition.
Austin Johnson
will be in the mix for a starting tackle spot, and early enrollees
Tarow Barney
and
Antoine White
also should push for time.
Anthony Zettel
provides some depth on the perimeter.

Purdue:
The line endured a tough 2013 campaign and loses two full-time starters (tackle
Bruce Gaston
Jr. and end
Greg Latta
), and a part-time starter (end
Ryan Isaac
). Competition should be ramped up at all four spots this spring. Senior end
Ryan Russell
is the most experienced member of the group must take a step this offseason.
Evan Panfil
and
Jalani Phillips
will push for time at the end spots, along with Kentucky transfer
Langston Newton
.
The group at tackle includes Ryan Watson and Michael Rouse III, both of whom started games in 2013.

Rutgers:
Keep a close eye on this group in the spring as Rutgers begins the transition to the Big Ten. The Scarlet Knights lose two starters in end
Marcus Thompson
and tackle
Isaac Holmes
, as well as contributor
Jamil Merrell
at tackle.
Darius Hamilton
provides a building block on the inside after recording 4.5 sacks and 11.5 tackles for loss in 2013, and end
Djwany Mera
is back after starting throughout last season.
David Milewski
played tackle last year, but both he and Hamilton likely need to add weight for their new league. Rutgers has some talent in the younger classes and needs players such as
Sebastian Joseph
,
Kemoko Turay
and
Julian Pinnix-Odrick
to emerge.

Wisconsin:
Linebacker
Chris Borland
is the biggest single departure for the Badgers' defense, but the no position group loses more than the line. Wisconsin must replace several mainstays, most notably nose tackle
Beau Allen
, who performed well in the first year of the 3-4 set under coordinator Dave Aranda. Senior
Warren Herring
will step in for Allen after three years as a reserve.
Konrad Zagzebski
is a good bet to fill one of the end spots, but there will be plenty of competition with players such as
Jake Keefer
,
James Adeyanju
,
Arthur Goldberg
and
Chikwe Obasih
.
February, 28, 2014
Feb 28
11:30
AM ET
With spring practice set to begin next week, Illinois has lost a defensive starter.
Senior
Houston Bates
, who started all 12 games last season at defensive end, is leaving the team and will look to transfer to a school near his home of Covington, La., the school announced Friday. Because he will graduate in May, Bates would be immediately eligible to play elsewhere.

"Houston is a terrific and bright young man, who was a great teammate on our football team," Illinois coach Tim Beckman said in an official statement. "We certainly would have liked to have Houston remain on the team, but he indicated that he wanted to finish closer to home and his family."
Bates played linebacker in 2012 before moving to defensive end last season. He was second on the team in tackles for loss with 12 and in sacks with 3.5. He had 40 total tackles.
The Illini now will be without both starting defensive ends from a year ago, as
Tim Kynard
was a senior. That's not great news for a team that finished 11th in the Big Ten in total defense and last in rush defense. Junior college transfer
Joe Fotu
is expected to provide some immediate help at defensive end, and the Illini are hoping another juco import,
Jihad Ward
, makes a big impact inside on the defensive line.
February, 26, 2014
Feb 26
9:00
AM ET
Let's look at what to expect this spring in the Big Ten's wild, wild West:

ILLINOIS
Spring start:
March 5
Spring game:
April 12
What to watch:
Toughening up on 'D': The Fighting Illini had one of the nation's worst defenses, especially against the run. Tim Beckman brought back defensive coordinator Tim Banks and hopes an extra year of maturity can help strengthen the front seven. Juco import Joe Fotu could win a starting job this spring, and Jihad Ward should help when he arrives in the summer.
'Haase cleaning: Nathan Scheelhaase wrapped up his career by leading the Big Ten in passing yards last season. Oklahoma State transfer Wes Lunt likely takes over the reins, but backups Reilly O'Toole and Aaron Bailey plan on fighting for the job, as well. Bill Cubit's offense should equal big numbers for whoever wins out.
Target practice: Whoever wins the quarterback job needs someone to catch the ball, and Illinois' top two receivers from '13 -- Steve Hull and Miles Osei -- both are gone. Junior college arrival Geronimo Allison will be counted on for some immediate help.

IOWA
Spring start:
March 27 or 28
Spring game:
April 26
What to watch:
A new big three: The Hawkeyes begin the process of trying to replace their three standout senior linebackers from last season: James Morris, Anthony Hitchens and Christian Kirksey. They were the heart of the defense in 2013, and now guys such as Quinton Alston, Reggie Spearman and Travis Perry need to make major leaps forward in the spring.
Develop more playmakers: Iowa was able to win the games it should have won last year, but struggled against those with strong defenses because of its lack of explosiveness. Sophomore Tevaun Smith and junior Damond Powell showed flashes of their potential late in the year at wideout. They need to continue to develop to give quarterback Jake Rudock and the offense ways to stretch the field.
Solidify the right tackle spot: The offensive line should once again be the team's strength, but the departure of veteran right tackle Brett Van Sloten means someone has to take on that role. Whether that's senior Andrew Donnal or redshirt freshman Ryan Ward could be determined this spring.

MINNESOTA
Spring start:
March 4
Spring game:
April 12
What to watch:
Mitch's pitches: Philip Nelson's transfer means redshirt sophomore Mitch Leidner enters spring practice as the No. 1 quarterback. He's a load to bring down when he runs, but Leidner needs to improve his passing accuracy after completing 55 percent of his passes in the regular season and only half of his 22 attempts in the Texas Bowl game loss to Syracuse. Added experience should help. If not, he's got some talented youngsters such as Chris Streveler and Dimonic Roden-McKinzy aiming to dethrone him.
Mitch's catchers: Of course, part of the problem behind the Gophers' Big Ten-worst passing offense was a lack of threats at receiver. Drew Wolitarsky and Donovahn Jones showed promise as true freshmen and should only improve with an offseason of work. It's critical that they do, or else Minnesota might have to count on three receiver signees early.
Replacing Ra'Shede: The Gophers only lost four senior starters, but defensive tackle Ra'Shede Hageman might be the most difficult to replace. The first-team All-Big Ten selection created havoc inside defensively, and there aren't many athletes like him floating around. Scott Ekpe could take many of Hageman's reps, but the defensive line overall will have to pick up the slack.

NEBRASKA
Spring start:
March 8
Spring game:
April 12
What to watch:
Tommy's turn: Sophomore Tommy Armstrong Jr. entered the offseason as the clear No. 1 quarterback for the first time after taking over for the injured Taylor Martinez (and splitting some snaps with Ron Kellogg III) last season. Armstrong showed maturity beyond his years in 2013 but needs to continue developing as a passer and deepen his understanding of the offense. Redshirt freshman Johnny Stanton could push him in the spring.
Get the OL up to speed: Nebraska loses a lot of experience on the offensive line, including both starting tackles (Jeremiah Sirles and Brent Qvale), plus interior mainstays Spencer Long, Andrew Rodriguez and Cole Pensick. The Huskers do return seniors Mark Pelini, Jake Cotton and Mike Moudy, junior Zach Sterup, plus three freshmen and a junior-college transfer who redshirted last year. A strong group of incoming freshmen may also contribute. Big Red usually figures it out on the O-line, but there will be a lot of players in new roles this season.
Reload in the secondary: The Blackshirts have plenty of experience in the front seven, but the defensive backfield has a new coach (Charlton Warren) and will be without top playmakers Stanley Jean-Baptiste and Ciante Evans. The safety spot next to Corey Cooper was a problem area last season, and the Huskers are hoping Charles Jackson takes a major step forward. Warren has talent to work with but must find the right combination.

NORTHWESTERN
Spring start:
Feb. 26
Spring game:
April 12
What to watch:
Trevor's time?: Trevor Siemian split reps with Kain Colter at quarterback the past two seasons, serving as sort of the designated passer. Siemian threw for 414 yards in the season finale against Illinois and has a clear path toward starting with Colter gone. That could mean more of a pass-first offense than Northwestern ran with Colter. Redshirt freshman and heralded recruit Matt Alviti also looms as an option.
Manning the middle: Northwestern brings back a solid corps on defense but lost middle linebacker Damien Proby, who led the team in tackles the past two seasons. Pat Fitzgerald has some options, including making backups Drew Smith or Jaylen Prater a starter or moving Collin Ellis inside. He can experiment and find the best match this spring.
Patch it together: The Wildcats' health woes from 2013 aren't over, as 11 players will be held out of practice for medical reasons, including star running back/returner Venric Mark. Add in that the school doesn't have early enrollees, and the team will be trying to practice severely undermanned this spring. The biggest key is to get through spring without any more major problems and to get the injured guys healthy for the fall.

PURDUE
Spring start:
March 6
Spring game:
April 12
What to watch:
Moving forward: Purdue players wore T-shirts emblazoned with the word "Forward" during winter workouts, and no wonder. They don't want to look backward to last year's abysmal 1-11 season. It's time to turn the page and get some positive momentum going in Year 2 under Darrell Hazell. Luckily, optimism abounds in spring.
Trench focus: The Boilermakers simply couldn't cut it on the lines in Big Ten play, and Hazell went about trying to sign bigger offensive linemen this offseason for his physical style of play. Both starting tackles and three starting defensive linemen all graduated, and no one should feel safe about his job after last season's performance. Kentucky transfer Langston Newton (defense) and early enrollee Kirk Barron (offense) could push for playing time on the lines.
Find an identity: What was Purdue good at last season? Not much, as the team ranked near the bottom of the country in just about every major statistical category. The Boilers found some good things late in the passing game with freshmen Danny Etling and DeAngelo Yancey, but Hazell must do a better job instilling the toughness he wants and locating playmakers.

WISCONSIN
Spring start:
March 7
Spring game:
April 12
What to watch:
Catching on: The biggest concern heading into the spring is at receiver after the team's only dependable wideout the past two seasons, Jared Abbrederis, graduated. Tight end Jacob Pedersen, who was second on the team in receiving yards last season, is also gone. The Badgers have struggled to develop new weapons in the passing game but now have no choice. Gary Andersen signed five receivers in the 2014 class but none enrolled early, so guys such as Kenzel Doe and Robert Wheelwright need to take charge this spring.
Stave-ing off the competition?: Joel Stave started all 13 games at quarterback last year, while no one else on the roster has any real experience under center. Yet the redshirt junior should face some competition this spring after the Badgers' passing game struggled down the stretch. Andersen likes more mobile quarterbacks and has three guys in Bart Houston, Tanner McEvoy and freshman early enrollee D.J. Gillins, who can offer that skill. Stave must hold them off to keep his job.
New leaders on defense: Wisconsin lost a large group of seniors, including nine major contributors on the defensive side. That includes inside linebacker and team leader Chris Borland, plus defensive linemen Beau Allen and Ethan Hemer, outside linebacker Brendan Kelly and safety Dezmen Southward. That's a whole lot of leadership and production to replace, and the process begins in earnest this spring.
January, 17, 2014
Jan 17
9:00
AM ET
The offseason is in its early stages, and to get us through the long winter, we're taking a look at what each team must do in the months ahead before actual football returns to the field.
Up next in our series: Illinois

1. Get better up front on defense:
The Fighting Illini ranked last in the Big Ten and 116th nationally in stopping the run, allowing 238.6 yards per game on the ground and an average of more than 5.5 yards per rush. Illinois was also second-to-last in the league in sacks generated. When you can't slow down an opposing running game or put pressure on the quarterback, that's bad news. It doesn't help that the best player in the front seven -- linebacker
Jonathan Brown
-- is graduating. Just about everybody else is back up front, though, and head coach Tim Beckman brought in a junior college transfer (
Joe Fotu
) and a high school player (
Paul James III
) as early enrollees to help bolster the defensive line. Illinois simply must get better in the trenches defensively, and that starts in the weight room this winter.
2. Develop weapons in the passing game:
Under first-year coordinator Bill Cubit, the Illini had one of the best and most consistent passing attacks in the Big Ten. Quarterback
Nathan Scheelhaase
is graduating, but Oklahoma State transfer
Wes Lunt
should be able to fill his shoes. The bigger question is at receiver, where the team's three starters at the end of the season --
Steve Hull
,
Miles Osei
and
Spencer Harris
-- were all seniors, as was
Ryan Lankford
, who was one of Scheelhaase's top targets before getting hurt. The leading returning wideout is
Martize Barr
, who was underwhelming with 26 total catches after transferring in from junior college. Beckman brought in help at this position as well with juco transfers
Tyrin Stone-Davis
and
Geronimo Allison
, along with early enrollee
Mike Dudek
. All three will get a chance to play right away, and the Illini need them to pan out.
3. Build some excitement:
Illinois wasn't all that far off from being a bowl team in 2013, and it was competitive in many games. That didn't do much to boost fan interest or create turnout at home games. The biggest threat to Beckman's long-term security is fan apathy. Beckman needs to continue to sell his vision for the program to Illini Nation, and the team has to show improvement -- especially defensively -- during the spring. Allowing more fan access to practices last season was a good idea and a good start. Ultimately, Beckman will have to show he can win Big Ten games to bring the fans back.
More to-do lists
BIG TEN SCOREBOARD
Friday, 12/26
Saturday, 12/20
Monday, 12/22
Tuesday, 12/23
Wednesday, 12/24
Saturday, 12/27
Monday, 12/29
Tuesday, 12/30
Wednesday, 12/31
Thursday, 1/1
Friday, 1/2
Saturday, 1/3
Sunday, 1/4
Monday, 1/12
Tweets from https://twitter.com/ESPNCFB/lists/b1g