September, 13, 2012
9/13/12
11:00
AM ET
Ohio State coach Urban Meyer doesn't have to worry about cornerback
Bradley Roby
this week.
No player on the Buckeyes roster is more geared up for Saturday's game than Roby, a 5-foot-11, 190-pound sophomore from Suwanee, Ga. While most Buckeyes are highlighting games against Michigan State, Wisconsin and, of course, Michigan, Roby has targeted the Cal game for months.
The reason: he'll be tested in a big way by Cal's All-America wide receiver
Keenan Allen
. The 6-foot-3, 210-pound Bears star is a leading candidate for the Biletnikoff Award, and he
comes in at No. 16 on Mel Kiper's Big Board
for the 2013 NFL draft (No. 2 receiver overall).
"This is definitely a game that has been marked on my calendar," Roby told ESPN.com. "I've been watching film on him for a while. He's a bigger receiver. He's about 6-3. He has good athleticism. It's something I'm looking forward to. I mean, it's the best versus the best, so we're going to see who comes out on top."
[+] Enlarge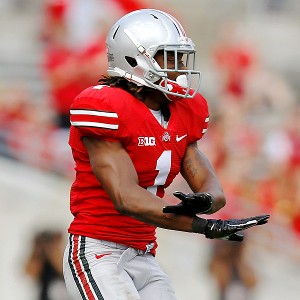 Kirk Irwin/Getty ImagesBradley Roby will face one of the nation's top receivers in Keenan Allen on Saturday.
Roby isn't short on speed or swagger, two qualities that benefit him as a cornerback. After redshirting in 2010, he claimed a starting job last season and led Ohio State in both interceptions (3) and passes defended (9). As the boundary corner, Roby is almost always matched up against the opponent's top receiver and last year went toe to toe with four NFL draft picks, including first-rounder A.J. Jenkins from Illinois.
Cal's Allen definitely gets his attention. His biggest challenge comes when there isn't one across the line of scrimmage.
"He gets bored," Buckeyes coach Urban Meyer said. "That's one of the things I got after him about in the spring and even in the summer. I've coached Joe Haden and some other great corners, and those guys never got bored. The ultimate competitors are guys that it doesn't matter who you're playing or what the coverage scheme is, you compete at all times. He's still fighting through that."
Roby admits it's not easy. He wants to push himself, and it helps to go against great players. Last fall, he made sure he went against Buckeyes wide receiver DeVier Posey in practice as much as possible. Posey, suspended for most of the season, was "one of the best receivers in the country," according to Roby. The NFL evaluators agreed as Posey, despite playing in just three games, went in the third round of April's draft -- the second Big Ten wideout selected (behind Jenkins) and the 10th overall.
Ohio State is lacking at the receiver position right now, and
when asked this spring who he seeks out in practices
, Roby acknowledged, "Nobody, really." He enjoys going against
Corey Brown
, but Brown mostly plays the slot position in Meyer's offense, so they aren't matched up.
"It's something I had trouble with for a while," he said. "It just comes down to, if I want to be the player I want to be, I have to be on my A-game at all times. I can't really get bored out there. I can't worry about what skill the receiver is. Even if he's not that good, I still have to dominate him and beat him like I'm supposed to. That's all it is.
"I've had to stay ready and stay on my A-game at all times, so when games like this come around, I'm still ready, and I'm already at the level I've been wanting to play at."
Roby's quest for straight As is paying off so far this season. He earned defensive player of the game honors for his effort in Ohio State's opener against Miami (Ohio), making plays on 25 of 30 opportunities, according to Meyer.
Roby leads the team with four pass breakups and has a fumble recovery. He has yet to record his first interception, while fellow corner
Travis Howard
already has three, a fact he hasn't hesitated to point out.
"He's talking trash, but it doesn't bother me at all," said Roby, who himself dabbles in trash talk, especially on Saturdays. "I'm happy for him. I hope he continues in that. This is just Game 3 coming up, so I feel like I've got something in store."
Roby certainly has the talent to affect games. He twice ran the 40-yard dash in 4.31 seconds this summer.
"Really blessed, really talented and fast," Meyer said. "I think he's our fastest player."
Roby doesn't dispute the label, while acknowledging Brown isn't far behind and could pace him in a slightly longer race, like 60 yards (It'd be close," Roby said).
Having top-end speed is nice, but Roby is more focused on consistency and mastering the cornerback spot. He spent much of the offseason working on his off-man coverage, which often separates the great athletes who play corner from those who can do it at the NFL level.
"I've gotten more comfortable doing it," he said.
Roby undoubtedly will be in his comfort zone Saturday against Allen.
"This ought to be no challenge as far as getting him motivated," Meyer said, "because [he's] facing potentially the best receiver he'll face all year."
August, 17, 2010
8/17/10
5:00
PM ET
Indiana has spent most of the training camp practicing in oppressive heat, but Andre Kates doesn't mind.

When the Hoosiers' strength and conditioning staff demands one more rep in the weight room, Kates willingly obliges.

And when Kates' new teammates whine about the size of their uniforms, the cornerback just shakes his head and smiles.

"They're like, 'Man, it's too tight,'" Kates said. "In junior college, we had to put tape around our uniforms to try to make it tight."

Kates has no complaints about the rigors of preseason camp at a Big Ten school. After what he has been through the last few years, this is the easy part.

Kates' road to Indiana started near Washington D.C., made a U-turn in Gainesville, Fla., nearly stretched to California and eventually reached junior colleges in upstate New York and Brooklyn. He faced academic hurdles and, for a time, questioned whether he still wanted to play, but he's finally ready for the spotlight.

"I have big plans," Kates said.

Kates also had big plans at Surrattsville High School outside Washington D.C., where he thrived in a number of positions, including quarterback, wide receiver, return specialist and even long snapper. Recruited as an athlete, Kates verbally committed to play for national powerhouse Florida.

But he failed to qualify academically, putting his plans on hold.

"I thought I was going to get away with it," he said. "Since I was a big-time football player in high school, I thought, 'Aw, man, I'm alright. They'll let me through, they'll let me through.' But it didn't happen. It was real tough, thinking you're about to go in and play at a big-time program like that, and then you turn around and realize you're not eligible.

"After the Florida thing, I was done. I didn't want to play any more."

Kates considered "life as a regular teenager" but was steered back by several people, including his uncle, Washington Redskins running back Clinton Portis, and his best friend, Joe Haden, who went on to star for Florida at cornerback.

"They were saying, 'Dre, you've got to stick in there. Go to a junior college, get your mind right," Kates said.

The original plan called for Kates to attend Antelope Valley College in Lancaster, Calif., but financial issues forced him to stay home and help support his family. He eventually enrolled at Erie Community College, which has campuses both in and near Buffalo, N.Y.

Kates recorded three interceptions in his first season as a defensive player, earning all-conference honors. He also became Indiana's first commit for the 2010 class, pledging in May 2009, but his academics remained an issue.

"When he first committed to us, I traveled to Erie and his first transcript wasn't great," Hoosiers co-defensive coordinator Joe Palcic recalled. "I told him, 'Hey, you need to get this many hours and a C or better in all your classes to transfer. He told me, 'Coach, I can do it.'"

Kates needed 61 transferable credits to enroll at Indiana and no grades below a C. After a year at Erie, he transferred to ASA College in Brooklyn, N.Y., which could offer him scholarship money. The problem: ASA only accepted six of the 24 credits Kates had earned at Erie.

Kates began taking a full course load at ASA and also enrolled in online courses elsewhere to make up ground. He finished junior college with a 3.4 GPA and earned his associate's degree.

"I was taking 18 credits during the school year and six credits on the side, just to get here," he said. "So I had the will to want to do it."

On the field, Kates continued to excel, earning junior college All-America honors for ASA with 64 tackles, two interceptions, nine pass breakups, four blocked field goals and two blocked punts. Named Junior College Player of the Year by Triumphant Sports, he received 18 offers from FBS programs, including Miami and Clemson, but stuck with Indiana.

Having the chance to face the Hoosiers' talented wide receivers in practice lured Kates, but Palcic was the biggest reason why he came to Bloomington.

"He was one coach I always respected," Kates said. "Every contact period he had, he gave me a call and let me know they really need me, and now I'm here."

Although Kates was Indiana's first verbal, he took visits elsewhere and raised anxiety among Hoosiers fans, not to mention Palcic.

"I wasn't 100 percent confident," Palcic said. "He kept telling me, 'Indiana's it, Indiana's it,' but until that final week, I wasn't sure."

Kates now finds himself in a six-man cluster for two starting cornerback spots that Palcic calls the most competitive position race on the team. Indiana returns two veterans in Richard Council and Adrian Burks, and brought in another juco corner, Lenyatta Kiles, who went through spring drills.

Kiles and Kates have bonded, reviewing video of every practice together after the regular review with the team. Both players should see plenty of field time this fall.

"He came in surprisingly polished," Palcic said of Kates. "He has great backpedal, quick feet, he's explosive coming out of his breaks. I'm impressed with his ability to pick up the defense."

Kates credits his support system for helping him to this point: Portis, Haden, his parents and his sister. He also continues to play football as a tribute to his brother, Cameron, who died of a brain tumor in 1996.

"He's been a big-time motivation," Kates said.

It has been a long road, but Kates has no regrets.

"I've started a new chapter," he said.
October, 16, 2009
10/16/09
5:00
PM ET

Posted by ESPN.com's Adam Rittenberg
Heading to Mad-town this weekend. Can't wait.
Ben from Franklin, Tenn., writes:
Adam, love the blog. Read it (several times) each day. Maybe it's because I'm starting to drink the kool-aid, but this Iowa team, I think can be really special. Before the season, I thought they would lose 3 games (Penn State, Michigan State, Ohio State). After the close win over UNI, I thought it could be a long season. it's never pretty, but they just win. They got down early against both Penn State and Michigan. The UM win was particularly satisfying, as they traditionally spank Iowa. If this Hawkeye team wins out, which is looking more realistic, even winning ugly, can you keep them out of the national title game? They have a brutal road schedule, and played 2 out of conference games against BCS schools.
Adam Rittenberg: First off, Ben, it's nice to hear from a Tennessee resident who doesn't hate my guts. Vol fans struggle to handle humor, as I've learned this week. ... Anyway, yes, Iowa's ability to find different ways to win is certainly a quality that special teams possess. It's great to see a team show the resiliency Iowa has this season, whether it's bouncing back from Ricky Stanzi's interceptions or rallying from a 10-0 hole at Penn State. The road schedule still concerns me, but it also works in Iowa's favor. If the Hawkeyes win out, I really think they'll make the title game.

---
Paul from Johnstown, Pa., writes:
Adam, I know there is a lot of football to be played yet, but what do you think have been the biggest disappointments in the B10 at the midpoint of the season? As a PSU fan, my biggest disappointment has been PSU's linebacker health...I really think college football is missing out on something special since PSU cannot put Mauti, Lee and Bowman on the field together. What other things did you look forward to in the preseason, but have not seen those things blossom?
Adam Rittenberg: Good topic, Paul. I looked forward to Illinois actually showing up to play, Terrelle Pryor making obvious strides as a passer, Northwestern's offensive and defensive line play, Penn State's run game, Michigan State's secondary and improved performances from quarterbacks around the Big Ten. All of those things have been disappointing to varied degrees.
---