May, 25, 2010
5/25/10
7:25
AM ET
Michigan begins its official response to the NCAA's Notice of Allegations with a sobering statement.
The University of Michigan ("the University"), which fielded its first football team in 1878, has won more football games than any institution, all without a major infractions case. After more than 130 years, the University's football program is before the Committee on Infractions for the first time. The University admits the violations in fact occurred. The University is disappointed that its history of no major infractions cases in its football program has ended.
It can't be easy for Michigan fans or anyone associated with the football program to read those words.
[+] Enlarge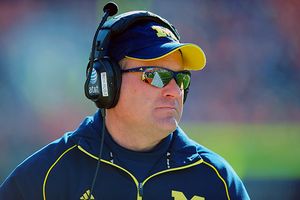 Andrew Weber/US PresswireRich Rodriguez's program will forfeit 130 hours of practice time during the next two years.
In its response, Michigan admits that four of the
NCAA's five allegations
against the program are true, including the "failure to adequately monitor its football program to ensure compliance" regarding the number, duties and activities of countable football coaches as well as time limits for CARA (countable athletically related activities).
While much of the language in the response is harsh, the self-imposed penalties aren't too severe.
Michigan reduced its quality staff by 40 percent -- from five to three -- and will prohibit it from attending practices, games or meetings for the rest of 2010. Despite a new NCAA rule that allows quality control staff to attend meetings, Michigan won't allow this to happen until 2011.

The football program will forfeit 130 hours of practice time during the next two years. The university found that the football program exceeded limits on football activities by a total of 65 hours in 2008 and 2009, so it simply doubled the total for its self-imposed penalty.

Michigan will issue letters of reprimand to seven people it deems responsible for the violations: Mike Barwis, Scott Draper, Brad Labadie, Joe Parker (senior associate athletic director, development/corporate relations), Rich Rodriguez, Judy Van Horn and Ann Vollano (assistant athletic director for compliance services).

The university also acknowledges the dismissal of former graduate assistant Alex Herron, named in one of the NCAA's allegations for "providing false and misleading information" to both NCAA and Michigan investigators. Herron was fired after Michigan received the NCAA's Notice of Allegations in February.

By admitting to major violations, Michigan knows it will go on NCAA probation for two years, which doesn't mean much unless more violations are committed.
No scholarship losses or loss of recruiting time for coaches to be found here. Will the NCAA deem this too light? We'll find out Aug. 13-14 in Seattle.