April, 2, 2013
Apr 2
11:00
AM ET
The timing couldn't have been much better for Michigan State's
Shilique Calhoun
to turn a corner -- both literally and figuratively.
Michigan State needed a rally in the Buffalo Wild Wings Bowl against TCU and, as usual, relied on its defense for a lift. The Spartans' most talented defensive lineman, junior end
William Gholston
, was playing his final college game. Leading 14-13, Michigan State needed a stop in its own territory. Calhoun, already with a tackle for loss to his credit, beat TCU tackle
Aviante Collins
around the edge and dropped quarterback
Trevone Boykin
for his first career sack. Although TCU converted a long field-goal try, Michigan State only needed three points to answer and got the game-winning field goal from
Dan Conroy
moments later.
"Before the sack, I felt like I was underachieving," Calhoun told ESPN.com "I didn't feel like I played to the best of my abilities. But after that performance, it showed me I could go a lot harder and work more. It kind of catapulted me into this year.
"It's given me a lot of pride in my game, a little more than I had before."
[+] Enlarge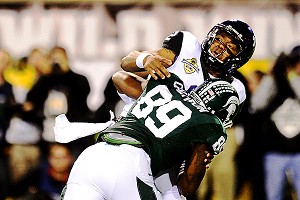 Matt Kartozian/USA TODAY SportsShilique Calhoun showed his pass-rushing potential in Michigan State's bowl win over TCU.
The charismatic Calhoun doesn't seem like a guy who lacks confidence, but the bowl game gave him the boost he needed entering a crucial offseason. When Gholston announced a week later that
he'd forgo his final season and enter the NFL draft
, Calhoun went from a promising young reserve to a likely starter at end opposite
Marcus Rush
.
"There would be a lot more playing time," he said. "I'd be a little more exhausted. That was the first thought."
To prepare for a bigger role, Calhoun had to add weight in the winter. He's about 255 pounds these days and hopes to be around 260 for the season.
Calhoun knows the added weight can help his game, as long as it doesn't come with a cost.
"The best aspect of my game is my speed, so for me to lose that, it would be a crucial mistake," he said. "With this style of play at Michigan State, it's a great opportunity for me to make plays with my speed.
"As long as I can maintain it, I'll continue to gain weight."
Calhoun typically lines up on the field side, where he has to cover more green against dual-threat quarterbacks and the like. Michigan State has built its defense around speed, and Calhoun fits the scheme extremely well.
The redshirt sophomore opened the spring listed as a starter on
the depth chart
, but several others are in the mix at end, including veteran
Denzel Drone
and young players like
Jamal Lyles
and
Joel Heath
.
"I want it to be a dogfight, I want to fight for my position," said Calhoun, a standout on the scout team in 2011 who finished with six tackles, 2.5 for loss, and two pass breakups last fall. "Competition makes me work a lot harder, and I don't want to ever stop working hard. There's guys who are working just as hard as me. I want them to keep pushing me because I want to keep working hard."
Calhoun sees a similar attitude throughout Michigan State's defense, which has ranked sixth and fourth nationally the past two seasons.
"The coaches, my teammates, we're all striving to get better," Calhoun said. "Last year was a good year, yes, but we need to be better ... until we're No. 1, and even then, we're not going to stop trying to be the best."
March, 15, 2013
Mar 15
9:00
AM ET
A Buffalo Wild Wings Bowl win against TCU took the sting off of a mostly disappointing season for Michigan State. Picked by many (ahem) to win the Big Ten, the Spartans went 7-6, dropping five games by a total of 13 points, including all four Big Ten home contests. Mark Dantonio's squad resumes its primary mission -- to claim a Big Ten title and a Rose Bowl appearance -- when it returns to the practice field Tuesday. Dantonio
shuffled his offensive staff
after coordinator Dan Roushar left for the NFL's New Orleans Saints, and Michigan State will have competition at quarterback, running back and other positions. The defense once again looks very good but needs to fill some gaps.
ESPN.com caught up with Dantonio this week to talk spring ball.
What are some of your primary objectives for the spring?
Mark Dantonio:
The first thing we have to do is address where we're at and look forward. We have a new staff member on each side of the ball, and there's no question that we can improve on both sides of the ball. With that being said, there's a lot of experience coming back. There are areas every football team needs to address. Some of that is concept-based. We're going to try new things and move from there. Our objectives will be to get out of there without getting people hurt and move forward as a program, allow our young players, the guys who redshirted, to make a move on the depth chart and then solidify our No. 1s.
What will be different offensively with Dave [Warner] the lead play-caller and Jim [Bollman] coming in from the outside?
[+] Enlarge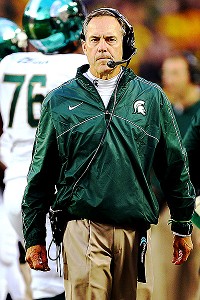 Mike Carter/USA TODAY SportsMark Dantonio's squad will look to improve on their disappointing 2012 season.
MD:
Everybody is unique with their thought process, so you can promote from within or bring from the outside, and there's going to be some difference. With the addition of Jim Bollman, you bring in a guy who has experience at Michigan State (he was a Spartans assistant from 1995-97), not just experience offensively. Dave already knows what we do. But that's going to bring new ideas into what we're doing. Brad Salem, he'll be working with the quarterbacks, so it's a little bit of change. Mark Staten will still be with the offensive line and Terry Samuel will be with the wide receivers. There is change. We have a base of where we're at, and we'll move from there. It's not like we're reinventing the wheel. We have a base, and we need to grow from that base to improve.
What areas need to be improved on that side of the ball?
MD:
When you look at where we were at last year, we need to improve in the red zone, obviously. We have to catch the ball, protect the quarterback more consistently. But we've got to score touchdowns in the red zone. We had too many field-goal attempts. We had 32. So it's not that we're not getting down there. We're getting down there and stalling out. We're going to work toward that. And then we've got to do some things conceptually that takes you forward.
We need change. There's no question we need some change in some areas, but there's also a lot of good things we've done. We've won a lot of football games here. When you look at last season, we were so close in so many different areas from having another 10-, 11-win season.
February, 8, 2013
Feb 8
1:55
PM ET
Michigan State has hired Air Force assistant Ron Burton as its new defensive line coach. He replaces Ted Gill, whose contract was not renewed.

Burton is a 21-year coaching veteran who has spent the past 10 years tutoring defensive linemen at Air Force. He has also worked at Indiana, coaching linebackers from 1997-2001, Eastern Michigan and Grand Valley State.
"He brings a wealth of knowledge to the position," Michigan State coach Mark Dantonio said in a statement released by the school. "Ron played four years in the NFL and has been around some of the game's top coaches at both the professional and collegiate levels. In the pros, he played for Tom Landry, Jimmy Johnson and Gene Stallings, and he started his tenure at Air Force under Fisher DeBerry, one of college football's great coaches.
"He was simply dynamic during the entire interview process. We had an opportunity to share some ideas last year in a professional development setting, and we believe Ron is a natural fit in terms of defensive terminology and concepts. He also brings great energy and management skills to the coaching staff."
Burton said in the school's release that he gained respect for the Spartans' staff during last year's meeting.
"We sat and talked football, and I was simply amazed at how the staff handled things," Burton said.
The Spartans lose three starters off last season's defensive line, including early draft entrant
William Gholston
, but Burton should still have a lot to work with. Junior
Marcus Rush
will be a third-year starter at defensive end, while young players like
Joel Heath
,
Shilique Calhoun
and
Lawrence Thomas
show a lot of promise.
May, 11, 2012
5/11/12
9:30
AM ET
2011 record
: 11-3
2011 conference record
: 7-1 (Legends Division champions)
Returning starters
: Offense: 5; Defense: 8; kicker/punter: 2
Top returners

DE
William Gholston
, DE
Marcus Rush
, LB
Denicos Allen
, LB
Max Bullough
, LB
Chris Norman
, CB
Johnny Adams
, CB
Darqueze Dennard
, S
Isaiah Lewis
, RB
Le'Veon Bell
, LT
Dan France
, C
Travis Jackson
Key losses

QB Kirk Cousins, DT Jerel Worthy, WR Keshawn Martin, WR B.J. Cunningham, S Trenton Robinson, RB Edwin Baker, TE Brian Linthicum
2011 statistical leaders (*returners)
Rushing
: Le'Veon Bell* (948 yards)
Passing
: Kirk Cousins (3,316 yards)
Receiving
: B.J. Cunningham (1,306 yards)
Tackles
: Max Bullough* (89)
Sacks
: Denicos Allen* (11)
Interceptions
: Isaiah Lewis* and Trenton Robinson (4)
Spring answers
1. Defensive depth
: Michigan State returns eight starters off one of the best defenses in the country, and the coaching staff might have been most excited this spring about guys who didn't play much last year. Linebackers
Darien Harris
and
Taiwan Jones
, defensive ends
Joel Heath
and
Shilique Calhoun
and defensive back
Trae Waynes
all had impressive practices and showed that they're ready to contribute and push the starters. The Spartans won't have much drop off if their first-stringers need a break or get injured. That gives this defense a chance to be scary good in 2012.
2. The Bell tolls
: Le'Veon Bell asserted himself at the end of last year as the team's top tailback, overtaking Edwin Baker. And after appearing to get called out by coach Mark Dantonio for being complacent early in the spring, he turned in some dominant efforts. At 6-foot-2 and 240 pounds, he's a rumbling freight train with surprising nimbleness in the open field. Do not be surprised to see him emerge as a superstar back this season if he remains focused.
3. O-line on the way up
: Michigan State mixed and matched on the offensive line early last season because of injuries and inexperience. By the end of the season, the group was playing well. This spring, the line features six players who have started and much more maturity. That's one reason why Bell excelled this spring, as the Spartans' power running game looked much better. This figures to be the best and deepest O-line in Dantonio's tenure, and the offense could lean more on the ground attack while the passing game finds its wings.
Fall questions
1. Catching on
: The top receivers coming out of spring were redshirt freshman
Andre Sims
Jr., little-used sophomore
Keith Mumphery
and
Jeremy Langford
, who made the switch from running back in the middle of spring practice. In other words, there's a dire lack of experience at the position that Keshawn Martin, B.J. Cunningham and
Keith Nichol
patrolled so well. Tennessee transfer
DeAnthony Arnett
was cleared by the NCAA for immediate eligibility on Thursday, and that should help. The Spartans are also going to need
Tony Lippett
and
Bennie Fowler
-- their two veterans even though both lack much receiver experience themselves -- to get healthy and for some true freshmen to make an impact. If there's a glaring concern for this year's team, it's definitely at this spot.
2. Maxwell's house
: Michigan State feels confident that
Andrew Maxwell
, a fourth-year junior who sat behind Cousins the past three seasons, can make a smooth transition into the starting quarterback job. But Maxwell doesn't have much game time under his belt, and we won't know whether he can bounce back from adversity until it happens on the field this fall. It didn't help that he missed the last couple weeks of spring practice with a knee injury. The Spartans need him to stay healthy, or else they will have to turn to redshirt freshman
Connor Cook
. And a new quarterback could struggle with such a green receiving group.
3. Worthy replacements
: Jerel Worthy skipped his senior season and wound up as a second-round NFL draft pick after an All-America campaign. The Spartans have a host of players looking to replace him at defensive tackle, with Vanderbilt transfer
James Kittredge
stepping up late in spring practice to assume the No. 1 reps. Depth won't be an issue, but it remains to be seen whether any of his successors have the kind of game-changing ability that Worthy brought when he was fully engaged. Nothing boosts a defense quite like a disruptive force in the middle of the line. We know the Spartans' defense will be good. Can it be great without a player like Worthy up front?
April, 30, 2012
4/30/12
11:00
AM ET
It's time to finish off our 2012 spring game recaps with a review of Michigan State's Green and White Game from Saturday.

You can find coverage of the scrimmage
here,
here
,
here
and
here
Stars of the game:
Defensive ends
Marcus Rush
and
William Gholston
. Rush had 2.5 sacks and three tackles for loss, while Gholston had a safety and a pass break-up while spending much of the day in the offensive backfield.
How it went down:
There was little doubt going into this game that defense would rule the day, as the Spartans return the bulk of a top 10 defense from last year and their offense, still finding its legs in the passing game, missed some key contributors. And so it was, as the White team -- featuring six returning defensive starters -- beat the Green team 14-2. The Green team's only score was that Gholston safety.
"I think we played pretty well, as you can tell by the score," linebacker
Denicos Allen
said. "We are still developing into a really great defense, and I think we can be better than last year's unit. We have more experience this year but are still young and have to continue to develop."
Connor Cook
had to play quarterback for both teams because projected starter
Andrew Maxwell
is out with a knee injury. Cook completed 20-of-45 passes for 294 yards and threw a three-yard touchdown pass to
Andre Sims
Jr. with seven seconds left in the first half.
"He grew enormously, I think, in terms of playing in this type of environment, having to play every play also with the TV type situation," head coach Mark Dantonio said. "I think he was very calm in the huddle and did some good things."
The tailbacks were also limited, as
Le'Veon Bell
played just one series and
Larry Caper
came out quickly after suffering a minor injury.
Nick Hill
came through with 19 carries for 95 yards and a TD, but the running was tough going for the most part. Counting sacks, the Green team produced minus-10 yards rushing for the day, and both teams combined for just 59 yards on 38 carries.
You can thank a dominating defense for that. The Spartans got a scare when Gholston was slow to get up after Hill's touchdown and limped off the field, but he was reported to have only a bruised knee. The defensive line looked really impressive.
"I think we have four or five really good defensive ends," Dantonio said. "
Shilique Calhoun
was a factor today. Obviously, William Gholston and Marcus Rush are very good. I thought
Joel Heath
did some good things as well."
One of the offensive highlights was provided by a defensive player, as cornerback
Johnny Adams
switched sides and caught a 45-yard pass.
"He's got big-play ability," Dantonio said. "He's a guy maybe we can flip around a bit. We'll see how that transpires when we get everyone here."
April, 27, 2012
4/27/12
2:15
PM ET
We wrap up our 2012 spring game previews now with -- last but not least -- the defending Legends Division champion
Michigan State Spartans
. Here are your Green-White essentials.

When:
1 p.m. ET
Saturday
Where:
Spartan Stadium
Admission:
Free. Parking is free around the stadium. Gates open at 11:30 a.m.
TV:
The game will be broadcast live on the Big Ten Network and streamed live BTN2Go.
Weather forecast:
High of 48 degrees, Cloudy with a 50 percent chance of rain.
What to watch for:
Michigan State makes this a real competition and held its
player draft on Wednesday
. Here are the rosters for the game. Running backs coach Brad Salem will coach the Green team, while receivers coach Terrence Samuel will coach the White.
Fans won't be able to see new starting quarterback
Andrew Maxwell
, who has a sprained knee. But they'll get a long look at redshirt freshman
Connor Cook
, who will take lots and lots of reps while quarterbacking both squads. One of the things Spartans supporters will want to see is how the wide receiving corps looks after the team lost its top three wideouts from a year ago and the only experienced receivers,
Bennie Fowler
and
Tony Lippett
, got hurt this spring.
Andre Sims
Jr. appears to be the leader of the group for now, but
Jeremy Langford
is an intriguing athlete. And there will be plenty of eyes on Tennessee transfer
DeAnthony Arnett
, who may or may not be eligible this year.
Though the squad will be split, the spring game will offer a chance to see how good the Michigan State defense is. Defensive tackle is one of the few question marks, and it appears that
James Kittredge
has made a move this spring. Emerging defensive players like
Joel Heath
,
Shilique Calhoun
and
Darien Harris
will also get a chance to strut their stuff.
The offensive line and running game have improved this offseason. But given the inexperience at quarterback and receiver and the fact that top tailback
Le'Veon Bell
will be limited, don't expect an offensive showcase on Saturday.
April, 18, 2012
4/18/12
9:00
AM ET
EAST LANSING, Mich. -- Michigan has garnered a lot of positive attention this offseason thanks to its Sugar Bowl victory and success in attracting highly-ranked recruits to Ann Arbor.
Up the road in East Lansing, however, Michigan State shrugs off talk about the Wolverines regaining their superpower status under Brady Hoke. The Spartans are confident of their own standing and future prospects.
"We're laying in the weeds," Michigan State head coach Mark Dantonio says with a half smile. "We've beat Michigan the last four years. So where's the threat?"
Truth is, the rest of the Big Ten had better be on high alert for these Spartans in 2012. There's a quiet sense of self-assurance around the team this spring, borne of recent success, coaching cohesion and a deep well of talent.
[+] Enlarge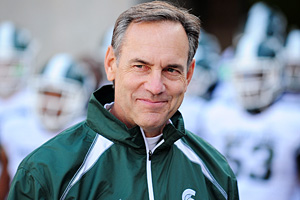 Andrew Weber/US Presswire"We're laying in the weeds," Mark Dantonio said with a half smile. "We've beat Michigan the last four years. So where's the threat?"
Dantonio's team has gone 22-5 over the past two seasons, winning a share of the Big Ten title in 2010 and claiming the first Legends Division championship a year ago. The program finally got over the postseason hump in January, beating Georgia in the Outback Bowl for the school's first bowl win since 2001.
It's the best two-year run by the Spartans in nearly half a century, and only six other FBS teams have won more games since the start of the 2010 season. Of course, one elusive goal remains: Michigan State's first trip to Pasadena since 1988. Rose Bowl logos are plastered all over the team's football facility, serving as a constant reminder.
Even with a small senior class and the losses of three-year starting quarterback
Kirk Cousins
, all-time leading receiver
B.J. Cunningham
and All-America defensive tackle
Jerel Worthy
, this year's team believes the Rose is within reach.
"Our goals keep climbing every year, and I think they're very attainable," new starting quarterback
Andrew Maxwell
said. "I feel like we have all the pieces in place."
That's a tribute to both the building job and the stability Dantonio has carefully constructed.
While other Big Ten staffs have undergone tumultuous turnover the past couple of years, the Spartans coaches have mostly stayed intact. Dantonio, defensive coordinator Pat Narduzzi and several key assistants are entering their ninth straight season together, dating back to their time at Cincinnati. The benefits of that constancy can really be seen on defense, where Dantonio and Narduzzi have been able to reinforce their philosophy year after year without changing terminology or schemes. The Spartans finished No. 6 nationally in total defense in 2011.
"That helps a lot," junior middle linebacker
Max Bullough
said. "So much of the game is mental, and having [the same coaches] allows you to just focus on getting better as a football player and not having to learn new things every year or two."
Dantonio said the continuity means that if he turns to, say, a redshirt sophomore, that player has received the same teaching in the same system for three years. And few teams in the Big Ten have redshirted as many players as Michigan State, which put only two of its 2011 signees on the field last season.
That patience, along with very few recruiting mistakes, has led to a situation that every other Big Team would envy: terrific depth, especially in the trenches. The Spartans have eight starters back on defense, plus
Anthony Rashad White
, who started the bowl game at nose tackle. The talk of the spring has been about young guys making a move behind the starters, like linebacker
Darien Harris
, defensive end
Joel Heath
and cornerback
Trae Waynes
-- all redshirt freshmen.
"When we go against the twos [the second string defense], I feel like those guys would start at a lot of places in the Big Ten," offensive tackle
Dan France
said. "We definitely have a lot of depth on both sides of the ball."
Defense has been a hallmark under Dantonio, but he may now have the deepest and best offensive line of his tenure. After a season of shuffling and injuries, that unit returns six players who have started, along with some promising newcomers. Ask Dantonio about either line, and he says what every coach would love to say about those positions: "We've got numbers."
Like every team in the spring, Michigan State has its questions, too. Maxwell is well-groomed to take over at quarterback after three years in the system, but he'll have to prove he's as unflappable under adversity as Cousins was. The receiver position is barren tract for experience, though there are plenty of athletes trying to emerge. And while the Spartans feel they can go seven- or eight-deep at defensive tackle, they have yet to discover someone there who can take over a game the way Worthy could when he was switched on.
"I didn't realize what a difference he made until he left," defensive end
William Gholston
said. "The first couple of practices I was like, 'Man, it's not the same.'"
Still, this is a team that's loaded at the most important positions and with a strong sense of its identity. Michigan's rise may be a fact; the Spartans don't plan on going away any time soon.
"People should be looking forward to Michigan State being one of the top teams every year," safety
Isaiah Lewis
said.
April, 12, 2012
4/12/12
5:20
PM ET
EAST LANSING, Mich. -- I'll have much more from Michigan State in the days and weeks to come, but here are a few notes of interest:
February, 27, 2012
2/27/12
10:30
AM ET
With spring practice around the corner, Big Ten teams will start the process of replacing stars from the previous year. Some shoes are bigger to fill than others. We're taking a look at two key departed players from each team and who might take on their roles this season.
Today, we take a look at Michigan State. Though
Kirk Cousins
obviously left big shoes to fill, we know that
Andrew Maxwell
is his successor. So we'll focus on a couple of different spots on the Spartans.
[+] Enlarge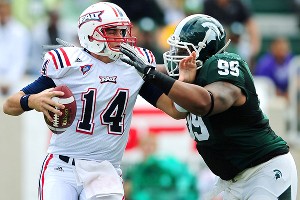 Andrew Weber/US PresswireMichigan State's Jerel Worthy (99) was a force on the defensive line for the Spartans.
BIG SHOES TO FILL: Jerel Worthy, DT
Why:
Worthy was an All-American who had such a good junior season that he decided to jump to the NFL. He registered 10.5 tackles for loss and 3.5 sacks, though that only tells part of the story about how disruptive he was in the middle of the defensive line. Worthy was also an emotional leader who provided the Spartans defense with some of its swagger. While Michigan State brings back most of its outstanding defense from last year, Worthy will be a difficult player to replace.
Replacement candidates:
Anthony Rashad White
(6-2, 316, Sr.),
Micajah Reynolds
(6-5, 320, Jr.),
James Kittredge
(6-4, 270, Soph.),
Damon Knox
(6-4, 275, RFr.),
Brandon Clemons
(6-3, 262, RFr.),
Mark Scarpinato
(6-3, 270 RFr.),
Joel Heath
(6-5, 270, RFr.), David Fennell (6-3, 275 incoming freshman).
The skinny:
Michigan State lost not only Worthy but fellow starting defensive lineman
Kevin Pickelman
and top backup
Johnathan Strayhorn
to graduation. But Mark Dantonio was prepared for this development and has a lot of players in the pipeline ready to prove themselves. Though White played the other tackle spot last year next to Worthy, he has the size, talent and experience to replicate Worthy's production. This is a key spring for Reynolds, who has also spent time on the offensive line. Kittredge sat out last season after transferring from Vanderbilt, and Michigan State was able to redshirt five other potential tackles in 2011. Fennell will likely take that route this year. This group is largely unproven, but at least there are plenty of candidates.
BIG SHOES TO FILL: B.J. Cunningham, WR

Why:
Cunningham completed his career as the school's all-time leader in receptions and yards, which is saying something given the program's history at receiver. He emerged as a true star receiver in 2011 with career bests of 79 catches, 1,306 yards and 12 touchdowns. Whenever Cousins needed a big play, he usually looked Cunningham's way. Fellow seniors
Keshawn Martin
and
Keith Nichol
also are gone, leaving a big void at the wideout position for the Spartans.
Replacement candidates:
Bennie Fowler
(6-1, 215, Jr.),
Tony Lippett
(6-2, 189, Soph.),
DeAnthony Arnett
(6-1, 175, Soph.), Keith Mumphrey (6-0, 202 Soph.),
Andre Sims
Jr. (5-8, 180, RFr.)
Juwan Caesar
(6-3, 197, RFr.), Monty Madaris (6-2, 190, incoming freshman), Aaron Burbridge (6-0, 180 incoming freshman), MacGarrett Kings (5-10, 175, incoming freshman), Kyle Kerrick (6-3, 190, incoming freshman).
The skinny:
This is a situation much like the defensive tackle spot, in which Michigan State hopes a crowd of candidates means that one or two standouts will emerge. The difference here is that some true freshmen will likely get thrown into the mix right away. Fowler is the veteran who hobbled through an injury-plagued 2011, while Lippett moves back to offense after seeing time at defensive back last year. A lot could depend on whether Arnett, a Tennessee transfer, wins his case with the NCAA to become immediately
eligible. If not, the Spartans may have to rely on at least one of the receivers they signed in this year's class or hope that a redshirt freshman takes a big step forward.
February, 2, 2012
2/02/12
4:00
PM ET
After recording 11 victories in each of the past two seasons, Michigan State hoped to carry over the momentum to the recruiting trail. The Spartans on Wednesday signed a class headlined by standout skill players and
added another Thursday morning
in four-star receiver
Monty Madaris
. Along with the addition of wide receiver transfer
DeAnthony Arnett
, Michigan State has put itself in position to replace standouts like receivers
B.J. Cunningham
and
Keshawn Martin
, and safety
Trenton Robinson
. The Spartans also faced increased competition in the region from Michigan and Ohio State, and talk of a
Michigan State-Ohio State recruiting firestorm
is building.
[+] Enlarge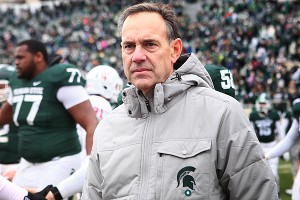 Mike Carter/US PresswireMichigan State's Mark Dantonio says his latest recruiting class is loaded with skill-position talent.
ESPN.com caught up with Spartans coach Mark Dantonio on Thursday. Here are his thoughts about the class.
What were your top priorities in this class?
Mark Dantonio:
We felt like we needed to go out and get a great class of skill players. Last year, we were pretty deep on our team, so we only (signed) two wide receivers and two defensive backs last year. We felt like we really needed to concentrate in those two areas, and I think we came away with a great class. We've got five wide receivers signed and four defensive backs, and a very skilled tailback [
Nick Tompkins
] who really can play any of those positions. He'll play tailback here off the start. We've got guys like
Demetrious Cox
who can play anywhere: tailback, slot receiver, safety, probably even corner. We've got guys like Jermaine Edmonson, who is coming in as a defensive back but can play wide receiver.
Aaron Burbridge
is another guy who can cross the realm and play corner, play wide receiver, tailback. He'll play wide receiver for us. Madaris,
MacGarrett Kings
, DeAnthony Arnett has to be included in this class, and he's a phenomenal player, one of the top wide receivers in the country last year.
It's a tremendous group, wide receiver especially. When you lose a B.J. Cunningham, Keshawn Martin and
Keith Nichol
, that's a lot of offense. Those guys will have an opportunity to play immediately. And on the defensive side,
Ezra Robinson
and Cox, Edmonson and
Mark Meyers
are guys that can tackle, play the ball in the deep part of the field, change direction very well, they run very well, they're very explosive players. All 10 of those guys are kick returner, punt returner guys.
I also think that because we lose [Kirk] Cousins, we needed to bring a quality quarterback into the program. We don't overload our football team with quarterbacks. We don't have six or seven guys on scholarship. We'll have three quarterbacks on scholarship next year, and
Tyler O'Connor
was an Elite 11 quarterback, a guy that has great mechanics, has the ability to run with it, he's big, he's very intelligent, he's got a great release and great arm strength. He's going to be a tremendous asset to this program as time goes on. And then we took three offensive linemen who are going to be able to play, and one defensive lineman in
David Fennell
. Two outstanding linebackers in [Jamal] Lyles and [Riley] Bullough, who are very, very good athletes and played a variety of positions. Fennell's a defensive tackle flying under the radar from Oregon, who just moved to the U.S. from Canada. He shows great punch. His dad is in the Hall of Fame in the CFL. The guy has great explosiveness, extremely strong, very quick, plays with a high motor. I think he'll be an outstanding player.
With the wide receivers you're losing, how many of the guys you're bringing in will stay at receiver and have a chance to play immediately?
MD:
All of these guys are going to have a chance to play. We basically have five wide receivers on scholarship, so our numbers are low in that area, not just because we lose the three [starters], but we lose two backups as well.
Edwin Baker
going [to the NFL] hurts at the tailback position, so there's opportunity to play and play early. They're quality players. They're guys who we've either had in camp or watched play in person. They're big-time players, and they'll all have an opportunity to play. And there are some guys who might cross over and be pretty versatile as well. And on the defensive side, you can pretty much say the same thing.
Jeremy Langford
is going to go back to tailback, so it's going to open a possibility at corner.
Tony Lippett
's a guy we played at corner last year. He'll go back to wide receiver. So it was important to get a defensive back class as well.
I'll make this statement. I've been coaching for a long time, and I don't know I've been anyplace where we've recruited 10 quality athletes like this at the skill positions. I think they're excellent football players, and they all fit our identity, they fit our mold in terms of our chemistry. Great people with good values, all with the vision of being outstanding. I think Cox is a tremendous player.
Do you guys now have pipelines at defensive backs and wide receiver?
MD:
I think we are. If you're good enough, you're going to play here. We only played one freshman [defensive back] last year, but the year before, our entire second unit was made up of freshmen. We've had to move people around a little bit, so there's opportunities for these guys, and they see themselves playing early in their careers. They also see the success that we're having. The other thing everyone has to realize is last year, we took seven defensive linemen. We redshirted every single incoming freshman last year except for one. So we're going to have about 40 freshmen in August camp. This is a very bright future at Michigan State. We've got some excellent young players, predominantly defensive players ... who would have played in the bowl game. We probably would have played six of them in the bowl game if they were eligible to play.
You mentioned the lineman from Oregon. How do you feel about the defensive tackles with Jerel [Worthy] moving on? Is it something you looked for in this class, or might look for in the junior college ranks?
MD:
We looked more in terms of defensive end at the junior college route a little bit. We felt like we wanted to stay the course with our guys. We came down to the end on a couple guys that, if they come our way, maybe solidify that a little bit. But you've got to go back to last year. We recruited six defensive linemen and had a seventh transfer in from Vanderbilt, as an offensive [lineman] for them. He was a four-star player,
James Kittredge
. So we've got seven defensive linemen, and five of them are defensive tackles. So our numbers are good. We've got guys like
Damon Knox
and
Joel Heath
and
Brandon Clemons
and
Matt Ramondo
and Kittredge, those guys are all pushing about 280. We'll be fine there. Obviously, we're going to miss Jerel. You can't replace a guy who was first-team all-conference, a first-team All-American and maybe a first-round draft pick. But we've got guys coming, and I'm sure coach [Pat] Narduzzi will get those guys ready to play.
Mark, you've recruited the Midwest for a long time. Was there any different dynamic this year competing for recruits with some of the staff changes at Ohio State, and with Michigan's staff having a full year to recruit?
MD:
I really don't think so. It's always difficult to recruit in the Midwest when you're surrounded. Michigan State has its own identity, but Michigan certainly and Notre Dame and Ohio State and Wisconsin and Iowa. We're right in the middle of all those guys. And usually when we want 'em, they want 'em. You can throw Penn State into that mix, and you have some teams coming up from the Southeastern Conference, so it's extremely competitive in terms of the guys you're going to get. But we're competing on a scale with those guys. We're very competitive with them, and this is a great opportunity for young people to look at, so we're going to get our guys.
Recruiting has accelerated. There's no question about that. With that said, you've got to get guys on your campus earlier, and usually those guys have to be within four or five hours of your campus. After that, they have to fly, or they're taking cross-country trips. It's so important you get players on your campus to see the place with a parent or a loved one, because when you come down the stretch, for a guy to make a visit like they used to, come in January on a visit by himself, if they have not been here before, the opportunity for you to get them to come to Michigan State or anyplace else goes down drastically.
Are you guys changing the types of players you're going after at all?
MD:
Not really. We've always tried to look to see who's going to fit our program. Just because you can play corner at one institution doesn't mean you can play corner here based on how we play the corners. We're looking for a different type of player at times than maybe somebody else would. Doesn't mean it's right or it's wrong. We try and look for who's going to complement our football team. There's a foundation that's being laid here, there's good things happening. We're not to the end yet, and we want to continue to push forward, but the guys we've recruited have helped us win, there's no question about that. They've won. So we're taking the right guys. We have very little attrition on our football team, so consequently we have a smaller class. I don't think we've ever taken 25 guys. I think the biggest class has been maybe 21, 22. We make assessments based on guys who can play for us, in our schemes and fit our chemistry, our profile. I think we've done a great job with that. We've got some guys here who have been two-star players who are going to play in the NFL, there's no question.