April, 1, 2014
Apr 1
11:00
AM ET
ANN ARBOR, Mich. --
Michigan
players are taught to tune out what the outside world is saying about them. But they're still kids, and criticism still finds its way through.
And so the offensive linemen couldn't escape all the negativity floating around about them in 2013. After all, it was virtually everywhere.
[+] Enlarge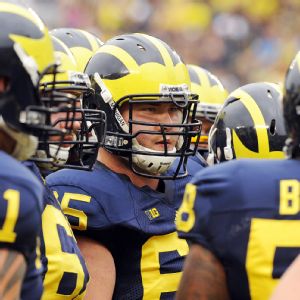 Lon Horwedel/Icon SMIThe redshirt of Kyle Bosch, who was ranked No. 157 in the 2013 ESPN 300, was pulled in October last season as the Wolverines' offensive line struggled.
"It was tough last year, and I'm sure we probably didn't hear as much as there was because we're so busy," sophomore
Erik Magnuson
said. "Any time you're not labeled as a great offensive line when you're at Michigan or even a traditional Michigan offensive line, it definitely hurts."
The Wolverines didn't need outsiders to tell them what was obvious: they struggled up front, particularly in the three inside spots as coaches mixed and matched inexperienced players without much success. Michigan finished 11th in the Big Ten in rushing and tied for the second-most sacks allowed in the league.
This spring, the two most reliable players on last season's line -- tackles
Taylor Lewan
and
Michael Schofield
-- are training for future NFL careers. It's up to many of the same guys who struggled in their first major exposure to step forward and change the outlook.
"We know we don't have the option to not get better," guard
Kyle Kalis
said. "It's getting to that point where we can't really say we're young anymore, because next year, no one is going to want to hear that. So we have to all come together."
Whether you see it as an excuse or simply reality, the Wolverines are awfully young on the O-line. They have one senior --
Joey Burzynski
-- and two juniors in
Graham Glasgow
and
Jack Miller
. The rest are sophomores or freshman, and with Burzynski out with an injury and Glasgow serving a suspension, youth is dominating spring practice reps.
Consider the left tackle position. Magnuson, currently out with a shoulder injury, will likely start out atop the depth chart there when he's healthy. But right now, the three players battling to fill Lewan's shows are redshirt freshmen
David Dawson
and
Logan Tuley-Tillman
and
Mason Cole
, a freshman early enrollee. Cole has impressed his coaches and has an excellent chance of at least making the rotation. But the fact that a guy who should be a high school senior right now is getting so many reps at the most important offensive line position speaks volumes.
"I can't all of a sudden make them older, so we have to make sure we do what we can do," offensive line coach Darrell Funk said. "We're so young that if every day we can get better at something, we'll have what we want."
The good news is that players like Magnuson, Kalis,
Kyle Bosch
and
Ben Braden
all gained valuable experience as freshmen and should naturally improve with more seasoning. New offensive coordinator Doug Nussmeier has simplified many of the blocking schemes and is emphasizing quick, decisive moves in a more north-south running game than predecessor Al Borges.
"You get the the chance to open these huge holes and then let the running backs take one or two steps right or left, find the hill and start running," Kalis said. "That's a big difference from last year."
Last season's group also had a different dynamic with two established senior starters and a whole bunch of young players. Now, many of the players are close together in class and have gone through similar experiences.
"It was Taylor and Scho's offensive line last year, which was fine because we needed that leadership," Kalis said. "But this year, it's kind of cool that we can let it be our line and really come together."
A lot of work remains, even though spring practice wraps up later this week at Michigan. Funk is still mixing and matching while trying to find the combinations that work best, and the returns of Magnuson, Burzynski and Glasgow will change the formula in fall camp. He said everything is still a work in progress right now, including the leadership on the line.
Funk knows that both he and the unit received scathing criticism last season, but he says the only thing that matters is moving forward.
"You take your lumps with young guys, and then the following years you see the rewards," he said. "I don't think that will be any different in this situation."
Nobody has to tell those young guys that they need to improve in a hurry. The outside noise is mere motivation.
"We got the label of not being a good offensive line way too much last year," Magnuson said. "That puts a lot of fuel to the fire when you play at Michigan because you have such high expectations."
April, 12, 2013
4/12/13
1:00
PM ET
Half of the Big Ten wraps up spring practice this weekend, and five squads are holding spring games/scrimmages that are open to the public. We're taking a look at each one. Up next: Michigan's Mott Spring Game presented by PNC Bank.

When:
Saturday, 1 p.m. ET
Where:
Michigan Stadium, Ann Arbor, Mich.
Admission:
Free. Michigan Stadium gates open at 10 a.m. ET. The alumni flag football game starts at 11 a.m., and the Wolverines take the field at 12:40 p.m. Parking is free in the lots that Michigan operates around the stadium, although space is limited. Fans can park at Briarwood Mall and take shuttles to the stadium, which start at 9:30 a.m. Fans can make donations to Mott Children's Hospital upon entry into the stadium and
receive certain giveaways
.
TV:
The scrimmage will be
streamed live on BTN2Go
. The Big Ten Network will broadcast the scrimmage at 9 p.m. ET Saturday.
Weather forecast:
Cloudy and windy with a 30-40 percent chance of rain. Temperatures between 39-40 degrees, winds at 22-23 mph.
What to watch for:
Spring games are all about the future, and Michigan's future -- short term and especially long term -- will be on display at the Big House. The Wolverines return only five offensive starters and six defensive starters and have several potential starters -- cornerback
Blake Countess
and running back
Fitzgerald Toussaint
-- still recovering from major injuries. As a result, plenty of younger players will be showcased in the scrimmage.
Keep an eye on the interior offensive line as Michigan must fill starting spots at both guards and center. Sophomore
Jack Miller
has been working as the top center, but he's being pushed by
Joey Burzynski
and
Graham Glasgow
.
Ben Braden
and
Kyle Kalis
have drawn praise from the coaches as they target the starting guard spots. Most of the buzz at running back has been about Toussaint and incoming freshman Derrick Green, but others like
Justice Hayes
and
Thomas Rawls
have a chance to step up in the scrimmage.
Michigan will be without star linebacker
Jake Ryan
for the start of the season, but Cam Gordon has drawn good reviews this spring. It will be interesting to see how Gordon and
Brennen Beyer
look at the strongside linebacker spot, and whether Michigan can generate a good pass rush with players like Beyer,
Frank Clark
and
Mario Ojemudia
. Defensive coordinator Greg Mattison has made the pass rush a major priority this spring.
Wolverines fans also can monitor position competitions at safety (
Jarrod Wilson
seems to be in the lead to start opposite
Thomas Gordon
) and at outside receiver, where
Jehu Chesson
and
Amara Darboh
are getting a lot of work.
Notice that I haven't mentioned
Devin Gardner
? The Wolverines' top quarterback will be out there in a don't-even-think-about-touching-me orange jersey that Michigan got from Oregon State. Although fans want to see Gardner's offseason progress, the most important thing is keeping him healthy. It will be interesting to see how walk-on
Brian Cleary
, Michigan's No. 2 quarterback for the time being, performs in the scrimmage.
April, 10, 2013
4/10/13
5:00
PM ET
Every Legends Division head coach, along with a player from each of the six teams, participated in a Big Ten spring teleconference with the media on Wednesday.
Here are some notes and updates from those teams:

IOWA
After six practices, the Hawkeyes' three-man quarterback race between Jake Rudock, Cody Sokol and C.J. Beathard is "about where we expected," head coach Kirk Ferentz said. All three are receiving equal reps, and all are working with the first-, second- and third-team offenses. "At this point, it's a jump ball for all three guys," Ferentz said.
Accountability is a big theme this spring at Iowa after the team endured its worst season (4-8) in more than a decade. Ferentz said he can't bury his head in the sand after a season like last year's. "We have to do a better job in all areas and that starts with me," he said. Linebacker James Morris was candid about the legacy he'd like to leave at Iowa. "The mark we've left so far, if we're being completely honest, isn't a particularly good one," Morris said. "I'm not happy about it, but I'm excited we have one more opportunity to change things."
Ferentz said Sunday's open practice in West Des Moines gives Iowa a chance to say thanks to its fans in the central and western parts of the state. Hawkeyes players enjoy the chance to perform in front of their fans. "It's something to break the monotony of spring ball," Morris said. "This will be something different."
Morris wants to see Iowa's defense translate its red-zone effectiveness -- the Hawkeyes allowed only 15 touchdowns on 48 red-zone chances in 2012 and held opponents scoreless 10 times -- to the rest of the field. Better communication also is a focal point for the defense this spring.

MICHIGAN
Head coach Brady Hoke said the team will explore the possibility of adding a junior-college quarterback or a graduate transfer from an FBS program to address the position. Russell Bellomy, the projected backup, is scheduled for ACL surgery May 1 and could miss the entire season. Walk-on Brian Cleary is working as the No. 2 quarterback this spring behind Devin Gardner, and heralded recruit Shane Morris arrives in the summer. Asked generally about redshirting players, Hoke didn't sound as if he'd hesitate to use a player like Morris. "No matter if they're fifth-year seniors or true freshmen, the best players have to play," he said. "If you don't do your justice on playing the best players, you're going to cheat the kids on this team."
Both Hoke and left tackle Taylor Lewan praised the young players competing for the three vacant starting spots on the interior offensive line. Hoke has seen "a lot of progress" with players like Ben Braden, Kyle Kalis, Chris Bryant, Blake Bars and Joey Burzynski. Lewan sees more "maulers" along Michigan's line as the unit aims to be more physically dominant this season in a pro-set scheme.
Lewan said the experience of playing for Michigan and the opportunity to win a Big Ten championship led him to decide to return for his senior season rather than enter the NFL draft, where he likely would have been a first-round pick. He said his decision was his own, and that those who haven't played for Michigan can't truly understand the lure of remaining there. "There's no better decision I could have made than coming back to the University of Michigan," he said.
Lewan said defensive end Frank Clark could be on the All-Big Ten radar by the end of the season, while Hoke singled out Chris Wormley for having a strong spring with the D-line. Hoke said running back Fitzgerald Toussaint is progressing well as he recovers from leg surgery.

MICHIGAN STATE

MINNESOTA
Head coach Jerry Kill said injured offensive tackle Ed Olson (ankle) and defensive lineman Roland Johnson (knee) are both progressing well, and he expects both to be ready to go for fall camp.
Kill had high praise for safety Brock Vereen, saying he could follow his brother, Shane, into the NFL. "He's gotten better and better since we've been here, and he's turned into a great football player in our minds. We look for him to have a very productive year."
Vereen said the team is practicing with a new sense of confidence. "We're finally comfortable with coach Kill's system. We know what they expect from us. And that just makes it a lot easier to show up every day and do what we need to do."
Vereen on how far away the Gophers are from contending in the Legends Division: "We are closer than a lot of people think. If you look back to last season, a lot of those games we lost were in the fourth quarter. A loss is a loss, but at the same time, we were in a lot of those games. It's about pushing through, which is something we learned the hard way, but we still learned. ... I think we're going to shock some people this year."

Linebacker David Santos (arm) will miss a portion of summer workouts but will be back before the Huskers open preseason camp, head coach Bo Pelini said. Defensive linemen Vincent Valentine and Greg McMullen, who missed Saturday's spring game, aren't seriously injured and will be fine for workouts and camp.
Although Nebraska's defense had its ups and downs this spring, redshirt freshman linebacker Jared Afalava stood out. Pelini expects a lot of production this fall from Afalava, who is "probably further ahead of where I thought he'd be." Pelini also praised senior defensive end Jason Ankrah, saying the coaches gave him more freedom to move around this spring. "Hopefully, his best year is yet to come," Pelini said.
Senior quarterback Taylor Martinez expects Nebraska to throw the ball "a lot more" this season, mainly because of the team's strength at wide receiver with Kenny Bell, Jamal Turner and others. Martinez said expectations are extremely high for the offense, and that coordinator Tim Beck is more comfortable calling plays. "I'd rather throw the ball 30 times a game … get the football to those guys and let them do their thing," Martinez said. Pelini has no argument, saying "the best is yet to come" with Martinez at quarterback.
Martinez said the Memorial Stadium crowd was about as loud as he's ever heard it when 7-year-old cancer patient Jack Hoffman ran for a 69-yard touchdown in Saturday's spring game.

NORTHWESTERN
The Wildcats won't hold a traditional spring game this year but just a normal practice session. Head coach Pat Fitzgerald said 13 players had surgeries after the season, and the team was limited to eight healthy offensive linemen this spring. "We've had to tweak things, so that's why we've kept the same routine throughout all 15 of our practices," he said.
Some of the lesser-known Northwestern players who have had good springs, Fitzgerald said, included backup quarterback Zack Oliver, receiver Mike Jensen, superbacks Mark Szott and Jack Schwaba and defensive lineman C.J. Robbins. Fitzgerald said he's been "very, very impressed" by Robbins, who has been injured the past two years.
A question on offering prospects early prompted this response from Fitzgerald: "I have just a fundamental issue with offering a kid a scholarship that doesn't have a driver's license. Just barely shaving. And because he looks good in shorts doesn't mean he's going to be a great Big Ten football player. The glorification of these kids at a young age is unfair to them. It's putting unfair and unrealistic expectations on them."
Defensive end Tyler Scott, who Fitzgerald said is "poised to take the next step," said he's worked hard on becoming a more vocal leader this year and on his pass-rushing techniques. "I'm trying to bring more tools to that aspect of the defense," he said.