January, 15, 2015
Jan 15
11:00
PM ET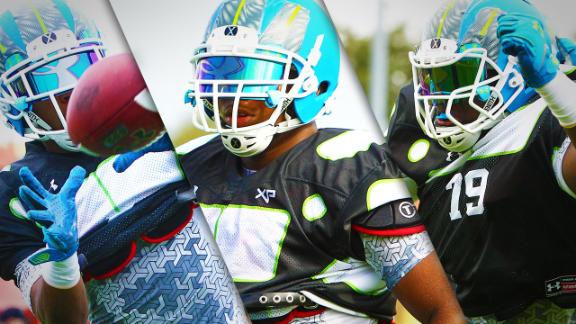 Few recruiting battles are more intriguing than the ones going on in Texas for high-profile players such as
Daylon Mack
,
Soso Jamabo
and
Chris Warren III
. What schools they pick could tilt recruiting supremacy in the Lone Star State moving forward
March, 21, 2014
3/21/14
4:30
PM ET
Brackets still intact? Didn't think so. Be sure to follow us
on Twitter
.
Let's check the mail ...
Husker Jeff from Lincoln Park writes:
Adam, can we get some decent weather here in the Windy City? ... Anyway, a conference that is always known for its running backs looks to have some salty returners for the 2014 season. What's your top five at the RB position for this upcoming season?
Adam Rittenberg:
Jeff, this winter can't end soon enough. Just brutal. ... Yes, the Big Ten once again will be a running back's league in 2013, despite losing standouts such as
Carlos Hyde
and
James White
.
[+] Enlarge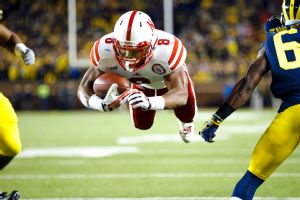 Rick Osentoski/USA TODAY SportsNebraska's Ameer Abdullah is the top returning running back in the Big Ten.
Here's my top five entering the fall:
1.
Ameer Abdullah
, Nebraska: Most consistent back in the league and helps his team in so many ways. Needs to score more touchdowns.
2.
Melvin Gordon
, Wisconsin: Has the most star potential and could be on the Heisman Trophy radar. Must show more consistency in Big Ten play.
3.
Venric Mark
, Northwestern: Recent injury history is a concern, but his speed and willingness to mix it up between the tackles makes him stand out. Also a huge threat on returns.
4.
Tevin Coleman
, Indiana: Explosive player who averaged 7.3 yards per carry as a sophomore. Must show he can handle more touches this season.
5.
Jeremy Langford
, Michigan State: Solid back who gets stronger as games go on. Yards-per-carry average isn't exceptional, but he gets the job done.
Also in the mix:
David Cobb
, Minnesota;
Josh Ferguson
, Illinois;
Mark Weisman
, Iowa
---
Alex from York, Neb., writes:
Is it me, or does it seem like nobody is favoring Nebraska to win the West Division this year? It seems like most everyone favors Wisconsin, Iowa or Minnesota. Nebraska's young defense, which improved greatly at the end of last year, only loses a few starters in the secondary, but secondary is always a strength here regardless who's in it. Gregory is back, Abdullah is back and QB play should improve this year. Thoughts?
Adam Rittenberg:
Nebraska is definitely in the conversation, Alex, and you can make a case (as you have) for the Huskers being the front runner. But there's no clear favorite in the West, and all five of the top contenders -- I'd throw Northwestern in there, too -- have potential flaws. When a group of teams is about even on paper, you look to factors such as schedule to separate them. And that's where both Wisconsin and Iowa have a huge edge.
Neither team faces Michigan State, Ohio State, Michigan nor Penn State in crossover games. Iowa gets both Wisconsin and Nebraska at home. Nebraska, meanwhile, must visit both Wisconsin and Iowa, as well as Michigan State and Northwestern. The Huskers must be good away from Lincoln, perfect at home and avoid the blowout losses that have plagued them.
---

Dan from Cleveland writes:
Adam, by now I'm sure you are exhausted of explaining how next year's Wisconsin squad has to replace essential starters on both sides of the ball. My question is, as of right now, what should we expect from LSU? Will they be SEC contenders? Rebuilding? Underdogs in this matchup? (I know the last one is far-fetched, but one can dream, right?)
Adam Rittenberg:
LSU has lost 18 underclassmen to the NFL draft in the past two seasons, including
five offensive players from the 2013 squad
. For that reason it's difficult to label the Tigers as an SEC title contender, especially with Auburn and Alabama in the same division. But LSU always has talent, especially on defense, and one of the nation's best defensive coordinators in John Chavis. The Tigers also bring in running back
Leonard Fournette
, the nation's No. 1 recruit. They'll be the favorite in Houston.
---
Matt from Columbus, Ohio, writes:
Hi, Adam, I have to wonder if Penn State is being severely overlooked in the Big Ten East race this coming fall? Their schedule appears to be the easiest of all those in the East Division by far. Weak out-of-conference games. Crossover games against Northwestern and Illinois should be easy wins. The they get both MSU and OSU at home, while traveling to Michigan. If they can find a away to win in Ann Arbor, a split with MSU and OSU might just be enough to win the division.
Adam Rittenberg:
Penn State has some schedule advantages, although UCF is hardly a pushover and Northwestern should be a tough game, as the Wildcats easily could have won seven or eight contests last year. The Lions still have some potentially major depth issues, especially along both lines. Their starting 11s on both sides could be better than they were in 2013, but they can't afford many injuries. As coach James Franklin told me last month, the longer you're in a limited scholarship situation, the harder it is to manage. But if Penn State is salty at home with MSU and OSU coming in, anything can happen in the East.
---

Adam from Baltimore writes:
I know we at MSU are talking about the playoff and national championship, and I think those expectations are justified. But I get the sense from the media that the season will be somewhat defined by the Oregon game. I understand that it is a huge chance to prove that we belong in the national conversation against a big dog, but what if the game is a blowout one way or the other?
Adam Rittenberg:
A blowout certainly hurts the loser's playoff chances, although Oregon would be hurt more by any loss than Michigan State. The Spartans would face an uphill climb if they lose and would need to run the table and likely need help elsewhere to make the top four. But an early season loss, especially a fairly close one on the road, can be forgiven. Michigan State would want Oregon to keep winning. An Oregon loss, meanwhile, could knock the Ducks out of the playoff picture.
December, 24, 2013
12/24/13
1:00
PM ET
After a season in the wilderness of transition, Iowa's offense found itself this fall. The next step is to find out what it could be.


The possibilities are exciting for a unit that will lose only three starters and bring back valuable pieces at running back, line and quarterback. While Iowa's offense might not make as dramatic a jump as it did this season -- when it vaulted from 114th nationally to 79th -- it certainly could move into the top half of the Big Ten.
"We have a good understanding of what the identity is," offensive coordinator Greg Davis told ESPN.com this week. "We're a zone, slant team with the tight ends that tries to use play-action. The players understand how we need to play, and that's how we try to go about game-planning."
Davis had three objectives for the offense entering the fall: play faster by incorporating a no-huddle element; maximize the strength at tight end by using two or three on the field together in many sets; and create more explosive plays.
Although few would confuse Iowa with Baylor, the Hawkeyes achieved the first objective by improving their tempo. Senior tight end
C.J. Fiedorowicz
became the team's top red-zone threat (six touchdown catches), while
Jake Duzey
emerged during Big Ten play with 16 receptions and
Ray Hamilton
had eight. Iowa recorded 41 offensive plays of 20 yards or longer, including eight passes of 40 yards or longer, though Davis admits, "We have a hard time creating the big run, the big throw."
[+] Enlarge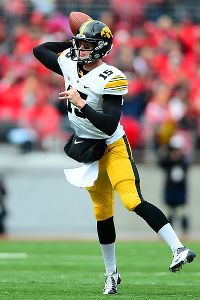 Andrew Weber/USA TODAY SportsJake Rudock stepped in as starting quarterback and provided stability, if not eye-popping numbers.
But the Hawkeyes created some progress after floundering in Davis' first season at the helm. The outlook was bleak for a unit that finished near the bottom of the FBS in so many categories, couldn't keep its running backs healthy and had no quarterbacks with game experience on the roster. Sophomore
Jake Rudock
performed the best in practices, but as Davis knows, things change when the hitting begins.
"He's an extremely bright person, he takes courses I can't spell the name of," Davis said of Rudock, a microbiology and premed major. "We ask a lot of our quarterback at the line. We thought he would handle all that, but we didn't know for sure. There's still that apprehension going into the year."
Rudock's numbers hardly jump off the page (2,281 pass yards, 18 touchdowns, 12 interceptions, 60.2 percent completions), but he steadied the ship and helped the Hawkeyes more than he hurt them. Although Rudock left the regular-season finale against Nebraska with a knee injury, he'll be ready for next week's Outback Bowl clash against LSU.
"He's a real even-keeled guy," Davis said. "Sometimes it's hard to tell if he threw an interception or a touchdown. That serves him well playing quarterback."
Iowa's offense in 2012 essentially consisted of two ball-carriers in
Mark Weisman
(159 attempts) and
Damon Bullock
(135 attempts) and three pass-catchers in
Kevonte Martin-Manley
(52 receptions), Keenan Davis (47) and Fiedorowicz (45). The touches were spread around much more this season.
Four Hawkeyes have more than 60 rushes, including
Jordan Canzeri
, who missed all of last season with a knee injury. Seven players have 12 or more receptions, including
Tevaun Smith
, who led Iowa in catches during conference play with 21, and
Damond Powell
, a junior-college transfer who averages 24.2 yards per reception.
"The more guys you can depend on, the harder it is for the defense," Davis said. "That's what we've tried to do."
The bowl game is a final exam of sorts, and Iowa faces an LSU defense ranked 20th nationally despite having only three seniors on the two-deep. Davis went against LSU defensive coordinator John Chavis during the early to mid 1990s when Davis coached in the SEC and calls the Tigers a "huge challenge."
It's also a huge opportunity for Iowa, not just for now but for the future. Aside from Fiedorowicz, guard
Conor Boffeli
and right tackle
Brett Van Sloten
, Iowa returns every other starter, including standout left tackle
Brandon Scherff
, who recently announced he's passing up the NFL draft for one more year in Iowa City.
"With two years under their belt," Davis said, "we have an opportunity to take another step going into 2014."
April, 8, 2013
4/08/13
2:30
PM ET
EAST LANSING, Mich. -- Michigan State's rise as a nationally elite defense can be traced to its success in statistical categories such as INT (interceptions), TFL (tackles for loss), PBU (pass breakups) and QBH (quarterback hurries).
But if you've read about the Spartans' defense or watched it play the past few seasons, you've probably heard a different three-letter acronym attached to the unit: S-E-C.
An
SI.com story from last year read
: "An SEC-style defense could help the Spartans claim the Big Ten title this season."
CBSSports.com's Dennis Dodd wrote
, "There are very few places nationally where they still play defense like this -- quick, rugged, right on the edge, if not over it. Most of the others are concentrated in the SEC."
[+] Enlarge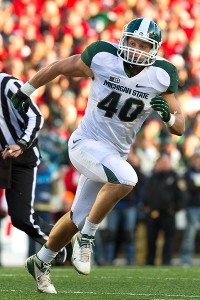 Jeff Hanisch/USA TODAY Sports"You make that comparison and you look at most of the teams in the SEC and they've got great defenses," Max Bullough said. "So why not take it as a compliment?"
Michigan State defensive coordinator Pat Narduzzi understands why the label is used.
"They're talking about that we have speed on the field, they think," Narduzzi told ESPN.com. "Whether we do or not, our kids are playing fast. It looks like they're playing fast."
Michigan State indeed boasts tremendous speed on the field in all three phases of its defense. And the SEC tag applied to the Spartans is, to a degree, a dig at the Big Ten, a league perceived to be a step or two behind the other elite conferences.
But the label also acknowledges how strong Michigan State's defense has become. The Spartans finished fourth in the nation in total defense in 2012 and sixth in 2011. They've also ranked in the top 10 nationally in points allowed both seasons.
Three SEC defenses finished in the top eight nationally last season. Four of the nation's top five defenses in 2011 came from the SEC.
"You make that comparison and you look at most of the teams in the SEC and they've got great defenses," Spartans senior linebacker
Max Bullough
said. "So why not take it as a compliment? Those guys are flying around, they're aggressive, they take chances. That's a lot like we are. There's a lot of good defenses in that conference."
Narduzzi and the defensive staff studied one of them during the offseason. They went to LSU during the winter to spend some time with Tigers defensive coordinator John Chavis and his assistants. The year before, Alabama's staff visited Michigan State's coaches in East Lansing.
"They look like we do," Narduzzi said of LSU. "Four-man front for the most part. They play similar coverage and Chavis likes to blitz. So when I saw it, I saw some different blitzes that I said, 'Ooh, that's one I'd like to use.' They're very similar."
Spartans cornerback
Darqueze Dennard
is somewhat conflicted about the SEC comparisons. When the Dry Branch, Ga., native heads home to SEC country, his friends don't put Michigan State and SEC teams in the same category.
"They pretty much hate on us," Dennard said. "When I go home, I get a lot of mocking, pretty much saying we can't beat this team or that team. But the last time we played an SEC team, we won [in the 2012 Outback Bowl against Georgia]."
The SEC label "kind of bothers" Dennard, but it also "gives us pride" because SEC defenses are known for toughness and produce so many NFL players. Michigan State is gaining the same reputation.
"We're the Michigan State defense, first and foremost," Bullough said. "We're not trying to be like anybody else. We think we're up there with the best in the country."